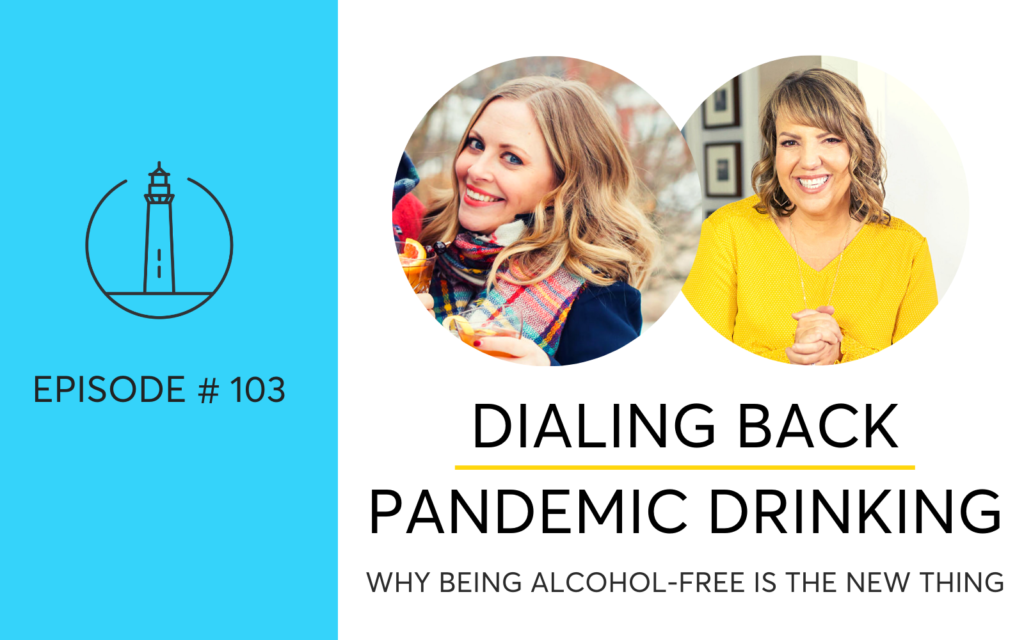 Dialing Back Pandemic Drinking

During the coronavirus pandemic, adults started reaching for the bottle more than ever. An increasing number of Americans responded to the stress, anxiety, isolation, loss and boredom of the pandemic by turning to alcohol. According to a Nielsen study, consumption of alcohol grew amongst adults over the age of 30 by 14% during the pandemic. 
In 2020 there was a 41 percent increase in the number of days on which women drank heavily, and the rate of adults who reported drinking more to manage pandemic stress was more than twice as high for parents with children between the ages of 5 and 7 . 
Excessive drinking and alcohol use is proven to negatively impact us in many ways: it can affect our ability to concentrate and get quality sleep. It can also exacerbate depression and anxiety (which is ironically why many people drink – to cope with these issues).
But the trend is changing and there is a new movement to dial back pandemic drinking and turn towards non-alcoholic options. 
In 2022 35% of American adults stopped drinking alcohol during Dry January, up from 23% in 2019 and 21% in 2018!
And in a new survey, more than two thirds of the US adults that participated in a Dry January said that they were more likely to sign on for a similar sobriety challenge again. Among them, 47% also went on to drink less alcohol later in the year and 24% stopped drinking altogether.
So if you are looking at your life and saying, the way I've been drinking is not working for me, and I don't want to continue this way. You are absolutely not alone. 
Today, we are talking about the backlash against the pandemic fueled surge in alcohol consumption.
My guest today, Abbie Romanul is the founder of the zero proof cocktail discovery subscription, Raising The Bar. Abbie founded Raising the Bar with her husband after she quit drinking alcohol and was frustrated with the lack of zero-proof cocktail options beyond soda and lime. Inspired by a rise in new alcohol-free brands and the #sobercurious movement, the idea for Raising the Bar was born.
Tune into this episode to hear Abbie and I discuss…
The pandemic surge in problematic drinking, especially among

women and parents of children between the ages of 5 and 7

The growing interest in dialing back pandemic drinking and taking a break from alcohol, with 35% of adult American drinkers participating in Dry January in 2022, up from 23% in 2019

 

Why the "Sober Curious" movement is driving growth for non-alcoholic beer, wine and zero proof cocktail sales

Abbie's personal journey to quit drinking and the challenges she faced as a consummate entertainer and at-home mixologist.

Why customers are joining Raising the Bar – from personal preference to cancer diagnosis to pregnancy
Ready to drink less + live more?
Take my FREE MASTERCLASS on Five Secrets To Taking a Break From Drinking
Sign up here to save your seat: https://hellosomedaycoaching.com/class 
If you're ready to change your relationship with alcohol join The Sobriety Starter Kit. 
It's my signature sober coaching course for busy women to help you drink less + live more. 
To enroll go to www.sobrietystarterkit.com.
Grab the Free 30-Day Guide To Quitting Drinking, 30 Tips For Your First Month Alcohol-Free
Research and Articles Mentioned:
About Abbie Romanul
Abbie quit drinking three years ago. In her quest for sophisticated alcohol-free cocktails to enjoy during any occasion, the idea for Raising the Bar was born. Abbie runs Raising the Bar with her husband, Devin, and spends her time wrangling her three young kids when she's not mixing up new mocktail recipes.
Subscribe for your first box at www.weareraisingthebar.com
Coupon Code: HELLO10 for $10 off
Follow Raising The Bar on Instagram @weareraisingthebar
Connect with Casey
Take a screenshot of your favorite episode, post it on your Instagram and tag me @caseymdavidson and tell me your biggest takeaway!
Want to read the full transcript of this podcast episode? Scroll down on this page.
ABOUT THE HELLO SOMEDAY PODCAST
The Hello Someday Podcast helps busy and successful women build a life they love without alcohol. Host Casey McGuire Davidson, a certified life coach and creator of The 30-Day Guide to Quitting Drinking, brings together her experience of quitting drinking while navigating work and motherhood, along with the voices of experts in personal development, self-care, addiction and recovery and self-improvement. 
Whether you know you want to stop drinking and live an alcohol free life, are sober curious, or are in recovery this podcast is for you.
In each episode Casey will share the tried and true secrets of how to drink less and live more. 
Learn how to let go of alcohol as a coping mechanism, how to shift your mindset about sobriety and change your drinking habits, how to create healthy routines to cope with anxiety, people pleasing and perfectionism, the importance of self-care in early sobriety, and why you don't need to be an alcoholic to live an alcohol free life. 
Be sure to grab the Free 30-Day Guide To Quitting Drinking right here.
Are you subscribed to my podcast? If you're not, I want to encourage you to do that today. I don't want you to miss an episode.
I'm adding a bunch of bonus episodes to the mix and if you're not subscribed there's a good chance you'll miss out on those. Click here to subscribe in iTunes!
Now if you're feeling extra loving, I would be really grateful if you left me a review over on iTunes, too. Those reviews help other people find my podcast and they're also fun for me to go in and read. Just click here to review, select "Ratings and Reviews" and "Write a Review" and let me know what your favorite part of the podcast is. Thank you!
READ THE TRANSCRIPT OF THIS PODCAST INTERVIEW
Dialing Back Pandemic Drinking
SUMMARY KEYWORDS
drinking, alcohol, sober, cocktail, pandemic, husband, drinker, podcast, night, raising the bar, friends, kids, wine
SPEAKERS: Casey McGuire Davidson + Abbie Romanul
00:02
Welcome to the Hello Someday Podcast, the podcast for busy women who are ready to drink less and live more. I'm Casey McGuire Davidson, ex-red wine girl turned life coach helping women create lives they love without alcohol. But it wasn't that long ago that I was anxious, overwhelmed, and drinking a bottle of wine and night to unwind. I thought that wine was the glue, holding my life together, helping me cope with my kids, my stressful job and my busy life. I didn't realize that my love affair with drinking was making me more anxious and less able to manage my responsibilities.
In this podcast, my goal is to teach you the tried and true secrets of creating and living a life you don't want to escape from.
Each week, I'll bring you tools, lessons and conversations to help you drink less and live more. I'll teach you how to navigate our drinking obsessed culture without a bus, how to sit with your emotions, when you're lonely or angry, frustrated or overwhelmed, how to self soothe without a drink, and how to turn the decision to stop drinking from your worst case scenario to the best decision of your life.
I am so glad you're here. Now let's get started.
Hi there. If you're listening to this podcast, I'm betting you've been going back and forth for a while now on whether or not you should stop drinking. And I want you to raise your hand. If you've had any one of these thoughts.
You might have been thinking, I'm not that bad. I actually don't want to stop drinking completely. I just want to drink like a normal person. Or maybe you come home after work. And you think I know I shouldn't drink tonight. But I literally can't relax or have fun without it. It's really common to say I've tried to take a break from drinking before. But it's just too hard. I always give up anyway. So what's the point in trying again? Or here's one I hear all the time from women. Everyone I know drinks. If I stopped drinking, I will be bored. Or I'll be boring. I'll have no fun. I'll never be invited anywhere. I'll just sit home and be miserable. Or maybe you can insert whatever your reason is there.
So is your hand up? If it is that is totally okay. And that's because taking a break from drinking and changing your relationship with alcohol. This shit is hard.
And that's why I'm really pumped to invite you to my completely free 60 minute masterclass the five secrets to successfully take a break from drinking, even if you've tried and you failed in the past.
After you take this free class, you'll realize why what you've been doing up until now hasn't been working, and what to do.
Instead, we're going to cover all the juicy topics, including what questions you need to stop asking yourself, because they're setting you up for self sabotage, not for success. We're going to talk about exactly what you need to do differently. So you can stop the exhausting cycle of stopping drinking and then saying screw it, and starting again.
And we're going to talk about the real reasons you haven't been successful. And I'm betting they're not what you think they are. And this isn't surface level stuff. I am handing over the strategies and the mindset shifts I go through every day with my private coaching clients. If you're listening to this podcast, I really encourage you to take a moment and sign up for this completely free masterclass. It will help you on your journey to drink class and live more to feeling better. So if you want to save your spot, go to hellosomedaycoaching.com/class while the class is still available, and I really hope to see you there.
Hi there. Today we're going to talk about the backlash against the pandemic fueled surge in alcohol consumption.
As a country we responded to the stress and the anxiety, the isolation and loss and even the boredom we felt during the pandemic by turning to alcohol. I don't think it'll be a surprise to anyone listening to this podcast that alcohol consumption grows among adults over age 30 by 14% during the pandemic, but there was a 41% increase And women drinking heavily during that time. 
So my guest today, Abbie Romanul is the founder of the zero proof cocktail discovery subscription, Raising The Bar. And we're going to talk about both how drinking surge during the pandemic, but also how there is a corresponding interest in the sober curious movement in drinking alcohol free beers, alcohol free cocktails, deciding that after the surge, drinking isn't working in your life, and why the non alcoholic beverage market is growing, as well as the growth in the participation of dry January, which was significant over both 2021, 2020 and 2019. 
So if you are looking at your life and saying, the way I've been drinking is not working for me, and I don't want to continue this way. You are absolutely not alone. So Abbie, welcome to the podcast.
06:03
Thank you so much for having me, Casey.
Casey McGuire Davidson  06:06
Yeah, I'm excited because I think this is a really important topic. I, on this podcast, have for a long time, cited all the stats about the increase in drinking we've seen not just in the last two years, but also in the last 20, especially among women. And I've also had on the founder of Athletic Brewing Company and Laura Silverman from Zero Proof Nation to talk about just the explosion in non alcoholic beverages and how popular they are. So I know you started your business during the pandemic, can you tell me a little bit about both why you started it, and how the market and the interest in it has been changing?
06:49
Absolutely. So I've been alcohol free for just over three years now. And it was December, when I quit drinking, and my husband and I were on a road trip to see some college friends for New Year's Eve. And it was just a couple weeks after I quit drinking, we had left our kids with the grandparents and we had two hours in the car to just kind of chat and I was really feeling anxious about going to my first big social outing without alcohol. These are college friends, we met them during a time when drinking was a big part of our lives. And I just remember thinking, like, I love to be creative, I love to have a nice tasting, nice looking drink. I wish that I could retain that part of my social life and just not have the alcohol piece. 
And so it was just a few weeks after I quit drinking, that we started thinking about what raising the bar could look like. And so I remember that night, hanging out. And you know, these are close friends. So it wasn't a situation where I might have overdone it as much as usual, because I already felt comfortable with them. But I started thinking about like, it would be so much more fun if I had more than this sparkling apple cider. So we started thinking about it, and a year or so went by and we would talk about it every now and then. And then finally, one day my husband was like, are we going to do this or not? Like if we're going to do it, let's do it. If we're not, let's move on. 
And so it was February of 2020, that we really started to hit the ground running. And we started working with a graphic designer and building a business plan. And at the time, I was about six months pregnant with our third child. So we were super excited to launch the business hoping to launch it before he was born in May 2020. And then a month later, the school shut down with the beginning of the pandemic. And we were just in survival mode of trying to homeschool our two older children and work our full time jobs. 
So work on the business really came to a standstill and the rest of the spring and summer we started working on it a little bit more. And finally, before I went back to work in September 2020, I was like if we don't press publish on this website, I'm going to lose momentum like it's never going to happen. So we officially launched September 2020 The night before I returned to work after my maternity leave. And so it's been about a year and a half now. Super, super exciting time.
Casey McGuire Davidson  09:04
That's awesome. And so what is Raising the Bar? I know it's a subscription service, but what does it entail or look like?
09:13
Absolutely. So it is a monthly subscription service and we curate all the ingredients and tools that you need to make craft cocktails that just happened not to include the alcohol. So we include a wide variety of ingredients from alcohol, free spirits, shrubs, vinegars, tonics, sparkling drinks, bitters, garnishes, teas, all sorts of different things to make really, really well rounded, balanced, sophisticated drinks. And it's not just saying, Okay, here's an alcohol free old fashioned. We're kind of reimagining what a cocktail looks like by not relying entirely on alcohol free spirit replacements and a one to one ratio, but kind of coming up with a new category of cocktails. 
We also do like one time boxes. So we did a really fun New Year's Eve box that had zero proof champagne, which was lovely. But what we're trying to foster is just a celebratory and inclusive community. So much of the joy and fun of celebrating these special moments is so intrinsically linked to having a glass of something lovely in your hand. And we still get to do that. And that's what we want to provide, whether you're not drinking for a lifetime, or just taking a night off for whatever the reason.
Casey McGuire Davidson  10:25
Yeah. And so give me some examples of the types of things that you have in your box.
10:32
Absolutely. So this month, we're doing a box called the Mariposa for March and it features a blood orange cordial, blood orange, saffron troub. There's black lemon bitters, and we've got yuzu sparkling water in there. And so people supply like the fresh lime juice and things like that. There's also a hibiscus salt for the rim. So it's tart, sweet, complex. But what we really want to avoid is these kind of traditional, syrupy, sweet mocktails, like a Shirley Temple, or just like lemonade with a splash of syrup or something. And again, come up with craft special sophisticated drinks that are worthy of a celebration and make you feel like a grown up.
Casey McGuire Davidson  11:12
Yeah, absolutely. And so is there like a recipe card in there, something like that.
11:17
Exactly. So each box has a recipe card with kind of the main drink of the month. And then we also have an online portal for members that allows you to see videos and tutorials walking you through how to continue to use ingredients from your box with the leftover things you might have after you make that hero drink of the month.
Casey McGuire Davidson  11:35
Oh, very cool. And so I subscribe to HelloFresh. It actually was a savior for us. During the pandemic, just getting, you know, trying to plan seven meals a week, I have two kids yeah. And just with them home all the time, I need both. Like, I'm just tired of thinking about this. So we go to HelloFresh. You know, we pick our meals, but then we could all cook together and have slightly fancier meals a week. And then like the rest of the week, it was like totally tacos and chili or whatever. So I love the idea of, you know, having this delivered to you and having it be somewhat of a surprise and not thinking about it. Because I think half an adult is searching online, finding the recipe, going to the grocery store, like it's a lot of effort.
12:25
Totally. So we really want to help people discover and enjoy and try out new products from new brands. And, you know, there's all sorts of different ones like the one this month is, you know, a little 10 year sweeter. But last month, we had a spirit free bourbon in there. So it was a smoky or more robust drinks. So there's a huge landscape out there. And like you said, it takes out some of that, like, I don't even know where to start guesswork of coming up with this recipe. So I think it's a really fun way for people to break up their routine or if they're used to drinking, you know, an alcohol free beer or seltzer like just elevating it and making it a little bit more special. And for me, one of the things I missed when I quit drinking was that experience of crafting the cocktail. There's creativity and a ritual involved in doing it, which is what we try to infuse in our box experience.
Casey McGuire Davidson  13:14
And I assume you were a cocktail girl like I was a red white girl. Like that's what I drank seven nights a week. Yeah, I was never terribly into mixed drinks, which when I quit was sort of easier. Because yeah, you know, but like, were you a cocktail girl.
13:31
Big time. Yeah, I was also a wine girl and also a beer girl.
Casey McGuire Davidson  13:34
Oh, yeah, I drink anything. Everybody has their go to?
13:39
Yeah, cocktails for me, for sure. And I loved hosting parties. I loved mixing up drinks. I'm a creative person. I love cooking. So for me, showing hospitality and hosting and making these creative drinks for people was part of how I showed my love and needed community. So when I quit drinking, it felt like here's this huge part of my identity and my personality that I do want to retain somehow. But how do I do that in a way that's authentic to this new part of myself I want to work on?
Casey McGuire Davidson  14:09
Yeah, I mean, I think that's a big barrier for people. I know, when we stopped drinking, I found sort of my sober best friend, Ingrid. And she lives in Seattle, and she was in tech, too. She didn't have kids. And so her big thing was she used to throw these huge parties, you know, dinner parties with amazing food. And so one thing I lived with her big worry was like, I'm gonna miss that. I don't get to have that anymore. And you know, I'm in a suburb of Seattle, with two kids, like my life was not terribly exciting. My drinking was like me on the couch after work being like, Hey, kids are in bed. I'm gonna have a party on my couch. And so she started hosting these dinner parties. She had this like loft in downtown Seattle that overlooks the great wheel in the market. And she would bring together all these really cool women who had stopped drinking, like, including authors and comedians. And like, I would tell my husband on Saturday night, I'd be like, Oh, Ingrid's having this thing. I would drive down there and be like, okay, sober is actually way cooler than I was when I was drinking. I'm like, looking above the market in a loft. You know, having conversations with authors.
15:27
Oh, my gosh, I love that we need to, like have satellite parties of that exact version. What a fun experience.
Casey McGuire Davidson  15:33
Yeah, because I feel like women who stopped drinking too, like, they are interesting. Like, they have good stories like the, you know, like, I remember, like, I went on this retreat, Mexico, and this woman who'd stopped drinking years ago, who's a good friend of mine told me how like, in college, she met this, like, backup singer for this really, really big band. And he asked her to come see him and she flew her out to the next place of the tour. And then she went to Europe with him. And I'm like, Damn, you have good stories. Like, that's exciting.
16:05
So true. So true.
Casey McGuire Davidson  16:07
Yeah. So question for you. I know that drinking surged during the pandemic, and it was every reason, right? People were home every day, they could drink more easily, more quickly, even though a lot of us worked in drinking environments. You know, it kind of stopped us from having a drink, until we commuted home and picked up the kids and we're cooking dinner. And it really surged in a pretty dangerous way. When did you see people starting to be attracted to non alcoholic beverages? Like did it start slowly? And then grow? Or, you know, how did that work? Because the other cool thing about subscriptions is people weren't going to the stores often.
16:52
Yeah, I think it's really interesting. I think, you know, we've seen what we've seen within our own business. So with which started, you know, six months into the pandemic, as we've experienced, but then also, just as a consumer, seeing how the alcohol free market has changed. I think there's like, is it the chicken or the egg like it? Has there been a greater demand, and people are finally addressing that? Or are there now these products and people are like, Oh, these are great, so I'm going to try them out. 
But I think, you know, working from home, and everybody kind of trying to deal with what they were dealing with. I know, you cited the 41% increase in women heavily drinking statistic. I mean, with kids at home, it was such a stressful environment, there was so much going on. And a lot of us found, you know, alcohol to be a way to cope with this challenge. And I think also, in a world where we weren't socializing as much, people were like, Let's have a zoom party and pour a bottle of wine. So we found ways to continue these habits even if we weren't face to face. 
So I think when it became clear that the pandemic wasn't changing anytime soon, a lot of people got fed up with, you know, feeling like crap, and just being home in their pajamas, working from their computer hangover, after hangover, after hangover, and realizing that this was gonna be around for a while, I think forced a lot of people to really say, What do I want my life to look like? Like, how do I want to deal with this new normal. 
And at the same time, I think for a long time, a was really the only way that a lot of people were able to confront their relationship with alcohol. And over the past few years, there have been a lot of changes in the conversation surrounding that where people are realizing one, you don't have to necessarily identify as an alcoholic, whatever that might mean to you to change your relationship with drinking. And to that there are, you know, it might not be one size fits all, maybe not drinking is the right thing for you. That's what I decided three years ago, or maybe mindful drinking is an achievable goal or maybe an occasional drinker. 
So I think just this opening up of a conversation around, what does it mean to reconsider your relationship with alcohol on a broader scale has really impacted what we're seeing right now within the business, which is people coming to us for all sorts of reasons, not just sobriety. Maybe it's pregnancy or health reasons or having inclusive options for their friends who come over or businesses who reached out because they want inclusive virtual events for their employees and don't want to put the pressure on for a team to drink is the only way to connect. So that is a very long winded answer to your question, but I think there's a lot of factors at play here.
Casey McGuire Davidson  19:35
Hi there. If you're listening to this episode, and have been trying to take a break from drinking, but keep starting and stopping and starting again, I want to invite you to take a look at my on demand coaching course, the sobriety starter kit.

The sobriety starter kit is an online self study sober coaching course that will help you quit drinking and build a life you love without alcohol without white knuckling it or hating the process. The course includes the exact step by step coaching framework I work through with my private coaching clients, but at a much more affordable price than one on one coaching. And the sobriety starter kit is ready, waiting and available to support you anytime you need it. And when it fits into your schedule. You don't need to work your life around group meetings or classes at a specific day or time.

This course is not a 30 day challenge, or a one day at a time approach. Instead, it's a step by step formula for changing your relationship with alcohol. The course will help you turn the decision to stop drinking, from your worst case scenario to the best decision of your life.

You will sleep better and have more energy, you'll look better and feel better. You'll have more patience and less anxiety. And with my approach, you won't feel deprived or isolated in the process. So if you're interested in learning more about all the details, please go to www.sobrietystarterkit.com. You can start at any time and I would love to see you in the course 
22:32
Absolutely. So I think when I finally made the choice to quit drinking, for good, a lot of people in my life felt really surprised by that choice, because on the outside, they saw somebody who had their shit together and had a job and kids and a husband and managed to do laundry and all the basic things that we associate with someone who has their life together. 
But that's because I did such a good job of kind of keeping my struggles to myself and numbing them out and quieting them with alcohol. And for the most part, keeping it in check 90% of the time. But then there was the 10% of the time where maybe I was traveling for a work trip and had no responsibilities for anybody else's safety but my own. And that's where I really kind of let my guard down and would wake up in my hotel room with no memory of how the night had ended after a work trip. Or not being able to make it to a soccer practice in the morning because I felt like such a piece of crap. 
So I think 90% of the time I was what would appear to be a normal drinker where I could have a glass or two of wine or a cocktail dinner, and that was that but then there was the other 10% of the time where things got the better of me and would black out and just kicked off this endless cycle of shame, regret and guilt and humiliation. And when I read this piece by Jolene Park, about gray area drinking, there was a term she used that really really resonated with me and still continues to resonate with me to this day, which is this idea of gray area drinking. It's not rock bottom, it's not normal, but it's this space in between that's impossible to occupy. 
And I felt like that's where I'd gotten. I was in a space that felt impossible to occupy. And I knew that something had to change. And for me, that moment was pretty Monday and I was on a work trip in New York and had had not a ton of drinks not my worst by any stretch of the imagination. And I remembered everything from that night. But I was sitting in a long day of meetings the next day feeling so gross, so hungover and I was like I just can't continue to live this way. This is not the person I want to be. I'm wasting so much of my time and other people's time with this behavior. And I'm worth more than that. 
And that was the end of the road for me and I haven't looked back since but it took me practically a decade of questioning and trying to manage moderation and taking breaks and then making excuses for why those breaks would be left I'm sure so many things that you've heard from so many people and can relate to. But yeah, that that gray area drinking was just really a turning point for me. And it's something I talk about a lot because I think many people are like me, before I had heard of that where they think it's all or nothing like if I'm not a rock bottom alcoholic, that I must be able to continue to drink in some capacity. And that doesn't have to be the case. Yeah,
Casey McGuire Davidson  25:22
No, I resonate with so much of what you say because I also was sort of the queen of like, going on business trips, and like, not remembering how I got back to my hotel room or coworkers would help me which is decidedly uncool. And just feeling like garbage. Like I work trade shows for 10 hours, like completely trade show hungover is living.
Casey McGuire Davidson  25:49
It's a kind of help. It really is like it is. It is amazing. And I was smiling when you were talking because I actually quit. Right after a business trip, as well. I had gone on this gorgeous business trip for my company to predigital Marquis down to Scottsdale Arizona and I had a 22 month old at home, and was so excited to lay at the pool and sleep through the night and get a massage. And I got so drunk at a networking event that I don't remember how I got back to my hotel room. I mean, I was there by myself totally unsafe, and had to wake up for 10 hour meetings and have never felt that ill. I mean, my eyes were watery and bloodshot and I was so bone tired. And I was going on vacation with my family. So I drank for a couple more days. They were meeting me down there. But I got home two nights later. I was just like, I can't do this to myself anymore.
26:53
Yeah. And it's so funny, right? Like working tired mom who feels like, Okay, this is my chance to like, relax and let loose and get rest. I remember feeling the same way. Like I'm bringing my clothes for the gym, I'm going to go to bed early, I'm going to get up and hit the gym and eat a healthy breath. Like none of those plans ever happened. Because inevitably, it was something similar where it's like, how did I get back to this room? Just felt like Groundhog Day a little bit?
Casey McGuire Davidson  27:18
Yeah, yeah, completely. And so I know you said you spent 10 years debating or trying to control it. I did as well. I mean, I actually think that's pretty common. So if you've been listening to this podcast, you're listening to this, you're reading the quick flip books. And you haven't stopped yet, like happy. And I can tell you, that actually is pretty normal. And it is way easier to stop drinking than to live in the place you're living now. And you are going to be so much happier. But Abby, I wanted to ask like how have you found life just sort of got past that hard part of early sobriety.
27:57
I have chills hearing you say that, because I feel like I could have heard that from so many people. But until I was on the other side and experiencing it for myself, like I was like, that can't be true for me. And I feel like I have been given a new lease on life. More has happened to me in the past three years than I ever could have imagined. And it's not that it's not hard sometimes. But when I realized that all of the problems I thought that I had and all the reasons I drank to cope with those problems. I thought I was coping. I was really just pouring gasoline on the fire of the anxiety and kind of the pressure that I felt in my life. 
And now it's like, I can see what these issues are. My life is not perfect, but I am able to address these issues with a clear head and feel like I am creating my life rather than my life is happening to me. And I think it is this sense of control and like being the decider of where I want my life to go that is so liberating and empowering and like the fact that somehow my struggles with alcohol have led me to create a business where I get to connect with so many people exploring their relationships with alcohol feels like a pinch me moment, like I just feel like the luckiest person in the world. And for a long time, I felt sorry for myself that like oh, I couldn't get my drinking under control. I wish I could be a normal drinker. Now I feel lucky that I had struggles with alcohol. I feel like I've been given a gift of this new lease on life. And I wouldn't have it any other way. Honestly,
Casey McGuire Davidson  29:30
I completely agree. And I love that you said that. Because when I was drinking, you know, you said something about you know, instead of optimizing your life or loving it, you were, you know, doing something else. I think of it like I was tolerating my life by drinking. Like I had this big job and my boss was difficult and I had no time for myself with my kids and you know, my husband wasn't helping enough or whatever it was. 
And once I stopped drinking. First of all, everything was easier. And my like baseline dopamine finally lifted. So I was actually happier. And my anxiety wasn't so crushing. But also, I mean, I know so many women, I love that you started raising the bar, myself included, my good friend, Ingrid hard mentioned, also included, who actually started businesses that they've kind of always said that they were going to do on top of full time careers that then transition like yeah, my friend Ingrid was was very high up in a tech company, she started a tiny bookstore that she had dreamt about forever, like, got the space furnished it got the books like it is the happiest place I know. I went back to coaching school after 20 years in corporate in startups and started my own business and started a podcast, you started Raising the Bar. And even like people who I am totally fangirling over and just admired and thought were amazing. Like Claire Puli, who wrote the sober diaries, she wrote that book, and published it pretty soon after her first year sober. And now she's an author, like, she's written the authenticity project, she's working on another book, like incredible stuff these highly capable women do when you are not spending 80% of your free time dealing with drinking hangovers, or debating if you have a problem.
31:30
100% I agree with all of that so much. And it's so exciting to see the things that people have gotten to do with their freedom from alcohol, you know, you mentioned like struggling through work and husband and kids. Like, I feel like I enjoy all of those things so much more like, I know, we're, as women marketed so heavily this idea of mommy juice drink to deal with the stress, right? I love and enjoy my kids more than ever before, because I feel like I'm present with them instead of waiting until bedtime to have my escape mechanism. And like getting the opportunity to welcome a third child into our family. completely sober. I've never done that before. It was like, Oh, the baby's out here. Where's your glass of champagne to celebrate, like to just soak that baby and with a completely clear head and just all of it feels like such a gift. And like, it can sound a little corny, but it's so true. It really is so true.
Casey McGuire Davidson  32:25
Yeah, and I agree with you when you say that, you know, struggling without con stopping really is a gift. And I know many women listening to this are going to be like, That is bullshit. I will never feel that way. You got to be kidding me. Because every buddy really wants to quote unquote drink like a normal person. Yeah. But I feel like if it had been more middle of the road, if it hadn't gotten to the point where I like, had blackouts and woke up like feeling really ill. I would have treaded water through this just okay, kind of average life where the highlight of my week was going on date night so that I could drink or the highlight of my year was going on a couple of drinking vacations, as opposed to really enjoying every moment of my life, right? Because you're like waiting for that high.
33:18
Yeah, that actually is something that I think a lot about, like when I finally decided to cut alcohol out of my life. One of the things that I told my husband when I told him I'd made this decision was it wasn't even just about what I did when I was drinking or the recovery in the fallout from after the drinking. It was the space that thinking about drinking took up in my head. So like you said, like going on a trip like that was a drinking trip, like the excitement and like, oh, how much will I get to drink? Where will I get to drink? 
I remember my husband and I did Paris and Barcelona in 2018. The summer before I stopped drinking, and like for me so much of that trip was framed around, what can I drink? And then a couple years later, we went to Portugal as my first big non drinking trip. And I was like, oh my god, like I am experiencing this country in a completely different way. Because alcohol is not at the front and center of everything I'm doing. So I think one of the things is like okay, yeah, maybe it would have been nice to be a normal drinker. But the freedom from thinking about it from all of those mental calculations of how much will I get to do, I need to stop at a certain time, if I paced myself with water. Just when I think back on all of the mind fuckery in the pre drinking phase, it's wild.
Casey McGuire Davidson  34:45
Yeah, I completely agree. And I've talked on this podcast before so anyone who's listened to this is going to know but I was super nervous because I went to Venice and Croatia four months after I stopped drinking. And I was talking To my coach about it and being like, I don't know how to do this, and she was like, you are going to love sober travel. I wish that I could do every trip I did drinking sober. And so I didn't drink on that trip. And it was completely different. Like you describe your trip to Portugal just like you, you were changing what you were doing. I was getting up early to take photographs of the canal when nobody else was awake. And I was spending all my alcohol money on jewelry and doing gelato crawls. And since then I've gone to Greece and Amsterdam and Mexico and Hawaii and all over the US love it not joking. And it's amazing how much more you experienced than being in a bar or in a restaurant.
35:44
100% I remember one of my last work trips before I quit drinking, I worked for a company based in Ireland and I was in Dublin for a few days without my kids and I wasted the last day of the trip throwing up all day in the hotel room, like having a co worker deliver greasy takeout because that's all I could do. And it's like, I feel so sad for former me that I missed out on that day, you know?
Casey McGuire Davidson  36:08
Yeah. Oh my gosh, and how embarrassing is that? Like nurse. So I told a story where I literally threw up on myself in a cab on the way to the airport like, oh, well, I know, there was a co-worker, another director in the car with me. And I was like, How the fuck am I going to explain this? Like I said to my husband, like, Do you think he's gonna tell anyone and he was like, you threw up on yourself? I'm pretty fucking Sure. Tell someone like it was mortified, like, memory about your Ireland chip. Like I was literally like taking the New York Times out of a plastic bathroom and like stuffing my clothes in it. Like, that was horrible. And I was like, Do you think he might think I was pregnant? Because I was like, 28. And I was like, Oh, I was at the bar. Like, that's not a thing. So oh my gosh, I Yeah. For myself, not only because I feel sorry for you, I feel it flying hungover Jesus.
37:08
I nearly didn't make it to the bathroom on the airplane after that Ireland trip and nearly sprayed the last three rows of the plane with my vomit. I made it just in time. And like, the thing is, we have to laugh about these stories. Like they are funny. They are totally funny. And I'm sure that's 100%. But then there's the stories like another time in Ireland, that you talk about the hotel room, like not having any idea how you got back. I remember waking up, my hotel room door was open. There was glass all over the bathroom floor. I don't know how I got back. I don't know if someone helped walk me home. I don't know why the door was open. I don't know why the glass is broken. And just there's like the funny hilarious stories. And then there's the stories that like I could have been raped or killed and like, how could I have ever put myself in that position? And I want to protect every individual in the world from ever facing that like,
Casey McGuire Davidson  38:04
yeah, it's really bad. You're presenting like you have all your shit together, right? I'm traveling for business. I'm sure you're posting all the lovely pictures. Oh, yeah. On social media. And yet that is terrifying. And my husband even said, I mean, I went to a, I was flying back from a trip. I met two strangers. You know, the flight was canceled midway due to a snowstorm. I met two strangers in the line, both young and single, a guy and a girl. And we decided to somehow trade in our money that we were supposed to use in a hotel room for three rooms for one room. So we should spend it all on alcohol like literally had just met these people, went to the bar, drank all night, slept in this room with these two people. Thank God they were totally quote unquote cool. Like they were my people. And like, barely made it to the flight and I was born and my husband's like, literally what the fuck? Like I wouldn't adult?
39:05
Yeah, it's like there. I've put it this way before where? One or two drinks, okay. And then at some point a switch flips. And then you're like, a different version of yourself that is out of control and does things that normal or sober? You would question? Like, that's terrible judgment that you made. It's terrible
Casey McGuire Davidson  39:26
that I wanted that flip to switch because I was like, now it's going to be exciting. And yeah, that's not a good idea. So I mean, I think we've all had that. What did your husband think? When you decided to stop drinking? Had he been wanting you to? Does he still drink?
39:48
Great question. So we met in college. We dated or we were friends all through college and didn't date until after so we went to a small undergraduate school that had a very heavy drinking culture. Like the rally cry Friday nights was let's get blackout. And nobody batted an eyelash about that. So we had our fair share of partying together. But he definitely wasn't somebody who would get blacked out or throw up or any of that seemed like kind of just your average drinker, average Normie. And then when we started dating, that was when I really started to get out of control. I think in my, you know, first apartment being out on my own, my first job was probably dealing with a lot of things in an unhealthy way. And so we kind of were dating for, oh, maybe nine months before we like were official. And there was a lot of back and forth a lot of blackouts that I don't remember a lot of, you know, kind of him being like, why are you doing this, but like, not wanting to tell me to stop or control me or anything like that. 
And anyways, as we had kids, I got things under control more than I had when we didn't have kids, but I was still having bad nights here and there. And, you know, he would be like, are you gonna, like be cool at this party? Like, do you want to check in with me on how many drinks like he kind of offered to be my wingman for making sure I was decent, like, he wanted the best for me. But he didn't want to say you can't do this. And so when I finally told him, I had made the choice for good. His first reaction, which breaks my heart was guilt, that he didn't realize just how bad it was for me to get to that point. And I think it was the first time where he really realized that there was this private part of me that I was shielding from him. And from the world where I did this kind of, in secret, like I wasn't the person who was dragging a canister of wine bottles to the curb when nobody was around. But like, I would be sneaking drinks at a dinner party kind of pounding one to get one in the system so that I didn't look like I was, you know, outpacing anybody else. So he felt really guilty, which broke my heart because it's nobody's fault. It's not his fault. It's, you know, it's what it is. 
But I think that was the first opportunity for me to really get vulnerable and get honest about what things have been like for me. So he does still drink. But again, he's what I would call a normal drinker. And one really interesting side effect he noticed when I quit drinking was, he was drinking a lot less because I was going to be the one on a weeknight who's like, let's open a bottle of wine together, I was the instigator. And without me leading the charge there, he's just not a big drinker. And so what I love about running the company with him is that, you know, again, raising the bar is about the opportunity to enjoy a celebratory drink without booze for whatever the reason we're not just for sober people, I think about 50% of our subscribers don't identify as sober or sober, curious. They're just interested in alternatives. And I think that's a really exciting thing. I think we're also seeing more restaurants in hospitality industry, catering to this desire to have elevated options that don't include alcohol. So
Casey McGuire Davidson  43:01
Yeah, I mean, my husband still drinks too. And I think that's something that a lot of women worry about. My husband is a Normie as well. We've also been together since right after college, like 2223. So I drink our entire relationship. And you know, I used to always be like, you knew what you were getting into. Love me. Don't judge me. And he's like, Yeah, I kind of thought you would grow up. It's totally up. But he's still you know, he still drinks exactly like you. He's ignored me. And he does not drink wine in the house. We never have wine in the house because that was my jam. Yeah, you know, I have my AF beers. I love Athletic Brewing Company. He has his, you know, regular beers. And what's interesting was you said you did a box with bourbon and you know, AF bourbon, like some tap taste of it. And so he actually likes mixed drinks. I was never my jam, but I'm interested. I want to try raising the bar because I think it could be really fun for us. And I'll tell you guys about oh, do cause yeah, I'd love to try it because I never got into those sorts of craft drinks. And I have to ask you because I've heard debate about this. When I talked to Laura Silverman about Zero Proof Nation. She said she didn't love the word mocktails. She liked zero proof drinks. So do you have a preference on how you describe what you do?
44:31
Yeah, so we call it a zero proof cocktail experience? Because I think a lot of the conversation surrounding mocktail is the word mock is right that like fake Yeah. And so we make craft cocktails without the booze as simple as that so I but I don't shun the use of mocktail. I think if that is what people want to call it, and that's what gets it into the mainstream.
Casey McGuire Davidson  44:57
Totally, totally agree. But I do like the idea of zero proof like your proof cocktail just sounds more sophisticated. And it's sort of my go to drink that I always know I can order when I go out. If it's a mojito, like a non-alcoholic mode, this waiter who was totally clueless brought me out, and he's like, here's your fake mojito, and I was so pissed. Like, I was like, saying, I'm like, fuck that guy. Like, he doesn't know, like,
45:27
I was, like, Oh, I know,
Casey McGuire Davidson  45:29
I know about the alcohol. So yeah,
45:32
there's a lot that needs to happen in the hospitality industry, just for people to like, I talked about it this way. Sometimes, like years ago, vegan options, or gluten free options, were not the norm. And now they are like most restaurants will have accommodate those things. Like this is another accommodation for a group of people and like, you would never mock a gluten free pasta. So I think we're just at this beginning of feel like we're at this
Casey McGuire Davidson  45:59
point. And, you know, what I found and I always tell women I talk to is, if you can talk to the bartender, not the waiter, because waiters are typically or waitresses, or are sort of often younger, less experienced, whatever. Not necessarily, but a lot of bartenders, like the creative challenge. Yeah. Something interesting. They also often they've told me like, are tired of dealing with drunks. And, you know, a good number of them are sober, too. Yeah, the bartenders are sober. So fascinating. You know, just being like, I go to waiters. I'm like, Oh, I don't drink alcohol. Will you ask your bartender if he can make me something really interesting. That's alcohol. Yes. When I say like, I don't say I'm sober. But I say, Oh, actually, I don't drink alcohol, in a way to be like, don't bring me alcohol, but like, just very like, in the same way, you're like, actually, I'm vegan. I
46:56
don't eat. Yeah, I don't eat meat. Yeah. We actually just posted on our Instagram, booze free drinks to order at a bar. So if you're feeling like I don't know what to order, and I don't want to get a Shirley Temple, like, if you do feel comfortable having bitters, some people in recovery do some don't. But bitters and soda with a splash of grapefruit is a really great easy one. club soda, mint and lime, like things that are simple, but aren't going to be again, those syrupy, sweet concoctions that will make you feel a little bit more elevated during your dining
Casey McGuire Davidson  47:26
experience. If you send me that link. I'll include it in the show notes. So that definitely dive into that as well. Because I think that's a big question of like, I'm going to a bar, what do I order beyond like ginger beer or something? Exactly. The other thing I wanted to talk to you about was, you talked about how it is becoming more mainstream, in restaurants and bars in general conversation. And I read recently that dry January this year, 2022, was amazing. 35% of adults in the United States participated in dry January. And in 2019, that was just 21%. So growth from 21 to 35%. of American adults. I mean, that is amazing. And you know, in terms of it not being weird, to go to a bar or go to a restaurant or order something different. The stats show that 78% of people who were doing dry January, still visited a restaurant or bar 29% Drank non alcoholic beer, which is way up from three years ago. 23% going out drink mocktails, or zero proof cocktails, and 26% in 22 tried alcohol free wine or spirits. So this is normal. I mean, we're talking like one out of four people are doing this. So you are not an outlier. You just may not see it within your immediate friend group.
49:08
Right? Yeah. And I think that's really what I want raising the bar to be, which is normalizing the choice not to drink. And that doesn't have to mean you identify as sober or you identify as an alcoholic, just normalizing that a wonderful drink doesn't have to include booze in it. And I think that's what we're seeing more and more people realizing like these things are really delicious. They're really beautiful. And I can mix it up a little bit. So I think it's so heartening and I saw some people in the kind of zero proof space talk about this during dry January that they felt like, quote normies were kind of hopping on for a month and then hopping off. 
And I can see where somebody might feel that way. But my perspective is the more the merrier. The more people who understand this and try it out, the more it's better for those of us who occupy this space all the time. So I'm thrilled to see the rise in popularity. And then also the market responding to the desire for these elevated options. Like, I'm so excited that there are so many more brands and products to try out there makes me so happy. Like, I'm somebody who loves a beautiful bottle and a beautiful product. So if I can indulge that part of myself with something that's, you know, better for me, then that's really exciting. Yeah. So
Casey McGuire Davidson  50:25
you can go out, you can have this beautiful drink, and you can still get up and work out, you can still sleep well, you can still go to work. If your kid starts crying in the middle of the night, you can get up with them. I mean, there's so many benefits to it, you don't embarrass yourself in front of colleagues. And it can also be exciting. Like, I don't know about you with cocktails, you said you love to host parties. I'm an ambassador for the Athletic Brewing Company. And actually just in case anyone wants to try it, you can go to their website and get 20% off your first order if you use the code, KC D 20. Just in case, but I you know, had a summer barbecue and put out you know, there was, there was regular beer for the people who drink that there were kids drinks for the kids there. But I put out this whole selection of all the different versions of athletic Brewing Company beer, so the IPA, the hazy IPA, all the other ones. And like we did a taste test. And you know, I think 90% of the people there drank alcohol, but they were all trying it. They were like, Ooh, this is good.
51:30
It's awesome. One of my best friends got married in the fall. And she and her husband had athletic brewing at the bar. And it was so fun to be out on the dance floor and see a bunch of people who I know, drink alcohol, having those blue, yeah, cans in their hands. And just, it was such a nice gesture on their part to have that inclusive offering. And then also, it's a great product. So seeing people enjoy it, regardless of their sobriety status was very cool.
Casey McGuire Davidson  51:59
Yeah. And in the Athletic Brewing Company community, I would say like 30% of people who are ambassadors are sober, like identify as is what quit drinking and I don't drink anymore. But the other 60-70% are athletes, like they sponsor like trail runners and marathoners and hikers and climbers. And they know that alcohol is really bad for their body and for their recovery. So it's not that they are sober. It's just that they're like, drinking is really bad for you.
52:33
Yeah, and this tastes awesome.
Casey McGuire Davidson  52:35
Yeah, exactly. Well, it is so good to talk to you if people want to follow up with raising the bar and find out how to get your subscription boxes because I always talk about sober treats how important they are to rewire your brain about what you know, we get so lazy with like, a drink is our treat at the end of the day, like I deserve this, I have nothing else and you need to invest that money you used to spend on alcohol, with other things that bring you joy and pleasure, whether it is brunch, instead of happy hour or where whether it's a walk with friends, or a bike ride or a picnic. But this is something really cool that could arrive at your house every month that you could get excited about which I love. Lots of women used to belong to wine clubs. So tell us how people can find out about raising the
53:27
bar. 
Yeah, so you can find us at Weareraisingthebar.com. That's our website. And you can learn more about our subscriptions there. We also do work with corporate businesses or event partners on zero proof cocktail experiences that you can do as a team. And on Instagram we are @weareraisingthebar. And I love to hear from people, like you said, you know, replacing it with something that you used to do is so nice. Like I really feel like part of what this kid is, is that ritual. So a lot of people in sobriety. It's like that tea at the end of the night. There's like the signal at the end of the night. So I love the experience and the joy, which is a joyful thing of making these drinks because it really has been a huge tool for me and my personal journey. And I'm so so proud to share that with others.
Casey McGuire Davidson  54:17
Yeah, I love that. I just talked with Jamie Lee Grace, who's the founder of the sober club and alcohol free life. And she always says keep the ritual, change the ingredients. So I love that. That's perfect. Awesome. Awesome. Well, thank you for coming on.
54:33
Thank you, Casey. So nice chatting with you. You too.
Casey McGuire Davidson  1:08:16
Thank you for listening to this episode of The Hello Someday Podcast. If you're interested in learning more about me or the work I do or accessing free resources and guides to help you build a life you love without alcohol, please visit hellosomedaycoaching.com. And I would be so grateful if you would take a few minutes to rate and review this podcast so that more women can find it and join the conversation about drinking less and living more. 
OTHER WAYS TO ENJOY THIS POST: