Drink Less. Live More.
Life & Sobriety Coaching for Busy Women
TAKE THE FREE MASTERCLASS
5 SECRETS TO SUCCESSFULLY TAKE A BREAK FROM DRINKING
---
Tired of starting and stopping and starting again? Wondering why you can't seem to stick to 2 glasses a night or just two nights a week? I've got you covered! Join me to learn all the secrets.
Ready to create a life you love without alcohol?
Get The FREE 30-Day Guide To Quitting Drinking
30 Tips For Your First Month Alcohol-Free
Hello,

I'm Casey

I'm so glad you're here!

I'm an ex-red wine girl turned life + sobriety coach who helps women create lives they love without alcohol. I'm the creator of The Free 30-Day Guide To Quitting Drinking and the host of The Hello Someday Podcast, the podcast for busy women ready to drink less + live more.

I specialize in working with women like you, with full calendars and overflowing to-do lists,  who are doing ALL THE THINGS and then coming home and drinking to forget about all the things.

I work with women through private one-on-one coaching and my on-demand sober coaching course to turn the decision to stop drinking from your worst-case scenario to the best decision of your life.

If you're ready to change your relationship with alcohol, I'd love to help you get there!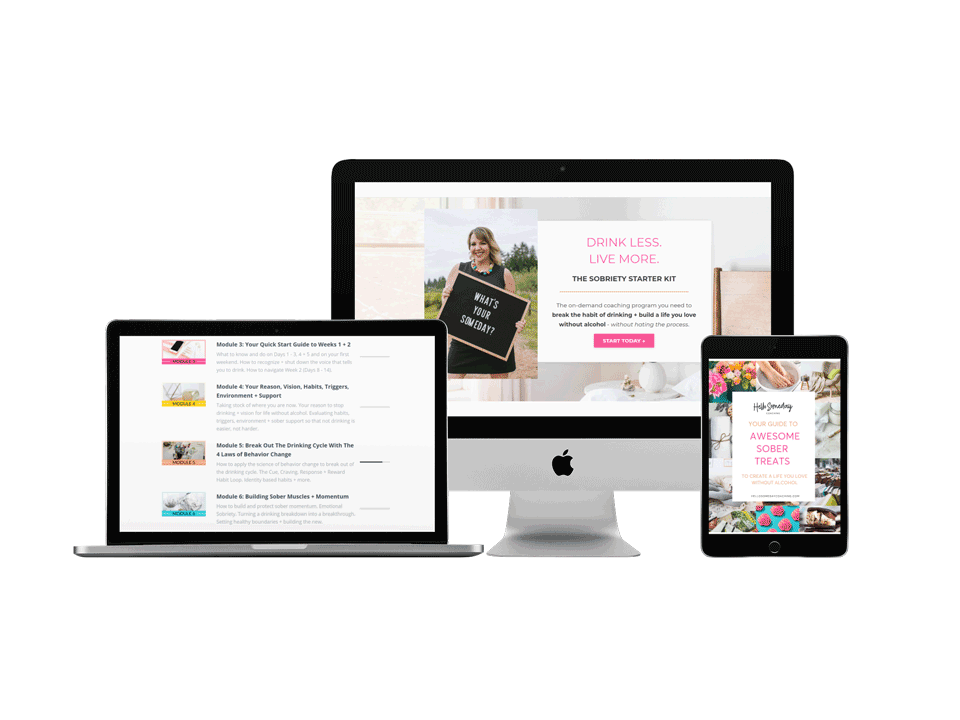 The Sobriety Starter Kit
Now Enrolling
I've helped thousands of women break their habit of drinking and can teach you the step-by-step system you need to stop drinking + build a life you love without alcohol through my on-demand, self-study sober coaching course.

Amazing Support In Early Sobriety
I started listening to this podcast in my first few weeks after I stopped drinking, and it has been a huge source of support and one of the tools I have used to stay sober.
This podcast is like a blueprint for how to make this major life change!
Highly Recommend
I googled stop drinking and thankfully found The Hello Someday Podcast.
Casey's down-to-earth personality kept my interest. As I continued to listen I could relate to everything she said. I have learned so much.
If you are trying to quit drinking you are in the right place!! Thanks to Casey I am happily sober. So grateful!
SO RELATABLE!!!
It is so nice to finally find such honest and relatable content when it comes to drinking.
Casey lays everything out in ways that make it easy to digest and take action without feeling guilty or ashamed.
She is a gem and I am so happy to have found this podcast!

"Working with Casey is the best gift I have ever given myself! She helped me get out of the miserable cycle of work – take care of family – wine – promise yourself you will quit – can't – then repeat. I tried for years to moderate or quit drinking on my own but I never could do it for long. Adding Casey's support made all the difference."
Megan, Missouri (Now at 3 Years+)
"Day 100! I am so grateful to be on this path. Having Casey as my cheerleader, mentor, and friend has made putting down the wineglass so much less scary and lonely."
Mary, Georgia, Now At Two Years+
Day 30! I'm still shocked that I have pulled this many days together. Before I started working with Casey it was hard to get a week without drinking. But the days actually feel easy now! I feel good, happy and productive.
Christy, Wisconsin (Now at 1 Year+)
"I just hit 50 days and this is my longest sober streak in decades! I've tried a lot of things to stop drinking in the past, with very limited success. I've kept a journal, joined online sobriety courses, read all the sobriety memoirs, juice cleansed, meditated, etc. Coaching with Casey has been different and incredibly helpful. "
Sarah, Toronto, (Now at 6 Months+)
The Sobriety Starter Kit Course