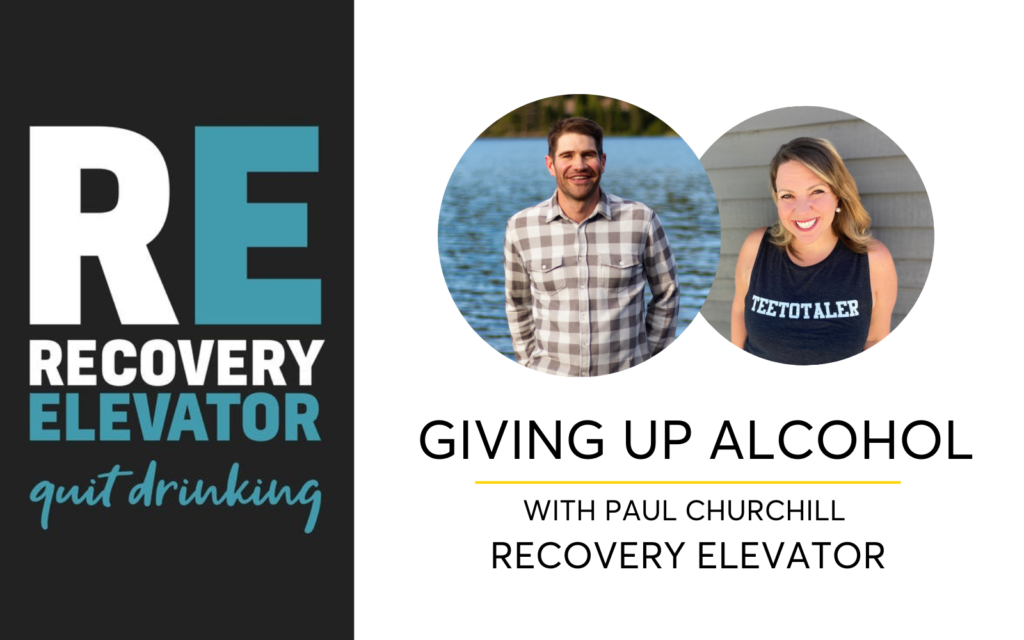 Giving up alcohol with Paul Churchill of Recovery Elevator
Today I'm talking about giving up alcohol with Paul Churchill, the founder of Recovery Elevator. 
Paul is a leading voice in the world of recovery having launched the podcast, Recovery Elevator, 6 years ago as an accountability tool when he was first getting sober. 
The Recovery Elevator podcast has been downloaded over 6 million times in 145 countries and has helped countless women and men give up alcohol and live a better life. 
Today, Paul and I discuss how he went from owning a bar in Granada, Spain and blacking out 7 days a week to launching a podcast about alcohol addiction, and using an addiction as the fuel to start an online and in person alcohol-free community and business. 
In this episode, you'll learn about:
Paul's alcohol journey + his path to sobriety

How to shift your mindset from believing that giving up alcohol is a huge sacrifice to seeing that living an alcohol-free life opens up a universe of new opportunities

Why Paul doesn't subscribe to the disease model of addiction and believes that the reasons many of us struggle with alcohol is driven by our environment and not genetic

The societal misconceptions about people who struggle with alcohol – the majority are outwardly successful and don't fit the stereotype of an 'alcoholic'

Why it's important to "do the work" after you remove alcohol to heal the reasons that you started using alcohol to self-medicate in the first place

How recovery from drinking happens in the opposite order of the ways in which drinking breaks you down. Alcohol kills you first spiritually, then mentally and finally physically and once you remove alcohol you heal in the reverse order: first physically, then mentally and finally spiritually
Want more support, resources and tools to help you go alcohol-free?
You can Drink Less + Live More today with The Sobriety Starter Kit.
It's the private, on-demand coaching course you need to break out of the drinking cycle – without white-knuckling it or hating the process.
Grab the  Free Sober Girls Guide To Quitting Drinking, 30 Tips For Your First 30 Days
More about Paul Churchill and Recovery Elevator
In 2006, Paul Churchill moved to Granada, Spain where he purchased a bar. In the following three years he became dependent on alcohol, blacking out close to 7 nights per week. In 2009, Paul walked away from the bar hoping a geographical cure would curtail the drinking but continued to drink for another 5 years.
Now running the Recovery Elevator, Paul helps others start their journey and turn their life around. Most recently, Paul's Ted Talk titled 'I've Been Duped By Alcohol' has also been viewed over 500,000 times!
The Recovery Elevator podcast has evolved into a private membership community with over 1,300 members from all over the world. Paul has spoken to thousands of students about alcohol awareness across the country. Along with putting on alcohol-free wellness retreats and seminars across the country, he hosts sober travel itineraries across the globe. Paul is the author of the best-selling book Alcohol is SH!T, has delivered two TEDx talks, was a featured speaker at My Brave in Los Angeles, and plans to continue eradicating the stigma surrounding alcohol and addiction.
Find out more about Paul, his sober community, and subscribe to The Recovery Podcast, head over to Recovery Elevator: Giving Up Alcohol | How Can I Stop Drinking Alcohol
Watch Paul's inspiring TedX Talk titled  I've Been Duped by Alcohol on YouTube
Subscribe to Paul's YouTube channel for support during your alcohol free journey
Follow The Recovery Podcast on Facebook @recoveryelevator
Want to connect and talk about this podcast?
Take a screenshot of your favorite episode, post it on your Instagram and tag me @caseymdavidson and tell me your biggest takeaway!
Want to read the full transcript of this podcast episode? Scroll down on this page. 
ABOUT THE HELLO SOMEDAY PODCAST
The Hello Someday Podcast helps busy and successful women build a life they love without alcohol. Host Casey McGuire Davidson, a certified life coach and creator of The Sober Girl's Guide to Quitting Drinking, brings together her experience of quitting drinking while navigating work and motherhood, along with the voices of experts in personal development, self-care, addiction and recovery and self-improvement. 
Whether you know you want to stop drinking and live an alcohol free life, are sober curious, or are in recovery this podcast is for you.
In each episode Casey will share the tried and true secrets of how to drink less and live more. 
Learn how to let go of alcohol as a coping mechanism, how to shift your mindset about sobriety and change your drinking habits, how to create healthy routines to cope with anxiety, people pleasing and perfectionism, the importance of self-care in early sobriety, and why you don't need to be an alcoholic to live an alcohol free life. 
Be sure to grab the Free Sober Girl's Guide To Quitting Drinking right here.
Are you subscribed to my podcast? If you're not, I want to encourage you to do that today. I don't want you to miss an episode.
I'm adding a bunch of bonus episodes to the mix and if you're not subscribed there's a good chance you'll miss out on those. Click here to subscribe in iTunes!
Now if you're feeling extra loving, I would be really grateful if you left me a review over on iTunes, too. Those reviews help other people find my podcast and they're also fun for me to go in and read. Just click here to review, select "Ratings and Reviews" and "Write a Review" and let me know what your favorite part of the podcast is. Thank you!
READ THE TRANSCRIPT OF THIS PODCAST INTERVIEW
Giving Up Alcohol With Paul Churchill Of Recovery Elevator
SUMMARY KEYWORDS
drinking, alcohol, people, casey, addiction, hear, life, day, feel, good, anxiety, podcast, quit, recovery, sobriety, months, moment
SPEAKERS: Casey McGuire Davidson 
00:02
Welcome to the Hello Someday Podcast, the podcast for busy women who are ready to drink less and live more. I'm Casey McGuire Davidson, ex-red wine girl turned life coach helping women create lives they love without alcohol. But it wasn't that long ago that I was anxious, overwhelmed, and drinking a bottle of wine and night to unwind. I thought that wine was the glue, holding my life together, helping me cope with my kids, my stressful job and my busy life. I didn't realize that my love affair with drinking was making me more anxious and less able to manage my responsibilities.
In this podcast, my goal is to teach you the tried and true secrets of creating and living a life you don't want to escape from.
Each week, I'll bring you tools, lessons and conversations to help you drink less and live more. I'll teach you how to navigate our drinking obsessed culture without a bus, how to sit with your emotions, when you're lonely or angry, frustrated or overwhelmed, how to self soothe without a drink, and how to turn the decision to stop drinking from your worst case scenario to the best decision of your life.
I am so glad you're here. Now let's get started.
Hi there. My guest today is Paul Churchill. He's the founder of recovery elevator. He's done an awesome TEDx talk called I've been duped by alcohol, and has written a book about alcohol being shit. I'm really excited to have Paul here. He says that his life has improved tenfold once he made the decision to quit drinking. He's got a really interesting story and a ton of awesome advice to share. But Paul also says that removing alcohol from his life, fix things that he didn't even know were broken. And I can't wait to dive into this interview. So Paul, welcome. I'm so happy you're here.
Hey, Casey, thank you so much for having me. It's great to Great to see you. It's great to be here with you. You've got such an awesome project going on yourself. Thank you. Thanks for having me.
Oh, no, I'm so excited. I mean, I've been following the recovery elevator podcast for years. I know you said you started it early in sobriety as an accountability tool. But it's been what a long time that it's been going and I know the podcast has like 6 million downloads. so incredibly popular.
Time flies by fast. I first quit drinking on September 7 2014. And then I had the idea about two months after that I was going to an AA meeting is October of 2014. And I said the three most dangerous words somebody with a drinking problem can say: I got this. 
And I remember to tell myself, I'm too busy for this a meeting that I was going to go to. And I was hiding behind a pine tree just because the stigma I didn't want anybody to see me. And I, I turned back to walk to my car and I stopped in my tracks. I don't know. When I recall that moment. It was almost divine or whatnot. I just I knew there was this moment of stillness inside me moment of peace. I knew if I got in my car, and I didn't go to that meeting, and I just and I believe that I got this I knew that I'd be toast.
That summer of 2014 Casey got really grim. I had a DUI while driving to work a failed suicide attempt. I spent the night in a suicide proof jail cell. It was just like one rock bottom after another emotional rock bottom that it was brutal as though for two months into it for me to say I got this right. those are those are false statements.
And so I knew I had to do something different. And I love podcasts. And I had the idea at that moment behind that pine tree of shame for a podcast, and I and then I was like, Oh gosh, this is a big one. So I met with a friend of mine who's a YouTuber, his name's DIY Pete. And he advised me and said, if you're gonna do this, I think it's a good idea. But you got to be ready to fully put yourself out there. I went on about a 4000 mile road trip from Seattle to the Mexican border on the PCH (Pacific Crest Highway). Beautiful drive.
I don't know if you know this, but I've been in Seattle since I was 25 years old.
Ah, such a cool place. I love Seattle. Yeah, and I I've kind of mapped it all out in my mind. Mostly the decision of coming out at that level and I call it burning the ships right of as like, Am I really gonna upload an mp3 of my whole struggle with alcohol. I mean, this is my deepest, darkest secret. Yeah, there's a couple pros and cons sheets have been made Casey. And so my first episode came out February 25 of 2015 with about, you know, five to six months of time away from alcohol and huge gamble right have to come out on the podcast or in with with not a lot of time away from alcohol. And that's okay. Like I don't Who cares if I drank after that? Right? The point was to create accountability.
And it worked. Here I am almost almost seven years approaching that number this September. So it worked. But I recall the first three months, Casey going to bed, there were times every night. I was like, what the fuck did I just do? Yeah, because nobody was listening, which was a good thing. I didn't want anybody to listen. But there was still this voice of like, what are you doing? You this is, this is crazy. And then finally got an email from somebody about three weeks after my first episode came out. And I was too afraid to read it, you know, the stigma, I thought it was gonna be criticism or whatnot. I finally read it and it said: I'm also trying to quit drinking and, and then you know that the journey started.
I learned so much about podcasting about websites about communities. And, of course, I had to stay sober at the same time. And you mentioned Casey, before we hit the record button, doing these interviews is like built in accountability. In the first 100 interviews there would be days I'd go into the office just not feeling it, or going to do the interview, and not really thinking about drinking, but I just wasn't into it. I just wasn't feeling good emotionally. And then I do this one hour interview with somebody else who was also trying to quit drinking or on the same path. And it was like sobriety fuel. So once a week, I would have this intimate call with someone and we're doing it right now.
After we finish these interviews, it's like wow, okay, like I'm good to go. I'm energized for the day of the week. It's just such good recovery sobriety fuel. And here we are six years later. 
It's incredibly brave to start the podcast so quickly after you quit drinking. And like you said, it wasn't anonymous, which is amazing. I know so many people who have done something like start an Instagram account and start posting when they quit drinking for accountability for connection. I know I've interviewed Claire Pooley. And Lotta Dann who wrote Sober Diaries and Mrs. D is going without, and Belle Robertson who wrote Tired of thinking about drinking. And they all started their blogs for accountability, talking through and processing all their feelings in early sobriety, but they all did it anonymously. So and I started this podcast, I'm a little over five years sober. I didn't start it until I was four years sober. So good job to you. Because that's really, really brave.
Thank you, Casey, in all to tell you right now, I don't have it figured out. And you bet you're behind the first year of podcasting. I didn't know what I was talking about. I didn't know what the hell I was doing. That's okay. I was I was authentic about that. I feel like I was transparent about that. I made that statement many times. In fact, at any time in my journey, if on my podcast, you hear me say I've got it all figured out, you know, here are the sequential steps just tune out. Because that's not right. There's always something more to learn. There's no top of the mountain and I feel that's built in by design, that's a good thing. And we're all simply helping each other reach that internal wholeness without the external substance,
but it helps to know that you're not alone that you're not the only one struggling about it, that people have quit and they're happier after it and that life doesn't end I mean, I feel like that's what all of these conversations help people realize.
definitely definitely and and I'm not walking past this path alone and in fact others have paved the way for us many programs before me bill W and in 1935 and Dr. Bob with a You and I were simply picking up where where other programs have left off and we see there's a niche Well, I love this program but maybe there's there's more opportunity in a different a different area. And I love it when I hear there's a new sobriety podcast coming out because I think there's infinite space in this arena in this niche for more projects for ditching a booze.
Yeah, that will tell us a little bit about your story. People are listening this and they're not you know familiar with your path and and why you stopped drinking, why you gave it up and how that you know sort of came to fruition for you.
Yeah, okay. We'll give you the details about me right now. I'm 39. I live in Bozeman, Montana. I've got an incredible Standard Poodle named Ben for fun. We like to get outside and get outside and get outside again, how I got a camper on my truck. We just, we do a lot of physical exercise outside in nature. And I think nature is so beneficial to my own recovery. my nervous system likes to be in nature. I just feel that calm, right sunsets, waterfalls, all that stuff we love to do. And I was born in Utah moved to Colorado at age 12. And I was a normal drinker till about the age of 21. And like many people on my podcast, I want to hear the stories of their the first drink experience. It was like this. Wow, okay, this is it. Me and you alcohol. We're going to forge a fantastic friendship. We're going to kick a lot of ass in life. And that was the truth. We did that for for five to seven years. Uh huh. And then when I was 22, right after I graduated college, I studied abroad in college in Granada, Spain. And then I went back that summer after that, and I started a pub crawl, which is like a tour of the nightlife.
I played rugby in college. So I'm very, very familiar with pub crawl.
Oh, for sure. Yeah, that's definitely a drink in sport. And so I went back and started my own pub crawl in in Granada, Spain. And we were having like 70 people a night, we'd go Wednesday, Thursday, Friday, Saturday at about 70 people per night at 10 euros ahead for all summer. I mean, it was our job to just get blasted. And on the weekend, or when we weren't working, we'd rent a car and like drive around Spain, and we drove to Portugal incredible, and one of the best summers in my life. And so I wanted to keep that going, I went home, graduated college, then I moved home, I saved up a bunch of money, and I bought half of the bar with a Spaniard in Granada, Spain. And that was the best and worst time of my life. Casey, the best time that you can think of it was my job to party and that was in a different country, all the people I met but on the flip side, I was becoming dependent on alcohol. And in fact, this was my routine, the last year where I would instinctually intuitively wake up at 5:59am. I'd walk downstairs to the convenience store that opens up at six, I'd get a box of wine and I would get two cans of beer, I'd come back, I'd microwave the beer because you can drink warm beer faster. And while the beer was microwaving, I would chug the wine and then I'll go back to bed till probably to 2:30pm and do that every day. But that was after I blacked out the night before, right. So daily, I'm throwing down probably 20 to 40 drinks, it just depends on the day. And the loneliness and isolation of that was really intense. Use alcohol used to give me that external connection. But then I crossed the barrier with it where all I wanted to do is be by myself and drink alone. And if you're overseas and doing that, that's dangerous. And there was a time when I blacked out for almost. It was like a two and a half or three day blackout and I did like four or five Ambiens at once. And the anxiety was so intense Casey that I recognized. Look, if I stay in this environment, it's an important word then I'm probably not going to survive it. And I walked away from that bar at age 27. Very smart thing credibly humbled, thought the thought the thought the drinking would stay on that side of the Atlantic. In fact, I had audible hallucinations for about three weeks it was the Braveheart soundtrack. It could be worse. But in my withdrawals, I had audible hallucinations. I was hearing things that weren't accurately there. Thankfully, it was the London Symphony Orchestra. And it was a beautiful auto audible hallucination. I kid you not I'd be in the grocery store. And I would hear it. I hear the soundtrack plan.
Were you scared during this time? I mean, it sounds really scary.
I was terrified. terrified. Yeah. Because I would I would like, Oh, my phone's playing music. And I would go through bags and look in the car that, oh, something's going on here. within three weeks, I did some research, Dr. Google let me know that those symptoms should dissipate.
I went to grad school in Seattle at UW (University of Washington). I love that place.I got a leadership degree.
And they on January 1 2010. I quit drinking for two and a half years. And it was mostly on willpower, but it was also removing alcohol alone just made so much stuff better. Yeah. And then but at the end of that two and a half years. If you're not doing anything, I'm going to say recovery work. If you don't have a community of people who also don't drink, then you're living life as a sacrifice.
I was doing everything I just wasn't drinking. And that gets tiring. In 2012, I went to a meeting to support somebody else. And in that meeting, I was focusing on the differences, not the similarities, and I heard all these stories of things that hadn't happened to me bankruptcy, DUI, job loss. Somebody had killed somebody with their car in that meeting and didn't present time. And I walked out and said, whoo hoo, I don't have a drinking problem. What the hell was I doing this last two years without drinking?
So it actually like convinced you you were like, oh kidding. I keep drinking like fully, fully believed. That's a crazy voice in your head. Yeah, we have a problem.
Yep. I'm cool. You got it. Casey, and I drank the same day or maybe two days later. And that ended up on my computer at 2:30 in the morning googling if I could drink rubbing alcohol or hydrogen peroxide after having drank all the alcohol in the house, I drank my roommates bottle of champagne that was from his wedding. I woke up the next day, I was like, holy shit, what the hell happened last night.
And then, so I recognized Okay, I was on the right path alcohol me we don't, that's not a good thing.
And then I got 10 months away from alcohol, then four, then two, and then three. But I always told myself, you know, I've done it. I did it for two and a half years, I'll get it.
But then in the summer of 2014, Casey, it got scary, because that's when the hopelessness arrived, or the hope left, right. It was like, Oh, shit. I've been on day one for 60 days here. And I've been really trying to quit drinking. I don't know if I'm gonna get this. And my heart goes out to everybody listening. And I see it my community when you're on that, that hamster wheel of addiction to day ones. And there's part of you that says, Oh, my God, yeah, this is we're not going to get this. My message is something will stick keep building momentum. Keep putting energy around your alcohol free life, and eventually it's going to stick just keep going.
I remember that feeling. And one night, that's when I had that failed suicide attempt. That didn't work, thankfully, and shit got real. That summer, I DJ at a wedding drunk. I was working. And I knew I wasn't going to finish that wedding and a DJ stepped in for me, made the decision to go to treatment that night. I did not. But something was different. The next day when I woke up, I hit such a moment. Such an emotional rock bottom and such a tremendous moment of I give up. Like I can't do this. I can't think myself out of this, that the next day there was something different. It was space. I recall that wasn't my sobriety date. It was about six days before but I remember that morning the next day I heard the birds and the birds is something that I hadn't heard heard for a couple decades.
You hear them as a kid, you hear the birds, you hear the crickets, you all hear all these things in your environment. You're more tuned. Yeah, my, my last drink was six days after that I went camping with some friends. And I drink half of the beer. And I dumped it out knowing that if I if I drank the rest of that beer probably wouldn't survive digital life was going to look a lot different. So I dumped it out in the left. You know, of course that's not fun either right to leave a camping trip with friends and but it just had to happen. So that was that was September 7, 2014. 
If you're listening to this episode and have been trying to take a break from drinking, but keep starting and stopping and starting again, I want to invite you to take a look at my on demand coaching course, The Sobriety Starter Kit. The Sobriety Starter Kit is an online self study, sober coaching course that will help you quit drinking and build a life you love without alcohol without white knuckling it or hating the process. The course includes the exact step-by-step coaching framework I work through with my private coaching clients, but at a much more affordable price than one-on-one coaching. And The Sobriety Starter Kit is ready, waiting and available to support you anytime you need it, when it fits into your schedule.  You don't need to work your life around group meetings or classes at a specific day or time. This course is not a 30 day challenge, or a one day at a time approach. Instead, it's a step-by-step formula for changing your relationship with alcohol. The course will help you turn the decision to stop drinking from your worst case scenario to the best decision of your life. You will sleep better and have more energy, you'll look better and feel better, you'll have more patience and less anxiety. And with my approach you won't feel deprived or isolated in the process. So if you're interested in learning more about all the details, please go to www.sobrietystarterkit.com. You can start at any time and I would love to see you in the course. 
And I love how you talked about how you had quit drinking for two and a half years I did a very similar thing. I stopped for a year and then sort of was like you know the second half of the year. Doing the like slow shuffle back, like kind of like, just kidding. It was just a stressful time. You know, I'm better now I've got it together. But you mentioned that if you don't have a community around you or other people in the alcohol free path, or, you know, other people kind of get this, that alcohol shouldn't be totally glamorized. And it's completely harmless and all those stuff. You said something like, you're just going without, but I didn't have the right words I didn't quite know at the time was that I was using alcohol as a way to pacify or to make myself feel better internally based off your past trauma or just feelings of loneliness. Right. And so if those if those internal issues aren't addressed, you know, the root cause of those inner discomforts aren't addressed then it's it's only a matter of time before a you start drinking again, or B. You pick something else up like you I call it addiction, whack a mole is you quit drinking, but then on the ice cream every night or Oh, now I'm doing online shopping or smoking or anything like that. And so yeah, I got it got painful. After a couple years. It's like, I'm not drinking, but my goodness, there's some rough days in here.
Yeah, for me, it was anxiety and like security and all the, you know, people pleasing, perfectionism, all the stuff like what did you feel like came up for you when you kind of got rid of the alcohol? It was like an intense feeling of disconnection, right? Where I was hanging out with the same people. It's going to my fantasy football drafts and just not drinking, right? Man. It's not like I'm reaching that same level of consciousness without alcohol with what's what's happening is I'm not lowering my consciousness to the same level of everybody else in the room. Yeah, it was challenging. It was just like, something's missing. And it was I was like, this is a big sacrifice. Where when you're in the recovery world, or doing this work, you start to see like, oh, without alcohol, there's tremendous opportunities in front of me. Travel, hobbies, life, relationships, you name it, you can be present for any of those things. But when you just remove alcohol and their term for its dry drunk, I can have rooms if 12 steps. Yeah, you're you're just not drinking and life can be worse. It can be harder, because you're you're going through all this stuff at face value without the tranquilizer without the sedative without the self medicating that we hear that word self medicating. And it's it's not bad. Like I I used to beat myself up a lot for the drinking that I did. But it's I flipped it said Nice job, Paul, you found a way to survive like you, you made it through some really difficult and dark times and some of it in childhood or, or high school and you found a way to do it. Right. And it's not sustainable anymore in my 30s and late 30s. It's not sustainable. I need to find other healthier modalities, yoga, meditation community, this conversation now.
For sure, like works until a moment where alcohol it stops working. Scientifically, there's a lot of reasons for that. But it's it. Not only is the start stop working, but it kind of backfires. What used to be your best friend, it just doesn't work anymore. And then there's this frustration you try to double down on it, tried to hide it more and like the gig is slowly coming to an end.
Yeah, what I've heard you say, which I think is really interesting that, you know, drinking is but a symptom. And you said that you think other people are like it's genetic, mostly genetic, partially environment, and that you think it's the opposite. It's like 70 or 80% environment and like 20 or 30% genetic. Sure. Talk about that a little bit.
And I encourage listeners to do their own research and figure this out on their own. But I've switched my tune almost fully the first, maybe 100 or so episodes, you'll hear me say the disease model that's genetic, right? Today, I'd even flip it 100 zero, it's all environmental.
Yeah, I can't you know, I hear a lot of you know, obviously there are a lot of people with alcoholism or problematic drinking or whatever in their family. In my family. I had none of that, you know, my parents sure had wine but didn't have drinking issues at all could take it or leave it my sister like I used to go over to her house when she had newborns and she was a member of a wine club and there was literally just bottles of wine in her wine rack with like, she'd kill me just like half an inch of dust on top and I was like, How the fuck does this happen? Like, if there was wide it would be God, you know? So, you know, for me, it wasn't really genetic. There's nothing in my family there is anxiety. There is isolation there all those things. It was just yeah, environment coping. I mean, I joined the rugby team in college where binge drinking is like A sport to be developed. And so scientists, you know, all those things, we mapped out the the genome, and they have not found the addiction gene or they alcohol drinking gene, they also haven't found the gambling gene or the overspending gene, or the smoking gene omega, just because those genes don't exist, right. And so I am a believer, if some of those things that would is generational trauma passed down, these are learned energies that are passed down. Energetic systems within families that keep replicating the key presenting themselves over and over and over until somebody breaks the cycle in the family. This is like healing generational trauma. That's interesting, fascinating stuff. But mostly, I feel these are all environmental.
So this is a lot of Dr. Gabor Mate thing is debunking the genetic myth. Then he's got a line that says most anthropologists agree that addiction is a modern phenomenon. There are references to addiction in the Bible, but in times in the past, but in 2020, we are living in an environment that is not conducive to inner wholeness without external substance. In fact, capitalism promotes buying everything external for internal wholeness. And, in fact, I think the way we're currently living right now is actually insane. The way we've labeled it as normal, it's insane because it's, it's not conducive to inner wholeness diseases. Well, we'll go back where we just came out of a pandemic, but the true pandemic of mental illness, anxiety, depression, addiction, will emerge the forefront when this one when this one fades away, because we are seeing unprecedented rates of all these illnesses, diseases and things like that. And, you know, Native Americans 300 years ago, or 400 years ago, these ancient cultures, none of them have the rates of cancer, autoimmune disorders, addictions, anxiety, depression, it just, it just wasn't a thing, right. And we have the same genetics that are those people had were ancestors from them. They were living in an environment that was more conducive to wholeness. There was more connection.
Johann Hari has a line in his TEDx, his TED Talk. It's the opposite of addiction is connection, right? We are so disconnected from a ourselves internally, when we're, we're disconnected internally, the external view, it's an exploded view of our internal environment, we're going to we're experienced disconnection outside externally. So we need that alcohol drug or whatever. It could be a spouse, you could be addicted to your spouse, we need that external addiction or external substance, whatever, to feel better internally. And that's okay, we all have to wear this is all going to come around and everybody has to deal with us, not just people who are addicted to substances. This exciting work it also what motivates me to do what I'm doing to rally my community together. And what you're doing is because it is the Buddha says we all have to make this this river crossing of consciousness we all have to do this, whether there's an addiction or not. Human beings are we're, we're also at a tipping point. With with our species, and we don't have to fix the earth, we hear a lot about climate change and global warming, and we don't have to fix the earth, we have to fix ourselves, the Earth is gonna be just fine. After we leave, we'll we've got a lot of inner work to do. And, and I think addiction is something that does serve a purpose. It's called the endowment theory and biology is nothing exists, if it doesn't serve a purpose. And addiction is something that's almost hitting the pause, the pause button, it's saying, alright, wait a second, there's parts of your personality, your life, society, culture, that are way out of balance. And this is how it manifests itself in the external world. And so addictions aren't a bad thing, nor are they depressions, they're, they're simply indicators to say, Alright, Paul, the way you're living your life is not working, we need to make some intense changes. So the as I previously labeled my addiction as bad, I don't label it that way. It was it was just such a strong signpost that I had no choice but to listen.
So no, I feel you on that, because, you know, I'm always like, when I was drinking, I was kind of treading water in this kind of like just okay, kind of shitty sometimes good life, even though I had like husbands, kids jobs, friends, you know, all the things. But you know, I also had this sort of like, underlying anxiety and wasn't doing what I desperately wanted to do and all the things but drinking kind of led me numb out enough to tolerate it. And then when it got to the point where I was drinking and and shaky in the mornings and hung over and worried about my mental health, you know, kind of like you I sort of had to stop I felt pretty doomed. I was like, I'm gonna fuck up my life and it's going to be my fault. And then, if I hadn't, you know, like you said, if it hadn't gotten so bad that you were like, Oh, this sucks. I have to give it up. I never would have done all the work on the underlying stuff that now makes life so much better and work.
Yeah, like you said that you never would have done the work on the underlying stuff which now results in a life with so much more contentedness and you're happier. And so I do feel is we are we are a lucky group here. That is forced Pain moments read such a climax, that we have no choice, we are forced to do this inner work, right. And we've previously put ourselves in the back of the societal queue labeled ourselves is morally, we somewhere something malfunction, but I actually think is flipped, I think we are the first ones, the first wave of humanity, to really begin this intense work of inner work, because it's all inner work without a doubt. And the most importantly, yeah, is we have to address our thinking. And, you know, drinking is the one Domino that has the potential to knock everything down. But then eventually, we have to address our thinking. And we can't do that with alcohol in our life. But we have to address the thinking. And then a lot of this comes back to identifying with the thinking mind, and usually when we have those intense, intense rock bottom moments, emotionally or physically or what not. In the the mind starts to question the eye in itself. It's like, I can't live with myself like this more anymore. And then Isaac, well, who is the eye, and then eventually a space enters. And this is the the moment of surrender, the moment of clarity that you hear that there's a gap, there's a space says, I can't live like this anymore. But who is the I wait a second, and it just happens like something flips internally. It's really a magical thing, that addiction, again, that serves a purpose that can do for so many people. As it flips it. It almost opens up the spiritual dimension. For so many people I was I was spiritually dead before before the addiction.
Alcohol kills you in this order, spiritually, mentally and physically. And you heal in the reverse order, physically, mentally, and then spiritually.
When you stop drinking, you immediately I mean, within a month, you're you start, you know, you start sleeping better, you're, you know, deep sort of depression, anxiety, starts to lift their shit underneath there, of course, you're less bloated, your skin looks better, your eyes look better. I mean, it improves over time, but feeling physically better after the first three weeks happens, but then mentally, you know, and spiritually, like how does that order, wrap that up. And again, it kills you spiritually, mentally and physically. And then reverse orders the healing process, when you remove that toxin, which if you drink enough, it will kill you in one sitting in one setting, physically, you're gonna start feeling a lot better. And that's how I lasted two and a half years, physically, I was oh, I can run I did a I did a ridge race or like a 20 foot ever five mile run in, I really got into fitness.
And then with the healing part, the mental component, which is huge, anxiety was a crusher for me. And Casey, you said it was the same for you as well, my solar plexus would just get destroyed with anxiety, right. And so, without alcohol, I was able to learn breathwork and how to build the circuitry in those certain areas of the body. And I still have anxiety today, but I don't feel it my solar plexus, I feel a little bit in my chest, but it's so much bearable, it's so much more, but it's okay, I can deal with it. And some anxiety is healthy, right? It's an indicator that something in our environment is a threat.
And then the last component of it. around April of 2018 there was a spiritual dimension that opened up in my life and I'm not gonna say a religious dimension, I'm gonna say a spiritual dimension, because they're two different things. And this is more of the the deeper connection, right? And that was exploring the soul like what the hell is a soul? We have chakras what is what is the stuff? Are there things that past lives? 
In fact, I met I met with an astrologist later that year of 2018. And I had an intense moment on April 13, or 14th. Anything is the 13th. But the astrologists, like three months later was like Whoo, on April 13, you began your spiritual pathway. I was like, What? How does? How does this person know? Right? So there's something else going on there. And I've had several moments in the last couple of years of deja vu of things. Again, there's some effervescence about it. It's hard to explain. But I think the spirituality component of this, or feeling a deeper connection to the world is the home run to the holy grail of the point of an addiction. And it's this deep connection to the Sun to the to the earth, to the moon, to the water to the food people to the rotation of the planets and the stars in the universe, to other people, but the deep connection most importantly to myself, is what opens up that's the last phase of healing. And again, there's no top of the mountain I can't tell you Casey that I've checked all the boxes and I don't want to I'm so excited to see where this is going. In fact, on my spiritual journey. I found out why I'm allergic to horses Casey it was because because in a past life, my name was Pablo Tarso. And I was blinded in a horse riding accident.
That is the most interesting thing I've heard from a guest!
I was at a Joe Dispenza cruise. And within like 15 minutes of this conversation with people I had just met, this gal holds up her hand, she's like, hold on, she whispered something to her husband. This is in Spanish. By the way, this couple was from Mexico City and her husband goes, Hey, my wife, my wife just got one of your past lives. Would you like to hear it? And all this stuff is new to me, Casey, I'm like, yeah, this ought to be good. Then she again says, This is why you're allergic to horses. And she has no idea that I'm deathly allergic to horses. And my name is Paul, my nephew calls me Uncle Pablo.
It was just this really intense, strange moment. And I've had several those happen over and over and over the last couple of years to leave me really no doubt that there's, there's something there's something beautiful going on behind the scenes and and through a series of these statements as in you know, you have to have hard to know the soft, you have to have the sound to know the silence, you have to have the black to know the white you have to the walls, the empty have the empty space, you have to have the form the world, the physical world, the earth to have the emptiness, which is God. And it's so beautiful, of how that plans out how that plays out. Or how how much more I'm open to it these days. And how I feel guided by it. And I don't have to have it all figured out. Casey, I really don't. It's okay.
Yeah, no, that's amazing. And I know that you It sounds like have a much more in depth and involved sort of daily practice. You talk about meditation, and connecting with nature and you know, movement. And, you know, that's amazing. Like, what does your kind of recovery health practices kind of look like? Do
you have a routine or something that you have done every week, take an emphasis off the routine is in terms of check boxes, and the timing of it, I still meditate, I still do exercise I go to like an AA meeting the week, I do a lot of our own Recovery Cafe meetings weekly. But before there was almost this rigidity, it's like, okay, I'd like to find a Miracle Morning for a while and you good stuff. But I really don't even wake up to an alarm clock anymore.
There's not this set rigidity, because that I found this is for me personally, that if I didn't wake up at a certain time, meditate for a certain amount of certain time length, you know, stretch yoga, then I wouldn't feel good about myself. And that's also that's conditional love within myself, I had to do X y&z at a certain amount of time to to be okay with myself. And so really the beginning of a COVID last year, I started to challenge that I didn't, I would just meditate. And I did not for a certain amount of time, I would just sit there sometimes lasted two minutes sometimes lasted 45 minutes. So I do still have these these routines and routines and what I do and meditation and yoga and community work is huge. I get out in nature almost every day, right before this call, I was with my dog walking, walking through the pipeline for us outside of Bozeman, Montana, what I've done, I've taken the rigidity and the structure out of it. And the conditional part where it's like, man, we uh, we can't be relaxed. Unless we meditate today. Are we less we do this and that it's all still there. But it's it's organically happening, I guess, which is good, because I've done it enough time before that those habits are now becoming unconscious. Yeah.
Yeah, what it's like your recovery evolves, right, your practices of what you need, in your first couple months in your first couple years change over time. Yeah, great to say that. And I didn't need that my first couple years of the structure. I did a Miracle Morning for I think a year over a year and to wake up at 5am and do like every 10 minutes you do something? It was great. It was fun. But where I'm at now, it's more relaxed. It's more, it's less structured. And there's more acceptance to it. Yeah.
Yeah. Okay, that's good to know. Cuz I was, you know, I kind of feel bad. I feel like everyone I talked to has this awesome morning routine, which I don't you know, I have two kids, I get up. I love my coffee. I love being sort of alone in my home when everybody else is asleep. Work out sometimes. But my more sort of decompressing, is I love sitting on my front porch, in the sunshine and like laying down on my back and just kind of chilling for like 10 minute breaks whenever I can. Or I love vegetable gardening. So I go out there and like eat the strawberries and do a little weeding and, you know, diet and just the little things are kind of bigger to me. I don't know, I like the coffee thing, too. I was looking at Casey's website before and she has a she has the line that said, I love my coffee, something that I'm not willing to kick. You know, and yeah, I have a serious coffee habit of like, how far do you want to go right? And I love my coffee too. I went a couple months without coffee and I said I like coffee. It's a good routine. It's a good ritual. I like the smell of it. I think coffee is a plant medicine. It's a natural stimulant when you be careful with stimulants, but yeah, I like it and coffee is not ruining my life like alcohol did not even close. I'm totally cool with that.  
Yeah, I don't know if it's like this for you, but I've seen we always make jokes with a bunch of my girlfriends who all quit drinking that like, more is more like right now I'm looking over my desk and I have like three different beverage cups. Like, we're always like double fisted with like, you know, your Lacroix, your water, your coffee, or whatever. And I'm just like, oh, maybe it wasn't just alcohol. Like, I remember I went to go see a friend's parents up on the San Juan Islands since you know, this area for a long weekend up in Friday Harbor. And it was like after I quit drinking, and I brought a fried roller, like mini suitcase of all beds, you know, non alcoholic beverages like all of them. And my girlfriend was like, What the fuck are you doing? Like, we have beverages in the house? Like there's a grocery store up there? And I'm like, No, you know, in my mind, I was like, I gotta have my stash. I gotta have enough of like all my non alcoholic beverages. And that was like maybe it's a subset of revenue for people who quit drinking or struggle with addiction because there is I feel like a sub personality trait is where we go big. We do. And I think it all goes back to the dopamine systems in our brain as we are wired to experience pleasure and joy. differently. Everybody experiences pleasure and joy differently, but I think we feel it more intensely. We feel the highs higher and the lows lower. I've got a coffee cup there. I've got I've This is my favorite cup. And inside of it, there's two lemon wedges and basil and filtered water and yeah, like I have fun with that. For sure. I like how you said that. That's funny.
Yeah, and we don't want to feel deprived, right, like I'm always you know, I need plenty.
What's your favorite alcohol free beverage Casey?
I actually am a huge fan of non alcoholic beer. I know a lot of people like, like it don't like it. I was a red wine girl. So it's not triggering to me. But I really like Athletic Brewing Company. Like they're the best one I found and I like Partake IPA. So for me, I didn't actually drink non alcoholic beer for my first three years. I just you know, had it in my head that that was bad. And so I was big on like Lacroix and tea and you know, sparkling grapefruit, but I picked it up and I was like, Oh, it's the alcohol. That's bad, not the flavor. And so for me, I really enjoyed that. Like I'm going camping this weekend. And so I'm gonna bring my stash but in the beginning it was it. You know, when I was taking my roller suitcase up to the San Juan Islands, it was like six different kinds of like sparkling water and Lacroix tea, because I knew they weren't going to like lay out the nice table with bottles of wine, we'd all be sitting around. And I was like, you know, in my mind, like, I don't want just tap water like that is you know, to me like deprivation, like I want something special.
Get it? I love it, that there's so many more options these days.
What's your take on non alcoholic beer? Because I know that some people are like, ooh, not good
areas to go with that if somebody else is telling you how to do your alcohol free journey. That's that's deflection, right? It's defection. So don't listen to that from other people. Right? You're I mean, if there's pointers, right, if maybe they have good information, but yeah, I've done a couple episodes on this and it is somewhat of a controversial topic in a or will it not just the recovery world? I like the true zero zeros. And I love how Heineken came out with that one. And there's there's more zeros zeros, and I think they're all going to be zeros, which means there's not point five non-alcoholic beer five years ago, there's pretty much they all had a little bit of alcohol and I've heard stories of spouses. Are you saying you can only have non-alcoholic beer in the house? Well, I met this guy one time that was drinking 30 non-alcoholic beers in his garage every night. You can see the issue with that right? You know, same thing with kombucha that falls in that same category as well. I I personally don't like the taste of non-alcoholic beers. So I just think there's other things to try. But I've had them before in the past. They're not triggering. I can't drink more than one. So I never get a buzz or any of that. But yeah, I think if you're okay with it on an individual level, green light on that I would recommend staying away for the first two to three to four months, like you said, because you're right, what happens if two or three and there's just like a slight buzz going on there. But I think they're for the most part benign. Definitely play it safe for the first couple months. I love again how most there's a lot of truth zeroes or where it is where it needs to go the true zeroes. Yeah.
And one thing I wanted to talk to you about because I've heard you talk about it, I I found it super interesting that you had surveyed your the recovery elevator audience and sort of the old standard beliefs that, you know, people who drink too much or have issues with alcohol or sort of, you know, hitting rock bottom or certain persona aren't true, because a lot of your audience is highly educated, financially stable with marriages with friends, which was sort of my experience, you know what I mean? Like I was drinking a bottle plus of wine a night, but everything on the outside looked really good, I was still functioning, it was just really hard to do it like I was making it really hard on myself. So tell me about, you know, what you saw.
And this is with, with my listeners, with my audience, and I imagine you've already seen the same and seeing the same as it's actually flipped what you think an alcoholic would look like, right? And I've done this exercise at schools where I put that word on the board and write down what words come to mind with the stigma. And studies show only 5% of alcoholics fit that bill, right homeless, brown bag, living under a bridge, only actually about four or 5% and a half, whatever.
Very, very few. And as we were commenting earlier, we go big, we are a population who goes big, and everything we do, we fully give our attention, our energy to whatever we do. And so what I found with with our audiences, not only are we keeping up with the Joneses, or like, you know, we're average like we make the average amount of money, we're we make way more money than the average American and we're more educated, the average American were in more relationships, and the average American I mean, it's, it's crazy. But we've got this one thing that's, that's holding us back. And I believe these addictions represent part of our personalities that are out of balance. So there's just one thing we're not totally flawed across the whole board. There's just like one thing, maybe it's where we were abandoned as a child, and we really struggle with that. And it's such a pain, pain moment, a pain point in our lives, that we need alcohol to make ourselves feel better for just that one area. So when we address these areas of discomfort, again, the source and removing alcohol is the start just the start, you know, then we really can hit a home run in life. It's It's incredible to see the transformations, that people that have happened in people's lives. And I know this is what, why you continue to do this work. Because that's the most rewarding part that Yeah, you charge money for your courses, and so do I. But once you see people get it, like the light bulb goes off, that's all the pain that that I need. And then to see that person, go on and start their own podcast, or start their own program, or just talk with somebody else and their family. Like it's like it. It's infinite. It's so it's so cool.
I hear all the time how someone stopped drinking and told someone else about it, not even their whole story, just like yeah, I actually stopped and I feel better, and my anxieties down and it's not, you know, my life didn't end I still have fun. And then that it like starts this chain of people being like, really, I you know, basically, I couldn't imagine it or I've tried or I wonder, and you just kind of inspire people one by one by one, by telling people that like what society tells you about alcohol is required for every social interaction and to have fun and to connect and to decompress, like, you actually don't need it. And it's even I love what you said, there.
I agree. 100%. Here's the neat thing with it. So spiritually, we're all connected. In fact, one of the biggest illusions is that we're separate. We live in a non dual world, just the way it's set up structured, everything is perceived to be different. We touch things different, right? But actually, we're all connected. So I interviewed a guy named dusty, I think 204 on my podcast, recovery elevators when my really good friends, he quit drinking. He doesn't he didn't have a lot of contact with his family at that moment. And within a year, I think three other members in his family also quit drinking, I had no idea that dusty quit drinking. And this comes from a long line of alcoholics, again, energy that is passed down generation generationally learned behaviors. So it's incredible how one person can make that choice, how energetically the rest of the family will all pick up on it doesn't mean they're all going to quit drinking, but they're all going to recognize that something has been broken in this cycle throughout the norm. And I hear those stories all the time. It's so incredible to hear.
Yeah. And you know, one of the things that we were talking about with your demographics of your audience, because I see that as well with mine, like a lot of the women who listened to this are sort of corporate working moms or have graduate degrees or you know, are doing all the things they're just drinking and hung over and struggling with that and yet they are lawyers and judges and doctors and you know, everything else. And they always say like, why can't I drink? like everybody else? Why can't I be a normal drinker? And the truth is, from your experience, from my experience, like, you really don't know what anyone else's relationship with alcohol is, like, you know, yes, they might have two or three drinks out with you at happy hour, but I would do that. And then I would come home and open a bottle after and drink the whole bottle after I'd had to out or I'd be going to a party, and have two glasses of wine while I was doing my makeup, and waiting for my husband to get home from work. Like what you see isn't always what you get. And I think so many more of us have problematic relationships with alcohol and drink more than others think we do. Now, right? Why
can't I drink like everybody else? That's flawed. Because we don't know how everybody else is drinking and, and there's a massive gray area with this. the thinking mind loves checkboxes, black and white. That's that's a tiger. That's a cat. Right? We the thinking mind loves to cart compartmentalize things. So when we say the rest of the people, the normal drinkers, you're right, there's probably half of those that could easily fall into that, you know, abusive category with alcohol. But I do want to I do want to answer that question, too, is why can't we go back to drinking normally, it's a couple reasons for that. This is what I have found. Part of it is there are some changes in the brain and binge drinking is the cause of that with called th IQs that are deposited in the brain. This is when we take a long time off alcohol and we drink we pick right up where we left off. And this is an irreversible brain change. This is one of the only things that you cannot reverse with drinking that I have found. And that's that's I've no complaints with that. I don't want to drink again, knowing that'll happen. I don't I don't want to ramp up phase again. I it's nice to know, there's actually comfort knowing that if I drink, it's just it's a dumpster fire instantly.
Well, that's really interesting, because people say like, I you know, I hear this all the time from women like 20 years ago, I drank two glasses, and it was fine. How do I get back to that, and you're saying that the intervening 15 years of drinking way more and way more often has taken you to a point that no amount of willpower will bring you back to the two glasses.
That's mostly with binge drinking, if that's part of your story, that on and off switch is has been like permanently, permanently altered, let's put it that way. And another reason why you can't go back to drinking like a normal person. In the long term. This is sustained. I've heard great stories of it working for a week, two weeks, a couple months. It's because the thinking mind is a snapshot of the past, when we reach these difficult emotional moments in life, the thinking mind will scour everything that we've tried in the past to how to make this pain go away in this moment. And it's going to present the idea of what worked the best. That's always a bottle of wine or two, jack daniels, whatever it was. So that idea is going to continually come up. when life gets challenging. You and I both live on the same planet earth without a spaceship. Life is challenging. It just happens regardless, we have these things happen. So the thinking mind will come up with what has worked well in the past. And that's why I say you know, quit drinking, you have to step outside of the comfort zone. Because your alcohol free life is not within the realm of what the mind has recollection of, of the past of what's worked, because it's always going to come up with alcohol or a big hitter like that, it's immediately going to make the anxiety or depression or whatnot go away.
Yeah, and you have to be uncomfortable to kind of sit with those emotions when they come up and realize that they won't kill you or that you can survive or that they pass. But also what I liked you talked about earlier with your new practices is sort of developing new coping mechanisms, whether it's meditation or hiking or connecting with people and actually talking about your problems that are will become more automatic, right? It'll imprint on your brain like Oh, that one I like how you said that. So it's it's a lot about finding ways to regulate these intense emotions with different modalities. Right and bless your heart if you're in your first 30 days and I did the same where it's like ice cream Reese's Pieces. Yeah, I mean that's that's harm reduction is a real thing. But eventually, the other there's other ways to do it. I like do it in group settings. I love retreats. I've been to a couple several meditation retreats. They've been a alcohol free retreats, right? We put our own on and it's I love doing this work with other people and if you can do this work with other people in nature in a community setting, then you really start to sobriety fuel for four days. I love it. It's really good stuff.
All right. I want to hear about your retreats if you're willing. I've been on a couple of ones hosted by She Recovers.
During The pandemic three that I was signed up for got cancelled, which are just devastating. I'm actually supposed to go in three weeks to salt spring Island yoga retreat, where She recovers group where I like sleep in a yurt and we eat all this incredible food that's prepared for us and like lay in the hammock and nap. And of course, because the US Canada Border is closed, it's canceled for the second year in a row, which is killing me. But um, but they're so amazing and healing and lovely. Like, it feels like I'm back in 15 years old at summer camp. So tell me about your case.
Because behind the scenes, that's that's what we try to replicate. We do have we do have workshops such as yoga, journaling, meditation, we do breath work, we do a lot of sound healing with synthesizers and symbols and things like that. So we do have those traditional modalities. But behind the scenes, the glue is we have one, we have one big thing in common that Trumps age Trump's if you're male or female Trump's background, that one thing in common is we want to quit drinking, right. And there's, there's some major intense shared camaraderie with that day one of these retreats, it's almost like a word day seven of an over normal summer camp. It's like, Hey, I'm Paul, hey, I'm Jim, what was your rock bottom moment, I mean, we get we get past the surface level conversation. And we do it structured in a safe way, we break people off into groups of three groups of five groups of 10. Give them prompts. Everybody shares their story on some of our retreats. But we have you we have an event in August, there's 100 people, but you will find yourself in groups of four groups attend these small, intimate, safe settings. So the magic again, is people have one common thing. And most likely, this goal of quitting drinking, or the drinking problem is their deepest, darkest secret for a long time. And this energy has been wanting to expel itself from the human body. Right? We it's been it's been wanting to come out. So you get 100 people together with this desire to release this energy. It's like the monkey on the back. And there's fun things and you're in nature. It's just the magic happens so fast.
Yeah, yeah. I mean, I it was, it was amazing. Yeah, cuz it was all these women. Clearly it was alcohol free drug free retreat. And we all were sort of on a common path. I went for the first time when I was one year sober. But I know a lot of people were, you know, early days or wanting to or, you know, a couple months in. And you know, sitting around, someone would bring out the guitar, we would sing we had sharing circles like, literally felt like I was kid again, in like this amazing, safe place with really cool women, and just had deep conversations. And you know, when I'm, you know, an adult and 40 years old, with a husband and kids and a job like that just never happens really rarely happens. That you get to kind of experience that sort of contentment and joy and connect
what you described birth was a natural setting a couple 100 years ago with societies and cultures would just naturally come around the campfire and play music. Many cultures still do this. Yeah. And that's that that's, that's more of a natural way of living. And the way we're living today is out of alignment of how our species is supposed to be living. I mean, we are nature, we often remove ourselves from nature. And we are, we are social animals that have isolated ourselves. Yeah.
Yeah. Well, I am so excited that you're coming back to recovery elevator, although I know Oh, that was awesome. For the last year as well and very cool that you guys are sort of continuing that as well. But like, if someone's listening to this, they want to connect with you. They want to learn more about what you're doing.
We have a private community called Cafe RE.
We put you in groups capped at 350 to ensure that intimacy, closed, private, unsearchable groups. We paired with accountability partners with a book club, we got Movie Club about 80 or 90 chats per month, different titles, different themes, things like that. I'm real excited about our in person meetups, we had to cancel a bunch because of COVID. But we have one this August in Bozeman. It's sold out in a day. I'm so happy that you can get on the waitlist and people can still attend. We got an event in Denver, April 14, the 17th 2022. We should do a sober travel trip to Costa Rica January of next year, India at the end of next year. Yeah, we're just gonna keep going with our live events. That's what really pumped up to see these to build these connections in person. As I mentioned, I'm learning synthesizers. I didn't mention that yet. But live music is going to be a big part of our events. For the meditations, all the music is performed live. We all love live music. There's more to that I'm really digging into the science behind that of why the body reacts in certain ways with certain frequencies and certain energies. And the body is all vibrating energy. And it there needs to be coherence just like when you tune a guitar, if you got a couple strings out of tune, it just doesn't sound right when you play that E chord, but you tune it right. And then it's got this beautiful strum. That's the same thing with a body. And when addictions take hold, there's part of us that's vibrating out of balance, how to coherence with the other other part of the body. And that part of the body is really seeking that harmony that coherence is going to find any way to retune itself. And when we remove the alcohol, that stuff naturally happens, and sometimes you got to help it out. But that's really what we're doing.
Very cool.
I stand behind that. But it's kind of a bait and switch because alcohol is shit. Of course, I was duped by alcohol. But I'm so thankful for my addiction, Casey and I say that in the book, I got the lessons that I learned from alcohol, the friends and people that doors that opened up, I wouldn't change a thing. And I was talking to a friend the other day and part of my career right now is I have to go in Costa Rica, looking at hotels and restaurants for upcoming retreats. Yeah, yeah. I mean, sometimes I get a
good life. Right? That's of what what's happening and the possibilities. When you remove alcohol. I mean, anything's possible.
Very cool. Well, thank you so much for being here. I truly appreciate it. I've done a lot of interviews that are not that easy. And you're really talented and skilled and very, very present. So thank you very much for the good hour. 
Thank you for listening to this episode of The Hello Someday Podcast. If you're interested in learning more about me or the work I do or accessing free resources and guides to help you build a life you love without alcohol, please visit hellosomedaycoaching.com. And I would be so grateful if you would take a few minutes to rate and review this podcast so that more women can find it and join the conversation about drinking less and living more. 
OTHER WAYS TO ENJOY THIS POST: