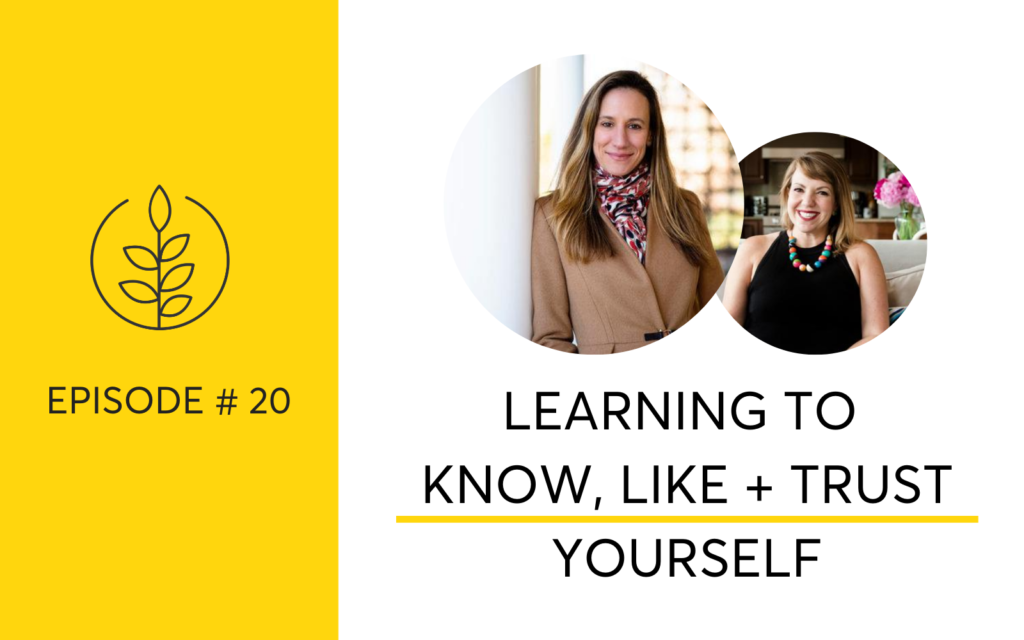 dO YOU KNOW, LIKE AND TRUST YOURSELF?   
Or do you look to your friends, your boss, your partner, or even your kids for validation that you're doing the right things and making the right choices?

Or to be reassured that you're loved, liked and admired?
For years we've been conditioned to focus on caring for others + meeting external expectations so it's natural to lose the ability to listen to and trust ourselves.
On my podcast Life Coach Tanya Ouhrabka and I talk about how to release self-judgement, increase self-awareness and self-confidence, and learn to "know, like and trust ourselves" again.
Tanya's a Life Coach who works with women to shift their mindset and perspectives in order to achieve self-acceptance.   
Tanya believes that when you realign the mind, body, and soul with the truth of who you are, what you desire, and your purpose – you "know, like and trust" yourself again, and can live a purposeful and passion filled life.  
By releasing self-judgement and increasing self-confidence and self-awareness we're able to be the healthiest and happiest version of ourselves.   
Doing inner work around knowing, liking and trusting yourself again can be especially healing and empowering for women in sobriety.  
By the time you've stopped drinking you may be so removed from your authentic self that you no longer know who you truly are or what you want and need.  
As someone who lost too many years of her own life to self-critical thought patterns and destructive behavior, Tanya knows the power to change our life lies within us, not externally.   
In this episode, you'll learn:  
Why to stop looking outside yourself for validation

How to be empowered by your inner compass and inner knowing

How the ability to know, like and trust yourself will help you uncover what's truly best for you

How to process inner and outer growth

How to listen to your inner voice and follow your inner compass through the guidance of 4 pillars.

  
4 FOUNDATIONAL PILLARS OF KNOWING, LIKING AND TRUSTING YOURSELF  
Self-care

Nourishment

Movement

Authenticity

 
Tanya is a survivor and thriver, former self-critic, and truth seeking storyteller, who is changing women's lives as a certified life coach.  
In addition to coaching, Tanya shares her inspirational story of transformation to groups of girls and women across the country. Additionally, she has just founded POWAR™, a community for women to authentically and transparently share and rise together.  
Shownotes: www.hellosomedaycoaching.com/20  
Grab your  Free Sober Girls Guide To Quitting Drinking  
Grab Tanya's Free Guide Seven Days To Y.E.S. – daily focus objectives and mantras: https://www.tanyaouhrabka.com/7-steps-to-yes 
Links and Resources mentioned in this episode 
Connect with Tanya Ouhrabka  
Website: https://www.tanyaouhrabka.com/   
Instagram: https://www.instagram.com/tanyaouhrabka/  
Facebook: https://www.facebook.com/tanya.b.ouhrabka  
Connect with Casey McGuire Davidson  
Casey @ Hello Someday Coaching (@caseymdavidson)  
Listen to more podcast episodes to drink less + live more.  
ABOUT THE HELLO SOMEDAY PODCAST
The Hello Someday Podcast helps busy and successful women build a life they love without alcohol. Host Casey McGuire Davidson, a certified life coach and creator of The Sober Girl's Guide to Quitting Drinking, brings together her experience of quitting drinking while navigating work and motherhood, along with the voices of experts in personal development, self-care, addiction and recovery and self-improvement. 
Whether you know you want to stop drinking and live an alcohol free life, are sober curious, or are in recovery this podcast is for you.
In each episode Casey will share the tried and true secrets of how to drink less and live more. 
Learn how to let go of alcohol as a coping mechanism, how to shift your mindset about sobriety and change your drinking habits, how to create healthy routines to cope with anxiety, people pleasing and perfectionism, the importance of self-care in early sobriety, and why you don't need to be an alcoholic to live an alcohol free life. 
Be sure to grab the Free Sober Girl's Guide To Quitting Drinking right here.
Are you subscribed to my podcast? If you're not, I want to encourage you to do that today. I don't want you to miss an episode.
I'm adding a bunch of bonus episodes to the mix and if you're not subscribed there's a good chance you'll miss out on those. Click here to subscribe in iTunes!
Now if you're feeling extra loving, I would be really grateful if you left me a review over on iTunes, too. Those reviews help other people find my podcast and they're also fun for me to go in and read. Just click here to review, select "Ratings and Reviews" and "Write a Review" and let me know what your favorite part of the podcast is. Thank you!
OTHER WAYS TO ENJOY THIS POST: