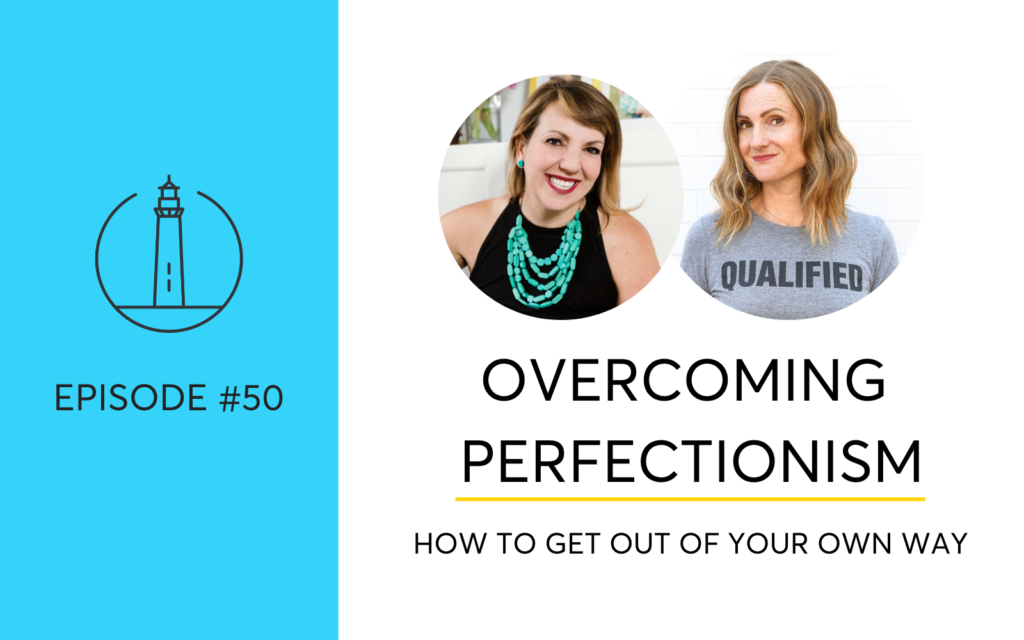 Overcoming Perfectionism 
As a recovering people pleaser (and someone who has coped with anxiety by overachieving and working way too hard to make sure nothing falls through the cracks) I know that perfectionism can drag you down and hold you back in life.
It can also make you want to drink to turn off your mind and make the constant lists and worries in your head go away.
So let's talk about what it is, why it happens and how you can get out of your own way.
Here's how perfectionism can show up for women who seem like they have it all together…
👉 You struggle with trying to do everything in your life perfectly
👉 Fear messing up on projects or dropping balls
👉 Feel like you need to be in charge of everything so nothing slips through the cracks
👉 You struggle with imposter syndrome
If any of this sounds familiar today's podcast episode is for you.
My guest today is Sara Dean. She's a mindset, business and leadership coach who helps women own their space, stop shrinking and start shining. 
I absolutely love Sara – her perspective, her energy and the way she inspires women (including me) to do more and be more. 
Today we're going to dive deep into the connection between perfectionism and procrastination and how staying in your comfort zone can keep you stuck. 
This episode is jam packed with encouragement and inspiration, and it all starts with believing in yourself.
In this episode Sara and I talk about:
How a lifetime of social conditioning can keep you playing small

Why you try so hard to be the person other people want you to be
The link between performing, exhaustion, frustration and resentment

7 ways you're getting in your own way

How to stop asking permission to play a bigger game in life
5 ways to get unstuck  

How to thrive in the face of anxiety

Strategies to turn your struggles into strengths

How to move from a fixed mindset and a growth mindset

Secrets of cultivating courage, confidence and abundance #everydamnday
7 Ways You're Getting in Your Own Way
Staying quiet and not speaking up when you have an opinion.

Being the person other people want you to be instead of being who you truly are

Playing small

Analysis paralysis

You're stuck in a fixed mindset vs growth mindset

 You are stuck in the dreaming and planning phase without taking any action

Being the gatekeeper of all tasks and roles. 
5 Ways To Get Unstuck
Take small steps

Take imperfect action

Get curious

Drop the ball or the bomb. Either make it a priority or let it go.

Dream in strategy
More about Sara Dean
Sara's is a Mindset, Business and Leadership Coach.  She is also the creator and host of the Shameless Mom Academy Podcast, a top rated podcast with over 3 million downloads.  Sara's biggest passion is helping women own their space.  After enduring her own identity crisis following the birth of her son, Sara took her background in psychology/health/ wellness and rebuilt her identity, one step at a time.  Sara motivates and inspires women to stop shrinking and start shining.  She is on a mission to inspire women and moms, in particular, to live bigger, bolder, braver #everydamnday.
Sara serves women through her podcast, her thriving Momentum Mamas membership community, her Tenacious Mamas business & leadership mastermind and her annual event, Shameless Mom Con (coming this spring!) When she's not supporting Shameless Moms, you'll find Sara with her husband and 8 year old son – building Legos and pretending to understand Minecraft.
Connect with Sara
Join Sara's free Facebook Group: www.shamelessmom.com/facebook
Instagram: www.instagram.com/shamelessmomacademy
Support, resources and tools to help you stop drinking and live alcohol-free
Drink Less + Live More today with The Sobriety Starter Kit. The private, on-demand coaching course you need to break out of the drinking cycle – without white-knuckling it or hating the process.
Grab your  Free Sober Girls Guide To Quitting Drinking, 30 Tips For Your First 30 Days
Find My Favorite Sober Facebook Groups, The BFB "Booze Free Brigade" and She Recovers Together
Connect with Casey
Find out more about Casey and her coaching programs, head over to her website, www.hellosomedaycoaching.com
Take a screenshot of your favorite episode, post it on your Instagram and tag me @caseymdavidson and tell me your biggest takeaway!
ABOUT THE HELLO SOMEDAY PODCAST
The Hello Someday Podcast helps busy and successful women build a life they love without alcohol. Host Casey McGuire Davidson, a certified life coach and creator of The Sober Girl's Guide to Quitting Drinking, brings together her experience of quitting drinking while navigating work and motherhood, along with the voices of experts in personal development, self-care, addiction and recovery and self-improvement. 
Whether you know you want to stop drinking and live an alcohol free life, are sober curious, or are in recovery this podcast is for you.
In each episode Casey will share the tried and true secrets of how to drink less and live more. 
Learn how to let go of alcohol as a coping mechanism, how to shift your mindset about sobriety and change your drinking habits, how to create healthy routines to cope with anxiety, people pleasing and perfectionism, the importance of self-care in early sobriety, and why you don't need to be an alcoholic to live an alcohol free life. 
Be sure to grab the Free Sober Girl's Guide To Quitting Drinking right here.
Are you subscribed to my podcast? If you're not, I want to encourage you to do that today. I don't want you to miss an episode.
I'm adding a bunch of bonus episodes to the mix and if you're not subscribed there's a good chance you'll miss out on those. Click here to subscribe in iTunes!
Now if you're feeling extra loving, I would be really grateful if you left me a review over on iTunes, too. Those reviews help other people find my podcast and they're also fun for me to go in and read. Just click here to review, select "Ratings and Reviews" and "Write a Review" and let me know what your favorite part of the podcast is. Thank you!
OTHER WAYS TO ENJOY THIS POST: