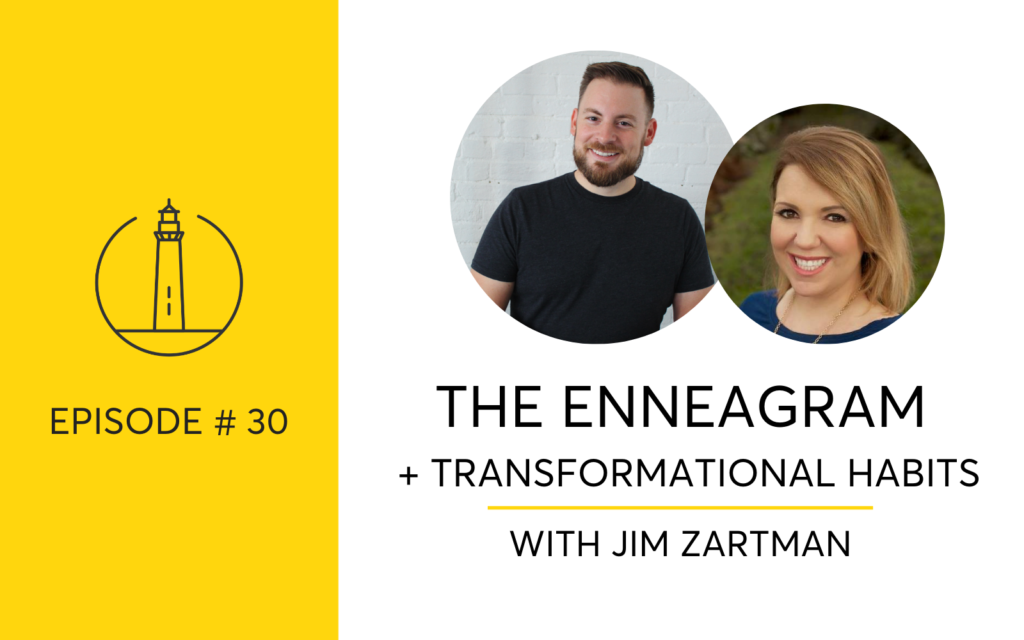 The Enneagram and Transformational Habits
Have you heard of the Enneagram? It's

 a system of personality typing that describes patterns in how people interpret the world and manage their emotions. 
It is also a tool of self discovery. The Enneagram can help you understand yourself and why you respond and act the way you do. 
Today my guest is Jim Zartman. Jim is a certified Enneagram coach who walks us through the Enneagram types as well as transformational habits that can change our lives.
Since Jim has done Enneagram work and typing interviews with over 50 women who are on the alcohol-free path, I asked him to talk about how the Enneagram work can be viewed through the lens of women who have relied on alcohol as a coping mechanism and are now leaving it behind. 
If you're stepping away from alcohol the Enneagram can help you understand your unique core drivers, core needs, beliefs and patterns that have been influencing your choices and decisions.
Jim shares that your core drivers can show up as superpowers or as a shadow that can sabotage the best parts of you.
"The best of you is permanent. The worst of you is temporary. You never want to be less of yourself. You want to be the best of yourself with fewer sabotaging patterns. The Enneagram can help you uncover the best parts of you." -Jim Zartman
In Jim's Enneagram work with clients he sees that:
Understanding your Enneagram type can help you gain a better understanding of your core motivations, driven by your desires and fears

Your Enneagram type is not a landing place, but a launch pad – it's a tool in your growth, not the list of behaviors you are now held to

Your Enneagram type doesn't put you in a box. Rather it gives you a framework for your tendencies and the lens through which you interact with your surroundings
In this episode, Jim and I chat about:
What the Enneagram is and how you can use the Enneagram as a tool to help you stop relying on alcohol as a coping mechanism

Transformation habits that can make a big difference in your sobriety

How you show up + being consistent

Acceptance

Curiosity

The three types of the main intelligence centers: the body center, heart center, & head center
Shownotes: www.hellosomedaycoaching.com/30
Grab your  Free Sober Girls Guide To Quitting Drinking
To get the full guide of the best quit lit for women go to www.hellosomedaycoaching.com/quit-lit
About Jim Zartman
Jim is a certified enneagram coach and the co-founder of The Art of Growth, which is a team of coaches and consultants who work with individuals and organizations to help them achieve the transformation they want in themselves, their work and their relationship.
Connect with Jim Zartman
Website: www.theartofgrowth.org
Listen to The Art of Growth Podcast
Connect with Casey McGuire Davidson
Website: www.hellosomedaycoaching.com
Instagram: Casey @ Hello Someday Coaching (@caseymdavidson)
Facebook: https://www.facebook.com/HelloSomeday 
Listen to more podcast episodes to drink less + live more.
ABOUT THE HELLO SOMEDAY PODCAST
The Hello Someday Podcast helps busy and successful women build a life they love without alcohol. Host Casey McGuire Davidson, a certified life coach and creator of The Sober Girl's Guide to Quitting Drinking, brings together her experience of quitting drinking while navigating work and motherhood, along with the voices of experts in personal development, self-care, addiction and recovery and self-improvement. 
Whether you know you want to stop drinking and live an alcohol free life, are sober curious, or are in recovery this podcast is for you.
In each episode Casey will share the tried and true secrets of how to drink less and live more. 
Learn how to let go of alcohol as a coping mechanism, how to shift your mindset about sobriety and change your drinking habits, how to create healthy routines to cope with anxiety, people pleasing and perfectionism, the importance of self-care in early sobriety, and why you don't need to be an alcoholic to live an alcohol free life. 
Be sure to grab the Free Sober Girl's Guide To Quitting Drinking right here.
Are you subscribed to my podcast? If you're not, I want to encourage you to do that today. I don't want you to miss an episode.
I'm adding a bunch of bonus episodes to the mix and if you're not subscribed there's a good chance you'll miss out on those. Click here to subscribe in iTunes!
Now if you're feeling extra loving, I would be really grateful if you left me a review over on iTunes, too. Those reviews help other people find my podcast and they're also fun for me to go in and read. Just click here to review, select "Ratings and Reviews" and "Write a Review" and let me know what your favorite part of the podcast is. Thank you!
OTHER WAYS TO ENJOY THIS POST: