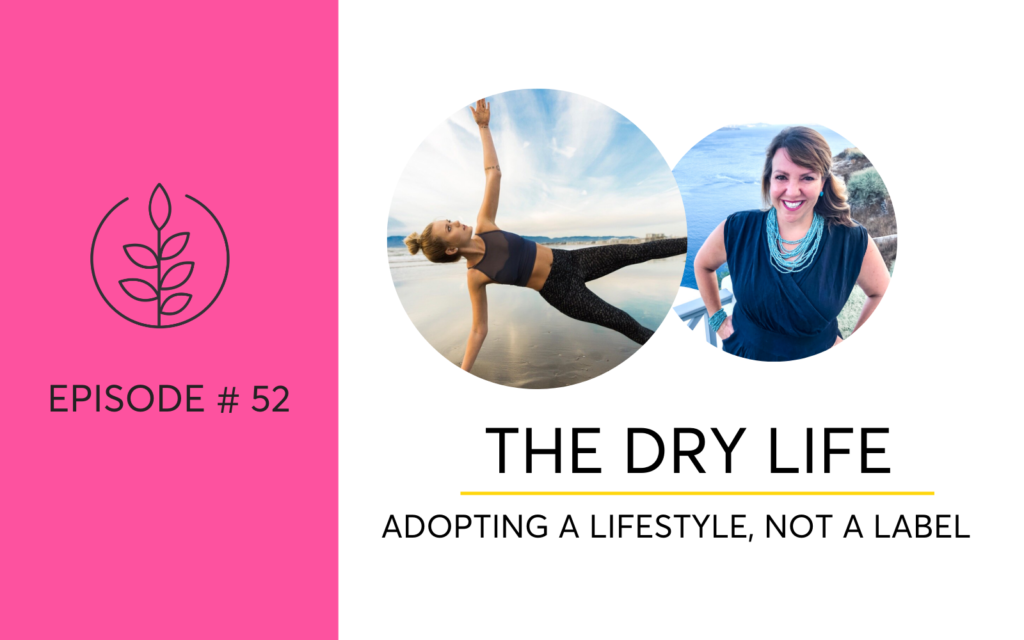 The Dry Life: Adopting An Alcohol-Free Lifestyle, Not A Label
Did you know that you can live alcohol-free and still enjoy an amazing life?
It sounds like a dumb question, but so many of us believe that our social life, friendships and adventures will end if we stop drinking.
So we're here to talk about that today…
How to embrace an alcohol-free lifestyle, without assuming a label. 
When you decide to be alcohol-free…
You can still be social, hang out with your friends who drink and also transform internally. 

You can let go of the things in your life that aren't serving you, but also keep the people and activities that bring you joy. 

You can have everything you've always wanted. 
My guest today is Kayla Lyons. Kayla is the founder of 1,000 Hours Dry, an alcohol-free community and host of The Dry Life Podcast. 
In this episode, Kayla and I discuss her sobriety journey, our drinking culture, how big alcohol markets to consumers, and all the benefits of not drinking.
In this episode, we chat about:
How owning your identity as a non-drinker (and being open about living an alcohol-free life) can educate and normalize it for others

Why the language we use around going alcohol-free is powerful and important 

How to view going alcohol-free through a growth mindset not a fixed mindset 

What we think about non-alcoholic beer 

The 1000 hours dry challenge and community 

Alcohol-Free communities outside of 12 Step Programs and how to find your people on Instagram
6 principles for psychological well being
Books Mentioned in Episode
Propaganda by Edward Bernays
Mindset: The New Psychology of Success  by Carol Dweck
The Biology of Desire: Why Addiction Is Not a Disease by Marc Lewis PhD
Want more support, resources and tools to help you go alcohol-free?
You can Drink Less + Live More today with The Sobriety Starter Kit.
It's the private, on-demand coaching course you need to break out of the drinking cycle – without white-knuckling it or hating the process.
Grab the  Free Sober Girls Guide To Quitting Drinking, 30 Tips For Your First 30 Days
Connect with Kayla Lyons
To join Kayla's online community and signup for her alcohol-free 1,000 Hours Dry challenge, head over to  @1000hoursdry on instagram.
Listen & subscribe to The Dry Life Podcast
Follow 1,000 Hours Dry and The Dry Life Podcast on instagram @1000HoursDry & @thedrylifepodcast
Connect with Casey
Find out more about Casey and her coaching programs, head over to her website, www.hellosomedaycoaching.com
Take a screenshot of your favorite episode, post it on your Instagram and tag me @caseymdavidson and tell me your biggest takeaway!
ABOUT THE HELLO SOMEDAY PODCAST
The Hello Someday Podcast helps busy and successful women build a life they love without alcohol. Host Casey McGuire Davidson, a certified life coach and creator of The Sober Girl's Guide to Quitting Drinking, brings together her experience of quitting drinking while navigating work and motherhood, along with the voices of experts in personal development, self-care, addiction and recovery and self-improvement. 
Whether you know you want to stop drinking and live an alcohol free life, are sober curious, or are in recovery this podcast is for you.
In each episode Casey will share the tried and true secrets of how to drink less and live more. 
Learn how to let go of alcohol as a coping mechanism, how to shift your mindset about sobriety and change your drinking habits, how to create healthy routines to cope with anxiety, people pleasing and perfectionism, the importance of self-care in early sobriety, and why you don't need to be an alcoholic to live an alcohol free life. 
Be sure to grab the Free Sober Girl's Guide To Quitting Drinking right here.
Are you subscribed to my podcast? If you're not, I want to encourage you to do that today. I don't want you to miss an episode.
I'm adding a bunch of bonus episodes to the mix and if you're not subscribed there's a good chance you'll miss out on those. Click here to subscribe in iTunes!
Now if you're feeling extra loving, I would be really grateful if you left me a review over on iTunes, too. Those reviews help other people find my podcast and they're also fun for me to go in and read. Just click here to review, select "Ratings and Reviews" and "Write a Review" and let me know what your favorite part of the podcast is. Thank you!
OTHER WAYS TO ENJOY THIS POST: