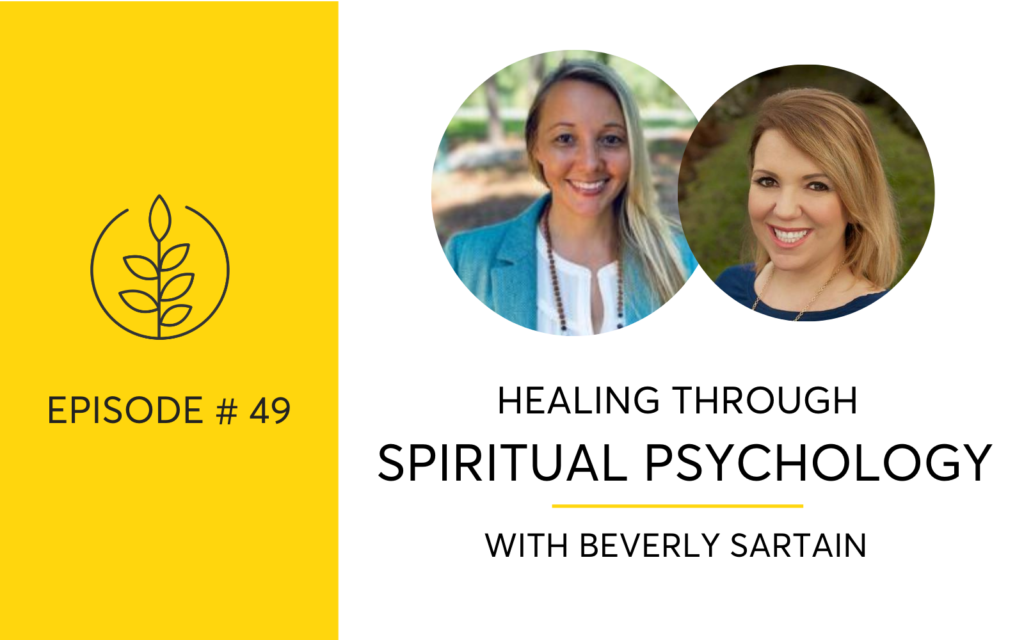 Can the principles of spiritual psychology help you heal from past traumas? 
We're going to unpack the tools, techniques and practical application of a spiritual psychology approach on the podcast today. 
Spiritual Psychology is a blend of spirituality and science. It uses elements of both traditional psychology and spirituality in order to help individuals feel better and more content with their lives.
My guest is Beverly Sartain. Beverly is the author of the book Transcending Trauma: How I used Spiritual Psychology to Heal My Life and the creator of The Spiritual Psychology Healing Workbook.
After multiple hardships in her life, Beverly experienced a spiritual awakening and discovered ways to turn those hardships into assets of her future through the practical application of spiritual psychology. 
By resolving her feelings of unworthiness and not being good enough, she reconnected with her inner being and her true essence — love. Beverly will encourage you to find your own path to healing and becoming the co-creator of your life.
In this episode, Beverly and I dig into:
Specific Spiritual Psychology tools and techniques that can be practically applied in your life today

The difference between Victim Consciousness and Creator Consciousness, two states of mind that can rule your awareness

4 levels of a holistic approach to coaching – mental, emotional, physical and spiritual

How to avoid self-sabotage and reframe negative thought patterns

Why judgement is self condemnation and self-forgiveness is restoration

How to cultivate self-compassion, acceptance, peace, and joy 
Download 33 principles of Spiritual Psychology 
About Beverly Sartain
Beverly is a Certified Alcohol and Drug Counselor. In her career before coaching, Beverly managed and developed domestic violence and co-occurring residential programs. 
Beverly is also the creator of the Holistic Coach Certification Program and the Spiritual Psychology Coaching Method. The Holistic Coach Certification Program is an ICF ACSTH accredited program that focuses on a holistic approach to coaching. They see Clients as whole, complete and resourceful to create creative solutions to their challenges and issues. Additionally, Beverly provides individual and group coaching through her brand, Recovery Life Management. 
Resources and links mentioned in the podcast 
Connect with Beverly on Facebook at https://www.facebook.com/beverly.sartain.1/
Purchase Beverly's book, head over to transcendingtrauma
Beverly's favorite affirmations cards mentioned in the episode
Beverly has created the Spiritual Phycology Healing Workbook to help you be a healthy human by continuing to resolve your unresolved issues so that you can serve from your wholeness versus your wound. 
Beverly has laid out 52 soul-packed lessons to help you increase your awareness, relate to yourself in a better way, learn new skills to keep on keepin' on with your personal and professional advancement and be the demonstration of the work you do with others, first and foremost.
Support, resources and tools to help you go alcohol-free
The private, on-demand coaching course you need to break out of the drinking cycle – without white-knuckling it or hating the process.
Grab your  Free Sober Girls Guide To Quitting Drinking, 30 Tips For Your First 30 Days
Connect with Casey
Find out more about Casey and her coaching programs, head over to her website, www.hellosomedaycoaching.com
Take a screenshot of your favorite episode, post it on your Instagram and tag me @caseymdavidson and tell me your biggest takeaway!
ABOUT THE HELLO SOMEDAY PODCAST
The Hello Someday Podcast helps busy and successful women build a life they love without alcohol. Host Casey McGuire Davidson, a certified life coach and creator of The Sober Girl's Guide to Quitting Drinking, brings together her experience of quitting drinking while navigating work and motherhood, along with the voices of experts in personal development, self-care, addiction and recovery and self-improvement. 
Whether you know you want to stop drinking and live an alcohol free life, are sober curious, or are in recovery this podcast is for you.
In each episode Casey will share the tried and true secrets of how to drink less and live more. 
Learn how to let go of alcohol as a coping mechanism, how to shift your mindset about sobriety and change your drinking habits, how to create healthy routines to cope with anxiety, people pleasing and perfectionism, the importance of self-care in early sobriety, and why you don't need to be an alcoholic to live an alcohol free life. 
Be sure to grab the Free Sober Girl's Guide To Quitting Drinking right here.
Are you subscribed to my podcast? If you're not, I want to encourage you to do that today. I don't want you to miss an episode.
I'm adding a bunch of bonus episodes to the mix and if you're not subscribed there's a good chance you'll miss out on those. Click here to subscribe in iTunes!
Now if you're feeling extra loving, I would be really grateful if you left me a review over on iTunes, too. Those reviews help other people find my podcast and they're also fun for me to go in and read. Just click here to review, select "Ratings and Reviews" and "Write a Review" and let me know what your favorite part of the podcast is. Thank you!
OTHER WAYS TO ENJOY THIS POST: