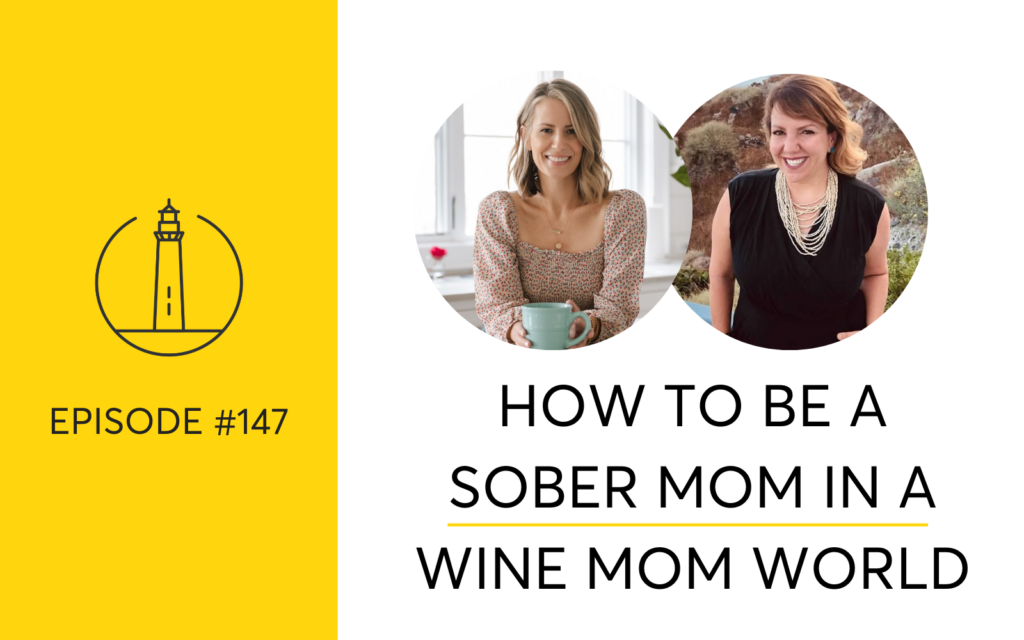 How To Be A Sober Mom In A Wine Mom World
How do you navigate life as a sober mom when the alcohol industry has spent millions of marketing dollars to embed the "mommy needs wine" message firmly in our culture? 
How do you talk to other moms about your decision to take a break from drinking and see what it's like to be a sober mom? 
Motherhood without alcohol can feel like a foreign concept for many of us. We've been convinced, through advertising, marketing, social media and each other, that drinking is our well earned reward for the hard work of motherhood. 
The television shows and movies we watch show us mothers opening a bottle of wine at the end of the day. Birthday cards and Mother's Day cards feature wine glasses and bottles with sayings like "A mother's sacrifice isn't giving birth…It's 9 months without wine".  Or "This mom runs on coffee, wine and Amazon Prime". 
Dish towels and baby onesies, t-shirts and coffee cups promote the idea that drinking makes motherhood easier. 
To be a sober mom is to exist outside of the norm. There are no

"Motherhood is hard and hangovers make it harder"

or

"You are a sober badass"

greeting cards at the grocery store.

 
And there should be. It's time to normalize sobriety in motherhood. 
During the pandemic, binge drinking among women increased by 41% and drinking among mothers of children below the age of five went up 323%. 
And in 2020 the number of deaths involving alcohol went up 25.5%, a major increase from the average annual growth of 2.2%. 
If you're thinking about joning the sober mom life, you're not alone.
Sober moms are stepping outside the box, modeling healthy coping mechanisms for their kids and prioritizing their own mental and physical health rather than checking out in the evenings with a substance that increases anxiety and depression. 
In order to enjoy life as a sober mom it's important to take care of yourself first so that you have the energy and focus needed to take care of your family. When you walk away from the wine mom world you're able to fully engage in conversations with your children and really listen when they tell you about their day at school or ask questions about what's going on in the world around us right now! 
When you're sober you're able to connect with your children on an emotional level instead of being distracted by alcohol.
Suzanne Warye is here to talk about all things Sober Mom Life. She's the host of the Sober Mom Life podcast, a style influencer at My Kind Of Sweet and the mom of three children who are eight, five and three.
Suzanne knows the behind the scenes of influencing what goes into building mom wine culture and the big brands capitalizing on this audience that they know, trust them implicitly.  
We talk about what inspired her to quit drinking with young kids and how to normalize sobriety in motherhood.
Tune in to hear Casey and  discuss:
What's great about sober mom life

Why we need to talk about why motherhood is hard (and how drinking makes it harder)

The truth behind why social media influencers post about drinking to cope with #momlife, #relatable

The hardest part of being a sober mom in a wine mom world

How to find other moms living alcohol-free
Ready to drink less + live more?
If you're ready to change your relationship with alcohol join The Sobriety Starter Kit. 
It's my signature sober coaching course for busy women to help you drink less + live more. 
To enroll go to www.sobrietystarterkit.com.
Grab the  Free 30-Day Guide To Quitting Drinking, 30 Tips For Your First Month Alcohol-Free
Connect with Suzanne Warye
Suzanne stopped drinking just before she turned 40. She has three kids who are now eight, five and three years old. 
To learn more about Suzanne and My Kind Of Sweet, head over to www.mykindofsweet.com 
Tune into her podcast, The Sober Mom Life –  Each week, Suzanne talks with inspiring, strong, sober women. She shares deep dives on Mommy Wine Culture and how alcohol affects our anxiety, and Suzanne also shares more about her personal drinking and sobriety stories.
Follow Suzanne on Instagram @mykindofsweet
Follow The Sober Mom Life @thesobermomlife
Connect with Casey
Take a screenshot of your favorite episode, post it on your Instagram and tag me @caseymdavidson and tell me your biggest takeaway!
Want to read the full transcript of this podcast episode? Scroll down on this page.
ABOUT THE HELLO SOMEDAY PODCAST FOR SOBER CURIOUS WOMEN
Are you looking for the best sobriety podcast for women? The Hello Someday Podcast was created specifically for sober curious women and gray area drinkers ready to stop drinking, drink less and change their relationship with alcohol.
Host Casey McGuire Davidson, a certified life and sobriety coach and creator of The 30-Day Guide to Quitting Drinking and The Sobriety Starter Kit Sober Coaching Course, brings together her experience of quitting drinking while navigating work and motherhood, along with the voices of experts in personal development, self-care, addiction and recovery and self-improvement. 
Whether you know you want to stop drinking and live an alcohol-free life, are sober curious, or are in recovery this is the best sobriety podcast for you.
A Top 100 Mental Health Podcast, ranked in the top 1% of podcasts globally, The Hello Someday Podcast is the best sobriety podcast for women.
In each episode Casey will share the tried and true secrets of how to drink less and live more. 
Learn how to let go of alcohol as a coping mechanism, how to shift your mindset about sobriety and change your drinking habits, how to create healthy routines to cope with anxiety, people pleasing and perfectionism, the importance of self-care in early sobriety, and why you don't need to be an alcoholic to live an alcohol-free life. 
Be sure to grab the Free 30-Day Guide To Quitting Drinking right here.
Are you subscribed to my podcast? If you're not, I want to encourage you to do that today. I don't want you to miss an episode.
I'm adding a bunch of bonus episodes to the mix and if you're not subscribed there's a good chance you'll miss out on those. Click here to subscribe in iTunes!
Now if you're feeling extra loving, I would be really grateful if you left me a review over on iTunes, too. Those reviews help other people find my podcast and they're also fun for me to go in and read. Just click here to review, select "Ratings and Reviews" and "Write a Review" and let me know what your favorite part of the podcast is. Thank you!
SUPPORT OUR SPONSORS
Thank you for supporting this show by supporting my sponsors!
Learn more: https://hellosomedaycoaching.com/sponsors/
READ THE TRANSCRIPT OF THIS PODCAST INTERVIEW
How To Be A Sober Mom In A Wine Mom World with Suzanne Warye
SUMMARY KEYWORDS
people, drinking, life, minivan, values, choice, thinking, therapist, idea, stuck, talk, left, book, brave, yoga, feel, work, big, women, realize
SPEAKERS: Casey McGuire Davidson + Suzanne Warye
00:02
Welcome to the Hello Someday Podcast, the podcast for busy women who are ready to drink less and live more. I'm Casey McGuire Davidson, ex-red wine girl turned life coach helping women create lives they love without alcohol. But it wasn't that long ago that I was anxious, overwhelmed, and drinking a bottle of wine and night to unwind. I thought that wine was the glue, holding my life together, helping me cope with my kids, my stressful job and my busy life. I didn't realize that my love affair with drinking was making me more anxious and less able to manage my responsibilities.
In this podcast, my goal is to teach you the tried and true secrets of creating and living a life you don't want to escape from.
Each week, I'll bring you tools, lessons and conversations to help you drink less and live more. I'll teach you how to navigate our drinking obsessed culture without a buzz, how to sit with your emotions when you're lonely or angry, frustrated or overwhelmed, how to self soothe without a drink, and how to turn the decision to stop drinking from your worst case scenario to the best decision of your life.
I am so glad you're here. Now let's get started.
Hi there. Today we are talking about Sober Mom Life. And I'm really excited to introduce you to my guest Suzanne Warye is a mom, a style influencer at My Kind Of Sweet, and is now sharing her sobriety at The Sober Mom Life. She has a podcast and a really popular Instagram account. And Suzanne stopped drinking just before she turned 40 – just like I did. Suzanne has three kids who are now eight, five and three years old. And I wanted to have her on the show because Suzanne knows the behind the scenes of influencing, what goes in to building mom wine culture, and the big brands capitalizing on this audience that they know, trust them implicitly.
On this episode, we're going to talk about drinking as a mom and quitting drinking as a mom but also about why mom's drink and the truth about how hard it is to Mother small kids. And the line we're sold about how we should get through it.
So, Suzanne, welcome. I'm so glad you're here.
02:30
Thank you, Casey. It's so good to be here.
Casey McGuire Davidson  02:33
I know we met, you know, just through being sober moms out there in the world and through the world of podcasting. And I have to say, I now follow you on Instagram at both My Kind Of Sweet and The Sober Mom Life and I love it. It's so fun and interesting.
02:50
Thank you. I know. I feel like we connect on podcasts like every couple of months. You were on mine. Now, I'm on yours. Such as talk on podcasts forever.
Casey McGuire Davidson  02:59
That's awesome. Yeah. No, it definitely gets in our schedules, right.
03:03
Yeah, exactly. We have to schedule these conversations. That's good, though.
Casey McGuire Davidson  03:07
Yeah, definitely will. So, tell me a little bit about you. I mean, I gave a quick intro, but you quit drinking three years ago. And what's your what's your life like now is a supermom.
03:20
Oh, man, what is my life is crazy. It's I know probably all moms can relate. I have three kids eight, five and three. And so, it's, it's a lot of, it's a lot of needing and I think the idea of like when we stop drinking or when we get sober, as moms, that it's a… I am guilty of this on my Instagram. I share about how alcohol makes motherhood harder. What I don't say is motherhood is hard.
Anyway, like, even after we stopped drinking, the struggle is there of motherhood. So yeah, it's a struggle. I'm saying this especially now as I sit today, because I'm feeling this like craziness of the holidays and the schedule is hectic. And I'm just feeling pulled in every direction. So today, my life is crazy.
Casey McGuire Davidson  04:12
Yeah, yeah, I hear you. And you know, it's interesting, right? Because I think so many of us. I was always a drinker, but definitely once I had my son, the other things I used to do, to have fun and fill up my time kind of fell away.
So, before I had my son, you know, I worked. I always loved drinking. It was always part of my life. But I also took weekly guitar lessons, and I also did Pilates and I also trained for triathlons and a bunch of other things. And once I had my son, you know, especially your first especially early motherhood, it literally shifted from this really full life where I was very independent to go to work, be stressed out, right? Because you have all the same things do, but you have to now leave at 5:30 Because daycare closes at 6. So, you're rushing to get your kid you're rushing to get them home you, they need you, you do all the things. And you know the only thing to some extent you have to reward yourself it at least in my life felt like why I no longer had guitar and Pilates and you know, all these other things.
05:28
Yeah, and thing about especially the first kid. And I feel like when I talk about moms and two moms, I'm talking to the mom who just had a baby three months ago, or two months ago, or eight months ago or a year ago, and is still trying to figure out how to fit herself back into this life of motherhood because she's still there. And she's still mattered. And like, that's what I really struggled with. In early motherhood. I was I was thick in postpartum anxiety and OCD. And so, I thought I was not only going crazy, but I was like, Hey, where did I go? Like, how do I matter anymore? Or am I just like this milk machine? And this, you know, am I just this warm body? Yeah. Which is why then I started my kind of sweet I needed. I needed something that felt like me again. Yeah, so I started that. And that did help. So, if you're a new mom, and you're struggling in new motherhood, yeah, first, it gets better. It just does, like time really does help. But just allowing yourself to be important, I think is really important.
Casey McGuire Davidson  06:43
Yeah, I completely agree. And I mean, I think just admitting that it is hard helps and, and not admitting it, necessarily. You know, just when you have a bunch of wine and are bitching about your husband, what's happening to your body or whatever, but like, it, admitting it to other people and asking for help and support that you need, because, you know, everybody's like, Oh, my God, it's such a magical time. And you know, my kids are 14 now. And I do look at those adorable little kids and are like, Oh, my god, that's amazing. I also am like; I would not want to go back for any.
07:23
Yeah, like they have babies and puppies like have to be adorable. That's, like, if they weren't adorable, we'd have a problem because they have to be adorable, because their pains in the ass is a lot of the times like, they're just, it's just so much and unbelief
Casey McGuire Davidson  07:39
and they're like, Oh, God, like what have you done for me lately? Like they're screaming at you? And you're like, Oh, my God, I have nothing but prioritize you for 17 days. Yes.
07:52
Yes. You always feel like you, you're failing. I think I did. Especially a new mother. Like, I always felt like I was failing. And it's easy, then to turn to wine, if that's what you were doing before. I mean, my story in in motherhood and drinking is a little bit different. Because I went through the party girl phase, and I loved it. Like in my 20s. I just I, I loved being a party girl. It was so much fun. I wasn't, I wasn't never like super out of control, but I blacked out and stuff. And so, then I, as I got married and then settled down like I, I couldn't, I couldn't figure out how that went with motherhood and how that fit into motherhood. It was I did find myself when I was starting to get out of the newborn haze. Like I would turn to wine. I would have champagne lunches with my girlfriend.
You know, I remember like one specific instance, where I was trying to feel like myself again. And I was trying to be like, Okay, well, when it was just me, I remember what I did. So, I would go out with girls and drink a lot of champagne. And we would talk, and we would connect, you know, and I had this new mom friend. And I was like, well, let's do that. Because that's obviously the fast track to connection. Right? Like, let's just get drunk and like talk about our lives before we were moms. And before we were you know, let's talk about who we really are. Yeah, and that didn't go so well. Like really? Yeah, I mean, oh, god. Yeah, like, I quickly realized, like, Oh, that's not going to happen with motherhood. So, then what am I What do I do? Who am I? Like, I had to figure out this whole new thing, which I'm kind of still figuring out. I mean, it's a process to figure out who we are in motherhood, and especially without alcohol.
Casey McGuire Davidson  09:49
Well, I think it's interesting that you started off and I'm really glad you said it this way was, you post a lot about how drinking makes motherhood harder. And that is completely true. And I tell women this, I mean, I quit drinking when my daughter was two, my son was eight. So, I basically drank all the way through my son's life. You know, I took a year off when he was five when I was trying to stop drinking, and through the first two years of my daughter's life, so, you know, waking up with a kid screaming in the middle of the night, when you've been drinking incredibly hard. Dealing with little kids, when they get up so early with a brutal hangover really hard. You know, it's difficult to make life harder when the minute the kids go to bed, you start drinking, which is what I did, how much but you lose so much time and you get such poor sleep. So yes, drinking makes motherhood harder. But the challenge is that, like you said, motherhood is just hard. Yeah. And what else do you do? Like what are the other coping mechanisms that you use to get through it in a life that is so busy with such limited health and resources? That, you know, everybody's kind of stretched pretty thin, like once you stop drinking when you were really little?
11:14
So, how do you go? Well, it's, it's interesting to look back at my story, because I, I, you know, I did drink a lot in my 20s. And I had that decade of partying and over indulging and drinking a lot. And then while I would say that I didn't drink a lot, then after having kids, I, I still drank. And I was still I don't even think I realized how much I was using it to numb and cope until I stopped. And so, you just, you just don't realize that you don't realize the tools you don't have until you need them. And you're like, holy shit. What? Oh, wow. So, I was drinking wine at night. Even if it was one or two glasses. What does that look like? Now? What am I doing now? Oh, wow, I'm feeling all of these things. That feel really scary and new. Because I've never allowed myself to feel them. I, you know, when I stopped drinking in January 2020 of a couple months later, the world shut down.
Casey McGuire Davidson  12:22
I didn't say so. Right. At the beginning. It was.
12:25
Yes. And like, I look back now and I'm like, wow, would I have stopped drinking? Had I known what lie ahead and what was going to happen? I don't know. And I'm glad I didn't know. I'm glad I did not know what was going to happen. I also lost my dad, pretty tragically, uh, just over a year after my sobriety. And so, I, I've had to, I've had to figure this out. I've had to fumble my way through and find how, how I can cope. And what I can do, because once I learned that alcohol wasn't actually allowing me to cope with things. It was allowing me not to cope with them. And it was tricking me into thinking, No, this is good. You know, this is okay, this is helping me unwind that that was just a lie. Once I knew that, I knew I couldn't go back because I knew that I had I wanted something different. And I didn't want to do that again. And so yeah, I I'm still learning, you know, almost three years in I'm still learning the tools that I need to cope with the just life. And I also have been thinking a lot that like, it's just not supposed to be easy. And I just don't think that if it feels hard. That's not a signal to me that I'm doing it wrong. Yeah.
Yeah. So, like that. I've been thinking about that a lot lately, because I also just so I forgot to mention that when I was struggling with postpartum anxiety I did get on Zoloft. And I was on it for years and through two more babies breastfeeding, like completely healthy. You know, so I strongly urge anyone to if you need help, if you're struggling with postpartum anxiety, OCD, talk to your doctor. One thing motherhood, motherhood has taught me more than anything is that our babies need us to be okay. Yeah, like, they need us to be okay. That is number one. And so, yes, so I recently just stopped taking my anxiety medication. And so, I took it for eight years, and now I don't have it anymore, because and I'm going to say something. I'm going to say I don't need it. But that doesn't mean I don't still have some anxiety sometimes. Yeah. And that doesn't mean And then I didn't just have a panic attack like two days ago. But I like I don't know, I treat it as a signal to me about, okay, what's going on? What do I need to slow down? What's causing this? What am I? What do I need to work out, I turn a lot to exercise. Exercise has helped my anxiety so much it feels like without it inside my body, I can just feel myself like churning and all of these thoughts and nowhere to go. And then when I run, I'm a big runner. That just kind of settles everything, and it dissipates and helps me. Yoga has also been huge. I think yoga has helped me to be uncomfortable. And to just learn that I can be uncomfortable. Yeah. And like I that it's, I will survive being uncomfortable.
Casey McGuire Davidson 
Hi there. If you're listening to this episode, and have been trying to take a break from drinking, but keep starting and stopping and starting again, I want to invite you to take a look at my on demand coaching course, The Sobriety Starter Kit.

 

The Sobriety Starter Kit is an online self study sober coaching course that will help you quit drinking and build a life you love without alcohol without white knuckling it or hating the process. The course includes the exact step by step coaching framework I work through with my private coaching clients, but at a much more affordable price than one on one coaching. And the sobriety starter kit is ready, waiting and available to support you anytime you need it. And when it fits into your schedule. You don't need to work your life around group meetings or classes at a specific day or time.

This course is not a 30 day challenge, or a one day at a time approach. Instead, it's a step by step formula for changing your relationship with alcohol. The course will help you turn the decision to stop drinking, from your worst case scenario to the best decision of your life.

You will sleep better and have more energy, you'll look better and feel better. You'll have more patience and less anxiety. And with my approach, you won't feel deprived or isolated in the process. So if you're interested in learning more about all the details, please go to www.sobrietystarterkit.com. You can start at any time and I would love to see you in the course 
Casey McGuire Davidson  16:01
Yeah, that's interesting. I mean, I think you're definitely right, because I loved what you said about, you know, once you realize that wine or drinking wasn't helping you cope with life, it was helping you not cope with life like that, to me, says it really, really well. And I didn't realize that for a very long time. Like, I literally thought that wine was the glue, holding it all together, at least holding me together. And helping me cope, meaning like, Oh my God, I've got my boss, my husband, my kids. This is what when I come home, helps me both relax, and keep going like in this weird, you know, this carrot that's keeping me like moving. And yet when you said it was helping you not cope with life, that's the state you're in, right? You're in this state of never, like you're just stuck. You just like for me; I was barely getting through every day. I was barely getting through every workday, everything on my list, picking up my kids getting home dinner, you know, not sleeping well. So, you know, when everything felt overwhelming. But you're, you know, you mentioned running in yoga. I mean, I in the same way, like when I stopped drinking, I know that I needed to change things and lower the bar in terms of deed with my kids, what how much I put on my plate, what I did for dinner, I was more tired, I needed more alone time, especially in the beginning, I needed therapy. So, I got on the anti-anxiety meds because I was sort of self-medicating for that. But then I also started going to weekly therapy and you know, so you actually do need to renegotiate sort of the agreement or the status quo that you might have with your partner and with your kids. You know, I need a lot more babysitters when I stopped drinking. Yeah.
18:07
It's so funny, because most of us have been drinking since we were I've been drinking since I'm 1617. And so, I had no idea who I was, without this big crutch. And without this big, huge barrier to growth and to myself. And so, like I, I had to relearn all that. And it's such a slow process. Like it's not, it's not going to happen overnight. But I had to really, it's like, I wasn't fluent in my intuition. And in my gut. I wasn't fluent in Suzanne, because like that was just, I had been numbing and kind of not listening to myself for so long. I think that when we are drinking, I know that for me, even if I would have had like, two drinks. I just would not trust myself and what I was thinking and what I was feeling because I would blame the alcohol. And so even if I did have this gut feeling, or this intuition of something I wanted to do, or something that I needed, I would discount it and blame the alcohol. It's like well, that's probably, you know, I'm not in my right mind right now. So, when really that could have been me being like, No, this is what you want, this is what you need. But I was so quick to discount myself and my feelings and my emotions and just blame the alcohol, that now that just taking alcohol out of the equation.
Now I can hear my intuition and I could feel it. I don't always know what it means. But I'm figuring it out. And it's, it's, it's becoming more and more clear. You know, none of this. Would we know until we move alcohol like until we remove alcohol. I didn't Know this on January 20, 2020, like on day one, I wasn't like, cool. So, here's what I'm going to do, I'm going to get in touch with my intuition and I'm going to, you know, I'm going to get more coping tools, and it's going to be great. And alcohol. I didn't know any of that. I knew nothing. I only knew that I didn't want to feel like shit. And laying on my couch with my world going on around me. Like it was my last bad hangover. I wasn't, it wasn't around my kids, although I did end up because my baby was three months. And so, I ended up nursing him in the night and not remembering. And that I was like to, like, Ah, that's a rough thing that I would have never, I just would have known. That wasn't me. Yeah, it was the alcohol. And so, when I decided that I was going to stop drinking, I just told my husband, I'm done. But I didn't know what the hell any of it meant.
Casey McGuire Davidson  21:05
So, I had us on the couch with a hangover with a three month old that you had nursed the night before and didn't remember it. And you just told your husband, I'm done. Was that like, the first time that it's probably not the first time you worried about it? But was it the first time you told him that?
21:22
I think it was the first time I allowed myself to worry about it. Because I think that any other time, it came up as a as a like, oh, I mean, it was definitely not my first bad hangover. But you know that I would seek out things that would normalize that. It's like, I would ask my friends like, are you feeling like shit? Oh, my God. Yeah. Oh, good. Okay, nothing to see. Here move along, like, okay, that's just something I wasn't willing to look at. Because looking at my drinking meant that I to me, and what I thought I thought that meant that I was destined for a life of struggle, and a life spent declaring myself powerless to alcohol. And I didn't feel I thought that I would be thinking about alcohol a lot more if I were to quit. Then if I were to keep drinking, because I wasn't drinking every day, I wasn't thinking about alcohol every day. I wasn't hiding it. And now, you know, it's very ironic, because I do think about alcohol a lot more now, because I created a silver pocket. Yes. But had I not? I just thought it was a prison. And so, I wasn't willing to I was never willing to eat. I didn't know it was an option. Yeah. And so, when I said, I told my husband, I'm done. And he was like, okay, you know, like, and I was like, No, I really knew inside I was done. I just had no idea what that meant.
Casey McGuire Davidson  22:49
And I was, Do you get any support? Like, where did you sort of get any tips or tricks or have a think about it? Did you follow path or people? Yes.
22:59
Well, so right, then, I remember like, because I spent the whole day on the couch and the house was a mess. It was like it the scene. It just struck me how much it needed a mom, and that the mom was missing from the situation. And like I needed; I need to show up. So, then I got up, I started cleaning. And I put in my air pods because I'm a huge podcast listener. And I was like, you know, let, let me just see, let me see if there's anything out there. And that's when I found like sober podcasts and Quizlet. And literally from that day, for months, obviously months then into pandemic and the pandemic response in the lockdowns I was I had one airport in Yeah. And then I was playing with my kids and doing all the moms stuff and laundry and stuff. And I was learning and discovering and uncovering the truth about alcohol. And it started with this naked mind. And it was like a he was like an osmosis process. Even if I wasn't completely paying attention. I had it constantly going in my, in my ear. Yeah.
Casey McGuire Davidson  24:11
And it got to a point where many women listening to this are doing the exact same thing and when I did the same thing, I mean, it was almost seven years ago now, but I felt like I was almost reverse brainwashing myself, which are like, exactly conditioning myself, I would like to replace all those ingrained beliefs I had about the value of alcohol and all the fears I had about how much it would suck, not drinking and replacing them with new beliefs that would help me I mean, I used to so when I quit my daughter was 22 months old. And I used to rush her off to bed as quickly as humanly possible. You know if she cried Oh, she needs to figure out how to how to fall asleep on around you Woohoo. I would rock her to sleep every single night when I was in early sobriety because it was a safe place for me. You know, as opposed to downstairs when I would typically drink and honestly, I wasn't drinking. I didn't fucking have anything else to do.
25:14
Yeah, right, exactly. You're like, I got time. Oh, yeah. So, I would put in my earbuds in her dark room with her sound machine on. And I would listen to either Sober podcasts or Quit Lit books and no, just listening and learning and absorbing, and so much.
25:34
It changed everything for me. I mean, I, it changed everything. It opened my eyes to what alcohol is and how it's tricked us and all of that. I think in the back of my mind, even until recently I've discounted. I'm like, Well, yeah, I stopped drinking, but it was you know, I didn't do it. Like I didn't go to AAA. I didn't want to go to AAA like I didn't. I didn't go to meetings like Am I really sober? Am I really doing this? And someone was like, those were your meetings like that was? That was the way that you did it. And I'm like, That's so true. Because this is this is a path to sobriety now. Yeah, it's like it's we're busy moms we're stay at home moms, we have babies who need us all day long who can go to a meeting? Who wants to I get some flak for bashing a, and I don't bash an if it's good for somebody and if they like it, that's great. Like do that. I'm I just want to offer something else where it's not. You just don't have to wait until AAA is there to catch you. Like there's so many places in Milan before AA.
Casey McGuire Davidson  26:47
Yeah, like in my opinion. It's also so I did try the first time I stopped drinking and it just was not my jam like met this people. 10 years ago, when I first tried to stop there really was not much else out there. Right? Almost nothing. Yeah. And so, I went it wasn't my jam. But the second time I stopped drinking seven years ago, I really did it through a sober coach podcast, Quizlet Facebook groups and an online program like literally Yes, it was this hodgepodge. But the reason that worked for me was you know, who can go I was like barely getting 20 minutes between work daycare pickup home bath bed. Like totally all those things I could access during my day you listen to stuff when you're working out you listen to yourself, when you go to a get a latte midday you listen in the car when the kids aren't there. Like and when I rocked my daughter to sleep who has time to drive to a meeting and sit there for 60 minutes' drive home.
Yeah, and also part of me is like, it's just like a different approach or belief system. It's like, okay, I'm not religious. So, I should definitely not say this, which Why am I saying this? But like, Protestant versus Episcopalian? You know, Catholic? Yeah. Like, it's, it's all the same God. Yeah. Or maybe it's not, but you know what I mean? Just right or is it you're not going to sit there and be like, Oh my God, if you're not Protestant, you suck. And you're not really? You know what I mean? Like, well, I quit drinking. So, literally, you know, I know it didn't do it this right way. So, you're Oh, God.
28:31
You know, Tik Tok is the worst at this. Instagram is pretty like, pretty accept Tik Tok out and it is 99% of the time. It's a white man who's going to tell me Oh, you better wait. You're going to be drinking. You think you've got this figured out? You're going to be drinking. I'm like, Oh, why would you even first of all, thank you for telling me so much about myself. I'm what's your name?
Casey McGuire Davidson  28:54
I can't believe judgy white men are on Tik Tok. Yeah, right? We're all on Twitter.
29:00
Yeah, no exact. No, they're everywhere. You got to watch. You got to watch out for the patriarchy. Yes.
Casey McGuire Davidson  29:06
I think very few men listen to this. So, I know. I always bash I'm sorry for the little white man. I'm bashing sorry, if I if I hurt your birthday, if I hurt your precious feeling. Um, but yeah, it's just whatever I think determining your path and sobriety is the first step in listening to yourself and what you need. And it's like, if this doesn't feel good to you, if AAA doesn't feel good, that's not the only that's not the only option. And it doesn't I, for me, the idea of AAA kept me drinking because I was like, Well, I'm not that. That's so. Yeah, obviously if I'm not that I'm fine. Yeah. And the fact is that alcohol still remained a highly addictive really do Dangerous toxin. And so, it didn't matter if I would go to a or not that was still going to be the truth. Yeah.
And so, yeah, I just, I just found my path. And that's what I think the podcasts and the Quit Lit were, like, essential for me to, like you said, like and brainwash myself, and to like, really uncover the truth. And then the part that I was missing was the connection. I started the sober mom life, Instagram account, and that did help. It helped me connect with other people online and just say, Okay, I'm doing this, like, I don't know what it means. But here I am. I'm showing up and then that slowly, then I got connected to an online support, which is, I mean, there's some of my best friends and I've never met them. You they know everything about me. And I've never met them, but I feel so connected and so close to them.
Casey McGuire Davidson  30:58
Yeah, I found that too. I was on a secret online, private Facebook group. I've got a guide on my site. It's called the BFB. If you want to know the one that I've been a member of, and that I absolutely love. But it's, it's my favorite place on the internet, and you have no idea how much you need it. And you tap into it until you tap into like other people who get it. Because even my best friend from high school like she just, she loved me. And she supported me. But she had no idea. Right? What was going on?
31:31
Yeah, there's nothing more powerful than you saying something that feels so shameful. And you're just really putting yourself out there and then hearing Oh, my God, I did that to her. Oh, my God, I feel the same way. Like there is nothing more powerful than hearing that you're not alone in this in this shameful thing that you thought you were the only one who did, which I promise you. You're not. And that's what I am.
Casey McGuire Davidson  31:57
So, before we started recording, we had a conversation about what we hear more than anything, which I'm sure every woman listening to this has said it or thought it or been like why can't I? Which is the phrase, I just want to drink like a normal person. Right? Yeah. And so, what did you What did you say to me about that?
32:19
I mean, I am coming to find in the because I have this over on my Facebook group. I've talked to moms on my podcast, and I'm just coming to find that this normal drinker seems to be the one who has questioned her relationship with alcohol, who has drank too much, who has felt shame about it, who has tried to maybe take a break, who's done a dry January, who has just has this really complicated relationship with alcohol? I don't think a normal drinker is one who has a glass of wine at night and says goodnight. And then that's it. Yeah, like consistently all the time.
Casey McGuire Davidson  33:03
Yeah, I think. I think that, you know, I always tell women, when I'm coaching them, they're like, I just want to be a normal drinker. You know, I went out to dinner with these people, they had two glasses of wine. And I'm like, You have no idea what with alcohol is because from where I sit, talking to 1000s of women, most of those women who have two glasses of wine probably worry about their drinking might be they had a class before they went out, maybe they're going to go home and open a bottle of wine. Maybe they're worried about it. Like very few women don't think about alcohol at all, if they drink it. Yeah.
33:42
Right. And maybe they are ashamed because they had planned on having none. And you know, they're just steeped in their own shame that they're not talking about. And so, it's this I think this idea of normal in any scenario can be really dangerous, because what the fuck is normal like, but if you're going to talk about like, typical and like, what most women how most women drink from what I've seen, and the stories that I keep hearing, that seems to be normal and typical is that they are struggling. And they have taken breaks and they don't like their relationship with alcohol, but they don't know they don't know how to change it because it's really hard.
Casey McGuire Davidson  34:28
So just to summarize, want to in terms of replacing thoughts in your mind, if you're listening to this, a normal drinker might be a woman who is consuming this addictive substance because it's been taught to us that that's what we should do. It's brought to us at every restaurant, you go to the wine or the beer or the drinks menu gets brought to you first. You consume it. It's addictive. You have one drink; you want more you wake up and you feel like garbage. And then you're in withdrawal. And then you wanted to get like, that is a normal drinker. And that's fucking exhausting.
35:07
Yes. And you just, it takes a giant leap of faith because you don't know that you can get out of it until you're out of it. And so, it's nothing that you can real, like, you just don't know what's on the other side of it and tell you're on the other side of it. And so, it's, it's scary to take that leap of faith because you feel like you have to have all the questions answered. And you just don't, you don't have to.
Casey McGuire Davidson  35:34
Yeah, I mean, the hardest part is just getting started and not thinking about forever, but instead, read about it like an experiment like, yes, what I've been drinking for X number of years. I want to see what 3060 90 days without alcohol feels like? Yeah, white knuckling it. But with curiosity, like what if? Thinking I did a yoga class? What if instead of X, I did Y? You know, yeah, yeah.
36:05
And I think, I like to, because I see a lot of moms in my Facebook group be like, well, dammit, you know, I had 40 days, and I drank and now I'm starting at day one. And it's like, man, if we could just reframe that perspective of like, a 40, out of 41 days, you chose yourself, and you chose your health, and you chose something different and something wild and tried to see what it was about. And that's, that is just never going to be a failure. I like to talk about counting firsts rather than counting days. And so, what about like your first, you know, New Years, your first Valentine's Day, like, what does it looks like? You've chances are you've had, I don't know, 20 of those holidays that you drank. And so like, you kind of know how that goes. Right? And so like, what if you just see how one goes without it? Yeah, and yeah, and then that just propels you into it? Because you're not it's, it's going to be really good.
Casey McGuire Davidson  37:13
Yeah, it's talked about, but it's going to be better. Yeah, every time you do something new. without drinking, it's going to be uncomfortable, but treat it as like an observation. Okay, this part was awkward. This part was better. This part was difficult. I thought these people would give me trouble. But they didn't. Oh, and by the way, I got home, and I was able to pay the babysitter without worrying that I over underpaid her way too much.
37:41
Or, like, if she saw me drunk, and like, shame goes into that. Yeah, like what shame goes into that, right? Sure. I always overpaid because I was so, like, I'm sorry. I'm sorry. You have to see me this way. Oh, my God. I know. It's the shame. Yeah, yeah.
Casey McGuire Davidson  38:00
So, question for you. One of the things we chatted about was the fact that you were a style influencer before you quit drinking and my kind of sweet you still now, but you've seen sort of the behind the scenes of influencing and how the big brands are capitalizing on their audience. Moms struggling during this time period who want to be thin or prettier, more social back to how they were before kids. And using that. Tell me about what it's been like,
38:36
Oh my god. So, I think this influencing culture is just a foreign to a lot of people because it's new, and we don't know how to frame it. And you can easily just replace the word influencing with marketing, because that's all it is. It is it is 100% marketing. Nothing is as you as it seems on Instagram as your end. You know, we're told that and we're poor we're like, yeah, yeah, well, except for this mom influencer because, you know, I trust her. I followed her since she was just starting. And we have to realize that BS mommy influencers, me included, our brands, we have deadlines, we have contracts, we have campaigns. This is a business. They have LLC attached to them. This isn't just it's not just as a sweet mom, who happens to share her day. I have been kind of on a tear against mommy, wine culture and some of the big culprits. Molly Sims is one oh my god, she kills me What the fuck? Oh, actually, I followed her because it was fascinating. And then I had to unfollow her. So, this is like, yeah, I sit there honestly. And I'm like, does she have a drinking problem?
39:59
Okay, well here Here's the thing that I want to say because there is no way she's drinking as much as she's saying she is. Okay. It's a pitch for her to be relatable. And she knows she's going to get likes and she's, you know, she's married to like a multi multimillionaire, she has a million followers. She's a supermodel. So, she's like, how am I going to be relatable? So, this is this is a ploy and a tactic so that she can be relatable. I know it, I see it, I can call it out. As soon as I see it. I'm like, I know what you're doing. And, and if you are drinking, and like putting, you know, one of her reels is like she's putting wine in a in a mug, and then like taping a tea thing. So, it looks like it's a tea bag. In the audios, like no one's going to know. No one's going to know. And I'm like, Okay, so here we go.
If you really are drinking tea, while drinking wine at your desk hiding during the day, can you also then show how that goes? Because Can we have a little truth in influencing here? And just to follow up throughout your day, because it's not what we think it is. It just It blows my mind. And then so the message that she's sending with these reels and that mommy one, the mommy wine culture and mommy bloggers are sending is wine is not only helps motherhood, but it's essential to motherhood. And it's funny. It's and it's funny. It's funny to hide your drinking. Yeah, it's funny to the latest one that I just called out was she and she was actually my friend on Facebook, and I deleted her before I called her out because I'm like, we can't I can't do this anymore. She poured an entire bottle into like a Stanley, you know, one of those like Stanley water bottles, and said like this is how all moms are coping with daylight saving time. So, you're telling me that it's your normalizing hiding your drinking, binge drinking and drinking to cope with motherhood? Yeah. Also, it was her branded wine.
Casey McGuire Davidson  42:08
Okay, and so the Ask was there like a sponsor? She is a branded wine. Yeah, she
42:13
has a branded wine. Okay. And so, tell us who it is just because yeah, it's pure joy home. It's Liz joy. Okay, and so she has 30 Or I mean, 300,000 plus followers. I mean, she is she's also like MLM. And she's like, so bad. But like, Don't get it twisted. Yeah, she knew that this was going to get a lot of
Casey McGuire Davidson  42:37
likes, you know, there are like, a million or 2 million I forget people in a group on Facebook called Mommy needs vodka.
42:46
Oh my god. Yes.
Casey McGuire Davidson  42:47
Any? You know, I probably not that. I like vodka. But like when I was deep in Yeah, denial. I was deep in mom wine culture. I bought books that were like sippy cups or not for Chardonnay and naptime. Happy Hour, like I was in hook, line, and sinker. And I was the person who would have been commenting on that, like, yeah, say it again, sister for the people in the back or whatever. And they think is easy. But it's this is it's how we been brainwashed. Right?
43:22
Exactly. And this is what I always, I always want to make clear, like, I do not shame moms who get tricked by marketing that is trying to trick you. Like, I am not, I do not judge moms who fall into the mommy wine culture, when that's what it's designed to do. I do, though, want to hold the moms who are spreading this insidious and dangerous thing and turning it into an adorable little message. I think they should be held accountable because also, there is no way that she drank that whole bottle of wine. And then went throughout her day and ran her three businesses and took care of her three kids. But there's 100% moms who are following her who are doing that, thinking that she's doing it so it's okay.
Casey McGuire Davidson  44:15
I smiled when you said she put a whole bottle of wine and like that, that metal or bottle because I used to do that. But it was for concerts, like which somehow makes it better. And I was like no nine because I would you know we were in Seattle. The zoo is a big concert venue, but they don't serve alcohol. It's crazy. Just kidding, right? And so, I used to pour a bottle of red wine into this metal thing so I could drink it at the concert.
44:45
That is different. That's different than this.
Casey McGuire Davidson  44:49
It's still not good because I still.
44:52
Yeah, I mean you did and that you know, okay, you paid the next day. Yeah, exactly. And you were you were at a concert. That that is that's different than a mom telling moms that this is how she's dealing with her kids struggling with daylight saving time. Yeah, when first of all, that's a lie. Because she's not. That's not how she's dealing with it. She's just trying to be relatable and get likes and follows.
Casey McGuire Davidson  45:21
And she probably like nanny, and that's how she's
45:25
1,000%. She has a nanny, like, that's how we my nanny right now is downstairs with my three year old otherwise, I would not be able to do this, like, we have helped. And that's the whole thing is like, let's talk about that actual help we're getting in the actual help that we have. Because moms need help. I mean, we need help. Now more than ever, we were trying to be alone to decompress to exercise good weed through the night, to not have someone on top of you needing every moment of your life like me.
45:59
Yeah. And we need we need a safe space to talk about what we went through with the pandemic, the lock downs, when we were asked to do the impossible, and we did it because we're fucking superheroes, but our mental health has paid the price. And so, we're just expected it nope, keep going. Keep it moving. If you have any feelings, just drink alcohol, and that will help. It's like, if it helped. I mean, if that really helped moms, and if that helped, I'd be like, Heck yeah.
Casey McGuire Davidson  46:29
Yeah, I know. But I mean, during the pandemic, so drinking among women went up 41% binge drinking among women during the pandemic. Not only that drinking among parents of kids below the age of five went up 323% Oh, my God. And here's the scary part. Like it actually has very real world implications. Typically, the increase of deaths related to alcohol every year was increasing by like two to 5%. During the lot, the year of 2028 went up by 25%. Year over year. I mean, this shit is scary. And it
47:12
didn't more people. Yeah. Didn't more people die of alcohol than of COVID. Yes, in 2020.
Casey McGuire Davidson  47:17
The people dying are younger and the people drinking are, you know, not what you would think. They are high socio economic, high academic achievement, and older women. So, Gen X and baby boomers are really heavy drinkers. But where they get into that is the mom wine culture. Yes. One thing I wanted to mention is, I live in Washington State. My favorite winery is three miles from me. I old favorite winery, stop drinking seven years ago, but it's called Chateau St. Michel. It's a very big one in Washington. And their big tasting room is right up the road for me probably why I moved here. 10 years ago. Yeah. I have a good friend. I was in Marketing. She was in Advertising. She worked for them through an agency and said that every year they would present 100 Page deck to shut us and Michelle about the wine mom culture, influencers, celebrities how to influence the new young moms to get them to drink their wine specifically.
48:31
It's so hard to hear but of course, right? Yeah. Because it there's so much money. I mean, big alcohol needs more. They need more drinkers that because white men old white men are dying of what? Yeah, that they need more people and moms. I mean, we're the perfect target.
Casey McGuire Davidson  48:54
Moms aren't the perfect target. Right? Yeah, they are the ones who do the shopping, they make the household spending decisions. And they need help. And so, if you're told that Y will help you, and not only will help you, but it's funny, and cool, and we'll help you bond with your girlfriends, and we'll help you still be romantic with your partner, and we'll help double the noise of your kids screaming and is the best reward but also the only reward that you have time because you don't have time to go on vacation. It's sort of an easy sell. And then it's addictive. Right?
So yeah, that too, then you need it, and you want it, and you want it more often. And you know when you said I don't shame anyone who's part of my wine culture. I don't I completely agree, and I don't shame anyone who drinks a shitload and II fire emotionally habitually or physically addicted to it because like yeah, there's nothing wrong with you. This substance is working at I was designed, literally that's what it's meant to do.
50:04
Yeah, and this idea, I think that we think that wine is somehow different. Oh god. Yeah. It's classier. And it's, it's Chateau St. Michel.
Casey McGuire Davidson  50:15
Like, It's like Anna and I only liked their Serrato. So, I'm very picky, in fact that my husband was like, why don't you join their wine club? So, you don't have to get a couple bottles of wine a couple times a week. Right?
50:29
So, yeah, but like, what wine is that photo? Like that's it's not it's vodka. It's the same damn thing.
Casey McGuire Davidson  50:38
I know, we somehow feel like wine is like more innocuous than any other alcohol.
50:44
Yeah, like that. It maybe could be heart healthy. And it's fancy. And, you know, like, all of this shit. And I'm like, you guys, it's such a lie. It's all marketing.
Casey McGuire Davidson  50:53
You know what I love? I actually follow because I'm a bit of a nerd. But I follow all the like, you know, alcohol companies and lobbyists, wine, you know, my share details. And like, they put out a report to the Wine Association. Like, basically, it was like, Oh, shit, people are starting to believe this product is bad for you and causes cancer. So, what are we going to do about it? It's like, Yeah, cause it's bad for you. Sis cancer, you know?
51:24
Yeah. They're like, Ooh, what's our next move? Okay, how are we going? Line? How do we are we going to rebrand this? Yeah, well, we're going to make it organic. That's what we'll do.
51:33
Oh, my god. I can't with you. Oh, God, I hate it. That was the so I was hired by like, kettle one botanicals. Because it was like, well, that's like a girly. That's a cute vodka, you know. And I, this was when I first started to monetize on my kind of sweet and this was probably 26. Teen, I want to say, and I was like, you'll give me what? Okay, yeah, I'll post, and I posted, and I followed all the guidelines, they have all these things you have to say, and I did it, and then I dumped it right down the drain. Because I was like, why I don't do I don't drink vodka. But it's like, that's the trick right there. Like you would think that it was, so you know, I was outside by my pool. And it was Catalan botanicals. And it was all like, pretty and cute. And so, it was so innocent. It's like, no, that's yeah, it's a lie.
Casey McGuire Davidson  52:26
Well, so supermom, life. It's not easy. But it's good, right? I mean, there's so many benefits to just not navigating life with a headache and a hangover and a fuzzy memory. But like, what have you found because, you know, when I quit drinking, 90% of my life stayed the same meaning same job, same husband, same kids, same friends. And yet, my anxiety decreased and my ability to cope with my life without feeling like it was all just unsustainable. got better. I started running, I became just happier. But it wasn't easy. It was just easier. What have you experienced? In like, if someone's out there and being like, yeah, I drink too much. But it's my favorite thing. Is it worth it?
53:19
Yeah, I, I think, oh, man, you won't know it's worth it until you're, you're on this side of it. And so, you can't know that yet. But I can tell you from the side of it. That the word forever when it comes to sobriety does not scare me. Like what would scare me is if someone said you have to start drinking again. And I would say but I don't want to miss all this. Like, I don't want to miss this as a 42 year old time for me. Time and motherhood is the most precious thing. It's what? It's what wakes me up in the middle of the night. This this idea that time is passing by so quickly, and how can I slow it down? And sobriety is the closest thing I've come to be able to just slow everything down. And that doesn't mean that I love all of the moments. It doesn't mean that all of the moments are easy. But it means that I'm here for them. And then I'm present to see my kids just discover life and live and they can count on me and also, I think my favorite part of sobriety for me has been being able to count on myself, you know, and I wasn't drinking a crazy amount, whatever that is in motherhood but there's still it chipped away at me when I said I'm just going to have one glass and then I had three. There was a chipping away at my like just Is my soul and my being of not being able to show up for myself and to count on myself. And now the fact that I can, I can count on myself, I can believe in what I'm feeling. I can listen to myself when I know what I need. And my gut is telling me what to do. And all of that stuff is, is hard. But God, it's not as hard as trying to control a highly addictive toxin and then feeling the effects from it. Like, there's just nothing is harder than that.
Casey McGuire Davidson  55:39
Yeah. I think that's a perfect place to end this. Will you tell everyone how they can find you and listen to the supermom? Life podcast and all the good stuff?
55:49
Yeah, so, come and find us. Wherever you listen to podcast. It's The Sober Mom Life podcast we have we just launched a Patreon where we get like bonus episodes, and I just kind of check in with these 15 minute episodes. My Mom's A Therapist. And so, we talk with her, and she tells us all about mental health and teaches us stuff. Also, The Sober Mom Life Facebook group is my favorite place on the internet. It's where it's the most supportive group of women. And we all throughout the day, people are posting and asking questions and supporting and just so much community and then The Sober Mom Life on Instagram, too. You can see me I don't dance, but I do. I do share a lot of reels over there.
Casey McGuire Davidson  56:34
Yeah, and I follow you on My Kind Of Sweet. Damn, I want to look as put together as she does and all her
56:40
Oh, no, you have to know what goes on behind the scenes.
Casey McGuire Davidson  56:46
There you go. Well, thank you so much. It's been such a pleasure getting to know you and hanging out.
56:51
You are too. Thank you. Thanks for having me.
Thank you for listening to this episode of The Hello Someday Podcast. If you're interested in learning more about me or the work I do or accessing free resources and guides to help you build a life you love without alcohol, please visit hellosomedaycoaching.com. And I would be so grateful if you would take a few minutes to rate and review this podcast so that more women can find it and join the conversation about drinking less and living more. 
OTHER WAYS TO ENJOY THIS POST: