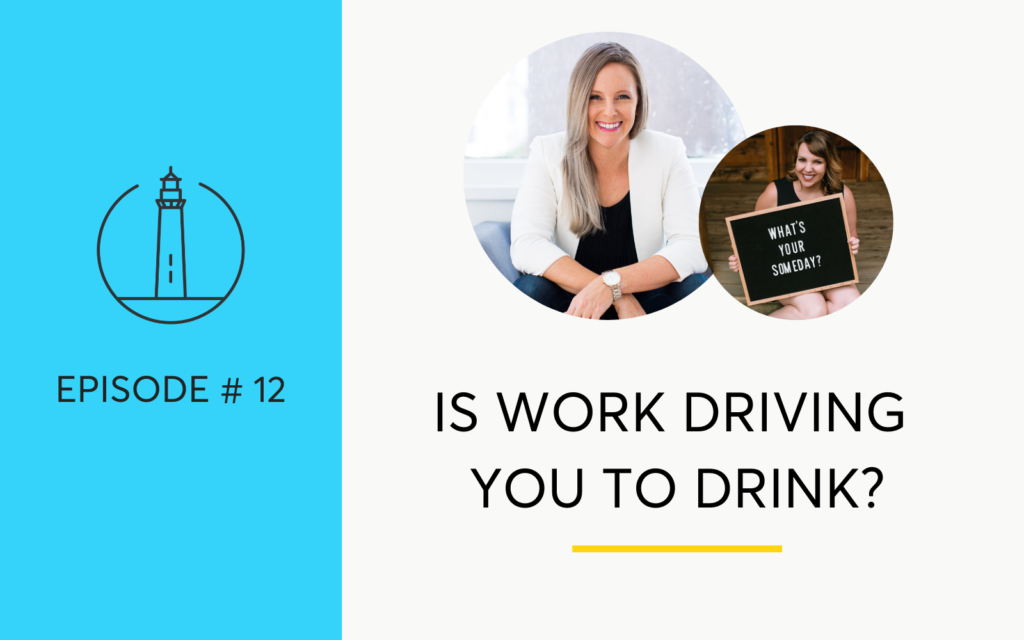 Do you feel trapped in a job or career that doesn't make you happy?
Is work a trigger that makes you want to drink?
If the answer is yes, this podcast episode was created for you. 
For years when I was climbing the corporate ladder I felt like I needed (and deserved) wine at the end of a long day to unwind. And I know I'm not alone. 
So many women have spent a decade or two working hard, paying their dues and climbing the career ladder, only to find themselves in midlife dreading opening their emails and the work awaiting them tomorrow.  
Between pressure from your boss, long commutes, deadlines and deliverables, struggling to balance the needs of your kids and your clients and trying to be everywhere at once – it's no wonder so many women are stressed out and feel driven to drink. 
If you feel tired, deflated or uninspired at work the good news is that you have options, you have agency and you can change the way you're living. 
There are opportunities available to you when you take time to get clarity on who you are, what you value, your strengths and the work you want to do.
Betty Kempa is my podcast guest and she's here to help us figure out how to reduce our stress and tension in our current job and how to work through the fear, frustrations and limiting beliefs that are keeping you from leaving your role and finding a career that you truly love. 
Betty's a certified professional coach one of the industry's top career change strategists. She specializes in helping mid to senior level corporate women transition out of unfulfilling jobs and into careers they love.
She is a thought leader in the industry, who writes, speaks and coaches on topics such as building six figure coaching businesses, overcoming imposter syndrome, dream career clarity, and effective career change strategy.
And Betty quit drinking 9 years ago. 
In this episode, Betty talks about how to get unstuck in your career and in your life. 
She takes us through two of the five steps in her career bliss formula and how to implement them in your life. 
Step 1: Overcoming self sabotage and getting out of your own way.
How to deal with the fears, limiting beliefs, impostor syndrome and your assumptions about what's possible that are keeping you stuck.
Step 2: Identifying your dream role. 
How to do it and what NOT to do (hint – it's scrolling the job boards).  She'll take us through the steps of going inside with visioning exercises to meet your future self, building out your ideal life plan so you can find a career that aligns with that, creating your personal mission statement and more. 
If you feel triggered by work and are ready to get unstuck, feel empowered and move to a more positive place in your career – listen to this episode. 
Links and Resources Mentioned
Connect with Betty Kempa
Website: BettyKempa.com
LinkedIn: Betty Kempa
Facebook: www.facebook.com/coachbettykempa
Connect with Casey McGuire Davidson
Casey @ Hello Someday Coaching (@caseymdavidson)
Get The Free Sober Girl's Guide to Quitting Drinking – 30 Tips For your First 30 Days
ABOUT THE HELLO SOMEDAY PODCAST
The Hello Someday Podcast helps busy and successful women build a life they love without alcohol. Host Casey McGuire Davidson, a certified life coach and creator of The Sober Girl's Guide to Quitting Drinking, brings together her experience of quitting drinking while navigating work and motherhood, along with the voices of experts in personal development, self-care, addiction and recovery and self-improvement. 
Whether you know you want to stop drinking and live an alcohol free life, are sober curious, or are in recovery this podcast is for you.
In each episode Casey will share the tried and true secrets of how to drink less and live more. 
Learn how to let go of alcohol as a coping mechanism, how to shift your mindset about sobriety and change your drinking habits, how to create healthy routines to cope with anxiety, people pleasing and perfectionism, the importance of self-care in early sobriety, and why you don't need to be an alcoholic to live an alcohol free life. 
Be sure to grab the Free Sober Girl's Guide To Quitting Drinking right here.
Are you subscribed to my podcast? If you're not, I want to encourage you to do that today. I don't want you to miss an episode.
I'm adding a bunch of bonus episodes to the mix and if you're not subscribed there's a good chance you'll miss out on those. Click here to subscribe in iTunes!
Now if you're feeling extra loving, I would be really grateful if you left me a review over on iTunes, too. Those reviews help other people find my podcast and they're also fun for me to go in and read. Just click here to review, select "Ratings and Reviews" and "Write a Review" and let me know what your favorite part of the podcast is. Thank you!
OTHER WAYS TO ENJOY THIS POST: