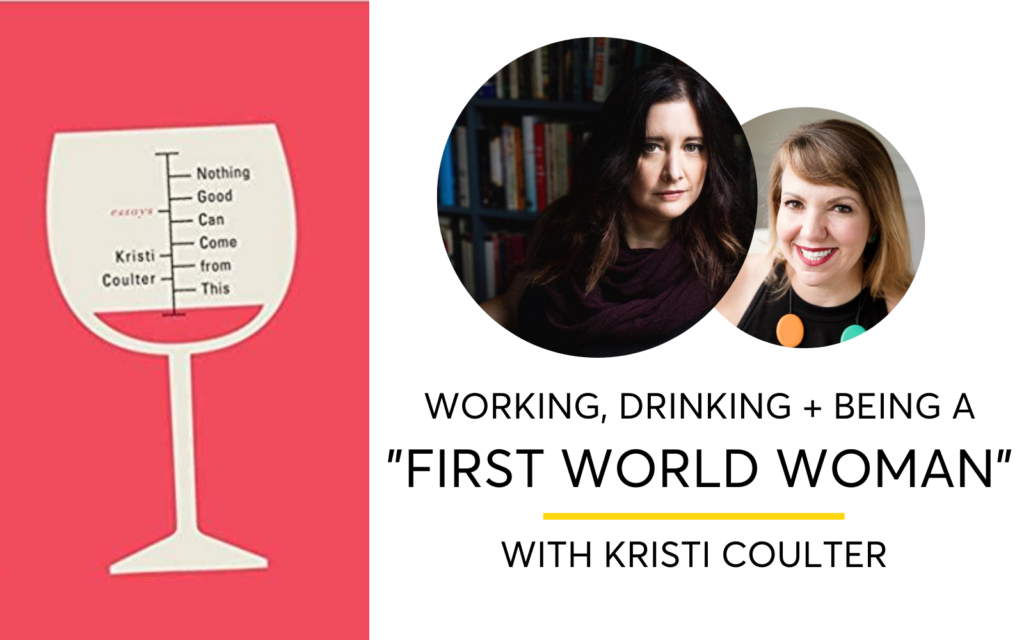 Kristi Coulter on working, drinking and being a "first world woman" 
If you're a woman who's trying to quit drinking it's normal to look around and suddenly realize that booze is all around you. 
There's Rosé All Day, Hot Yoga and Happy Hour,  beer at the finish line of the 10K and "Mommy Juice" at play dates with the kids.
You look up from your wine glass to see that everyone around you is drinking, all the time.

 
We live in a culture that tells women that drinking is their treat for getting through the day. It's our reward for working so hard and taking care of our kids. 
We're told alcohol is what we should consume to be 'cool' and 'relaxed' and 'fun'. 
We're taught that drinking will make us less frustrated, less angry, less tired, less bored with the monotony of adulting. 
And then we blame ourselves for not being able to 'moderate' or 'cut back' or 'drink less' of an addictive substance.
In today's episode I have a long conversation with a friend and one of my favorite authors, Kristi Coulter, about Working, Drinking and Being a "First World Woman". 
Kristi spent 12 years as an executive at Amazon.com, and for many years working and drinking went hand-in-hand as a successful working woman. 
Then Kristi quit drinking and took an insightful, funny, feminist look around her and wrote about what she observed. 
Her incredibly popular essay on her experiences in early sobriety, Enjoli, went viral with 700,000 downloads. It struck a nerve with both women (and men) as she talked about dog paddling through the world newly sober. 
Kristi's book, the 2018 memoir-in-essays Nothing Good Can Come from This, goes even further into life as a modern woman in a drinking world and what happens when you decide to put down your wine glass.  
Kristi and I talk about:
Why women drink as a signifier for free time and self care and conversations – the luxuries we can't afford.

The myth of meritocracy at male dominated workplaces, and how it gaslights women into thinking it's their fault for failing to achieve what their male coworkers do – in a system that's stacked against them. 

Why moderation sucks and why it's just so much easier to not drink. 

Why most women make the mistake of waiting to "want" to stop drinking and how that's a recipe for staying stuck in the drinking cycle. 

How stopping drinking is a superpower that allows women to ask for what they deserve and say what they mean. 

Why drinking is not serving you if you're wanting to advance your career
About Kristi Coulter
Kristi Coulter is the author of the 2018 memoir-in-essays Nothing Good Can Come from This, a writer who is currently working on her next memoir – Exit Interview – about gender, ambition, and her twelve-year stint as an executive at Amazon, and a former drinker. Four years ago (in 2016) Kristi published an article on Medium that went viral and changed the course of her life. "Enjoli" is an essay about what happened after Kristi decided to stop drinking and realized that all the women around her were tanked. It hit a nerve among women (and men) around the world and has now been downloaded over 700,000 times. Kristi's work has appeared in The Paris Review, New York Magazine/The Cut, Elle, Amazon Original Stories, Glamour, Vox, and elsewhere.
Shownotes: www.hellosomedaycoaching.com/18
Grab your  Free Sober Girls Guide To Quitting Drinking
Links and Resources mentioned in this episode
Connect with Kristi Coulter
Website: http://www.kristicoulter.com
Off-Dry Blog: https://offdry.com/
Facebook: https://www.facebook.com/kristicoulter
Instagram https://www.instagram.com/kristicccoulter/
Twitter: https://twitter.com/KristiCCoulter
Connect with Casey McGuire Davidson
Casey @ Hello Someday Coaching (@caseymdavidson)
Listen to more podcast episodes to drink less + live more.
ABOUT THE HELLO SOMEDAY PODCAST
The Hello Someday Podcast helps busy and successful women build a life they love without alcohol. Host Casey McGuire Davidson, a certified life coach and creator of The Sober Girl's Guide to Quitting Drinking, brings together her experience of quitting drinking while navigating work and motherhood, along with the voices of experts in personal development, self-care, addiction and recovery and self-improvement. 
Whether you know you want to stop drinking and live an alcohol free life, are sober curious, or are in recovery this podcast is for you.
In each episode Casey will share the tried and true secrets of how to drink less and live more. 
Learn how to let go of alcohol as a coping mechanism, how to shift your mindset about sobriety and change your drinking habits, how to create healthy routines to cope with anxiety, people pleasing and perfectionism, the importance of self-care in early sobriety, and why you don't need to be an alcoholic to live an alcohol free life. 
Be sure to grab the Free Sober Girl's Guide To Quitting Drinking right here.
Are you subscribed to my podcast? If you're not, I want to encourage you to do that today. I don't want you to miss an episode.
I'm adding a bunch of bonus episodes to the mix and if you're not subscribed there's a good chance you'll miss out on those. Click here to subscribe in iTunes!
Now if you're feeling extra loving, I would be really grateful if you left me a review over on iTunes, too. Those reviews help other people find my podcast and they're also fun for me to go in and read. Just click here to review, select "Ratings and Reviews" and "Write a Review" and let me know what your favorite part of the podcast is. Thank you!
OTHER WAYS TO ENJOY THIS POST: