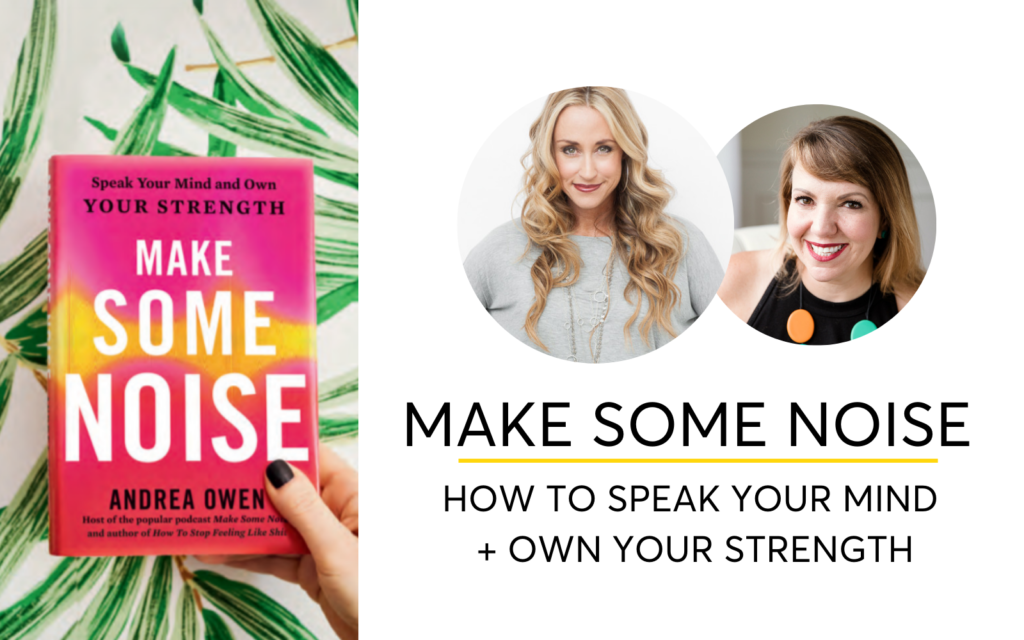 Make Some Noise: How To Speak Your Mind + Own Your Strength with Andrea Owen
For women, moving away from behaviors that don't work for us anymore, letting go of core beliefs that convince us we're broken and not enough, laying a stake in the ground around our desires, is an act of making noise.  – Andrea Owen
Have you ever received the message that you're "too much"? Too loud, too opinionated, too sensitive or emotional, too talkative, too big, too something…
As women we've been socialized since birth to smile, make others comfortable, go along and get along, be helpful and put other people's needs before our own.  And a lot of the time we don't even consciously realize this is happening. 
But repeating these behaviors, over months and years, can lead to resentment, poor boundary-setting, people-pleasing, approval-seeking, lashing out, negative self- talk, and unnecessary apologizing.
My guest today is Andrea Owen. She's an author, global speaker, and professional certified life coach who helps high-achieving women maximize unshakeable confidence, and master resilience. 
Andrea's taught hundreds of thousands of women tools and strategies to be able to empower themselves to live their most kick-ass life through speaking, her books, coaching, and her wildly popular podcast with over 3 million downloads.
She is the proud author of three books: How To Stop Feeling Like Shit: 14 Habits That Are Holding You Back From Happiness, 52 Ways to Live a Kick-Ass Life: BS Free Wisdom to Ignite Your Inner Badass and Live the Life You Deserve, and her latest book, Make Some Noise: Speak Your Mind and Own Your Strength.  
Today I'm talking with Andrea about common behavior patterns that sabotage our power as women and how to unlearn what we've been taught so that we can create a life that serves our needs and desires. 
In this episode, we discuss:
How women have been conditioned, both subtly and overtly, to stay small, "in our lane" and make others comfortable

Why to start asking for everything you want

Why to stop waiting until you're "ready"

How and why we use alcohol to 'check out' from our lives

Your truth vs. your conditioning, internalized misogyny and what the patriarchy has to do with it 

Why Andrea quit drinking 10 years ago 

How Beyoncé, Billie Jean King and Wonder Woman can help you take up space and shine bright

How curiosity and self compassion can help you unlearn behaviors that are holding you back 
Want more support, resources and tools to help you go alcohol-free?
Sign up for my FREE CLASS: 5 Secrets To Successfully Take a Break From Drinking (even if you've tried and failed in the past)
Join The Sobriety Starter Kit. It's the private, on-demand coaching course you need to break out of the drinking cycle – without white-knuckling it or hating the process.
Grab the  Free Sober Girls Guide To Quitting Drinking, 30 Tips For Your First 30 Days
More about Andrea Owen
Andrea is a Certified Professional Co-Active Coach (CPCC) from The Coaches Training Institute, a Professional Certified Coach (PCC) with the International Coaching Federation, a SHE RECOVERS® coach, as well as a Certified Daring Way™ Facilitator; a modality based on the research of Dr. Brené Brown. She holds a Bachelor of Science from California State University in Kinesiology with a specialty in Health Science. Andrea has been featured on The Huffington Post Live, xojane.com, NBC, and Entrepreneur.com. 
She has facilitated many workshops for girls hosted by Dove's Campaign for Real Beauty whose efforts inspire and empower women and girls to live confidently and change the world around them.
When she's not juggling her full coaching practice or writing books, Andrea is busy riding her Peloton bike, chasing her two school-aged children or making out with her husband, Jason. She is also a retired roller derby player having skated under the name "Veronica Vain".
Learn more about Andrea at andreaowen.com.
Follow Andrea on your favorite social media platform
Instagram , Facebook , Twitter , YouTube , Pinterest
Want to connect and talk about this podcast?
Take a screenshot of your favorite episode, post it on your Instagram and tag me @caseymdavidson and tell me your biggest takeaway!
Want to read the full transcript of this podcast episode? Scroll down on this page. 
ABOUT THE HELLO SOMEDAY PODCAST
The Hello Someday Podcast helps busy and successful women build a life they love without alcohol. Host Casey McGuire Davidson, a certified life coach and creator of The Sober Girl's Guide to Quitting Drinking, brings together her experience of quitting drinking while navigating work and motherhood, along with the voices of experts in personal development, self-care, addiction and recovery and self-improvement. 
Whether you know you want to stop drinking and live an alcohol free life, are sober curious, or are in recovery this podcast is for you.
In each episode Casey will share the tried and true secrets of how to drink less and live more. 
Learn how to let go of alcohol as a coping mechanism, how to shift your mindset about sobriety and change your drinking habits, how to create healthy routines to cope with anxiety, people pleasing and perfectionism, the importance of self-care in early sobriety, and why you don't need to be an alcoholic to live an alcohol free life. 
Be sure to grab the Free Sober Girl's Guide To Quitting Drinking right here.
Are you subscribed to my podcast? If you're not, I want to encourage you to do that today. I don't want you to miss an episode.
I'm adding a bunch of bonus episodes to the mix and if you're not subscribed there's a good chance you'll miss out on those. Click here to subscribe in iTunes!
Now if you're feeling extra loving, I would be really grateful if you left me a review over on iTunes, too. Those reviews help other people find my podcast and they're also fun for me to go in and read. Just click here to review, select "Ratings and Reviews" and "Write a Review" and let me know what your favorite part of the podcast is. Thank you!
OTHER WAYS TO ENJOY THIS POST: