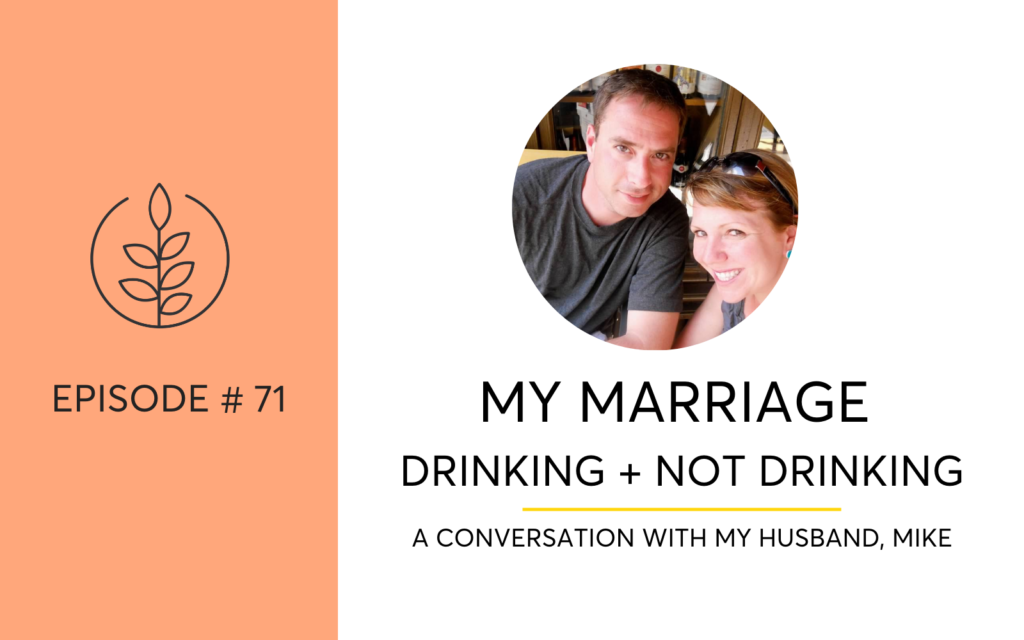 My Marriage, Drinking and Not Drinking
What role does alcohol play in your marriage? 
What happens in a marriage when one partner stops drinking? 
My husband Mike is here to talk about drinking, dating, parenting, marriage and what happened when I decided to stop drinking.
So many women worry about the role alcohol plays in their marriage and what might happen if they were to decide to quit drinking. 
Whether your spouse is your drinking buddy, wants you to stop drinking, doesn't want you to stop drinking or just doesn't get it, navigating marriage, parenthood and partnership and your relationship with alcohol is delicate and complicated. 
If drinking is a big part of what you do with your partner all the questions come up: 
What will you do on date nights or on vacations if alcohol is removed from the picture? 

How will you get through the holidays with your family? 

How might you navigate those awkward work parties where alcohol is readily available and used as a crutch to 'loosen up'?
Drinking is deeply intertwined in our relationships and when one partner decides to not drink alcohol anymore it not only affects the individual but also their partner.
In this very special episode, my husband Mike joins me as we talk about  what our relationship was like when we were drinking versus our relationship when I stopped drinking and how my decision to go alcohol-free has affected our marriage throughout the years. 
We also get real about the good (and the hard) parts of our marriage over the course of the last 19 years and how we navigated the transition from my drinking life and early sobriety to our new normal where I don't drink and he still does.  
We dig into parenting and what it was like when I was drinking, as well as how much was said or unsaid about my drinking, and how much of our drinking habits is visible to our partners versus how much is in our own head. 
In this episode, my husband Mike and I discuss:
The early years of dating and drinking and how that evolved over the 20+ years we've been together

The ways in which drinking was a really fun part of our relationship for years and then shifted once we became parents

How much of my worry about my drinking was visible to Mike in the years I was trying to moderate

What was most frustrating to Mike about my bottle of wine a night habit

Why Mike never asked me to cut back or stop drinking

What Mike thought about me asking him to not drink alcohol at home for my first 30 days alcohol-free
Want more support, resources and tools to help you go alcohol-free?
You can Drink Less + Live More today with The Sobriety Starter Kit.
It's the private, on-demand coaching course you need to break out of the drinking cycle – without white-knuckling it or hating the process.
Grab the  Free Sober Girls Guide To Quitting Drinking, 30 Tips For Your First 30 Days
Want to connect and talk about this podcast?
Take a screenshot of your favorite episode, post it on your Instagram and tag me @caseymdavidson and tell me your biggest takeaway!
Want to read the full transcript of this podcast episode? Scroll down on this page. 
ABOUT THE HELLO SOMEDAY PODCAST
The Hello Someday Podcast helps busy and successful women build a life they love without alcohol. Host Casey McGuire Davidson, a certified life coach and creator of The Sober Girl's Guide to Quitting Drinking, brings together her experience of quitting drinking while navigating work and motherhood, along with the voices of experts in personal development, self-care, addiction and recovery and self-improvement. 
Whether you know you want to stop drinking and live an alcohol free life, are sober curious, or are in recovery this podcast is for you.
In each episode Casey will share the tried and true secrets of how to drink less and live more. 
Learn how to let go of alcohol as a coping mechanism, how to shift your mindset about sobriety and change your drinking habits, how to create healthy routines to cope with anxiety, people pleasing and perfectionism, the importance of self-care in early sobriety, and why you don't need to be an alcoholic to live an alcohol free life. 
Be sure to grab the Free Sober Girl's Guide To Quitting Drinking right here.
Are you subscribed to my podcast? If you're not, I want to encourage you to do that today. I don't want you to miss an episode.
I'm adding a bunch of bonus episodes to the mix and if you're not subscribed there's a good chance you'll miss out on those. Click here to subscribe in iTunes!
Now if you're feeling extra loving, I would be really grateful if you left me a review over on iTunes, too. Those reviews help other people find my podcast and they're also fun for me to go in and read. Just click here to review, select "Ratings and Reviews" and "Write a Review" and let me know what your favorite part of the podcast is. Thank you!
OTHER WAYS TO ENJOY THIS POST: