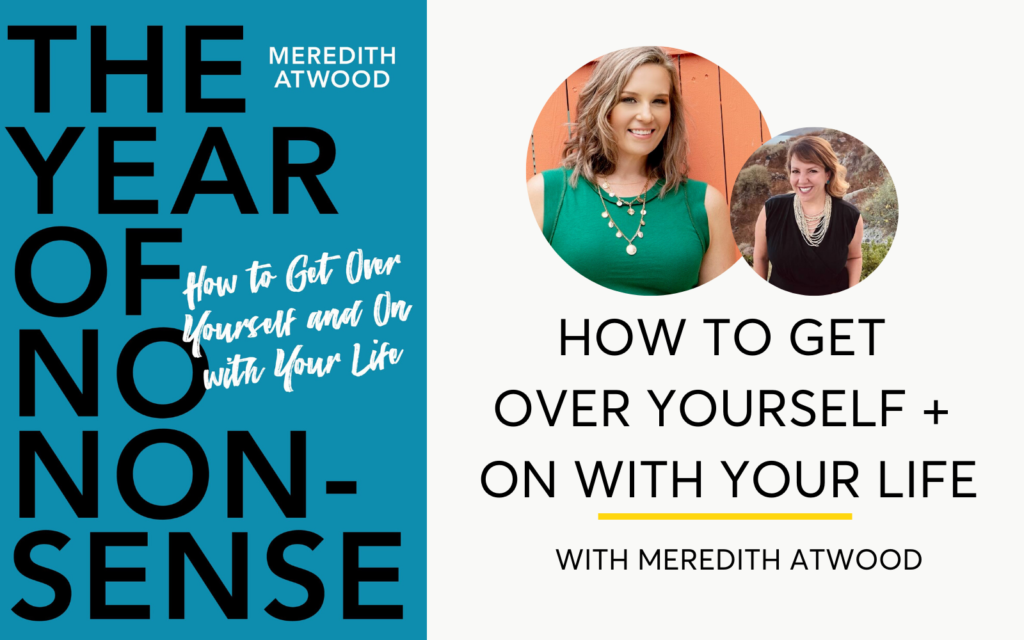 Are your core beliefs and patterns holding you back in life?

 
We all have our own personal brand of nonsense – self sabotage, blame, people pleasing, control issues, or drinking too much. 
We all have things we're doing that are standing in the way of our health, happiness and success. Learn to get out of your own way, to identify the nonsense in your life, and how to move past the big ones.
My guest is Meredith Atwood. She's a former attorney, a podcaster and a motivational speaker. She is a sobriety advocate, and the founder of Grateful Sobriety. She's also a four time Ironman triathlete.
In this episode, you'll learn
How to identify what's working in your life and what's not

How to deal with the underlying reasons that drive you to drink

What bad habits drive you to make the decisions you do in life and how to change them

Why you need to make a list of all the nonsense in your life and how to deal with them

How to get over yourself and get on with your life
Meredith is the author of a best selling triathlon book Triathlon for the Every Woman, in addition to her new book, The Year of No Nonsense: How to Get Over Yourself and On with Your Life. She's the host of the iTunes Top 50 fitness podcast, "The Same 24 Hours."
She has been featured in The Boston Globe, The New York Post, the Seattle Times and dozens of online publications. Meredith is a contributing writer to Psychology Today online, Triathlete Magazine and Women's Running. She is a USA Weightlifting Level II, USA Triathlon Level I, and Precision Nutrition Level I Coach. 
Shownotes: www.hellosomedaycoaching.com/14
Links and Resources Mentioned
Connect with Meredith Atwood
Website: https://swimbikemom.com
Instagram: https://instagram.com/swimbikemom
Facebook Page: https://facebook.com/swimbikemom
The Same 24 Hours Podcast www.Same24HoursPodcast.com
Books Mentioned
The Year of No Nonsense: How to Get Over Yourself and On with Your Life
Triathlon for the Every Woman: You Can Be a Triathlete. Yes. You.
Connect with Casey McGuire Davidson
Casey @ Hello Someday Coaching (@caseymdavidson)
Get The Free Sober Girl's Guide to Quitting Drinking – 30 Tips For your First 30 Days
Listen to more podcast episodes to drink less + live more.
ABOUT THE HELLO SOMEDAY PODCAST
The Hello Someday Podcast helps busy and successful women build a life they love without alcohol. Host Casey McGuire Davidson, a certified life coach and creator of The Sober Girl's Guide to Quitting Drinking, brings together her experience of quitting drinking while navigating work and motherhood, along with the voices of experts in personal development, self-care, addiction and recovery and self-improvement. 
Whether you know you want to stop drinking and live an alcohol free life, are sober curious, or are in recovery this podcast is for you.
In each episode Casey will share the tried and true secrets of how to drink less and live more. 
Learn how to let go of alcohol as a coping mechanism, how to shift your mindset about sobriety and change your drinking habits, how to create healthy routines to cope with anxiety, people pleasing and perfectionism, the importance of self-care in early sobriety, and why you don't need to be an alcoholic to live an alcohol free life. 
Be sure to grab the Free Sober Girl's Guide To Quitting Drinking right here.
Are you subscribed to my podcast? If you're not, I want to encourage you to do that today. I don't want you to miss an episode.
I'm adding a bunch of bonus episodes to the mix and if you're not subscribed there's a good chance you'll miss out on those. Click here to subscribe in iTunes!
Now if you're feeling extra loving, I would be really grateful if you left me a review over on iTunes, too. Those reviews help other people find my podcast and they're also fun for me to go in and read. Just click here to review, select "Ratings and Reviews" and "Write a Review" and let me know what your favorite part of the podcast is. Thank you!
OTHER WAYS TO ENJOY THIS POST: