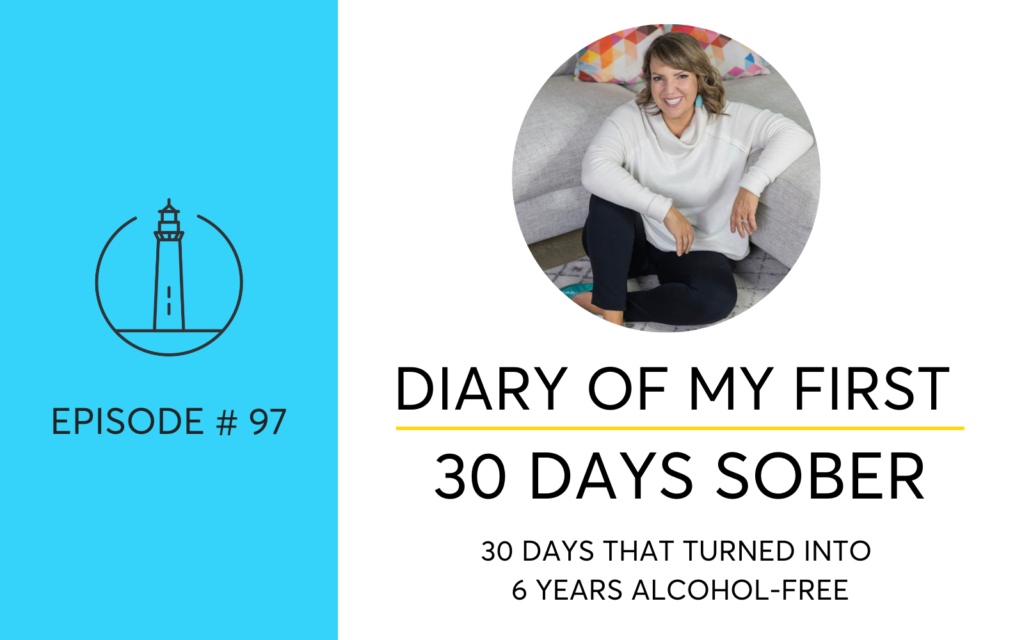 How My First 30 Days Alcohol-Free Turned Into 6 Years of Sobriety
A Diary Of My First 30 Days Sober
What are your first 30 days without alcohol like? 
What parts of early sobriety are really hard?

When do you start feeling good?

 

Why are you extra sensitive and irritated in your first two weeks alcohol-free?

When do you start sleeping better?

What tools do you need to navigate the witching hour, overwhelm, boredom, Friday nights and Sunday afternoons without alcohol?
Early sobriety is an emotional and tender time, so I wanted to share with you my diary of my first 30 days sober, which has somehow turned into 6 continuous years alcohol-free.
6 years ago I woke up on the couch at 3am after drinking a bottle of wine. I came upstairs to crawl into bed with my husband filled with anxiety and unable to fall back to sleep. 
In the morning I had to get up, get ready and take my kids to school with a headache, bloodshot eyes and a hangover, while trying to ignore my husband's question of "how are you feeling this morning?"
And while that morning was no different than many others, somehow on that day I decided that I couldn't do this to myself anymore. I had been trying to cut back on my drinking and moderate it, but it wasn't working. I realized that I had to make a change and take a break from drinking and I needed support. 
So I reached out to a sober coach, Belle Robertson of Tired Of Thinking About Drinking, and signed up to work with her. 
That day, February  18, 2016, was my last Day 1.
That day without wine somehow turned into 7 days and 10 days, 16 and 21 days without wine, 27 days and then an entire month alcohol-free.
And then I kept going. To 100 Days, 6 months, one year, 4 years, and now 6 years of sobriety! 
I remember what those first shaky days of early sobriety are like. How hard it was to resist grabbing a bottle of wine at the store after work. How sensitive and irritated and exhausted I was in early sobriety. 
Here's what I wrote down about why I wanted to stop drinking on my last Day 1…
I want to feel better. I want to wake up without a hangover.

I want to stop wondering what I said last night or if my husband's mad at me.

I want him to stop asking me how I feel in the morning.

I want to remember the shows I watch at night.

I want to stop waking up at 3 am with my mind racing and not being able to fall back to sleep.

I want to look in the mirror and not see yellow, glassy, bloodshot eyes.

I want to feel optimistic and be proud of myself again.

I want to feel free and happy and healthy.

I want to stop breaking promises to myself.

I want to stop worrying about what my drinking is doing to my body and my mind.

I want to stop feeling shaky. I want my anxiety to go away.
So as I hit 6 years alcohol-free I wanted to share my diary of my first 30 days of sobriety.
If you're struggling to get past 3 days or 6 days without drinking, I hope it will give you some idea of what to expect and how to navigate through your first 30 days without alcohol. 
If you're in the early days I promise you it gets better.
I can't believe how good my life has gotten because I stopped drinking. It is happy and optimistic. Sometimes life is hard, but I know I'm strong and capable of doing hard things. I'm proud of myself and no longer have feelings of guilt or anxiety caused by alcohol. There are ups and downs, but I know I can handle them. 
Looking back 6 years later, I can see that deciding to stop drinking and building up my time away from alcohol, day by day, was the best thing I've ever done in my life. 
Quitting drinking has made me more grounded, more content, less anxious, more brave and more secure in my life. 
In this episode, I talk about:
What I did in my first 30 days without alcohol

Why emailing my sober coach for 30 days helped me sift through all my emotions and understand my triggers to drink

How I found support and connection through coaching & a private facebook group

How I navigated not drinking at drinking events

Why sober treats and new activities are important in early sobriety

How I felt on day 30 without alcohol and why I decided to continue not drinking for 100 days and beyond
Ready to drink less + live more?
Join The Sobriety Starter Kit Course
The Sobriety Starter Kit is my on-demand sober coaching program that's helped hundreds of women change their relationship with alcohol. In the program you'll find the step-by-step system I use with my private coaching clients to break out of the drinking cycle, at a fraction of the cost.
Grab the Free 30-Day Guide To Quitting Drinking, 30 Tips For Your First Month Alcohol-Free
Connect with Casey
Take a screenshot of your favorite episode, post it on your Instagram and tag me @caseymdavidson and tell me your biggest takeaway!
Want to read the full transcript of this podcast episode? Scroll down on this page.
ABOUT THE HELLO SOMEDAY PODCAST
The Hello Someday Podcast helps busy and successful women build a life they love without alcohol. Host Casey McGuire Davidson, a certified life coach and creator of The 30-Day Guide to Quitting Drinking, brings together her experience of quitting drinking while navigating work and motherhood, along with the voices of experts in personal development, self-care, addiction and recovery and self-improvement. 
Whether you know you want to stop drinking and live an alcohol free life, are sober curious, or are in recovery this podcast is for you.
In each episode Casey will share the tried and true secrets of how to drink less and live more. 
Learn how to let go of alcohol as a coping mechanism, how to shift your mindset about sobriety and change your drinking habits, how to create healthy routines to cope with anxiety, people pleasing and perfectionism, the importance of self-care in early sobriety, and why you don't need to be an alcoholic to live an alcohol free life. 
Be sure to grab the Free 30-Day Guide To Quitting Drinking right here.
Are you subscribed to my podcast? If you're not, I want to encourage you to do that today. I don't want you to miss an episode.
I'm adding a bunch of bonus episodes to the mix and if you're not subscribed there's a good chance you'll miss out on those. Click here to subscribe in iTunes!
Now if you're feeling extra loving, I would be really grateful if you left me a review over on iTunes, too. Those reviews help other people find my podcast and they're also fun for me to go in and read. Just click here to review, select "Ratings and Reviews" and "Write a Review" and let me know what your favorite part of the podcast is. Thank you!
READ THE TRANSCRIPT OF THIS PODCAST INTERVIEW
Diary Of My First 30 Days Sober
SUMMARY KEYWORDS
drinking, sobriety, day, wine, husband, night, sober, coach, feel, good, sober treat, self-care, morning, anxious, life, thought, listened, week, woke, bottle, hungover, alcohol, daughter
SPEAKERS: Casey McGuire Davidson 
00:02
Welcome to the Hello Someday Podcast, the podcast for busy women who are ready to drink less and live more. I'm Casey McGuire Davidson, ex-red wine girl turned life coach helping women create lives they love without alcohol. But it wasn't that long ago that I was anxious, overwhelmed, and drinking a bottle of wine and night to unwind. I thought that wine was the glue, holding my life together, helping me cope with my kids, my stressful job and my busy life. I didn't realize that my love affair with drinking was making me more anxious and less able to manage my responsibilities.
In this podcast, my goal is to teach you the tried and true secrets of creating and living a life you don't want to escape from.
Each week, I'll bring you tools, lessons and conversations to help you drink less and live more. I'll teach you how to navigate our drinking obsessed culture without a bus, how to sit with your emotions, when you're lonely or angry, frustrated or overwhelmed, how to self soothe without a drink, and how to turn the decision to stop drinking from your worst case scenario to the best decision of your life.
I am so glad you're here. Now let's get started.
Hey there, well, this is kind of a special episode because tomorrow, I am hitting 6 years alcohol-free, which is kind of amazing to me. And also, kind of just another day, not drinking isn't hard anymore. It's just the way I live my life. It's my new normal. And it has actually been that way. For many, many years now.
I know that I'm a Sober Coach, and I have a podcast about being alcohol free. And so, talking about drinking or not drinking and making the conscious choice to not have alcohol in my life anymore is something that I think about often. But I have to say that for a long time after I stopped drinking, it was just a part of who I am. And it still is, it's not the most important part. It is part of who I am in the same way that I am a coach. And I used to be a director of digital marketing in the same way that I live in Seattle, and I'm a wife and I've been married to my husband for 20 years. I mean, it is part of my life, in that I don't drink in the same way that I absolutely love to travel. And I prefer beaches over snow. And I also am a homebody and I like cats more than dogs, right? It is something about me. It also is something that I am incredibly proud of. It was a huge change in my life. That was something that for the longest time was my worst case scenario. It was something that was part of my identity that I was a red wine girl, I had so many limiting beliefs about what life would be like if I had to, "had to stop drinking", I thought it would suck, I thought that I would never have fun again, I thought that it would be hard to go out and socialize. And just that it would be this thing that I missed forever. And the truth is, looking back, it was without a doubt the absolute best thing I've ever done in my life. And it is something that is not easy to decide to let go of drinking in a culture that we are surrounded every day with all these messages that alcohol is required and good for you and helps you bond and all the things, but my world has truly opened up.
Without alcohol, I have met some of the most incredible people have had amazing experiences. It's made me more grounded and more content and less anxious, and more brave and more secure in my life. And also, really feel like I can do anything I set my mind to. So, it's been 6 years and people always ask me how I celebrate my sobriety date. And you know, kind of every year it's sort of like my birthday, it's a day. I just take to myself even when I was working in corporate, I always took my birthday off. And I always took the day that I quit drinking because I want to celebrate it. And most of the time, I just celebrate it for myself.
So, on my first year, there happened to be a she recovered yoga retreat in Seattle on that day. So, I got to go there and be surrounded by 100 other women who are on the alcohol free path and see some great friends and meet some new ones and learn about essential oils and do yoga and listen to amazing music and just felt totally proud and uplifted.
Year two, it was it typically my break of my kids school. So, we were in Hawaii. And that was amazing. I remember on my fourth year, I was down in Mexico and just walked off on the beach and drank coffee at six in the morning and kind of reflected on what four years alcohol free would be like, versus the four years I spent at college or the four years that I spent in high school.
And now, at six years, you know, it's COVID time, it's pandemic time, but the world is opening up, my husband is a basketball coach. So, we are not going on some vacation away from Rainy Seattle. So, I'm taking the day off. And I'm going to a spa and having an amazing revitalizing foot treatment and full body rejuvenation, which I think is a massage plus relaxing stuff where they do like your head and your scalp and your arms and feet and all that good stuff. And then, I'm going to go to Sephora and get some new makeup and go to a couple stores I love and get some new clothes and then go out for a late lunch with my daughter. And just be really proud that I made this decision and that I'm not hungover. And I'm not gonna be fuzzy that night, and I'm no longer debating whether I abuse alcohol or have a serious addiction to it, or whether anyone knows or whether I have enough wine at home. My mind is just clear and proud.
So, I actually, for this milestone, I looked back on the quotes and the pictures that really inspired me. In my early days, the moments and the people who made a big difference for me, the things that I enjoyed in early sobriety, and I created a video to one of my favorite songs that I used to go running to in the early days when I was stopping drinking and really got me going. So, the song is The Fighter by the Gym Class Heroes. And I've been watching this video over and over again. Because I forgot how tender and special and transformative those first few months were. And that first year was an all the things that lit me up and blew my mind and made me cry and made me grateful and the things that were hard. So, I'm going to put that video I'm going to share it out tomorrow on February 18, which is my 6th year, but I'll also put that video on my website in the show notes to this episode. So, if you want to see the video with pictures from my first six years of sobriety, but really focused on the first couple months in the first year, go to hellosomedaycoaching.com/97. And that is where I'll have all the information about my first 30 days sober.
I thought that for this episode, I would actually read you the diary of my first 30 days without alcohol. I worked with a Sober Coach. It was Belle Robertson from tired of thinking about drinking. If you don't know her, she also wrote a book that you can find on Amazon called Tired Of Thinking About Drinking. And six years ago, she was my Coach, literally, on February 18. I woke up at 3:00 a.m. Someone on this secret private Facebook group. I love the BFB. The Booze Free Brigade recommended her. Someone else had posted about, yet another day one, and in the comments, someone wrote that they should really talk to Belle because Belle helped them. And it was 3:00 a.m. and I was hungover, and I was anxious, and I thought I can't do this anymore. All of my attempts to stop drink got me to about 4 days, and then I would break down and get a bottle of wine. And then I do 4 more days. And then I would go back after a while to drinking a bottle plus of wine a night and feeling like garbage.
So, I went into work. I went into my corporate job. I got on my computer and at 10:00 a.m., I went online, and I signed up for coaching with Belle. And literally, that was my last day one. And I had coaching calls with her. But I also emailed her every day, for, like, honestly, 2 years. So, I thought I'd share with you my side of my story, through the emails, I wrote bell because I really captured the shaky early days of what turned into 6  years alcohol free. And at the time, I didn't think I could make it 100 days without drinking, I literally could not make for days. But in case it's helpful to you, I wanted to share it with you, I hope some of it will resonate with you. And maybe, so you can feel less alone in what you're going through. Now, if you're in the early days, I promise you, it gets so much better. I mean, looking at this video that I made of all the images of myself and my family in this path over the last 6 years. I can't believe how good my life has gotten. Just because I stopped drinking. It is happy and optimistic and hard, but I'm strong. And it's clear, and I'm proud of myself. And I no longer feel guilty. And it's not perfect. There are ups and downs, but I know I can handle them.
So, if you are starting out on this path, the one thing I wanted to mention is I have a completely free 30 day guide. It is 30 tips for your first month alcohol free. I walk you through some of my best advice for navigating this really, really hard time without alcohol. And I know a lot of you have gotten this guide. But many, many people who listened to this podcast have not go to hellosomedaycoaching.com. And you will see the email signup for the guide right there on the homepage, sign up and it will be emailed immediately to your email inbox. And it is really comprehensive. And a lot of people like hundreds of women have told me that it has helped them stop drinking. So, if you're interested, go to hellosomedaycoaching.com and sign up.
Alright, February 18, 2016. Here's what I wrote my coach at 8:24 p.m.
Hi, Coach. I woke up this morning after drinking a bottle of wine last night, which is actually pretty normal for me, and going to bed at 10:30 a.m. Feeling like, complete shit. Just sad and anxious and deeply unhappy. Worried about work and life and my ability to cope. I woke up at 3:30 in the morning with my 21-month-old daughter and brought her to bed. And I was just unable to go back to sleep. I stopped drinking for 90 days or 4 months about two and a half years ago. And I went to a few meetings and happened online with the Booze Free Brigade (BFB) group. That's a secret private Facebook group I absolutely love, for people going alcohol free.
And if you're interested, I'll put a link to my guide about how to get into the BFB in the show notes of this episode.
Then I got pregnant with my second child, my daughter, so I didn't drink for about a year total. But honestly, I was really excited to go back to drinking after she was born 21 months ago. It is just so exhausting. What resonated with me most from your audio was that it is so incredibly tiring to drink and then not drink for a few days and to drink again and to try not to drink. It is too much for me to think about forever. But I know that I hate feeling the way I do now. Looking at my bloodshot eyes in the morning and wondering if they look yellow, seeing them all glassy and wondering if the folks at work can tell that I drink A bottle of red wine each and every night. And then somehow wanting more wine. As soon as I come home with the kids at 6:30. It's crazy. We'll see, which you'll hear me refer to that.
That's what Belle called the voice in your head that whispers to you that trunking is a good idea. It really helps to externalize that voice to realize it's not yours. So, I call it Wolfie in all my emails. Other people call it, the wine wedge, or something else. But you'll hear me reference that in my emails to Belle in my first 30 days.
We'll see what's even calling to me today when I got home on Day 1. I'm currently having green tea and planning to go to bed early. I've not posted in the BFB much, if at all, in the past year, because I had been sober for a year and now, I'm not. And honestly, I wasn't sure that I was done. I didn't want all their support and well wishes and then to feel like I was letting them down by drinking again. But lying in bed this morning someone posted about your 100-Day Challenge. And I said, today's the day. Here is to Day 1 of the 100-Day Challenge. Thank you.
And then I wrote her the next morning at 9:40 in the morning.
Hi, Belle. I woke up today on Day 2, and after a horrible night's sleep with my daughter coming into our bed at 2:30. After standing up in her crib screaming, she kicked us and wind and rolled around till we finally got up at 7:00 a.m. I was late and rushing around to get ready for work to get our Sunday school to get to daycare. But at least I wasn't hungover. So that's positive. I put the wine bottle I had in the rack yesterday morning in a box down the stairs with a few other special or expensive bottles of wine. I had gotten from a wine tasting event my husband got us tickets for in January. But I think I need to get rid of the bottles of wine because they call to me. And I'm scared I'm going to have a weak moment.
Last night, I turned on a February 11 episode of scandal that was on our DVR. My husband said to me I think you've watched this before and I thought no, I don't remember it. And I was away the week before in Arizona for a conference. So, I told him I definitely had not watched it. And then as the episode went on parts of it feet seemed familiar, but parts very unfamiliar. So, I figured that on Wednesday night, the last night I drank, I watched part of the episode and then went to bed. But then, as I was watching the whole thing, suddenly, some parts of it near the end, we're really familiar. So, I watched an entire episode of a show the night before and literally didn't remember any of it. My brain did not record it. And I didn't know one bottle of wine could do that to me. I wonder how many holes there are in my memory, and how much harder I'm working to stay on top of everything. While putting these big blank spaces in my evening.
I listened to the day 1 audio last night and again, a bit on the drive to work this morning. What resonated with me this morning was a sentence. That bag of rocks you've been carrying around, you're going to put down. I kept saying that over and over to myself walking into the office today. I reached out to the bfhi for the first time in a year and said I was on Day 2. I'm trying to follow your recommendation to participate and did not Lark. I haven't told my husband about trying to stop again.
Here is to Day 2. It's Friday. So, the weekend might be hard. But I've running club Saturday morning at 7:00 a.m.
Checking in on Saturday at 11:00 a.m. I wrote,
Hi, Coach Casey here on Day 3. I listened to your audio last evening between work and picking up my son from after school care. I took your advice and stopped into the grocery store and picked up a bunch of drinks. I'm usually a coffee water red wine green tea girl when I'm trying to not drink wine, but I got some grapefruit water and citrus water. And last night I had the grapefruit sparkling water in a wineglass with dinner. And it was okay. I listened to your day to audio again while rocking. My daughter does AYP. I had running club this morning. I'm just one week to getting ready for 10k and jogged three miles, it felt good to get out. And now I'm at the gym for my son's swim lesson. But instead of doing laps, I'm enjoying relaxing in the hot tub and reading your messages. I've been involved in fitness and running clubs for the last year and a half. I like the workout and the community, especially when I'm not hungover. It's like I see glimpses of the good healthy life, but then I slip back into a bottle of red wine after work, sleep terribly, feel awful and anxious in the morning, and then go back again. It's fits and starts. I've recently not made it more than five out of seven days without why. But that's better than 7 out of 7. But I heard your audio loud and clear about how hard and exhausting this cycle is.
So, here's to the 100 days ahead. I'm going to take your advice and try to make this next week be about self-care and go easy on myself. When I get stressed out or overwhelmed or feel resentful that I'm doing most of the work kids how stuff is when it gets easy to rationalize drinking. So, I'm going to try to make time for me this week. Here's to a good Day 3.
Hey, Coach, I'm here checking in on Day 4. I listened to the audio and actually needed a treat today. So, I went out to buy new running shoes by myself. I left the kids at home, I listened to the audio lesson in my heated car seats outside the store. I got my new shoes. And then I got myself a latte and doughnuts for the husband and kids. It felt good.
On Tuesday, my husband is out so I think my sober treat will be takeout sushi, or pizza for me and the kids rather than cooking. Here are some other sober treats. I thought of buying my favorite magazine and reading it alone and uninterrupted. I like Seattle magazine or Better Homes and Gardens, getting a foot massage, getting a pedicure, alone time at a lunch spot or a cafe, getting new blush or another treat at the Ulta Beauty store. Reading the book for an hour by myself. I had a bit of the witching hour yesterday at 4:00 p.m. I had a long Saturday with the kids the husband was working outside an hour to left before dinner. It's usually when I would open a bottle of wine. But instead, I took a bubble bath with my daughter drank a lot of water wandered around the house and by 6:00 p.m. that it pretty much passed. I did go to bed pretty early for a Saturday night at 9:30. But I felt good this morning and I went jogging. I do look forward to getting your emails back every day. Thanks, Casey.
If you're listening to this episode and have been trying to take a break from drinking, but keep starting and stopping and starting again, I want to invite you to take a look at my on demand coaching course, The Sobriety Starter Kit. The Sobriety Starter Kit is an online self study, sober coaching course that will help you quit drinking and build a life you love without alcohol without white knuckling it or hating the process. The course includes the exact step-by-step coaching framework I work through with my private coaching clients, but at a much more affordable price than one-on-one coaching. And The Sobriety Starter Kit is ready, waiting and available to support you anytime you need it, when it fits into your schedule.  You don't need to work your life around group meetings or classes at a specific day or time. This course is not a 30 day challenge, or a one day at a time approach. Instead, it's a step-by-step formula for changing your relationship with alcohol. The course will help you turn the decision to stop drinking from your worst case scenario to the best decision of your life. You will sleep better and have more energy, you'll look better and feel better, you'll have more patience and less anxiety. And with my approach you won't feel deprived or isolated in the process. So if you're interested in learning more about all the details, please go to www.sobrietystarterkit.com. You can start at any time and I would love to see you in the course.
Hi, Coach. Here I am on Day 5. I sent this on Monday from work at 3:00 p.m. I came into work feeling good. I went to bed early and slept pretty well. I had a 5:30am boot camp workout that I've been in for eight weeks, and I got to go not being hungover and not having had a drink in four days. I had lost 10 pounds in 8 weeks, and after doing a few sessions, while actively drinking, I felt so proud of myself. I felt good. But then the work emails started to come in. The TAs started piling up I had too much to do. I started feeling anxious and like I'm behind and I haven't had a drink in five days, which is pretty much as far as I've gotten recently in the past 20 months, I forced myself to take a walk outside and went to Whole Foods and got a sober treat a chai latte and listen to your audio messages on the walk today. I briefly walk pastor brewery and thought about how I in previous weeks would fancy a drink. But not today. I looked at the message boards in Whole Foods of upcoming five K's and local classes. I took pictures of future sober treats that I could consider pretty flowers and plants. Easter bags for my kids magazines water bottle, a sort of yoga foot roller massager thing. And then I walked back to the office and I'm taking time to email you. I'm definitely feeling the itch of Wolfie. But I'm trying to practice self-care. I won't drink today.
Hi, Coach. Last night yesterday was somewhat rough for me. But I realized that day 5 is usually as far as I get. And I know I need to move past day five and Day 10 And Day 15 to start feeling better. Otherwise, it's way too easy to slip back into the endless groundhog day cycle of resisting for a few days, drinking a bottle of wine and waking up the next day feeling like shit, feeling shaky and anxious and mad at myself and starting again. So, here's to Day 6. I slept pretty well last night, I still feel anxious and off, but I'm moving forward. Here's some pictures of the treats. I took at Whole Foods yesterday. I'm off to go into work meetings, but I'm anxious to get a break. And to listen to this Day 6 audio and I scheduled 3 coaching calls with you. 
Hey, Coach, I just took a walk and listen to the Day 6 audio. I'm definitely feeling anxious and agitated, stressed out about life. And the week ahead and work projects without my usual blunt force mechanism to turn my brain off. I've done this once before when I quit for a year, but only 90 or 100 days of that was before I found out I was pregnant. And I was only working for the first 30 days that, so I took a few months off when I stopped drinking last time. So, I need to go carefully with this one. So, I don't go back to a bottle of wine. I've been thinking about what I can take off my plate what I cannot do. And here's what I won't do this week. One, my husband is anxious to break our daughter off her pacifier. I remember that process being pure hill with lots of added screaming and cribbing of teeth and stress when we did it with my son. I've been putting my husband off for a few weeks on this. But I won't do it this week. I am not going to add that to my plate in my first week of sobriety. I'm also not going to do our taxes this weekend. We always want to get them done early. But I'm not going to do it this weekend. And I'm going to get takeout and cook for two nights. I may also not try to do laps during my son's swim lesson, but rather just rest when my daughter's in Kid Care at the gym. We'll see.
Hey, Coach, here I am on Day 7. I definitely had a wolfy moment last night. My husband was out working so my plan was to get both kids and pick up czar pizza and salad to keep life simple. I card. I called the order the dinner and they said, oh with pizza and salad for only $2 more. You can add a bottle of wine. I said no thanks. But when I was picking up the pizza with my son, I briefly looked at all those bottles of red wine. Remembering how happy I was just a few months ago that this place had good luck. Go wine, so I could just pop by and pick up dinner without navigating the grocery store with the kids. Anyway, that was a danger zone for sure. I got home, I remembered I still had the fancy wine stash downstairs, I have to get my husband to take it away. But I got pizza, I got my replacement drinks, the kids and I had fun. It wasn't a stressful night. And I actually had a nice conversation and time with my husband when he got home. Rather than being a bottle in and worried about how to work out in the morning and wanting more and going to bed to head off the inevitable awful morning.
The next day, I got up at 5:00 a.m. I did my last session of my eight week workout. And I ran 3 miles in the dark, so early. And I found out that I had lost the most weight from anyone in my session, which has never happened to me, despite still drinking until seven days ago. But I had cut down to twice a week in the last eight weeks from seven times a week. So clearly that makes a difference. And I've been really trying to work out, so I was proud of myself. And our trainer put bath salts in a container with our results. So that's an unexpected sober treat. I felt pretty good all morning. I was smiley and happy and easy with the kids feeling competent at work instead of shaky and worried and anxious. I am worried about the next few days, the weekend and the next week. Because there are lots of hurdles and things that are going to take us off our schedule and hectic stuff. But I listened to a bunch of meditations last night. And I'm excited. And I'm excited to have our first coaching phone calls scheduled a week from Friday.
Hopefully, knowing that it's out there will keep Wolfie at bay and hold me accountable to stay in the course. Oh, and one thing that you said in the meditation yesterday was what do you like more than wine? And you know what? Sad. I couldn't think of anything immediately. I mean, there are lots of things I like gardening and photography and live music and playing guitar. Although, I haven't done them in ages. I like traveling and reading. But more than wine. Not right now. I guess won't be as strong. Today. I like not waking up Brady and myself more than wine. I like feeling okay in the mornings more than wine. I like having my eyes clear and not bloodshot. More than wine. I like not having a headache more than wine. I like losing weight more than wine. I definitely like doing burpees and jumping jacks at 5:30 in the morning with no wine in my belly more than wine. So, I guess that's a start. Happy Day 7.
Hi, Coach. I just went for a walk and listen to your lesson number 7. Pre-lapse.
Yeah. I was walking and listening. And I realized today is day seven. And on the last few Wednesday's last week and the week before I drank a bottle plus of wine on Wednesday night and woke up both Thursday saying to myself, I can't do this to myself anymore. Below I wrote down for myself and for you what my last few Wednesday nights and Thursday mornings have been like, as a reminder of what I don't want. I want to feel okay today. And I felt good this morning. I want to feel good tomorrow. And I don't want to wake up feeling so bad and so sad. On my walk, I decided after listening to your audio that I need a Sober Treat to make it through Friday night and Saturday and Sunday.
So, I scheduled a pedicure for 4:00pm on Friday so I can get a treat before I pick up my son and daughter and make dinner. I have running club on Saturday morning, which is something to look forward to. So, I feel like I've taken care of myself, and I've nurtured myself on Friday.
So, my last two Wednesday nights. The first Wednesday, two weeks ago, I was away from my family at a work conference. I was in Arizona, and I was really happy to be away in the sunshine at a fancy resort free from the kids and responsibilities. And I was excited to sleep through the night because my daughter has been waking up every night in the middle of the night. I was excited to be out at a restaurant and to have a fancy glass of wine or two in the sunshine. I had no attention to not drink. I was definitely not on the wagon. I was vaguely aware that my drinking will need to stop at some point, but I also thought not now, not on this trip. But I also didn't want, I didn't mean to wake up feeling like shit. 
Although, let's be honest, if I have a glass, I have a bottle. I've never had one or two glasses of wine in my life. So, I had two glasses of wine in the restaurant. And then I went to the conference mixing event, and I knew nobody there. I ate very little food, and I drank four to five glasses of wine. I'm not sure why I always want more, and it helps with the small talk, and it was there. And it was free. I mean, the usual. I woke up on Thursday, feeling like shit, of course, again, sleeping like shit, which is ironic, because I was so excited for a great night's sleep away from my daughter. I woke up with glassy and bloodshot eyes feeling chubby, and like I hated my clothes. And with 8 or more hours of conference ahead of me and lots of one on one meetings. When we went into the big conference room, the speaker even had us do a partner activity on connection, where they picked a random person, and you had to stare into each other's eyes for five minutes, without looking away or smiling or laughing. And I hated every minute of it. I hated someone looking that closely at me. And looking into my eyes when I knew I was so hungover that day.
Thursday, they opened up the bar at 4:00 p.m. And everyone was having a glass of wine or beer with their last meetings, and I had one as well. There was a networking barbecue thing with live music that night. I thought about skipping it and going to the spa or eating by myself or something else. But I went to the barbecue. And this woman, who I'd met and chatted with the night before, sat down next to me. She was slightly older than me. She was 44 and had kids slightly older than mine. They were 8 and 10. She was pretty. And I remember that the night before, I wished I looked as good as she did. She was heavily made up and so drunk at 6:30 at night, she started to talk to me and the people at our table but could barely speak. She wasn't eating but had a glass of wine in front of her. She kept nodding off and intermittently waking up and repeating herself and winking at me. It was so sad, and I thought, A. She's one of us, and B. I could be like this, may become like this, likely have already been like this, in the years past. And see, it was not safe for her to stay here. She needed to go back to her room, and she was gonna feel like shit. If she even makes her 9:30 a.m., fly back to Miami to her husband and her kids. I told her I believe whenever she was ready to go, and I got her in the golf cart that the resort had and got her to her room. And then I waited as she tried to open the door with lots of fumbling to get inside. And then of course, I got back to my room. And I worked and I drank half a bottle of wine from my minibar. I didn't even want it, but it was there. That was two weeks ago.
Last Wednesday, I got home after a fairly stressful vacation to Arizona with the two kids. My husband met me there. We got home super late on Tuesday after a long screaming travel trip with a 22 month old with an ear infection that had spread to her eyes. My first day back at work was bumpy. I was behind everything. I was super annoyed at all the meetings and the projects and the new things. And the changes that had come up in the last week. I felt totally overwhelmed. I got home and my husband was cooking dinner good and had gotten me a bottle of syrup because he knew that was what I liked on a stressful night.
So, that night, I happily drank the bottle of wine. I watched the shows that I later forgot that I watched, and I went to bed,   and I woke up at 3:30 with my daughter screaming and crying and kicking and not being able to go back to sleep and feeling awful and saying I can't do this to myself anymore. I read the BFB Facebook group while in bed with my daughter and my husband sleeping. Someone posted about your challenge, and I signed up that day. I wrote this to myself on my phone both last Thursday morning and I was updating it from last January and June and July. I said I'm approaching life from a place of fear and anxiety, I wake up at 3:00 a.m. or 5:00 a.m. Just tingling, with anxiety and with sadness. I am so tired every morning and every day. I'm so deeply unhappy after I drink. I feel really insecure and anxious about work projects and big life and future security questions. When I drink, I have no emotional reserves, or goodwill to handle the changes. I feel like every new request will be the stop will be the straw that will break the camel's back. And when I drink, I make no forward progress. All my weight loss is on hold. I have adult ache behind my eyes. I spend all day recovering. I sleep terribly. I feel defensive, guilty, paranoid, anxious, annoyed. I'm putting my life in my plans and my progress on pots. I don't feel proud of myself. And yet, I always want more. It's never enough. It is really an obsession that I think about all the time. I want this Wednesday night to be different than the last two. I want to wake up tomorrow, feeling good.
And onto day eight.
Hi, Coach. It's Day 8, I made it. I went for a long walk this afternoon on a break from work. And I listened to a bunch of sober audios. You told me it was important to ask for help. So today, a mom friend of mine sent me her spreadsheet of summer camp options for our second graders. So, I thanked her, and I appreciated being able to just piggyback off her work and refine it for my kid. They'll do three or four camps together, which has carpooling benefits, and three or four camps of loan for independence. And hopefully everyone will be happy. In terms of treats. I'm definitely trying to be good about that. Because red wine was my main treat and my go to treat in life. It's the one thing I would quote unquote save my calories for no dessert or chips. For me, thanks, I take my calories and red wine. It was what my brain automatically goes to as the one thing I want. I used to just almost feel it like hitting my veins when I drank it. And of course, one is never enough. I start off, like, "ah, I need this". And then, I definitely need blast to right away. And then, I'm giddy and chatty and happy and have extra energy. And then, I'm fuzzy and I just want more and more. And then, I finish a bottle. And I really want to open a second. But that is crazy. And shows a real problem and is super embarrassing. That one bottle is not enough. And sometimes, I do open a second bottle on sometimes, I don't. But either way, the next day, I feel terrible and tired and headachy and shaky. And then I repeat it again. But my brain definitely lights up with the site or the thought or whatever of red wine.
I've been avoiding the entire section of alcohol at the grocery store on my walks, sticking to coffee and magazines and flower section. Clearly, I need a different reward. And I hope my brain rewires at some point not to crave or want or long after wine. Yuck. Not today.
So, my work emailed me that they set up on site 20-minute massages, 2 weeks from now and I signed up for one, my Sober Treat. I took a long walk in the sunshine today to the park just outside my office – Sober Treat. Tomorrow, I have my pedicure – Sober Treat. I'm worried about getting through days 8 – 10 and 15. But for now, I feel okay. In terms of asking for help, I think I need to tell my husband I'm doing this 100 Day Challenge and need his support. I haven't done this yet, probably because I stopped once before in a dramatic fashion and then was only too happy that he let me easily slip back into drinking daily.
After my daughter was born, he never thought I needed to stop drinking forever, or thought I really had an issue. He just thought I needed to cut back. He doesn't get what goes on in my head. But I'm just going to tell him about the challenge. And my goal is not to drink for 100 days and see how I feel. In any case, day eight is new territory that I haven't hit in a long, long time. I'm trying to take this day by day and not overthink it.
Hey, Coach, here I am on Day 9. Last night I went to bed just after my son went to bed at 9:00 p.m. and watched a show on my iPad and was asleep by 10. Normal, right? I got 8 hours asleep for the first time in forever. It's Day 9 and a Friday night. So, I know that this week will be a challenge and making it to Monday will be an accomplishment. But I have no plans to go out. And picking out sushi picked out for dinner tonight and I have running club at 7:00 a.m. Tomorrow, Saturday, and Sunday, late afternoons are my danger zones. So, I'll have to think of good strategies for that time. Four to 7:00 p.m. is critical to get through. But onward with the 100 Day Challenge to see how I feel after 100 days with no alcohol. I'll try to remember that nothing is worse than a new Day 1. I'm trying to remember that I'm putting down that backpack of rocks. And I just need to go through the hard part before my brain rewires itself and stops thinking that wine is a solution rather than the source of a lot of problems.
Hi, Coach. It's Saturday morning and Day 10. I had my pedicure. Sober Treat yesterday at 4:00 p.m. before I picked up the kids, and it was really nice. I ran three miles this morning with my running club. It's still super hard and I'm out of shape. But I didn't walk, and I wasn't hungover. On my run. I thought if I was not doing this challenge or white knuckling it to cut back to two days a week, I would have consumed 12 bottles of wine in the last 10 days. That's so gross. I did look longingly in the windows of the restaurants. My son and I walked by last night as we went to pick up the sushi. Everyone with drinks and food in front of them out with dates and families on a Friday night. Why does it look so fun and so easy? But I need to just focus on getting past Saturday and Sunday pace 10 and 11. I see from your blog, you're a runner. Do you have a great running song list? Regular good or sobriety inspiring that you could share? I need some new songs for inspiration. I've been listening to when I drank by the Avett Brothers, the fighter. Where's the love? by Black Eyed Peas, Brave by Sara Borealis, but a lot of those were from my sobriety push 2 and a half years ago. So, I'd like some new inspiration.
Hey, Coach, it's Monday and here I am on Day 12. I had some Wolfie voices yesterday on Sunday at four. But I ate a bunch of hummus and broccoli and went for a walk outside with my kids. I also took my kids to the kids club at my gym on Sunday as the rain poured down so I could get some alone time. And I exercised and I regrouped quietly. I got my run in and to shower by myself. And I got myself and my husband and the kids smoothies as a treat. It's a busy day. It's a busy week, but I'm on day 12.
Hey, Coach, Day 13. So Wolfie is crazy. I had a photoshoot pre prep in Seattle yesterday. We got out at 4:10pm instead of the expected 430 or 445. And height is 6pm pickup for my kids. But I had to drive 45 minutes home and I immediately thought extra time. I should get a drink. That's insane, right? It was almost a knee jerk reaction. Oh, that meeting went better than expected. It's Tuesday. I should get a drink. But instead, I said That's crazy. That's Wolfie you're hungry. You should just have a snack and water. You need to wait this out until your brain reprograms and you know if you ever drink, you'll have a bottle and then you'll feel like shit tomorrow. So, I listened to some Sober udios on the way home. I parked my car by my kids after school care pickup and wandered Ulta Beauty store with my extra 20 minutes. I brought a hairbrush and hair gel you know why not? And I picked up my kids. I had my nonalcoholic beverages with dinner. I had tea. I went to bed sober. I woke up feeling okay. No major anxiety or panic or shame or guilt. feeling okay, this morning was definitely good in reinforcing the positives of good decisions. But Yikes. I definitely still want to drink every night. But I hope this will pass eventually. I'm in Seattle for the photoshoot. all day tomorrow and Thursday. So, I need to remember to bring lots of snacks, so I don't get hungry, especially at the end of the day. And I'm also going to have time to listen to some sober podcasts on the drive. And I need to just not get too hyped up. I heard your head in my voice yesterday. Don't drink now. Because don't you want to see what will happen if you don't? So here I am. Me and my green tea and my sparkling grapefruit water and hummus. Happy Tuesday.
Hey, Coach, today is starting out a bit hectic and stressful at the photo studio. But I'm here. I'm sober. Day 14. 2 fucking weeks, who? 2 fucking weeks. Amazing.
Hi, coach. Here I am on Day 15. I'm looking forward to our call tomorrow. It's been a busy week, and I've been missing my twice a week morning workouts because of my husband's interviews and my Seattle photoshoot. Bummed to miss it. Although getting up at 5am is hard. But it helps me to feel like in addition to building up days, I'm accomplishing something else for me, making progress getting stronger each week, and I like the community and the people. In any case, this week has been busy, and my goal was just to get through it while staying on track with the not drinking challenge. Last night I went up to bed and saw a spring bulbs Better Home and Garden magazine next to my bed and a pile from March 2015. A year ago. Somehow, I never looked at it more than once with my old nightly habits every night. In any case, I looked at it and I thought of something new projects, new treats, I could get myself at my favorite garden shop soon. I'm really excited to plant my veggie garden this year. I definitely have trouble if I think about never drinking again. So instead, I'm focusing and appreciating feeling good. And not today and not per 100 days. I want to see how I feel after 100 days, and how much forward positive progress I can make in my life in my family. In my fitness and my peace of mind and my happiness. I'll think about forever later. Nights been quiet tea in bedtimes some fizzy great fruit or cranberry juice or citrus water, I might say boring. But of course, I used to have my own personal party on my couch every single night. I guess it was fun in my own mind. But the mornings and the next days were held and the soul crushing anxiety and sadness and guilt and Brady me. It was no fun. In any case, here I am on day 15. Looking forward to chatting tomorrow. I added to my list of soap retreats, spring bulbs, one of those padded kitchen that's Pinterest trip planning for our trips to Venice and Croatia and Slovenia this summer, maybe a new Chiclet novel.
Day 16.
Hi, Coach. It was great to speak with you this morning on our coaching call. I'm going to focus on the immediate next steps of getting from basics team today to day 30. And taking things easy and not overwhelming myself or taking on too much. It might be a bit hard with the start of baseball season this week for both my husband and my son, and the baby and work and life and home. But I've been doing okay so far, just taking each day on its own and saying I'm not drinking today. I thought the call with you was really helpful. And I look forward to the next one. But for now, I'm just focused on getting through Friday and Saturday and Sunday on plant.
Friday night at 8:35 p.m.
Hi, Coach still Day 16. After our call this morning, I had the worst afternoon. I think I mentioned that work is an always has been my biggest trigger. And my old boss left the company six weeks ago and we have a new one from our New York headquarters who is very directed kind of harsh, and who has gone a lot in them back and takes over projects without context. Anyway, it was a rough day. I was mad and sad, insecure and anxious, frustrated. Exactly what usually drives me to a bottle of wine fast. In any case, I thought of your voice saying that wine is just adding a problem to a problem and to not give in on a Fuckit moment. And I thought about how I would feel tomorrow and that I don't want that. So, I listened to sober podcasts, and I cried, And I told my husband and son that I'm sad, and I need extra hugs and love, and that I'm having a bad day. I just got my daughter to sleep and it's 8:30 on a Friday night, and I still five hours after my bad meeting and three hours since I left work. I still feel like shit. I'm emotional. I'm mad. I feel bad and sad, and misunderstood and insecure. I think it's all about work, but maybe it's just early sobriety. I feel emotionally hungover. In any case, I'm not drinking tonight. But I did cry, and I might try again, and I'm going to bed super early. I really hope tomorrow is better.
Hi, Coach. It is Day 18. Friday night was tough. But I got through it. I think emailing you and crying and going to bed at nine helped. I still felt emotionally terrible on Saturday morning. But I went for a four mile run. And I treated myself to coffee and walking slowly and window shopping at 8:00 a.m. through an empty outside mall staring in the shop windows. And that was nice. And I took my kids to the gym, and I did a few laps in the pool. And then I stretched, and I went into the hot tub. And that was a treat to I feel anxious about work tomorrow, I actually really hate conflict. I'm totally uncomfortable with anyone thinking poorly of me or disliking me, amazingly, even if I don't like them. And I always feel insecure about job security or making sure I have enough money or connections or goodwill or something squirreled away should the world ever go bad, and I have to support myself and my kids. It's weird. My husband calls it my homeless complex. All that is to say that any conflict with my boss makes me super emotionally uncomfortable. And a new boss is way worse than when I prove to myself over and over again. So, I'm dreading tomorrow, and I'm feeling all weird. But I know that 80% of life is just showing up. And problems or perceived problems don't get better by avoidance.
So, I'm just going to get through tonight and tomorrow and the next day and not drink. And I'm sure it's going to be okay. I've listened to Sober Podcast saying that sometimes we're like a clam without a shell. And that totally resonated with me. I'm definitely way more sensitive than many people, I feel things deeply. And I don't know what to do with that other than I used to drink a whole lot of red wine to stop my mind and get me out of my head for the night. That said, I'm on Day 18. I'm going to read Harry Potter to my eight-year-old, prep my dinner for tomorrow, drink some tea and watch Downton Abbey.
Hi, Coach. Here I am on Day 19. Today, Monday was better than Friday in terms of a day at work. It was busy, but things are going okay. And I feel pretty competent. And like I'm making good progress on projects. Of course, my boss is in New York today and tomorrow. I listened to the audio of our column the drive in this morning, and it was helpful. I have a feeling I'll listen to it many times again. We have another call this Thursday. So that'll be good. I didn't get much sleep last night again due to my daughter waking up and crying and my 5:30 workout. But today's been okay. My objective for this week and next week is just to not get overwhelmed. Stay this sober course and avoid triggers. I'm often a few minutes to pick up my kids, and then all day finance training sessions tomorrow. My boss is back in town on Wednesday. For now, Dackel seems like just about all I need on my plate.
Hey, Coach, it's Day 21 I had my morning workout today, which I think is really good for me. I like the group of women I work out with an exercise is good for getting my anxiety out and helping me feel like I'm making positive strides in my life and progress towards a goal. My boss is back in town for the first time since our difficult interactions on Friday. So, I'm kind of dreading meeting with her today. But my goal is just to keep it calm, keep fairly quiet. Try not to get too defensive or triggered and move on to Day 22.
A friend of mine who I haven't chatted with for a while, whose life I'm always jealous of they always seem to be going on endless vacations and date nights and adventures and they have a boat and a beautiful home and seemingly wonderful, exciting jobs and huge catered parties. They're also incredibly sweet and kind, had her husband today, that he is three months into six months of chemo for lymphoma, I had no idea. It definitely makes me feel for them. They have two kids and a little boy, six months older than my daughter. And it makes me realize that a lot of my daily frustrations and challenges really don't mean a lot in the grand scheme of things. I definitely need to be grateful for my health and my family's health, my kids, my home, my friends, and not focus on the baby screaming all night and lack of sleep and all the rest. Anyway, here I am on day 21. Can't wait to talk to you tomorrow.
Hey, Coach. The call was good. On Thursday morning, I think it's really helpful to talk to you to talk to someone who gets it, and who's been through what I'm going through with the nightly drinking. And the early sobriety, who has seen lots of other people go through this both successfully and unsuccessfully to help steer around potholes and pitfalls. I went to a therapist for anxiety a year ago. But I didn't tell her about my drinking. It seems like something you can't quite discuss with someone who hasn't been there or hasn't seen other people. It's like you don't want them to think that you're like the worst person in the world. Because you're not. And even if you tried to tell them about it, you think that they wouldn't understand, or they wouldn't get it. I listened to sober audios. While I was at my son's baseball practice yesterday, I was all bundled up in the sun came out for a few minutes. And it was good. I almost feel like I need to progressively brainwash myself or reprogram my brain away from the wolfy voice to the point where I no longer see red wine as something I want. But don't get to have or shouldn't have to where I see it as no good. And I don't want it anymore, or I'm not jealous of people drinking it. I feel like in my last go at sobriety, I never quite got there, which is why I went back to drinking. And I'm not there yet. How do I get there?
It's odd. I feel so much better not drinking. I feel proud of myself and healthier and I'm actually losing weight. I have better relations and conversations with my husband. Mostly not hating myself every morning feels amazing. And yet, I'm still jealous of everyone who says they're going out to a wine bar or going out for drinks. Do you have a podcast or something to retrain my brain? I started reading the Jason Bale book. But I haven't gotten very far yet. I keep falling asleep. I guess that's early sobriety.
So, good things going on in my life. My husband got a new job he was going for he found out yesterday and I'm so proud of him. It's the perfect job for him. And he'll be great at it. And I think it's a job he can happily do for a bunch of years. He was a sixth grade teacher at a great private school for 12 years. And then he was the dean of students at the high school. And he just got the head of the middle school jobs. He loves middle school kids and teaching. He'll be great. We're going out to an early dinner with the kids tonight to celebrate and I am not going to drink. I may order a milkshake instead. Despite my healthcare. I know I'm going to be tempted to order wine. Friday night celebrating toasting. I oddly want to, but I know how to turn out. So that's why I need to reprogram my brain. So, I don't want red wine, despite knowing how it leaves me full of anxiety and sadness. But I promise I'm not going to drink today.
Other good things in my life. I got out of work yesterday at 4:00 p.m. and got to take my son to baseball practice. It was good and fun. I was glad work is close to a school so I could do it. I worked out at 5:30 this morning. My boss was sick yesterday afternoon. So today, I had all my meetings with her cancelled. I'll have to face him sometime but not today. My husband's job came with a big, unexpected raise. He just wanted the job because it was a better fit for him. So that'll be great for the family to have a little more financial breathing room, and less pressure and more savings. I found a fun one day baseball camp for my son for his day off school today. Had a great time. I run in club tomorrow morning, and I'm going to get my guitar restaurant so I can start playing again. I'm focusing on the good. I just need to not drink at dinner. And I think I'll be fine chocolate milkshake without guilt. That's my plan.
Hey, Coach Sober, was planning on emailing you lots of thoughts over the weekend including crazy wolfie voice when I drove past a new brew pub in our hood, 100 Microbrews. My voice said why did I decide to get sober now? Now I'll never go there. I did it, just when there are new microbrews coming to our hood, but I worked out Saturday and Sunday. I stayed sober. I had some treats. I've got stuff done. Now the power is out and I'm sitting in front of the fireplace in the quiet with my sparkling strawberry orange mango water. It's a good night.
Hi, Coach. I made it to Monday, Day 26. I had a few wolfie voices this weekend. And at other times I was nervous about it hearing. But I got through. On Friday, I was meeting with my husband and the kids out to dinner to celebrate his promotion. It's a local burger place we've been to before that serves beer and wine. At first, I was nervous, I would want to order wine. So, I made sure to think it through and eat something that worked before I left and right you to say I wouldn't. And then I was nervous that I would show up. And my husband would have already ordered me red wine. He knows I haven't been drinking. I told him it was a health kit. But we haven't discussed why or force how long. In the past, I would have called him and said, hey, if you get there before me what you order me a wine. So, while I was driving to get my daughter, I called him and said, Can you get there before me? Will you order me a chocolate milkshake? So, when I showed up, he had my son and a beer, and I brought my daughter and had a milkshake on today.
The next day, I was having a good one. I ran 4 and a half miles on 7:00 a.m. And Saturday, I took my kids to a garden store. And of course, I noticed everyone having beer or wine at 11:30 at lunch. But I bought some treats for me some nice things for other people. I got my daughter a nap. I took both kids to my husband's baseball game. I went to the guitar store and got my guitar tuned up. Wolfie did rear up his head when I chatted with another couple about trying to find a time for the four of us to go out and celebrate my husband's promotion. Where should we go? Can we go to a place that isn't all about wine? I do live right by 90 tasting rooms. Awesome, right? I think it'll be weird when I say I'm not drinking. But I'll just say it's my health kit. 100 Day challenge, whatever. And after the power went out, and it's still out this morning, and the sewer pump backed up this morning in our tenants bath pub on our lower floor, and our house is still dark. I am still fucking sober. That is amazing.
Day 26. Trying to stay calm and just get through it. And some of the stories I'm hearing are resonating with me about other people and how they used to drink. Not exactly, but I vividly remember deciding if I can pick up a few bottles, get them home without drawing a lot of attention to myself, or opening a new bottle but waiting until my husband was upstairs putting my son to bed or until he went outside. And once I bought an almost empty bottle up to my bedroom closet, because I didn't want my husband to see how much I drank out of it. And then I had to hide it. And I thought if my husband ever finds an almost empty wine bottle in my closet, behind my summer dresses and a purse, it would be really hard to explain what the fuck is going on. And then I had to get it out of the house in my daughter's diaper bag when I took it out. Okay, Holy shit, that is crazy. Saying that up by up. I had actually forgotten all about that.
Hi, Coach, Day 28. Here, I just listened to some sober audios. And I was totally feeling stressed and frustrated and overwhelmed yesterday at the end of the day at work. And instead of what I used to do, push through work, stay in the stress. Try to do more pickup my kids go home to dinner, chores, bedtime and drink. Instead, I went on a 30 minute walk to the water. And I listened to meditations on a loop for 30 minutes. It made it not all better, but some better, and I didn't drink that night. One of the things I really like about this 100 day challenge is that it feels positive. Like I'm doing something I can be proud of to improve my life. Rather than when I went to some of those AA meetings. I felt like so much of it dwelled constantly on how damaged a person I was or that I must be because I'm there and how dire and awful at all was. And I didn't really buy into the idea that I was a terrible damaged person. And I thought the people in the program were really nice and that parts of the mantras were really helpful. Like the idea that what other people think of you as none of your business and keeping your own side of the street clean and just do the next right thing. And progress, not perfection. But other parts of it, I felt like to fit in what I was saying or what I was repeating. They were things I really didn't believe in. And it also spent a lot of time dwelling in the negative, or future tripping, like the worst possible case scenarios that were really fear based motivations, like when they say it ends in jails, institutions or death. I mean, that didn't resonate with my experience. And I really didn't like it. In any case, I appreciate an approach that's positive and nurturing. So last night, I was sitting on the couch after the usual chores. And I asked my husband to turn on my kettle for my second cup of tea. And he said, I'm really proud of you for your tea and all your work and changes. And I'm pretty sure it was unspoken, that he meant giving up a bottle of wine each night. And I said, Yeah, it's not easy, but it does feel a lot better for me. And I'm feeling better. I'm doing this 100 Day Challenge. So, my plan is to not drink for 100 days, which is right up to before our trip to Venice and Croatia. And then at that point, I'll decide what to do. And he said he was proud of me again. So, we didn't get deep or discuss a lot. But now he knows that I have 100 days my challenge. So, it's not just tonight, or just this week. So that's out there.
Hi, coach. Today is Day 30. I really liked your one minute message of tell me from a few days ago. I've listened to it lots of times. But I think it makes me cry in a good and a hopeful way. In any case, it definitely speaks to me. When you say, tell me it gets better. Tell me it's worth it. Tell me it will be all okay. And you said yes. It gets better. Yes. It's worth it. Yes. It's all going to be okay. I needed to hear that. Below is what I wrote on the BFB today, signing up for your challenge is definitely the reason I have 30 days today. So, thank you. Really, I'm glad you're here. I'm glad you offered the challenge. You really helped me. Here's what I posted in the bfhi after my morning workout and dropping my daughter at daycare.
30 days today, just before the New Year, I saw this photo that says Make a list of the things that make you happy. Make a list of the things that you do every day, compare the list adjust accordingly, I started making adjustments to things I do every day where possible, based on whether they make me happy or don't. I cut back on drinking a lot starting on January 1. But it wasn't until February 18, when I woke up feeling terrible in the middle of the night and said I can't do this to myself anymore. This has to stop. This is unsustainable. The difference between that day and the week before where I woke up saying the exact same thing. And all the similar mornings over the past year was I signed up for 100 Day Challenge with a Coach. It helped me stop the cycle of saying it will all stop tomorrow, or all stop next week. Or drinking just twice a week is way better than drinking every night.
So, I'm making progress. I've listened to sober audios and meditations so many times. I love emailing my coach. And I love reading posts here in the BFB and listening to Sober Podcasts. I'm trying to not think too far in the future, but rather stay here.
So, for now, I'm really proud of the last 30 days. I will not drink today. I will not drink this weekend. I will not drink for the next 70 days. I'm going to wake up every day feeling good and not ready myself. Those are on the list of things that make me happy. Thank you all for welcoming me back after my hiatus.
So that was it. That was all the emails I sent my coach and basically my diary of my first 30 days without alcohol. It wasn't easy, but I felt better. Almost every day. I got through a lot of moments where I really wanted to drink or wanted to look backwards or question my decision. But those 30 days are now 6 years, which is crazy. And I got to 30 days, and I went to a 100. And when I got to 100, I told my husband, I wanted to go for 6 months ,100 Navy days, which took me past our trip to Venice in Croatia and took us past my 40th birthday.
And then at 6 months, I said, I feel so much better. I want to see what a year feels like. And that's how I got to 6 years. Doing some work, changing my life, making it a little bit better each and every day, not thinking about forever, but not deciding every dinner every night, whether I was going to drink, taking that off the table with bigger milestones.
So, if you're listening to this, I hope it was helpful. I hope some of it resonated with you. I hope that you go get my 30 Day Guide for your first month alcohol free. I put a lot of work into it. And I think it's really helpful. And I'm excited for 6 years.
I'm excited to hit that milestone. I've got to admit I'm very excited for my massage. And I hope you have a great week.
So thank you for coming on here. I couldn't appreciate it more. 
Thank you for listening to this episode of The Hello Someday Podcast. If you're interested in learning more about me or the work I do or accessing free resources and guides to help you build a life you love without alcohol, please visit hellosomedaycoaching.com. And I would be so grateful if you would take a few minutes to rate and review this podcast so that more women can find it and join the conversation about drinking less and living more. 
OTHER WAYS TO ENJOY THIS POST: