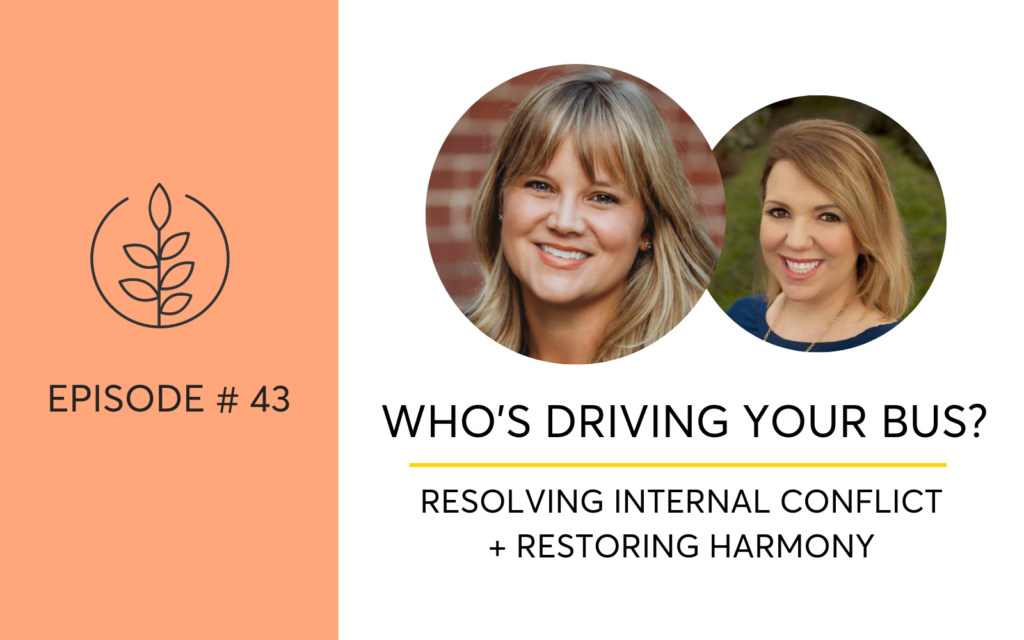 Who's driving your bus?
Resolving internal conflict and restoring harmony with Internal Family Systems Therapy (IFS)
Do you have an anxious, nervous part of yourself that seeks to control all the things in your life so you can feel safe?

A drill sergeant or an 'inner mean girl' who constantly drives you to do more? 

Do you feel like you don't have time (or really don't want to) sit still with yourself or be with your emotions?
A lot of us move through our day from being incredibly busy to immediately shutting down with wine, social media or TV, because we don't want to sit with our busy minds, self-doubt, worry or sadness. 
If this sounds like you my guest on the podcast, Annika O'Melia, is here to help. 
Annika is a psychotherapist who specializes in Internal Family Systems Therapy (IFS) and in the treatment of anxiety, trauma, and perinatal mental health with adult women. 
Annika quit drinking over 9 years and has four kids under 10, including a set of twin four year olds. 
In this episode, you'll learn:
How perfectionism, overachieving, self- criticism can emerge as protective behaviors in our lives to stop us from feeling anxiety or worry 

Why many of us turn to a glass of wine, TV or social media at the end of the day to shut down and numb out when our overachieving 'managers' burn out from hustling

How both hustling and numbing out are protective coping behaviors we've turned to because we're afraid of overwhelming ourselves with other thoughts and emotions. 

What is internal family systems therapy and how it can help you feel more compassion for yourself and live a more peaceful life

How to experience overwhelm, worry, negative self talk and other emotions without needing to be distracted or wanting to numb out

How to resolve internal conflicts within ourselves

What it means to restore harmony within yourself

What is EMDR and how can it help you in recovery
In this podcast episode Annika is going to introduce us to a type of therapy known as Internal Family Systems Therapy, which can help you resolve internal conflict and restore harmony. 
Annika's work is based on the idea that we all have a self that is whole, complete and healthy. And that over the course of our lives as we experience different life situations or traumas, which could be that our parents divorced, childhood abuse, being bullied at school, issues with body image, anxiety, or mental health issues within our family or within ourselves that lead us to experience painful emotions such as anger or shame. 
Annika describes how often we try to protect ourselves from these painful emotions and experiences by using unhelpful coping mechanisms called (in IFS) 'managers' and 'firefighters'.
These coping mechanisms can suppress negative emotions but also can stop us from healing. 
IFS focuses on healing the wounded parts and restoring mental balance and harmony by changing the dynamics that create discord among the sub-personalities and the Self.
About Annika O'Melia
Annika is a psychotherapist and owns her own private practice, Quad City Psychotherapy. She is a graduate of Northwestern University in Evanston and earned her Masters of Social Work from Washington University in St. Louis. Annika specializes in the treatment of anxiety, trauma, and perinatal mental health and works primarily with adult women. Annika has been sober for over 9 years and has four kids under 10, including a set of twin four year olds. 
Annika also hosts the podcast Mother Recovering, originally started to talk about the stigma of being a new mom with addiction issues, which she found even greater than the stigma of new mothers struggling with other mental health issues such as postpartum depression and anxiety. 
Connect with Annika O'Melia
To find out more information about Annika, visit www.annikaomelia.com
Head over to Instagram to follow Annika at @annikaomelia
Subscribe and listen to her podcast Mother Recovering
Connect with Casey McGuire Davidson
Check out  The Sobriety Starter Kit. The private, on-demand coaching course you need to break out of the drinking cycle – without white-knuckling it or hating the process.
Grab your  Free Sober Girls Guide To Quitting Drinking, 30 Tips For Your First 30 Days
Website: www.hellosomedaycoaching.com
Take a screenshot of your favorite episode, post it on your Instagram and tag me @caseymdavidson and tell me your biggest takeaway!
ABOUT THE HELLO SOMEDAY PODCAST
The Hello Someday Podcast helps busy and successful women build a life they love without alcohol. Host Casey McGuire Davidson, a certified life coach and creator of The Sober Girl's Guide to Quitting Drinking, brings together her experience of quitting drinking while navigating work and motherhood, along with the voices of experts in personal development, self-care, addiction and recovery and self-improvement. 
Whether you know you want to stop drinking and live an alcohol free life, are sober curious, or are in recovery this podcast is for you.
In each episode Casey will share the tried and true secrets of how to drink less and live more. 
Learn how to let go of alcohol as a coping mechanism, how to shift your mindset about sobriety and change your drinking habits, how to create healthy routines to cope with anxiety, people pleasing and perfectionism, the importance of self-care in early sobriety, and why you don't need to be an alcoholic to live an alcohol free life. 
Be sure to grab the Free Sober Girl's Guide To Quitting Drinking right here.
Are you subscribed to my podcast? If you're not, I want to encourage you to do that today. I don't want you to miss an episode.
I'm adding a bunch of bonus episodes to the mix and if you're not subscribed there's a good chance you'll miss out on those. Click here to subscribe in iTunes!
Now if you're feeling extra loving, I would be really grateful if you left me a review over on iTunes, too. Those reviews help other people find my podcast and they're also fun for me to go in and read. Just click here to review, select "Ratings and Reviews" and "Write a Review" and let me know what your favorite part of the podcast is. Thank you!
OTHER WAYS TO ENJOY THIS POST: