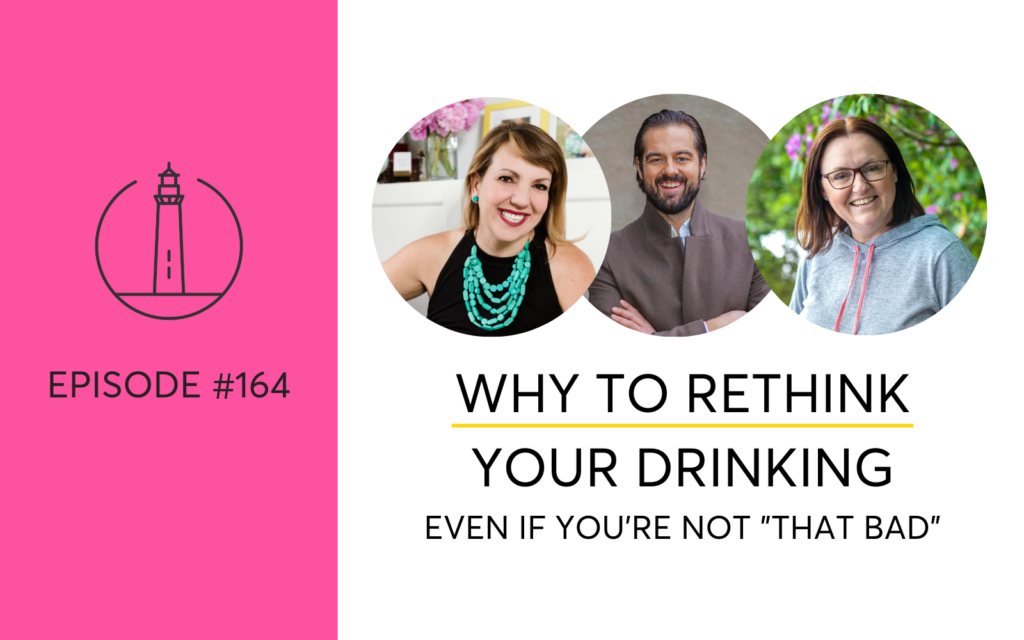 Are you wondering why you should rethink your drinking, even if you're not "that bad"?
Maybe you're sober curious or concerned about your relationship with alcohol, even if you don't consider yourself to have a "serious problem."
Perhaps you find yourself in the "gray area" of drinking, where your consumption doesn't appear problematic to others, and you haven't faced external consequences, but deep down, you know it's holding you back and keeping you stuck.
Or maybe you're simply tired of those dreaded hangovers, 3 am wake-ups, or not remembering the end of some nights.
If you're contemplating whether an alcohol-free lifestyle could be better than your current situation, this episode is perfect for you.
Today, I'm chatting with special guests Sharon Hartley and Ben Anderson, the hosts of the Over The Influence alcohol-free podcast.
Sharon and Ben both live alcohol-free and enthusiastically advocate for the joys of sobriety because giving up alcohol has completely transformed their lives.
Sharon used to be a daily drinker, consuming too much, too fast, too often. However, she found that alcohol had become boring, so she decided to jump off the hangover hamster wheel and start living life to the fullest by removing alcohol from her life in September 2018.
Ben, on the other hand, quit alcohol altogether in July 2020 after a failed attempt at moderation. He strongly believes that you don't need to hit rock bottom to rethink your drinking. In fact, he asserts that anyone can benefit from reevaluating their relationship with alcohol, regardless of their drinking habits.
In this episode, Casey, Sharon, and Ben delve into the numerous benefits of an alcohol-free life.
Here are 6 benefits you'll experience when you stop drinking:
1. Take better care of your body: By cutting back on booze, you can significantly improve your physical health. Even if you're not going overboard, alcohol can still contribute to issues like liver disease, heart problems, increased cancer risks, and a weakened immune system. By reassessing your drinking habits, you prioritize your well-being and reduce the likelihood of facing these health concerns in the future.
2. Sharpen your mind: Alcohol messes with your brain chemistry, affecting your clarity of thought and decision-making abilities. Rethinking your drinking can lead to improved mental clarity, enhanced focus, and a boost in memory. These improvements can increase productivity, performance, and overall control over your thoughts and actions.
3. Improve your emotional well-being: Alcohol can impact your mood, exacerbating anxiety or depression symptoms, even if you're not excessively drinking. By taking a second look at your drinking habits, you can uncover the reasons behind your alcohol use and find healthier ways to cope with emotional challenges. Developing alternative strategies to manage stress nurtures your emotional well-being and amplifies your overall happiness.
4. Save some serious cash: Let's be real—alcohol can be pricey, especially if you indulge regularly. By reconsidering your drinking, you can save a significant amount of money over time. You can use these savings for things that truly matter to you, whether it's traveling, pursuing hobbies, investing in personal growth, or achieving your long-term financial goals. Just imagine the possibilities!
5. Strengthen your relationships: Alcohol has a knack for straining relationships, leading to misunderstandings, conflicts, or even distancing between loved ones. By taking a closer look at your drinking habits, you can foster healthier connections and improve your social interactions. Engaging in alcohol-free activities opens doors to build deeper, more meaningful relationships and create lasting memories with those who matter most to you.
6. Open yourself up to personal growth and discovery: Reevaluating your relationship with alcohol allows you to delve deeper into your values, priorities, and personal goals. Embracing a sober or moderate lifestyle creates space for personal growth and self-discovery. You'll find that you have more time and energy to pursue your passions, engage in activities that truly fulfill you, and become the best version of yourself.
In this episode, Casey, Sharon and Ben chat about….
Why to rethink your drinking, even if you aren't "that bad".

The benefits of an alcohol-free life, regardless of how much or how often you drink

Why you don't have to have a "drinking problem" for drinking to be a problem in your life

Why asking "am I an alcoholic?" is the wrong question

Casey, Sharon and Ben's individual reasons for rethinking their drinking

How going alcohol-free impacted our health, happiness, work and relationships

Questions to reflect on as you rethink your drinking habits

What might be stopping you from taking a break from alcohol 

The Over The Influence podcast and community
To dive deeper into this topic, reflect on thought-provoking questions about your drinking habits, and learn from Casey, Sharon, and Ben's experiences, make sure to listen to the full episode. Don't forget to check out the Over The Influence podcast and community, where you can find ongoing support and resources on your journey.
Rethink your drinking today and unlock the amazing possibilities of an alcohol-free life!
Resources mentioned in the episode:
Alcohol Explained By William Porter
How To Examine Your Relationship With Alcohol | Hello Someday Coaching
Signs You Should Take A Break From Alcohol | Hello Someday Coaching
Ready to drink less + live more? Here are 4 ways I can support you.
1) Join The Sobriety Starter Kit, the only sober coaching course designed specifically for busy women. My proven, step-by-step sober coaching program will teach you exactly how to stop drinking  — and how to make it the best decision of your life.
2) Save your seat in my FREE MASTERCLASS, 5 Secrets To Successfully Take a Break From Drinking 
3) Grab the Free 30-Day Guide To Quitting Drinking, 30 Tips For Your First Month Alcohol-Free.
4) Connect with me for free sober coaching tips, updates + videos on YouTube, Instagram, Facebook, Pinterest and TikTok @hellosomedaysober.
Connect with Sharon Hartley & Ben Anderson
They are both completely alcohol free and sing about the joys of sobriety from the rooftops, because giving up alcohol has completely transformed both of their lives. Sharon was a daily drinker before she removed alcohol from her life completely in September 2018. She drank too much, too fast, too often -but booze became boring, so she decided to jump off the hangover hamster wheel and start living her life to the fullest. 
Radio presenter BBC Radio Lancashire, North West of England Ben gave up alcohol completely in July 2020 after a failed attempt at moderation. Ben strongly believes that you don't need to have a rock bottom to rethink your drinking and that anyone can benefit from removing alcohol, no matter what kind of drinker they are.
Learn more about Over The Influence www.overtheinfluence.co.uk
Listen to Over The Influence podcast
Follow on Instagram @alcoholfreepod
Follow on Facebook @alcoholfreepod
Connect with Casey
Take a screenshot of your favorite episode, post it on your Instagram and tag me @caseymdavidson and tell me your biggest takeaway!
Want to read the full transcript of this podcast episode? Scroll down on this page.
ABOUT THE HELLO SOMEDAY PODCAST FOR SOBER CURIOUS WOMEN
Are you looking for the best sobriety podcast for women? The Hello Someday Podcast was created specifically for sober curious women and gray area drinkers ready to stop drinking, drink less and change their relationship with alcohol.
Host Casey McGuire Davidson, a certified life and sobriety coach and creator of The 30-Day Guide to Quitting Drinking and The Sobriety Starter Kit Sober Coaching Course, brings together her experience of quitting drinking while navigating work and motherhood, along with the voices of experts in personal development, self-care, addiction and recovery and self-improvement. 
Whether you know you want to stop drinking and live an alcohol-free life, are sober curious, or are in recovery this is the best sobriety podcast for you.
A Top 100 Mental Health Podcast, ranked in the top 1% of podcasts globally, The Hello Someday Podcast is the best sobriety podcast for women.
In each episode Casey will share the tried and true secrets of how to drink less and live more.
Learn how to let go of alcohol as a coping mechanism, how to shift your mindset about sobriety and change your drinking habits, how to create healthy routines to cope with anxiety, people pleasing and perfectionism, the importance of self-care in early sobriety, and why you don't need to be an alcoholic to live an alcohol-free life. 
Be sure to grab the Free 30-Day Guide To Quitting Drinking right here.
Are you subscribed to my podcast? If you're not, I want to encourage you to do that today. I don't want you to miss an episode.
I'm adding a bunch of bonus episodes to the mix and if you're not subscribed there's a good chance you'll miss out on those. Click here to subscribe in iTunes!
Now if you're feeling extra loving, I would be really grateful if you left me a review over on iTunes, too. Those reviews help other people find my podcast and they're also fun for me to go in and read. Just click here to review, select "Ratings and Reviews" and "Write a Review" and let me know what your favorite part of the podcast is. Thank you!
SUPPORT OUR SPONSORS
Thank you for supporting this show by supporting my sponsors!
Learn more: https://hellosomedaycoaching.com/sponsors/ 
READ THE TRANSCRIPT OF THIS PODCAST INTERVIEW
Why To Rethink Your Drinking Even If You're Not "That Bad" with Sharon Hartley and Ben Anderson
SUMMARY KEYWORDS
drinking, sober, people, sobriety, alcohol, life, sober curious, gray area, support, podcast, Am I Drinking Too Much? Dry January Sober October Dry July A life without booze Nondrinker Recover Quit drinking Quitting drinking Drink responsibly Alcohol addiction alcohol abuse Alcohol dependents Alcohol use
Alcohol Use Disorder Alcohol Support Service 12 step program nonalcoholic Binge drink
Rethink Your Drinking Alcohol-Free
SPEAKERS: Casey McGuire Davidson + Sharon Hartley and Ben Anderson
00:02
Welcome to the Hello Someday Podcast, the podcast for busy women who are ready to drink less and live more. I'm Casey McGuire Davidson, ex-red wine girl turned life coach helping women create lives they love without alcohol. But it wasn't that long ago that I was anxious, overwhelmed, and drinking a bottle of wine and night to unwind. I thought that wine was the glue, holding my life together, helping me cope with my kids, my stressful job and my busy life. I didn't realize that my love affair with drinking was making me more anxious and less able to manage my responsibilities.
In this podcast, my goal is to teach you the tried and true secrets of creating and living a life you don't want to escape from.
Each week, I'll bring you tools, lessons and conversations to help you drink less and live more. I'll teach you how to navigate our drinking obsessed culture without a buzz, how to sit with your emotions when you're lonely or angry, frustrated or overwhelmed, how to self soothe without a drink, and how to turn the decision to stop drinking from your worst case scenario to the best decision of your life.
I am so glad you're here. Now let's get started.
Hi there. Today we are talking about
Why To Rethink Your Drinking Even If You're Not "That Bad"
I know that myself, for a long time debated whether I really had to stop drinking. And I stayed in that attempt to moderate, to cut back, to drink glass, to take breaks for a very long time. And my two guests today we're in the same place.
My guests are the hosts of the Over The Influence podcast out of the UK. They're Sharon Hartley and Ben Anderson. They are both completely alcohol-free and sing about the joys of sobriety from the rooftops because giving up alcohol has been completely transformative in both of their lives.
Sharon was a daily drinker before she removed alcohol from her life like I was. She drank too much, too fast, too often. But booze became boring. So, she decided to jump off the hangover hamster wheel and start living her life to the fullest.
Ben also gave up alcohol completely in 2020. After a failed attempt at moderation, Ben strongly believes that
"You don't need to have a rock bottom to rethink your drinking and that anyone can benefit from removing alcohol, no matter what kind of a drinker they are."
So, Ben and Sharon, thank you so much for joining me.
02:57
You will know the welcome Casey. He's an absolute pleasure. Thank you for having us.
Casey McGuire Davidson  03:02
Oh, yeah, well, we spoke a while ago, and it was such a great conversation. And one of the reasons I wanted to talk about this is, I know so many women who listen to my podcast, are in that middle space of saying, I can't do this to myself anymore. I need to drink less. I need to drink less often. They're making all the rules about when they'll drink, how much they drink. And yet, what stops them from taking a longer break from alcohol or quitting drinking entirely, is the idea of well, I'm not that. That no one has told me that I need to stop drinking. I haven't had a DUI or an accident. And I'm not a "alcoholic", which I don't refer to myself as an alcoholic at all. And yet, I finally took an extended break from drinking. I knew alcohol was a problem for me, I worried about it. I was a daily drinker too. And wish that I'd done it a whole lot earlier.
04:12
He's going to start off, as you know that there's been a few kind of triggering words in there for me. You know what, Casey just said that gets me riled up. So, I think maybe you should start, so that we kind of have a more relaxed introduction. To us, as a podcast over the inputs rather than a kind of ranty. Well, Casey, let me start, please take it away.
04:33
Yeah, brilliant. Okay, but I will go first and again, thank you, Casey. It's really lovely to be here. Oh, my Goodness me. I can see Ben taking notes as well. So, he's got loads to say. There's so much to unpick from what you've just talked about in your introduction there. I think in order to explain where I'm at, it'd be really helpful to rewind to when I first decided to remove alcohol which was one 1700 days ago.
Casey McGuire Davidson  05:02
Hey, that's amazing! Crazy.
05:05
And you know what? It never gets any less surprising or less exciting. Honestly, it really doesn't. Rewind to September 2018. And I was 44 years old. I was a daily drinker, I've stopped telling people how much I drank, because it's not helpful, because as you've said, there, somebody might go on, I'm not as bad as Sharon Hartley. I didn't drink that much. So, I'm okay. And quite often, we know that that's absolutely not the case.
So, as a daily drinker, I drink too much, too fast, and too often. And I think when you start Googling things, like, Am I drinking too much? What are the signs of alcohol addiction, you know, deep down, that maybe you have got a problematic relationship with alcohol. And in the past, I've done a Dry January, a Sober October, which is the month of abstinence in the UK, always clinging on for dear life, could not wait to get right back on it on day, one of the following month, but I knew that I needed to take a longer break in order to experience the so-called "benefits" that people used to offer me with about alcohol-free life. Because how could you possibly enjoy it, you know, a life without booze. It's all I've ever known .Has been a teenager, to be honest. So, it's quite a really, really long story.
I took a break from alcohol for 90 days with the full intention of starting again on day 91, which would have coincided with the first of December, party season. Yeah, but during that period of 90 days at around a 65, 70. I knew then that something was happening, something was changing, and something was working. And I thought in order to give myself a real shot at this life, people talk about without alcohol. Just going to keep going, just got to do 365 days, and get a year under my belt so that I could say I've experienced you know, the first birthday, or Christmas of wedding whatever happens in that 12 months. And basically, it was completely an utterly life changing. Hands down. The best thing I've ever done in my life ever.
But just going back to what you said, Casey, about people thinking, an alcoholic. I'm not addicted. I've not got a problem until you pull yourself out of it, until you are standing on the other side without a drink in your hand. Looking back, that is when you realize a thing, that yeah, there was a problem.
Yeah, my relationship with alcohol have become problematic, causing problems for me and other people. And it sounds so obvious to say it ,but until you stop and put down the drink and look back you don't think it in many cases you realize quite how bad it has got because alcohols is a sneaky little shit. And it creeps a sneaky look at it. And before you know it, you think a bottle of wine and that it's completely normal in your 40s. And it's absolutely not. So that's my sort of story in a nutshell. And you know, obviously you'll speak to Ben as well. And the reason our podcast exists over the influence is because we just truly believe from the heart that we need to sing about sobriety and let people know and shout louder for the people at the back that are maybe a bit undecided or a little bit nervous or feeling alone ashamed, embarrassed, whatever it is. We will keep shouting about it. Because it's completely and utterly life changing. Not to say it's not without its problems in the life still goes on shit still happens. But my God, you can deal with it all when you're alcohol-free.
Casey McGuire Davidson  09:03
Yeah, I have so many follow up questions on everything you said that I want to dig into. But first, I definitely want to hear from Ben because one of the things that made me smile Ben, when we were talking earlier was you said you were accidentally alcohol-free. And I have to say from someone who worried about their drinking for 10 years and tried desperately to get a handle on it because quitting drinking was literally my worst case scenario. I'm like how, the hell are you accidentally alcohol-free?
09:40
Yeah, so a bit like sharing you know, I never intended to go beyond. I said three months as well. Initially, I'm going to give up alcohol for three months, and then I'll go back to drinking exactly like I drank before. I will just use this as a break, as a, not even as a reset. To be honest, it will just be a kind of look. I'm going to have some time off. I'm going to. I let myself recover, get some good sleep in, and then go back to drinking. And I think for me, I noticed quite quickly that it was a really good thing for me to do not to drink, like the benefits started happening almost immediately. And I was like, damn, God, right, there's something in there something after they extend this to six months, and then I've got to six and went right that's extended to 12. And it was only on Day 366 for me that I went right.
You know, I've got a year now of data. You know, drinker Ben, years of data. Nondrinker Ben one year off. And let's face it, Nondrinker Ben is a much nicer, better, more well-rounded guy than drinker Ben was. So, that's when I decided to knock it on the head for good. But yeah, I suppose the accidental thing is because it was never an intention. You know, it was never, I never intended to be an alcohol free person. It just kind of It happened when I took that initial break. And I think that, you know, that first question about what stops people and then looking at others around them. Like, I did that. I looked around me and I drank normally.
Casey, in terms of, I was a binge drinker, you know, and so, if you're going to kind of put a label on it, I didn't drink every day. But when I did go out, I would binge drink, and it would be, you know, a Thursday night and I'd say, Yeah, I'll come and meet you in the pub, we'll have a couple of pints with the football, it didn't take too much temptation for them to get you on a stay for one more. And then, I'd come home 10 pints later and have work in the morning and be doing work with a hangover. And that would happen for Thursday night, Friday night, Saturday night. So, saying, I'm not a daily drinker. On the weekends, I really put in a good shift. But for me, I looked around and people my age, people in my kind of, you know, the lads, essentially, the boys, we're all doing the same thing. We're all drinking too much. We're all eating crap. On the way home, we're all waking up with hangovers and ordering a bacon sandwich, instead of getting up and going for a run and having a fruit smoothie. You know, we were all in that lifestyle together. So, I didn't notice that there was any difference.
And I think this is the big alcohol problem that society has. It's that we try and divide the drinking population into, and you've got the normal drinkers in inverted commas, and you've got the problem drinkers. Now, the normal drink is a big section of society, problem drinkers, that little section up there. They're the alcoholics, Isn't it a shame that you can't drink normally, Isn't it a shame that you can't drink this addictive substance responsibly, because we didn't tell you on the labels, there was a little thing on that it says, Drink Responsibly. I'm not sure if you've got that in the US. But every bottle in the UK, drink responsibly have a disease. We're all fine, as opposed to, what's going on now? where it's becoming so much more well known that, you know, alcohol addiction, alcohol abuse, alcohol, you know, dependents, whether it's physically, mentally, emotionally, habitually, is a spectrum, this gray area of mild, moderate severe that almost every country is on, there's not like some line where suddenly you realize that you had this disease your entire life, it's the substance itself that kind of draws you along the spectrum.
13:18
And that's what the World Health Organization talks about. Now, they don't talk about Alcoholism, they talk about Alcohol Use Disorder. And they talk about that spectrum because it isn't black and white. And I think Sharon said it earlier, there's a difference between alcohol problem and alcohol being problematic. And I always say that on over the influence is that I don't, I didn't have an alcohol problem in terms of I was not physically dependent on alcohol. And I know that for sure, because I didn't experience any physical withdrawal symptoms from alcohol. I've recently given up smoking Casey, and my God, I was addicted to nicotine because I had some severe physical withdrawal symptoms that nicotine, but I wasn't an alcoholic, and therefore I didn't have an alcohol problem in the kind of traditional sense of the word, alcohol problem. But alcohol caused me problems that aren't there now. And that's why we always talk about on Over The Influence. You don't need a rock bottom to rethink your drinking.
We had a community member on one of our very first zoom calls, and I said it perfectly. They said, I didn't have a rock bottom, but I could see it from where I was standing. And actually, they're the people that we love speaking to the most because like this podcast, you know that people listening to our podcast over the influence. Great podcast from the gusto, the name, few times somebody shouts over the, is a great coffee podcast. But we know that lots of people haven't quite taken the LEAP yet. They're still thinking about it. They're sober curious. I think actually, this might be a good thing for me. They're the people we want to catch and it's a quote from Desmond Tutu that I absolutely loved. He died a few years ago and you know, when someone passes away, you kind of get the inspirational quotes coming through on Facebook and Instagram. And that's So one from him, which was,
We've got to stop pulling people out of the river and go upstream and find out why they're falling in.
– Desmond Tutu
And I just think that's so powerful and it's, as a society, we just don't think about that without alcohol. Yes, okay. We'll help people once they've fallen in the river. But how many more people? Could we help? If we just went a bit further upstream and caught people before they fell in?
Casey McGuire Davidson 
Hi there. If you're listening to this episode, and have been trying to take a break from drinking, but keep starting and stopping and starting again, I want to invite you to take a look at my on demand coaching course, The Sobriety Starter Kit.

 

The Sobriety Starter Kit is an online self study sober coaching course that will help you quit drinking and build a life you love without alcohol without white knuckling it or hating the process. The course includes the exact step by step coaching framework I work through with my private coaching clients, but at a much more affordable price than one on one coaching. And the sobriety starter kit is ready, waiting and available to support you anytime you need it. And when it fits into your schedule. You don't need to work your life around group meetings or classes at a specific day or time.


This course is not a 30 day challenge, or a one day at a time approach. Instead, it's a step by step formula for changing your relationship with alcohol. The course will help you turn the decision to stop drinking, from your worst case scenario to the best decision of your life.


You will sleep better and have more energy, you'll look better and feel better. You'll have more patience and less anxiety. And with my approach, you won't feel deprived or isolated in the process. So if you're interested in learning more about all the details, please go to www.sobrietystarterkit.com. You can start at any time and I would love to see you in the course 
Casey McGuire Davidson  15:24
I totally agree with that. And I've actually, on the podcast, had a couple of Physicians on, who talk about how we really need to shift that right, because they do preventative early intervention screenings for high blood pressure for diabetes. For now, anxiety. There are standard questions that every general practitioner needs to ask to screen for that when you come in. And yet, for alcoholic self, not only do almost no Physicians or doctors get any training in alcohol addiction medicine, and if they do, it's often an outdated model. But also, they don't screen for it, like they asked you on the questionnaire, you know.
How many how many drinks do you have?
How often? Most of us? At least I know, I didn't tell the truth on that until I quit drinking. And I was like a couple of drinks a couple times a week.
Like, are you a heavy drinker? I'm an occasional drinker. I was drinking a bottle of wine a night, but they don't in screening are like, how are you sleeping? Are you waking up at 3:00a.m.?
Do you sometimes, you know, drink more than you want to do?
All the screening questions that they would do for any other country condition that impacts your health.
16:53
We've got three really interesting examples of that from the NHS, the National Health Service over here, and we've got it you know, we are both speaking on behalf of shots. I know that she believes this. We are both huge supporters of the NHS. It's a very emotive thing if you're in the UK, the NHS, having said that, we've heard some really dreadful stories when it comes to alcohol and the NHS. The first one is Jane McKenzie, who did an episode called, The Mother. Because Jane was an account, some she met.
She was the Mayor of Shrewsbury, wasn't she? Jane at 1.06?
Yeah. And this is where that whole kind of black and white thing, the sliding scale thing, just quantifying it is just a dreadful idea because she basically went to her doctor and said, This is a James daughter and said, You know, I'm worried about my, my drinking. They said, How much do you drink? They then did, you know, wrote it all down? Okay, so this many glasses, right? There's Tata units of right? Okay, you're not drinking enough units per week for us to be able to refer you on to Alcohol Support Services. So, here's a leaflet.
And unfortunately, James' daughter died not long afterwards from Alcoholism. We've got another story of somebody in our community, who's he works with quite high up in hospital and she went to speak to you know, she's part of what we're doing now. And really interested in alcohol free life. She went to speak to the person the alcohol services within that hospital. And they basically said, Yeah, you know, that's what we do. We toss up the units. And if you're any, I think it was, I think it's out of 12. They, in this particular test, it was out of 12. If you come in 10 or below, we'll send you home, you know, 10 or below. This person is here for a reason. And I think the other really interesting thing when you're talking about stuff like this is that you're right. You don't know how much you drinking. We had a guy on called Dan Parkin, and he went to do one of these alcohol assessments. And it wasn't trying to be he wasn't trying to underplay it. He was being honest. When the doctor said to him, how much do you think you drink? He told him that the doctor said, Okay, we'll take away this diary and actually write it down for the week, he came back, and he was drinking five times more than he thought that he was drinking. We've got to stop trying to quantify this stuff. It's got to be like, for example, when it comes to you mentioned mental health services, it's you can't really do a one size fits all solution. But you've got to take it on an individual case by case basis. Why aren't we doing that with alcohol? And I'm going to shut up because Sharon, I'm sorry, cause I totally unlike it when Ben goes off on one. Know, I've listened to you. Well, and the other thing
Casey McGuire Davidson  19:37
I would say is like even so many doctors, I mean, the US obviously our healthcare system is very, very different. But so many medical practitioners here aren't well versed in alcohol on it, its impact, and a lot of them because of society are also drinkers that even if you're honest or have the courage to tell them, you're worried about your addiction, you know, you're worried about how much you drink, you would like to cut back, but you're struggling to do so. Some of them and I've heard stories from clients on this will literally say to you, Well, you're not an alcoholic. So, you know, XYZ just tried to drink less, which obviously, anyone who actually mentioned that to a health practitioner has already been trying to drink less for a very long time, or they're only way that they know to refer people is to a 12 step program, which is one slice of options available to people to stop drinking. I mean, obviously, there's therapy, there are medications you can use, there's coaches, there online support, all these kinds of things. But a lot of people are then at that point where they're like, Well, I'm not that that, that I would want to or need to go to a 12 step program. So, all that, here's what I love. I love what you guys do in talking about the benefits of alcohol free life, I do that as well. And I do really think it is shifting with the popularity of Sober October and Dry July. And then also the Sober Curious movement and the huge boom, in nonalcoholic beverages out there in the huge growth and Generation Z and millennials who are drinking less that people are truly hearing the message that
An alcohol-free life is an option without stigma without label where you will physically feel better without it.
21:58
And I jump in.
Yes, please do. So. We think about Sobriety, we can we speak about sobriety on our zoom calls, we meet people in real life, and we sing about sobriety, when we talk about the negative impact of alcohol, I think, you know, speaking from my own bitter experience, that is the one area of life that alcohol doesn't impact, be that something as small as you just can't be asked getting up on time. You know, no, I'm just going to lie for another half hour because I feel below par. Or it might be too, you know, upsetting a family member. It could be that you're not putting the work in, you know, in your in your day job, whatever. If you're drinking regularly, and you know, whatever amount it might be, if it's too much for you, and it's having negative impacts, it's simply across the board is everything. And again, I'll come back to what I said at the beginning. Until you remove it, you don't quite realize how much so on the flip side of that, when I removed alcohol, and this is true of just about every person I've ever spoken to. There isn't one area of your life that does not improve. Like there's not one area, it's family. It's your mental health, your physical health, your productivity, your skin, a woman of a certain age, like me, your big fat bloated wine belly, my face shrunk patient, like a beach ball. I mean, it's still very round case it ever rounded me, you could have really round to be hamster cheeks. They used to be so much bigger. Everything. Your confidence, our, I mean, just every aspect of life that was touched by alcohol improves immeasurably. And you just find joy in the smallest things I still bang on about a Saturday morning, how many hundreds of Saturday mornings I have now, or have not woken up feeling like a sack of shit. I've lost count. And I put the washing machine on and it's a day like today where it's just a little bit blowy Perfect Dry weather. Take the washing out. So, get it on the line at eight o'clock, and the birds tweeted. And it's those little things you just think. And I'm still doing it, and I'm still doing it. 
Casey McGuire Davidson  24:26
And I had a question for you though. And I want to hear this from Ben too. And then we can come back to that. People are listening to this and they're thinking, how long does it take to feel better? Because, you know, Ben, you said that you felt it immediately. I know for a lot of people just because of withdrawal and your body adjusting and your dopamine levels being suppressed and that unit your anxiety being spiked that you do feel somewhat worse in the beginning, say two or three weeks before you feel better. So can I ask you both kind of when was the first time you noticed you felt better when did is the first time you know, I remember feeling that like, weird spark of joy for the first time in forever been like, I love my life walking into work on a morning. I was like, holy shit. I don't remember ever feeling this way. You know?
25:32
I'm going to be really, really honest. Okay. really honest. And I think it varies for everybody. I think everybody is different dependent on maybe age and alcohol consumption and what you know where you're at in life. I stopped drinking on a Monday. And I remember that first weekend, waking up going, whew. Okay, so this is what normal people feel like, do they? However, however, I felt that bad, in terms of sleep, in terms of exhaustion, for it was about three months, not one word of a lie. And in fact, I've discussed this with William Porter, author of alcohol explained, he's a superfan. I absolutely adore him the nicest guy. He's actually been on the pod twice. And I adore him.
26:24
He's just been stopped laughing. He's just a sorry,
26:27
I'm laughing. Because you will know Casey, having been a podcast guest of ours that you know, you come on, and it's very, very professional, over the influence, but we are quite kind of chilled out and wearing hoodies. And yeah, when William Porter comes on, she has puts a blouse on. And you ruse your cheeks, don't you? Yeah, the white blouse.
26:46
That's it? Yeah, just see you looking up to me, anyway, because on social media, he posts all these pictures of himself on building sites. Purely his mind, he's just attracted to his mind. Anyway, sorry.
27:00
It's not him in a white vest.
27:03
Just love a white vest, vest, yeah, digressive? We do this a lot. In case, there's a lot of weird tangents. We were talking to William, in January of this year. And I was explaining to him how because he was explaining how you know, you can actually feel rotten, more rotten before you start to feel well, again. And I was saying to him that it took me 90 to 100 days for the fog to lift for the cloud to lift. And I felt that bad. I thought, this is a load of crap. Obviously, I need alcohol, I felt better when I was drinking. So, the bullshit lie that you absolutely tell yourself in order to try to make it all right. And it is it's just lies. And then I remember about 100 days in this, this cloud just lifted. And this this spark, and this energy in this zest and this interest for life. And it was like somebody had just turned the lights back on, literally in my world behind my eyes. And I just remember one particular moment, we were on a family break up to the top of Scotland in the wilds of the Scottish Highlands. And obviously, it wasn't drinking. And it had been just after this, this, this point, this triple figures. And it was taking our dog out for a walk in the street. And it was just so quiet and beautiful, and the mountains and then there were these, like wild stags just really passively down the road. It's like a scene out of a Disney movie. And when we got, and I can feel it now, like, it was a mixture of like, relief and exhilaration. And they talked about the pink cloud. And I think I think that's what I experienced at that moment. And I knew then that I was absolutely on the right path.
So, if this is you, now, you're struggling and you're thinking God, I feel rotten, you have to stick with it because you cannot undo, as in my case, you know the best part of 25, 30 years drinking overnight, you will be repaired in 5 days, in 2 weeks. It takes a bit of time. But once it all kicks in, once your body has started to say thank you, and you've caught back up on your sleep because I could literally sleep on a washing line in those first 90, 100 days. When it happens. You will just go thank the Lord above that I have stuck with this because it's the gift that just keeps giving. So, patience. Patience is key.
Casey, that's, and I know for everyone, it doesn't take that long. I started running, kind of, I was in a workout group in the beginning, and I remember even at two months after I stopped drinking, I ran my first 10k in six, seven years and I was like more practically in tears at the end just by myself and trust me I was running like slow, but just like, Oh my God, I am now someone who does what I say I'm going to do like I follow through. But I do know people, who, 2 months in are like, I don't feel better or why am I so tired? So, sure, how did you keep going during that time period? Because that is a lot of times where people were turned back to old habits or say, Screw it. Everyone told me I'd feel amazing, and I don't fuck this, you know. Think because what I focused on, that is how rotten I felt in terms of lethargy and exhaustion and feeling tired. What I haven't talked about is the things that did begin to improve straightaway. Okay, you know, the color returned to my hair, he's, you know, they started to sparkle again, people noticed you're in a good mood.
Well, yeah, because I'm not a cranky, hungover misery ass on a daily basis. Having more energy, even though I was still really, really tired, and I just couldn't work out where the exhaustion was coming from, was my body repairing itself. And just feeling sort of price and knowing that I was on the right path, and that this would all fingers crossed work out, you know, because so many people had said, stick with it, so that there was a load of little benefits that came straight away. Yeah. And I think for me, you know, stop in that that daily habit, you aren't going to start to feel better straightaway. But it just took a long time in terms of the exhaustion. And I just knew I just had to keep going, because I set myself a challenge of 90 days. Yeah, 100 days, you know, and I knew I just had to keep going, what actually, prior to that point, I'd already said, I'm going to go for the year. And so, when I say I'm going to do something, I'm going to do something. So, it was never an option. I was never ever, ever pissed off as it was in the, in the early days, it was never going to start again, ever.
Casey McGuire Davidson  32:12
Well, and I know one of my clients said to me, which I loved when she was at 22 days, she said, her husband asked her, you know, how's this whole not drinking thing going for you? And she said, well, not waking up hating myself is pretty awesome. And that is something that is pretty amazing. I mean, the amount of shit we talk to ourselves, and say in the morning, I know for myself after a night of drinking, which, for me was every day was just, you know, I was really you know, your shit together. What the fuck is wrong with you? You know, like, all this crap. So? Yes. You said that you felt the benefits almost immediately. So, tell me about that. Because you weren't a daily drinker?
33:07
No, it's, it's been really interesting. Giving up cigarettes three weeks ago. Well, I say cigarettes. I stopped smoking cigarettes two years ago, Casey and I moved on to raspberry steam vapors,
Casey McGuire Davidson  33:22
my bestie quit drinking. Quit drinking, quit smoking at the same time, but she had moved to just a ton of Nicorette gum. And when she stopped that, which literally was 5 months ago, she was like, I cannot believe that withdrawal I'm going through.
33:43
It's crazy. And I think the interesting thing about it for me is that because I wasn't physically dependent on alcohol, I think you know, we always say you've got to say if you think that you might be physically dependent on alcohol, you've the first thing you got to do is go and speak to your doctor, because removing nicotine, there kind of physical symptoms of withdrawal for nicotine are kind of I was very grumpy, very miserable, very angry at everyone, for everything. The weeks. Obviously, you know, one of the symptoms of withdrawing from alcohol, if you are dependent on alcohol can be death. So, it's very important that you go and talk to GP for that you might have any kind of physical dependency, adequately supervised withdrawal.
34:25
Absolutely, absolutely. But I think for me, because I didn't have that physical dependency. The difference is that I found giving up alcohol, personally quite easy, because it was a bit of a relief for me at that point. Like, I say that, you know, I didn't have an alcohol problem, but alcohol caused me problems. One of the problems that alcohol caused me is that I would go on a night out like binge drink. And I suppose I'd say, 9 times out of 10. It probably wasn't. It's probably more four times out of five I come home, no problem. Wake up the next day with a hangover, but that'd be the only consequence. I feel shit. And maybe I'd miss a plan and not do something I said I was going to do or whatever. And there'd be like, one time, right cause an argument with Jim, or a text someone something stupid, or in the pub with my brothers. And I'd say something to my brother that I thought was funny, but actually was really quite hurtful. And I'd say and do things that just didn't align with the person that I thought that I was or the person that I wanted to be.
And so, when I, when I gave up alcohol for that initial 3 months, I did feel this kind of relief. It was like, right, this is a great excuse not, I'm actually quite glad to not be drinking for the next three months. I'm ready for this break from alcohol. But it was the social side that I struggled with. That was the hard bit for me, it was What do you mean, you given up alcohol, you got a problem. But it's just the thing is, even to the doctors isn't something you're not telling me? Like it was all those kinds of, but you've got to drink, like my identity was it I was a massive drinker. And I think that, you know, if to the point where if I went to the pub or ordered the Diet Coke, it wouldn't go unnoticed. That would mean you ordering a diet, like, even at lunchtime. So, what I mean is, is that was the harder part for me giving up cigarettes has been physically very difficult. But you get this kind of social pat on the back. Oh, well done. You stopped smoking. And that's kind of dragged me through that kind of physical side.
I think that's the difficult bit with alcohol is, you know, especially if you are feeling these kind of and Sharon, you've just talked about it. And we've talked about it loads before that that's a long time to feel knackered for, isn't it? 100 days for you? Yeah, but to also be dealing with that, and also have that kind of Oh, go on? Just have one? Oh, you weren't that bad? Yeah, I think that that makes it a double whammy really difficult. So, I feel really grateful that I didn't have that kind of, those physical things that kind of made me think, oh, maybe it's just easy to go and have a drink again? Because that's what a lot of it is, isn't it? You know, in terms of kind of, I feel like shit, what's the point of giving it up? You know, and but honestly, I didn't. And I'm not saying that as a kind of nerdy learner, I felt fine. I'm saying it because I, I benefited straightaway. And that's why, in the intro, you said that anybody who doesn't matter what kind of drink they are, will benefit from removing alcohol. Obviously, there are huge benefits for people who are on the kind of towards that end of the scale where it is severely hazardous drinking. But even for people who drink a bit, remove it, and just get it out your system is a poison. Yeah, that poison out your system, and you will become more clear headed, you will become more enthusiastic and optimistic about life.
Like, even just drinking, right, let's say or go out and have a few pints on a Wednesday night with the football. And then on Friday, I'd have a few more. And then Saturday, I'd have a big night. You know, Monday, Tuesday, it's been a few days since I've had a drink. It's still there, it's still, I still feel it in my system. It's still making me groggy and give me this kind of cloud. If you remove it, then that's not going to be there anymore. And is people think, oh, it's only alcoholics that need to stop drinking? No, it's not that you can choose to do this, not because it's something that you're not because you're running away from something bad. But because you're running towards something good. You're doing this for positive lifestyle benefits, you know, because, as Shahzad was talking about them beautifully earlier. Yeah, that's the thing that we love to do is to is to sing about sobriety and talk about all the good bits because we believe that the carrot is a better motivator than the stick. I don't spend time feeling shame and embarrassment about the things that you did as a drinker. be appreciative for being alcohol free now. And doing all these things that you know that you would never have done, had you not removed alcohol? And what are the great things that are going to happen in the future because it does just keep getting better, this whole alcohol-free life thing.
Casey McGuire Davidson  38:51
I remember one of the things that was really a huge memory that I have when I stopped drinking. And it was pretty early on, like, within the first three weeks. A friend of mine who I met online, had invited me actually to a 12 Step meeting that did not end up being my path. But it was my first 12 Step meeting. She went to it, she loved it. She was like, my age and cool and a lawyer and you know, like, it was just like, Okay, if she goes to this, I can, you know, try this out. She says it's great. But what I remember she lived on the other side of Seattle, from me. And so, the meeting was, God help me, at 8:00a.m. on a Saturday. There are meetings all times a day, but that was the one she went to. And I wasn't drinking, so I was like, Sure, whatever. You know, I had gone to bed early the night before. I drove across this bridge, this huge lake where you see Mount Rainier, in Seattle at 7am. And all these people were out like the sun was shining. The lake was blue. The mountain was out. And people were running and biking and walking and talking. And I was just like, holy shit. Do they do this every weekend?
40:11
Like, they're not coming home?
Casey McGuire Davidson  40:13
Yeah, it was, I was like, there is a universe of people who look ridiculously healthy fit, you know, healthy and fit and happy. And that was just like, I'm usually opening when I am bed because my two year old is coming into my room or screaming or whatever kicking me in bed if she woke up in the middle of the night, and I have a headache and I don't feel well, you know, I just so those noticing those types of things, or, you know, sometimes a lot of women who want to stop drinking, it's because they don't like how they look or they feel. You definitely get that bowed that belly. And you know, they want the scale to move. Sometimes it doesn't happen right away. But I'm like, take a picture. Take a selfie of your face once a week, like on your day one. And then on week one and week two, because you will very quickly notice the difference in your skin, your eyes, how puffy you are. All those things?
41:20
Yeah, without a doubt, I could picture my day one photograph now and I look like I've actually been dug up. Did you take one? Your day one? Yeah, they won't. Photograph I looked like a corpse. It's atrocious. And just a week later, and then two weeks later, and three weeks later, it just changes. You can't see it in the mirror, that you put the photograph side by side and it's the eyes, your face just starts to come alive. Honestly, it's such a good thing to do is a visual. We also think it's really worth acknowledging how hard this shit is. Yes, it's really, really hard. But the payoff is immense. But at first, you know, you might have been thinking about doing this for a couple of years, five years, 10 years, depending on your age, you take a run up and you think oh, I can't be bothered to take a run up. Now I can't be bothered. And you're in a social circle. And it's wine o'clock somewhere and I'll go on just have one. You're not that bad. It takes absolute balls of steel to go. No, okay, no, just for now. No, I'm going to make a change bended it. You know, for three months, I did the same sort of thing. And you set these boundaries, and you go, No, leave me to it. Just leave me alone for the time being. And I think you've got to say no, a lot. And you've really got to be firm on your boundaries. And it is hard. This shit is hard if your social circle has been the same circle for 10, 15, 20 years. In you, you are the one making this change. Yeah, me Casey, I was the biggest drink and deck, you know, just arrived, right? Sharing should be grateful. Grateful. So, for me to go. I'm not drinking. What? Pardon. I'm taking a break. And I remember vividly saying, Just leave me to it, please leave it to it. I'll be back. And then it all changed. And it's not always easy when your friendship groups change and when you are pressured. And as Ben said, when you are questioned somebody, somebody's drunk, took me to one side and said, Shannon watts. awestruck. What's the problem? Really, he really?
43:43
Yeah, there's no problem because I am now not drinking. And you know, that was the problem. This is not a problem. This is This is life changing stuff. But it can be really tricky to navigate. You know, especially with friendship groups and with the with peer pressure, but you just keep plowing forward because ultimately it's nobody else's business. It's nothing to do with anybody else. It's to do with you and your changes. And one last thing I want to say because I'm getting a bit like Ben I'm starting to get a little bit ranty is because we're so passionate.
44:17
It's another thing.
44:23
What it does, removing alcohol. You can't imagine it again until you remove alcohol you just kind of imagine it completely and utterly lifts the lid on your world in ways that you probably cannot even imagine and as Ben said before, it continues to happen. So, when you're three months in you think this is a this is called six months. You know what marking this a year. Oh my god. It's a year two and beyond hellfire. It just keeps getting better and better and better. Again, display my little Asterix here. Oh, shit still happens in life difficult stuff, you still have to navigate. But it lifts the lid on your world. And it truly, truly shows the person beneath the booze. Who you it's easy to say that it changes you it doesn't I think it reveals exactly who you were before alcohol sold year before alcohol stole your shine, remove it. And it all comes back with knobs on.
Casey McGuire Davidson  45:29
Yeah, and one thing I wanted to mention, I totally agree that it is difficult, especially when you've had 2030 years, almost an entire lifetime of being conditioned to believe that drinking is good, and that alcohol is a privilege of adulthood and something to be celebrated and cherished. And typically, drinkers often hanging out with other drinkers. So most likely everyone in your social circle has been conditioned, or almost brainwashed to believe that as well. And that the only people who would stop drinking are people who, quote unquote, have a problem with it? Or why would you possibly do that? You know, you get the just have one, it's no big deal. That said, I hope that is changing. I see it changing.
But I have a podcast episode, if you want to listen to it. It's Episode 113. That, I think is really great, because the guest talked about 20 new questions to ask yourself about your drinking. I'll link to it in the show notes. Because it's, it's exactly the type of thing we're talking about. But the questions are, you know, to some extent, how would your life improve? If you removed alcohol? What are the benefits of not drinking? What are the negative effects of drinking? You know, what discomfort Do you have during a craving that you're not acting on? Because that gives you clues as to what you need to replace. So, if you're resonating with this conversation, I highly encourage you to follow up listening to this with Episode 113. Because it'll give you not only like,
why to stop drinking, if you're not, "that bad".
But instead of doing the quiz of like, do I have a drinking problem? Asking different questions.
47:35
I love that. The question that I really like is Do you still enjoy alcohol? By that word still, we had a guest on our podcast a few weeks ago called Sarah Turner, who's an author and the and mumsy mum is her kind of online name. And we're talking about how alcohol she drank to kind of reconnect with an old identity, an old version of her, you know, when she was young and fun and single, and you know, no responsibilities. And that actually, it's alright, for the reason that you remove alcohol. It's okay for it to be that. It was fun. I enjoyed it in my 20s. But it just doesn't fit in my life in my 30s anymore. It's okay that alcohol had a time and place I think get D still enjoy alcohol. We've kind of we say that because we've been doing it for so long. Oh, I love drinking and I love a pint in the airport before I go on holiday. And I love drinking at this time. And I love drinking with these people. And I love drinking that drink after this drink it actually go okay, that's the identity. That's what you kind of built up over these many years of drinking, but just stop in time now. Do you still feel that way now, today with the context that you've got around you? You know? Yep. You know, for the mumsy mom, she's not single anymore. She's got three kids, three young kids, you know, she's got a fabulous career. As an author, she's going and doing book signings and meeting people. She's does alcohol still fit into that? Yeah. And it's alright, if the answer is no, it doesn't.
Casey McGuire Davidson  49:05
Yeah, I mean, my husband, I had him on the pod too. And we talked about all the things which I was terrified to have him on. I know, Ben, you had your fiancé Jim on as well and didn't know that that was happening. Casey, at least you had a choice. Sharon surprised me.
49:25
I did have a choice. And my husband kept being like, when are you bringing me on? When are you bringing me on? I was like, I like I was putting him off. But one of the things he said that really resonated with me was, you know, how much is it that you miss, quote unquote, drinking sometimes? Or how much is it that you miss being 27 and not having kids having responsibility? I was like, oh, yeah, because adulting is adulting. But at least you're not adding a hangover. rubber and a fuzzy memory and, you know, tripping and embarrassment in the morning, at least you're not adding that to freaking being an adult with the thought that this, there's no sort of coincidence is the case, and this is speaking as a woman in midlife, he gets to sort of mid 40s.
And you go hang on a minute, I'm 40 frickin something here, I've got three children. I'm a responsible upstanding member of the community, you know, and you're still nicking it and falling over and losing your shoes and just making an absolute author of yourself. And people tried to tell me that sobriety is boring, no, doing the same old stuff with the same old people the same old places week in, week out day in day out. That became boring. In your introduction, you. You mentioned about the that the hangover hamster wheel of how it is just a relentless cycle. And you can, you can break it at any point. And it's nerve wracking. And it's well terrified. Actually, I was scared to death of contemplated a life without alcohol. If you brave and you just hold on and have a bit of patience and put the work in, it's honestly it's life changing there is there is nothing, nothing boring about sobriety is it's just, it's the slip before. So, like a stop record, it's the gift that just keeps on giving booty.
Casey McGuire Davidson  51:35
So is it really, is this just like, give yourself a longer period of time and longer than four days or two weeks or 30 days. alcohol free to see if your life improves without drinking, even if you're not, quote unquote, that bad because you know what your life looks like drinking the good and the bad, the highlights and the lowlights for me. The highlights were maybe 20% At best, maybe 10 The low lights were, you know, the other 22 hours of each and every day or, you know, my nerves being shot and the anxiety and just the being less optimistic along with all the other crap. But, you know, if you do three months, 100 days alcohol free, and you look back at your life drinking and are like, actually, I like that better, like the alcohol is not going anywhere. But you probably have not given yourself that opportunity in 5, 10, 20 years. And for women. When you're pregnant. It's different, right? It doesn't I don't want to say doesn't count like it counts, right? But you know, Ben, when you were talking about the social encouragement and positive reinforcement of stopping smoking versus the Why aren't you drinking, what's going on?
Just have one when you're pregnant. First of all, everybody is so excited for you, you're excited, you're, you know, planning your registry, whatever. Most of the time, not all the time, of course. But also, if you were to open a bottle of wine or order a cocktail at a bar, the negative feedback and embarrassment would be overwhelming. So, it is different stopping drinking when you're not pregnant. And I think people listening even if they're not, quote unquote, that bad, they should give themselves the chance to see what might happen in their life, who they might be what they might do, if they weren't kind of trying to do this marathon with a ball and chain around their ankle.
53:56
I did the maths on this case a while ago. And I think I did it based on the average life expectancy for a man in the UK. Because women do live longer than men. I do follow her Twitter account called why women live longer than men do stupid things like try and jump over canals and whatever. But the average life expectancy is 84 for a man in the UK, so 100 days, because we always say 100 days is 0.03% of your life. Like it's long, and it's amazing. Like when he gets 200 days absolutely celebrated triple figures is incredible. But actually, in the grand scheme of things. It's not that long. 0.3 plus 0.03% of your life, like why not give it a go? Because you know what it's like to be a drinker. Yeah. And we don't know what it's like to be
Casey McGuire Davidson  54:47
so many chances. I mean, imagine every embarrassing moment, every hangover, every fuzzy memory every time. You told someone something that was something you were supposed to keep and confidence. And yet we're like, this time is going to be different. Like you need to give sobriety or alcohol free life a chance the way you've given alcohol, so many chances.
55:12
Yeah. You know, we say this so much don't we burn and when people come into our community over the influence, we say a lot, because we're not a recovery program. By the way, this is peer to peer support. This is all about inspiration, motivation, connection, and basically just connecting people who get it because referring back to what I said earlier, it can be a lonely road. At times, you can feel a bit like a sober Lone Ranger. If you find your people and you find your tribe, and just a handful of people that absolutely get it and if you reach triple figures, it's a tipping point it honestly it's a tipping point I have yet to me. And bear in mind, we have met hundreds of people, you know, the length of time we've been doing this. I have yet to meet one person that has reached 100 days and beyond and gone. Well. That was crap. I really regret that. Yeah, regrets just a feeling of overwhelming pride. Oh my God, I didn't know a life like this existed. And it is it's like that scene out of the Wizard of Oz. When they're in Munchkin land and the dancing down the yellow brick road, but it's in it's in black and white. And then all of a sudden it goes into glorious Technicolor. That's the difference between a life of boozing and a life without alcohol. We're just given what's the worst that can happen if it's crap. Sylvie, at least you tried it, but yet to meet that person, Casey? Yeah.
Casey McGuire Davidson  56:37
Well, so you mentioned over the influence your community, tell us a little bit more about it, and how people can find you and sort of what's part of all that.
56:49
Gotcha. As you're the pro at this. She's always in sales mode. Is she?
56:54
Honestly, the best thing we ever did is good, isn't it? It's just bearing in mind. It's all again, that's an accident. Yeah.
57:04
It was an accident. Yeah. I never meant to be alcohol free. We were never meant to do a podcast if the web, bloody internet community bringing together like minded, you know, sober, alcohol free individuals. However, that's exactly what we did. And it's working a treat. So we are, we're away from Facebook. We've got our own little platform going on. And it's overtheinfluence.co.uk. And we've got people from all over the world, not 1000s of people. We're a small but perfectly formed online community. And we've got people based all over the UK. We've got people in the States, Australia, New Zealand, Europe, all over the flippin shop. And what we found is the one thing that really brings people together, we do work. We host about 19 Zoom calls a week at various sort of time zones. So, if somebody's morning is Australia, nighttime in the UK probably got three times I was completely wrong. They're basically people time zones do our absolute.
58:04
You're lucky we made this cold case,
Casey McGuire Davidson  58:08
It's 7pm in the UK, and it's here in some UK, but we have worked it out. We have three zoom calls a day, Monday to Friday, and Tuesday, Zoom calls a day on a Saturday and Sunday, which suit all time zones, and they are the kind of core of people's membership, aren't they?
58:25
Yeah, absolutely. And that that connection, that just linking up with like-minded individuals where you know what, because a lot of people feel like they can't celebrate their sobriety in their own circles, be it a week alcohol, free beer, 10 months, be it five years, because we've got people in there that have been doing this for a long, long time. In over the influence, they can go, wham, G, and four weeks free and we'll go we are your biggest cheerleaders because I know a lot of people feel they can't, you know, celebrate that in inverted commas are the
people know get it. They don't get it.
59:03
Yeah. And so that's what we're all about. It's basically yeah, a community of like-minded individuals, where for so many people that that connection is the missing piece of the alcohol free jigsaw. It's wonderful. It's absolutely, it's part of realizing that you are not alone. There isn't a huge amount of people who are doing this alcohol free life and realizing that you know, kind of you've been sold a bill of goods that it isn't everything it's cracked up to be and just knowing that other people are making this choice as well and are cheering you on and giving you tips and tricks. It's just a thing.
59:45
Yeah, it's peer to peer support with you posting there and you go Crickey. Got my first alcohol free holiday coming up. I'm not sure how it's going to go rules. The community jumps in and goes right this is what I did. This is what worked for me. Why don't you try this? Why don't you try that? It's just it's just wonderful. And the podcast, friendliest corner of the internet, isn't it? Isn't it? Isn't it then it really is. And the podcasts over the influence, it's weekly comes out every Monday, at the main podcast is all about the guest story. We like to work, we speak to cracky, all sorts of different people from the AF world. But a lot of the episodes that really resonate, are the ones where we speak to ordinary people with just, you know, extraordinary stories to share. We've got a premium podcast as well, because we love hanging out about sobriety that much. We do an extra episode, once a week as well. So that was in a nutshell. And if you want any further info overtheinfluence.co.uk, and you'll speak to me or lovely Ben.
Casey McGuire Davidson  1:00:47
That's awesome. Thank you guys so much for coming on here. I've loved getting to know you and becoming friends with you and love this conversation as well.
1:00:58
Can I just say as well, there's an amazing episode. If you just go back a couple of weeks. I think it was released in March. And it's with the brilliant Casey Davidson. So, take a listen. It was a recommend, like you. But I did go on the Over The Influence podcast and told my story.
So, it was brilliant. And Casey, thank you for having us. It's been an absolute pleasure. Yes.
1:01:24
Yes. Brilliant. Thank you, Casey.
Casey McGuire Davidson  1:01:26
You're so welcome.
Thank you for listening to this episode of The Hello Someday Podcast. If you're interested in learning more about me or the work I do or accessing free resources and guides to help you build a life you love without alcohol, please visit hellosomedaycoaching.com. And I would be so grateful if you would take a few minutes to rate and review this podcast so that more women can find it and join the conversation about drinking less and living more. 
OTHER WAYS TO ENJOY THIS POST: