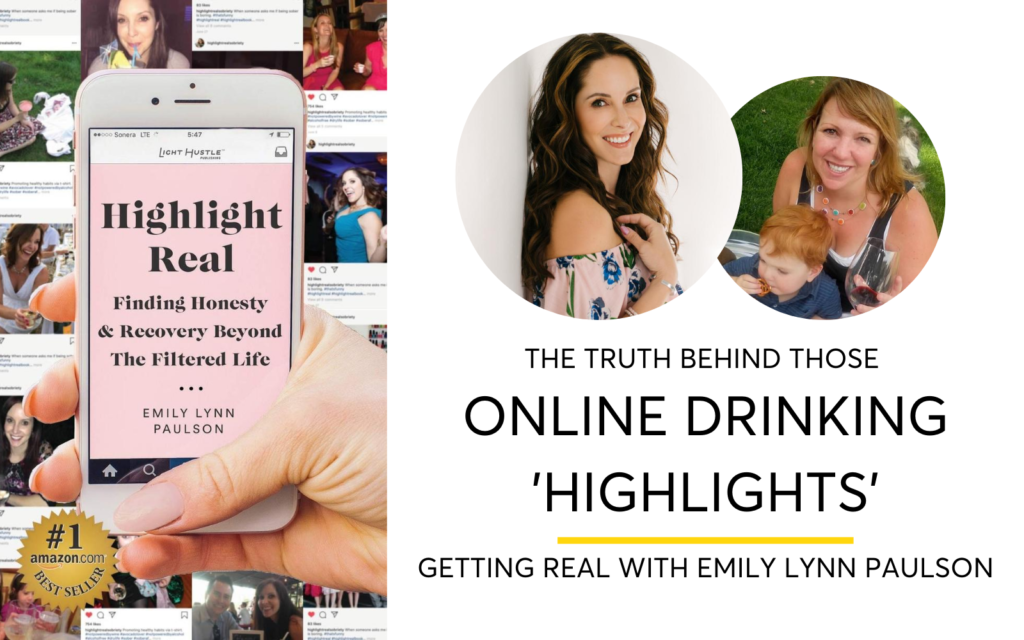 The truth behind those online drinking 'highlights'.
Getting real with Emily Lynn Paulson

  
How "real" are all those images you see online?
The perfect Instagram families? The fancy business trips? The carefree Mom's Night Out? 
Today my guest is an author, a speaker and my friend, Emily Lynn Paulson.
In our conversation Emily and I dig into the truth behind the "Online Drinking Highlights" you see as you scroll through your social media feed. 
Emily and I know that so many women struggle with their drinking, quietly, in private, and in their own heads – just like we did.

 
You might look around and see everyone else is posting a photo of the sophisticated cocktails at a bar on a date night, the pictures of friends all drinking together around the fire pit, or the vacation pictures with the margarita at the beach.
And the truth is, you have no idea what anyone else's relationship with alcohol looks like, or what their marriage feels like, or how well they're coping with being a parent and with their jobs.
In this episode Emily and I talk about:
Why Instagram, Pinterest and Facebook set expectations so high for what a successful woman, mother and wife is "supposed" to be that most women inevitably can't measure up.

The reality of what our lives, our jobs, our marriages and interactions with our children looked like as compared to the pictures we posted online.  

Why posting your highlights on social media is such a draw.

As Emily says

"In those Instagram squares was the life I wished we were living: a happy marriage, a healthy wife, a happy motherhood. Behind the scenes though, we were barely surviving."

 

How you can both love your kids and feel grateful for them, and also feel that motherhood is hard, draining and (yes) unfulfilling. 

And why finding a safe space of women to share your struggles and honest experiences – both good and bad – can be a game changer in living a happier life. 
In this episode, you'll learn:
How to navigate the drinking culture of parenthood and "mommy juice"

How to connect with your partner again after quitting drinking

Why it's hard to quit alcohol when it has become part of your love language

How not to gravitate toward the pretty images on Instagram and take those photos as real life because the hard stuff is hard to look at both on Instagram and in our own lives. 
Emily Lynn Paulson is the author of a powerful memoir about her life, her family, her successes and struggles, excessive drinking and disordered eating, and her realization that drinking wasn't working in her life anymore. 
Emily is a certified professional recovery coach, She Recovers Designated Coach, This Naked Mind Certified Coach, founder of Sober Mom Squad, and a member of the long-term recovery community. 
She has appeared on media outlets including The Doctors, Parade, Today Parents, and USA Today, discussing how to end the shame and stigma of mental health by and substance abuse disorder.
Emily has been sober since January 2, 2017, her recovery path is focused on ruthless honesty, grace, self-love and is documented in her memoir, Highlight Real: Finding Honesty & Recovery Beyond the Filtered Life.  Paulson's resources include one-on-one coaching, to help others evaluate whether or not alcohol is serving them in their lives. Paulson resides in Seattle with her husband and their five children. 
Shownotes: www.hellosomedaycoaching.com/21
Grab your  Free Sober Girls Guide To Quitting Drinking
Grab your Guide To The Best Quit Lit Books For Women (Including Emily's book)
Links and Resources mentioned in this episode
Connect with Emily Lynn Paulson
Book: Highlight Real: Finding Honesty & Recovery Beyond the Filtered Life
Website: www.highlightreallife.com
Instagram: Highlight Real Recovery
Facebook: Emily Lynn Paulson
Connect with Casey McGuire Davidson
Website: www.hellosomedaycoaching.com
Instagram: Casey @ Hello Someday Coaching (@caseymdavidson)
Listen to more podcast episodes to drink less + live more.
ABOUT THE HELLO SOMEDAY PODCAST
The Hello Someday Podcast helps busy and successful women build a life they love without alcohol. Host Casey McGuire Davidson, a certified life coach and creator of The Sober Girl's Guide to Quitting Drinking, brings together her experience of quitting drinking while navigating work and motherhood, along with the voices of experts in personal development, self-care, addiction and recovery and self-improvement. 
Whether you know you want to stop drinking and live an alcohol free life, are sober curious, or are in recovery this podcast is for you.
In each episode Casey will share the tried and true secrets of how to drink less and live more. 
Learn how to let go of alcohol as a coping mechanism, how to shift your mindset about sobriety and change your drinking habits, how to create healthy routines to cope with anxiety, people pleasing and perfectionism, the importance of self-care in early sobriety, and why you don't need to be an alcoholic to live an alcohol free life. 
Be sure to grab the Free Sober Girl's Guide To Quitting Drinking right here.
Are you subscribed to my podcast? If you're not, I want to encourage you to do that today. I don't want you to miss an episode.
I'm adding a bunch of bonus episodes to the mix and if you're not subscribed there's a good chance you'll miss out on those. Click here to subscribe in iTunes!
Now if you're feeling extra loving, I would be really grateful if you left me a review over on iTunes, too. Those reviews help other people find my podcast and they're also fun for me to go in and read. Just click here to review, select "Ratings and Reviews" and "Write a Review" and let me know what your favorite part of the podcast is. Thank you!
OTHER WAYS TO ENJOY THIS POST: