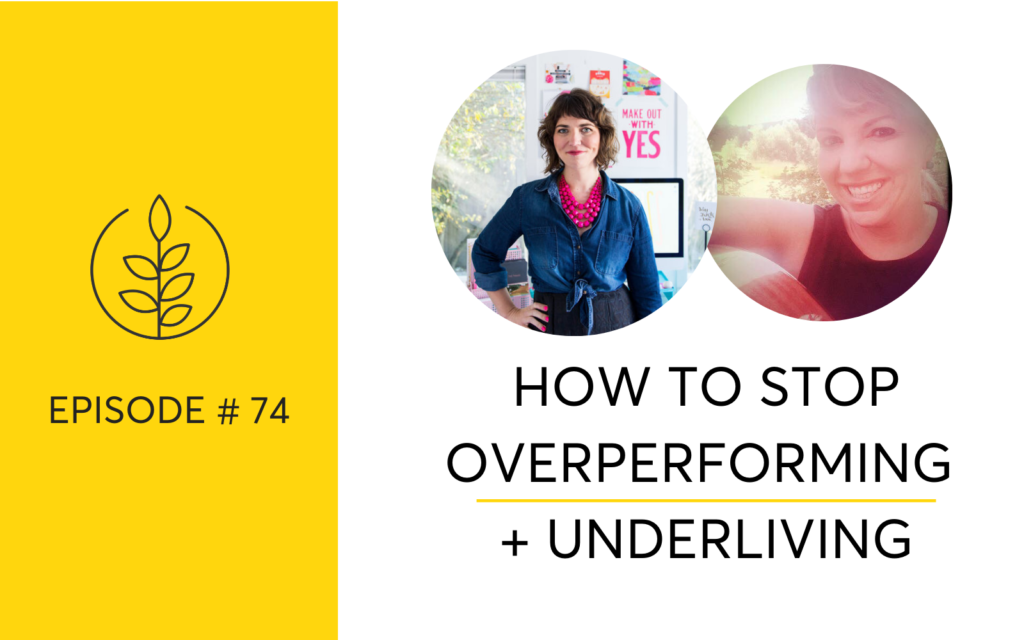 How To Stop Overperforming, Overdrinking And Underliving
Ambitious and capable women can easily fall into the trap of overperforming, overthinking, overcommitting and underliving.
We prioritize other people's needs and priorities and end up living a life someone else has designed and dictated, instead of saying yes to ourselves and the things we want to do, be, and say. 
Overperforming can lead to resentment, irritation, exhaustion, feeling unfulfilled and wanting to check out with alcohol at the end of the day. 
My guest today is here to share how you can stop overperforming and underliving. She'll help you evaluate what's working in your life, what's not and what's driving your decisions.
Tiffany Han is a coach, writer, and podcast host who is on a mission to teach super achievers how to put their striving on a shelf & radically infuse their lives with delight, serendipity, and deep trust in themselves for lives that feel as good on the inside as they look on the outside.
In this episode, we discuss:
Why the old paradigm of how to approach our lives isn't cutting it anymore

How overperforming is tied to overdrinking

Practical ways to change unconscious or subconscious beliefs around productivity and value

Why to stop procrastinating the good stuff (delight, joy, pleasure, play!)

How your anxiety serves others

The importance of knowing your core values & priorities

How to shift from a life that looks good on paper to one that lights you up from the inside-out
Want more support, resources and tools to help you go alcohol-free?
You can Drink Less + Live More today with The Sobriety Starter Kit.
I've helped thousands of women change their relationship with alcohol and can teach you the step-by-step system you need to successfully take a break from drinking – even if you've tried and failed before.
Grab the  Free Sober Girls Guide To Quitting Drinking, 30 Tips For Your First 30 Days
Resources Mentioned in this Episode
Tiffany's one year sober episode –  Ep 175: Reflections on a Year of Sobriety (WHOA. And yay!)
More about Tiffany Han
Tiffany Han teaches ambitious and capable women how to raise their hands and say yes to the lives they want for themselves—and all the things they want to do, be, and say—instead of over-performing for the sake of the life that somebody else dictates for them.
She's the host of the podcast, The Tiffany Han Show. It's now in its seventh year with over 1.8 million downloads!
Tiffany quit drinking back in 2017. 
Learn more about Tiffany and how she can support you, head over to www.tiffanyhan.com
Follow Tiffany on Instagram @thetiffanyhan
To learn more about the Grown-Up Gap Year Program, head over to https://yourgrownupgapyear.com/ Registration is open September 8th – 20th!
Want to connect and talk about this podcast?
Take a screenshot of your favorite episode, post it on your Instagram and tag me @caseymdavidson and tell me your biggest takeaway!
Want to read the full transcript of this podcast episode? Scroll down on this page. 
ABOUT THE HELLO SOMEDAY PODCAST
The Hello Someday Podcast helps busy and successful women build a life they love without alcohol. Host Casey McGuire Davidson, a certified life coach and creator of The Sober Girl's Guide to Quitting Drinking, brings together her experience of quitting drinking while navigating work and motherhood, along with the voices of experts in personal development, self-care, addiction and recovery and self-improvement. 
Whether you know you want to stop drinking and live an alcohol free life, are sober curious, or are in recovery this podcast is for you.
In each episode Casey will share the tried and true secrets of how to drink less and live more. 
Learn how to let go of alcohol as a coping mechanism, how to shift your mindset about sobriety and change your drinking habits, how to create healthy routines to cope with anxiety, people pleasing and perfectionism, the importance of self-care in early sobriety, and why you don't need to be an alcoholic to live an alcohol free life. 
Be sure to grab the Free Sober Girl's Guide To Quitting Drinking right here.
Are you subscribed to my podcast? If you're not, I want to encourage you to do that today. I don't want you to miss an episode.
I'm adding a bunch of bonus episodes to the mix and if you're not subscribed there's a good chance you'll miss out on those. Click here to subscribe in iTunes!
Now if you're feeling extra loving, I would be really grateful if you left me a review over on iTunes, too. Those reviews help other people find my podcast and they're also fun for me to go in and read. Just click here to review, select "Ratings and Reviews" and "Write a Review" and let me know what your favorite part of the podcast is. Thank you!
OTHER WAYS TO ENJOY THIS POST: