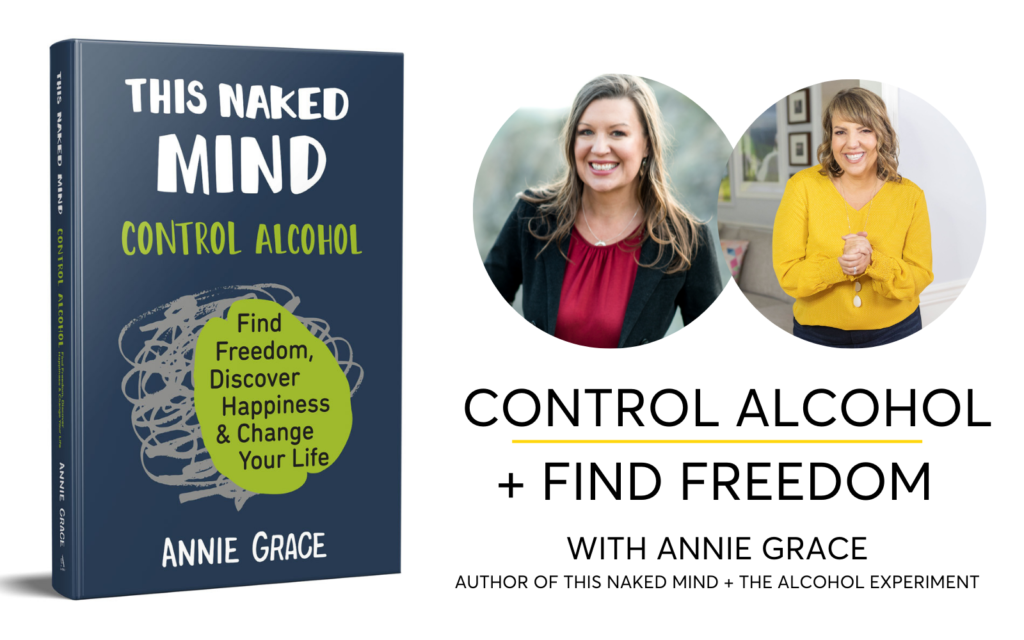 Control Alcohol and Find Freedom with Annie Grace
Annie Grace, the author of The Alcohol Experiment and This Naked Mind, has joined me on my 100th episode to shift your perspective on drinking so that you can gain control of alcohol and find freedom. 
Her work has helped thousands of people understand the impact of alcohol on their lives and dispel widely held beliefs and misconceptions about the benefits of drinking, including that it helps you relax, sleep and connect.  
Annie's goal is to help you decide that alcohol is a substance that isn't making your life better so that you're able to walk away from alcohol painlessly, genuinely feeling that you no longer want or need to drink.  
Tune into this episode to hear Casey and Annie discuss:
The psychological, neurological, cultural, social and industry factors that influence our desire to drink

Why becoming aware of science-backed information can help us push back on the emotional conditioning we've experience and find freedom from alcohol

Why the message to "drink responsibility" was created by alcohol companies to shift the blame from the substance and shame the drinker for becoming dependent on an addictive substance 

Research that has found alcohol to be the most harmful drug to individuals and society on the planet, outranking cocaine, heroin and  painkillers

How to lean into triggers instead of avoiding them

Why it's a false choice to believe that you have only two options around alcohol: submit to a life of deprivation or continue to drink 

Why life without alcohol is a journey towards finding more peace in yourself and choosing to live awake

How to explore the role of alcohol in your life from a low-stakes place of curiosity with This Naked Mind and The Alcohol Experiment
Ready to drink less + live more?
Take my FREE MASTERCLASS on Five Secrets To Taking a Break From Drinking
Sign up here to save your seat: https://hellosomedaycoaching.com/class 
If you're ready to change your relationship with alcohol join The Sobriety Starter Kit. 
It's my signature sober coaching course for busy women to help you drink less + live more. 
To enroll go to www.sobrietystarterkit.com. 
Grab the Free 30-Day Guide To Quitting Drinking, 30 Tips For Your First Month Alcohol-Free
About Annie Grace
Annie Grace is the author of This Naked Mind: Control Alcohol, Find Freedom, Discover Happiness & Change Your Life and The Alcohol Experiment: A 30-day, Alcohol-Free Challenge to Interrupt Your Habits and Help You Take Control. She grew up outside Aspen, Colorado, in a one-room log cabin without running water or electricity. Having discovered a passion for marketing, Annie Grace earned a Masters of Science (Marketing) and dove into corporate life. As the youngest vice president in a multinational company at the age of 26, her drinking career began in earnest. At 35, in a global C-level marketing role, she was responsible for marketing in 28 countries; she was drinking almost two bottles of wine a night. Knowing she needed a change but unwilling to submit to a life of deprivation and stigma, Annie Grace embarked on a journey to painlessly gain control of alcohol — for her that process resulted in no longer wanting to drink. Never happier, she left her executive role to write and share This Naked Mind with the world. In her free time, she loves to ski, travel (26 countries and counting), and enjoy her beautiful family. Annie Grace lives with her husband and three children in the Colorado mountains.
Learn more about Annie and how she can help you live a life without alcohol, check out her website www.thisnakedmind.com
Listen to the podcast This Naked Mind
Follow Annie on your favorite social media platform: Instagram, Facebook, LinkedIn, Twitter, YouTube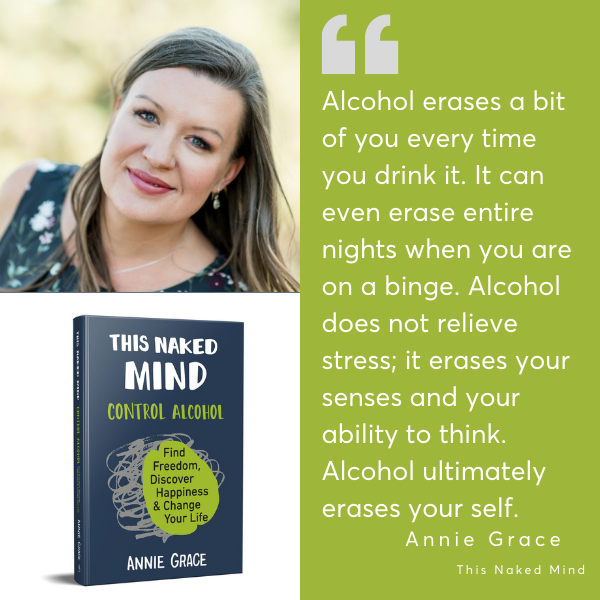 Connect with Casey
Take a screenshot of your favorite episode, post it on your Instagram and tag me @caseymdavidson and tell me your biggest takeaway!
Want to read the full transcript of this podcast episode? Scroll down on this page.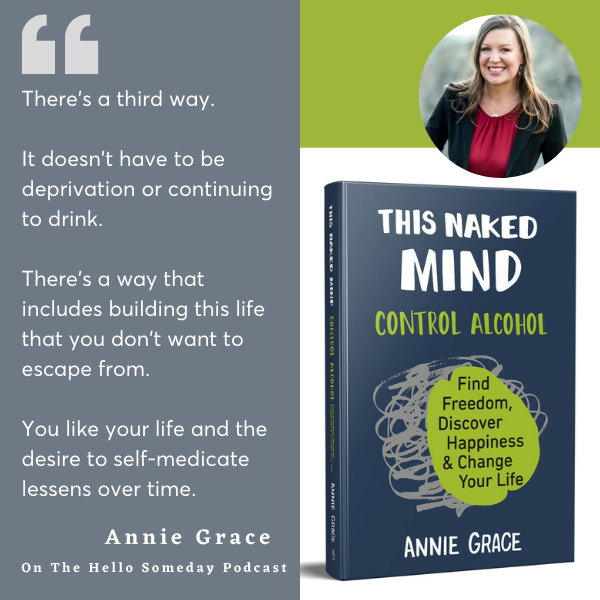 ABOUT THE HELLO SOMEDAY PODCAST
The Hello Someday Podcast helps busy and successful women build a life they love without alcohol. Host Casey McGuire Davidson, a certified life coach and creator of The 30-Day Guide to Quitting Drinking, brings together her experience of quitting drinking while navigating work and motherhood, along with the voices of experts in personal development, self-care, addiction and recovery and self-improvement. 
Whether you know you want to stop drinking and live an alcohol free life, are sober curious, or are in recovery this podcast is for you.
In each episode Casey will share the tried and true secrets of how to drink less and live more. 
Learn how to let go of alcohol as a coping mechanism, how to shift your mindset about sobriety and change your drinking habits, how to create healthy routines to cope with anxiety, people pleasing and perfectionism, the importance of self-care in early sobriety, and why you don't need to be an alcoholic to live an alcohol free life. 
Be sure to grab the Free 30-Day Guide To Quitting Drinking right here.
Are you subscribed to my podcast? If you're not, I want to encourage you to do that today. I don't want you to miss an episode.
I'm adding a bunch of bonus episodes to the mix and if you're not subscribed there's a good chance you'll miss out on those. Click here to subscribe in iTunes!
Now if you're feeling extra loving, I would be really grateful if you left me a review over on iTunes, too. Those reviews help other people find my podcast and they're also fun for me to go in and read. Just click here to review, select "Ratings and Reviews" and "Write a Review" and let me know what your favorite part of the podcast is. Thank you!
READ THE TRANSCRIPT OF THIS PODCAST INTERVIEW
The Alcohol Experiment with Annie Grace
SUMMARY KEYWORDS
Annie Grace, The Alcohol Experiment, This Naked Mind, drinking, alcohol, drinker, sober, book, women, 100th episode, creating, sobriety, wine, stop, addictive substance, problem, brain, mind blowing, emotion, self-compassion, self-medicate, self-judgment, white knuckling, Holy Grail, finding peace in your relationship with alcohol, Dry January, Sober October, Dry July, recovery
SPEAKERS: Casey McGuire Davidson + Annie Grace
00:02
Welcome to the Hello Someday Podcast, the podcast for busy women who are ready to drink less and live more. I'm Casey McGuire Davidson, ex-red wine girl turned life coach helping women create lives they love without alcohol. But it wasn't that long ago that I was anxious, overwhelmed, and drinking a bottle of wine and night to unwind. I thought that wine was the glue, holding my life together, helping me cope with my kids, my stressful job and my busy life. I didn't realize that my love affair with drinking was making me more anxious and less able to manage my responsibilities.
In this podcast, my goal is to teach you the tried and true secrets of creating and living a life you don't want to escape from.
Each week, I'll bring you tools, lessons and conversations to help you drink less and live more. I'll teach you how to navigate our drinking obsessed culture without a bus, how to sit with your emotions, when you're lonely or angry, frustrated or overwhelmed, how to self soothe without a drink, and how to turn the decision to stop drinking from your worst case scenario to the best decision of your life.
I am so glad you're here. Now let's get started.
Hi there. This is a very special episode for me, not only because my guest is Annie Grace, who I am a huge fan of and her book, this naked mind came out four months before I quit drinking. So, it was something that I know I listened to and learned a ton from in early sobriety. But also, because this is my 100th episode.
When I started this podcast 2 years ago, I had no idea both how much I would love creating this content and meeting incredible inspiring people every week. But also, the feedback that I've gotten from so many women who listened to the podcast and enjoyed the episodes and told me how much it's helped them. I've had women who've told me that they started at the beginning of the podcast on Episode 1 and have listened to all of them, which blows my mind because that's 100 hours of the Hello Someday Podcast.
So, if you're listening today, thank you, thank you for being here.
And I wanted to do something special to celebrate this episode. And so, I am bringing back my FREE MASTERCLASS: 5 Secrets To Successfully Take a Break From Drinking (even if you've tried and failed in the past).
Now, this was an hour long free training that I launched last September, and I got a great response from it. Women were writing me and telling me how much it helped them. And that it helped them frame the process in their approach to taking a break from drinking in a completely new way. As we were going into the holidays in January and February. I didn't offer the class – it was a limited time offer. And I had so many women sign up for the waitlist for the training. If it was to come back that I reworked the training program. I spent a lot of time updating it and I am bringing it back today.
So, if you're interested in signing up for a free masterclass with me, please go to hellosomedaycoaching.com/class.
Now, I know you're busy. But I really hope you take me up on this. I've helped 1000s of women change their relationship with alcohol. It is what I do full time. And I want you to take a moment from your day today, when you're listening to this, to sign up for the class so I can teach you how to stop doing what you've been doing up until now, which probably hasn't been working that well and make it easier on yourself by getting some help. And some advice to get you started. It doesn't have to be this hard, I promise. And I don't know how long you've been thinking about taking a break from drinking, or if you're on Day 4 or Day 30. Now I don't know how long you've been thinking of taking a break from drinking. It might be a few weeks or 6 months or over a year. But I get emails in my inbox every day from amazing successful women who tell me they're on their 100. They want or have gotten to Day 4 or Day 7 or Day 21 and then decided that it wasn't worth it. It was too hard and went out and grabbed a bottle of wine. And then they come back, wanting to start all over again. And I did that too. I did it for years. So, I'm hoping if you're listening to this to celebrate my 100th episode, please go to hellosomedaycoaching.com/class and sign up today for the free training. I promised to make it worth your while.
And now, let's dive into this very special episode. And I could not think of a more perfect guest for this milestone than Annie Grace. I am truly honored to have her on the show and to share her work. And this first book, This Naked Mind was published just four months before I quit drinking six years ago. So, it was one of the first books I read on this path and helped me so much. Both the book This Naked Mind and Annie's second book, The Alcohol Experiment, are ones that so many women cite as the intro to shifting their perspective on drinking and one of the tools that really helped them on the path to deciding that alcohol isn't a substance that's making their lives better or that they want or need in their lives. When I did a podcast episode on the Best Quit Lit for women, I asked all these women I know to record what books helped them and to tell me why. And This Naked Mind was at the top of the list for many women. One woman said that Annie's book was a relief, because it opened her eyes to all of this subconscious messaging, telling her that drinking was going to bring her connection and happiness and excitement and love. And another told me that Annie made a huge impact on her life that Annie's book was the first she'd ever read. And the way any gently and kindly explained about the addictive trap of alcohol, brought tears to her eyes. She said, I always hated myself for being so weak until Annie's book educated me and started me down the path of where I am now.
So, if you don't know her already, Annie Grace is the author of This Naked Mind – Control Alcohol, Find Freedom, Discover Happiness and Change your Life and The Alcohol Experiment – A 30-Day Alcohol-Free Challenge To Interrupt Your Habits and Help You Take Control. She lives with her husband and three children in the Colorado mountains. And as Annie immersed herself in corporate life as the youngest Vice President in a multinational company at the age of 26. Her drinking career began in earnest at 35 in a global sea level Marketing role. She was responsible for Marketing in 28 countries. And she was drinking almost 2 bottles of wine a night, knowing she needed to change, but unwilling to submit to a life of deprivation, and stigma. Annie embarked on a journey to painlessly gain control of alcohol. And for her, that process resulted in no longer wanting to drink.
So, Annie, welcome. I am so glad that you're here.
08:34
Yeah, I'm so happy to be here. Casey, thank you for having me.
Casey McGuire Davidson  08:37
Oh, yeah, of course. And I know that so many women who listen to this podcast are huge fans of your work. So, I did your intro before now. So, we'll just jump on it. Know the title of your first book, This Naked Mind mentions the phrase, control alcohol. And I think that's something that everyone who drinks more than they want to, you know, that's like the Holy Grail. That's what everyone wants, or they think I just want to drink like a normal person.
09:07
Yeah, exactly. And I think it's so fascinating. Because right when the book came out, actually, there was feedback about just this idea of, well, well, you can't control it, you know, like, if you're, if you're really addicted, that becomes impossible. And it was interesting, because I had to really reflect on… Well, I believe 2 things. Number one is that a black and white approach this conversation is actually super counterproductive. Because if we fear something too much, we won't even start or begin or engage. And also, you know, so that entry point is so important. But also, you know, the big reveal is that I believe the best way to control it is not to consume it because, admittedly, it's pretty hard to control, deciding to have that fourth drink after you've already had three. And so, I think that there is, you know, just so many things we can do and since I've written that there are, I mean, I can't even… probably 20, 30 to one, people who are so thankful that the book was titled as such, because they feel that they would have never picked up a book that said, Stop drinking now, or…
Casey McGuire Davidson  10:13
I mean, I totally agree, I spent 8 years in that place where, you know, I think everybody tries to moderate and makes all the rules about like, I only have two drinks, or only drink when I'm out, or I'll switch when I'm drinking. So, I think it takes a while of experimentation, and then trying a period of time without alcohol before you realize that it's actually way easier to not drink, and you're happier than when you're trying to control it.
10:43
Yeah, and I think that one of the things, it's, it's been really actually challenging for, you know, I've been talking recently to various doctors and even neuroscience divisions of hospitals about really introducing some of my work into where they are at. And one of the sticking points has been, well, where's the efficacy. And we do have survey data about how much people read reduced drinking, and all sorts of stuff like that. But I'm, you know, I have to push back and say, the entire premise of my work is that the individual is trying to make a goal, that is how they want to feel in their relationship with alcohol, more so than how they want to kind of behave.
So actually, the Holy Grail around here isn't sober days, or counting days, or being in recovery or being abstinent, it's really finding peace with your relationship with alcohol, kind of whatever that means to you. So, you know, for some people, their goal will be that they want alcohol to be small and irrelevant. For some people, it will be that they just don't want it to have so much control over them, you know, and whatever that means. That is how we approach it. And so it is, it is tough, because people are on such an individual path.
Casey McGuire Davidson  11:59
Yeah. And it's such a spectrum, right? I mean, in terms of alcohol is addictive, and the degree to which it takes control of your life or your thoughts, or you know, your habits, that I think that one of the things that people love about your work is that it's judgment free. Because once you stopped drinking and get immersed in the world of other people who've stopped drinking, you know, we can use language that people don't understand, or that completely turns them off. And I know I was this way, right? Like, even when we just say, sober, or sobriety or recovery or addiction, or the really, really high barrier term of alcoholic, it can be like, I'm not that or I don't want that. Therefore, it isn't for me to even look at my alcohol consumption, even though I'm worried about it.
12:52
Yeah, exactly. And that's the thing is that when we introduced so much fear into the conversation, and I can speak to this so well, because it was where I lived. For many years, I think I've estimated between 6 and 7 years of living in that cycle that you were just so eloquently talking about, of making those rules saying, you know, not this type of alcohol or not on these dates, or only this much, or taking this sort of break, and always coming up with either.
Yeah, being able to keep my commitment to myself and feeling deprived or miserable, or like I was outside of something, or that I was missing out on something, or just not even keeping it. And then having the shame and blame of that. It really did feel like I was stuck between those two options, I was going to have to just kind of lived a life of, you know, low grade deprivation and feeling like just things kind of sucked, or I was going to keep on drinking and have to live a life of dealing with all the mounting repercussions that were coming from drinking, including not being able to remember everything I said or did the night before, you know, wondering how I was with my kids or my husband or what I was doing on work trips, the physical aspects of the hangover and everything else. And I say that I lived there for so long, because of fear. Because the fear was it was one thing or another. And what I love about this new conversation we've been having is it doesn't have to be there's a third way it doesn't have to be deprivation or continuing to drink like there's a way that you know is kind of both and includes building this life that you actually don't want to escape from and doing work so that you really like the life you're living in the desire to self-medicate away from it is just lessons over time. And that combined with knowing that alcohol actually isn't the solution, it isn't going to help you relax or help you have a good time and knowing all that stuff. With the science. You kind of have this option to take third way through this.
Casey McGuire Davidson  14:50
Yeah, and I know so many women are familiar with your work but there are also some women who are entirely new to looking at their drinking their questions. They're drinking or being worried about it. Can you talk a little bit about that third way your approach?
15:07
Yeah, absolutely.
So, you know, my story just kind of in a nutshell was that I didn't drink too much in high school or college, you know, here and there and the odd time, but I certainly wasn't someone who jumped in with both feet. And I think that when you do jump in with both feet, there's some very specific reasons as to why it's often involved in just the everyday life for you, as a level of pain in it. And so that first drink by removing pain to some degree, because we do know, alcohol does numb the brain, I mean, it literally makes it harder for you to think it slows down your synapses. And so, what felt like just a racing mind can feel better for a short period of time. But that wasn't me. And that wasn't my experience.
And so, my experience was actually, that I came into drinking very much through corporate. And when I was, I was actually taking the side at one of my jobs and sort of said, Hey, Andy, why aren't you showing up at happy hour? And I was like, Oh, I don't really drink. And then my boss was like, no, no, it's not about that at all. It's about the fact that this is kind of happy hours, a little bit like the golf courses, were doing deals and making a name for yourself. And it's important to your career. And so, I was like, Okay, great.
And so, I had a method, I'd show up, and I drink a pint of water, and then a glass of wine, and then a pint of water. And I remember even sometimes, knowing that I didn't want to be the person who was drunk or making a fool of herself, because I was doing for my career, I would go into the bathroom and throw up that last glass of wine just to keep drinking, and keeping up with these people were twice my age, mostly men. And what happens is alcohol does what alcohol does. It didn't matter – my history, or, you know, my genetics or anything like that. But over time, every way that I used to just cope with the realities of being human, from running to reading to all of these sorts of things, I just very slowly replaced them with a drink, I'd come home after a hard day of work. And I'd look at my running shoes, and I'd look at a bottle of wine and be like, Oh, that's easier.
And really fast forward a decade, and I was drinking more than two bottles of wine a night. And really living in some pretty terrible consequences of that it wasn't a rock bottom experience, how it could be traditionally defined. But internally, there was a lot of pain in both wanting to do more or less of something at the same time. And I think that pain is one of the most overlooked pains of habits that we want to do less of, but we find ourselves compelled to carry on is that inner fighting. I mean, if you think about it, even walking down the street, you will see a conflict and it would affect you emotionally, it would, you'd feel it right, much more so in your own home, if you're fighting with your partner, or your children, or you know, your roommate, anyone who you love. But we overlook the fact that we are constantly fighting with ourselves, when we have something that we are doing more of than we want to be doing, whether it's food or screens, or you know, smoking cigarettes, or drinking alcohol, or drugs or anything, that infighting of having kind of almost this duality of our personality inside our own heads. Yes, you deserve it. No, but it's going to do this. You know, go ahead, it's just fine. waking up the next morning and having all that shame and regret. It is incredibly painful. And then as drinkers were taught that, well, what do you do to relieve pain is you have another drink. And so, the cycle just kind of perpetuates. And for me, I ended up stepping off that cycle, about 7 years after stepping onto it. And it really involved asking a different question.
So, I had been asking this one question, which was, what's wrong with you? You know, are you an alcoholic? And these were such scary questions. And in this moment, after a very busy work trip, I was just really in a bad place, and had a few drinks that morning to kind of pair of the dog at the hotel bar. And I was sitting, waiting for my flight very still drunk, very upset with myself massive hangover, everything was kind of on top of me. And I remember thinking, Well, why is it like this? You know, why did I used to be able to take it or leave it and why is it that now this fermented liquid and glass has just such a powerful hold on me, on my emotions, on my thoughts, on my experience of life? I feel like it's one of the most important things I remember vividly saying, If I can't have a drink, it's just not worth going and feeling that way, feeling that if I was had to be the designated driver, or if I was pregnant, like why even socialize because there's no point without drinking? And in that moment of asking, why did it change? I decided to find out and I did something which is radical I had no idea was radical at the time, but I in trying to find out. I decided I was going to stop trying, to stop drinking.
And because I've realized that what I had been trying to do these limits these broken promises, you know, all of these rules, they were just creating so much noise inside my own head. So much of that infighting that I didn't have space to learn why I didn't have space to understand. And so, I made myself you know, really two commitments, I was gonna stop trying to stop drinking, awaken some self-compassion. And I was going to understand what had changed. What in the last, you know, seven, eight years have changed? And I went through, and I made a list of every single reason I drank from it relax, me, too. It helped me in my job. It made me more present with my kids, too. It was fun to help me loosen up in the bedroom, all of these reasons. And over the next year, I went through them methodically. And we live in this beautiful day and age where you can just download a scientific study on the internet and read it yourself, pay 50, 100 bucks for whatever you want to download.
You don't have to be a doctor anymore, anything like that. And I started just learning that actually the brain response outcome or the way that those things that we believe are true, just are not true. You know, where we believe that alcohol relaxes us, it actually awakens a quarter of soul response in the body, it actually creates more stress, where we believe that alcohol is key to having fun, it actually knowns our brain's ability to enjoy pleasures, everyday pleasures, and then when we think, Well, nothing's fun without a drink, which is where I lived for a long time. Yeah, it becomes not fun without a drink, because of all the prior drinks you've had and how your brain is responding. And all of this stuff was really clear to me something beautiful happened and walked into my office and I told my husband, if you want to drink with me again, you know, tonight's the night because after this, I think I'm done. I just, I just really don't want to drink anymore. And he was skeptical and surprised. And that was over 7 years ago now.
Casey McGuire Davidson  21:40
If you're listening to this episode and have been trying to take a break from drinking, but keep starting and stopping and starting again, I want to invite you to take a look at my on demand coaching course, The Sobriety Starter Kit. The Sobriety Starter Kit is an online self study, sober coaching course that will help you quit drinking and build a life you love without alcohol without white knuckling it or hating the process. The course includes the exact step-by-step coaching framework I work through with my private coaching clients, but at a much more affordable price than one-on-one coaching. And The Sobriety Starter Kit is ready, waiting and available to support you anytime you need it, when it fits into your schedule.  You don't need to work your life around group meetings or classes at a specific day or time. This course is not a 30 day challenge, or a one day at a time approach. Instead, it's a step-by-step formula for changing your relationship with alcohol. The course will help you turn the decision to stop drinking from your worst case scenario to the best decision of your life. You will sleep better and have more energy, you'll look better and feel better, you'll have more patience and less anxiety. And with my approach you won't feel deprived or isolated in the process. So if you're interested in learning more about all the details, please go to www.sobrietystarterkit.com. You can start at any time and I would love to see you in the course.
That's amazing. And I think that all those reasons, like that's one of the biggest reasons that we have such trouble stopping drinking, because we've sort of been conditioned or brainwashed since birth. To believe all these things to be true. I also like I was in corporate America; I was doing all the business traveling and drinking on business trips and waking up with a hangover. And it is really hard to stop that because you believe that you're going to miss out on all the promotions and the discussions and the connections with people you never see in the office. And, you know, I was completely ignoring the fact that I didn't remember the end of the conversations are like, yikes would go on business dinners and like somehow trip on my way back to the hotel and try to play it off. I mean, the stuff that in no way helped my career. But you're, you know, the other ideas so strong for you. So, you did a ton of research to sort of learn that wasn't true. And how long did it take you to really sort of disprove those ideas in your mind when you were no longer trying to control it?
24:56
You know, it didn't it really didn't take effort. Because I will just read it and understand Oh, well, why didn't I didn't I know this before? And it was mind blowing in the sense that I can't tell you how many times I must have said like, how do we not know this? How do we not understand this? How is this something that is kind of hidden from our general knowledge? And it was amazing experience, because in some ways, it had me questioning so many things that were just "common knowledge", and realizing that often common knowledge is, you know, not actually true. We've just collectively sort of made it true. And if you look under the surface, the things that we know to be true, like we know the sky to be blue, have pretty big holes in them, we're just not questioning them. Because we're not even aware, there's something to question. And that's where it was for me with alcohol. I wasn't even aware that there was something to question for a long time. And a lot of people when they try to change something, when they try to change their behavior, they usually start with the behavior first or, you know, doing the action, right.
So, if I'm going to start to run, I'm going to put on my running shoes, and tomorrow, I'm going out for a run or later this afternoon. And then it doesn't matter how I feel about it, it doesn't matter. I just know that I want to start running. And so, I tried to do that. And then we wonder why most New Year's resolutions only last through January 19. Because what I realized in hindsight, is that what I had done and changing my behavior was that I really did the other key things for change first, and I believe that there's three key things that you need for change, you need the behavior change, but you also need to learn something new, or you need new knowledge. And then you need to feel something new, or you need new emotion. And there's some real kind of groundbreaking neuroscience and studies coming out of specifically Stanford, Dr. BJ Fogg about how habit change is not actually caused by 21 days, or 66 days or 90 days, those things are correlated, but they're not causal. And what that means is that there's a different causation, which is he has pretty definitively proven emotion, how we feel about something. And I have had 1000s of people do this exercise, whether it's on like a virtual event, or in a coaching session, where I say, Okay, let's remember a time where you tried really hard to change something that you thought you wanted, and it did not stick. How did you feel about it? What were your thoughts about it? And then I said, let's, let's find something that you've managed to change. And it feels almost effortless to you today? How did you feel about it? What are your thoughts about it, and inevitably, the feeling is pivotal? And I'd say almost the most important thing for changing the behavior. And inadvertently, that is, what I had done is because I learned something new, my feelings changed, when you know that this glass of wine in your hand is just going to create a cortisol response. And cortisol is more or less the stress hormone. And I'm going to feel more stressed out, you know, you know that I'm going to feel 20 minutes of kind of that gnome sort of floaty feeling. But then I'm going to feel two to three hours of feeling out of sorts, and anxious and uncomfortable unless I have another drink, and then maybe I can prolong that nicer feeling for a little bit more time, but not as long as the first drink. When you start to see kind of the numerical black and white, you don't feel like you want it when you're upset. You know, it's like that door has been closed to you. Because you see the truth of it. It's, it's as if you know, somebody says, Well, this is gonna make you warm, and you're freezing cold. And so, then you see that actually, that doesn't make you warm at all, you stop using that tool. And you're like, that's not working, I know that it doesn't work. And then as soon as you know it, you know, your own experience confirms that. And so, you move into this place of just kind of not desiring the drink. And that place of not desiring it is where everything becomes so much easier. Because you're no longer just working on. I'm going to I'm going to just not drink I'm only doing the behavior. I'm trying to exert willpower into this, this scenario and you move into action. I don't feel like a drink and cash then it's easy not to pick it up.
Casey McGuire Davidson  29:07
Yeah. And I think one of the things when you talk about the emotion is also the emotion behind why you're doing it. One of the things I think people love about your work is that it's not punitive, and it's not shame and blame, but rather, you're taking steps towards a better life that you actually want.
29:27
Yeah, absolutely. And I would say, you know, there's, there's really 2. Two things that if you navigate these two things, or put these two things front and center, in your experience, as you question your own drinking, you will, I think affect positive change. And those two things are number one, self-compassion, and the science that backs us up is overwhelming. It is overwhelming how lasting change and self-compassion are linked in lockstep, and so cultivating the ability to make a mistake and not look at it as It means anything about who you are, as a person, realize that you've been doing the best you can with the tools you have, you might have just gotten some wrong tools or some wrong information. And really cultivating that ability to look at mistakes as pieces of information by which you can learn from and move forward. And there shouldn't be shame and regret now, because nobody's path is without its bumps. And without it, you know, loop de loops and everything isn't straight up into the right like, it's completely circuitous. And so, when we do that, the faster we can forgive ourselves, the faster we can put down that blame and shame, the faster we can affect change. And that's just not my opinion, that is scientifically, definitively true.
And then the second one is curiosity. And I think those things go hand in hand, because when you are approaching whatever situation, it is with curiosity, you will awaken possibility. So as an example, if I'm going into a happy hour, and I haven't, I mean, in my case, I hadn't been at a happy hour without drinking, except when I was pregnant for like, more than a decade. And I'm walking into this happy hour. And I have this for sure narrative in my head that this is going to be miserable minus will not even be here, what is even the point? I promise it will be miserable. But if I just allow a little bit of curiosity to instead of okay, maybe it won't, I don't know that for sure. I haven't actually done it in a decade, I actually have no idea what it's like to walk into a happy hour and drink iced tea instead of you know, a martini, I've no idea what that experience is like, what might it be? Oh, my goodness, that opens up a whole new realm of possibility and experience. And inevitably, when people do those sorts of experiments on themselves, they walk out of it, and I'm like, Whoa, it wasn't that bad. Or sometimes it was even fun.
I mean, I have a woman who told me recently, she went to karaoke. And she just applied curiosity she did decided ahead of time, she was just going to be curious about her experience, if it meant she was miserable. And she was going to go home super early, because it was just so awkward. And she couldn't do it. She was going to allow that was going to be okay. But if maybe, maybe she would have a good time. She was skeptical. That's okay. But she was still curious. She hadn't decided it was going to be miserable. And she reported back, like, I couldn't believe it. I was singing at the top of my lungs, there's something about being sober and doing karaoke that all of the reasons you do karaoke in the first place like that adrenaline rush, and then out of your comfort zone, they were, you know, felt like they were even more intense than before. And I just, I haven't had that much fun. I can't even remember when and, and it's all because you've allowed that. I don't know, for sure how this is gonna be I'm gonna allow myself to be curious.
Casey McGuire Davidson  32:42
Yeah, I love that. Because, you know, for so many of us who've been drinking for decades, you know, you know what your life looks like when you're drinking like people are like, I mean, I was a daily drinker, I like you was at least a bottle, but seven nights a week, you know, a bottle plus and used to come down and be like, is there a quarter left in the bottle, or, you know, three quarters left, because that was sort of determined how crappy my day was going to be. But I didn't know I didn't remember. And so that groundhog day cycle, when you drink so much for so many years, you're right, you know exactly how it's gonna go. And most of us haven't done a sober boat trip or a sober happy hour or sober Christmas, or whatever it is, in the longest time. I am. So, when you talk about self-compassion and curiosity, I'm curious one of my clients who said you absolutely changed her life and her mindset. And your book was the first one she read. She asked me to ask you have in your experience, once someone has embraced the beautiful life of sobriety, what if you seem to be the biggest common denominator between those people who stay sober? Whether it's a mindset or habit, versus people who don't have that long term success? Is it that compassion and curiosity or once you get past that initial phases? It's something else?
34:19
I think, yeah, I think it is two phases. I think that's really a really astute point. Because I think initially, you have to allow enough of a mindset shift to awaken, okay, maybe it's gonna be okay. You know, because our experience no matter what is going to be our best guide, right? Even if you've quit drinking completely with willpower, and you might have to be four or five 610 years into it. I mean, this is legitimately true for people who've totally quit with pure willpower. Eventually your experiences will show you that life is tolerable without alcohol. And but if you have a mindset shift, you can go into it like life might not just be tolerable, but it might be Really fun.
And so that initial mindset shift, I think is vital. And it just sets the stage for how much easier it can be if you can access a place where it's like, okay, I don't know for sure that my life will be miserable. I'm not entirely sure. Let me see how this might be and allowing that to be true for every first whether it's that first happy hour, the first all-inclusive vacation, the first holiday, the first birthday, whatever the case is, but then I think we do need to do work, especially if we are in the group of people, which I think many of us are, who have used alcohol to self-medicate. And I think that work involves building a life you don't want to escape from, for me, being alone, in my own mind, was a really terrible place to be. And before it was alcohol, I would just, you know, noise, whether it was always being social, or always being too busy, or putting everything I could on my plate or being a workaholic, or, you know, I mean, not even being able to get into a car without having like some something going, that was going to distract me usually a murder mystery on a, you know, book on CD at the time, or whatever the case was. Because being by myself, in my own mind, was not a safe place, it felt just full of landmines, it felt full of self-judgment, and self-loathing. And, you know, worry about everything that I could not control the entire world, all of my friends, everybody I'd loved. And so, it wasn't a safe place to be. And so, if we're medicating to escape our own minds to escape the narrative that's happening in our own heads, we do have to work on that, because we might be able to put down the alcohol once we learned enough about it, but I promise we'll switch to something else. We'll go right into that next thing, whether the next thing is overworking or, you know, too much television or whatever that next thing is to distance us from us. And so, the work on that, I think is very important. And it doesn't have to be overly difficult.
You know, it's really just about again, being super curious, and allowing enough solitude or time just with you and your thoughts, and maybe a journal to recognize how you're speaking to yourself, you know, would you talk to a stranger like that? Most people, including myself that I've met, that actually awakened to how we're talking to ourselves in our own heads, if we write it down, and we reread it, we realize we wouldn't even say that to someone we didn't like, yeah, much less our children or our partners, or someone we really love.
Casey McGuire Davidson  37:26
Yeah, I think that's so true. I mean, we are so hard on ourselves. And I, I even remember that, I mean, I used to work all day and have kids and come home. And then once I had perspective, I was like, so basically, I'll get home and knock myself unconscious with a bottle of wine. So that I don't have to think about my life or my worries, or, or whatever it is. And, you know, I think there is something underneath why all of us drink. It's slightly different, or maybe very different for everyone. But yeah, once I stopped drinking, I needed to, you know, a lot of the anxiety was gone, but not all of it. And it was sort of this undercurrent, so, you know, had to dig into that with therapy and some medication and stuff like that.
38:10
Yeah, absolutely. And that's why me too, like exact, exact journey, you know, really allowing that, being gentle with myself figuring out what I needed. And I think that that is probably the most common denominator in the long term success is that and to be fair, not everybody is drinking to self-medicate a lot of us are but not everybody is. But when people are drinking to self-medicate, the most common denominator is, and it's the most exciting thing, although I will say that awareness is always the best thing. Because it's always the place from which we can affect change. We cannot change something we're not aware of we if we don't know what's happening to us, we don't know we're talking to ourselves, very mainly in our minds, we cannot change it. But awareness is always painful, because we're seeing something that kind of wish it wasn't true. We kind of wish we didn't have to go there and fix that. But if we can celebrate that, and say, Okay, well, I'm here for this, I'm going to live, learn how to live awake, I'm going to learn how to live without self-medicating, and I'm going to do the work. And it might be a significant amount of work, but it's all good work. And it's all fun work. And it's all forward progressing. I think humans, in my experience, we are happier in momentum towards growth than we are with all those circumstances being perfect in the world. Yeah, like we would you would find human beings, and this is I think, just evidenced by how much we have in our culture and society today. We don't have a lot of people who are desperate, you know, for survival fearing for their physical safety. I mean, I know that there are certain circumstances but as a whole, most of us had food on the table. We're not being chased by the lion and yet depression and suicide is off the charts. And I think a lot of that is because we are not allowing like that momentum of growth, right?
Yeah. So, find that. And, and the entire journey is so fun and so beautiful. And it all starts with taking that first step of saying, Hey, I'm going to live awake. And I'm going to live without self-medicating. Because the only guideposts we have on this journey is our own emotions.
Every one of our own emotional snags, where we feel judgmental of ourselves, judgmental of our circumstances, let down by someone else. All of those things are these big flashing neon signs saying, hey, there's something in you that you need to work on, that you need to find peace with. And that journey towards cultivating and finding more and more peace in yourself in your heart, I think is the number one thing without a doubt over time.
Casey McGuire Davidson  40:54
I love that phrase; I'm going to live awake. I mean, I think that's a great positive reason to do what you're doing. One question I had for you is I know; you've talked about self-compassion. And one of the most interesting things I've heard you say, was talking about the advertising by alcohol companies and saying, Drink responsibly, which is really indicating that it is your problem if you don't drink responsibly, versus the substance being the problem. And I think a big part of that self-compassion is understanding that, you know, this substance is addictive. It's working as designed. And if you can't, sort of, "stick to your rules", it is not your fault. Could you talk a little bit about the way we've been? It's been really skewed in terms of just advertising in the government's, you know, part in that?
41:54
Yeah, for sure. And in my book, there's actually two chapters where I break this concept down, and it's called the drinker and the drink part one and part two. And what it's really trying to do is create a distinction between is the drinker at fault, or is the drink of fault, and our entire society would have you think it's the drinker. But I make a very compelling and very fact based research, you know, based argument that no, it is the drink, there isn't an interest some evidence for this is that we don't have cocaine-ism, or heroin-ism, or cigarette-holics, right? Like, in all those other addictive substances, we are happy and willing to say, there's an individual who has become addicted to an addictive substance. Yet with alcohol, we have alcoholics at the human being there's something wrong with that human being. And then we even go so far as to say, well, it must be genetic. And yes, there are loosely correlated genetics with all addictions, but none so far as we can prove, and with the technology we have today, we should be able to just do a test right? You should be able to test do you have the gene, okay, then you need to stay away from alcohol. And it's so clear, but we put all of this, this blame on the individual. And even the as you rightly said, Drink responsibly logo that we put on alcohol, indicates that if you human cannot responsibly consume this addictive substance, which will hijack your brain in all sorts of ways to make the substance as important to your brain as food or oxygen or water for survival. And that's very clearly documented.
If you cannot resist that, then there's something wrong with you, you are not the responsible one. And for that, to be allowed for that to be the only warning that we have on something that in 1988 was confirmed, that is a carcinogen like alcohol causes cancer doesn't matter if it's beer or wine or hard alcohol, it was confirmed in 1988, that alcohol is carcinogenic. And for the majority of people on the street, if you were to survey them, the majority would not know that alcohol was carcinogenic. The majority would also not realize that alcohol is addictive. Because when we draw this line between Oh yeah, you can get addicted to nicotine or you can get addicted to heroin, but only if you're an alcoholic only if there's something wrong with you human. Will you ever have a problem with this substance? We have totally obscured the fact that the substance itself is not only addictive, but according to a study that was done about five or six years ago called the margin of exposure approach. It was definitively named the most harmful drug on the planet. And they did a whole spectrum of harm. And they measured it based on harm on to the individual harm to society. It's addictive nature, all sorts of stuff.
And just to give you an example, is something like crack cocaine came up at 55 and it's zero to 100. Zero meaning least harm 100 meaning most harm, and so 5556 are the highest worse drugs, heroin crack cocaine, alcohol was 74 Alcohol was multiple times higher than something like, you know, painkillers or other things that we're so concerned about. I mean, we're so concerned about this, you know, oxycodone, and all of these sort of things that are prescribed that are resulting in just an admittedly tragedy. You know, prescription drug overdose is tragic. And yet, all deaths for prescription drug overdose are about 24,000 per year. Okay, all deaths for illegal drugs are 22,000 per year, if you add those both up, that I believe is 46,000 per year, all alcohol related deaths, and this is all in the US is 88,000 per year. So, we're talking twice, all prescription and all illegal combined, is alcohol. And yet, we're saying the blame is on the individual. And just to give one more statistic to back up this fact even more, according to the CDC, or the Center for Disease Control. Only 10% of excessive drinkers only 10% of people who drink excessively, are actually physically dependent or addicted to alcohol. So those 80,000 deaths, those are not happening for people who are quote, alcoholics or who are even quote, "addicted to alcohol", by the physical nature of it. Those are for regular drinkers, you and I, everybody else who is out there. And because we've obscured it to such a degree, saying, No, it's the person's fault.
We've created this aura of shame and blame to where we're celebrated. We say, hey, I want to stop smoking. Not only is it celebrated your friends cheer you on, there's no weirdness, you're not invited to parties, because oh, well, now they're not going to be smoking cigarettes, right? Like, none of that happens. Yet with alcohol. We are still and it's getting better all the time. But we're still if some, he says, you know, I'm gonna stop drinking. The first question is usually, well, why? Well, what's wrong with you will do have a problem? As if, it is your fault.
Casey McGuire Davidson  46:56
Oh, my God, that's my favorite. Because I was working with a coworker. I was at L'Oréal, and she, you know, I quit, probably a year before, but I just was like, yep, used to drink feel better without it. I'm done, you know, whatever. And so, she was somehow distinguishing. She was like, but you chose to quit. I mean, you didn't have a problem with it. Like, it was super important for her to draw that line. And I was like, and it's addictive. You know, I was like, you know, if I was just, and then you know, other people would come in, super hungover. And when they heard I stopped drinking, they'd be like, Well, did you have a problem with it? And I'm like, at the time, like, I haven't had a drink in Oh, they present tense. Do you have a problem with alcohol? Right? I mean, like, I haven't had a drink in three years, you were hungover. Yesterday, like, eight, zero problem with alcohol, you know?
47:53
Yeah. And it's so important, because when all the blame is on the individual, and all the shame is on the individual, our minds have no choice but to try to distance ourselves, because then we don't want to be one of them. And so, if we created this construct, that's us, and then black and white, alcoholic or nonalcoholic, sober, and in recovery, an alcoholic problem, or the rest of us, our brain would try desperately anything it can to force everybody who it sees into that black and white narrative to protect itself from being one of them, when the whole concept of them is not true. Scientifically, it is not true. There is no, then there's human beings with blood and flesh and bones, and cells and neurons that become addicted to an addictive substance, a highly addictive substance.
Casey McGuire Davidson  48:39
Yeah. And I think also, you know, there's so much shame and not wanting to be in that category, that we don't talk about it. I mean, I think the whole concept of why can they be a normal drinker? I mean, obviously, in this work, so many more people struggle with it, then ever talk about it, because it's like the third rail, you don't want to raise even the question, because nobody else is raising the question.
49:07
Exactly, exactly. So true.
Casey McGuire Davidson  49:09
Well, so my last question for you is around, you know, I know you wrote This Naked Mind first, it actually came out four months before I quit drinking 6 years ago. So, it was absolutely one of the first books I ever read. And I thank you for that. And then you also do a lot of work, and you have a book around The Alcohol Experiment. And I'd love to hear from you. Are those meant for different audiences? Are you meant to read both of them? Like what's, what's the what's the difference between the two and what can people get out of each one?
49:44
Awesome. What a great question. So, This Naked Mind is really how I stopped drinking. And that was very much with the stop trying to stop drinking. You know, the very beginning of the bucket says, Don't worry, like, just stop trying to stop drinking. Let me show you something new about alcohol to where your desire will shift over time and The Alcohol Experiment is very similar information. It's just presented in a 30-Day Challenge for people who want to stop now. And it really came about because so many people were doing, you know, Dry January or Sober October or Dry July, and there was just such an appetite. And I would see people going into Dry January, and just two things would happen, they would reinforce that they didn't have a problem. So, they let us off the hook. And then February 1, it would be the biggest drinking day of the year, because, yeah, now they've proven they don't have a problem. And so, I realized, wow, in these challenges, there's no information, nobody's learning anything new. Nobody's affecting actual change in their emotions. If anything, we're creating a forbidden fruit syndrome, where we're taking the thing and saying, Okay, I'm not gonna let myself have this. And then our demand for the thing we're not letting ourselves have is increasing over the month, and then it's rebounding. And, you know, I think that I read a statistic somewhere, and I don't remember the citation. But it was that over all people who took a 30 day break, were consuming more alcohol over the entire arc of the year than people who didn't. And I just thought, well, I know exactly why that is, is because we are just creating this sense of okay, well, I don't have a problem. And I've made it more important to me by abstaining for it without any new knowledge or new information. And so, that was the origin of the alcohol experiment. So, it's very much Chapter One is Day 1, Chapter Two is Day 2, you read a chapter a day for 30 days. And in that break, you get all sorts of new information. So, people have, you know, think they're going in for a 30 day break, and countless people have just stopped permanently or, you know, gone back to very occasional drinking, instead of going back to February 1 being, you know, major Bender.
Casey McGuire Davidson  51:48
Yeah. Because the reward at the end of the break is not to go back to drinking, right. So, you're sort of white knuckling it. And then reinforcing that reward system in your own mind. And I think the education and sort of the awareness is really important. I think you also do a Free Alcohol Experiment Challenge. Is that right?
52:08
Yeah. So, the Alcohol Experiment is in the app store, just search alcohol experiment, or this naked mind. And also, alcohol experiment calm, and it's always free. So instead of the book, you're just watching videos, you can do it along with a book if you want to, but it's daily videos with all the same information within a community of people. So, it's really cool. And then I should also since this is a podcast audience mentioned, I have This Naked Mind Podcast, which is always there and available for people as well.
Casey McGuire Davidson  52:35
Absolutely. And that is a fantastic podcast, and you have like 400 episodes or more. Is that right?
52:42
Yeah, we just crossed 12 million downloads, which is really cool.
Casey McGuire Davidson  52:45
Yeah, that is incredible. You're reaching so many people. I love it. Well, thank you so much for your time. I truly appreciate it. This is my 100th episode. My, can't imagine a better, better guest to have on.
53:00
Well, thank you so much for having me, Casey. It's been such a pleasure.
So thank you for coming on here. I couldn't appreciate it more. 
Thank you for listening to this episode of The Hello Someday Podcast. If you're interested in learning more about me or the work I do or accessing free resources and guides to help you build a life you love without alcohol, please visit hellosomedaycoaching.com. And I would be so grateful if you would take a few minutes to rate and review this podcast so that more women can find it and join the conversation about drinking less and living more. 
OTHER WAYS TO ENJOY THIS POST: