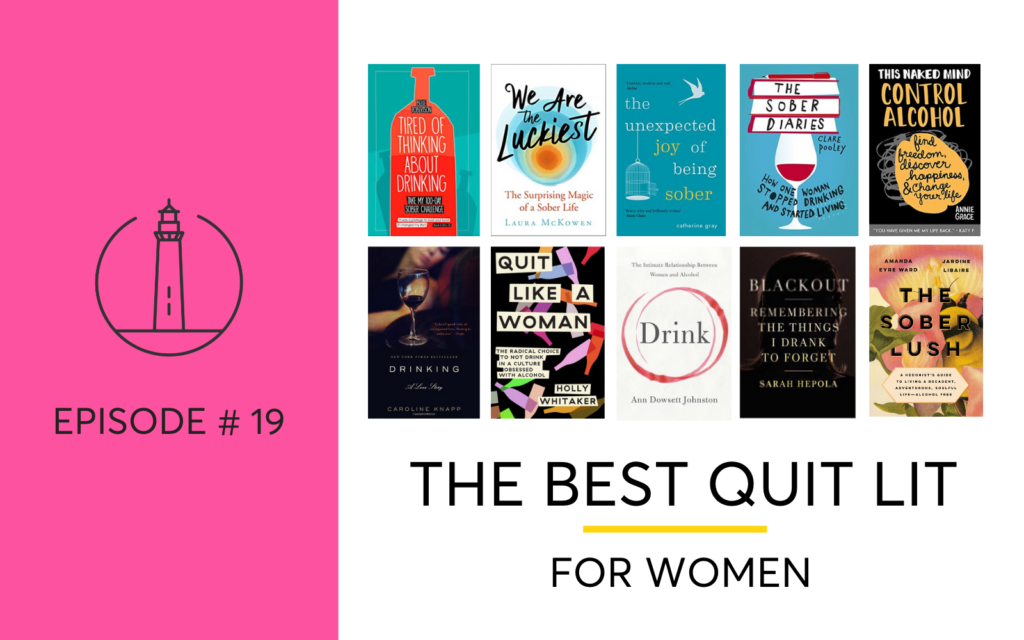 The ultimate list of the best quit lit sobriety books for women who are ready to stop drinking and go alcohol-free in 2023
What's the definition of 'Quit Lit'?
Quit Lit is a whole genre of sobriety books that you might not have ever heard about if you're not a woman who has a complicated relationship with alcohol. Quit Lit books are books about drinking, quitting drinking, getting sober and life without alcohol. There are novels and memoirs, essays, fiction, and how to be sober guides. They are deep and soulful, entertaining and honest, eye opening, hysterically funny, raw and hopeful. Quit lit books were a lifeline to me in early sobriety. 
Some of the most famous Quit Lit sobriety books include Drinking a Love Story by Caroline Knapp, Carry On, Warrior: The Power of Embracing Your Messy, Beautiful Life by Glennon Doyle, Quit Like A Woman by Holly Whitaker, The Unexpected Joy of Being Sober by Catherine Gray, Tired of Thinking About Drinking: Take My 100-Day Sober Challenge by Belle Robertson, The Sober Diaries: How One Woman Stopped Drinking and Started Living by Clare Pooley, We are the Luckiest: The Surprising Magic of Sober Life by Laura McKowen, This Naked Mind: Control Alcohol, Find Freedom, Discover Happiness & Change Your Life by Annie Grace, Kick the Drink Easily by Jason Vale, Alcohol Explained by William Porter, Easy Way for Women to Quit Drinking by Allen Carr and Blackout by Sarah Hepola.
New Entries In The Best New Quit Lit SOBRIETY Books For Women READY TO STOP Drinking In 2023

 

 
The newest books in the Quit Lit category include Push Off From Here by Laura McKowen, Not Drinking Tonight by Amanda E. White, Sunshine Warm Sober by Catherine Gray, Soberful: Uncover a Sustainable, Fulfilling Life Free of Alcohol by Veronica Valli, The Dry Challenge: How to Lose the Booze for Dry January, Sober October, and any other alcohol-free month by Hilary Sheinbaum, Euphoric: Ditch Alcohol and Gain a Happier, More Confident You by Karolina Rzadkowolska, Love Your Sober Year by Kate Baily and Mandy Manners, Stash: My Life in Hiding by Laura Cathcart Robbins, Friends, Lovers, and the Big Terrible Thing: A Memoir by Matthew Perry, You Are Not Stuck: How Soul-Guided Choices Transform Fear into Freedom by Becky Vollmer, The Beyond Addiction Workbook for Family and Friends: Evidence-Based Skills to Help a Loved One Make Positive Change by Jeffrey Foote PhD, Kenneth Carpenter PhD and Carrie Wilkens PhD and It's Not about the Wine: The Loaded Truth behind Mommy Wine Culture by Celeste Yvonne. 
In this episode, I want to share not only my favorites but the voices of other women and the books that have inspired them and helped them along the path of re-evaluating their relationship with alcohol. 
If you're constantly surrounded by messages that drinking is important and glamorous, sophisticated and fun, quit lit sobriety books will be a lifeline.
They'll give you a glimpse into what your  life could look like without alcohol. 

These voices, of women who have been where you are, will remind you that you're not alone. 

They'll whisper to you when you are worried about your drinking. They won't let you bury your head in the sand and tell yourself that  how you're feeling was no big deal. 

They'll give you hope that life will be better without alcohol. 
This episode is about the best quit lit for women.
To get the full guide of the best quit lit for women go to www.hellosomedaycoaching.com/quit-lit
Enter your email address and the guide will be sent right to your inbox.
Grab the Free 30-Day Guide To Quitting Drinking, 30 Tips For Your First Month Alcohol-Free
Here's The Complete List Of The Best Quit Lit Sobriety Books For Women Stopping Drinking [Updated For 2023]
Connect with Casey McGuire Davidson
Casey @ Hello Someday Coaching (@caseymdavidson)
Listen to more podcast episodes to drink less + live more.
Connect with Casey
Take a screenshot of your favorite episode, post it on your Instagram and tag me @caseymdavidson and tell me your biggest takeaway!
Want to read the full transcript of this podcast episode? Scroll down on this page.
READ THE TRANSCRIPT OF THIS PODCAST INTERVIEW
The Best Quit Lit Sobriety Books For Women Ready To Stop Drinking
SUMMARY KEYWORDS
drinking, Quit Lit, books, women, alcohol free, quitting drinking, sober, life without drinking, novels, memoirs, essays, fiction, how to, guides, deep, soulful, entertaining, honest, eye opening, hysterical, funny, raw, hopeful, lifeline, sobriety, voices, inspired, path, reevaluating relationship with alcohol, having trouble, moderating, surrounded, messages, important, glamorous, sophisticated, fun, unsustainable, direction, filled that void, gave me hope, life would be better, cool, strong, interesting, funny, successful, awesome, brave, group of women, spoke to me, favorites, problem, love story, wine, bottle, booze, awareness, sense of self, less painful, feelings, glass, rituals, camaraderie, thoughts, life, unarmed, "day one", sober treat, Sober Diaries, Audible, relatable, navigated, being a mom, rock bottom, afraid, compared, justifiable, addiction, progressive, habit, struggles, laugh, blog, resonated, professional, educated, stay at home mom, real, recommend, hard, lonely, scared, words, comfort, grateful, beautiful, broke my heart, healed, compassion, vulnerability, luckiest, good enough, free, conversation, storytelling, gem, motherhood, mother, Amazon, label, appreciate, impact, sleep, anxiety, doubt, victim, relief, subconscious, connection, happiness, excitement, love, gratitude, forging a path, creating space, explore, healthy life, gift, move on, feel alive, Dry January, refocus, boost, science, neurology, tools, allure, lush, introvert, quiet, smile, bath bombs, joy, losing, narrative, perception, belief, SHE RECOVERS® , Kindle, authenticity, imbibe, raw, witty, charming, childhood, marriage, running, body, trauma, stored, release, somatic exercises 
SPEAKERS: Casey McGuire Davidson 
00:02
Welcome to the Hello Someday Podcast, the podcast for busy women who are ready to drink less and live more. I'm Casey McGuire Davidson, ex-red wine girl turned life coach helping women create lives they love without alcohol. But it wasn't that long ago that I was anxious, overwhelmed, and drinking a bottle of wine and night to unwind. I thought that wine was the glue, holding my life together, helping me cope with my kids, my stressful job and my busy life. I didn't realize that my love affair with drinking was making me more anxious and less able to manage my responsibilities.
In this podcast, my goal is to teach you the tried and true secrets of creating and living a life you don't want to escape from.
Each week, I'll bring you tools, lessons and conversations to help you drink less and live more. I'll teach you how to navigate our drinking obsessed culture without a bus, how to sit with your emotions, when you're lonely or angry, frustrated or overwhelmed, how to self soothe without a drink, and how to turn the decision to stop drinking from your worst case scenario to the best decision of your life.
I am so glad you're here. Now let's get started.
What are the best books to help you stop drinking?
There's a whole genre of books that you might not ever hear about. If you're not a woman who has a complicated relationship with alcohol, It's called Quit Lit Books – they are books about drinking, quitting drinking, getting sober and life without alcohol. There are novels and memoirs, essays, fiction, and "how to" guides to help you stop drinking alcohol and to help you see that life without drinking is good and full and promising. They are deep and soulful, entertaining and honest, eye opening, hysterically funny, raw and hopeful. Quit Lit books were a lifeline to me in early sobriety, and in this episode, I want to share not only my favorites, the voices of other women, and the books that have inspired them and helped them along the path of reevaluating their relationship with alcohol. 
If you want a guide to the best Quit Lit for women, and the books mentioned in this episode, go to hellosomedaycoaching.com/quit-lit, enter your email address, and I'll send you the full guide straight to your inbox. 
When I was thinking that I might need to stop drinking and was having trouble moderating, I needed these books and the women who wrote them because I was surrounded constantly by messages that drinking was important and glamorous, sophisticated and fun.
I loved drinking, and when I looked around me, it seemed like everyone else loved it, too. I couldn't imagine what life would look like without alcohol. And yet I knew that the way I was drinking It's unsustainable. It was leading me in a direction that was no good for myself or my family. And I had no one around me who understood that, or who I could talk to about how I was feeling. These books filled that void. Both, read to them and listen to them. 
The voices of women who had been where I was, when I was walking, in running, driving, and rocking my daughter to sleep. In reading them, I heard someone else telling my story, and saying the words that I heard in my head, my favorite quick flip books got under my skin. They whispered to me when I was worried about my drinking, and didn't let me bury my head in the sand and tell myself that how I was feeling was no big deal. They gave me hope that life would be better without alcohol that other women had done this before me, and that these women were cool, strong, interesting and funny and successful, and that it would all be okay. They held my hand during the long evenings without mine. 
In my first few weeks and months, they told me that what I was feeling was normal, that this shit was hard, and their voices kept me going. And now, years after quitting drinking, they make me feel like I'm part of an incredibly awesome, strong and brave group of women who have kicked drinking and societal messages that drinking is required to the curb. This episode is about the best Quit Lit for women, the books that spoke to me and the books that helped others. I hope you'll find some new favorites. I know I did.
4:58  
The first book that I added, read about drinking and not drinking was when I was starting to suspect that my love of red wine might be a problem. It was the book Drinking a Love Story by Caroline Knapp. 
It was 12 years ago. My son Hank was an infant, and I read it while drinking wine. In Caroline's first passage in the prologue, she writes, it happened this way. I fell in love. And then, because the love was ruining everything I cared about, I had to fall out. She writes a love story. Yes, this is a love story. It's about passion, sensual pleasure, deep poles, lust, fears, yearning hunger. It's about saying goodbye to something that you can't fathom living without. I loved the way the drink made me feel. And I've loved its special power of deflection, its ability to shift my focus away from my own awareness of self into something else, something less painful than my own feelings. I love the sound of the drink, the slide of a cork as it eased out of the wine bottle, the distinct "glug glug" of booze pouring into a glass, the clatter of ice cubes and tumbler. I love the rituals, the camaraderie of drinking with others, the warming, melting and feeling of ease it gave me and then the book continues her story of descent into drinking and climbing her way out. 
The second book I read, where my old hardcover copy is filled with underlines, and dog eared pages is Carry On Warrior by Glennon Doyle, thoughts on life unarmed. I don't think I even knew that Glennon's book was going to have anything to do with drinking or that she was saying "over" at the time I picked it up. 
But early in the book, she has a chapter titled "day one". And it starts with this: "To my friend", on her first sober morning. She writes, I have been where you are. I've lived through this day. This day when you wake up terrified. When you open your eyes and it hits you. The jig is up. You lie paralyzed in bed and shake from the horrifying realization that life as you know it is over. 
A few paragraphs later, Glennon writes, becoming sober, becoming real, will be hard and painful. A lot of good things are becoming. Sober is like recovering from frostbite. Defrosting is excruciating, Lee painful. You have been numb for so long. As the feeling comes back to your soul. You start to tingle and it's uncomfortable and strange. But then the tingles start to feel like daggers, sadness, loss, fear, anger, anxiety, all of these things that you've been numbing with booze, you feel them for the first time. And it's horrific at first to tell you the damn truth. But welcoming the pain and refusing to escape from it, is the only way to recovery. You can't go around it. You can't go over it. You have to go through it. 
The whole chapter is amazing, as is the book, read it. It's beautiful. 
And then there's Tired Of Thinking About Drinking by Belle Robertson. Belle was actually the person that I wrote about on my very last "day one". Four and a half years ago, I had heard about her 100 Days Sober Challenge. I had woken up at 3:00 a.m. and told myself for the millionth time that I couldn't do this anymore. And the truth is, I was just sick and tired of feeling Sick and tired. It was a normal day. And I went into the office and I remember at 10:00 a.m. I signed up for her 100 Day Challenge. And I wrote to her, I paid the money. I committed to someone else that this was my "day one". 
I did the 100 Day Challenge, actually, before her book came out, she was writing it at the time. When I started working with her, I emailed her every day. And actually on my website, if you go to my blog, you can listen to my Audio Diary of my first 30 days of not drinking. Through the emails I wrote to bounce. I actually pulled them up and read each one when I wrote to her, Hi, Coach, it's day four, and told her what I was feeling. And so much of her books helped me get through my first 30 days to day 45 today 70 and today 100. I love it because it's practical. It's positive. It's an incremental approach to not drinking and building up time away from your last night, drinking alcohol and waking up feeling terrible. When you hear me talk about Wolfie, the voice you hear in your head that tells you drinking is a good idea. It came from Belle. She also taught me about the importance of sober treats. And to this day when I am stressed or having a bad few days. I think to myself, I need a sober treat stamped. 
In this episode, I told you I was going to let other women share the books they loved, the ones where the message from the author met them in the moment they needed to hear exactly that, to change the course of their drinking and their lives. Some women loved the same book. This naked mind came up more than once. We are the luckiest, quite like a woman drinking a love story, the sober diaries and other women had a huge variety of books that they were drawn to for a variety of reasons. So let's hear from them.
11:18  
I absolutely recommend listening to Sober Diaries on Audible. Clare Pooley's writing is witty and honest, and I loved hearing it and her British accent. Although I wasn't sober yet when I read this book, her experience was totally relatable. And while it questioned my relationship with alcohol, I appreciated listening to the story of her first year of sobriety and every single diary entry to the highs and lows, and how she navigated being a mom, and wine culture, and learning to socialize sober. Clare didn't have what she considered a "rock bottom". She was actually afraid that if she went to a meeting and compared herself to people that drink more than she did, she would think of her bottle a night habit. It was justifiable. But she also knew that addiction was progressive, and she could eventually have her rock bottom moment and lose everything. Clare was honest in her struggles, but she also made you laugh. It gave me hope that a happy, sober life was possible for me too.
12:25  
The first book I wanted to talk about was Clare Pooley. And The Sober Diaries: How One Woman Stopped Drinking and Started Living. I googled, do I have a drinking problem? Am I an alcoholic, so on and so forth. I was. This was probably five or six years ago, and her name popped up on the internet. And she had a blog and the blog was called, "Mommy Was A Secret Drinker". She goes by sober mommy. I kind of love all things British, especially boat enclosed catalogs and us born books or use born books for kids. And that is how I found her. And I was anticipating her book coming out. And I read the whole book probably, in a day – less than a day with 3 young children in tow. 
And her book, really, was the first book I read, in a long line of Quit Lit books that I have read probably 20, 30 bucks at this point. I read this book before I had given up drinking for the first time. And it really really resonated with me because Clare was a professional woman turned stay at home mom, like I was, and she was very well educated. And the book just made it so real. For me, that someone like me, could still have this problem, and that someone like me could get out of this problem. I really really enjoyed the book. I would recommend it for anyone but especially if you are a mom that stays home with your children. It really, it really resonates.
14:33  
My mom bought me a copy of We Are The Luckiest: The Surprising Magic of Sober Life by Laura McKowen a couple weeks before I quit drinking. During that time, I read half the book and put it down. It wasn't until I decided to stop drinking. It may have even been day two that I played with that I was able to sit with Laura McCallum's words, her honesty about how hard, lonely and scary early sobriety is. Felt like a mirror as I went through my first weeks of sobriety At the start of each chapter, Laura inserts a quote. And my favorite was this. I thought I was alone who suffered. I went to the top of the house and found every house on fire. And we are the luckiest. Laura points out that everyone has a different thing. And for some people drinking is just your thing. But it doesn't mean you're less than or imperfect because of it. has a lifelong perfectionist. Those words were such a comfort, and I'm forever grateful for Laura McKowen for this beautiful and honest book. I hope it speaks to you the way it did to me.
15:47  
I read Laura McKowen's book, We Are The Luckiest right at the beginning of my sober journey. Her story both broke my heart and healed it at the same time. She writes with such compassion and vulnerability. I remember what it was like to not want to live a life without alcohol and that future looked so bleak. I tried like hell to make it work until it didn't. I saw myself and Laura, and just a few days shy of being 7 months sober and I agree. I feel like I'm the luckiest. There are so many gems in this book like this. Is this bad enough for me to change? The question we should be asking is, Is this good enough for me to stay the same? The real question underneath it all. Am I free? This book was written almost like having a conversation with a friend.
16:52  
We Are The Luckiest is a beautiful, honest, non judgmental, non preachy guide for how to get from point A to point B. I've read a lot of these memoirs over the past year and this one masterfully combines vulnerability, storytelling and the facts about addiction in a way that none of the others have been able to. I don't know how she did it, but it's a gem, and it's my number one recommendation to anyone affected by addiction.
17:26  
We Are The Luckiest by Laura McKowen, we are the luckiest, the surprising magic of a sober life. But this book, really, she really opened up about her relationship with alcohol and, and sobriety. And she really lays it all out there. She's very articulate in her vulnerability, especially as a mother. Many Quit Lit books are not written by mothers. Of course, that's fine. I find the ones I understand the best for me as a mother are those reasons And who understand what motherhood entails. And the stresses, the hopes, the dreams, the anxieties that go along with caring for someone that you brought into this world. And she really, really, really is vulnerable about the things that she did while she was drinking. 
And I think that took such bravery, and her relationship with her daughter now and the book is amazing. The book is amazing. That's, that's all I can say.
18:42  
In March 2018, after another night of drinking too much wine and waking up with a headache, and my husband annoyed with me. I laid in bed and got on Amazon and searched for books about alcohol. I found Annie Grace's, The Naked Mind: Control Alcohol, Find Freedom, Discover Happiness & Change Your Life. The title set it all. I loved that Annie didn't make you label yourself. In fact, she explains that alcohol is addictive. I also really appreciate all the sciency stuff. I had no clue that alcohol causes cancer. I didn't know that alcohol had such an impact on my sleep, or that it was causing a lot of my anxiety. I had even done a sleep study through my doctor because I didn't understand why I was so tired all the freaking time. It was the wine and the lack of quality sleep I was getting. Of course I didn't drink wine when I brought the sleep study machine home and I passed that test. And I continue to drink and continue to struggle with horrible fatigue even though I ate healthy and exercised. More doctors need to know about the correlation between alcohol, even one drink, and the negative impacts it hasn't seen. Even though it wasn't another seven months before I gave up alcohol completely. The information I learned in this book stuck with me and I could never unknow what I learned from Annie Grace.
20:18  
I read This Naked Mind by Annie Grace at 20 days sober when I had a ton of doubt and anxiety about quitting drinking. And his words literally hijacked my mind and opened my eyes to all the ways I've been a victim to the powerful marketing that goes into drinking. Her book was a relief because it opened my eyes to all of the subconscious messaging telling me drinking was going to bring me connection, happiness, excitement and love. I have so much gratitude for books like This Naked Mind, and women authors and Sobriety Coaches who are forging a path and creating a space outside of a where we can explore, connect and actually live a healthy life with a naked mind. I really feel this book is such a gift, especially in our sobriety. And as any highlights, moderation is exhausting, and I really hope I never again have to have that anxiety provoking dialogue with myself by just saying, I'm done, the door closes and I'm free to move on and think about other ways to feel alive, beyond pouring alcohol into my body with the hopes of happiness. I hope you're inspired by this book as much as I've been.
21:32  
When people ask me what I would recommend for them to read, or resources for them to use when they are trying to reduce or quit drinking alcohol. My first suggestion is always This Naked Mind by Annie Grace. It's to control alcohol, find freedom and discover happiness and change your life. When I first found this book, I was within my first 30 days of not drinking, and I was just telling myself I was going to take a 30 day break. It was actually January 1, and I was going to do Dry January, and I joined a Facebook group online. That was a 30 Day Challenge. Someone recommended that I read This Naked Mind by Annie Grace, and it became my Bible for those 30 days. I read it every evening.
22:30  
And really, anytime I needed to refocus or needed a boost, she came out quitting drinking with science and neurology. And it just makes so much sense. The way she explains what alcohol does to your brain, the way she explores how alcohol is used in our culture. It just opens your mind and changes your thinking in a way that makes you not want to drink anymore. At least that's what it did for me. It really helped me see that alcohol wasn't doing me any favors. And she writes in such a way that's easily digestible, easy to understand and relate to, and is just such an anchor when you're exploring your relationship with alcohol, so I highly recommend it. I have now been sober for over three and a half years. And this is always my to when people ask me, what's the first thing they need to do to take a look at their relationship with alcohol? How did I quit? Well, Annie Grace helped me quit with this book. And I'm sure she's going to continue to help many other people in the future.
24:02  
So books have definitely been one of my major tools in getting me through more than a year of sobriety. I stopped drinking last May. That was in May of 2019. And I immediately turned to just a shelf load full of amazing books written by amazing, mostly women, around not having alcohol in your life. And I just, I always have a stack next to my bed, and I'm always finding new ones and I just started reading a new one. It's The Sober Lush: A Hedonist's Guide to Living a Decadent, Adventurous, Soulful Life–Alcohol Free by Jardine Libaire + Amanda Eyre Ward. And if you're anything like me, part of the allure of drinking was sort of the fun and the sparkly, glittery, what felt sparkly, glittery part of it and the ability to sort of bring this sense of differentness to your life and it was like that My first drink when I was 13. Till when I stopped drinking just a year ago, and I'm now in my 40s. And so one of the chapters of this book really just talks about what it's like to have alcohol in your life and then what it's like not to have alcohol in your life, and the pure joy that you can find in things that are not alcohol related. And I love one of the examples of you spent $12 on a scotch and soda, or a vodka tonic, why can't you spend $12 on a totally decadent chocolate truffle dipped and lavender, of course, you can you never would have when you were still drinking, because you need the money for the drink. But without that, you can really indulge in some of these amazing, beautiful things that I'll just kind of like the lush of life. So I love the title of the book, The Sober Lush, and I'll just read one little chapter that I've been making my way through lately. So it's one of the authors. It's written by two women, Amanda Eyre Ward and I think her name is Jardine Libaire. Err, I don't speak French. So harder for me to say.
26:08  
So… so, one of the authors says born an introvert who loves people, she swears it. Jardine even as a four year old was the quiet one in the corner of birthday parties. There's a bit of shame that comes from that territory. To this day, if someone says, Hey, loosen up but hit a nerve, Smile. Don't be so uptight. Why are you so serious? Take a guess what helped us out of this little iron collar of self consciousness. That's right. Booze. Do you want me to loosen up? Well watch this. And honestly, we missed the presto magic instant option because we did bond with people as we flung ourselves in mass around a dance floor, giggled uncontrollably together in the ladies room stall, or staggered on a sidewalk as a packer leaving the highlights and low points of a hilarious night. And being sober now doesn't discredit those times or those friends or those dances. So she goes into the next paragraph describing being in an arcade so she started it, but playing big buck hunter as a grown woman with a twizzler between her teeth like a cigarette, a cigar, cursing and laughing cheeks flushed with merciless ambition. That's also proper and loosening. Winner lose arcades are being pop pow purple, red orange lights, nasty, sweet anti uptight time. You can go into an arcade feeling awkward, but you'll always leave undone. You can stay up late and still get up the next beautiful day and feel not just good, but great. That last sentence for me, I just want to highlight it. I want to put it up everywhere to remind me how great I feel when I wake up in the morning. Even if I stayed up too late, having too much fun without alcohol. I feel good when I wake up. And I don't crawl through the next day feeling terrible wondering why I needed that last drink. So I just really recommend this book. There's an amazing little chapter you can read at any moment and recipes for amazing non alcoholic drinks and candies and bath bombs you can put in and I just love the ability to bring the same glitter and joy and fun into your life. And you don't need alcohol to do that.
28:26  
Sarah Hepola's Blackout. I read it. Actually before I even got sober. It was about three or four weeks before I stopped for the last time. I was out for a run and had downloaded it on Audible and was listening. And I remember listening to the paragraph that I'm going to read at the end of the introduction and literally stopping running because I was just so blown away. I had been a blackout drinker at the end, and I had never understood what an actual blackout was. Which thinking back is ridiculous. Me, now that I didn't understand, but when I finally understood what a blackout was, it just blew my mind. So the paragraph that I'm talking about is at the end of the her introduction. And she writes, I needed alcohol to drink away the things that plagued me not just my doubts about sex, my self consciousness, my loneliness, my insecurities, my fear, I drank away all the parts that made me human. 
In other words, and I knew this was wrong. My mind could cobble together 1000 PowerPoint presentations to keep me seated on a barstool. But when the lights were off, and I lay very quietly in my bed, I knew there was something fundamentally wrong about losing the narrative of my own life.
I mean, that last sentence is what got me losing the narrative of my own life. And I mean, that's what a blackout does. When you're in a blackout, you don't remember, you're still functioning and going through life, but you have no memory of it. And just to think that, like losing the narrative of your own life, and That hit me hard. And I mean, the rest of the book was just fantastic too. But but that really struck a chord with me and probably was one of the reasons why I read it at the right time. So it had that impact that led to me, you know, eventually stopping on the other book that I highly recommend, is Quit Like A Woman by Holly Whitaker, which just recently came out. So it's one of the books that I now recommend to every single person, not just to someone who's thinking of stopping, quitting drinking, I think it's hugely impactful for anyone because it really explains the alcohol culture that we're living in, and why it's so prevalent. And why we see such a high rate of, you know, people becoming addicted to alcohol. And it's strange because I used to listen to the home podcast, which Laura McCowan in Hollywood Tucker did and I was more drawn to Laura than to Holly she was. I mean, to me, her personality was just very, she says what's on her mind? And now after I read the book, I'm like, it all makes sense. I mean, she's such a profound I would say activist in this area and that's the personality you need to have to be an activist and I think she's really gonna just just change the whole perception of alcohol, which is amazing. In the paragraph that had a real real impact.
I mean, so many paragraphs in this book, but this one in particular, is towards the end of the book. And she writes, I am an extremist. Uh, let's go get to the point, the kind of woman I don't dabble in gray areas for long or suffer through things pixel by pixel. I drink the ocean. I love that picture that that paints. Anyway, what worked for me at the beginning was not deciding day by day that I wouldn't drink that day. What worked for me was obliterating the idea that I would ever drink again, striking the possibility of completely making a decision and never questioning it. Never questioned the decision. NQTD. 4 letters now inked on my arm. A decision made once, that you never have to question again. This doesn't mean the decision has always stuck. It just means, I don't want to be deciding every single day that I won't drink that day. Who, I mean, that for me sums up, you know, how I approach my recovery. I just never question it. You know, once I accepted that fact that I wasn't going to think about it, it just that made all the difference for me, you know, not, it just cleared so much brain space to not have to be deciding every single day. I just, you know, wipe the slate clean and said, this is off the table. This is off the table. Drinking is not an option. And that to me, it was such a relief when once I got to that point where I could do that. So I just love that. Who knows, maybe I'll get those letters into my arm too. Anyway, those are my two recommendations. There's tons of other things. Break Quit lit out there.
33:12  
I read Holly Whitaker's Quit Like A Woman in the first month of my sobriety. I come from the belief that there's not a one size fits all with recovery and that you don't have to do it to get sober. Holly put into words why a wasn't the right fit for me. I love that there are so many different paths that people can take now to find support on their sober journey. Her book also talks about how alcohol is in fact addictive. Before I started reading these books, I had no clue myself. I loved her comparison to cocaine and could you imagine if our culture was okay with everyone using Coke, like we do alcohol at sporting events, birthday parties, brunches, book clubs. Imagine if moms called it their mom powder. But then you were told to use it only responsibly and don't become a couple. Okay in a Holic, she shows us how our culture normalizes alcohol, but then turns around and demonizes us. If we become addicted, you will feel empowered as a woman after reading this book.
If you're listening to this episode and have been trying to take a break from drinking, but keep starting and stopping and starting again, I want to invite you to take a look at my on demand coaching course, The Sobriety Starter Kit. The Sobriety Starter Kit is an online self study, sober coaching course that will help you quit drinking and build a life you love without alcohol without white knuckling it or hating the process. The course includes the exact step-by-step coaching framework I work through with my private coaching clients, but at a much more affordable price than one-on-one coaching. And The Sobriety Starter Kit is ready, waiting and available to support you anytime you need it, when it fits into your schedule.  You don't need to work your life around group meetings or classes at a specific day or time. This course is not a 30 day challenge, or a one day at a time approach. Instead, it's a step-by-step formula for changing your relationship with alcohol. The course will help you turn the decision to stop drinking from your worst case scenario to the best decision of your life. You will sleep better and have more energy, you'll look better and feel better, you'll have more patience and less anxiety. And with my approach you won't feel deprived or isolated in the process. So if you're interested in learning more about all the details, please go to www.sobrietystarterkit.com. You can start at any time and I would love to see you in the course.
34:23  
When I first got sober, I really needed to connect with other people out there because I didn't have, like, the SHE RECOVERS® platform. I didn't go to a, I didn't really like, know anybody that I could relate to yet with sobriety, and so I was like, okay, might as well read some books and see, you know, other people's stories and how they got through sobriety and how they maintain sobriety and I was just so lost and so I was all about reading as many Quit Lits as I could. And so, I, you know, was just downloading on my Kindle another book because I also was trying to figure out, you know, the sobriety thing and was kind of keeping it secret. And so walking around with the book, like, you know, Elizabeth Vargas, you know, the drinking love story, I was just like, yeah, let's just keep it to myself. So I kind of kept everything on my Kindle. So I actually have like this amazing history of all of these Quit Lits on my book and, or on my Kindle. And so I went into look at a Girl Walks Out of A Bar by Lisa Smith, because that one that sticks out of me, or sticks out for me, and so I looked, and I'm like, when did I actually read that book? And it looks like I purchased it and read it a year and a half into sobriety. 
And so a Girl Walks Out of A Bar by Lisa Smith, I would say is one of my favorite books, for a couple of reasons. One, just the way in which Lisa wrote the book and wrote her story was just so own rupturing. And I mean, like, it was a page turner. I couldn't really put it down. I mean, she was, she had this, you know, professional life that she was able to maintain and through this drug addiction and alcohol addiction, and so I wanted to read her story. And that was the other reason why I was so interested in her book was because she was this, you know, high functioning lawyer. And for me, I felt like I was in this high functioning, you know, business setting where I could work and I could still do a really good job working but it was, it was definitely not something I was able to sustain. And that's when I eventually you know, I eventually had to quit my job because I just was so fed up with myself and the anxiety and I was just, it was just, it was I was exhausted. And so I think, you know, finding my way back to working again and, and reading Lisa's story about, you know, how she was able to get over and, and successfully and then you know, she continued her lawyer career. And then she is now an advocate for lawyers with addiction. And so not only was I just so into her book and how she told her story, I mean, some of the stories I'm like, Wow, did that? Did that really happen? Like, you know, I mean, it's just crazy how she was able to manage her life the way it was, but I just think it's so cool how she's still advocates for, you know, people and professional and the law field with who have addiction issues and so I've read some of her articles and I still follow her on social media because I was just I was so happy to hear her story and and support what she's done. And so it just, I guess I would say her book impacted me Because of her story the way she wrote it, and just the work that she's continued to do after you know writing, writing her story and sharing it with the world, so I highly recommend a Girl Walks Out of A Bar by Lisa Smith. You will love it and I highly recommend it for anyone who has addiction issues to you know, alcohol or, or drugs. Both were a part of her story.
38:30  
And so definitely pick this one up, The Unexpected Joy of Being Sober by Catherine Gray. I checked this book out from the library three times before I finally finished it. The first time I borrowed it, I never even read a single page. I'm not even sure why. The second time I borrowed it from the library. I got about halfway through, I was still trying to moderate my drinking, unsuccessfully. The third time was on and I had finally quit drinking. And I couldn't put the book down because it's that eye opening. I loved Catherine's authenticity and her ability to make her cringe moments relatable. I had so many of my own. And then she shared her struggle to moderate. It was like she was speaking directly to me. 
For years, I thought if I could only figure out how to moderate then I could imbibe, like normal drinkers. I thought there was something wrong with me, but I was the only one that struggled to control my intake. If only I had read this book sooner, she has shown me that it takes strength to go against the grain, and that's what being sober is. You know how I checked this book out three times in the library. I ended up buying it because I know that I'm going to read this one again and again.
40:10  
I absolutely loved the book, Mrs. D is Going Without by Lotta Dann. At the time, I just needed something funny. I had read so many memoirs that were so real and so raw, but I just needed to be uplifted. I read it when I was probably about three months sober. And it was that she just had a wonderful witty and charming and real and funny approach to her sobriety path and early sobriety. So, for me, it was just kind of a break from the norm with what I was listening to and reading within the first month of my sobriety. I discovered the tired of thinking about drinking blogs written by Belle Robertson and it was like water in the desert to me.
I was able to go back in the archives of her blog and read. Her entries were her alcohol, alcohol free days lined up with mine. And it was like she had set up surveillance in my head and written my very thoughts. Just the name of her blog, tired of thinking about drinking, I was so tired of thinking about drinking. Did I have a problem? Why couldn't I just casually enjoy it? Why couldn't I go one stupid day without it? She named that voice in my head that was always telling me it was time to drink Wolfie, and giving that beast a name and then telling being able to tell it to go eff off was exactly what I needed to hear that she wrote these thoughts and then that there were so many others out there commenting their similar thoughts and experiences was exactly what I needed to hear in those early days of sobriety when I felt so lonely and confused. I'll always feel like she had a hand on my shoulder during those first three Few months.
42:11  
A book that I recommend is Sober Stick Figures by Amber Tozer. I read it six months into my sober journey. And it is not your typical memoir at all. Amber is a comedian and a comedy writer. So everything that she writes kind of has this humorous undertone. And she can take kind of the most darkest moments of her journey and put a humorous spin on it. And since I am drawn to all things comedy, this memoir more than anything, really resonated with me. And also what makes this memoir just so unique and special. On every page, she has drawn a childlike stick figure to represent the words that she just wrote. So while the words might be very dark, there's this humorous lightness to it because of these stick figures at the bottom of the page. So I just really recommend this book for anybody who is kind of bored with the typical memoir, although they're all great, I love them all. But you're just looking for something different that's going to make you laugh. And she writes in a way that's completely relatable and I think that we, her journey. I think we can all relate with it.
43:49  
Well, after day after day filled with dread and impending doom, I saw the title Nothing Good Can Come of This by Kristi Coulter and I thought, you are so right. Nothing good can come from this. So I had to buy this book, Krist Coulter's collection of essays about childhood relationships, work, marriage and running. Oh, I wish I could get into the whole running thing. That might take me a little bit longer. But the essays are funny and honest. And for someone who describes herself as secretive, quite soul bearing. At one point she states that a friend asked her how long it took her to quit drinking once she realized she had a problem. And she was like 12 years give or take. He said, I've known you for that long and had no idea. And she shrugged. Yeah. She even quit drinking when her husband was out of town, so she didn't have to explain everything to him. I suppose my own best friend describes me as a clam. 
And after a year sober, I still haven't told anyone the extent of my problems. I can relate to how hard it can be for some of us to explain all of this internal turmoil. I really loved her essay a life in liquids, which goes through all the phases of her life from toddler with her father drinking bourbon to present day teetotaller drinks. Like myself, there were quite a lot of Chardonnay years and most other varieties of alcohol. And now I'm thinking how interesting it would be for me to journal my own life in liquids, probably starting with cider 40s, fruity beers, jugs of Carlo Rossi. And that's only up to when I was about 18. I have to add another 20 something or so years of liquids onto that. And I think for everyone who's contemplating giving up alcohol, or who recently quit or who struggles with trying to do everything, they'll really need to read permission. Because this essay is a reminder to do whatever you want or need to do to look after yourself. As Kristi says, You do not have to make dinner. You could eat pizza, or just the toppings. Leftover sugar babies. Bananas crotons crotons Countess dinner. starving people to the world will tell you crotons count that she concludes the only thing you actually have to do is you have to not drink tonight.
46:34  
If you're looking for a good quit, I highly recommend the book Idiot by Laura Clery. I love this book as I thought it was hilarious, raw, honest, and a true life of somebody with an act of addiction. I really connected with Laura, as I felt like we had some pretty crazy stories. Although hers totally topped mine, and I was so entertained. It really felt Like a novel or a drama and a comedy all mixed into one. When I read this book, I was about four months sober, still pretty shaky in my recovery. And reading this book kept me entertained, made me realize I never want to go back to that place, and also made me feel like I wasn't so alone. Laura states, the point of this book is to articulate that people have the capacity to change. While that's not one of the humorous quotes, she writes, it goes to show you that she had an intention when she wrote this book. You might like this if you're a woman in recovery or even considering recovery, like humor and comedy and like crazy stuff.
47:52  
I loved Drink by Ann Dowsett Johnston, because it was obviously very well researched and so informative. And it helped me realize how much the alcohol industry pushes its sales and markets directly to women. And this book actually made me really pissed off at the alcohol industry and it helped me be able to tell those to piss off.
48:37  
One of the books that has really helped me in my recovery is called The Little Book of Big Change by Amy Johnson. And why I loved it is it helped me through multiple relapses back into drinking and making it feel far less significant in my head. And by helping me change my story about the setback. One chapter in between chapter 17 is called setbacks are meaningless. And she goes into the stories we tell ourselves but also that falling back into our habit is not only really, really common, but it's also completely meaningless or can be, we assign the meaning to it. So while this isn't really a, like a Quit Lit book, so to speak, it is or it is, for me anyway, a very beneficial, read and listen, concerning relapse and I know that a lot of people struggle with that.
49:48  
I really loved the book My Fair Junkie by Amy Dresner. Her story is so sad but it's so funny the way that she tells it and her writing style and sense of humor make her a sad story. Relatable, readable and just plain entertaining. She's hilarious. I think you'll really love it.
50:28  
One of my favorites that has stuck with me has been from a Augusten Burroughs' book This Is How surviving what you think you can't, and he says to be successful at not drinking a person needs to occupy the space in life drinking once filled with something more rewarding than the comfort and escape of alcohol. 
This is the thing you have to find High Achiever by Tiffany Jenkins was crazy tone bananas. I just couldn't believe the whole time that I was reading it that it was somebody's real life story. It was insane and it highlights all of the crazy things that addiction makes us do and what we think that we are getting away with and it reads it reads so well it reads like a novel and you'll just feel this character. It's an amazing story.
51:51  
I just finished letting the words of the The Ember Ever There wash over me for the fourth time. Going through this compilation of poetry by Jean McCarthy, the Ember Ever There is a brilliant combination, touching upon so many difficult subjects, and really touching the readers heart. Those of you who are familiar with Jean McCarthy from her interviews on The Bubble Hour
and her unpick old blog already knows that she's not afraid to be vulnerable and speak truthfully. And the thing that's so special about this compilation of poetry is just yet again, her skill of just cutting to the chase getting right to the point on some really tough topics. 
My favorite is that it opens with beginning. For those of us in recovery, this is a fantastic way to launch the book because it touches upon everything from fear to connection with your authentic self. To the title of the book, calling the Ember Ever There, which is that Ember, you know, deep, deep inside of each and every one of our souls, and basically, how to tap into it and why now? Why now what, what the better question is, is how could I live another moment separated from myself? That's an example of an excerpt from one of the poems by Jean. I won't do it justice by trying to quote her poetry, but I will tell you that this is a must read. I've read it again. And again, like I said, four times I've bought several copies for friends and family and the section on loss and grief is particularly poignant because, again, she's not afraid to say some and express some very tough feelings in a very truthful way. And then the beautiful thing is it also includes healing and just ends with a very uplifting note, in my opinion. So I heartily recommend you to go out and get the Ember Ever There. And I do hope Jean makes an audio recording so that we can get it on Audible. 
Anyway, I highly recommend this book and also if you have not already read Jean's book that came out last year at the holiday season, The Unpickled Holiday Survival, another fantastic quit literature piece of work that you can give to friends, family loved ones of people, you know, in an about the recovery world, The Unpickled Holiday Survival gives tips just not just for Thanksgiving and Christmas and New Year's but all the events you know, whether it's birthdays weddings, funerals family gathering which are usually inundated with alcohol. It gives really practical tips and hope and just options and alternatives that we can each implement and that are really effective. So again, The Unpickled Holiday Survival is a must have for your bookshelf.
55:37  
I think the two Quit Lit books that I really enjoyed the most early on and my experience of quitting drinking, were drinking the Love Story by Carolyn Knapp and Almost Alcoholic and the story by Carolyn Knapp was recommended to me by a friend who identifies as a recovering alcoholic and goes to a, she read it in her sobriety experience. And I picked it up out of curiosity because I had my own inner secret concerns about my drinking. And I read it and found similarities between the emotions and the thinking and the processing that Carolyn Knapp had. But I didn't relate to the drinking behaviors as much like it kind of was, I could see that like, she was further along and her alcohol abuse progression than me and so in a way, it sort of served as this like, Oh, I'm not that bad kind of thing. And then, when I did decide to take a break from alcohol to really explore the layers underneath why I was abusing alcohol. I read it again. 
And this was a couple of years later, and I could see that I related to her behaviors more. And that this thing is insidious because over the last couple of years, I'm drinking more and more out of control. And I realized that it really just hit home for me. The progressiveness of alcohol addiction. The other book, Almost Alcoholic. I don't remember how I found that one. And it actually really focuses on the idea of there being a continuum of drinking. This is before gray area drinking was a big thing. And people were talking about it. I know now. Jolene Park does a lot of work around gray area drinking and Aiden Donnelly really talks about gray area drinking and I say we're just starting to do that back then. But I hadn't heard the term yet and I wasn't familiar with them yet. And I read the book almost alcoholic and just clear as a bell could see myself on the continuum of drinking behaviors, patterns and I knew that this thing is progressive and I knew that you know, while maybe some people go backwards a lot of people don't. A lot of people don't stall out in the same place. 
The thing that I am I'm a little uncomfortable with with almost alcoholic is that it does kind of give ideas for for trying to control alcohol consumption and I really do believe that it's just an addictive substance and continued use while trying to control it or moderate it is a lot of really hard work and I need deliberation. You know, I, I quit drinking for a month and took it a month at a time until I realized that it was something that I just kind of want off my plate probably permanently. And I don't need it or miss it anymore. So those two books were really powerful for me in the beginning. Since then, as I've gotten further along in my drinking, I really really, really, really like Hollywood occurs in books, quite like a woman. I like how empowering she views her recovery experience and the perspectives that she has also really resonate with feeling in control and feeling like I'm powerful instead of powerless. So those were, you know, three of my top favorites and I hope that other folks find that they enjoy them as much as I did.
1:00:13  
I absolutely loved M. Scott Peck's book called The Road Less Traveled. And the reason I loved it so much was because it really introduced me to this idea of personal responsibility. It was the first time I've thought about how every relationship had a 50/50 shared responsibility and that my only job was to focus on my part. And he explains it. He said he was a psychiatrist or a psychiatric doctor in this book that he wrote about the road less traveled. Then so on the New York Times bestseller lists for so long. They eventually just had to take it off. But it's an amazing book. I read it just before I got sober. And I think that really helped me to embrace the ideas that came out. After that, and the ideas that came after that, in terms of Quit Lit is what is referred to as The Big Book of Alcoholics Anonymous. And there's another book called 12 Steps and 12 Traditions by Bill Wilson. And those two books have stood the test of time for 80 years because they break down the thinking of a particular type of person, we used to call them alcoholic, now, it's like an alcohol use disorder. That's a… that's a big pill for some people to swallow, like a high barrier to entry. 
However, there are certain groups of people who think a certain way who all have some very remarkable characteristics and these two books break it all down. And they help because like the big books designed to help you find a power greater than yourself, and I had never been aware that I do. Could redefine what a higher power meant to me. That was the first time I grew up with religion. So it was the first time I was introduced to the idea that I could redefine something that was supposedly a set thing. So those are three book recommendations, a Road Less Traveled, the Big Book of Alcoholics Anonymous by Bill Wilson and the 12 and 12, as we call it.
1:02:36  
An amazing book would be Waking Tiger by Peter Levine. He talks all about recovering the body and the trauma, how it is stored in our body and how to release it. So I think Waking Tiger's key just really beautifully in a really digestible, easy to understand way talks about how trauma is stored in our body, and in our Nervous System and throughout the book, as he's describing that he's also leading us through exercises. So while we're reading the book, we get to do these exercises where he, you know, guides the key and puts the guidelines. And then you get to actually do the kind of experimentation of releasing trauma from your body and your nervous system while you're reading the book. So, I think that in recovery, we need to focus on body, mind and spirit. 
There aren't many books out there that focus on the body. The body keeps the score, but that one is weight. It's really scientific. And it's a beautiful book, but not every… A lot of people say they can only read a few pages at a time and it's too hard to understand. So I think, Peter Levine just did a really beautiful job of making it so that anybody could understand how we store trauma in our body but then he also includes the exercises so that you can do somatic exercises on your own, which is really powerful because not everybody has access to somatic. They pests where they live, or they're expensive, but not everybody can afford them.
1:04:13  
The Good House by Anne Leary when I first read this book, it was probably three or four years before I got sober. I was probably in that pre contemplation stage. I really wasn't looking for, or reading any books on the topic at the time. I initially picked the book up just because it sounds like a good book. It's fiction. So when I started reading it, well, let me say, at the time, my normal habit at the time was I would have a glass of wine around dinnertime when I was trying to have dinner and have another glass with dinner.
1:04:52  
Put the kids to bed and then usually sit and either watch TV or read and finish off, you know the bottle of wine or open another bottle of wine. So when I started reading this book, that's what I was doing. I was sitting on the couch and drinking my wine and I remember starting to read it, and I was blown away. I had never had the time, at least I didn't know anybody who was sober. I didn't know anyone in recovery. I didn't know that there were any groups for recovery. You know, out there, I didn't know anything except, you know, the, what I thought of as an alcoholic in a so when I started reading this book, I remember sitting there drinking my wine on the couch, and literally being stunned that there was somebody was describing exactly what was going on in my head, and it blew me away. So I finished the book and I looked up the author. The author of the book is Anne Leary, if you know her. She's married to Denis Leary who was a comedian. And it turns out, strangely enough, that they happen to live near me, here in Connecticut, in a place that I run frequently. 
So I have tried to read that book. I remember going on these runs and imagining what it would be like to run into her because now I was obsessed with the fact that How did she know that? What was going on in my head? I mean, to a tee like she would describe like, thoughts that I was having in like patterns of drinking that I had. And so I would go on these runs near her house, and just imagine running into her and asking her how she knew this. And it turns out that she actually is in recovery herself, but I didn't know that at the time. So of course, that's like, how she knew because she had experienced the same things. But for a good couple of years. I would run there just hoping that I would run into her to ask her these questions.
1:06:57  
The Girl On The Train by Paula Hawkins. This is not a sober memoir. This is just a great read. If you haven't read it already, I know that everybody's heard of the book. And basically the main character of the book is an alcoholic who drinks to the point of blacking out almost daily, and witnesses something while on the train, but she's drunk and is unsure of her memories. And there is… it's a thriller, for sure. And it is just beyond dark and tragic. And I think it is a glimpse into what could be for some of us because most, most of us probably didn't get there. But it is a tragic story. With maybe a glimmer of hope at the end, anyways, for a, just a novel that's not a memoir, but something different. I recommend Girl On The Train.
1:08:24  
A Million Little Pieces by James Frey. I found this book to be so well written and, and such a good reminder of the harsh realities and the painful times that we live through as, as alcoholics, the things that we that we put ourselves through. I read this book years and years ago, long before I even acknowledged my own issues without going Huh? But um, I still recognize myself in his story, even at that time, even when I was in the middle of my addiction, I still recognized myself in his story and I credit this book with planting the seed for me that yes, perhaps I have a problem too.
1:09:34  
I picked up Beautiful Boy by David Sheff at a Starbucks actually, years and years ago, remembering when Starbucks sold books, and this is the very first sort of Quit Lit type book that I had ever read. And I didn't even know that that's what it was called. I just saw the book and thought it looked good and picked it up and I'm so glad that I did. The writing is amazing. David Sheff is…is a wonderful writer and the story from a parent's perspective of trying to help their child with addiction is just so heartbreaking. And then Tweak by Nick Sheff. Um, I read after I read David's book, Beautiful Boy. And it was so interesting to read the same story. But from Nick's perspective, from the addicts perspective, there are several specific events that appear in both books and it was so interesting to see how they played out differently for the parent versus the child and addict and both. Both books are just so well written and such beautifully told stories of addiction.
1:11:23  
I hope you've enjoyed listening to other women share the books they've loved. And the amazing thing is that this list isn't even comprehensive. I know there are books I haven't mentioned that you've read that have helped you stop drinking, stay sober, and embrace life without alcohol. 
I've also had the privilege to interview authors about their books on this podcast, and you can listen to them if you'd like to. I talked with Jardine Libaire + Amanda Eyre Ward about How To Live A Decadent, Adventurous, Soulful Life, Alcohol Free and Emily Paulson about her memoir, Highlight Real. I spoke with Meredith Atwood and her book The Year of No-Nonsense. Jean McCarthy about her powerful and beautiful book of poetry, the Ember Ever There. I had a great conversation with Christie Coulter, about her book of essays, Nothing Good Can Come From This. Each book, each conversation has helped me look into why I drank and how good life is on the other side. Now, other books that we haven't mentioned, are also amazing as part of this genre. There's Lit by Mary Karr. There's Bottled: Mom's guide to early recovery and How to be the Perfect Like Me by Dana Bowman. Between Breaths: A memoir of panic and addiction by Elizabeth Vargas. There's Sober Curious by Ruby Warrington. Dry by Augusten Burroughs which is a great read. There's A Happier Hour by Rebecca Weller then The Recovering by Leslie Jamison, Kick the Drink Easily by Jason Vale. 
Alcohol Explained by William Porter. Allen Carr's Easy Way for Women to Quit Drinking. And for fun, for those of us who grew up with them, I listened to Rob Lowe's Stories I Only Tell My Friends and it was a great book about drinking and quitting drinking, as well as some fabulous celebrity gossip. 

Now I know many will also love and want me to mention the big book from Alcoholics Anonymous, and The Women's Way Through The Twelve Steps by Stephanie Covington. And then there are the other authors who are so influential in living a healthy, grounded, self compassionate life like Brené Brown and Anne Lamott, this list will continue to grow and help women feel less alone if they decide that drinking is not working in their life. And if you want a comprehensive list of all the books that I've mentioned in this app, So you can go to hellosomedaycoaching.com/quit-lit you can enter your email address and I'll send you the full guide.
So thank you for coming on here. I couldn't appreciate it more. 
Thank you for listening to this episode of The Hello Someday Podcast. If you're interested in learning more about me or the work I do or accessing free resources and guides to help you build a life you love without alcohol, please visit hellosomedaycoaching.com. And I would be so grateful if you would take a few minutes to rate and review this podcast so that more women can find it and join the conversation about drinking less and living more. 
ABOUT THE HELLO SOMEDAY PODCAST
The Hello Someday Podcast helps busy and successful women build a life they love without alcohol. Host Casey McGuire Davidson, a certified life coach and creator of The Free 30-Day Guide to Quitting Drinking – 30 Tips For Your First Month Alcohol-Free, brings together her experience of quitting drinking while navigating work and motherhood, along with the voices of experts in personal development, self-care, addiction and recovery and self-improvement. 
Whether you know you want to stop drinking and live an alcohol free life, are sober curious, or are in recovery this podcast is for you.
In each episode Casey will share the tried and true secrets of how to drink less and live more. 
Learn how to let go of alcohol as a coping mechanism, how to shift your mindset about sobriety and change your drinking habits, how to create healthy routines to cope with anxiety, people pleasing and perfectionism, the importance of self-care in early sobriety, and why you don't need to be an alcoholic to live an alcohol free life. 
Be sure to grab the Free 30-Day Guide To Quitting Drinking right here.
Are you subscribed to my podcast? If you're not, I want to encourage you to do that today. I don't want you to miss an episode.
I'm adding a bunch of bonus episodes to the mix and if you're not subscribed there's a good chance you'll miss out on those. Click here to subscribe in iTunes!
Now if you're feeling extra loving, I would be really grateful if you left me a review over on iTunes, too. Those reviews help other people find my podcast and they're also fun for me to go in and read. Just click here to review, select "Ratings and Reviews" and "Write a Review" and let me know what your favorite part of the podcast is. Thank you!
OTHER WAYS TO ENJOY THIS POST: