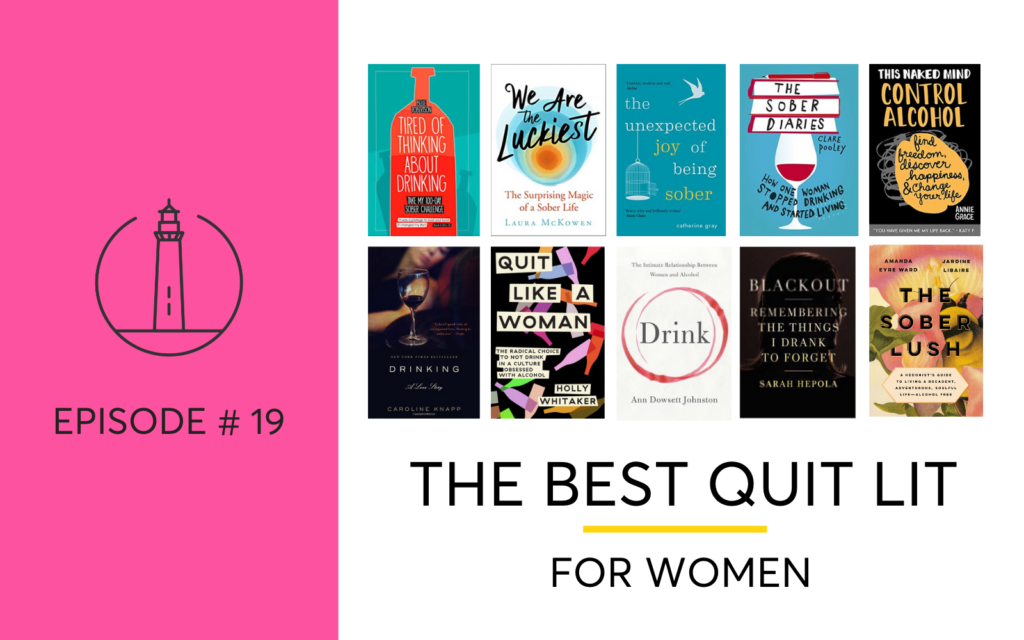 The best quit lit sobriety books for women who are ready to stop drinking and go alcohol-free.
What's the definition of 'Quit Lit'?
Quit Lit is a whole genre of books that you might not have ever heard about if you're not a woman who has a complicated relationship with alcohol. Quit Lit books are books about drinking, quitting drinking, getting sober and life without alcohol. There are novels and memoirs, essays, fiction, and how to be sober guides. They are deep and soulful, entertaining and honest, eye opening, hysterically funny, raw and hopeful. Quit lit books were a lifeline to me in early sobriety. 
Some of the most famous Quit Lit books include Drinking a Love Story by Caroline Knapp, Carry On, Warrior: The Power of Embracing Your Messy, Beautiful Life by Glennon Doyle, Quit Like A Woman by Holly Whitaker, The Unexpected Joy of Being Sober by Catherine Gray, Tired of Thinking About Drinking: Take My 100-Day Sober Challenge by Belle Robertson, The Sober Diaries: How One Woman Stopped Drinking and Started Living by Clare Pooley, We are the Luckiest: The Surprising Magic of Sober Life by Laura McKowen, This Naked Mind: Control Alcohol, Find Freedom, Discover Happiness & Change Your Life by Annie Grace, Kick the Drink Easily by Jason Vale, Alcohol Explained by William Porter, Easy Way for Women to Quit Drinking by Allen Carr and Blackout by Sarah Hepola.
In this episode, I want to share not only my favorites but the voices of other women and the books that have inspired them and helped them along the path of re-evaluating their relationship with alcohol. 
If you're constantly surrounded by messages that drinking is important and glamorous, sophisticated and fun, quit lit sobriety books will be a lifeline.
They'll give you a glimpse into what your  life could look like without alcohol. 

These voices, of women who have been where you are, will remind you that you're not alone. 

They'll whisper to you when you are worried about your drinking. They won't let you bury your head in the sand and tell yourself that  how you're feeling was no big deal. 

They'll give you hope that life will be better without alcohol. 
This episode is about the best quit lit for women.
To get the full guide of the best quit lit for women go to www.hellosomedaycoaching.com/quit-lit
Enter your email address and the guide will be sent right to your inbox.
Shownotes: www.hellosomedaycoaching.com/19
Grab your  Free Sober Girls Guide To Quitting Drinking
Books and Resources mentioned in this episode
Connect with Casey McGuire Davidson
Casey @ Hello Someday Coaching (@caseymdavidson)
Listen to more podcast episodes to drink less + live more.
ABOUT THE HELLO SOMEDAY PODCAST
The Hello Someday Podcast helps busy and successful women build a life they love without alcohol. Host Casey McGuire Davidson, a certified life coach and creator of The Sober Girl's Guide to Quitting Drinking, brings together her experience of quitting drinking while navigating work and motherhood, along with the voices of experts in personal development, self-care, addiction and recovery and self-improvement. 
Whether you know you want to stop drinking and live an alcohol free life, are sober curious, or are in recovery this podcast is for you.
In each episode Casey will share the tried and true secrets of how to drink less and live more. 
Learn how to let go of alcohol as a coping mechanism, how to shift your mindset about sobriety and change your drinking habits, how to create healthy routines to cope with anxiety, people pleasing and perfectionism, the importance of self-care in early sobriety, and why you don't need to be an alcoholic to live an alcohol free life. 
Be sure to grab the Free Sober Girl's Guide To Quitting Drinking right here.
Are you subscribed to my podcast? If you're not, I want to encourage you to do that today. I don't want you to miss an episode.
I'm adding a bunch of bonus episodes to the mix and if you're not subscribed there's a good chance you'll miss out on those. Click here to subscribe in iTunes!
Now if you're feeling extra loving, I would be really grateful if you left me a review over on iTunes, too. Those reviews help other people find my podcast and they're also fun for me to go in and read. Just click here to review, select "Ratings and Reviews" and "Write a Review" and let me know what your favorite part of the podcast is. Thank you!
OTHER WAYS TO ENJOY THIS POST: