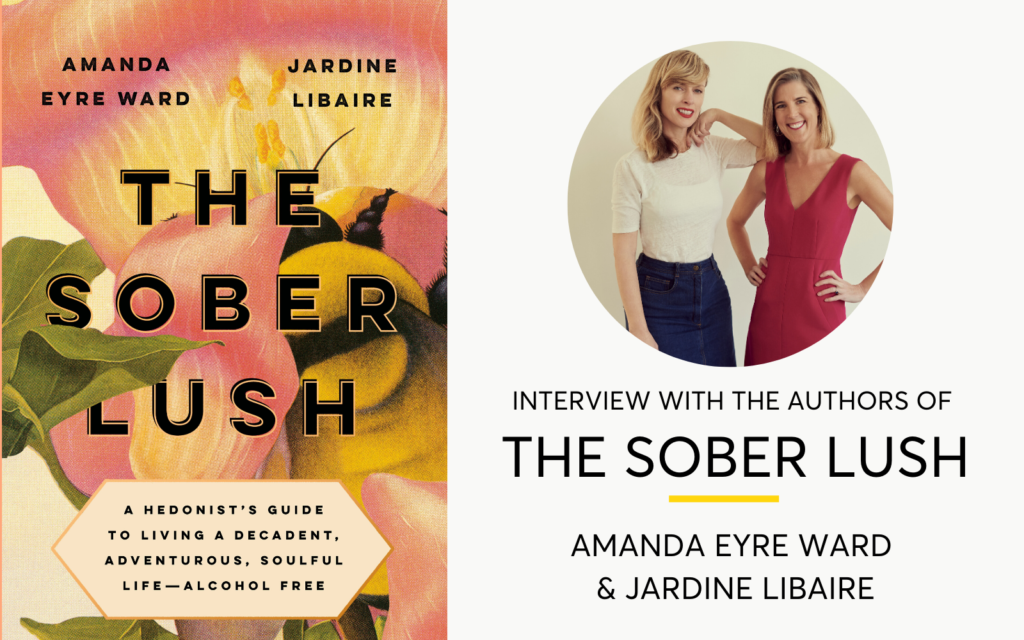 The Sober Lush: A Hedonist's Guide to Living a Decadent, Adventurous, Soulful Life – Alcohol Free
In this episode I interview two incredible authors and really cool sober women, Amanda Eyre Ward and Jardine Libaire about their new novel, The Sober Lush: A Hedonist's Guide to Living a Decadent, Adventurous, Soulful Life – Alcohol Free. 
The book is all about the joy to be found in life after you step away from wine as your constant companion. 
Jardine and Amanda have called this book "an ode to the technicolor playful side of sobriety" because it evokes the pleasures, feelings of connection and deliverance from the ordinary, that come once you start living life without numbing out. 
In our conversation Amanda shares how she was able, through her friendship with Jardine, to get a taste of a sumptuous, beautiful, art-filled life where booze didn't have a place.
In this episode, you'll learn:
What Amanda and Jardine learned about dismantling your drinking life and rebuilding it so you don't want booze anymore. 

How you might feel in early sobriety and why you should hold on for the sweet and beautiful life that's coming your way. 

How to navigate a date night, trip or holiday without alcohol. 

How to have early conversations with your husband or partner about what you're doing and finding the support you need

Amanda and Jardine's favorite ways to live a decadent, sober life.
Amanda Eyre Ward is the author of eight novels, including the New York Times bestseller The Jet Setters, which was also a book club pick by Reese Witherspoon, and it features a character trying to stay sober on a cruise ship. Amanda's work has been optioned for film and television and published in 15 countries. 
Jardine Libaire is a novelist and a screenwriter. Her novels include Here Kitty, Kitty, and White Fur. She also co-wrote a film that was just released called Endings, Beginnings, starring Shailene Woodley, whose character has just given up alcohol. She's from New York and spent a decade in Austin where she became good friends with Amanda. Jardine now lives in LA.
RESOURCES AND LINKS MENTIONED IN THIS EPISODE
The Sober Lush: A Hedonist's Guide to Living a Decadent, Adventurous, Soulful Life–Alcohol Free
The Sober Lush (@thesoberlush)
Connect with Jardine Libaire 
JardineLibaireProjects (@jardinelibaireprojects)
Connect with Amanda Eyre Ward
Amanda Eyre Ward (@amandaeyreward)
Connect with Casey McGuire Davidson
Casey @ Hello Someday Coaching (@caseymdavidson)
How to find the Best Sober Facebook Groups for busy women: 
https://hellosomedaycoaching.com/sober-facebook-groups/
Get The Free Sober Girl's Guide to Quitting Drinking – 30 Tips For your First 30 Days
ABOUT THE HELLO SOMEDAY PODCAST
The Hello Someday Podcast helps busy and successful women build a life they love without alcohol. Host Casey McGuire Davidson, a certified life coach and creator of The Sober Girl's Guide to Quitting Drinking, brings together her experience of quitting drinking while navigating work and motherhood, along with the voices of experts in personal development, self-care, addiction and recovery and self-improvement. 
Whether you know you want to stop drinking and live an alcohol free life, are sober curious, or are in recovery this podcast is for you.
In each episode Casey will share the tried and true secrets of how to drink less and live more. 
Learn how to let go of alcohol as a coping mechanism, how to shift your mindset about sobriety and change your drinking habits, how to create healthy routines to cope with anxiety, people pleasing and perfectionism, the importance of self-care in early sobriety, and why you don't need to be an alcoholic to live an alcohol free life. 
Be sure to grab the FREE SOBER GIRL'S GUIDE TO QUITTING DRINKING right here.
Are you subscribed to my podcast? If you're not, I want to encourage you to do that today. I don't want you to miss an episode.
I'm adding a bunch of bonus episodes to the mix and if you're not subscribed there's a good chance you'll miss out on those. Click here to subscribe in iTunes!
Now if you're feeling extra loving, I would be really grateful if you left me a review over on iTunes, too. Those reviews help other people find my podcast and they're also fun for me to go in and read. Just click here to review, select "Ratings and Reviews" and "Write a Review" and let me know what your favorite part of the podcast is. Thank you!
OTHER WAYS TO ENJOY THIS POST: