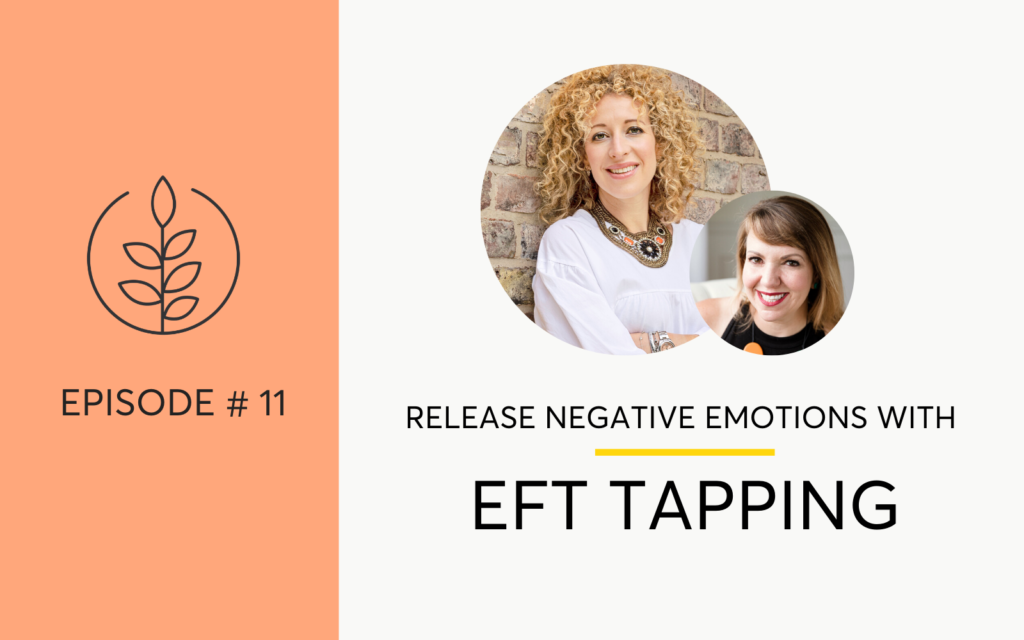 Using EFT Tapping to release triggers, reduce cravings and relieve negative emotions
What is Tapping or The Emotional Freedom Technique?

How does tapping work to manage stress and anxiety? 

Can you use tapping to relieve negative emotions that can lead you to drink or tap to reduce drinking cravings?

Did you know you can tap with your children to help calm them and release overwhelming emotions?
If any of these questions spark your interest, today's episode is for you. 
My guest is Kate Moryoussef, a UK based EFT (Emotional Freedom Technique) Wellbeing Coach. Kate helps busy moms manage overwhelm and stress.  
EFT Tapping has been referred to as psychological acupressure.  It's a 5-step technique for anxiety relief.
Kate describes EFT Tapping as a practical self-help method that involves using the fingers to gently tap on the body's acupuncture points along the meridian lines of Chinese medicine. 
For me it felt like something really kind I was able to do for myself that also let me release some emotional baggage.
EFT Tapping helps you tune in to the negative patterns that form around uncomfortable thoughts, feelings, or troubling memories.
You 'tap' on the correct pressure points while bringing the thoughts or emotions into consciousness.
The aim is to find relief, relaxation, and promote healing around the emotional or physical issues that are holding you back.
For issues with drinking, you can tap around your cravings and triggers.
To get you started Kate created a tapping video specifically for women dealing with drinking cravings for The Hello Someday Podcast listeners.  You can find the video below along with a description of the tapping sequence you'll go through with Kate.
Below you will find a video Kate created for our podcast listeners! 
In it she'll go through an EFT tapping sequence, which you can follow along with by doing and saying what Kate does and says in the video. 
In the podcast you'll hear what parts of the "drinking cravings" tapping sequence made me nervous while working through it, and how I understood the process better and felt better by the end. 
For some background on what's happening in the video – scroll below the video for a description of an EFT tapping sequence. 
I love talking with Kate. She lives in Manchester, UK with her husband, four kids and two dogs. She's a wellbeing coach trained in Neuro Linguistic Programming (NLP) and Emotional Freedom Technique (tapping). 
As a coach Kate works with women to find more emotional freedom, happiness, fulfillment and health. She believes in choosing to focus on what brings you joy and continued happiness, removing shame and guilt that many women feel in their life. 
Kate is passionate about wanting to help women rediscover their inner voice, tap into their expansive potential and realize themselves outside of their family dynamic. She wants to help women recognize what's holding them back and teach them to hear and then listen to their inner guidance and connect to a force they didn't know they had. 
I had heard of tapping but never tried it before this conversation with Kate. 
Following our podcast interview I hired Kate to walk me through the tapping techniques for 3 sessions.
We did the sessions over zoom (with me sitting with my morning coffee in my office in Seattle and Kate settled in after dinner with her family in Manchester, UK) and I immediately felt at ease. 
I loved the process of tapping. It felt like a massage – but one in which I was able to tap on a problem I was having and where I felt stuck.  
I felt more relaxed after our sessions and I uncovered a lot of fears and limiting beliefs that were holding me back that I didn't know existed. They were in my subconscious – yet impacting my thoughts and choices each day.  
By our third session I felt like I'd made some major breakthroughs with a heavy inner critic voice I was hearing every day. I was able to set down some of my negative self talk and get some emotional distance from the feelings my inner critic was creating.  
Here's a description of an EFT tapping sequence. 
The EFT tapping sequence is the methodical tapping on the ends of nine meridian points. (Source: https://www.healthline.com/health/eft-tapping#treatment)

There are 12 major meridians that mirror each side of the body and correspond to an internal organ. However, EFT mainly focuses on these nine:

karate chop (KC): small intestine meridian

top of head (TH): governing vessel

eyebrow (EB): bladder meridian

side of the eye (SE): gallbladder meridian

under the eye (UE): stomach meridian

under the nose (UN): governing vessel

chin (Ch): central vessel

beginning of the collarbone (CB): kidney meridian

under the arm (UA): spleen meridian

In the video you'll begin by tapping the karate chop point while simultaneously reciting your setup phrase three times. Then, tap each following point seven times, moving down the body in this ascending order:

eyebrow

side of the eye

under the eye

under the nose

chin

beginning of the collarbone

under the arm

After tapping the underarm point, finish the sequence at the top of the head point.
While tapping the ascending points, Kate will take you through reciting a reminder phrase to maintain focus on your problem area (a drinking craving). You'll recite this phrase at each tapping point and repeat this sequence two or three times.
Connect with Kate Moryoussef
Instagram: Kate Moryoussef (@coaching_by_kate_)
Facebook: Coaching by Kate
Connect with Casey McGuire Davidson
Casey @ Hello Someday Coaching (@caseymdavidson)
Get The Free Sober Girl's Guide to Quitting Drinking – 30 Tips For your First 30 Days
Connect with Casey McGuire Davidson
ABOUT THE HELLO SOMEDAY PODCAST
The Hello Someday Podcast helps busy and successful women build a life they love without alcohol. Host Casey McGuire Davidson, a certified life coach and creator of The Sober Girl's Guide to Quitting Drinking, brings together her experience of quitting drinking while navigating work and motherhood, along with the voices of experts in personal development, self-care, addiction and recovery and self-improvement. 
Whether you know you want to stop drinking and live an alcohol free life, are sober curious, or are in recovery this podcast is for you.
In each episode Casey will share the tried and true secrets of how to drink less and live more. 
Learn how to let go of alcohol as a coping mechanism, how to shift your mindset about sobriety and change your drinking habits, how to create healthy routines to cope with anxiety, people pleasing and perfectionism, the importance of self-care in early sobriety, and why you don't need to be an alcoholic to live an alcohol free life. 
Be sure to grab the Free Sober Girl's Guide To Quitting Drinking right here.
Are you subscribed to my podcast? If you're not, I want to encourage you to do that today. I don't want you to miss an episode.
I'm adding a bunch of bonus episodes to the mix and if you're not subscribed there's a good chance you'll miss out on those. Click here to subscribe in iTunes!
Now if you're feeling extra loving, I would be really grateful if you left me a review over on iTunes, too. Those reviews help other people find my podcast and they're also fun for me to go in and read. Just click here to review, select "Ratings and Reviews" and "Write a Review" and let me know what your favorite part of the podcast is. Thank you!
OTHER WAYS TO ENJOY THIS POST: