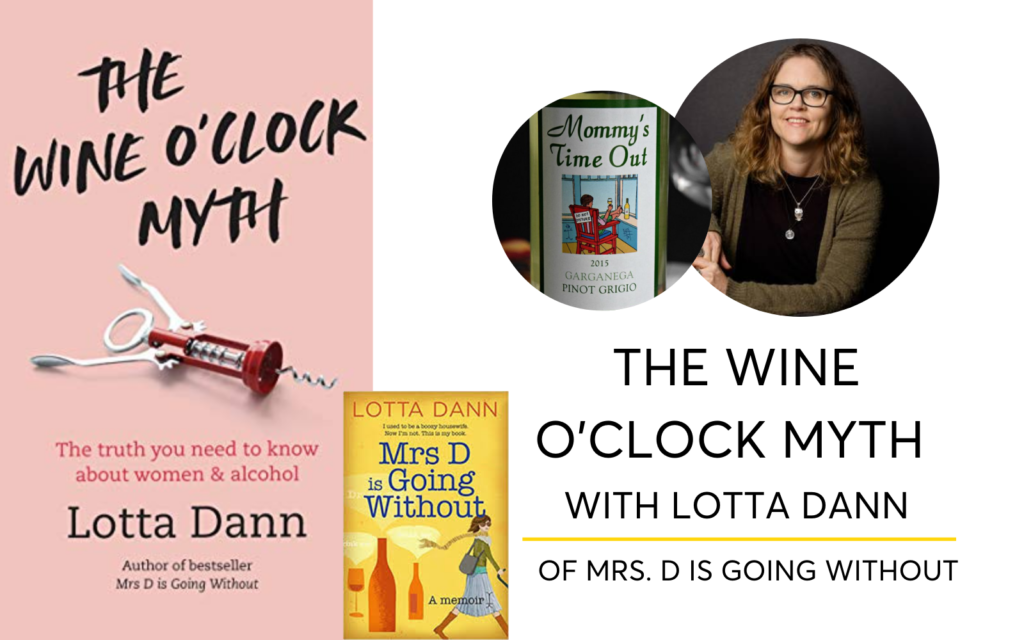 Have you ever questioned why alcohol is put on such a pedestal in our society? 
It occupies a unique place of privilege, one in which it is almost universally positioned as good, fun, harmless and required for a good time, despite the fact that it negatively impacts the physical and mental health of millions of people.  
My guest today Lotta Dann, recovery advocate, blogger and author of three books: the best-selling memoir Mrs. D is Going Without, her second book Mrs. D Is Going Within, and the just released The Wine O'clock Myth. 
Lotta's personal memoir of drinking, quitting drinking and living alcohol-free in a drink-filled world is witty, funny, and uplifting. 
Today Lotta and I talk about The Wine O'clock Myth, and why alcohol occupies such a privileged position in our society.
It's almost universally represented as a magic elixir to all our problems which makes life both fun and glamorous.
And the fact that alcohol also negatively affects the lives of millions of people is practically invisible in conversations about or representations of drinking in popular culture.
In this episode, Lotta and I discuss:
The truth that if you are struggling to moderate drinking, you are not alone and

you are not the problem: alcohol is the problem.

The way the liquor industry has targeted women and the damaging 'Wine Mom' social media culture.

The importance of

reframing the treat and reward concepts we've been taught

(and internalized) around wine. That drinking is our treat at the end of the day and a much needed reward for hard work.
Why

after the initial hit of dopamine wine is a depressive substance

that is numbing and cuts you off from yourself and the people around you.

How to find other rewards and 'sober treats' that will nourish and ground you and that will actually make you feel better.

How to

intentionally create a social media feed that inspires you

to see all the awesome ways to enjoy life without alcohol rather than one that glamorizes drinking at every turn.
Why it's critical to tap into

a positive sober support community that shares the full picture of drinking – not just the one marketed to you.

One that highlights both how good life can be without alcohol and shares truthfully the messages you will not see in popular culture, marketing or your social media feed – that drinking isn't always harmless and fun. It can be dangerous and suck a lot of women (and men) into an unhealthy and unhappy cycle.
About Lotta Dann
Lotta built a successful career as a TV reporter, producer, and director, while simultaneously developing a remarkable aptitude for drinking a lot of alcohol.
Lotta began an anonymous blog called "Mrs. D is Going Without" when she was first stopping drinking  – as a way to work through her thoughts and feelings, and keep herself accountable when she was starting her journey without alcohol. 
On her third day sober she writes her first ever blog post to herself  – in it she tells the full story of her final night of drinking and how she's had enough of this boozy madness. 
And then she writes
I've reached a tipping point and from now have decided to remove alcohol from my life. 

I'm scared. It's going to be hard. 

Our family all drink. Our friends all drink. And I'm going to try to do this without any outside support. Just this blog. 

So stay posted and I'll let you know how I get on. 

Love, Mrs. D xxx
Through her blog she found like minded people in the sober blogosphere, and they supported each other and cheered each other on and commiserated through the process. 
Eventually Lotta turned her story and blog into a best – selling memoir of the same name – Mrs. D Is Going Without. She worked to found Living Sober – a website in partnership with the New Zealand government that takes the powerful aspects Lotta found in online recovery and makes it available and accessible to thousands of people in a place of tolerance and kindness, understanding and support. 
Lotta wrote her second book Mrs. D Is Going Within – touching on mindfulness and the tools she uses to navigate life from an emotionally healthy place after putting down the wine bottle. 
And her new book, The Wine O'clock Myth, Lotta takes an in-depth and eye-opening look at women's drinking habits. Written through the lens of her own story and her work in the field of addiction and recovery, Lotta explores the privileged position alcohol holds in our society, the way the liquor industry targets women and the damaging 'Wine Mum' social media culture. 
She reveals the damage alcohol is causing to women physically, emotionally, and socially, and the potential reasons why so many women are drinking at harmful levels. 
Lotta now lives sober with her TV-journalist husband and three sons in the hills of Wellington, New Zealand.
Shownotes: www.hellosomedaycoaching.com/26
Grab your  Free Sober Girls Guide To Quitting Drinking
Get the guide on How to find and join my Favorite Private Sober Facebook groups
Get the Guide to The Best Quit Lit For Women (Including Lotta Dann's Mrs. D is Going Without) 
Connect with Lotta Dann
The Wine O'Clock Myth: The Truth You Need To Know About Women and Alcohol: https://www.amazon.com/Wine-OClock-Myth-Truth-Alcohol/dp/1988547229
Mrs D is Going Without: A Memoir: https://www.amazon.com/Mrs-D-Going-Without-Memoir/dp/1877505390
Mrs D is Going Within: https://www.amazon.com/Mrs-Going-Within-Lotta-Dann/dp/1877505862
Instagram: https://www.instagram.com/mrs_d_alcoholfree/
Facebook: https://www.facebook.com/mrsdisgoingwithout
Lotta Dann's Blog: http://livingwithoutalcohol.blogspot.com/
Mrs. D's Blog on Living Sober: https://livingsober.org.nz/category/mrs-ds-blog/
Connect with Casey McGuire Davidson
Website: www.hellosomedaycoaching.com
Instagram: Casey @ Hello Someday Coaching (@caseymdavidson)
Facebook: https://www.facebook.com/HelloSomeday 
Listen to more podcast episodes to drink less + live more.
ABOUT THE HELLO SOMEDAY PODCAST
The Hello Someday Podcast helps busy and successful women build a life they love without alcohol. Host Casey McGuire Davidson, a certified life coach and creator of The Sober Girl's Guide to Quitting Drinking, brings together her experience of quitting drinking while navigating work and motherhood, along with the voices of experts in personal development, self-care, addiction and recovery and self-improvement. 
Whether you know you want to stop drinking and live an alcohol free life, are sober curious, or are in recovery this podcast is for you.
In each episode Casey will share the tried and true secrets of how to drink less and live more. 
Learn how to let go of alcohol as a coping mechanism, how to shift your mindset about sobriety and change your drinking habits, how to create healthy routines to cope with anxiety, people pleasing and perfectionism, the importance of self-care in early sobriety, and why you don't need to be an alcoholic to live an alcohol free life. 
Be sure to grab the Free Sober Girl's Guide To Quitting Drinking right here.
Are you subscribed to my podcast? If you're not, I want to encourage you to do that today. I don't want you to miss an episode.
I'm adding a bunch of bonus episodes to the mix and if you're not subscribed there's a good chance you'll miss out on those. Click here to subscribe in iTunes!
Now if you're feeling extra loving, I would be really grateful if you left me a review over on iTunes, too. Those reviews help other people find my podcast and they're also fun for me to go in and read. Just click here to review, select "Ratings and Reviews" and "Write a Review" and let me know what your favorite part of the podcast is. Thank you!
OTHER WAYS TO ENJOY THIS POST: