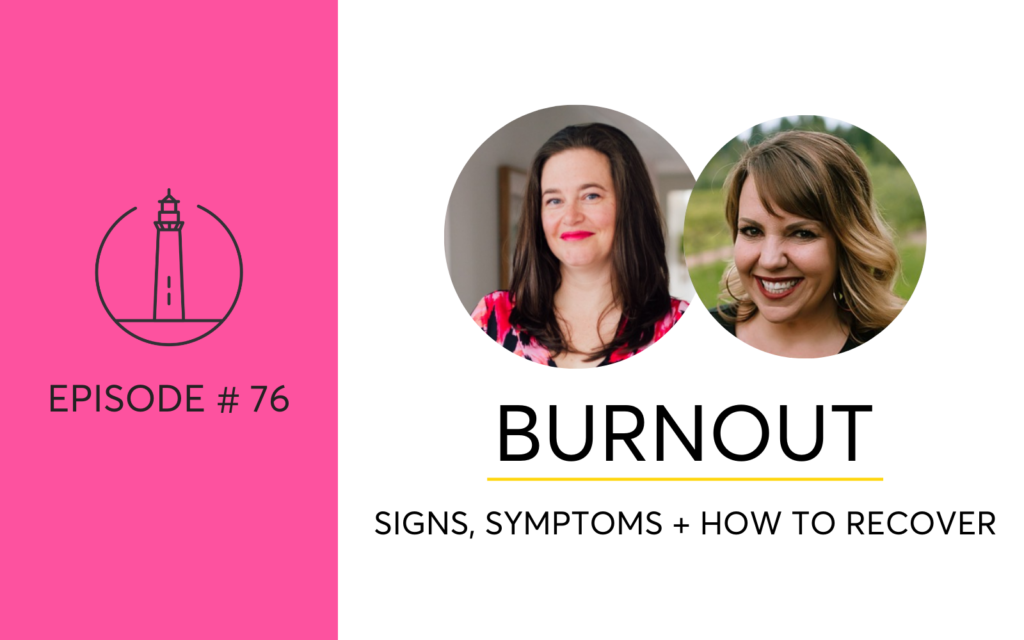 Women and Burnout: Signs, Symptoms And How To Recover
Do you drink a lot and also feel physically and emotionally burned out? 
Maybe your life feels unmanageable, work stress is constant, you're sleeping terribly, tired, empty, unmotivated, overwhelmed or mentally exhausted.
The physical and emotional symptoms of burnout often go hand in hand with alcohol use and abuse, and the signs and symptoms of burnout can mimic those of hangovers and alcohol withdrawal. 
Physical symptoms of burnout can include headaches, neck tension, digestive upset and sleep issues and people experiencing burnout may also feel physical and emotional exhaustion, cynicism and detachment, and a feeling of purposelessness.
Drinking alcohol can not only exacerbate burnout but also make it difficult to recognize, treat and heal burnout. 
My guest today is Cait Donovan and we're talking about "Burnout 101". She's going to help us identify burnout and understand how to separate it from the effects of drinking and alcohol withdrawal and identify ways to heal and recover. .
Cait is one of New York City's leading burnout experts, the host of FRIED: The Burnout Podcast and the author of the book, The Bounce Back Ability Factor and Burnout, Gain Resilience and Change The World. 
Today Caitlin and I are talking about everything "Burnout 101".
In this episode, we discuss:
What is burnout and how can you identify it?

How alcohol is often used as a coping mechanism for burnout and can make the symptoms of burnout worse

The differences and similarities between burnout and depression

How to heal your brain and body from burnout

Why recovering from burnout should be slow, gentle and kind

The difference between internal and external boundaries

The difference between rest and restoration in burnout recovery

Small changes you can make today to heal from burnout 
Support, resources and tools to help you take a break from alcohol
Take my FREE TRAINING on 5 Secrets To Successfully Take a Break From Drinking
Join The Sobriety Starter Kit. It's the private, on-demand coaching course you need to break out of the drinking cycle – without white-knuckling it or hating the process.
Grab the  Free Sober Girls Guide To Quitting Drinking, 30 Tips For Your First 30 Days
More about Cait Donovan
Cait Donovan is one of New York City's leading burnout experts, host of "Fried – The Burnout Podcast," and author of the book The Bouncebackability Factor: End Burnout, Gain Resilience, and Change the World. Her master's degree in Traditional Chinese Medicine enables Cait to combine Eastern wisdom with her natural practicality. 
After performing more than 25,000 acupuncture treatments, Cait added 1:1 coaching, corporate workshops, and keynotes for companies such as PTC, Lululemon, Vedder Price, Marsh and Mclennan, and Workplaceless – all with a focus on ending burnout culture.
Follow Cait on Instagram @friedtheburnoutpodcast
Listen & Subscribe to Cait's podcast, Fried. The Burnout Podcast
Want to connect and talk about this podcast?
Take a screenshot of your favorite episode, post it on your Instagram and tag me @caseymdavidson and tell me your biggest takeaway!
Want to read the full transcript of this podcast episode? Scroll down on this page. 
ABOUT THE HELLO SOMEDAY PODCAST
The Hello Someday Podcast helps busy and successful women build a life they love without alcohol. Host Casey McGuire Davidson, a certified life coach and creator of The Sober Girl's Guide to Quitting Drinking, brings together her experience of quitting drinking while navigating work and motherhood, along with the voices of experts in personal development, self-care, addiction and recovery and self-improvement. 
Whether you know you want to stop drinking and live an alcohol free life, are sober curious, or are in recovery this podcast is for you.
In each episode Casey will share the tried and true secrets of how to drink less and live more. 
Learn how to let go of alcohol as a coping mechanism, how to shift your mindset about sobriety and change your drinking habits, how to create healthy routines to cope with anxiety, people pleasing and perfectionism, the importance of self-care in early sobriety, and why you don't need to be an alcoholic to live an alcohol free life. 
Be sure to grab the Free Sober Girl's Guide To Quitting Drinking right here.
Are you subscribed to my podcast? If you're not, I want to encourage you to do that today. I don't want you to miss an episode.
I'm adding a bunch of bonus episodes to the mix and if you're not subscribed there's a good chance you'll miss out on those. Click here to subscribe in iTunes!
Now if you're feeling extra loving, I would be really grateful if you left me a review over on iTunes, too. Those reviews help other people find my podcast and they're also fun for me to go in and read. Just click here to review, select "Ratings and Reviews" and "Write a Review" and let me know what your favorite part of the podcast is. Thank you!
OTHER WAYS TO ENJOY THIS POST: