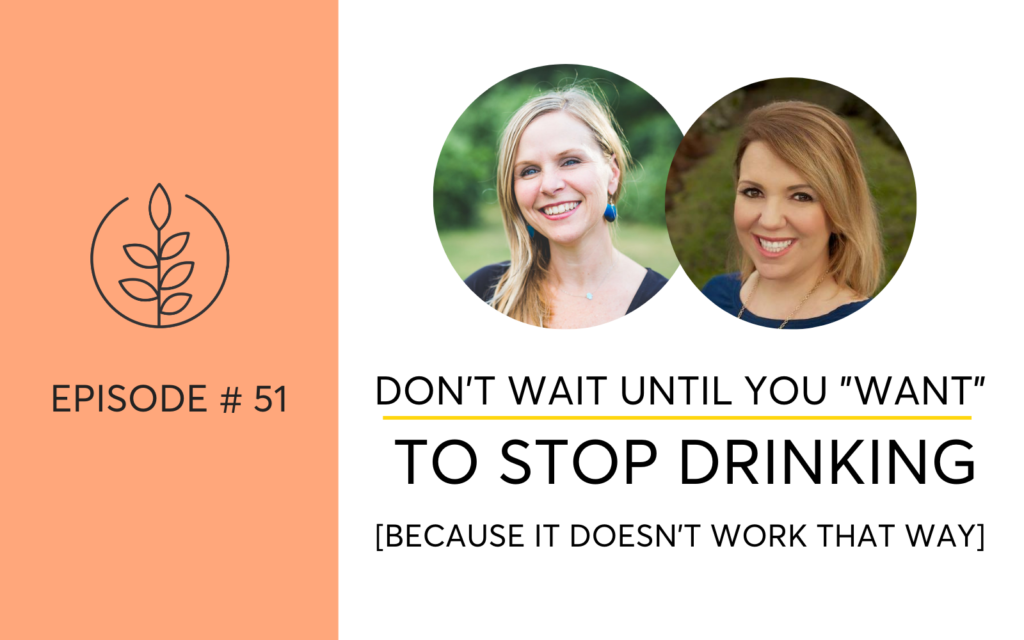 Don't Wait Until You "Want" To Stop Drinking 
Let's talk about the fact that most women who have a complicated relationship with alcohol don't actually 'want' to stop drinking. 
Most of us had a lot of good times drinking over the years.
Drinking was a lot of fun, and sometimes it still is.
We had amazing vacations, girl's nights and romantic date nights with alcohol. 
And even though you might be worried about your drinking, and are tired of headaches and hangovers, you likely don't actually want to stop completely. 
You probably can't imagine your life without happy hours and wine tastings. That's normal. And it's OK.
Here's the good news: you don't have to 'want' to stop drinking to take an extended break from it.
During that break you'll likely discover that life without alcohol is actually happier, healthier, more satisfying and more fun than it was when you were drinking. 
My guest today is Camille Kinzler. Camille is an alcohol-free lifestyle/habits expert who is passionate about helping women who wake up at 3 am saying "I wish I didn't have that last glass of wine…again" (re)learn how to destress, unwind, and connect instead of instinctively reaching for their go-to cocktail. 
Camille and I are going to talk about all the strategies that can help you stop drinking (even though you still want to). 
In this episode, Camille and I discuss:
Why deciding to take a break from alcohol for 100 days is more useful than a 'one day at a time' approach or telling yourself that you're stopping drinking 'forever'

How to switch up your evening routine and interrupt the patterns you've built around drinking

Why it's OK to mourn the loss of alcohol. You don't actually need to kill the 'want' of drinking, you just have to kill the 'yes'

Why this process is less about removing the alcohol and more about wanting more for your life and getting over the fear of change. Focusing on the vision of the person you want to be and the life you want to live is a powerful motivator

The Cozy Method of creating sustainable habit and lifestyle change

Consistency – Creating new habits and rituals
Ownership – Taking accountability for where you are, the habits you've created, recognizing what you need and asking for it
Zooming In & Out – Asking yourself who you want to be in this world and looking at the habits and behaviors that you're practicing to get you to that goal
Yes – Evaluating the commitments that you're taking on and realizing that if it isn't a 'Hell Yes' then its a No. Learn to set healthy boundaries
About Camille Kinzler 
Camille is an alcohol-free lifestyle/habits expert with a Master's in Science and Physician Assistant (PA) Studies. She is passionate about helping women who wake up at 3 am saying "I wish I didn't have that last glass of wine…again" (re)learn how to destress, unwind, and connect instead of instinctively reaching for their go-to cocktail. She loves working with professional women, busy moms, and healers/healthcare professionals, as she is all of the above, too.
Connect with Camille Kinzler
Learn more about Camille and how she can support you in quitting drinking, head over to www.thinkbeyondthedrink.com
Follow Camille on Instagram @thinkbeyondthedrink
Join her Facebook Group Think Beyond the Drink: For the sober curious to the sober connoisseur
Download your Love Your Liver Guide: Integrative Approach To Cleansing Your Liver 
Support, resources and tools to help you go alcohol-free
Get The Sober Girl's Guide To Saying No (my 5 step formula).
Drink Less + Live More today with The Sobriety Starter Kit. The private, on-demand coaching course you need to break out of the drinking cycle – without white-knuckling it or hating the process.
Grab your  Free Sober Girls Guide To Quitting Drinking, 30 Tips For Your First 30 Days
Find My Favorite Sober Facebook Groups, The BFB "Booze Free Brigade" and She Recovers Together
Connect with Casey
Find out more about Casey and her coaching programs, head over to her website, www.hellosomedaycoaching.com
Take a screenshot of your favorite episode, post it on your Instagram and tag me @caseymdavidson and tell me your biggest takeaway!
ABOUT THE HELLO SOMEDAY PODCAST
The Hello Someday Podcast helps busy and successful women build a life they love without alcohol. Host Casey McGuire Davidson, a certified life coach and creator of The Sober Girl's Guide to Quitting Drinking, brings together her experience of quitting drinking while navigating work and motherhood, along with the voices of experts in personal development, self-care, addiction and recovery and self-improvement. 
Whether you know you want to stop drinking and live an alcohol free life, are sober curious, or are in recovery this podcast is for you.
In each episode Casey will share the tried and true secrets of how to drink less and live more. 
Learn how to let go of alcohol as a coping mechanism, how to shift your mindset about sobriety and change your drinking habits, how to create healthy routines to cope with anxiety, people pleasing and perfectionism, the importance of self-care in early sobriety, and why you don't need to be an alcoholic to live an alcohol free life. 
Be sure to grab the Free Sober Girl's Guide To Quitting Drinking right here.
Are you subscribed to my podcast? If you're not, I want to encourage you to do that today. I don't want you to miss an episode.
I'm adding a bunch of bonus episodes to the mix and if you're not subscribed there's a good chance you'll miss out on those. Click here to subscribe in iTunes!
Now if you're feeling extra loving, I would be really grateful if you left me a review over on iTunes, too. Those reviews help other people find my podcast and they're also fun for me to go in and read. Just click here to review, select "Ratings and Reviews" and "Write a Review" and let me know what your favorite part of the podcast is. Thank you!
OTHER WAYS TO ENJOY THIS POST: