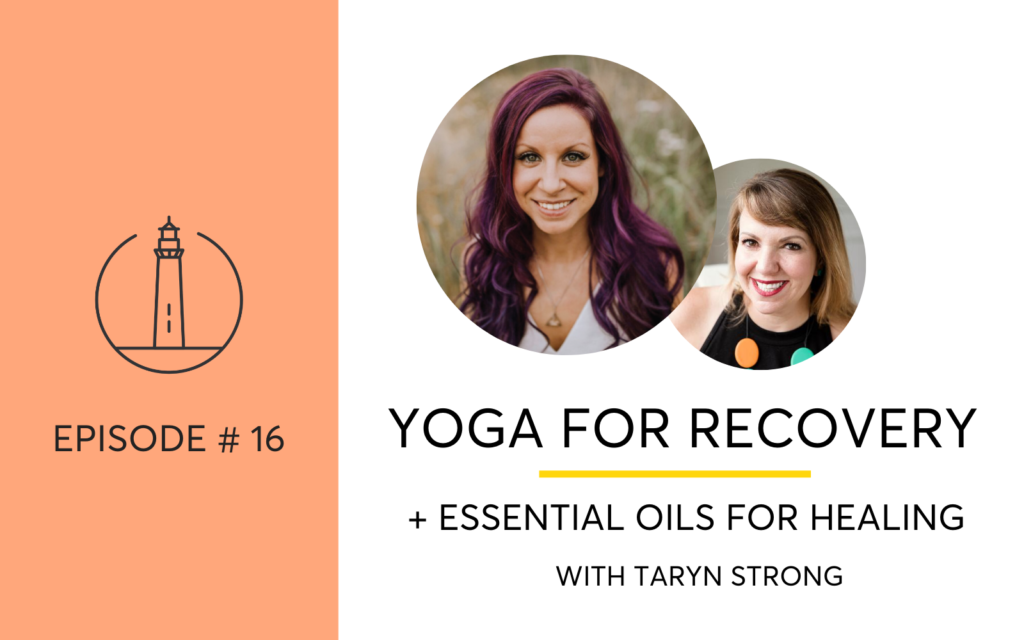 Have you tried yoga for recovery? 

 
Or used essential oils for healing?
I love them both and I asked my absolute favorite teacher, Taryn Strong, co-founder of She Recovers, to dive into ALL THINGS yoga and essential oils for us.
She goes deep into which essential oils are uplifting and which are calming, and which ones help heal trauma.

And Taryn shares her step-by-step morning meditation practice (which she does without ever leaving her bed!)
I learned so much in this conversation.
Including that there is an oil of a buoyant heart, an oil of self-acceptance, truth and connection, sexual healing and energetic boundaries.
I love Taryn and I hope you will too!
Taryn is a founder of the SHE RECOVERS Foundation – a global grassroots movement currently consisting of more than 300,000 women in or seeking recovery from substance use disorders, other behavioral health issues and/or life challenges. 
Taryn is a trauma-informed yoga instructor, recovery coach and an aromatherapist. 
Taryn has developed a unique yoga retreat program and led over 40 yoga for recovery retreats since 2012. 
She is also the host of the SHE RECOVERS Podcast and most recently created and taught the inaugural trauma informed SHE RECOVERS Yoga Teacher Training  Program.
Taryn identifies as being in recovery from trauma, a substance use disorder and self-injurious behavior and believes that recovery is a journey to wholeness – in which we take care of our mind, body and spirit.
In this episode, you'll learn:
Why healing your body is an important part of your sobriety journey. 

How essential oils can play a huge role in your recovery

How balancing the energy around your heart can help you heal from codependency, isolation, depression, or fear of intimacy.

Why a grounding yoga practice can help center you when you're feeling anxious, overwhelmed or unsettled.

Taryn's step-by-step morning meditation practice (which can be done without ever leaving your bed!) 
A strong yoga practice and essential oils can be an important tool in your "sober toolkit" as a pathway to holistic healing and recovery.
Today we dive into everything you need to know about these practices to get started!
More about Yoga with Taryn
https://sherecovers.co/yoga-with-taryn-strong/
As part of her online yoga signature recovery series and online monthly membership Taryn takes you on a gentle, trauma-informed journey of exploration that will help heal your body, mind and spirit.
Taryn offers an extensive library of themed yoga classes online including her six-session signature recovery series below. 
Balance the energy around your heart to help heal from codependency, isolation, depression, or fear of intimacy.
Resilience is like a muscle – the more life throws at us, the more opportunities we have to strengthen our resilience and thrive.
Are you often anxious? Overwhelmed? Unsettled? Use this practice to find your center and get grounded.
Nikki Myers from Y12SR teaches us that everything that happens to us in our lives, we store in our bodies.
We have learned that feelings won't kill us – but running from them – might.
If you have been hearing yourself saying, "I know I shouldn't, but I am going to do it anyway" – this class is for you.
More about the Essential Oils mentioned in this episode
Uplifting Oils:
Lemon – The oil of energy of focus.

Peppermint  – The oil of a buoyant heart.

Bergamot – The oil of self-acceptance.
Calming Oils:
Lavender – The oil of communication.

Frankincense – The oil of truth and connection.

Roman Chamomile –  The oil of spiritual purpose
Trauma Healing Oils:
Jasmine – The oil of sexual healing

Ylang Ylang –  The oil of the inner child

White Fir – The oil of generational healing

 Tea Tree – The oil of energetic boundaries
Links and Resources mentioned in this episode
The Free Sober Girls Guide To Quitting Drinking
Connect with She Recovers
https://sherecovers.co/together-online/ 
https://sherecovers.co/our-retreats/ 
SHE RECOVERS on Facebook: facebook.com/sherecovers
The SHE RECOVERS Intentions & Guiding Principles 
Shownotes: www.hellosomedaycoaching.com/16
Connect with Taryn Strong
https://sherecovers.co/yoga-with-taryn-strong/ 
https://www.instagram.com/tarynstrong/ 
Click here to become a member of Taryn's dōTERRA Essential Oils for Recovery Group 
Taryn's Spotify Playlist: https://open.spotify.com/user/tarynstrong
Connect with Casey McGuire Davidson
Casey @ Hello Someday Coaching (@caseymdavidson)
Listen to more podcast episodes to drink less + live more.
Connect with Casey
Take a screenshot of your favorite episode, post it on your Instagram and tag me @caseymdavidson and tell me your biggest takeaway!
Want to read the full transcript of this podcast episode? Scroll down on this page.
ABOUT THE HELLO SOMEDAY PODCAST
The Hello Someday Podcast helps busy and successful women build a life they love without alcohol. Host Casey McGuire Davidson, a certified life coach and creator of The Sober Girl's Guide to Quitting Drinking, brings together her experience of quitting drinking while navigating work and motherhood, along with the voices of experts in personal development, self-care, addiction and recovery and self-improvement. 
Whether you know you want to stop drinking and live an alcohol free life, are sober curious, or are in recovery this podcast is for you.
In each episode Casey will share the tried and true secrets of how to drink less and live more. 
Learn how to let go of alcohol as a coping mechanism, how to shift your mindset about sobriety and change your drinking habits, how to create healthy routines to cope with anxiety, people pleasing and perfectionism, the importance of self-care in early sobriety, and why you don't need to be an alcoholic to live an alcohol free life. 
Be sure to grab the Free Sober Girl's Guide To Quitting Drinking right here.
Are you subscribed to my podcast? If you're not, I want to encourage you to do that today. I don't want you to miss an episode.
I'm adding a bunch of bonus episodes to the mix and if you're not subscribed there's a good chance you'll miss out on those. Click here to subscribe in iTunes!
Now if you're feeling extra loving, I would be really grateful if you left me a review over on iTunes, too. Those reviews help other people find my podcast and they're also fun for me to go in and read. Just click here to review, select "Ratings and Reviews" and "Write a Review" and let me know what your favorite part of the podcast is. Thank you!
OTHER WAYS TO ENJOY THIS POST: