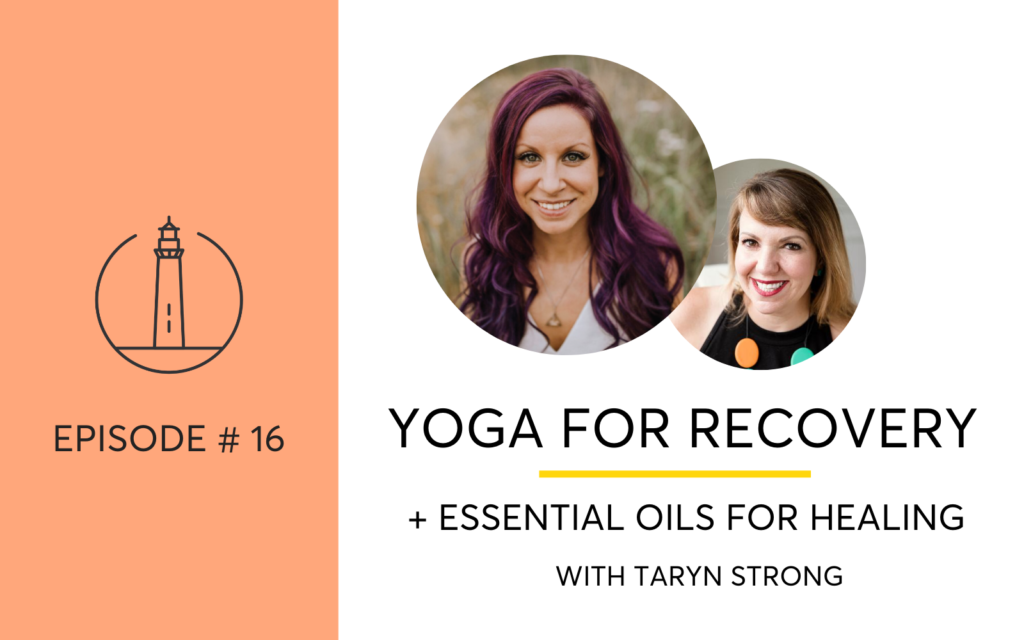 Have you tried yoga for recovery? 

 
Or used essential oils for healing?
I love them both and I asked my absolute favorite teacher, Taryn Strong, co-founder of She Recovers, to dive into ALL THINGS yoga and essential oils for us.
She goes deep into which essential oils are uplifting and which are calming, and which ones help heal trauma.

And Taryn shares her step-by-step morning meditation practice (which she does without ever leaving her bed!)
I learned so much in this conversation.
Including that there is an oil of a buoyant heart, an oil of self-acceptance, truth and connection, sexual healing and energetic boundaries.
I love Taryn and I hope you will too!
Taryn is a founder of the SHE RECOVERS Foundation – a global grassroots movement currently consisting of more than 300,000 women in or seeking recovery from substance use disorders, other behavioral health issues and/or life challenges. 
Taryn is a trauma-informed yoga instructor, recovery coach and an aromatherapist. 
Taryn has developed a unique yoga retreat program and led over 40 yoga for recovery retreats since 2012. 
She is also the host of the SHE RECOVERS Podcast and most recently created and taught the inaugural trauma informed SHE RECOVERS Yoga Teacher Training  Program.
Taryn identifies as being in recovery from trauma, a substance use disorder and self-injurious behavior and believes that recovery is a journey to wholeness – in which we take care of our mind, body and spirit.
In this episode, you'll learn:
Why healing your body is an important part of your sobriety journey. 

How essential oils can play a huge role in your recovery

How balancing the energy around your heart can help you heal from codependency, isolation, depression, or fear of intimacy.

Why a grounding yoga practice can help center you when you're feeling anxious, overwhelmed or unsettled.

Taryn's step-by-step morning meditation practice (which can be done without ever leaving your bed!) 
A strong yoga practice and essential oils can be an important tool in your "sober toolkit" as a pathway to holistic healing and recovery.
Today we dive into everything you need to know about these practices to get started!
More about Yoga with Taryn
https://sherecovers.co/yoga-with-taryn-strong/
As part of her online yoga signature recovery series and online monthly membership Taryn takes you on a gentle, trauma-informed journey of exploration that will help heal your body, mind and spirit.
Taryn offers an extensive library of themed yoga classes online including her six-session signature recovery series below. 
Balance the energy around your heart to help heal from codependency, isolation, depression, or fear of intimacy.
Resilience is like a muscle – the more life throws at us, the more opportunities we have to strengthen our resilience and thrive.
Are you often anxious? Overwhelmed? Unsettled? Use this practice to find your center and get grounded.
Nikki Myers from Y12SR teaches us that everything that happens to us in our lives, we store in our bodies.
We have learned that feelings won't kill us – but running from them – might.
If you have been hearing yourself saying, "I know I shouldn't, but I am going to do it anyway" – this class is for you.
More about the Essential Oils mentioned in this episode
Uplifting Oils:
Lemon – The oil of energy of focus.

Peppermint  – The oil of a buoyant heart.

Bergamot – The oil of self-acceptance.
Calming Oils:
Lavender – The oil of communication.

Frankincense – The oil of truth and connection.

Roman Chamomile –  The oil of spiritual purpose
Trauma Healing Oils:
Jasmine – The oil of sexual healing

Ylang Ylang –  The oil of the inner child

White Fir – The oil of generational healing

 Tea Tree – The oil of energetic boundaries
Links and Resources mentioned in this episode
The Free Sober Girls Guide To Quitting Drinking
Connect with She Recovers
https://sherecovers.co/together-online/ 
https://sherecovers.co/our-retreats/ 
SHE RECOVERS on Facebook: facebook.com/sherecovers
The SHE RECOVERS Intentions & Guiding Principles 
Shownotes: www.hellosomedaycoaching.com/16
Connect with Taryn Strong
https://sherecovers.co/yoga-with-taryn-strong/ 
https://www.instagram.com/tarynstrong/ 
Click here to become a member of Taryn's dōTERRA Essential Oils for Recovery Group 
Taryn's Spotify Playlist: https://open.spotify.com/user/tarynstrong
Connect with Casey McGuire Davidson
Casey @ Hello Someday Coaching (@caseymdavidson)
Listen to more podcast episodes to drink less + live more.
Connect with Casey
Take a screenshot of your favorite episode, post it on your Instagram and tag me @caseymdavidson and tell me your biggest takeaway!
Want to read the full transcript of this podcast episode? Scroll down on this page.
ABOUT THE HELLO SOMEDAY PODCAST
The Hello Someday Podcast helps busy and successful women build a life they love without alcohol. Host Casey McGuire Davidson, a certified life coach and creator of The Sober Girl's Guide to Quitting Drinking, brings together her experience of quitting drinking while navigating work and motherhood, along with the voices of experts in personal development, self-care, addiction and recovery and self-improvement. 
Whether you know you want to stop drinking and live an alcohol free life, are sober curious, or are in recovery this podcast is for you.
In each episode Casey will share the tried and true secrets of how to drink less and live more. 
Learn how to let go of alcohol as a coping mechanism, how to shift your mindset about sobriety and change your drinking habits, how to create healthy routines to cope with anxiety, people pleasing and perfectionism, the importance of self-care in early sobriety, and why you don't need to be an alcoholic to live an alcohol free life. 
Be sure to grab the Free Sober Girl's Guide To Quitting Drinking right here.
Are you subscribed to my podcast? If you're not, I want to encourage you to do that today. I don't want you to miss an episode.
I'm adding a bunch of bonus episodes to the mix and if you're not subscribed there's a good chance you'll miss out on those. Click here to subscribe in iTunes!
Now if you're feeling extra loving, I would be really grateful if you left me a review over on iTunes, too. Those reviews help other people find my podcast and they're also fun for me to go in and read. Just click here to review, select "Ratings and Reviews" and "Write a Review" and let me know what your favorite part of the podcast is. Thank you!
READ THE TRANSCRIPT OF THIS PODCAST INTERVIEW
Yoga and Essential Oils For Recovery With Taryn Strong of She Recovers
SUMMARY KEYWORDS
Yoga, Essential Oils, recovery, SHE RECOVERS® , trauma, substance, self harm, Aroma Therapist, Yoga Retreat, SHE RECOVERS® Podcast, healing, eat good food, quiet time, practice, healing, journey, therapy, 12-step programs, "aha" moment, movement, space, benefits, resources, style, resonates, experience, create, holistic, approach, layers, intentions, guiding, mind, body, spirit, principles, numbing, behavior, build, muscles, resilience, opportunity, self regulation, connect, breath, tools, empowering, discover, disassociating, defense mechanism, overwhelmed, survivor, physically, mentally, emotionally, class, language, invitation, suggesting, choices, hands-on, adjustments, teacher, script, music, reflect, theme, poems, quotes, educational, transformative, heart, depression, isolation, meditation, HeartSpace, permission, rest, online, membership, spiritually, issues in your tissues, energetic, residue, store, blessings, burdens, attach, story, release, rewire, brain, channels, spine, dedication, consistency, sober toolkit, shift, schedule, happy place, ancestors, grief, uplifting, boundaries, grounding, reach out, community
SPEAKERS: Casey McGuire Davidson + Taryn Strong
00:02
Welcome to the Hello Someday Podcast, the podcast for busy women who are ready to drink less and live more. I'm Casey McGuire Davidson, ex-red wine girl turned life coach helping women create lives they love without alcohol. But it wasn't that long ago that I was anxious, overwhelmed, and drinking a bottle of wine and night to unwind. I thought that wine was the glue, holding my life together, helping me cope with my kids, my stressful job and my busy life. I didn't realize that my love affair with drinking was making me more anxious and less able to manage my responsibilities.
In this podcast, my goal is to teach you the tried and true secrets of creating and living a life you don't want to escape from.
Each week, I'll bring you tools, lessons and conversations to help you drink less and live more. I'll teach you how to navigate our drinking obsessed culture without a bus, how to sit with your emotions, when you're lonely or angry, frustrated or overwhelmed, how to self soothe without a drink, and how to turn the decision to stop drinking from your worst case scenario to the best decision of your life.
I am so glad you're here. Now let's get started.
Hi, everyone. I am truly honored because today. I get to chat with Taryn Strong, one of my favorite teachers in recovery and a wonderful human being about using yoga for recovery, and how to use essential oils for healing. 
Taryn is the founder of the SHE RECOVERS® Foundation, a global glass roots movement currently consisting of more than 300,000 women in her "Seeking Recovery From Substance Use" disorders, other behavioral health issues and or life challenges. Taryn identifies as being in recovery from trauma, a substance use disorder and self harm. A Trauma-Informed Yoga Instructor, a Recovery Coach, and Aromatherapist. 
Taryn has developed a unique Yoga Retreat Program and led over 40 yoga for recovery retreats since 2012. She's also the host of the SHE RECOVERS®  Podcast, and most recently created and taught the Inaugural Trauma-Informed, SHE RECOVERS® Yoga Teacher Training Program. 
And Taryn, I both love you and am in awe of you, and of your mom. If I'm being honest, because I am a huge fan of SHE RECOVERS®  and went to my very first Yoga Retreat with you three years ago this week on Salt Spring Island, B.C. And it was the best and most healing experience in my recovery.
2:55  
Amazing! Gosh! Has it been three years? It feels like yesterday, but at the same time, so much has happened. So it feels like lifetimes ago. But yeah, we were so lucky to get to meet you and many, many other amazing women on that retreat.
3:10  
Yeah, I've been twice. And I'm supposed to be going, of course, a couple days from now for my third but we're on hiatus in the year 2020 from all in person gatherings. So I am really excited to have you on the podcast and get to talk to you instead.
3:29  
Yeah, thank you so much for having me. And next year's retreat is going to be so much more special because we will have missed those connections throughout 2020.
3:38  
Yeah, absolutely. And so I went to my first Salt Spring Island Retreat with my friend Ingrid and I met so many amazing women there. But it was just so healing to eat really good food and have quiet time with women who are going through the same stuff that I was going through. I was a year and a half sober at the time. And your yoga was just incredible. I mean, everything from the poses to the words you spoke, to the way we went through it, and the different subject matter. So I would love you to talk about yoga for recovery and why it works so well as part of a recovery practice.
4:22  
Yeah, well, thank you for your kind words. That means so much coming from you. And yeah, yoga for me. I found it when I was 18. And when I found it, I realized, like, the first class that I ever took, I realized that this is what had been missing for me in my healing journey. I was in recovery from the things that you spoke of at the beginning. And what we knew back then was well what we had available back then really for resources that were kind of mainstream were no treatment, 12 step programs, therapy, etc. And all of those things were…were really great. And I experienced a lot of healing of course, and helped me get on the path of recovering but of recovery. But when I took my first yoga class, I just had this big "aha" moment that what had been missing for me was the body piece. 
I was a dancer, my entire life and movement had always been a medicine for me and moving my body was always so healing. But then, I actually kind of developed a bit of an unhealthy relationship with dance because I was a competitive dancer. But when I discovered yoga, and I was held in this beautiful container, this beautiful space of healing style of yoga, I just realized that I needed to learn as much as I could about this yoga thing, so that I could maybe teach it one day and help as many people in recovery as I could. So I discovered it for myself and then I started looking for resources and I couldn't find any. There were…there was no… Nobody was talking about the benefits of yoga for somebody recovering from, at that time, I really had the lens of substance use disorder. But of course, that has broadened and that SHE RECOVERS®, we say we're all recovering from something because we are. We're all recovering from being a human being right now. So I couldn't find any resources that there weren't any books. There weren't any trainings. So, you know, I did, what you have to do is I thought, I'm just going to develop my own… my own style, and I'm just going to figure out what resonates with me and what works with me. So I took my teacher training. 
And then, I, my first job, I volunteered at a detox facility where I live here in Victoria, British Columbia. And I did that for about a year. And in that year, it was the best education I could have ever received more than any books. I could have read more than any training I could have taken. Because while I was volunteering teaching at the detox facility, I was, accidentally, I had really good intentions, but I was accidentally trying to returning students all the time, right? And so I was learning the hard way. And I think sometimes that's the best experience. And that also helped me to figure out ways of how I would want to teach this to teachers one day so they wouldn't have to go through what I went through. I could be the one I could have been the experiment for them. So I developed my style of trauma informed training from experience. 
And then Luckily, since then, that was, oh, gosh, probably 2007. So since then, there are many amazing teachers teaching trauma informed yoga. So I've been able to study with a lot of great teachers and most recently, I've been able to study with David Emerson and his business collaborative partner, Jennifer from the Trauma Institute, and they've really paved the way with trauma informed yoga by doing a lot of studies at the Trauma Institute. So long story short, it really helps us to create a holistic approach to recovery where we're addressing the body, mind and the spirit. And in one yoga practice, whether you're just doing a few movements, or you're doing an hour, minute. In an hour class or 90 minute class, you are getting all of those layers, you're going to heal and you're going to have some medicine for your body, your mind and your spirit. So it's just a really good holistic approach to recovery.
8:25  
Yeah, I love how in the SHE RECOVERS®  covers intentions and guiding principles. You guys say that recovery is a journey to wholeness, and taking care of your mind, body and spirit. Because when you give up drinking or you give up whatever your numbing behavior is, you're left with everything that's underneath everything that you were drinking to avoid or not think about or connect with people or whatever it is, and you still have to deal with that. So you can't just remove a substance without doing some of the work, to sort of get you through life without your outer layer of skin or whatever it is.
9:03  
Exactly. And yoga really helps us kind of build those muscles of resilience. And yoga helps us to have this opportunity where it's just us and our body and our mat. And we are given the opportunity to practice self regulation because in a yoga practice, especially a trauma from yoga practice, we are really gently guided to connect with our breath. And our breath is our gateway to our nervous system. So on the mat, we get to learn these tools to self regulate so that if we're getting triggered off of our yoga mat, we can remember 
Oh, yeah, hey, I remember when the teacher was talking about this, this breath that I can use right now, which is really powerful, but also on our mat. Sometimes, you know, things will come up that may have been stored in our body. And that can feel really intimidating. 
And maybe it sounds terrifying, but on the map, you're given this opportunity to either lean into it or not, right? Like you, you're always sovereign, and you are always in charge of your experience. But with a trauma informed yoga class, the teacher will be inviting you to connect with your body, not telling you what to do, you are going to have full agency in a trauma informed yoga class. And that's really empowering. 
For some trauma survivors, when they come to the mat, they may actually discover that they're completely numb. Because disassociating is, it's a defense mechanism. It's actually a really intelligent thing that our body does. If we're overwhelmed in a moment, which is one definition of trauma, right? Being overwhelmed. Too much is happening too fast, too quickly, for us to really understand what's happening. So sometimes, a trauma survivor will come to the mat and is feeling completely numb, not only physically, but maybe, also mentally and emotionally as well. So with the movement and the invitation, and just the starting to witness and just starting to become aware, somebody may start to feel their arm or maybe start to feel their breath. And then maybe they'll start to feel their feelings, right, or whatever has been underneath it, like you've talked about. And then sometimes the opposite experience is true for someone who's new to recovery or trauma survivor coming on to the mat. They may be feeling too much, right? They may be feeling like they're too sensitive physically or too sensitive, emotionally. 
So they find that having a yoga practice just helps them to kind of regulate that there's so many experiences that we get to, like really explore and heal while we're on the mat.
11:46  
I know you know, when you talk about trauma informed yoga, can you just give us a quick overview of what are, how is, that different than if you were to go to for example, hot yoga class or you know class like, what are the key things that are different in your yoga?
12:06  
Yeah, great question. So in a trauma informed yoga class, the main difference is the languaging. So like I said, the language is an invitation. Everything that we are suggesting is just an invitation. And the student, we give lots of choices, lots of options so that you as the student can decide if you want to do what is being suggested or not. And if you don't want to, that's okay. You don't have to. So it's a lot of invitations. If you are, you know, in person, right now, everything's online, but if you're in person in a trauma informed yoga class, there aren't any hands-on adjustments, which can be really nice for somebody who doesn't want to have hands-on adjustments, so you don't have to worry about a teacher putting their hands-on you. Right, which is really big for a lot of people. We don't use send script, which some people find that if they aren't familiar with that language, they feel less than they feel like they don't belong, or just might be intimidating. So we don't use Sanskrit. We're really intentional about the type of music that is played. Those are just some examples. But really, it comes down to the invitation and allowing the student to have full agency over their experience, which is really empowering. Yeah, now my style of trauma informed Yoga is I really like to make every class more of just a yoga class, I really want it to be every class to be like a journey or an experience. So I like to put a lot of thought into my playlists, and the playlists will always reflect the theme. So I always have themes. Every single class has a theme that is related to recovery or healing from all the things and I will share readings or poems or quotes, you know, things that really resonate with me are things that I read or hear that just like, get me right in the heart. I love to share those with my students. I love to share philosophy, I love to share about, you know, trauma theory. You know, I just… I just love to really make every class kind of educational, but also really transformative. Yeah, there's lots of different elements.
14:21  
When you said that you're really mindful about the music that you choose. I loved how you went into what your classes are like, because that's what I found so amazing about Salt Spring. I mean, the complete immersive experience, from the readings to the music, the crescendo of it, and how it does take you on a journey. And I know that I've signed up for it. 
I'm sure we'll talk about it, but you have a 6 Session Signature Recovery Series online. And I love the topics there. I'm sure we'll go into them but HeartSpace Grounding rods Millions, you know, basically different practices for if you're feeling anxious, overwhelmed, unsettled, or if you need to balance the energy around your heart from depression or isolation. I just.. I think they're wonderful. And I think I've told you that I don't think I'm using them, "as prescribed" because I listened to them while going to bed, meditation. I love that as opposed to doing the yoga. I just love your voice and I'm Edo. It takes me back to Salt Spring and, and really wonderful time. So I was like, I'm just gonna listen to Taryn as I go to sleep on HeartSpace.
15:40  
That's so perfect. And that's the perfect like, you're a perfect example of really practicing what a trauma informed yoga class would consist of, because I have so many women who would come to my classes when they were in person, or as you know, because you've been on retreat that will come to the class to have a nap and that makes me so happy when I see a woman come to yoga and have a nap because she has given herself permission to rest. Clearly that is what she needs more than anything else. And she did it. And I have never had somebody regret coming to my class and going to sleep. It's always exactly what they needed. So I love that. 
Yeah. And yeah, I have the.. I have online yoga, which can be found on the website and there's the "6 classes", like you're talking about, or there's also an online membership. And yeah, the great thing about that is you can go through all the classes and see what is resonating with you. 
What do you need that day, spiritually or emotionally right? And then there's also the classes.. are different lengths. So maybe you only have five minutes, maybe you have an hour so you can pick what you need on any day, which is really nice.
16:47  
Do you have a favorite one in terms of introducing women to your yoga?
16:52  
Do I have oh my gosh, no, there's too many that are my favorite but what I do, I do love talking about the issues in your tissues.
17:03  
Tell us about that. I'm going to talk about that.
17:05  
Yeah, absolutely. Nikki Myers, she created The Yoga Of 12 Step Recovery. She's amazing. Check it out if you haven't already. And she talks about how the issues that are.. are in our tissues. So everything that happens to us we store in our body, right, there's this kind of energetic residue that we store within our body, the good and the bad and our traumas. We also know that we actually also carry the blessings and the burdens as Danielle talks about in our bodies from our ancestors, but that's what I love about our yoga practice is we have this opportunity to release anything that's been stored in our body. And we don't have to think about it, we don't have to attach a story to it. We don't have to create a story to it. All that we have to do is come to the mat. Be intentional with just connecting with our body and moving our movement doesn't have to be crazy. It can just be really gentle. It can be as simple as inhaling your arms up overhead and exhaling them back down by your sides. And with that, we have the opportunity to release the stagnation, the energetic blocks, any trauma, any tension that's been living in our body for who knows how long and that can be a really subtle release. 
Sometimes it may be experienced as an emotional release. Sometimes we actually may have memories that we have kind of repressed or suppressed surface. So it's just really healing and really important. And I love I could talk about that forever and ever. I've, you know, I love talking about and I won't bore you with it. 
You can find all this information, the yoga classes or even on our SHE RECOVERS® Podcast, but really just fascinated by, you know, our brain's ability to heal from trauma as well and how we can use yoga as a tool to rewire our brains right neuroplasticity. So that fascinates me. And I also love talking about the energetic channels that live in our body along our spine.
19:14  
Let's talk about, since you brought up heart space, let's talk about that. 
So we have these energetic channels. You can think of them maybe like portals are gorgeous vortexes that live along our spine, from the base of our spine up to the crown of our head. And the lineage that I study in. There are 7, but some people believe there are more and that's great. Who knows, we don't know. What I resonate is with the 7. And so for example, some things will contribute to these energetic channels getting thrown out of balance or being balanced, these energetic channels can get overactive or underactive, right, we can either have sluggish energy in these spaces, or there can be really kind of chaotic, excessive energy in these places. 
Sometimes these imbalances can be created due to things that happen as we are developing from. Actually, these start developing when we're in our mother's womb, all the way up to when we're adults. So any type of traumas that happened during that time can contribute to it or anything at any point in life. So let's think about our heart space. Let's bring ourselves there. So even if you're listening, maybe bring your attention right down into the center of your heart, and heart space. It's located right in the middle of our chest and the front and then the middle of the shoulder blades on our back. And if this energetic channel is under active, you will know because maybe your shoulders have been really rounded forward lately, you know, kind of this collapsed chest, and you might be feeling really depressed or low or heavy, maybe you've been isolating. Maybe you've been feeling lonely. Maybe you've been having a hard time reaching out. And then the opposite can be true right there can be that excessive energy in the heart space. And if that is happening, some signs of that you will know because maybe you've actually been having poor boundaries. Maybe you've been codependent, maybe you've been doing a lot of giving and people around you have been taking, but it hasn't been this balanced exchange, right? It's too much heart energy going out. So we want that balanced. We want that energetic channel, we want to feel like we're giving and we're receiving evenly and equally, and you'll know because you'll be able to breathe really fully you'll you'll notice a lot of space around your heart on all sides around your heart, but we can use our yoga movements and we can use our breath and we can use our meditation to to find the balance and to create the space there.
21:55  
I feel like I'm in one of your classes because I'm just like yes, this is what I remember. Just laying on my mat and listening to you as you talk about this, and it's so awesome. I absolutely love it. Me too, huh? Hey, so tell me quickly about resilience because I know a lot of us as we're sort of moving through sobriety stuff comes up for us at different times, right? You go through the early two weeks where you feel incredibly shaky. And then you have those sort of sober muscles built up, you've got your legs underneath you, and then life keeps coming. And how does yoga with resilience help you sort of work that muscle?
22:39  
Yeah, so the beautiful thing about our yoga practice is we are building resilience not only physically but emotionally and energetically as well. So what we do with the movements is sometimes we'll be doing some shapes or forms or movements that will cause intense usually create, you know, a little bit of strain, but just in the way where it's like that strengthening, like when you're lifting up a weight that's creating strain because that's building muscle. So sometimes with our movements in our yoga class, like for example, let's say we, we do a plank, which is kind of like a push up or a Down Dog, that's intentionally creating strength, it's also creating a little bit of strain, and then we'll rest afterwards. And that rest, that time when we rest after doing something. That's where resilience is built. Because what we're doing is we're giving our body and all of our layers emotional and energetic and all of that stuff, the opportunity to recalibrate while we're on the mat. And what happens then is when we're off of our yoga mat, and in our day to day lives and stress and strain appear, our body remembers how to recalibrate and it remembers the resilience and it has that strength to bounce back quicker.
24:02  
yeah, every movement, every breath on a yoga mat, you're building resilience not only physically but mentally and emotionally as well.
24:13  
Because yoga can be so empowering when you're in the right setting, right with the right teachers. If you're guided in this experience, to be empowered and to remember your innate strength, sometimes we forget how strong we are. But what I actually believe recovery to be is really, for me, anyway, has been this process of remembering all of the things that I always was. I've always been resilient. I've always been strong. I've always been worthy. I just forgot. It's not like I gained those things I just forgot. So on the mat I remembered and in my recovery journey, and I witnessed that in women all the time where maybe for the first time, they'll balance on one leg, and that just then they remember Oh yeah, I'm a badass. I'm strong. I can do this. It has taken dedication. It has taken consistency. It has taken practice. But yeah, no, I'm strong and I am resilient. And I can do this and I can face and I will make it through whatever I'm going through.
25:13  
Mm hmm. Yeah. I mean, I think that one of the things that's so wonderful and even when you're talking right now, I love is just how nurtured you feel and how celebrated and realizing that you do need to take care of yourself like you would a little child because we go through so much of our lives, both when we're drinking and then even afterwards like beating ourselves up 24/7 are thinking I should be able to do this and I should be able to do that. And like it's never enough and and when I'm in your classes and doing yoga and listening to your voice, I just feel so proud of myself, which is lovely.
25:53  
Yay. Yes. I love that.
25:56  
So do you. You know, I always talk with women. I'm working with Building a Sober Toolkit and having things in your toolkit that you can go to not just when you're craving a drink or having an anxious time, but also just as a regular sort of anchor to build your days around to nurture yourself so that you don't get overwhelmed so you don't get overextended. And so you carve out time for yourself. So you're actually taking care of yourself. What do you recommend in terms of yoga? Like, do you have a certain amount of time you think people should dedicate daily to weekly?What I know, it's different for everyone, but what do you find works really well?
26:39  
Yeah, great question. And the answer might be an annoying one, because it really does depend on the woman and her schedule. And honestly, you could just do five minutes if that's all you have, you could just do one or two movements. And you will notice that by taking that pause, and your day, And during a movement or two or more, if you have the time, you're going to shift your state, whatever state it is, if you if there's needing to be a shift, or you're going to kind of just build up that reservoir of strength or resilience, or you're going to just ground if needed. So I find that it really depends from woman to woman for me, I need to do an hour a day. If I don't do my hour a day of yoga, I get things get hairy for me, but that's just me and I also I don't have kids, right, I'm self employed, I have the privilege and the luxury to be able to do an hour of yoga a day but for me, it really is a non negotiable because it is just such a big foundation for me in my recovery. So even if I have to, you know, wake up at four in the morning or whatever needs to happen, I will do it because it's just that important to me because it's such a staple for recovery. But what I would say to anyone listening is, it doesn't matter how long you do it for or how often you do it. But what does matter is if you tell yourself, you're going to do it, that you do it, right. I just hear so many women who are so hard on themselves because they're like, Oh, I said, I was gonna do yoga today. And I didn't realize that I was going to do it once this week. And I didn't, or I was going to do it three times this week, and I didn't. So what I would say to that is, if you do want to start a yoga practice, don't set a time limit. Just say if you say I'm going to do yoga tomorrow, just do it. Even if it's one shape, one form, just do it. And then that's going to help you if that's kind of re parenting work, right? Because then you're going to start to build that trust and you're going to start to really notice the benefits of yoga, being infused in your day, and then you'll, you'll find what works for you.
28:53  
I really like that. I think that's great advice and something that I'm gonna I'm gonna do for myself as Well,
29:00  
Yeah, and that actually was advice from one of my teachers when we were talking about a meditation practice, because I had all these dreams and for years, maybe even a decade of wanting to be one of those people who would wake up in the morning and do half an hour of silent meditation every morning. Yeah. And I never, never have and I never will. And my teacher said, and it was just a slight ball went off, and she said, Okay, well, Taryn. So that's, that's not your style. That's not your thing. And that's okay. So what matters is just that you, you wake up, if you say you're going to wake up early and meditate in the morning, just wake up and meditate in the morning. It doesn't matter if it's for two minutes or whatever. Just do it. If you say you're going to do it, so, I actually, now I do wake up, but I meditate from my bed. And I just meditate for as long as it happens and every day is different. So yeah, that's a nugget from one of my teachers.
29:57  
It looks like me. So I wake up. And first I listen to affirmations that I recorded in my own voice that lasts, I think it's like nine minutes. And it's just me in my own voice, you know, using these positive statements talking about the day ahead, right. And just positive affirmations is what it is. And then after that I put on my headphones, and I start the day with binary beats. And you can find them for free on YouTube. You can find them on insight timer, which is a free meditation app. I love repeating numbers. So I'll listen to binaural beats for 11 minutes. And I'll pick a frequency that is uplifting because it's the beginning of the day, you can also pick some that help you go to sleep, so make sure you don't pick those in the morning. And then after that, I'll take out my headphones, and I will do silent meditation. Usually, it seems to be for me that it happens for about 10 to 11 minutes after that. So that's my mom and that all happens from bed so I'm still, I'm cozy. I'm under the covers. I set up but I leaned against the wall. And it's just the sweetest, most beautiful way to wake up ever. But you could really do a really condensed version of that where you wake up, you say one affirmation, you listen to by neural beats, maybe 4, 5 minutes, and then you can get up and be out the door. But, you know, it really, it matters how we start our day. For me it does. I guess this is kind of another non negotiable, sober recovery toolkit that I would share for me, how I start my day sets the tone for the day. So being able, I just, I can't I cannot be if I'm rushed my day, forget it. It's just gonna be a rush day. So I make sure that if needed, I wake up early so that I can just really greet the day in a positive grounded way. Because those days when I don't, and on those days where the first thing I do is reach for my phone. Yeah, and get stuck in that trap. Just my nervous system feels it, I feel just I feel ungrounded
32:06  
and that I just, I just, it's non negotiable for me now. 
32:10  
I'm so glad I asked what that looked like because I, I didn't picture it that way. And I think that's lovely. I mean, a lot of times when I'm talking to clients and I say it to myself too, you know, you can have bad days in sobriety when you're not drinking, there are hard days but I always think no matter how irritated or aggravated I am, or resentful, or whatever, which happens. joy comes in the morning, like just go to bed and start anew and you're always so happy you didn't drink the night before. So, you know, the idea of having that to look forward to in addition to my coffee, which is typically what I look forward to in the morning. Yes, that sounds awesome.
32:53  
Totally. And I also love to and I haven't been so good at it lately, but sometimes I will dance after so I'll do my meditation and then I'll put on a song, you know and just dance just to get my body moving and stretching while I'm dancing and, and that as well.
33:11  
And what kind of music do you dance to? anything different every day
33:15  
Different every day? I mean, I'm my father's daughter in the way that I love classical rock. So at but it really, it's different. It's very eclectic tastes. So it changes.
33:27  
Yeah. Because I remember in your classes, I just absolutely love the music that you pick. It's really awesome.
33:35  
Thank you and anyone listening and I'm sure you know this, Casey, I hope you do. You can follow me on Spotify, and all my first name and my last name are all one word, Taryn Strong, you'll find, you'll see the picture of me when I had purple hair. And you have access to all of my playlists. Oh my gosh!
33:53  
I didn't need Spotify. I'll put the link in the show notes about that because that sounds wonderful. And so I feel like even with your morning routine, you gave us a ton of great ideas of ways to kind of ground ourselves and take care of ourselves in the morning. The other thing that I really want you to talk about because I'm a huge fan of is essential oils for healing for recovery for different moods you have I mean, I find essential oils have been something that I absolutely love since I quit drinking, you know, instead of passing out after a bottle of wine, I go upstairs and I put on my Essential Oil Diffuser, like my husband would walk in and be like, Whoa, you're one of those diets, but I'm just in my happy place. And my daughter who's six has also started using it but I can walk into my office and she's gotten into the lavender just she's has aggressively rubbed it on her face. I'm like, oh my god. Like me she's into Morris better. Yeah. Way to write never, never one for moderation?
35:07  
Not at all. I love that. And I love that your sweet daughter's loving them. And yeah, what I can say, Casey is that when I started using essential oils in my recovery toolkit, they were as powerful and profound and potent for me as yoga. So, again, it was just kind of that missing link for me that "aha", that thing that I didn't know that I needed. And now I joke that it's, it's my new addiction. Because I am at any given moment, I have diffusers diffusing around me. I have roller balls that I'm rolling on me usually probably every hour, if not more. 
But what is so beautiful about essential oils and the wisdom of these plants is that at any moment, we have these tools available at our fingertips. To shift anything, if we're anxious, and there's that meaning. But it's true, there's an oil for that. We are heartbroken if we are, you know, leaning into some grief, there's oil – that's an oil that's going to help. No, we don't want to get rid of the grief, but it's going to help us soften into it. It's going to help us receive the medicine from the grief if we can't sleep. If we have cravings, if we're working on a mother wound, if we are like, it's literally anything there is an essential oil for because there is a plant. The plants are on this, you know, they've been living a long, long time. They are much older than us. They are our oldest ancestors and our greatest teachers and essential oils are there to help assist us to heal from whatever we're healing from.
If you're listening to this episode and have been trying to take a break from drinking, but keep starting and stopping and starting again, I want to invite you to take a look at my on demand coaching course, The Sobriety Starter Kit. The Sobriety Starter Kit is an online self study, sober coaching course that will help you quit drinking and build a life you love without alcohol without white knuckling it or hating the process. The course includes the exact step-by-step coaching framework I work through with my private coaching clients, but at a much more affordable price than one-on-one coaching. And The Sobriety Starter Kit is ready, waiting and available to support you anytime you need it, when it fits into your schedule.  You don't need to work your life around group meetings or classes at a specific day or time. This course is not a 30 day challenge, or a one day at a time approach. Instead, it's a step-by-step formula for changing your relationship with alcohol. The course will help you turn the decision to stop drinking from your worst case scenario to the best decision of your life. You will sleep better and have more energy, you'll look better and feel better, you'll have more patience and less anxiety. And with my approach you won't feel deprived or isolated in the process. So if you're interested in learning more about all the details, please go to www.sobrietystarterkit.com. You can start at any time and I would love to see you in the course.
You know SHE RECOVERS®  has so many incredible free online sessions and resources. And I know I went to one about a month and a half ago where you did a session. It was part of the weekend pajama party on essential oils and you went through sort of which ones were uplifting and calming and healing from trauma. Can you tell us a few of those because a lot of people don't know where to start.
38:58  
Yeah, absolutely. So let's start with uplifting like you said so. Uplifting oils are some oils that can be really uplifting are any of the citrus oils. Now note about citrus oils, if you apply them topically on your skin, they are photosensitive, so you'll actually get a sunburn, where you apply them. So don't apply any citrus oils on your skin. If you're going to be outside at all. That's just a sidebar, but citrus oils are very, very uplifting. I also love peppermint. Do you want me to kind of go through it?
39:32  
Yeah, sure, I would love that.
39:33  
Okay, cool. So there are some… there are, you know, hundreds of essential oils. Let's… I'm going to talk about 10 today, if that helps. So know that there are many, many more. This is just a little preview. I'll back up a little bit though first, just to talk about what is an essential oil. So an essential oil like the definition in the textbook is that it's a concentrated liquid containing volatile compounds from the plants. The way I like to think of essential oils is that they're the plant's immune system. So every single plant produces these oils for a variety of purposes and reasons. One of the reasons is to attract pollinators. Another reason is to compete with other plants. The essential oils within the plant serve as a defense against insects and animals. And also the essential oils protect the plant because they have antifungal and antibacterial and antimicrobial nature to it, right. So the plant's immune system, that's the essential oils are, and it's so great that we have the distillation processes that we have, so that we can extract the essential oil and then use them for ourselves. three different ways that we can use them is of course by smelling them so you can smell it straight out of the bottle. You can diffuse it, you can put it in an inhaler. 
That's great.
And just by smelling it, you're going to shift your energy. The molecules are actually getting to the alpha of circuitry in the brain. And that's actually affecting where we store our emotions. So if you're interested in kind of the science EQ part of it, of how essential oils are really helping us with our emotions, totally easy to find online, so we can smell them, we can apply them topically, you always want to dilute them if you're applying them topically essential oils are very potent, very powerful. We like it a lot. But less is more, right? 
Less is more and I know that your daughter was using diluted so that's totally great, and that's totally safe. And then internally, now internal use is not recommended with all oils right? 
Only some oils. And again, just really sparingly and only for acute reasons. Now when I'm talking about essential oils, I am a doTERRA wellness advocate. So I'm talking about the quality and the potency and the purity of doTERRA essential oils. So that's what I'm speaking about and feeling confident in sharing with you, that you can use oils and all of these different ways. But do be mindful. And do be aware that if you are getting an essential oil that isn't pure, that isn't organic, that isn't potent, it can actually do more harm than good. Because you may actually be inhaling chemicals right or, or ingredients that aren't actually good for us or putting them on your skin or heaven forbid you take it internally. So I just feel responsible to share with you potency and purity matters. 
And doTERRA truly is the best. So, for uplifting oils, my top three are so hard to pick, but Lemon, Peppermint and Bergamonte. I love it! So, lemon is the oil of focus. So it's a really nice one to use. If you've been feeling kind of like there's been some brain fog, if you're needing help with any clarity, if you're needing to uplift. It's also energetic. It's really cold, cool, and refreshing. So it's one thing. It's really nice to kind of diffuse in your environment after an emotional outburst. If you've ever experienced any of those or your kiddos or anybody around you or just kind of they've had like an emotional meltdown or outbursts, diffuse lemon, and it's just going to clear the air. You can think of it as if you were to burn Sage or Palo Santo or something, it's actually cleansing the air in the same way. It's also great. If you're just feeling tired, it'll help uplift in that way. 
Peppermint is the oil of a buoyant heart. So this beautiful oil helps to invigorate our body, our mind in our spirit. It's heart opening. So it's a really beautiful ally. If you have a heavy heart if you're feeling sad. If you're sitting with grief, it's going to uplift it's going to stimulate. It's also.. it can be really supportive for nausea, migraine headaches, you know, cravings, all different types of cravings and it's also really supportive for our digestion, which can be really nice, especially when we're new to recovery. I know for me, my diet, I had to do a whole digestion overhaul because I just wasn't taking care of my body and you know our digestive tract. That's where our serotonin…90% of our serotonin is produced. That's our happy hormone and our immune system as well. Right. So gut health is so important. 
Bergamonte is the oil of self acceptance. So this one helps support low self esteem or maybe low self worth, self judgment. It's one that I really like to recommend to anyone in recovery from any type of body dysmorphia, body image or eating disorders. It can really help us with the self acceptance and self love. And what I love about Bergamonte as well is it is uplifting, but it's also really relaxing. So it's one that you can defuse any time of day and you know, you can defuse it at night. If you're needing help. To kind of relax and get ready for bed or you can diffuse it in the morning if you're needing help getting, you know, uplifting, so really multi purpose in that way. So those are three great uplifting oils.
45:12  
Now, never even tried Bergamonte. I mean that. Oh my gosh, am I gonna love it?
45:18  
Oh, you're gonna love it. It's so good. It's in Earl Grey tree tea
45:21  
Oh, I love her. Oh great. I love
45:23  
Love Earl Grey tea, you're gonna love Bergamonte because it's like the main thing Earl Grey.
45:29  
Alright, cool.
45:30  
Now three oils to support like three that are kind of calming. So if you've been feeling maybe anxious or overwhelmed or ungrounded these might be good ones. Of course, there's lavender, which was my first love. You know, I've been in love with lavender since I was a young girl. It's the oil of communication. So it actually aids in our verbal expression. So if you have a fear of being heard, or seen, or if you're needing to have a difficult conversation, If you're having any throat blockages, lavender is really supportive in that it's also calming and soothing not only for our skin, so think sunburns, bug bites, etc. It's also really calming for our heart and our nervous system. It's a really nice one for supporting anxious feelings and the inability to sleep at night. It can help with that. So I like to put some on my pillow before bed. 
Frankincense is the oil of truth and connection. So it is one, it's a powerful one. It's actually, some people call it the "king of the oils". So it helps us to release and let go of any lower vibrations. If there's been kind of some low energy in our body, any negativity. The Frankincense will help us to clear and release that. It's also one that helps us to enhance our prayer and meditation, it opens up our channels to connect with our higher power and you can replace that word with whatever you'd like. So It really is nice to add to a meditation practice, if you have one. And it's actually also one that is recommended if you're doing any work with, maybe you have to heal if there's been some toxic masculinity in your life, maybe if you've had a less than ideal relationship with your father, because Frankincense helps support with feelings of abandonment or feeling distant or unprotected. It can help with that. So that's big. 
And then Roman Chamomile is the oil of spiritual purpose. It helps us to support and to live from the center of our being, our power and our purpose. It also helps to soften anger, hostility and rage. So they actually, in San Diego, they were doing a study where they were diffusing Roman Chamomile in a hospice clinic. And they were, you know, interviewing the people who live there, the employees and the family members who are visiting. What they discovered is the days that they were diffusing, the Roman Chamomile people were expressing that they were feeling less anxious and less, they had less rage and they had less anger, and you could really feel it in the atmosphere. So those are 3 that are nice, to kind of calm and soothe. 
Three oils that I think are important for a recovery toolkit to address any type of trauma are Jasmine, Ulang Ulang, and White Fur. 
So Jasmine is the oil of sexual healing. So it is one that can be a really nice support and an ally if you are recovering from any type of sexual trauma. And it's also a nice support for those who maybe have a love and sex addiction or in recovery from love and sex addiction. Or also anybody who perhaps maybe really resists sexual intimacy, or is having a hard time trusting a partner. Or even just having a hard time trusting themselves. It helps to support this resolution and find safety within intimate relationships with others, but most importantly, you know, the relationship to yourself. So Jasmine for any type of sexual trauma. 
Ulang Ulang is the oil of the inner child. So for me and my recovery, my gosh, one of…one of the greatest things, journeys that I've been on has been healing inner child stuff and the re parenting stuff. So Ulang Ulang is great for that. It helps us to connect with our inner child, really powerful for our hearts. And it just helps really release any emotional trauma that we've kind of bottled up from when we were younger. 
And then White Fur is the oil of generational healing. So this one is great if you're diving into any intergenerational trauma or ancestral trauma. So if you've noticed any patterns or wounds or loops that you're like, Wait, this never actually belonged to me in the first place this has been passed down to me from my mom or my dad or my grandma or whoever it is, white fur is going to help you to kind of unearth these negative patterns that have been hidden in the recesses of your body and your soul helped to bring them to the surface so that you can address them. And by addressing them, you're healing backwards in time and forward in time. So by you doing this work, you're healing all those who already came and all those who will come and wait for is just such an, you know, an ancient tree that can help facilitate that process. 
And then lastly, Tea Tree. And tea tree I love to have in a recovery toolbox because it's really great for those who are in recovery from codependency because it's the oil of energetic boundaries. So if you think of how people use Tea Tree, it's a disinfectant by nature, right? It's used in a lot of cleaning supplies. It's great for supporting acne or any type of skin stuff. That's what it's doing energetically and emotionally as well. It's cleansing any type of parasitic energy in your environment. And that might be maybe you have some energetic vampires in your life, maybe you have some energy leaks. Maybe you've been having poor boundaries and you're feeling drowned.
51:19  
Tea Tree can help. I don't particularly love the smell of tea trees, probably because I'm a recovering codependent. So I like to dilute it and place it on either the bottoms of my feet or around my navel. And that way I'm getting the benefits of the vibration of the essential oil without having to smell it or smell like it. 
So those are 10 that I think really create a really well rounded toolkit of essential oils. But you know, when I started with essential oils, I just got one right and then I eventually became addicted and added to my collection there. But you could really just try that the essential oil, the plant spirit from the essential oil, will be calling to you and whatever you're drawn to, and whatever you're resonating with, that's going to be probably what you need to work with right now. And you can work with it. You know, just work with one essential oil at a time or like I do, maybe you work with several on any given day, there's no right or wrong way to do it.
52:23  
That's so amazing. And one of the things I really like when you were going through this was the way that each one helped you with a different emotion or a different feeling or challenge or resistance that you are working through because what that makes you do is actually tap into, you know, not just I'm feeling angry or I'm feeling resentful or uneasy, but like what is it that's making me feel that way. To try to identify the right thing that will help you heal and I think kind of getting below the Mad. Wow, I'm feeling like I need to. I'm feeling down. I'm feeling depressed. I'm feeling like I'm having difficult relationships with a father figure or mother figure or whatever it is. It's really powerful.
53:14  
Yeah, exactly. Yeah, the plants just help us access these places. And they kind of act like a portal or a channel. And it's just such a beautiful, beautiful gift. It's a beautiful relationship when you start to really work with the plants in this way.
53:31  
So I'm picturing myself just kind of even though I've been using essential oils for Gosh, 3 years now, maybe more. I think I started in early sobriety. So it's got to be over 4 years. But I feel like I'm also just touching the surface of it. So you said you use, you know, possibly like 7 in a day when you're, you know, working with different things. Can you just picture a day when you're tapping into 7 essential oils like, what would that look like?
53:59  
Yeah. So, you know, a part of my morning routine as well, once I've gotten out of bed is, one of the first things I do is I put my oils in the diffuser. And the way I do that every day, it's a different blend. I love the number 3. So I, when I'm making a diffuser blend, I always use 3 oils. So I'll just go to my oil collection and my inch, I'll just intuitively just grab three, there's no science around blending. I mean, there is a science if you want to get really into it, but you don't have to, I always just go with the intuition. So I'll pick three essential oils. I'll put a few drops of each in my diffuser, and then that'll be going throughout the day. And then I'll look at my roller balls that I have that are either just pre diluted and made already through.
54:44  
I don't know roller balls, sorry, or what you roll on, for example, your inner wrist or something. Is that right? Or you're actually, you're under, you know, behind your ears kind of thing.
54:54  
Yeah, so the roller balls, they come pre diluted, you can make your own or you can buy them and they're just Yeah, what's nice about them is they're already diluted. And they're in the rollerball. So it's really easy to apply and I'll go to my collection and honestly, I'll just and I'll be like, Okay, how am I feeling today? Do I do, Am I feeling a little heavy? Do I maybe need some peppermint to help kind of wake me up here and energize me or, oh gosh, am I feeling a little bit of heaviness in my heart or, you know. Whatever it is, and I'll just grab that oil and I'll apply it and different application points help different things as well. So if you're using an essential oil to help with anything cognitive, so if you are no help needing help with focus or memory, maybe you're going to have a long day at the computer. Then you'd apply the oils, like Casey said, behind your ears or behind your neck. 
If you're wanting to use oils to help really support emotions, then of course, applying them to the center of your heart is really beautiful, as well as your wrist, your forearms and the inside of your elbow. Elbow creases, because our arms and our hands are an extension of our heart. So by applying our oil there, they actually fit the skin that is really thin on the inside of our wrists and our forearms, the essential oils, access our heart center in a really beautiful way. 
If you're using oils to help with boundaries or confidence or self esteem or if you're needing, you know, help in that area support in that area, you can apply your essential oils around your navel. And then also applying essential oils to the bottoms of your feet is amazing for grounding. So if you're feeling anxious, if you're needing help staying on this earth and grounding the bottoms of your feet is amazing. And the bottoms of our feet also have a bunch of nerve endings. So it's just another great way to get the essential oils into our systems. 
And consistency is key. I really know from experience that we need to be using the oils every day for them to really, you know, experience the full experience that they have to offer. Sometimes you know if you're just using an oil here or there, you might not get to get that beautiful relationship otherwise. So I recommend having your oils in areas of your home where you'll always see them and they're easy to grab and easy to access. So I have them beside me right now. Beside my computer. I have them on my kitchen counter, I have them in my bathroom, I have them in my car. They're all places where I can easily grab them. And they're always there to remind me to use them. Because sometimes if we're triggered, we might not, you know, the first thing that might not come to our mind it will, right it's this new new pattern that we're we want rewiring, but we might not remember to pause and grab an oil. But if it's right there, then you'll definitely remember right so it just helps build that new self care tool for you in a really easy, accessible way.
57:50  
That's awesome. I love that. So I'm going to ask a really dumb question. I'm assuming you don't wear perfume.
57:56  
I don't question.
57:59  
No, I was like, Okay, you've got all these oils. Go ahead. I love it.
58:03  
Ah, no, I call them my call, my essential oils, my Pure Food.
58:07  
do you love that? They are that. And so we'll put in the show notes a link to your essential oils store. Is that right?
It's through doTERRA.
58:20  
Yeah, so what you can do is so I have an essential oils doTERRA business as well. And if you want to have me as your kind of essential oil mentor or guide, send me a message or you can go to that link that Casey's going to provide. And you can join. I have essential oils for my recovery group. And I can give you all the information on how to join that and within that group, I provide resources so every week we focus on a different oil for recovery and its benefits and, and so much more. So it's just a really great way to have education and to learn how to use these oils and yeah, so I'd love to have you there. If anyone feels called, let me know.
59:01  
I definitely want to join, for sure. I can't believe I'm not in there already. 
I know. That's great. 
Anything else? You, I mean, I feel like you've given us so much great information both on yoga, and on essential oils as sort of two key amazing resources for our recovery toolbox and also to take care of ourselves in our emotions, and our bodies. Is there anything that you want to leave us with, in terms of as we go forward with this or ways to incorporate it into our lives?
59:33  
Yeah, I just, I want to thank you, first of all, Casey, for everything that you're doing for the recovery community, and it's just been really beautiful to witness you. Rise and show up in this way and use your voice to help others so thank you for that. And to anyone listening, you know, just maybe if you're new on this journey, just know that by reaching out and finding a community, you know, you don't have to recover alone, and you can't recover alone. So reach out and find community. And also just find a way to recover that works for you. 
Right. So for me 12 step programs didn't work. But yoga and essential oils do. And I really had to give myself permission to be like, this is okay, this is my patchwork of recovery. This is what keeps me sane and grounded and helps me heal. And that's wonderful. So, you know, I really recommend just trying all the things and there are going to be things that resonate and work for you. And there are going to be things that aren't maybe yoga and essential oils will maybe they won't, but we don't know until we try. So just really allow yourself to try all of the things and the things that resonate with you allow that to be a part of your patchwork for so long. I tried to fit into a box and that actually kept me stuck and that kept me sick for longer than necessary. I don't regret that. Of course, I don't regret any part of my journey but I just Gosh, if I would have given myself permission to recover In my own way, sooner, that would have been nice. So if you don't need my permission, but I'm giving you permission right now to do that as well.
1:01:09  
I love that because I also feel like so many of us get stuck in, we have this one coping mechanism or this one thing we do for fun or to zone out or to connect. And once you decide to stop using your sort of maladaptive coping strategy, you get to be curious and to continue to learn and to experiment and to be playful and even childlike. And all these things in these worlds open up to you that you didn't even look around enough to realize we're out there. I mean, I feel like since I quit drinking and join cheaper covers and joined recovery, my world has gotten so much bigger and brighter and more adventurous than it ever was when I was, you know, centering myself around wine bottle and happy hour and in wine tastings and all that, like I never expected my life to be more fun and more open and just to just to try new things in the way that I have in the last 4 years.
1:02:14  
Absolutely. I couldn't agree more. Beautifully said.
1:02:18  
All right, Taryn, thank you so much. We truly appreciate it. I know you will have given so many women new ideas, ways to take care of themselves, ways to nurture themselves and decompress so I can't thank you enough.
1:02:32  
Thank you for having me. I love you so much.
1:02:35
Love you too.
So thank you for coming on here. I couldn't appreciate it more. 
Thank you for listening to this episode of The Hello Someday Podcast. If you're interested in learning more about me or the work I do or accessing free resources and guides to help you build a life you love without alcohol, please visit hellosomedaycoaching.com. And I would be so grateful if you would take a few minutes to rate and review this podcast so that more women can find it and join the conversation about drinking less and living more. 
OTHER WAYS TO ENJOY THIS POST: