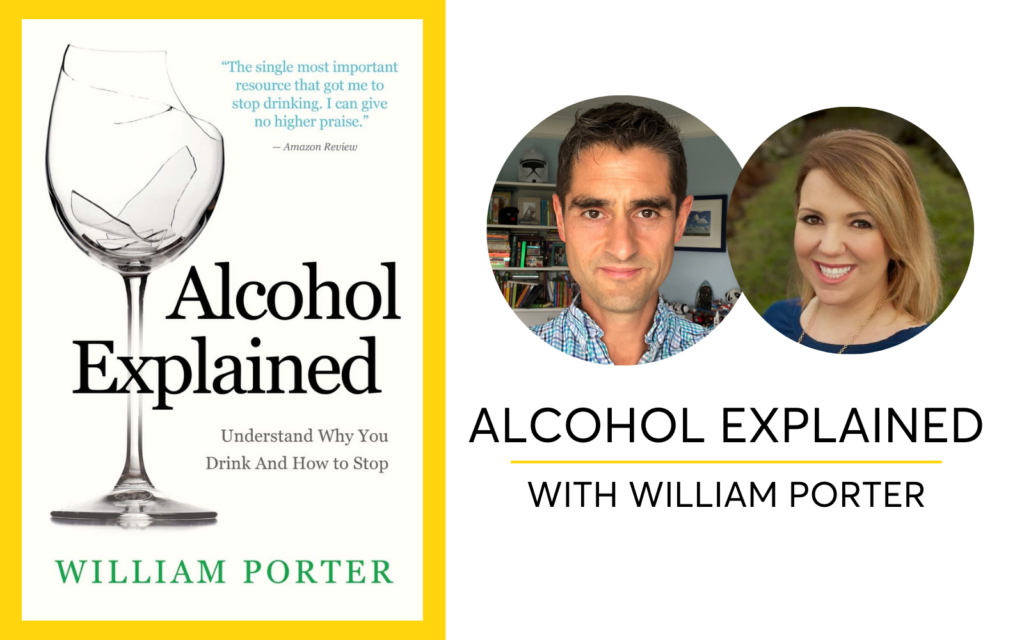 Alcohol Explained with William Porter
William Porter is here to help you understand why you drink and how to stop.
Have you ever wondered…
W

hy does

alcohol make you feel relaxed

and then

wake you up at 3am

?

Why do you have trouble moderating how much you drink? 
How is it possible that alcohol is both a depressant and a stimulant?
Why does a substance that makes you feel euphoric later leave you feeling so low with anxiety and a hangover?
And is it true that alcohol is good for you in small doses? [spoiler alert: no]
I'm a big fan of William's work and the way he breaks down a scientific approach to what happens to the body and mind when you consume alcohol into something that's easy to understand. 
In today's episode William walks us through:
Why we drink more than we want to

How alcohol works as both a depressant + a stimulant 

Whether alcohol is good in small doses

Why addiction is a learning process + resets don't work

How alcohol affects your sleep

The physiological effects of consuming alcohol
Want more support, resources and tools to help you go alcohol-free?
You can Drink Less + Live More today with The Sobriety Starter Kit.
It's the private, on-demand coaching course you need to break out of the drinking cycle – without white-knuckling it or hating the process.
Grab the  Free Sober Girls Guide To Quitting Drinking, 30 Tips For Your First 30 Days
Connect with William Porter
William Porter is the author of Alcohol Explained and Alcohol Explained 2: Tools for a Stronger Sobriety. He currently lives with his wife and two young children in London. He is a solicitor and previously served with the 4th (Volunteer) Battalion of the Parachute Regiment. 
About Alcohol Explained
Alcohol Explained is the definitive, ground-breaking guide to alcohol and alcoholism. It explains how alcohol affects human beings on a chemical, physiological and psychological level, from those first drinks right up to chronic alcoholism. Alcoholism and problem drinking seems illogical to those on the outside, indeed it is equally perplexing for the alcoholic or problem drinker. This book provides a logical, easy to follow explanation of the phenomenon and detailed instructions on how to beat it. Despite being entirely scientific and factual in nature the book is presented in an accessible and easily understandable format. 
For more information and to read the first 5 chapters for free please visit www.alcoholexplained.com
Connect with Casey
Take a screenshot of your favorite episode, post it on your Instagram and tag me @caseymdavidson and tell me your biggest takeaway!
ABOUT THE HELLO SOMEDAY PODCAST
The Hello Someday Podcast helps busy and successful women build a life they love without alcohol. Host Casey McGuire Davidson, a certified life coach and creator of The Sober Girl's Guide to Quitting Drinking, brings together her experience of quitting drinking while navigating work and motherhood, along with the voices of experts in personal development, self-care, addiction and recovery and self-improvement. 
Whether you know you want to stop drinking and live an alcohol free life, are sober curious, or are in recovery this podcast is for you.
In each episode Casey will share the tried and true secrets of how to drink less and live more. 
Learn how to let go of alcohol as a coping mechanism, how to shift your mindset about sobriety and change your drinking habits, how to create healthy routines to cope with anxiety, people pleasing and perfectionism, the importance of self-care in early sobriety, and why you don't need to be an alcoholic to live an alcohol free life. 
Be sure to grab the Free Sober Girl's Guide To Quitting Drinking right here.
Are you subscribed to my podcast? If you're not, I want to encourage you to do that today. I don't want you to miss an episode.
I'm adding a bunch of bonus episodes to the mix and if you're not subscribed there's a good chance you'll miss out on those. Click here to subscribe in iTunes!
Now if you're feeling extra loving, I would be really grateful if you left me a review over on iTunes, too. Those reviews help other people find my podcast and they're also fun for me to go in and read. Just click here to review, select "Ratings and Reviews" and "Write a Review" and let me know what your favorite part of the podcast is. Thank you!
OTHER WAYS TO ENJOY THIS POST: