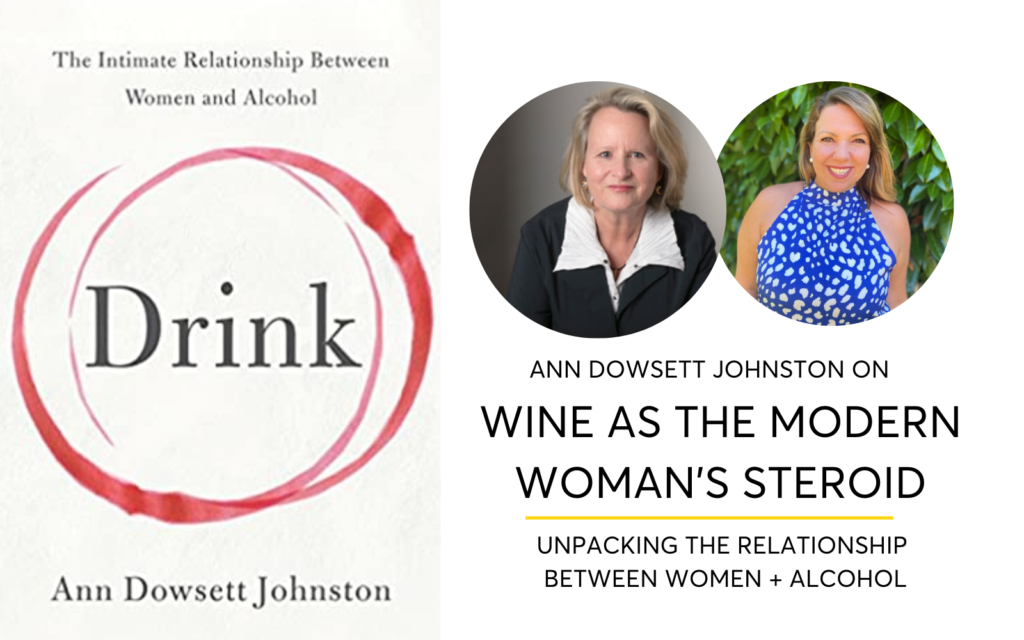 ANN DOWSETT JOHNSTON ON WINE AS THE MODERN WOMAN'S STEROID.
Unpacking the relationship between women and alcohol

 
Ann Dowsett Johnston, the best-selling author of Drink: The Intimate Relationship Between Women and Alcohol, has described the positioning of wine in popular culture as "The modern woman's steroid, enabling her to do everything she needs to do or tries to do".   
And there's one problem with that description of alcohol. It's not true and it doesn't work. 
Instead of helping the modern woman do everything she needs to do – wine is a mal-adpative, and highly addictive coping mechanism that's exacerbating stress, anxiety and depression for the modern woman.  
On the podcast today Ann and I unpack the complicated and intimate relationship between women and alcohol.  
We talk about:  
How drinking after a long day of work has become a universal practice. It's being repeated in house after house as women are standing at their kitchen counters in the evening and pouring themselves a glass (or a bottle) of wine. 

How successful, professional women are increasingly struggling with drinking even as they rise high on the corporate ladder.

How women are using alcohol to self-medicate anxiety, depression, loss and loneliness – including suffering through events like empty-nest syndrome and depression in menopause. 

How the messaging that "Mom needs to drink to get through her day, life, kids and work" is being pushed on us – in surround sound – in popular culture and by our alcogenic society. 

Why are you able to move forward in a healthy way only once you get out of the drinking cycle. You're finally able to work through underlying issues of anxiety, codependency, trauma, depression, and other factors that are driving you to drink. 

How writing your recovery and telling your story can help you unpack your relationship with alcohol and the stories you've told yourself and get to the actual truth of your drinking history with a new understanding and self-compassion.

Why the growing movement of women telling their stories of drinking and quitting drinking, with pride and not shame, is helping other women recover in a way that the culture of anonymity in AA does not. 

Why it's so important for women who want to stop drinking to develop many layers of support to heal – which can include connecting with women on the alcohol-free path, reading books and memoirs of women who have stopped drinking, learning about the science of alcohol and what it does to your body and mind, joining support programs and creating new coping mechanisms through psychotherapy, counseling or with a sober or addiction coach. 

How you can build layers of support to help you change your relationship with drinking – through psychotherapy, coaching, other women in private free Facebook groups online or in person, books, exercise, nutrition and more. 

 
About Ann Dowsett Johnston 
Anne Dowsett Johnston is the best-selling author of the book Drink: The Intimate Relationship Between Women and Alcohol. It was named by the Washington Post as one of the top 10 books of 2013. Ann is a psychotherapist who provides trauma informed relational care to clients with a focus on women in recovery, and works from a holistic perspective using the principles of focusing oriented psychotherapy, to bring awareness and compassion to the mind-body connection. Ann also offers an online eight week course on Writing Your Recovery based on her decades of experience as a journalist and a best selling author on memoir and writing your recovery. 
Shownotes: www.hellosomedaycoaching.com/24 
Grab your  Free Sober Girls Guide To Quitting Drinking 
Find my favorite Free Private Facebook Groups to Support Women Quitting Drinking 
Listen to the Podcast Episode on The Best Quit Lit Books For Women Quitting Drinking 
Download The Guide to The Best Quit Lit For Women Quitting Drinking 
Links and Resources mentioned in this episode 
Stephanie Wilder-Taylor article on A Heroine of Cocktail Moms Sobers Up 
Connect with Ann Dowsett Johnston 
Website: http://www.anndowsettjohnston.com 
Book: Drink: The Intimate Relationship Between Women and Alcohol 
TEDx talk on drinking and how it changed Ann's life: http://www.anndowsettjohnston.com/media/ 
Instagram: https://www.instagram.com/anndowsettjohnstob/ 
Connect with Casey McGuire Davidson 
Website: www.hellosomedaycoaching.com 
Instagram: Casey @ Hello Someday Coaching (@caseymdavidson) 
Facebook: https://www.facebook.com/HelloSomeday  
Listen to more podcast episodes to drink less + live more. 
Connect with She Recovers 
https://sherecovers.co/together-online/  
https://sherecovers.co/our-retreats/  
SHE RECOVERS [Private Support Group] on Facebook 
The SHE RECOVERS Intentions & Guiding Principles
ABOUT THE HELLO SOMEDAY PODCAST
The Hello Someday Podcast helps busy and successful women build a life they love without alcohol. Host Casey McGuire Davidson, a certified life coach and creator of The Sober Girl's Guide to Quitting Drinking, brings together her experience of quitting drinking while navigating work and motherhood, along with the voices of experts in personal development, self-care, addiction and recovery and self-improvement. 
Whether you know you want to stop drinking and live an alcohol free life, are sober curious, or are in recovery this podcast is for you.
In each episode Casey will share the tried and true secrets of how to drink less and live more. 
Learn how to let go of alcohol as a coping mechanism, how to shift your mindset about sobriety and change your drinking habits, how to create healthy routines to cope with anxiety, people pleasing and perfectionism, the importance of self-care in early sobriety, and why you don't need to be an alcoholic to live an alcohol free life. 
Be sure to grab the Free Sober Girl's Guide To Quitting Drinking right here.
Are you subscribed to my podcast? If you're not, I want to encourage you to do that today. I don't want you to miss an episode.
I'm adding a bunch of bonus episodes to the mix and if you're not subscribed there's a good chance you'll miss out on those. Click here to subscribe in iTunes!
Now if you're feeling extra loving, I would be really grateful if you left me a review over on iTunes, too. Those reviews help other people find my podcast and they're also fun for me to go in and read. Just click here to review, select "Ratings and Reviews" and "Write a Review" and let me know what your favorite part of the podcast is. Thank you!
OTHER WAYS TO ENJOY THIS POST: