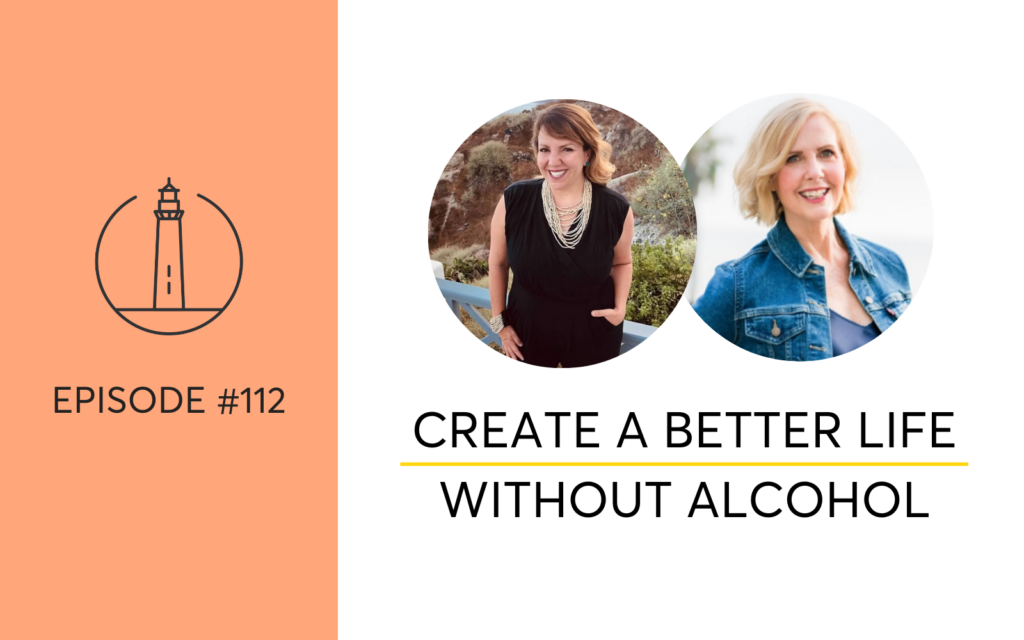 Create A Better Life Without Alcohol

When you're stopping drinking it's pretty normal to focus on what you're giving up because alcohol is involved in most of your social activities, hobbies and relationships.  
When I was a 'red wine girl' alcohol was a part of cooking dinner, evenings on the couch, date nights, girls nights, work happy hours, Sunday brunches, afternoons at the ballpark, vacations and everything in between. 
In order to create a better life without alcohol it's important to add new things to your life that bring you peace, happiness and pleasure when you are removing alcohol. 
Lori Massicot, midlife sobriety coach and host of the To 50 And Beyond Podcast, has joined me to talk about:
How to create a better life without alcohol

How to use your time away from alcohol as a period of discovery, transformation and a return to self

Why setting boundaries will help you find time to explore new hobbies

ALL the ideas on how to add joy and excitement to your life without alcohol

How to cultivate self compassion and gratitude for calm and peace

How to stop focusing on what you think you are "losing" by going alcohol-free 

Perimenopause in midlife
Ready to drink less + live more?
Take my FREE MASTERCLASS on Five Secrets To Taking a Break From Drinking
Sign up here to save your seat: https://hellosomedaycoaching.com/class 
If you're ready to change your relationship with alcohol join The Sobriety Starter Kit. 
It's my signature sober coaching course for busy women to help you drink less + live more. 
To enroll go to www.sobrietystarterkit.com.
Grab the Free 30-Day Guide To Quitting Drinking, 30 Tips For Your First Month Alcohol-Free
More About Lori Massicot
Lori is the Midlife Sobriety Coach and she is on a mission to raise awareness towards the life changing impact of sobriety as we age. 
She hosts the highly popular To 50 and Beyond podcast, where she and her guests highlight the beauty of aging and the freedom from living alcohol free. 
To learn more about Lori and the work she does, head over to https://www.lorimassicot.com/about
Listen to the To 50 and Beyond Podcast https://www.lorimassicot.com/to50andbeyondpodcast
Links mentioned in this episode
Lori's previous Hello Someday Podcast interview on Aging, Sobriety and Women's Wellness After 40
Casey's interview on Lori's To 50 & Beyond podcast – No Rock Bottom Required
Book: Super Attractor: Methods for Manifesting a Life beyond Your Wildest Dreams: Bernstein, Gabrielle
Connect with Casey
Take a screenshot of your favorite episode, post it on your Instagram and tag me @caseymdavidson and tell me your biggest takeaway!
Want to read the full transcript of this podcast episode? Scroll down on this page.
ABOUT THE HELLO SOMEDAY PODCAST
The Hello Someday Podcast helps busy and successful women build a life they love without alcohol. Host Casey McGuire Davidson, a certified life coach and creator of The 30-Day Guide to Quitting Drinking, brings together her experience of quitting drinking while navigating work and motherhood, along with the voices of experts in personal development, self-care, addiction and recovery and self-improvement. 
Whether you know you want to stop drinking and live an alcohol free life, are sober curious, or are in recovery this podcast is for you.
In each episode Casey will share the tried and true secrets of how to drink less and live more. 
Learn how to let go of alcohol as a coping mechanism, how to shift your mindset about sobriety and change your drinking habits, how to create healthy routines to cope with anxiety, people pleasing and perfectionism, the importance of self-care in early sobriety, and why you don't need to be an alcoholic to live an alcohol free life. 
Be sure to grab the Free 30-Day Guide To Quitting Drinking right here.
Are you subscribed to my podcast? If you're not, I want to encourage you to do that today. I don't want you to miss an episode.
I'm adding a bunch of bonus episodes to the mix and if you're not subscribed there's a good chance you'll miss out on those. Click here to subscribe in iTunes!
Now if you're feeling extra loving, I would be really grateful if you left me a review over on iTunes, too. Those reviews help other people find my podcast and they're also fun for me to go in and read. Just click here to review, select "Ratings and Reviews" and "Write a Review" and let me know what your favorite part of the podcast is. Thank you!
READ THE TRANSCRIPT OF THIS PODCAST INTERVIEW
Create a Better Life Without Alcohol
SUMMARY KEYWORDS
drinking, alcohol, life, perimenopause, women, sobriety, sober, quit, midlife, joy, coaching, podcast, gabby bernstein, creating, lori
SPEAKERS: Casey McGuire Davidson + Lori Massicot
00:02
Welcome to the Hello Someday Podcast, the podcast for busy women who are ready to drink less and live more. I'm Casey McGuire Davidson, ex-red wine girl turned life coach helping women create lives they love without alcohol. But it wasn't that long ago that I was anxious, overwhelmed, and drinking a bottle of wine and night to unwind. I thought that wine was the glue, holding my life together, helping me cope with my kids, my stressful job and my busy life. I didn't realize that my love affair with drinking was making me more anxious and less able to manage my responsibilities.
In this podcast, my goal is to teach you the tried and true secrets of creating and living a life you don't want to escape from.
Each week, I'll bring you tools, lessons and conversations to help you drink less and live more. I'll teach you how to navigate our drinking obsessed culture without a bus, how to sit with your emotions, when you're lonely or angry, frustrated or overwhelmed, how to self soothe without a drink, and how to turn the decision to stop drinking from your worst case scenario to the best decision of your life.
I am so glad you're here. Now let's get started.
Hi there. If you're listening to this podcast, I am so glad that you are tapping into resources and coaching and support to change your relationship with alcohol. Whether you're sober, curious, or just questioning your drinking, if you're in early sobriety or further along, let me make the process easier for you. In addition to my podcast, I've three other ways I can help you drink less and live more. 
Number one, you can grab my free 30-day guide to quitting drinking, 30 Tips for Your First Month Alcohol-Free on my website. Just go to HelloSomedayCoaching.com. You'll enter your email and the guide will be sent right to your inbox. Over 10,000 Women have downloaded the guide. It's really comprehensive. It's 35 pages long, completely free. It'll help you know what to expect on day three and day five, what to do on day 60, tips and tricks and resources to tap into and how to approach 30 days without that milestone, tricking your mind to say Oh, you went 30 days without drinking, why don't you just drink and you can do it again anytime you want? It'll help you move forward because as you know that sober momentum is precious, and it's really hard to get so if you want that free 30 day guide to quitting drinking day by day, just go to my website HelloSomedayCoaching.com. Sign up and it'll go to your inbox. 
Number two, I really want to encourage you to take my free masterclass on Five Secrets to Taking a Break from Drinking. It won't be around forever. It's a limited time masterclass. You can sign up at HelloSomedayCoaching.com/class or just go to my website, you can find it there. It is one hour of coaching that will help you stop making the mistakes that are setting you up for self sabotage, and start using the practices that will help you succeed, even if you've tried to stop and failed before. These are the mindset shifts, and the habit changes, that I go through with my private coaching clients the minute they start with me. 
And number three, if you are ready to make this whole quitting drinking thing way easier and move from day seven and 14 to 45 and 60 to 100 days and beyond, and do it in a really positive empowering way where you're not white knuckling it and you're not stumbling around in the dark and you're looking forward to the life you are building, not backward and feeling deprived, I want to invite you to join the Sobriety Starter Kit. It's my signature sober coaching course for busy women to help you drink less and live more. In the course I'll take you through my complete sober coaching framework that I work through with my private coaching clients but at a much more affordable price. You'll get eight sober coaching modules with over 50 video lessons, plus resources and guides and a whole lot more. All available on an app too so you can tap into support anytime you need it. When you're walking the dog or at a coffee shop, if you're doing laundry, or tucked into bed, you'll use the lessons on this course on day 10 and 45. But it'll also give you the tools to navigate life with less stress and more ease for the rest of your life and you get lifetime access to the course. 
So if you're ready to check out the sobriety starter kit and get all the details, just go to www.sobrietystarterkit.com or go to my website HelloSomedayCoaching.com and there you'll find everything you need, how to grab the free 30 Day Guide to Quitting Drinking, how to sign up for the free one hour masterclass with Five Secrets to Taking a Break from Drinking, and all the details on the Sobriety Starter Kit, sober coaching course. All right, let's go to the show.
Hi there. Today we're talking about adding more to your life to live alcohol free, and I'm really excited to bring my guest Lori Massicot back on the show. She is the midlife sobriety coach and Lori is on a mission to raise awareness towards the life changing impact of sobriety as we age. Lori is a Certified Life Recovery and Nutrition coach specializing in helping women in midlife feel better inside and out without relying on alcohol to get them there. She hosts the highly popular To 50 and Beyond podcast, where she and her guests highlight the beauty of aging and the freedom from living alcohol free. So Lori, welcome on the podcast again. 
Hi, Casey. Thanks
06:52
for having me back. It's an honor to be here.
Casey McGuire Davidson  06:55
Yeah, I mean, since we talked gosh, I'm sure a year ago, we have kept in touch because I love your approach. And as women enter midlife, I feel like that's a time when many women decide alcohol is no longer working for them. It's somehow I mean, I stopped drinking just before I turned 40. 
I know. I talk with a lot of women in their 40s and 50s and beyond who are like, Okay, I've done this for 23 years, my life. And it is something that is definitely not serving me as I age.
07:32
Oh, absolutely. Absolutely. It's either I hear from women, it's either I started drinking when I was 14 like you because that's when I started drinking. Or I picked it up later in life. Of course, we had the pandemic, women who were already sober, went back to drinking during that time. Stress all of the reasons why in midlife we drink are the same reasons why we stopped drinking, perimenopause, our moods, our energy. 
Yeah, it's a big time. I've always said it. It's the best time. 
Yeah, if there ever was a best time it would be midlife and beyond.
Casey McGuire Davidson  08:07
Yeah, absolutely. And one of the reasons I wanted to have this conversation with you is so often we focus on what we're taking away from our lives when we stopped drinking, because I know for myself alcohol was infused in literally every event. I had everything I did, you know, every weekend, every evening dinners, you know what have you. And we're going to talk about what you should or need to or can add to your life to live happily alcohol free, more excitement and joy and self compassion and all the good stuff. 
Yeah,
08:48
it's that and I know in the beginning, it's really difficult. I quit drinking in 2013. I was not feeling joy. I was not being kind to myself. I was really focused on the things that women are focused on at this time in their life and not the age. It doesn't matter what age you are, when you quit drinking, you're focused on, I can't drink. And what we're really ultimately focused on is alcohol still, even after we quit?
Casey McGuire Davidson  09:14
Yeah, yeah. And taking the focus off that is so important for actually feeling happy and good about your decision. But will you tell us just briefly like how old were you when you stopped drinking? And why did you finally decide to move away from alcohol? 
Yeah, I
09:33
was 45. So that was back in 2013. And I started to realize in around 2011, well, let me backtrack a little bit. Around 2010 ish. a family member had made a comment to me about my drinking. And it was kind of like, oh, shocky you know, like, what? My drinking, I've been drinking for years. I don't have a problem with drinking. And from that moment, it was a very first time. And it's even hard for me to justify that because I should have known that there was more to my drinking than there was, but I legitimately did not. So around 42 ish is when I started questioning, doing all the Google researching, am I an alcoholic? Taking the tests, getting the same results from the tests, trying to change my answers to the test, right. I just wanted to make it work. 
And so I did that for a couple of years trying to moderate, place rules on myself, you know, only drink red wine, don't drink the wine, don't drink the stuff you love, you know, and it just didn't work. And so I was going through grieving the death of my mother when I was 42. I was going through the thick of perimenopause. And I felt like I was constantly in a fight with myself. I was constantly thinking about ways to feel better. And I was looking at outside things, you know, things that I could do outside of the circle of alcohol, because that was the last thing I ever thought I would ever give up was drinking. It was the dieting. I started exercising, still didn't feel better, and then just kept coming back to drinking, like what's happening with you. 
And so I started a journal in May of 2013 to track my perimenopause. And in that journal, I started writing notes to myself. What's happening? Why do you keep drinking? What are you trying to get out of this? You keep getting the same result, hangovers. It lasted for days, and eating a bunch of junk food and gaining a bunch of weight and feeling so lethargic and bad about myself. And so that was in May of 2013. By August I thought there's gotta be a better way. And it has to be the fact that I have to quit drinking seems easier than continuing on.
Casey McGuire Davidson  11:55
Yeah, yeah. Can I ask a really dumb question? You have to say yes. Because you're so yeah, of course, you
12:02
can ask me anything. No.
Casey McGuire Davidson  12:03
So I'm doing a whole episode on perimenopause because I actually, so I'm 46 I'm turning 47. And people talk about it all the time. And I'm like, either I'm completely clueless or I don't think I've had it yet. But what the hell are the symptoms? Like what is, I know it's supposed to be the 10 years before you go through menopause. But why am I totally clueless as to like, Am I in perimenopause? 
Well, you remember when we had sex
12:31
education back when we were kids? Did you have that class? I know I did. 
Yeah. 
Back in the 70s. It should have involved perimenopause, the change of life, or at some point in our lives, maybe high school? Maybe not elementary school, right. But no, we were never taught this. And like when I was going through it, my mom had just passed, I asked my sister because she had been through it. And she just couldn't remember, right, like what is happening with me, I would go to the doctors and they would say, Well, you're not there yet because of blood work. And I found out later that doesn't, that's not the marker. You know, it's very hard to tell by our blood work, what our levels are, as far as you know, if you're in a perimenopause stage and post menopause, definitely you can tell, but perimenopause is different for everybody. And they do say that it could be anywhere from a year to 10 years until your last period and the experience of perimenopause again is different, but I think there's like 32, legitimate like symptoms, if you want to say it's a symptom, and I had, like 50 I had it all. 
The most common for me and I can only speak from my experience was an increase in my anxiety, which was the number one reason I started drinking at 14 was my anxiety. I had heart palpitations, I had to go through a lot of testing on my heart. I had of course, the sleeplessness, my mood was anywhere from kind of happy to like rage. There was like, it was just like, a dizzy, like, it just went through all of the gamuts of my mood. And I legitimately would look in the mirror and just not recognize myself, I just felt very flat. 
Now I know anybody who's listening to this, who's not gone through this before, don't get scared, because it's a normal transition in life. And I feel like if I had gone back, one of the reasons that I'm so grateful that I quit drinking when I did because I wasn't you know, I was in the middle of it. I wasn't done with it yet, is I felt extremely better after I quit drinking. You know, about six months in I started to realize, well, this is really, it's helping me right like and it's helping. But I don't want anybody to get scared because we all go through it differently. I have friends and I've had people on the podcast women on the podcast who will say I had no problem with perimenopause. It was just so, long story. Perimenopause is actually that time leading up to menopause. Menopause is one day so the day of your last period is actually menopause and anything after that is post.
Casey McGuire Davidson  15:00
Yeah, yeah. Okay. I don't think I've gone through it yet. But like, TMI, I like have an IUD. And so I like literally can't tell when I get my period. Like, I know I kind of do but like, it's lovely. I fucking love it. i It is not a thing for me. And since I quit drinking, right, plus I'm on Prozac. So like, anxieties down, sleep like a baby. I don't have the heart palpitations. I'll just consider myself lucky. Because trust me, I have a shitload of other things that are not that great. So anyway, not the point. But like, every time people talk about I'm like, What the fuck is that? And am I having it? So all right, thank you for the medical list.
15:44
You're not the only one who doesn't know, I didn't know, I didn't know what was happening with me. So actually, the first thing that may happen is your cycles will start to veer off. But if you're on the IUD, then you know you won't experience it. So I think that's just something to talk to your doctor about. I mean, I have a good friend, she's, we grew up together, she's going to be 55, a little bit older than me in July, and she's not having any. So it doesn't, you know, everybody's different. Yeah, I was very young when I went through it. And also I heard, I've been told that drinking causes early perimenopause. So could have been
Casey McGuire Davidson  16:19
maybe stopping it just before 40. Health? Who knows? 
Okay, that is not the topic of the podcast. So we're talking about what you know, adding more to your life and what you can do as you stop drinking, to move away from the sort of feeling of deprivation or feeling of loss to the feeling of, you know, momentum and excitement and self care and all the things so why don't you just, I know you do this with coaching all the time. Tell us what you think we should add to our life as we start living alcohol free.
16:58
Yeah, I think just to be realistic, because I know where I was, when I quit drinking. Like I said, I wasn't feeling the joy. I wasn't feeling, I wasn't feeling the pink cloud. I wasn't feeling any of it. I was just feeling a little neutral. I was feeling a little dead inside. So, you know, don't be hard on yourself if you're not there, because I feel like that's where a lot of women get tripped up because they feel like okay, there's some timeline to this, you know, I always hesitate I will I completely hesitate and telling anybody, you're gonna experience this on day 14, or you're gonna experience this. We're also different in this and when I hear that, I think, well, if I don't experience that, then there must be something wrong with me. I like, I'm not doing this right. So just know that every single day you don't drink is just a gift. But it's such a great time to explore what it does feel like for you and just open yourself up to hey, I'm learning something new right now I'm, I'm doing this thing, and I don't know what it's gonna be like tomorrow, but I'm here today. 
So I feel like when we're adding more to our lives, we have to be really present and mindful of the small simple pleasures. And that's where I get such a kick out of life. Now, you know, just small things and letting yourself, it really is, that is just letting yourself enjoy these things. Because when I was drinking, like you said earlier, it was the center of everything, everything I did, and especially sitting on my couch watching TV. And so I had to add more things, even if it was adding a fresh vase of flowers or something that I can visualize and see and just that reminder, like, Okay, this is why that fresh face of flowers is there that represents something that I'm working on for myself.
Casey McGuire Davidson  18:35
Hi there. If you're listening to this episode, and have been trying to take a break from drinking, but keep starting and stopping and starting again, I want to invite you to take a look at my on demand coaching course, the sobriety starter kit.

 

The sobriety starter kit is an online self study sober coaching course that will help you quit drinking and build a life you love without alcohol without white knuckling it or hating the process. The course includes the exact step by step coaching framework I work through with my private coaching clients, but at a much more affordable price than one on one coaching. And the sobriety starter kit is ready, waiting and available to support you anytime you need it. And when it fits into your schedule. You don't need to work your life around group meetings or classes at a specific day or time.

This course is not a 30 day challenge, or a one day at a time approach. Instead, it's a step by step formula for changing your relationship with alcohol. The course will help you turn the decision to stop drinking, from your worst case scenario to the best decision of your life.


 

You will sleep better and have more energy, you'll look better and feel better. You'll have more patience and less anxiety. And with my approach, you won't feel deprived or isolated in the process. So if you're interested in learning more about all the details, please go to www.sobrietystarterkit.com. You can start at any time and I would love to see you in the course.
That's really interesting, as you were talking about that, I was sort of taking myself back to the early days, and I'm talking after your first 30 days when you're actually physically going through withdrawal. And you know, you do kind of feel worse before you feel better. And one thing that I feel like I got really lucky at was when I was at about two and a half months, for some reason, in some group I was in, I think it was an offshoot of the BFB, someone was doing a daily photo project, like a photo of the month with a group of like, 15 women. And you know, each day, you sort of had a prompt, and it was like things like blue, or circle, or from my window or kitchen or whatever it was. And, you know, it was both feeling prompts and visual prompts. And then like all 15 women would take a picture and kind of describe it, like what it was. 
And so I love photography, I've always been, you know, super into photography and documenting stuff. And so every day I would like, you know, it would be like turquoise, and I would be standing at the bus stop on the gravel with my, with my son. And I take a picture of my like turquoise Tieks (shoes) that I love or things that are on my table, and I take a picture of it and describe it. And I remember exactly when it was. It was May and then it went into June. Because in June, I went to Croatia and Venice with my family. And so I have all these amazing pictures of daily small things that brought me joy, but also descriptions of them, and sharing them with women who got it. And it did bring that like simple pleasures joy, and I saved them. I took screenshots of all of them. So I still have like, every moment for two months, but that feedback on it, too. So when you were saying that I was like, yes, that helped in a huge way.
22:35
It does, doesn't it? And it is that because then we can practice gratitude and appreciation for where we are in life and and at now in my sobriety. I definitely practice gratitude and appreciation for my drinking self, because I brought myself here. And so I feel like that's always something that we miss out on because we're starting this and we're looking at the negative side of it. And listen, I'm going to be honest, there's, there's a lot of stuff that will come up for you in the beginning. It's just that's what you want to focus on. The "everybody else drinks." The "I can't drink, there must be something wrong with me." And then when you're in that struggle to stay sober. It's the same feeling. You know, there must be something wrong with me. I can't get this straight. And so there you just feel the pressure. Like I just feel like the pressure and the heaviness of trying to be perfect at this we have to go into it thinking that you know, this is going to be messy. I'm going to allow myself to screw up. I'm going to allow myself to find the simple pleasures, I'm going to allow myself to be present in my life because I don't know what's going to, tomorrow is going to bring. But today I'm right in this moment. Not even later today. Right in this moment. I know.
Casey McGuire Davidson  23:40
Yeah. I mean, I think that half the questions I get from women, and I know I had them too because I asked my coach all the time, is like, I feel X, is that normal? I mean everything from like, legitimate rage in my first two weeks at my husband or whatever, like just feeling like it's bubbling over to extra sensitivity to being so tired. I felt like I was hit by a bus to like moments of joy that you know, popped up at 7am on a Tuesday walking into work like you feel like I kind of miss it. Now because it's just, you know, it is such a time of like you're reawakening transformations, your emotions, everything's been at your fingertips because you've kind of been numb for a long time. It doesn't always feel good but it is very vivid. You know what I mean? People describe it as like, you're feeling like everything's in Technicolor, the good and the bad.
24:41
Like some clarity. Yeah, don't you, when you think back I'm like I really miss like for me, it's not regret. It's just I really missed out on experiencing what I'm talking about today because I wasn't there and I didn't have a coach. I didn't have community of women which I think is the number one tool in any toolbox but you know, I just feel like they're through podcasts or through whatever you're doing, as long as you're listening, and you're keeping in contact with other women who have been through this and who are going through it, it's so helpful, but just being able to look back and go, Wow, you were at such a great place in your life, you thought it was the worst thing ever, you thought it was going to be detrimental to your future. But man, how exciting was it that it completely, and I say this 100% changed my life, just stopping drinking. 
Yeah,
Casey McGuire Davidson  25:27
you know, what if I can find any of those images that I took the pictures or the I mean, I want to figure out how to put those somewhere in the notes are linked from this because it was something that like really ground me and made me sort of experience and look around me every day. And I really felt like after the first two months, during that summer, it was really a focus on daily joy. And not the big, big questions of what does this all mean? And will I not drink forever? And, you know, I mean, I did things like you were talking about fresh flowers, like I got my bicycle tuned up for the first time in years, and I like brought it to work, and would go for bike rides in a park near me on breaks. Like, I trust me, my hungover self in a very busy high stress job that, that never fucking happened. Like, that was not a thing that would even occur to me. But it was really cool to be like, I can take 30 minutes out of my day to bike in a fucking park in the middle of like being a director at L'Oreal. Like it was just crazy.
26:39
Did you ever remember like going back to that? Did you remember like feeling that? Or were you saying, you know, this is a fluke?
Casey McGuire Davidson  26:47
No, I was like, God, this is amazing. Like, my son was eight. And you know, it's summer. I stopped drinking in February. And he had like soccer camp and bike riding camp nearby. And my husband was coaching baseball. My office happened to be right near a giant park where they had sports fields in my neighborhood. And I would bike over there and say hi to him in the middle of his like, morning camp. I mean, it was cool. It was a cool time in my life, despite being like, oh my god, I fucking hit a bottom. And I can't cope with life. And I have to give up this thing that I love more than anything else. 
So one thing you said that I want to go back to though, is you said, even having compassion and gratitude for my drinking, and I know a lot of women listening to this are like, you gotta be kidding me. Like, I am on my way out of this, you know, nobody quits drinking because it's feeling really good to them. And there are no issues with it, right? Because we love to drink. Like, the only reason women stopped drinking, in my opinion, is like, they want to feel better. I mean, maybe not everyone, but in Okay, I'll just say in my experience, I felt like shit. And I wanted to feel better. I did not want to stop drinking. So having gratitude for my drinking self was not top of my list in you know, in the early days, so tell me about that. 
Yeah,
28:15
that's exactly what I've said from the very beginning, just what you just said. That's it. I wanted to stop feeling like crap, I wanted to feel better. That was the only reason why I had to quit drinking. And we were so used to using alcohol to feel good. And then we become this driver of our own destiny. And we figure out you know, now what, what makes me feel good. So I think because we're so wrapped up in the drinking cycle, that we just give it all up to alcohol. And so when we're out, left out on our own, it's like, what else can I do? I can't do anything but drink. 
And that's just simply not true for me now. And this was about maybe two years ago, I had to write a little something from our join the monument, join monument. Have you ever heard of them? They're an online recovery support group, they asked me to write something for Instagram, and I wrote, and it was probably about my story or why I quit. You're here, what I gained from it or something. And I wrote down for the very first time, I practice a lot of gratitude for alcohol now, because I wouldn't be here because of it. I've never one I've never been one to say, oh my gosh, alcohol is so bad, you know, and I quit drinking. Everybody around me was like, Well, don't ask me to quit drinking. Like I'm not, I'm doing my own thing. I'm not going to blame alcohol for anything. You know, it's an addictive substance that I used from a very young age and five practice a lot of gratitude that it has gotten me here talking to you, Casey Davidson on a Wednesday morning, when I would have been at my shitty job that I was in a career for over 20 years that I was drinking because, you know, it's like, thought can we just hit? It's like mind blowing.
Casey McGuire Davidson  29:53
I know what you mean by that because I do feel like now in retrospect, you know, one of the the big questions that I love to ask myself and I actually have it on my desk is flipping the question from, Why is this happening to me, which is just this place of self pity and victimhood and powerlessness, right? No agency, why is this happening to me, too? How is this happening for me? And that helps me even in the really low moments that I believe like, even if you don't know and cannot see how this is happening for you, having trust that it is in some way, and in my way, like, you know, even having just a brutal, shitty boss, who I felt like was really unfeeling and demanding. I felt like, Okay, well, maybe in retrospect, it had to be that bad for me to move on and get out of my comfort zone, because I'm someone who's very loyal and likes to stay and looks for the good parts. But like, I do feel like in terms of quitting drinking, how is this happening? 
For me, I do believe that had my drinking sort of stayed in that kind of shitty just okay, hangovers. But not every day kind of life, I would never have stopped I would have and because drinking does exacerbate your anxiety and lets the days and the nights and the weekends slip through your fingers, I never would have had the confidence and energy and just optimism to say, Okay, I don't want to do this job anymore. And make new friends and do things on my own and go on trips without my family and become a podcaster and meet people like you and just everything that's changed in my life for the better. I could have gone through the rest of my life treading water in this average, just okay, quasi fear place of change, you know, not wanting to rock the boat. So I do feel like getting to the point where I really needed to walk away from alcohol. What did happen for me? It's just really hard to fucking see it at the time. I don't know until we know. Yeah.
32:13
And I can say in my experience, there was no way I was ever going to figure it out. If I was still drinking. Remember, I tried a really good try. Yeah, there was no way that I would ever because even if you're not drinking every day, because I wasn't drinking every day towards the end, I was a heavy binge drinker three, four times a week at that. I'm not making any excuse for my drinking, trust me, but it was like, like I said, the hangovers. I mean, honestly, you know, especially as we get older, it's longer, our tolerance is building up my tolerance. I want like a badge of honor, you know, and then I would wake up the next day thinking I really didn't drink that much. Why do I feel so bad? Why am I walking around with just this veil, I call it the veil. It's just this really thin veil you can't really see out of it. And like you were talking about vivid colors, you know, if you have a veil over you all day long, you can't see, you can't feel the things that are happening around you. The energy is so low, it's that low vibe energy and alcohol loves low vibe energy. It clings to it right.
Casey McGuire Davidson  33:15
Yeah. Yeah. I mean, I felt like I just like, changed what I listened to, I changed my thought patterns. I changed what I was looking at in the world. I mean, I used to walk into work, just feeling so sorry for myself and so down or so unable to cope and like being like, oh my god, do I just abuse alcohol? Or do I, am I seriously addicted to this shit? Because then I have to stop. And, you know, I would wake up and literally first thought is like, what the fuck is wrong with you get it together. And once you remove that, you wake up and you're like, Oh, my God, look at the birds, you know, like, not all the time. But like way more often? And on an increasing basis. Yeah, you're
34:03
more alert. And that's how it should be. It really should be, you know, we should all be the main character of our lives. We should all be in the center of it. Yeah, and not alcohol. And that's what happened. So go ahead. No, don't go ahead.
Casey McGuire Davidson  34:20
One of the things I read just yesterday and it just amazed me so, Jane Fonda just spoke recently about the fact she stopped drinking and the woman is like 85 years old. But one of the reasons that I, you know, there was such show Grace and Frankie, and a lot of women binge watch TV, binge watch NetFlix, HBO, Max, whatever you want, through early sobriety, right? You're bubbled up your state, but you need something to look forward to. Yet certain shows are really fucking hard to watch because drinking is like a main character in it. And I really advise women into like, if a show is triggering you or glamorizing alcohol or drinking is like a thing that shows up on camera a ton. You know, watch something else. There are plenty of shows that do not glamorize alcohol at every point. And a lot of the people who drink heavily as part of a character piece in a show, actually don't drink that much in real life. Like for example, Kerry Washington who in Scandal like always had those giant goblets of wine, she does not drink almost at all, you know what I mean? 
So, but one of the shows that was sort of big when I was quitting drinking was Grace and, Grace and Frankie or Frankie and Grace, or whatever it is. Lily Tomlin and Jane Fonda. And I was like, damn, they are drinking a lot like that was part of Jane Fonda's character at like the age of 80, like down in the gin and tonics and drinking heavily. And she just talked about that she gave up alcohol, but one of the reasons she said she did was, you know, I only have so many days left, and I don't want to go through them at half mast. You know what I mean? And that's, I thought that was really interesting one, I'm like, Okay, I hate the way shows just show women drinking it all points, excessively. But at the same time, you know, also realizing like, you're really lowering your potential, and your vibrancy and your ability to be present, you know, to half mast and more and more women like Drew Barrymore, and you know, Jane Fonda. And you know, all the women are realizing that that's not something that they're willing to put up with anymore. 
Yeah,
36:47
interesting. I did not hear that about Jane Fonda. I will share that with everybody I know. It's, it's amazing. At her age, it's amazing that she's able to realize, you know, there's still so much time left to experience life without this filter. 
Yeah, super cool. 
Yeah. But yeah, I mean, definitely, if you want to add more to your life, and you're feeling like you can't, because being on the couch, drinking was one of my favorite pastimes. And I couldn't watch my favorite Real Housewives, I couldn't, I couldn't stay on some of them anymore. So I had to, you know, divert my attention to other things. But I mean, there's so many other things that you can be doing with your time to add more joy, and to just explore and to be curious. And I think that one of the things that really takes away our joy is, well, you know, what they say comparison is the thief of joy. So really listening to these stories without, you know, feeling like, I should be further along, or any of that, that that's just gonna rob you of this time that you have to spend with yourself. And going back to the beginning, it is such an exciting time. And then just looking around and saying, What do I want to try? What is something different that I want to do? I can do it now.
Casey McGuire Davidson  37:57
Yeah, yeah. I mean, you really can, and it is never too late. And is also never too early. Because I don't think until you remove alcohol from your life for an extended period of time. You don't get to see that Technicolor. You know, I don't, you know, now I get sick. And I was like, holy shit. How did I feel this way? Every day, like the quasi queasy stomach, the headache, the Oh, I just don't feel that well, kind of thing. I mean, that was a daily occurrence for me. Yeah,
38:32
I can't imagine it. I really can't imagine ever feeling like that again. So yeah, I just feel like that's, again, it's the best time in life, whatever age you are, whatever age you are, and what day you decide, this is my day to do this, this is my day to stop consuming and start creating my future. And get in there and make it happen, man, you can do it, you can do it. And everything is gonna get figured out along the way. I feel like a lot of women don't get started because of the overwhelm of thinking all the things that they have to do. And really what you just need to do is look at one thing today that you can add to your life, a simple joy, a simple pleasure.
Casey McGuire Davidson  39:13
And one of the things that I actually think is, is helpful in the early days, the early weeks a month is routine. And adding something that just for you that it's actually on the calendar because I work with a lot of women who are working moms and dad is your I mean, I know right now, like my son plays on two baseball teams, my daughter does hip hop dance, like, literally every evening of my life, other than other than working time is sort of like, oh, Hank has a baseball game while it's got X. She's got a soccer practice. But scheduling something for yourself that you are looking forward to so I know in the early days, I went back to taking guitar lessons, which I hadn't done since I was like 28 years old. Oh, and just having that hour on my calendar was something to look forward to. I scheduled, you know, I worked out with a group of women in the morning. And even right now, I just rejoined my gym post COVID and signed up. 
Okay, this is kind of embarrassing, but I've got like a torn detached hip labrum, which sucks. And I haven't been able to run or like do HIIT workouts for basically a year and a half. So I just signed up for semi private meaning me and Lila swim lessons on Wednesday afternoon. So like, basically, I'm sure some teenager we start next week is going to be like teaching Lila to swim. And like, I don't know if she's gonna give me a kickboard or whatever. But apparently, it's really good for my hips. So I'm kind of embarrassed, but I think it'll be really fun for us to do together. And I just got rollerblades because apparently I can do that. Because I can't bicycle. So all these things. I'm like, Oh, my God, rollerblades. I'm sure I'm gonna fall. But that's really fun. You know?
41:04
That's fun. Yeah. But it is an effort to put that fun into your life to put that joy into your life to go out and seek things and to just say, you know, it doesn't have to be big things at the beginning. But yeah, I mean, exercise was my go to. I had to start exercising and that I needed my endorphins, there's nothing I can't work out within a workout. There's nothing, it changes my mood drastically. If I am dragging myself to the gym. The moment I get there is no, just give it 10 minutes, just give it 10 minutes, your mood is going to change drastically. And it always helps. And that's what helped me in the beginning.
Casey McGuire Davidson  41:38
Yeah. And a big part of like, figuring out how to make it work is trying to be creative, right? Because, you know,
41:45
sobriety is all about creating an alcohol free lifestyle. Its creation. Yeah, its exploration. Its self discovery. Yeah. Like, it's not something to miss out on in this lifetime.
Casey McGuire Davidson  41:58
Yeah. And in terms of like, even my hip labrum tear, I'm like, Alright, this is tough. How is this happening? For me? Well, it's forcing me to do something fun with Lila, or I guess I'll start rollerblading again and pick up some new sport or whatever. It is hard to figure out the upside of that one, but I'm working.
42:20
Yeah, always look on the bright side of life, right? It's just that and it's taken me a really long time to get there. So if you know, when I quit drinking, and most of my life, I've been from a very negative fixed mindset. And it's taken me years and years, I'm still working on it. I will be working on it for the rest of my life. And that's okay, because it's cool. What's my alternative? Right? What is our alternative? We all have choices.
Casey McGuire Davidson  42:42
Yeah. So we talked about adding things to your life to live alcohol free. So you said self compassion and gratitude, and excitement and joy, anything else? Or any tips on how to do that in a concrete practical way? I think
43:00
practical would be the evening routine. Start there, because it's such a hard time for everyone. When we first quit drinking is that evening unwind routine. And like you were talking about, you know, scheduling time for Busy Women. There's women that I've worked with throughout the years, you know, they never had any kind of time for themselves, and working, helping their family. You know, we're all a bunch of people pleasers, right? So it's time to please yourself, so you really can lessen your load. And we have to learn to set boundaries. When we quit drinking, we have to learn to set boundaries, no matter what stage of life we're in. It's never too late for that, but personal boundaries where you say, Okay, this is my time. So instead of wine time, it's me time and what am I going to add to that hour. 
And you know, we can all just start with the basics, you know, something fun to drink that doesn't have alcohol in it, make it fun, create new recipes for yourself, creating something that you can do at night, picking up a hobby, creating a vision board and getting excited about things I do that all the time. I did that last night for like two hours. I just take my markers in my journal out and I just start writing my dreams and bubble letters and colors and stuff like Oh, it's so much fun. I just had so much fun all by myself. But you know really looking at things that you can do exercising at night if you haven't done it in the morning or during the day getting out and just taking a walk because exercise doesn't mean going to the gym. Yeah, that means moving your body and finding that time at night and then before you go to bed write your worries out, if you have any, write them out in your journal, dump them out, write and post it and rip it up. Toss it in the trash. Set yourself up for a sweet night's sleep, listen to a meditation. Yeah, anything to help you drift off.
Casey McGuire Davidson  44:47
I am a big fan of lists. So I mean, I was always a list girl I still am but like making lists and I do it on a Google Doc or a notepad but in early sobriety I get it as possible sober Treats are future so retreats so I would walk to Whole Foods and go over to the, you know the the push pin board and take pictures of like, you know, apparently Redman is the biking capital of Washington who knew. So I would take pictures of all the biking routes, or I would take pictures of like a journal or flowers, you know, I was walking there in the middle of work, so I wasn't going to buy everything right then. But I would save those pictures in like a sober treats list or I would, you know, write down like, what are the, you know, like, even like, which coffee shops I'd like to go to, and which books I'd like to read, and what are the movies I want to see plus, like bubble baths and, and all the things. I bought a book on, like walking tours of Seattle. And I would plan to do just once a month, like a tourist in your own town. 
So I feel like, you know, of course, you're going to be bored in early sobriety, or you're going to you know, someone invited me to like a wine tasting in the neighboring town. And I was like, fuck, I'd love to do that. But if you have your list, and you're like, Yeah, but here's six things I also really want to do or creating a bucket list for the season, you quit drinking. I mean, all of that will help you add excitement and joy and positive momentum to your life. So that when you're feeling like you're missing out, you're like, Yeah, but what about all this good stuff?
46:31
Definitely, we have to create our own hype. We're our own hype woman. And that's, that's just it, we've got to do it. And there are going to be days where of course, you could look at that list and go, Yeah, I'm not feeling it. All I want to do is drink. That's okay. Just be with yourself. Yeah, because drinking is not an activity, drinking is not a solution. We used it to feel good. And now we're making ourselves feel good without it. Because it's very fleeting, that feeling of goodness is very fleeting with alcohol. And it's not when we become our own creator. Yeah.
Casey McGuire Davidson  47:03
And you know, you're allowed to change and evolve and transform. And I feel like this is really a time of transformation, or a time of return to self. You know, what are all those things that you always said you were going to do, but never quite got around to because your main hobby was drinking, and your main time suck was recovering from drinking. That takes a lot out of the Oh, yeah, you know, in January, all your resolutions that you never quite get to. So use this time as a time of exploration and experimentation, and curiosity,
47:41
and curiosity, because that's a great place to be. And just to be curious, you know, and be flexible with yourself, the Forever thinking stops you from starting. And just keep it, keep it flexible, and be in that really high vibe, energy as much as possible. As much as you can get yourself there. Hold on to it when it's there and just let yourself explore it, enjoy things that are around you, because they've been there all along. But chances are you're just not seeing them because our focus has been on the drink.
Casey McGuire Davidson  48:09
Yeah, yeah. And I even put quotes up. I mean, you mentioned vision boards on the vision board, girl, but I put quotes up on my vision board. It's like one that said, and so she decided to start living the life she imagined. And surround yourself with people who reflect who you want to be and how you want to feel. Energy is contagious. Like just those things. When you've read them. You're like, oh, yeah, that's what I'm doing. Yeah, and
48:38
put, you can put them in a book too. Yeah, bullet journal with all of your quotes, your favorite things that inspire you. I always have my journals right next to me. I'm reading right now. Super Attractor again for like the fifth time by Gabby Bernstein. That's a fabulous book. If you want to shift into a higher energy.
Casey McGuire Davidson  48:56
I have not read that book. Do you recommend it?
48:59
Oh, yeah. Yeah. Super, Super Attractor by Gabby Bernstein. She has a journal that goes with it. She has monitor cards. She has a whole bit, but any kind of personal development that you can do. Of course, there's Quizlet. There's a ton of Quizlet out there. You can read a memoirs. But what I always say to you is ask yourself what you need every day. And whatever it is, do you need more confidence? Are you feeling shameful? Who can you listen to? Of course Brene Brown, right. Also, Atlas at the Heart is a really great book. I don't know if you've read that one, her name, her latest book. I always go for what I need. And I want to listen to other people who are going through what it is that I'm experiencing in that moment. And then always like he said, just ask yourself, What am I supposed to learn from this, this feeling that I'm having today? Or where this resistance I'm having to go in all into this? And there's only one day that you need to get through? And that's that one drinking moment where you're in? You're gonna say fuck it. Just ask yourself is my reason why that I am doing this in the first place enough to tide me over until tomorrow?
Casey McGuire Davidson  50:04
Yeah, I mean, I remember when one thing someone said to me or I read, and it was like, don't give up What you want most for what you want at this moment. And I feel like that's what I did for years over and over and over again. You know, I wanted to be this healthy, happy person who went places and did things and felt good. And instead, I was kind of, you know, what I wanted at the moment when I walked in the door when I was truly in physical withdrawal from drinking the night before and anxious and irritated and resentful of my boss, or my work or my schedule, or whatever it was, was I wanted to drink. And so once I sort of took the time for the first week and two weeks and then got to 21 days and further, it became a lot easier to see those glimpses of the person I actually wanted to become.
51:02
You know, that's what we're in it for the quick fix, but all of those quick fixes compounded over time. It's tougher and tougher to get out of them. And so you got to go towards the long term gratification. That's where the real joy lies. And it's patience. It's time; time's your best friend. 
Yeah,
Casey McGuire Davidson  51:21
yeah. But I think that adding things to look forward to, like you said, adding joy, adding excitement, adding just little practices, like whether it's my photography of the month or your bullet journal, or writing out your dreams, I mean, that can really help. The other thing I wanted to mention to people, because this is something where people get tripped up a lot, I feel like, there is plenty of time later, to go through all your regret and to unpack the why you use to drink and to dwell on everything crappy. You did. 
I feel like negative and fear based motivation only takes you so far. And what actually keeps us going, is things we're looking forward to. So I highly recommend trying to keep your emotions however you can in that like, emotional green zone of feeling like pretty good. You know what I mean? And so one thing that I recommend is if you're reading like a Quizlet, or a memoir, and it's dragging you down, and it's making you feel guilty or bad, or or I wasn't that bad, or it's depressing, or whatever it is, put that shit away, and just pick up a different book. I know I I was reading one about like, God, it was something about drinking mom or whatever. And I was like, Oh, dude, I cannot read this right now. Like this is hard to read. 
And even when you were mentioning like, I mean, I love Brene Brown. I just did an episode on Brene Brown. I'm interested in Gabby Bernstein. I found like, in my earlier times, I've you know, she didn't totally resonate with me, she was in a jam. For me, Jen Sincero who wrote You Are A Badass like, I love her. I listened to that on tape over and over again. So like, not everyone is going to resonate with every person and that is totally okay. So if you're reading something, and you're like, everyone says, This person is amazing, but I'm not feeling it. That's cool. Just pick up something else. And it does not have to be sobriety related. It can be self improvement, or inspirational. Like, I know, a friend of mine loves Pema Chodron, right sort of Buddhist, you know, I'm the sky everything else is the weather for me that like I'm like, What the fuck is happening? Like, that is not me, you know, but like, find that thing that inspires you to keep going.
53:51
Yeah, and when it stops there, stops inspiring you, let it go, move on to something else. But yeah, that's what I meant that overconsumption of everything and hearing, you know, when I quit reading in 2013, I read Drinking a Love Story by Caroline Knapp. And then I wrote, read a book, Mommy Doesn't Drink Here Anymore by Rachel Broadwell was just a Kindle book, not just a Kindle book. It's a wonderful book. That helped me so much, but I wasn't on social media. I didn't know of all these other things happening. I didn't know of blogs or anything like that. And so I'm not saying that it's good or bad at all. But you know, when we're over consuming so many things, I find this in my business I have to completely shut out like podcasts that I listened to like, I have to have my own thoughts here. It's not going to work if we're not creating it for ourselves. It's your, it's great to have recommendations and I will say Gabby Bernstein that's the first book and the only book I've ever read first Super Attractor.
Casey McGuire Davidson  54:46
I'm gonna pick it up because I trust you. I'm gonna read it.
54:49
Okay, yeah, trust me and just me. It just has kicked me out of that you know, and she's a sober woman as well but no, I have not resonated with her previous stuff. But this book for some reason, it clicks it. That's the beauty of self exploration is finding these things. And I want to mention one last thing. When you're doing all of these wonderful things you're getting through the day, the toughest of days, make sure that you are celebrating yourself, because it's so much that we live we miss out on. And if you're really looking for motivation, you got to create it yourself, you need that positive reinforcement. And so I created my own little method that I had been teaching in my groups and with my clients for years. And it is saying, after you do something, if it's a tough day, or you do something that you're really proud of yourself, you say, Yay, me, and you say it out loud. I don't know how many women I have in my life that say, text me say I just said, Yay, me because I did this, like, that's it. I've been saying it for years, when I quit drinking, it was just kind of like getting through the sludge of it all. And then I started realizing this is really working. I'm feeling it, this, I don't think this is a fluke. So I started congratulating myself, I started talking to myself like a real person because I am. And it works. So don't miss out on that. Because that keeps you going be proud of yourself. Yes, yeah. To tell other people. And if other people aren't getting it, it's not your job to make them get it. Just be proud of yourself.
Casey McGuire Davidson  56:12
Well, you mentioned your work. So tell us about how you work with women. I know you have a program called The Alcohol Free Habit. Tell us about what that
56:21
involves. 
The Alcohol Free Habit is in its second session, just starting next week, actually, for the spring session. I launched it back in December. And the reason that I launched it is because I realized that so many women are focused on the wrong things. And I hate using that word wrong. But the wrong thing is kind of like what we're talking about here. You know, all the questions that I had when I quit drinking, it's totally normal. But I had an epiphany last summer and I was walking along in nature one day, and I thought, I wish that women would ask me out of all the questions I get, how can I make this the best experience of my life? What do I need to do to make this better? And so I kind of took that thought I remember sending it out in a newsletter and I got so much response from that. It's like just switching around. How can we become solutions makers in our life instead of searching for the same questions and answers on repeat, because that's what I did for a really long time. Like, what am I looking for here? 
And so The Alcohol Free Habit is really helping women over 40 break through their go-to drinking routines. I talk about like the typical routines that you would normally go through either you know, daily or weekly, and finding other solutions to those things that we're reaching for. What do you need, it has to start there, like what are you looking for in the drink, and it's a super cool group where we work on creating new routines. So again, the evening routine is huge, then that's followed by the morning routine, and adding just one small habit, just one small habit. Or you know, and you can break a habit as well. I don't think drinking alcohol is a habit, but we've created this habitual routine around it. So that's the routine that you want to look at. 
But it's just, it's a wonderful group, I had a great response to the first time I launched it. And these women, I can't say goodbye to them after six weeks. So I created a free self improvement group and we're meeting twice a month we're doing a book club, and it's going to continue on because ever since I've started coaching, I realized that missing piece for so many women in midlife and beyond is the fact that they don't have people to talk to they don't have friends or family members who either don't drink or understand why they're choosing not to drink. And we go it alone, we feel alone. And that's how I felt in the beginning for a long time. And so it's just really important for me to create that community. And yeah, it's a great group. I love it, and it will be launching again in June.
Casey McGuire Davidson  58:54
That's great. Okay, I love hearing that. So, one thing I wanted to mention is I also interviewed Lori earlier on the podcast. So if you're interested in hearing that episode, it was on Aging, Sobriety, and Women's Wellness after 40 and it's episode 41. So you can go to HelloSomedayCoaching.com/41. If you're interested in hearing our earlier conversation, it's really focused on midlife and why to stop drinking at age 40, 50 and 60. And how aging sober empowers women to live healthier, happier and more calm, confident lives and it's really more about midlife and reevaluating your relationship with alcohol if you look at the decades ahead, so if you want to listen to that one, that's HelloSomedayCoaching.com/41. And Lori, tell us how people can follow up with you and find out more about you or find you online.
1:00:00
Go to https://www.lorimassicot.com. And you can listen to The 50 and Beyond Podcast. I'm in my fourth year. And it's just a great podcast. Casey has been on it and we're interviewing right after this for that podcast as well. So you'll be coming on in July.
Casey McGuire Davidson  1:00:17
Yeah. Awesome.
1:00:18
Is that okay to say that now that I already did? Well, absolutely.
Casey McGuire Davidson  1:00:22
Yeah. Yeah, no problem. All right. Thank you so much, Lori. I appreciate you. 
Thank you, Casey, I
1:00:27
appreciate you. Thank you so much.
Casey McGuire Davidson  1:00:31
Thank you for listening to this episode of The Hello Someday Podcast. If you're interested in learning more about me or the work I do or accessing free resources and guides to help you build a life you love without alcohol, please visit hellosomedaycoaching.com. And I would be so grateful if you would take a few minutes to rate and review this podcast so that more women can find it and join the conversation about drinking less and living more. 
OTHER WAYS TO ENJOY THIS POST: