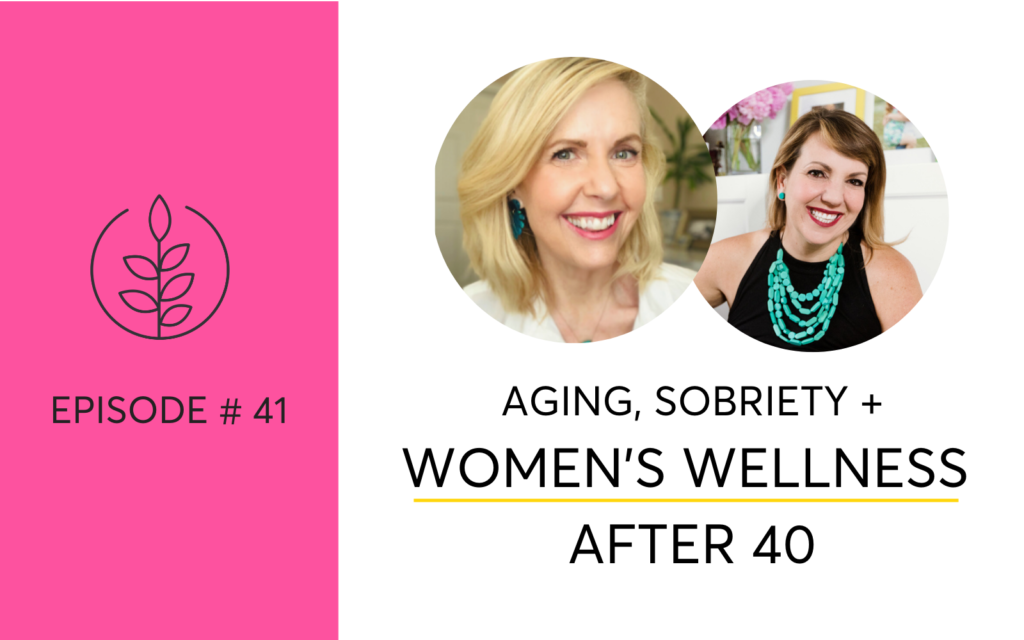 Aging, Sobriety And Women's Wellness After 40
with lori Massicot
Worrying about your drinking is a lonely and dark place to be, especially in midlife when women often feel stressed out, unfulfilled and lonely. 
And that's where my guest, Lori Massicot, says she lived for too long. 
At 45 Lori says she was an over-drinker, overeater, "sky is falling" type of gal who, after questioning her drinking for two years, finally decided to stop.
And then she discovered all the possibilities available to her now that she no longer spent her evenings on the couch drinking.  
Lori is now a life coach specializing in sobriety, mindset transformation and holistic wellness for women over 40 and hosts the podcast To 50 And Beyond.
Being sober has given Lori a second chance at life and enabled her to become who she genuinely is, without the façade she was trying to keep up with for decades.
In this episode, Lori and I explore:
Why to stop drinking at age 40, 50 and 60

How "aging sober" empowers women to live healthier, happier and more confident lives. 

Why midlife is a good time to reevaluate your relationship with alcohol as you look to the decades ahead

The perimenopause journey and how to get beyond it sober

The correlation between drinking and weight gain in midlife

How women's wellness after 40 is improved by being alcohol-free
About Lori Massicot
Lori is a Life Coach specializing in sobriety, mindset transformation, and holistic wellness for women over 40. Lori is an advocate for aging happy, healthy and confident, and free. Lori has a certification in Nutrition Coaching, and is the host of the To 50 & Beyond podcast, a podcast that celebrates women in the middle of life.
Links mentioned in the podcast
Casey's interview on Lori's To 50 & Beyond podcast – No Rock Bottom Required
Connect with Lori Massicot
To learn more about Lori and to find out more information about her coaching services, head over to www.lorimassicot.com
Follow Lori on Instagram at @lorimassicot
Listen to her podcast To 50 And Beyond
Learn about Lori's group coaching program for women over 40, Elevate.
Connect with Casey McGuire Davidson
Check out  The Sobriety Starter Kit. The private, on-demand coaching course you need to break out of the drinking cycle – without white-knuckling it or hating the process.
Grab your  Free Sober Girls Guide To Quitting Drinking, 30 Tips For Your First 30 Days
Website: www.hellosomedaycoaching.com
ABOUT THE HELLO SOMEDAY PODCAST
The Hello Someday Podcast helps busy and successful women build a life they love without alcohol. Host Casey McGuire Davidson, a certified life coach and creator of The Sober Girl's Guide to Quitting Drinking, brings together her experience of quitting drinking while navigating work and motherhood, along with the voices of experts in personal development, self-care, addiction and recovery and self-improvement. 
Whether you know you want to stop drinking and live an alcohol free life, are sober curious, or are in recovery this podcast is for you.
In each episode Casey will share the tried and true secrets of how to drink less and live more. 
Learn how to let go of alcohol as a coping mechanism, how to shift your mindset about sobriety and change your drinking habits, how to create healthy routines to cope with anxiety, people pleasing and perfectionism, the importance of self-care in early sobriety, and why you don't need to be an alcoholic to live an alcohol free life. 
Be sure to grab the Free Sober Girl's Guide To Quitting Drinking right here.
Are you subscribed to my podcast? If you're not, I want to encourage you to do that today. I don't want you to miss an episode.
I'm adding a bunch of bonus episodes to the mix and if you're not subscribed there's a good chance you'll miss out on those. Click here to subscribe in iTunes!
Now if you're feeling extra loving, I would be really grateful if you left me a review over on iTunes, too. Those reviews help other people find my podcast and they're also fun for me to go in and read. Just click here to review, select "Ratings and Reviews" and "Write a Review" and let me know what your favorite part of the podcast is. Thank you!
OTHER WAYS TO ENJOY THIS POST: