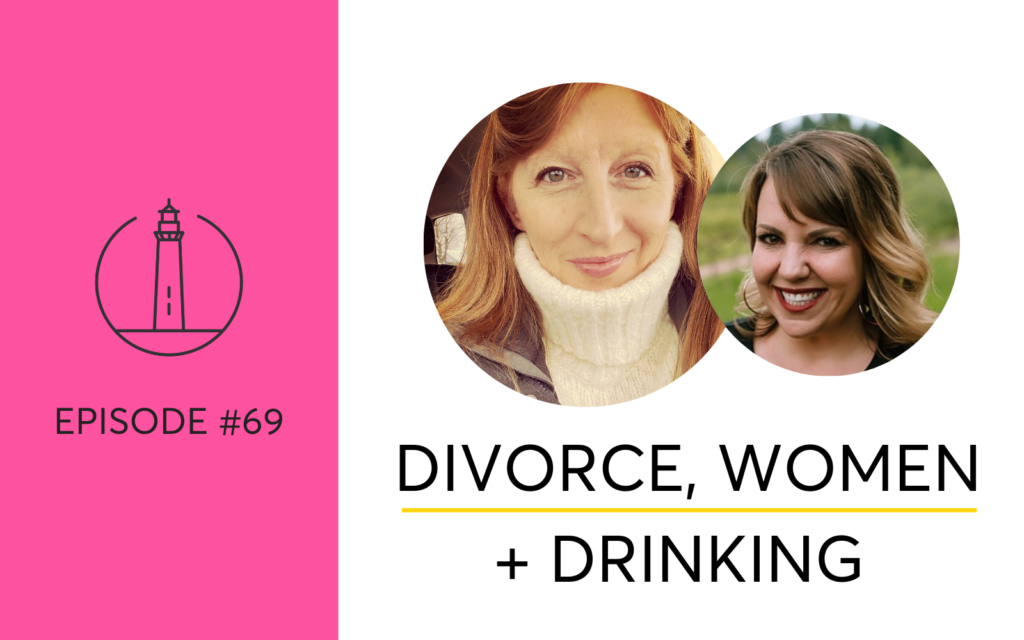 Divorce, Women and Drinking
Many women find themselves turning to alcohol and drinking more during the decline of a marriage, during a separation or divorce.
Why do women drink after a divorce?

 
Divorce can bring to the surface feelings of uncertainty, loneliness, resentment, fear, regret, guilt, anger and shame for many women. These emotions can be difficult to cope with alone and women may turn to a bottle of wine to numb negative feelings. Not only can women feel isolated, but they also might feel the desire to celebrate their newfound freedom and independence by drinking. 
My guest today is Krysty Krwyko of Your Creative Badass Divorce.
She's here to share how to turn divorce from a soul-sucking to a soul-defining experience.
Krysty helps women heal and recover from divorce, shed the stigma, reinvent themselves and reclaim their lives. 
Krysty is a life coach, educator, mixed media artist, self proclaimed book nerd and an indie mama of two teens. She uses the pillars of creativity and sobriety in her work with women as they navigate their lives through a creative journey process.
Tune in to hear us talk about healthy ways to cope after divorce, what having a creative outlet means for most women, why there's danger in trying to just push through negative emotions, and how Krysty has used her experience to support women navigating the shitty waters of post divorce life.
In this episode, we discuss:
How to turn divorce from a soul-sucking to a soul-defining experience

Why it's important to process rage, anger, fear and shame post divorce in a safe and healthy way 

How to examine the pieces of your identity you might want to shed once you leave your marriage 

Why drinking too much after divorce can rob women of the confidence they need to rebuild and reinvent their lives

Why midlife, divorce and sobriety can be a combination which makes everything feel fresh and new

Why Krysty stopped drinking after her divorce and how she turned 30 days without alcohol into never wanting to drink again

How to navigate being newly single + empty nest syndrome without drinking
Support, resources and tools for women to reinvent and rebuild your life without alcohol after divorce
You can Drink Less + Live More today with The Sobriety Starter Kit.
It's the private, on-demand coaching course you need to break out of the drinking cycle – without white-knuckling it or hating the process.
Grab the  Free Sober Girls Guide To Quitting Drinking, 30 Tips For Your First 30 Days
More about Krysty Krwko and Creative Badass Divorce Coaching
Krysty Krwyko offers divorce coaching with a creative twist. She helps women who are lost in their divorce reclaim their brilliance. Krysty has a doctorate in Education from Teachers College, Columbia. She studied with Lisa Sonora in her certification process on visual journaling and is a certified life coach.
Krysty quit drinking 1000+ days ago and found that a bottle of wine post-divorce is not self care. 
Head over to The Creative Badass | Divorce Coaching With a Creative Twist to learn more about Krysty and the work she does.
Follow Krysty on Instagram @creativebadassdivorce
Want to connect and talk about this podcast?
Take a screenshot of your favorite episode, post it on your Instagram and tag me @caseymdavidson and tell me your biggest takeaway!
Want to read the full transcript of this podcast episode? Scroll down on this page. 
READ THE TRANSCRIPT OF THIS PODCAST INTERVIEW
Divorce, Women and Drinking
SUMMARY KEYWORDS
drinking, divorce, women, alcohol, sketchbook, life, emotions, sobriety, friends, good, wine, days, feel, loneliness, coaching, work
SPEAKERS: Casey McGuire Davidson and Krysty Krwyko of Creative Badass Divorce Coaching
00:02
Welcome to the Hello Someday Podcast, the podcast for busy women who are ready to drink less and live more. I'm Casey McGuire Davidson, ex-red wine girl turned life coach helping women create lives they love without alcohol. But it wasn't that long ago that I was anxious, overwhelmed, and drinking a bottle of wine and night to unwind. I thought that wine was the glue, holding my life together, helping me cope with my kids, my stressful job and my busy life. I didn't realize that my love affair with drinking was making me more anxious and less able to manage my responsibilities.
In this podcast, my goal is to teach you the tried and true secrets of creating and living a life you don't want to escape from.
Each week, I'll bring you tools, lessons and conversations to help you drink less and live more. I'll teach you how to navigate our drinking obsessed culture without a bus, how to sit with your emotions, when you're lonely or angry, frustrated or overwhelmed, how to self soothe without a drink, and how to turn the decision to stop drinking from your worst case scenario to the best decision of your life.
I am so glad you're here. Now let's get started.
Hi there. In this episode, we're going to talk about all things divorce, drinking and sobriety. My guest today is Krysty Krwyko aka the creative badass. She's a life coach, educator, mixed media artist, self proclaimed book nerd and an indie mama of two teens. She uses the pillars of creativity and sobriety in her work with women as they heal and recover from divorce. Krysty's work centers on disrupting the stigma that surrounds divorce, and turns it from a soul-sucking experience to one that is soul-defining.
Krysty also quit drinking 1000 days ago and in the process of her separation and divorce and post divorce life, realized that a bottle of wine is not self care.
We're going to talk about healthy ways to cope after divorce. What having a creative outline means for most women, why there's danger in trying to just push through the emotions, and how she turns her story into support for other women navigating the shitty waters of post divorce life.
So Krysty, thank you so much for being here. Thank you. I'm excited for this conversation.
We connected on Instagram. And I absolutely loved the work you do. And I was so proud when you reached out and said that you were at 1000 days after giving up alcohol, which is such a huge and exciting milestone, and also the work you do with women and divorce.
I know a lot of women turned to alcohol when their marriages are tough or after divorce. And it's an area that I in full honesty have no experience with because I've been married for 19 years. And so I know it's something that a lot of women who listen to this podcast have gone through or are going through. So I definitely wanted you as an expert to talk about it. So tell us a little bit about who you are in your story.
Yeah, I'm someone who was know was a high functioning drinker. I don't like to call myself an alcoholic but I was someone who drank a lot and yet kept everything together.
I was a teacher I had two young kids and I was working on my doctorate and never missed an assignment was never late for work my kids got to where they needed to be, but you know once dinner time came it was a glass of wine at five o'clock and then a glass of wine when I was cooking dinner and then maybe a glass with dinner and then definitely one after put the kids to bed and before you know what there is a bottle on night and that wasn't a problem.
And then it all of a sudden became a problem because then I needed more and more and more. And I think in the last bit of my marriage, I was just numb and absent in so many ways, for myself and for my ex husband and then definitely like post divorce. I was drinking a lot and it makes you feel so shitty. I didn't feel good about myself. I didn't feel good about my what my future might bring. I didn't feel good about about anything, but I was always there for my kids. I never let it interfere with my kids, thankfully, but it's just a hard place to be in.
Casey McGuire Davidson 04:51
Yeah, I mean, your story is exactly my story. Right? It's the same thing and I think it's a story of so many women who just come home 5pm, open a bottle of wine and, over the course of the night, finish it. And somehow that suddenly turns into daily and more and more, and "I want it" and "is it enough" and waking up feeling like crap.
05:18
Yes, exactly. That's how you take yourself out of that when, you know, I looked around and the women who would become my friends, which I was probably sort of subconsciously filtering, that's what we all did. So it was normal. I didn't really know any moms that weren't drinking. That's was my group I was in so that made makes it you know, you're getting being validated by the what others are doing. So that was a hard place to be into. Even though I googled, like, you know what his problem drinking look like? Check all those tests, it never really clicked because you always want to find that rationalization like oh, no, it's so so and so's worse than me. So I'm okay.
Casey McGuire Davidson 06:01
Yeah, yeah. And so tell us about how you're drinking sort of, you know, when you were still married, separation and divorce, and at what point you decided that it was time to let it go?
06:13
Some ways probably, when I separated and moved into my own house, my own space, then I would drink more especially when my kids were with their dad. I had the house to myself. And I remember a girlfriend who had gone through divorce a little bit earlier than me a couple years before me said "make sure you have lots of wine in your house when your kids are with their dad", and I'm like, great, I can do that. But then it just made me feel so bad.
But that's what I ended up doing out of boredom out of numbing out of not, you know, I'm like, maybe if I drink this bottle of wine, I'll start to feel better. Even though in my head, I'm knowing that that's not going to help me at all. And I mean, it never got to the point. I think there's always that when you talk about this drinking problem, I think right away people go to I always go to Frank Gallagher on, Shameless, you know, passed out behind the dumpster in a pool of vomit. And problem drinking is not like that.
Oh my gosh, like such a tiny, tiny percentage of people who either struggle with alcohol drink more than they want to, or they need to or wake up feeling shitty, and don't remember stuff from the night before or regret drinking that much. I mean, I would say you know, it's now they don't even use the term alcoholic. Really, it's it's alcohol use disorder, and it's definitely a spectrum. And you know, God knows I was on the spectrum for sure.
Yeah, but so a lot of women I work with obviously are as well and a lot of women out there who you know, look like they have it all together and just like to go out to the wine bars and the happy hours and wine with lunch and dinner, but good is a large proportion of society. You know, I just did a whole episode on the mom wine culture and the statistics in the number of women who are drinking problematically is skyrocketing.
08:21
Yeah. And then there's also just that shame of talking about it too. Sometimes, like, you know, going to a friend and trying to talk about it like because you sometimes that judgement comes in because that's what we were used to like that problem alcoholic, that's that stereotypical alcoholic. So I was just not feeling good, not feeling like myself, being able to really deal the way I needed to with all the stuff that you have to deal with when you are going through a divorce and separation and a lot of anxieties and depression, like that just makes all that worse.
And when I decided to stop drinking, I I'd had a pretty crazy weekend with some friends. We gone up to like the winery area and done all the wineries and all those things. And I was just, you know, I'm thinking like, I need to detox I need to just not drink for 30 days, I just need to reset myself and I you know, could lose some weight. And you know, I mean, they'll start feeling better about myself mentally and all that stuff.
And then when I quit, I felt so good. Like right away. Like I want to say like within three or four days, I had never felt more clear headed. I was sleeping. I woke up without a headache. Like I just was like, wow, this is what life is supposed to be like. Luckily I had a couple good friends who had been sober for 20 years. So they were there to support me in in just a really gentle way, and you know, so I was only going to quit drinking for 30 days. But then I felt so good. I'm like, I'm gonna do it for a year. And then midway, you know, at about six months, I'm like, I never want to drink again.
Casey McGuire Davidson 10:11
That's amazing and awesome. And I am so happy that you have those friends to support you as well, because it does really get to either know, in person or just virtually or just listening to this podcast and hearing amazing women like Krysty, who are also smart and together and great moms and doing all the things and struggle with this to just have that example that you're not alone. You're not damaged. You can pull yourself out as well.
10:41
Yeah, and I think a big thing for me to like, right from the start. When somebody asked me why I wasn't drinking, I just said, hey, it's fucking up my life, and I deserve better. And I was just, that's what I told them. They can't. There's no comeback to that, like I discovered early, like, What does somebody say to that? So I think that that all I was just really honest, I wasn't. And I know some people feel different, you know, different comfort levels, like I'm allergic these are you whatever they say different things. Like, I'm on a cleanse, I'm on a health thing. And everybody has their own way of saying that. But I think just from where I was in my life and my age to like, I was 49 when I quit drinking, I think by 49 it's like, I'm not gonna put up with shit anymore. So I think that it was just a different.
You know, I know you help women sort of, in that the post divorce phase mostly. And it really is a season for reinvention and a new season of life and you want to be at your best and sort of explore the world. You know, you're on your own, but also alcohol really weighs you down and keeps you small and keeps you sort of tethered. Oh, at least for me a lot of times on my couch like that was me drinking. Yes. Yeah, the highlights were out at wine country or at a girls night. But that was not 80% of my life.
12:06
Right? Absolutely. Yeah, you my world got very small when I you know, when my kids with their dad, I was near my couch. And sort of being afraid to figure out what to do next, because I had no confidence in myself.
Casey McGuire Davidson 12:38
Yeah. I mean, I do think that the biggest thing it does is it just drops you have confidence. You know, we think that it makes us confident and free. But you know, when you step away from it, you realize how sort of fearful and defensive and, you know, you use it as a crutch that you don't let yourself see that you are amazing and can't explore the world without the crutch.
13:03
Absolutely, and also that you know, making you make a mistake, and then you learn from that mistake. I think when you're drinking, you're paralyzed. You don't even want to make those mistakes, because you think that says something about who you are. Yes, as opposed to when I got rid of it. It was like oh, you know, I can go out and make a mistake and learn from it and figure stuff out. But before that, not so much. 
If you're listening to this episode and have been trying to take a break from drinking, but keep starting and stopping and starting again, I want to invite you to take a look at my on demand coaching course, The Sobriety Starter Kit. The Sobriety Starter Kit is an online self study, sober coaching course that will help you quit drinking and build a life you love without alcohol without white knuckling it or hating the process. The course includes the exact step-by-step coaching framework I work through with my private coaching clients, but at a much more affordable price than one-on-one coaching. And The Sobriety Starter Kit is ready, waiting and available to support you anytime you need it, when it fits into your schedule.  You don't need to work your life around group meetings or classes at a specific day or time. This course is not a 30 day challenge, or a one day at a time approach. Instead, it's a step-by-step formula for changing your relationship with alcohol. The course will help you turn the decision to stop drinking from your worst case scenario to the best decision of your life. You will sleep better and have more energy, you'll look better and feel better, you'll have more patience and less anxiety. And with my approach you won't feel deprived or isolated in the process. So if you're interested in learning more about all the details, please go to www.sobrietystarterkit.com. You can start at any time and I would love to see you in the course.
Well, so tell us about how you know you work with women in your coaching practice and help them sort of heal themselves emotionally and discover what is that new phase of life for them? What are they excited about?
Yeah, so usually when I, women come to me, they're, they're just stuck there in they've maybe, you know, six months post divorce. Or for some women, it's four or five years post divorce, there's sort of no right time to work with me.
It just depends on where they are, but they usually stuck. And they know that they can see the other side, but they can't figure out how to get there. And a lot of times, it's because they haven't really taken that active part to heal.
I think sometimes we get fooled by thinking healing is passive, give it time, you know, it will just come, you'll be ready when you know it.
But there are some active ways you can heal when you're processing all the stuff you're going through and acknowledging the stuff you've gone through and how that's made you stronger. And you get to rewrite your story at this point.
So the first part that I don't require women that I work with to be completely sober, if they're still drinking, that's okay. I do ask them to maybe like for the 12 weeks that we're working to really either sort of go into that sober, curious space where they maybe don't drink for 12 weeks, or I help them to really start noticing when they're drinking or why they're drinking or how they're drinking.
It's just one piece of the work that I do. Like, I'm not a sobriety coach. So if women don't come to me to get sober, but it's a piece that I kind of help explore with, with with my clients, because I think it is a big thing. We think it's an answer to the divorce thing, like to our loneliness to our next stage. I think it just, it stops us.
So thank you for coming on here. I couldn't appreciate it more. 
Thank you for listening to this episode of The Hello Someday Podcast. If you're interested in learning more about me or the work I do or accessing free resources and guides to help you build a life you love without alcohol, please visit hellosomedaycoaching.com. And I would be so grateful if you would take a few minutes to rate and review this podcast so that more women can find it and join the conversation about drinking less and living more. 
ABOUT THE HELLO SOMEDAY PODCAST
The Hello Someday Podcast helps busy and successful women build a life they love without alcohol. Host Casey McGuire Davidson, a certified life coach and creator of The Sober Girl's Guide to Quitting Drinking, brings together her experience of quitting drinking while navigating work and motherhood, along with the voices of experts in personal development, self-care, addiction and recovery and self-improvement. 
Whether you know you want to stop drinking and live an alcohol free life, are sober curious, or are in recovery this podcast is for you.
In each episode Casey will share the tried and true secrets of how to drink less and live more. 
Learn how to let go of alcohol as a coping mechanism, how to shift your mindset about sobriety and change your drinking habits, how to create healthy routines to cope with anxiety, people pleasing and perfectionism, the importance of self-care in early sobriety, and why you don't need to be an alcoholic to live an alcohol free life. 
Be sure to grab the Free Sober Girl's Guide To Quitting Drinking right here.
Are you subscribed to my podcast? If you're not, I want to encourage you to do that today. I don't want you to miss an episode.
I'm adding a bunch of bonus episodes to the mix and if you're not subscribed there's a good chance you'll miss out on those. Click here to subscribe in iTunes!
Now if you're feeling extra loving, I would be really grateful if you left me a review over on iTunes, too. Those reviews help other people find my podcast and they're also fun for me to go in and read. Just click here to review, select "Ratings and Reviews" and "Write a Review" and let me know what your favorite part of the podcast is. Thank you!
OTHER WAYS TO ENJOY THIS POST: