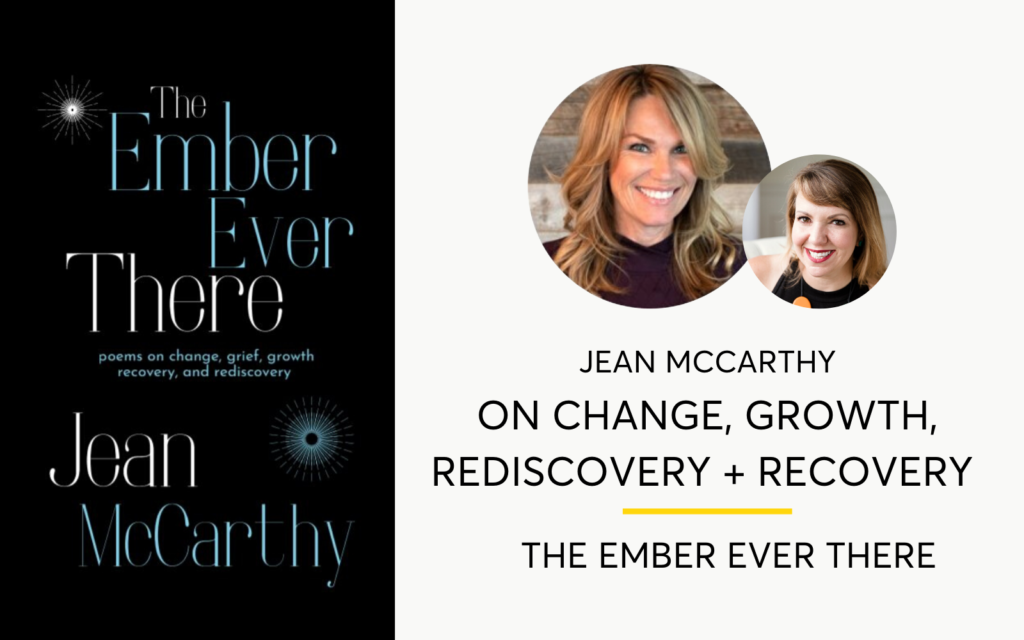 Many women feel like they know Jean McCarthy
They know Jean as an award-winning blogger, the host of The Bubble Hour Podcast and through her work in recovery advocacy.
But in today's episode we get to know a more personal and intimate side of Jean through her poetry. Jean describes putting out this book of poetry as if she is saying "Here's what the inside of my head looks like. Here's the voice no one else hears."
In this episode Casey and Jean dive into her new collection of poetry The Ember Ever There: Poems on Change, Grief, Growth, Recovery, and Rediscovery which is being released worldwide on June 19, 2020. 
As Jean describes the collection she says, "This isn't the story of addiction and recovery. This is the story of losing myself and finding myself again".  
Jean goes on to describe her addiction to alcohol as a symptom of her lost self – the person behind the people pleasing, good girl syndrome and losing herself behind the masks she was wearing.  
In this episode, you'll learn:
What Jean wants to say to the thousands of women who reach out to her and say "I want to quit, but I can't right now".

How Jean felt in the very beginning of her own sobriety journey

The story behind when and why Jean wrote  the song "I own it", the intro song to The Bubble Hour

How women can stop playing small and embrace their true self 
About Jean McCarthy
In addition to being the host of the Bubble Hour Podcast and an award-winning blogger, Jean is also the author of "UnPickled Holiday Survival Guide: Staying Alcohol-Free During the Festive Season," a resource about sobriety for people in recovery and their families.
Her blog UnPickled began in 2011 and has continued to chronicle Jean's alcohol-free lifestyle since her first day of sobriety. Thousands of readers credit UnPickled as a motivating factor in their decision to quit drinking.
Jean joined The Bubble Hour podcast as a co-host in 2013. She took over the weekly program as its sole producer and host in 2016. 
Jean is a former performing songwriter with two albums of original music to her credit. Fans of the podcast are familiar with the show's theme song "I Own It," a single from Jean's 2008 album, "Blessings and Burdens."
At a gala in New York City, Jean was named recipient of the 2017 SheRecovers Hope Award in recognition of her efforts to help others seek positive changes in their lives. She lives in Alberta, Canada with her husband Ross and dog Scout.
Connect with Jean McCarthy
Link to buy book or further information: www.jeanmccarthy.ca/books
Instagram @jeanmccarthy_writes
Facebook pages for Unpickled (www.facebook.com/unpickled) and The Bubble Hour (www.facebook.com/thebubblehour) 
Also websites: https://jeanmccarthy.ca/,  https://unpickledblog.com/, https://jeanmccarthy.ca/the-bubble-hour/,  https://www.amazon.com/dp/1999299906
Connect with Casey McGuire Davidson
Casey @ Hello Someday Coaching (@caseymdavidson)
RESOURCES AND LINKS MENTIONED IN THIS EPISODE
How to find the Best Sober Facebook Groups for busy women: 
https://hellosomedaycoaching.com/sober-facebook-groups/
The Free Sober Girl's Guide to Quitting Drinking – 30 Tips For your First 30 Days
ABOUT THE HELLO SOMEDAY PODCAST
The Hello Someday Podcast helps busy and successful women build a life they love without alcohol. Host Casey McGuire Davidson, a certified life coach and creator of The Sober Girl's Guide to Quitting Drinking, brings together her experience of quitting drinking while navigating work and motherhood, along with the voices of experts in personal development, self-care, addiction and recovery and self-improvement. 
Whether you know you want to stop drinking and live an alcohol free life, are sober curious, or are in recovery this podcast is for you.
In each episode Casey will share the tried and true secrets of how to drink less and live more. 
Learn how to let go of alcohol as a coping mechanism, how to shift your mindset about sobriety and change your drinking habits, how to create healthy routines to cope with anxiety, people pleasing and perfectionism, the importance of self-care in early sobriety, and why you don't need to be an alcoholic to live an alcohol free life. 
Be sure to grab the FREE SOBER GIRL'S GUIDE TO QUITTING DRINKING right here.
Are you subscribed to my podcast? If you're not, I want to encourage you to do that today. I don't want you to miss an episode.
I'm adding a bunch of bonus episodes to the mix and if you're not subscribed there's a good chance you'll miss out on those. Click here to subscribe in iTunes!
Now if you're feeling extra loving, I would be really grateful if you left me a review over on iTunes, too. Those reviews help other people find my podcast and they're also fun for me to go in and read. Just click here to review, select "Ratings and Reviews" and "Write a Review" and let me know what your favorite part of the podcast is. Thank you!
OTHER WAYS TO ENJOY THIS POST: