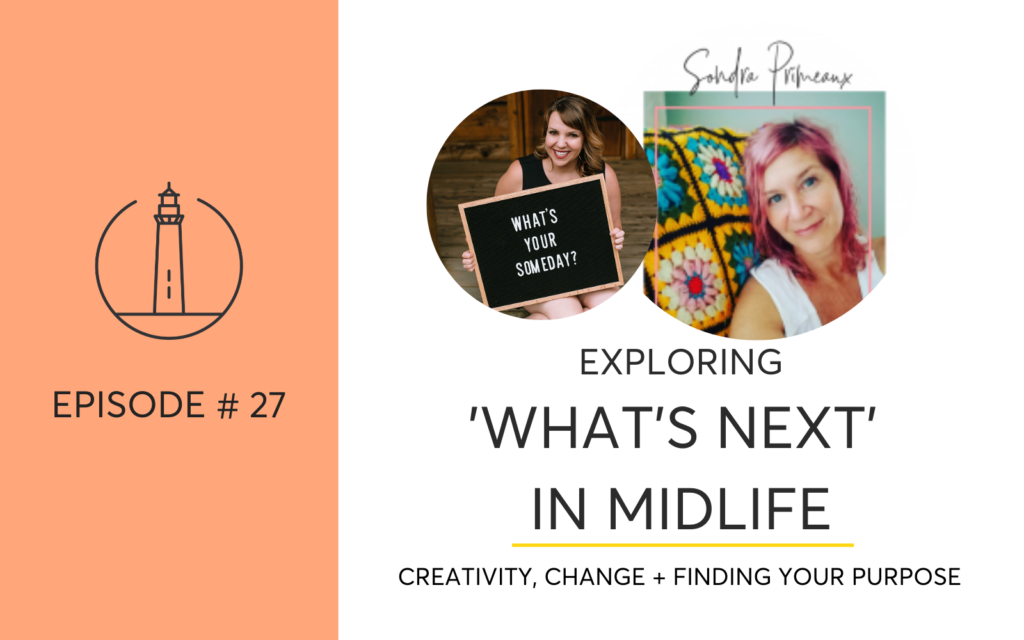 What's Next in midlife?
Creativity, Change and Finding your purpose after quitting Drinking. 

 
'What's next?' is a question many women ask themselves in midlife.  
And it's an especially important question to explore if you're a woman who's quitting drinking. 
By the time we hit our 40s and 50s we've likely spent decades building careers, families and friendships.  
We have responsibilities, dependents, mortgages and obligations. 
And a lot of times we've gotten into the habit of drinking to turn down the noise and shut off the day.  
Midlife is also a wonderful time to change, evolve and take a look at what you want in your life and what brings you joy and fulfillment.  
And exploring what new things you want to bring into your life is especially important if you're removing alcohol.  
You'll find in sobriety that you suddenly have a lot more time, energy (and often money) on your hands (drinking is expensive). 
You're walking away from alcohol as your constant companion. 
You're ready to become the person you were always meant to be.  
Today my guest is Sondra Primeaux, co-host of The Unruffled Podcast, and we're talking about creativity, change + finding your purpose in midlife. 
Sondra is a multi passionate maker, a photographer, a sustainable designer and seamstress, a writer, a coach and a podcast host. She hosts the Unruffled Podcast through a private Facebook group for the podcast.
Sondra started the Unruffled Podcast to talk about the intersection of creativity and recovery in what she terms the midlife solution, which I absolutely love. Sandra says midlife is only a crisis if you make it one.
Sondra was 45 when she quit using alcohol as a means to cope with life. And in the last six years, she's figured out through intensive learning, trial and failure, and loads of practice to answer 'now what?'
We are discussing:
The intersection of creativity and recovery helps midlife women not only survive, but also thrive.

How conscious journaling can give you the momentum and creative space to explore more internal thoughts and how this process is a good tool to have during early sobriety

The transition into your mid-life and why you should dig deep into what you've done or haven't done. And it's also a time to take a glimpse into your future self.

Being honest with yourself and with others and how to set boundaries.

Using the enneagram to learn about yourself and what motivates you

Why creativity is a important part of your recovery and how to find different ways to bring joy and creativity to your life

How to find the middle space or sweet spot where you can create

Intersection of your personality type and going to AA and realizing there are other successful ways to recovery
Grab your  Free Sober Girls Guide To Quitting Drinking
Get the guide on How to find and join my Favorite Private Sober Facebook group
Links and resources mentioned:
Book mentioned: Artist Way by Julia Cameron
Connect with Sondra Primeaux
Website: www.theunruffled.com
Want to work with Sondra, check out her Change your Story Program
Go to Sondra Talbert Primeaux Facebook page and message her to join her secret Facebook group
Connect with Casey McGuire Davidson
Website: www.hellosomedaycoaching.com
Instagram: Casey @ Hello Someday Coaching (@caseymdavidson)
Facebook: https://www.facebook.com/HelloSomeday 
Listen to more podcast episodes to drink less + live more.
ABOUT THE HELLO SOMEDAY PODCAST
The Hello Someday Podcast helps busy and successful women build a life they love without alcohol. Host Casey McGuire Davidson, a certified life coach and creator of The Sober Girl's Guide to Quitting Drinking, brings together her experience of quitting drinking while navigating work and motherhood, along with the voices of experts in personal development, self-care, addiction and recovery and self-improvement. 
Whether you know you want to stop drinking and live an alcohol free life, are sober curious, or are in recovery this podcast is for you.
In each episode Casey will share the tried and true secrets of how to drink less and live more. 
Learn how to let go of alcohol as a coping mechanism, how to shift your mindset about sobriety and change your drinking habits, how to create healthy routines to cope with anxiety, people pleasing and perfectionism, the importance of self-care in early sobriety, and why you don't need to be an alcoholic to live an alcohol free life. 
Be sure to grab the Free Sober Girl's Guide To Quitting Drinking right here.
Are you subscribed to my podcast? If you're not, I want to encourage you to do that today. I don't want you to miss an episode.
I'm adding a bunch of bonus episodes to the mix and if you're not subscribed there's a good chance you'll miss out on those. Click here to subscribe in iTunes!
Now if you're feeling extra loving, I would be really grateful if you left me a review over on iTunes, too. Those reviews help other people find my podcast and they're also fun for me to go in and read. Just click here to review, select "Ratings and Reviews" and "Write a Review" and let me know what your favorite part of the podcast is. Thank you!
OTHER WAYS TO ENJOY THIS POST: