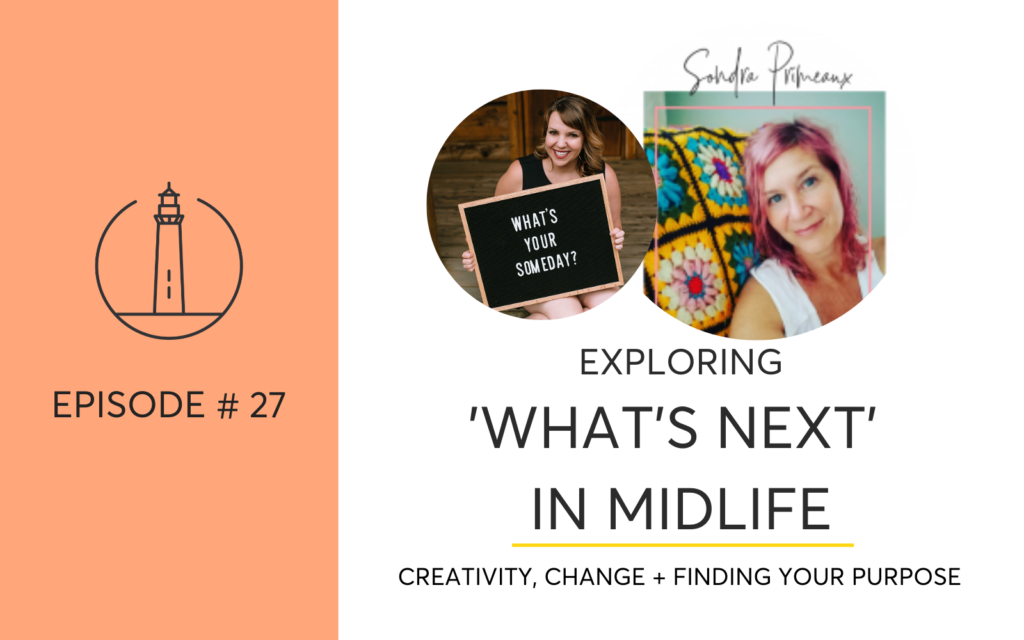 What's Next in midlife?
Creativity, Change and Finding your purpose after quitting Drinking. 

 
'What's next?' is a question many women ask themselves in midlife.  
And it's an especially important question to explore if you're a woman who's quitting drinking. 
By the time we hit our 40s and 50s we've likely spent decades building careers, families and friendships.  
We have responsibilities, dependents, mortgages and obligations. 
And a lot of times we've gotten into the habit of drinking to turn down the noise and shut off the day.  
Midlife is also a wonderful time to change, evolve and take a look at what you want in your life and what brings you joy and fulfillment.  
And exploring what new things you want to bring into your life is especially important if you're removing alcohol.  
You'll find in sobriety that you suddenly have a lot more time, energy (and often money) on your hands (drinking is expensive). 
You're walking away from alcohol as your constant companion. 
You're ready to become the person you were always meant to be.  
Today my guest is Sondra Primeaux, co-host of The Unruffled Podcast, and we're talking about creativity, change + finding your purpose in midlife. 
Sondra is a multi passionate maker, a photographer, a sustainable designer and seamstress, a writer, a coach and a podcast host. She hosts the Unruffled Podcast through a private Facebook group for the podcast.
Sondra started the Unruffled Podcast to talk about the intersection of creativity and recovery in what she terms the midlife solution, which I absolutely love. Sandra says midlife is only a crisis if you make it one.
Sondra was 45 when she quit using alcohol as a means to cope with life. And in the last six years, she's figured out through intensive learning, trial and failure, and loads of practice to answer 'now what?'
We are discussing:
The intersection of creativity and recovery helps midlife women not only survive, but also thrive.

How conscious journaling can give you the momentum and creative space to explore more internal thoughts and how this process is a good tool to have during early sobriety

The transition into your mid-life and why you should dig deep into what you've done or haven't done. And it's also a time to take a glimpse into your future self.

Being honest with yourself and with others and how to set boundaries.

Using the enneagram to learn about yourself and what motivates you

Why creativity is a important part of your recovery and how to find different ways to bring joy and creativity to your life

How to find the middle space or sweet spot where you can create

Intersection of your personality type and going to AA and realizing there are other successful ways to recovery
Grab your  Free Sober Girls Guide To Quitting Drinking
Get the guide on How to find and join my Favorite Private Sober Facebook group
Links and resources mentioned:
Book mentioned: Artist Way by Julia Cameron
Connect with Sondra Primeaux
Website: www.theunruffled.com
Want to work with Sondra, check out her Change your Story Program
Go to Sondra Talbert Primeaux Facebook page and message her to join her secret Facebook group
Connect with Casey McGuire Davidson
Website: www.hellosomedaycoaching.com
Instagram: Casey @ Hello Someday Coaching (@caseymdavidson)
Facebook: https://www.facebook.com/HelloSomeday 
Listen to more podcast episodes to drink less + live more.
Connect with Casey
Take a screenshot of your favorite episode, post it on your Instagram and tag me @caseymdavidson and tell me your biggest takeaway!
Want to read the full transcript of this podcast episode? Scroll down on this page.
READ THE TRANSCRIPT OF THIS PODCAST INTERVIEW
What's Next in Midlife – Creativity, Change + Finding Your Purpose With Sondra Primeaux 
SUMMARY KEYWORDS
drinking, midlife, women, creativity, change, finding, purpose, sober, podcast, quit alcohol, cope with life, learning, practice, quit drinking, evolving, changing, coping mechanisms, free time, energy, drinking, recovering, solution, crisis survive, thrive, message, change your story, course, photographer, seamstress, multi passionate, something to focus on, fortunate, Sober Groups, online, blog, creative ideas, simple things, being bored, sobriety, celebration, building, bubble, hibernation mode, discover, wine, champagne, feeling, isolation, boredom, monotonous, lacking, spontaneity, irony, Groundhog Day, recommend, what attracts you, journals, morning pages, writers, reading pages, concept, stream of consciousness, brain dump, process, create, momentum, explore, magical, interests, thinking, writing, coffee, house, husband, deeper, inner thoughts, early sobriety, tool, transition phase, moderating, stuck, quit drinking, quitting drinking, The Midlife Unraveling, protect yourself, feeling inadequate, getting hurt, holding you back, dreams, gifts, time is growing short, adventures, ahead of you, worried, courage, daring, alchemy, it just happens, perfect time, when you're ready, relationships, codependency, care less, naturally, honesty, integration, begin, first time, learn, boundaries, effect, experience, taking off the masks, fear, complicated relationship with alcohol, same path, ask for help, support, connection, feedback, you are not alone, you're amazing, power, open, time for yourself, contributes, What's next?, different, pieces, physical awareness, spiritual practices, enneagram, Myers-Briggs, Personality Assessment, holistic sense, lens, foundation, move my body, nonnegotiable, invaluable, Mentoring, Coaching, Program, Change Your Story, successful, sleep, fun, connected, attached, rabbit holes, judgment, understand, natural, human, emotions, knowledge, tailor, work around, respond, motivations, Core Energy Coaching, mindset, limiting beliefs, assumptions, patterns, perspective, enthusiasts, avoid pain, happiness, joy, grief, sadness, variety 12 step, home group, obstinate, grace, repetitions, life story, Personality type, guilt, healing, improv, adulting, responsibilities, learn new hobby, skill, witching hour, purpose, flow. introspection, routines, tarot card, newsletter, love story, accept yourself, essential practice, self-worth, self-esteem, ruffles, calm, less agitated, sustainable clothing, ruffled

SPEAKERS: Casey McGuire Davidson + Sondra Primeaux
00:02
Welcome to the Hello Someday Podcast, the podcast for busy women who are ready to drink less and live more. I'm Casey McGuire Davidson, ex-red wine girl turned life coach helping women create lives they love without alcohol. But it wasn't that long ago that I was anxious, overwhelmed, and drinking a bottle of wine and night to unwind. I thought that wine was the glue, holding my life together, helping me cope with my kids, my stressful job and my busy life. I didn't realize that my love affair with drinking was making me more anxious and less able to manage my responsibilities.
In this podcast, my goal is to teach you the tried and true secrets of creating and living a life you don't want to escape from.
Each week, I'll bring you tools, lessons and conversations to help you drink less and live more. I'll teach you how to navigate our drinking obsessed culture without a bus, how to sit with your emotions, when you're lonely or angry, frustrated or overwhelmed, how to self soothe without a drink, and how to turn the decision to stop drinking from your worst case scenario to the best decision of your life.
I am so glad you're here. Now let's get started.
Hello there, my guest today is Sondra Primeaux. I got to know Sondra virtually, through listening to her on The Unruffled Podcast, which she co-hosts with Tammi Salas through the private Facebook group for the podcast. She's sober and a creative entrepreneur. Sondra is multi passionate maker, a photographer a sustainable designer and seamstress, a writer, a Coach and a Podcast Host. She's also married and has two kids and lives in Austin, Texas.
When Sondra was 45, she quit using alcohol as a means to cope with life. And in the last 6 years, she's figured out through intensive learning, trial and failure, and loads of practice the answer to know what and I think midlife is especially for women who have quit drinking or are working on quitting drinking. Now that is a huge question. Because you're evolving, you're changing, your coping mechanisms are changing. And lots of times, when you stop drinking, suddenly you have a lot more free time and energy than you used to.
When you were drinking and recovering from drinking. You were sort of in a holding pattern. You were stuck. And now you're wondering what to do with all that time.
Sondra started The Unruffled Podcast to talk about the intersection of creativity and recovery in what she terms the midlife solution, which I absolutely love. Sondra says, midlife is only a crisis if you make it one. So today, we're going to talk about the intersection of creativity and recovery helping midlife women not only survive, but also thrive. Sandra's message is it's never too late to change your story and your course. So, Sondra, welcome.
03:14
Hi, I'm so glad to be here.
Casey McGuire Davidson  03:16
I'm so glad to have you here. Tell us, I gave you a big intro. But tell us a little bit about yourself in the work you do.
03:24
Okay, well, I have been a creative most of my life. I've been a photographer and a seamstress, designer seamstress for about 20 years each. And I've always considered myself a multi passionate person, Jill of all trades. And so, when I quit drinking 6 years ago, there was a lot of time to feel right. So, a lot of times, though, when you quit drinking, it's not just the act of drinking, but it's recovering from drinking and thinking about drinking, you have just lots of time to fill. And plus, it helps when you're in early recovery to have something to focus on. So, you're not focusing on what you're missing. And I felt very fortunate that I had my creativity, my little creative pursuits to fall on to when I needed to fill up some of that space. And I was in such Sober groups online. And I would hear women talk about all the time though, you know, I need hobby, what do I do? I have all this time to feel and so, I, you know, would answer questions.
It led me to start a website actually called The Unruffled and it's really started off as just a blog where I shared creative ideas, simple things that most women could do with just few supplies. And that's where The Unruffled started. And it kind of went from there. I met a woman named Tammy in a Facebook group and Tammi Salas. And about a year after I had started the website, we started a podcast called The Unruffled Podcast where we talk about the intersection of creativity (Art) and Recovery.
05:20
That's wonderful. And I know that I actually have an episode coming up that may be out before this one. But it's about being bored in sobriety. Because I have to say, that is the biggest question that I get from women who are quitting drinking, right, you're used to never been bored. Like, I think a lot of the reason that women drink other than dress or anger or celebration. But a lot of the time, they're just bored, and they want to speed up the night or they want to get out of their own head, or they feel like they need to drink to get through one more bath or one more game of candy lamp. And then you stop drinking.
And in the beginning, you are, you're building this bubble, you're in sort of hibernation mode for a while. And then it takes time, until you sort of clear out all the things that you used to do, which was all centered around drinking and sort of discover what you actually like more than wine, more than champagne. And I love the idea of what you're doing because I feel like that that feeling of isolation or boredom is what does lead a lot of women to say, it isn't worth it before they get to build this incredible rich life that they will once they get a little bit further along.
06:42
Oh, yeah, I agree. And I… I, too, drank because I thought life would be monotonous. It would be it would be lacking spontaneity without alcohol. But the irony is that life is actually very monotonous. It's like Groundhog Day, every day, when you drink. When you drink too much. It's just the same cycles, the same thing over and over again. You know, there's a lot of things that I recommend to women, like think about what you liked as a child or think about, you know, what, what do you what attracts you like on social media? Who are the kind of people that you follow? And what are they doing that you like, I often start women with just their journals, doing morning pages, you know, even for women that aren't writers, morning pages, is a kind of a soft and gentle way to kind of start that practice. And if your listeners aren't familiar with mourning pages, there's a book called The Artists' Way by a woman named Julia Cameron. And reading pages was a concept that she came up with. And basically all it is, she suggests that you do them in the morning, but you can really do them any time. And they're just three pages of like stream of consciousness, or like a brain dump. So you don't, you know, you disregard punctuation and grammar, and you just kind of dump your brain out. And what it does is, it kind of, it's sort of magical, the process, actually. And after you do it for a couple of weeks, you will find that it'll kind of create this momentum, where you is ideas of things that you may want to write about, or you may want to explore. There's just something magical that happens. And it's just a good entryway into creativity and especially writing if that's something that, you know, that interests, women, and I think a lot of women do.
I know for me, sometimes I don't even know what I'm thinking about thinking until I write it down. And it's funny with morning pages, you'll start talking about your coffee, and you'll talk about the people in your house and you'll write about your husband and what he did last night it pissed you off. And you know, before you know it, your journaling gets a little, it gets a little deeper, I guess. And you start exploring more internal thoughts, then just what your coffee tastes like. And it's a good way to process your thoughts in early sobriety. And it's something that I still use today. And it's just a great tool, especially when I'm feeling stuck creatively. That's why she designed it to help people get unstuck with their creativity.
09:51
That's great! And one thing that I love that you say, and I do want to talk about, sort of, midlife, I quit drinking when I was 40 years old. I'm now 45. I know you quit at 45. And I think that a lot of the women that I work with is clients as well, they are in sort of a transition phase. Yes, they've been drinking for a while, and they're having trouble moderating, and they're stuck. And they're sick and tired of feeling sick and tired, and they want to quit. But a lot of times as well, their kids are now teenagers, and they don't need them as much as they used to, or their kids are off to college. Or conversely, they've got little kids, and they don't have the freedom that they used to, and they feel very tied down.
So, I love the thought of a midlife solution, that it's only a crisis if you make it one. And a lot of times, women either have way too much time to fill, especially if their kids are older, and they've quit drinking, or they have no time for themselves. And they just feel like they're stuck, dry and have nothing for themselves at all. So, tell me about what you think about midlife and the women you work with.
11:04
I just think midlife is a good time, it's just a time of transition. Right? Now, if you've got little kids, you're still in it, you're still in it. And you have to give yourself a lot of grace, you're not going to have the kind of time say that I have with a 17 year old and an almost 12 year old you know who are a lot more independent than those of you moms with smaller children. But if your kids are a little bit older, I just think that it's just a midlife is a great time for transition. It's sort of a time where you are kind of standing in the middle of your life for lucky, right? And you kind of get a good assessment of what's happened before, what you've already done, what you haven't done. And then it's also you know, you're kind of staring down the road in the future. And I know for me, I felt a little bit of a sense of urgency, like, wow, I have things I want to do. And it's time to get going on them. Yeah. Now when am I going to do it?
Casey McGuire Davidson  12:20
My favorite quote and absolutely, I have it on my wall is the Brené Brown quote about The Midlife Unraveling. And what she says is midlife is when the universe gently places her hands upon your shoulders, pulls you close, and whispers in your ear, I'm not screwing around. And she talks about all of this pretending and performing the coping mechanisms that you've developed to protect yourself from feeling inadequate, and getting hurt has to go. The idea that it's holding you back from your dreams and your gifts. And I just love where she says, time is growing short. There are unexplored adventures ahead of you. You can't live the rest of your life worried about what other people think. Courage and daring are coursing through your veins.
13:14
I love that there's something that happens in that midlife transition, where you just really start giving less fucks and it an alchemy. It just happens at the perfect time to when you're finally ready. You're done with whatever. You're done with drinking, relationships, codependency, whatever you're done with, and, and you start to care a lot less about what other people think about you. And I know that it doesn't happen for every woman, but to a lot of women I know, it just kind of happens naturally.
When you get sober, there's something about… there's something that happens about honesty and integration. And because you're being honest with yourself for the first time, you begin being honest with other people for the first time. You learn what boundaries are and you put them into effect. You set them and you put them into effect. And then you start feeling when you experience honesty, telling the truth. You start to experience this integration where you want to be the same person in every room you walk into. And you just start taking off the masks. And I think as a result, yeah, you just, you do. You really start caring less about what people think about you. It doesn't mean that you don't experience fear, but you just do it. Anything.
Casey McGuire Davidson  15:12
If you're listening to this episode and have been trying to take a break from drinking, but keep starting and stopping and starting again, I want to invite you to take a look at my on demand coaching course, The Sobriety Starter Kit. The Sobriety Starter Kit is an online self study, sober coaching course that will help you quit drinking and build a life you love without alcohol without white knuckling it or hating the process. The course includes the exact step-by-step coaching framework I work through with my private coaching clients, but at a much more affordable price than one-on-one coaching. And The Sobriety Starter Kit is ready, waiting and available to support you anytime you need it, when it fits into your schedule.  You don't need to work your life around group meetings or classes at a specific day or time. This course is not a 30 day challenge, or a one day at a time approach. Instead, it's a step-by-step formula for changing your relationship with alcohol. The course will help you turn the decision to stop drinking from your worst case scenario to the best decision of your life. You will sleep better and have more energy, you'll look better and feel better, you'll have more patience and less anxiety. And with my approach you won't feel deprived or isolated in the process. So if you're interested in learning more about all the details, please go to www.sobrietystarterkit.com. You can start at any time and I would love to see you in the course.
Well, and when you stop drinking, when you get sober, and I almost every woman that I know who has a complicated relationship with alcohol needs other people, wherever you find them. Who are also on the same path. Who also get honest about why they drink and how they drink and, and ask for help and support and connection. You just get way more comfortable with being honest. and way more feedback that you're not alone and that you're amazing.
And I think that helps you step into your honesty and your power and be more open to new experiences and have better boundaries about carving out time for yourself. Like, all of that contributes where it gets you to a point where you're like, Okay, I'm not drinking away most of my evenings. I'm not dragging my way through a lot of my days. I have this time I have more energy. What do I want to do with it now? Because what I was doing before was leading me down a path that didn't feel very good.
17:25
Exactly. And when you have something that you can focus on, I mean, it's just math, you're focusing a lot less on, you know, drinking, if you're still struggling with that.
17:36
Yeah, absolutely. So, I know you work with women, specifically in midlife, who are getting sober, who have quit drinking, about this sort of creativity. And what I love the question now what you know, and the other question that people always pose is sort of like, you know, what's next? What's next for me? What do I do next? And you go into a lot of different pieces, creativity, physical awareness, spiritual practices, the enneagram which I love, I feel like everyone's talking about the enneagram now and I, I heard it just surpassed Myers-Briggs is the number one sort of personality assessment that people are working with. So tell me about all that. Tell me about the work you do.
18:25
Yes, so the women that I work with, we kind of look at their day to day through a holistic lens. So, in other words, you know, while creativity is a is an important part of my recovery, it's only just one piece of the foundation, right? I also have to move my body, I have to daily, I have to also be aware of what I eat and make sure that I'm eating, you know, Whole Foods and mostly plants and I take supplements and I have a spiritual practice. That's invaluable to me.
It's, you know, one of my nonnegotiables and I also you know, there's just there's just a lot of things that keep me on this side of well, and so the women that I work with, you know, when I started working with women through this 1-on-1 Mentoring Coaching Program that I have called Change Your Story. We were just focusing on a creative idea or something that they wanted to bring to life you know, something that wouldn't leave them alone that you know, they went to bed thinking about, woke up thinking about, and while that was very successful, I found that oftentimes we would you know, We would start talking about well, how much sleep do you get? And what do you do for fun? Do you get, you know, how do you move your body because they're all connected, it's like trying to diagnose the foot or something without, you know, looking at the body that it's attached to it. So I started, including all of these things in the enneagram just kind of happened for fun, because it's one of my rabbit holes of study. And I've been studying the enneagram for about four years, I'm by no means an expert. But I find it a really helpful tool when I'm working with women. Because, you know, the thing about learning about what makes other people tick is that you lose some judgment, right? Because we all just want everybody, why don't people do things? Like I do them? I don't understand that, you know, it's just a natural human. That's just a natural human experience, I think. And by learning the enneagram, you figure out Oh, okay, this is why this person leads with their emotions, instead of you know, their thinking, or this is why this person kind of circles the drain a little bit around, you know, things that have happened in the past. And so, by applying some of my knowledge of the enneagram, to each woman that I work with, I can almost tailor our work around their type and their personality and what their what they respond to, and what their motivations are.
Casey McGuire Davidson  21:40
Yeah, that makes complete sense. And I do sort of similar work in that I do Core Energy Coaching with women, as part of my Coaching practice, and you really get a sense for what, what sort of mindset they bring to different situations, and why that shows up in your life and, and just what their default is, you can take another tack, if you need to, and help them sort of grow beyond some of those limiting beliefs or assumptions or patterns they've gotten into. But I am also a huge fan of the enneagram. So, I think that's, I think it's really fun. And of course, with both of them, you can't help when you meet other people start being like, Hmm, this seems like you're coming from this perspective, like diagnosing them, which I know you should not do.
22:29
Right? Yeah, you're never Well, you're never whatever you're not. So, it's encouraged that you don't try to hype. Yeah, when else and I never ever do that. And I certainly don't want to just put someone in a box either. Um, but I do use it as a tool because it really, I'll give you an example. I'm a seven on the enneagram. And the sevens are called the enthusiasts, our main motivation is to avoid pain. We don't we, it's not like we don't experience emotions, we just prefer the higher registering ones like happiness and joy and fun and, and the other ones like grief and sadness, and those emotions we tend to avoid.
We also like, we like spontaneity, we like a variety. And I was in 12 step for a very long time, and are not very long time for a few years of my recovery. And I would say about half of my recovery, and you're encouraged to have a home group, if you're in 12 step, and I would get very bored, like I would start to get very itchy. And for a very long time I felt guilty about that. Like I'm not doing this right. I'm always the obstinate one, I always have to do things my way. And this is this is not part of the program. And until I learned about my type, my personality, what my drivers are, it just made so much sense and I could finally give myself a little bit of grace around that and realize that stagnation can be like just soul sucking for me.
Casey McGuire Davidson  24:31
I love that I had never thought about it that way I've got to, you know, have thought a lot about and the structure and pieces that work or don't work for different people. But I'd never thought about it in terms of sort of the repetition and the way that you're supposed to find your home group and go back and they're the same people often telling you know, you know, their life story and that's just fascinating to me. Though the intersection of that personality type and the way a is set up, and I love that they're just different ways to recover now and that people are talking about other ways of recovering that have also been successful, because a lot of people, historically, that was the only the only way to recover because nobody else was talking about that they had an alcohol problem. And they are in recovery, long term recovery, they stopped drinking. And by the way, they didn't do it through a great.
25:37
And so, I guess my point about talking about the enneagram is in and or just learning about yourself and what your motivations are. I just hope that that just by sharing that, it might let some of you just let yourself off the hook and be okay, if something's not quite working for you in your recovery. Try something else, try something else, as long as you keep alcohol off the table. And it's not an option. There's so many other things to try and just let yourself let yourself off the guilt tuck.
Casey McGuire Davidson  26:21
Yeah, completely. I mean, I know that, you know, for a while you talked about boredom, and how when you're drinking your life is actually pretty boring. I mean, your world gets smaller and smaller. As soon as you start drinking, you kind of check out from the evening, which for a lot of us that work and have kids, that's literally the only time we have to ourselves and we're using it, you know, in a bubble of alcohol and then dragging the next day, so we don't have energy to do other stuff.
And I know that once I stopped drinking a I got a lot braver, but I also, you know, was suddenly driving across the bridge to Seattle on Saturday morning to meet friends, even new friends to you know, I ran a 10K, which I hadn't done in years and years, I went up on a women's yoga recovery retreat and slept in a year and did yoga which I had never really done before. Other than in like a gym workout class. Like, certainly nothing like I experienced an "up there" they had you know, they did the sound and they did you know the smoke, healing like hearing healing your or all this shit. That's actually really fucking cool and fun. And like I was sort of a, you know, 16 year old at summer camp. Like, doing all the things with all these women, like you never do as an adult when you're so busy fucking adulting every day of your life, right? Or just the fact that you're doing something on a Saturday morning instead of being hungover. Or like last year, I took improv classes.
Oh, you're really?
28:02
Yeah, all year. In fact, I went through I graduated, I went to like improv school. And I went through all the levels, and I graduated, but the classes were in the evenings. And that was something I never would have done. If I were still drinking. That was it would have interfered, I just, you know, I wouldn't take off of drinking long enough to accomplish something like that.
Casey McGuire Davidson  28:25
Yeah. And it doesn't even have to be that. I know, one of my clients started coaching her young son's basketball team. And just, you know, that was in the evenings to three days a week and Saturday mornings when she was drinking every night and recovering every day. That was not something that was she would do, but she was like, This is fun. Like, I didn't think like hanging out with all these 10 year old kids would be fun, but she's like, I'm laughing more than I have in ages. And understanding my son more.
Another client of mine is taking painting lessons online and just loves, you know, the core she has. I mean, there are a lot of ways to bring joy, and fun and creativity into your life that you just don't do when you get to be an adult and you're trying to please your boss and your colleagues and your husband and keep the house clean and take care of your kids schedules. That you free up all those hours that you used to just kind of try to cope with your life and responsibilities so you can actually have fun with it.
29:30
Mm hmm. Absolutely. And, you know, fun and adventure doesn't even you know, of course nobody's we're none of us are going places and doing things right now because of the pandemic. But you can still you can still explore new things just right in your own home, you can take an online discount now's a great time to take an online class. Learn a new hobby or skill. Um, it's the best time to do it. You can order everything you need now through the internet.
And, you know, I was going to mention that my favorite, my favorite activity that I discovered when I first got sober and it's totally free, or it's the price of a book signings, that was like, my favorite thing to do was to go to our local bookstore and go see an author talk and buy their book and have my book signed.
Mmm, very cool.
Yeah, because there's rarely boost there. Rarely, I think I've went to one book signing out of the 50 that I've gone to, and there was alcohol there. So, it's just a safe thing to do. And it happens in the evenings. And, you know, it's a time kind of witching hour, but it was a time that I would not have been able to go before because I would have been drinking and driving.
31:00
yeah, yeah, that is very cool. And, you know, I took an online class on podcasting, you know, is something I was super interested in, it was probably a year and a half, before I started my podcasts, like, I just had an idea and an interest. And I used to leave work at lunchtime, and go sit in this park and like, eat my lunch and listen to my podcast class. And unlike, you know, I was in Digital Marketing and corporate, unlike any MBA type Course, I was actually really excited to do it and interested and, you know, just sketching out the art and the intro and the music. Like, that was cool.
Yeah, it's it is it is, and it just gives you a little purpose. And it's something to kind of mold your days around. And I don't know, you start to get in a flow and you can't leave. You can't be in a flow and the sad experience.
Yeah, like, flow energy. One, right. You're like, That's amazing. I could do that forever. Yep. actually fairly hard to find.
32:11
Yes, yes. Yeah. Yeah, I can experience sometimes when I'm reading, or there's very few things that I experienced that that feeling. But it, but I often experience with it when I'm just engrossed in a creative activity.
32:30
So, when you work with women, when you work with them on the change your story program, you do the enneagram? And how do you develop those spiritual practices for introspection, or routines and habits that foster creativity?
32:47
Well, we talk about, you know, I'm a, I'm a morning person, so it's very easy for me to get up before anyone else in my house gets up, and kind of do these things that are just for me. So, I don't, you know, follow a schedule or anything, I kind of do whatever is calling me. But I, there are some things I never miss, and one is my meditation. And the other is I read something, and, and then I often will pull a tarot card, because I love doing that. It's like googling your unconscious or something. And it always, you know, always speaks to something that I might be spinning on, or something I feel that might be keeping me stuck, or sometimes it just inspires a newsletter, or a blog, or a blog entry or something like that, some kind of piece of writing. And so, I would consider that, especially the meditation, part of my spiritual practice is just a time to go inward and be introspective, and, you know, just time to think, and, and I really think it's essential for recovery. I really do.
And so that's that, and I, I've worked with women that just, they just convinced me that they are not morning people. And I understand that. But I think even if you take some time at lunch, or maybe you have a quiet practice before you go to bed, but I think just any thing you can because it's in the end, we're learning to love ourselves. This is a love story. And if you don't get if you don't take some time getting to know yourself, you won't ever get to a place where you accept yourself. Yeah, and so it's just a very essential practice. In my opinion.
And then as far as creativity, yeah, most of the women that come to me, they do have some kind of creative idea or something that's brewing, you know, they might be a little shy about it at first, they might have some fear around naming it saying it out loud. But, um, they might have some, you know, wordiness around it, self-worth, or, you know, low self-worth, self-esteem around it. But, um, it's often, often the women that come to work with me, I have something that they dream about doing. And so, we work on that. We work on building that into their day, some were in the periphery of the day, whether it's again, you know, in the morning, maybe after their contemplative practice, or, you know, it's lunchtime. You know, maybe it's after the kids have finished their homework. I know that a lot of us have this binary thinking, right, where it's either like all or nothing, black or white. But I try to really help women kind of get into that middle place. I think what holds us back a lot is if we feel like we don't have three hours to commit to something, then it's not worth doing. But if you have 30 minutes, it is worth doing. And that's sort of the middle, there's just a lot of freedom there in the middle.
36:37
And out of the binary thinking,
36:40
yeah, I love that. So if women want to get in touch with you, if they do have that creative idea, or they want to work with someone just to have them supported in that creative endeavor, encouragement, connection, accountability, feedback, how can they get in touch with you? What's the best place?
37:02
Okay, well, I have a website called The Unruffled. And if you click on the bar at the top of the website, it'll take you to the sales page for Change Your Story, there's some testimonials there, change your story is again, just an opportunity to work with me, 1-on-1 for 4 weeks. I structure it around, you know, each client that you'll see in the copy, you know, kind of what, what we address in in the Coaching. And that's the best way I also have a podcast that we mentioned that I do with Tammi Salas, and it's called The Unruffled Podcast and we release that once a week on Mondays. And we interview lots of women, lots of creative women in recovery. And we're on episode 170 something. And there's lots of interviews and lots of inspiration there.
Casey McGuire Davidson  38:09
Yeah, I've spent many hours going on walks and listening to your podcast. So it's wonderful.
38:15
Thank you. Thanks. Um, but yeah, those are probably I sent out a newsletter every week that I love writing, it's kind of my favorite thing and you can sign up for my newsletter there too. And, you know, if I have new offerings coming around the bend, which I am kind of working on some things, but they're nowhere near to completion. But you'll find out about that first if you sign up for me for my newsletter,
38:41
and I was curious, I've actually never figured out so where does the unruffled come from and what does it mean?
38:52
Ah, ruffles means calm, well, unruffled means calm, not agitated. And so yeah, at the end of every podcast, we, either Tammy or I, or We ask our guests to share tools for their unruffled toolbox. And then for us, that just means these are things that keep you calm, less agitated, they're either creativity related or recovery related, but yeah, the unruffled came because I had my sustainable clothing line was called ruffled for years.
39:29
and when I was trying to come up with a name for what my website was going to be before you know, I was ready to go buy a domain but I didn't know what to call it. And I just thought, you know, this is like, Damn, like unruffled. This is my transition. Now. This was my midlife solution. I feel unruffled now and that's where it came from.
Casey McGuire Davidson  39:53
I love that I'm actually really glad I asked because I I'm in the like unruffled podcast group. And you know, when people post there, they're like hi unruffled. And I had no idea what it meant. I mean, I know what that could but I figured there was something behind that.
40:10
That's it. So yeah, we call our we call it all the women in our secret Facebook group, the unruffled and yeah, we just, we love our group there. And if you are interested in that getting into that group, you just have to find me on Facebook, Sondra Talbert Primeaux  and send me a message and I'll add you because it is secret.
40:34
Okay, that's great. And I'll link to your Facebook page in the show notes. If anyone wants to contact you. So, you don't have to search for the name. Sure. Perfect. Well, thank you so much for being here. I really appreciate it.
40:51
Oh, thank you. Thanks so much for having me and I I've been listening to your podcast and I just I love it. doing a good, good thing.
Casey McGuire Davidson  41:01
All right. Thank you. Bye. Bye.
So thank you for coming on here. I couldn't appreciate it more. 
Thank you for listening to this episode of The Hello Someday Podcast. If you're interested in learning more about me or the work I do or accessing free resources and guides to help you build a life you love without alcohol, please visit hellosomedaycoaching.com. And I would be so grateful if you would take a few minutes to rate and review this podcast so that more women can find it and join the conversation about drinking less and living more. 
ABOUT THE HELLO SOMEDAY PODCAST
The Hello Someday Podcast helps busy and successful women build a life they love without alcohol. Host Casey McGuire Davidson, a certified life coach and creator of The Sober Girl's Guide to Quitting Drinking, brings together her experience of quitting drinking while navigating work and motherhood, along with the voices of experts in personal development, self-care, addiction and recovery and self-improvement. 
Whether you know you want to stop drinking and live an alcohol free life, are sober curious, or are in recovery this podcast is for you.
In each episode Casey will share the tried and true secrets of how to drink less and live more. 
Learn how to let go of alcohol as a coping mechanism, how to shift your mindset about sobriety and change your drinking habits, how to create healthy routines to cope with anxiety, people pleasing and perfectionism, the importance of self-care in early sobriety, and why you don't need to be an alcoholic to live an alcohol free life. 
Be sure to grab the Free Sober Girl's Guide To Quitting Drinking right here.
Are you subscribed to my podcast? If you're not, I want to encourage you to do that today. I don't want you to miss an episode.
I'm adding a bunch of bonus episodes to the mix and if you're not subscribed there's a good chance you'll miss out on those. Click here to subscribe in iTunes!
Now if you're feeling extra loving, I would be really grateful if you left me a review over on iTunes, too. Those reviews help other people find my podcast and they're also fun for me to go in and read. Just click here to review, select "Ratings and Reviews" and "Write a Review" and let me know what your favorite part of the podcast is. Thank you!
OTHER WAYS TO ENJOY THIS POST: