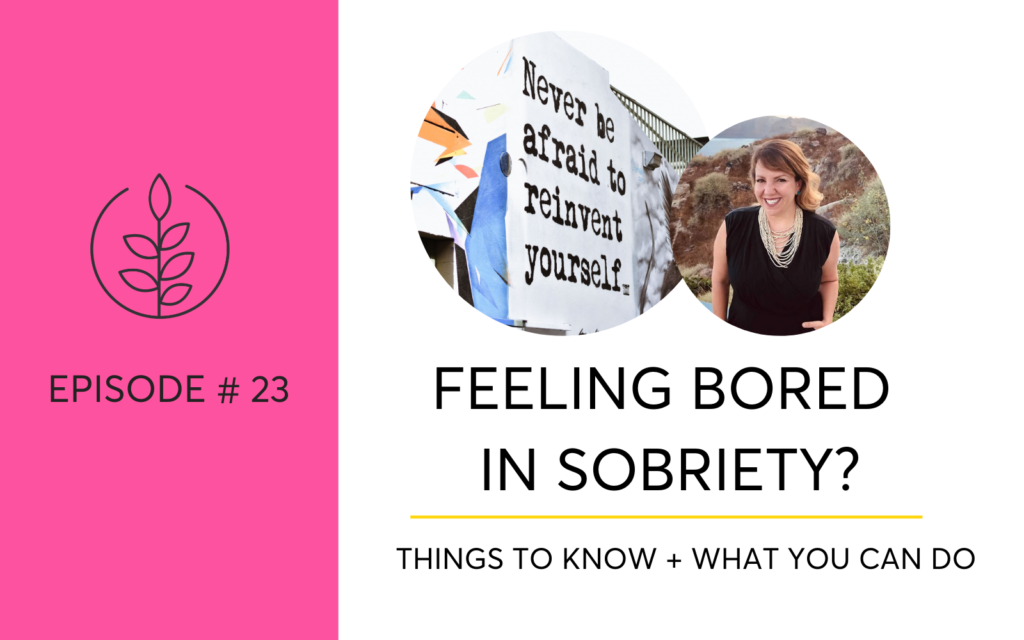 Is Sobriety Boring?  
Are you worried that life without drinking will be boring? 

Or are you currently in early sobriety and feeling bored?

Are you scared that you'll never really have fun or let loose again without alcohol? 

Or wondering if you'll lose all your friends and favorite activities if you don't drink?
Here's a secret: Almost all women who love to drink worry about being bored (or boring) without alcohol.
In this episode I'm going to talk about all the tips, tricks, suggestions and advice I have to make life without alcohol fun, comforting, interesting and gratifying. 
I'll talk about:
Why drinking is actually keeping your life small, isolated (and boring).

Why all of us have tunnel vision when we're drinking.  We see only the people and activities around us that are centered around alcohol (and look past all the other activities hiding in plain sight). 

What to do if you're feeling bored in your first 15, 30 or 40 days and how to reframe your mindset about the important work you're doing.

Why there is NO CHANCE you're "doing nothing" in early sobriety. Even if you feel like you are just taking baths, reading books, going to bed early and taking long, slow walks you are doing big, important work and emotional heavy lifting. 

Why part of the work of early sobriety is learning to sit with feeling "blah".

Why to ask yourself "What do I love MORE than wine?" [and why it's OK if you can't think of anything at all to answer that question].

Why you should give yourself "assignments" to find joy and pleasure after you quit drinking. 

Examples and ideas of new passions, activities, pastimes and hobbies from other women who have stopped drinking & found joy and excitement without it. 

Why vision boards of future adventures and travel (Coffee in Paris? Bike tour in Amsterdam? Hiking in Greece?) can be a powerful way to get excited about your fun life in sobriety. 

How to edit your social media accounts to inspire you about how good life can be without alcohol vs. making you feel like you're missing out on something (or everything). 

How to meet new friends who don't drink and have new adventures without alcohol. 

And why it's up to you to make things happen in your life. It's both a responsibility and an invitation.
If you're still reading and you want the quick answers now, here they are:
No. Life without drinking isn't boring. I'm not lying to you. It's actually really good.

You will like it!

Yes. It's pretty normal to feel bored in early sobriety, but it's kind of related to not being used to feeling calm or peace. The feeling of things being too quiet or empty does pass. 

Don't be scared. I promise you will have so much fun in life without alcohol. Your life will get bigger and more open and exciting and joyful without drinking.

No. You won't lose all your friends if you don't drink but you will likely find new and better favorite activities or even enjoy the same old ones in new ways.
You've got this. 
Life without drinking is not smaller. It's not boring.

 
It's big and exciting and beautiful and you will have the time and energy to go after your dreams. 
And if you're not there yet I'm here to hold your hand and walk you through the quiet times until you're ready for good stuff ahead. 
Shownotes: www.hellosomedaycoaching.com/23
Grab the Free 30-Day Guide To Quitting Drinking, 30 Tips For Your First Month Alcohol-Free
Links and Resources mentioned in this episode
Check out my previous episode with the authors of The Sober Lush: A Hedonist's Guide to Living a Decadent, Adventurous, Soulful Life–Alcohol Free, Amanda Eyre Ward + Jardine Libaire here
Listen to my episode on how to find friends in sobriety. 
Download the Guide to my Favorite Secret Facebook Groups For Women Quitting Drinking. 
Download The Vision Board Starter Kit. 
Connect with Casey McGuire Davidson
Website: www.hellosomedaycoaching.com
Instagram: Casey @ Hello Someday Coaching (@caseymdavidson)
Listen to more podcast episodes to drink less + live more.
Connect with Casey
Take a screenshot of your favorite episode, post it on your Instagram and tag me @caseymdavidson and tell me your biggest takeaway!
Want to read the full transcript of this podcast episode? Scroll down on this page.
READ THE TRANSCRIPT OF THIS PODCAST INTERVIEW
Feeling Bored In Sobriety? Things To Know + What You Can Do 
SUMMARY KEYWORDS
feeling, bored, sobriety, theme, women, worry, quit drinking, experience, events, connections, adventures, joyful, exciting, without alcohol, process, building a life they love, inspired, lucky enough, SHE RECOVERS® Sharing Circle, share stories, Sober Book Club, drink coffee, eat food, hug, read books, chat, talk, brings joy, keeps life exciting, online, The Sober Lush, podcast, conversation, perfect time, record, quote, vision board, inspired, keep going, coffee shops, sunsets, road trips, airplanes, passports, new songs, old songs, need, other people, living, breathing, screaming, invitation, believe, better things, imagine, recovery, new adventure, shame, cycle, stuck, world got smaller, stop drinking, open, life, looks like, feel, being, recovery, reason, taking care, productive work, moving forward, projects, excited, beginning, normal, full life, love, truth, emotional, physical work, dealing with, kids, homework, bedtimes, emails, marriage, relationships, triggering, adjusting, navigating, figuring out, engage, Sober Retreat, blocked, read a novel, dive into, photography, ideas, trampoline, ride your bike, boring, frustrated, obsessed, electronic device, iPad, irritable, annoyed, whiny, suggest, sounds good, changing our mood, listening, sit, forced to think, amuse, occupy, time, tired, tunnel vision, strengths, constant, companion, void, creative, try new things, cheese, crackers, favorite chair, fun, glass of wine, fulfilling, without the wine, happy, pay attention, sensations, nicer, movie, class, swim, breakfast, friend, yoga, wander around, garden store, gardening books, plant tools, strawberry, blueberry, cafe, sandwich, bookshop, cards, jewelry, cooking tools, anchor activity, running club, radar, music, activity, happy hour, smart, interesting, quiet time, sleep, body, mind, emotions, lift, picture, trust the process, you are becoming, Lacroix, paint your nails, go for a walk, watch, sunset, get up early, sunrise, just keep going, train, backwards, look forward, space, money, achieve, discussion, decadent, adventurous, soulful life, alcohol free, contributing, challenges, admire, courageous, real, enjoy, invest in yourself, essential oils, bubble baths, adore, divine breadcrumbs, online classes, takeout, picnic, non-alcoholic drinks, playdate, barbecue, sober treats, style, videos, prompts, notebooks, confidence, Pinterest, learn, dream, retreat, peace, comfort, pets, cuddle, explore, memories, traveling, obscure, observing, smile, pictures, excited, farmhouse, sober travel, take the first step, brave enough, goodbye, reward, new Hello, serving you, faith, unique curiosity, distraction, allow yourself, Tarot Readings, relaxing, connections, workout class, exercise, checklist, responsibility, release, spark, new interests, release, It is worth it 
SPEAKERS: Casey McGuire Davidson 
Welcome to the Hello Someday Podcast, the podcast for busy women who are ready to drink less and live more. I'm Casey McGuire Davidson, ex-red wine girl turned life coach helping women create lives they love without alcohol. But it wasn't that long ago that I was anxious, overwhelmed, and drinking a bottle of wine and night to unwind. I thought that wine was the glue, holding my life together, helping me cope with my kids, my stressful job and my busy life. I didn't realize that my love affair with drinking was making me more anxious and less able to manage my responsibilities.
In this podcast, my goal is to teach you the tried and true secrets of creating and living a life you don't want to escape from.
Each week, I'll bring you tools, lessons and conversations to help you drink less and live more. I'll teach you how to navigate our drinking obsessed culture without a bus, how to sit with your emotions, when you're lonely or angry, frustrated or overwhelmed, how to self soothe without a drink, and how to turn the decision to stop drinking from your worst case scenario to the best decision of your life.
I am so glad you're here. Now let's get started.
This podcast episode is about feeling bored in sobriety. And what to do about it, there seems to be a common theme around what women worry about when they're about to quit drinking. Some of the things they experience in early sobriety that may lead them to go back to drinking. And even once you've quit drinking, there is a time between when your life was filled with alcohol, and with drinking events. And with the connections that you made and had the adventures that you had, while drinking and the period of time before your life is filled, and joyful and exciting without alcohol. And I want to talk about that in this episode. 
This is something that comes up all the time with the women I work with, and the women I talked to, who are in the process of building a life they love without alcohol. And I was inspired to record this right now because I am lucky enough in the Seattle area to have an amazing SHE RECOVERS® Sharing Circle and pre quarantine, we used to meet not only in person to share stories, but also once a month for a brunch and Sober Book Club with just the coolest women. It grows every month: who have quit drinking, we drink coffee, we eat amazing food that everyone brings. We meet in my friend Ingrid's beautiful, light-filled house with a viewer, the water, we hug and chat and read books and talk. And it is just a group that I love that brings me joy and keeps my life exciting and fills me up in sobriety. 
But we moved online. And the call I just got off of what's a zoom call and it was about the book, The Sober Lush. And the authors of the book, Amanda Eyre Ward and Jardine Libaire actually joined us. I met them for the first time when I interviewed them on my podcast. And they were kind enough to say, yeah, we'd love to come to your book club and talk about it. So they just did. And the conversation was not only about the book, but there were 17 women on the call. And we talked all about what we've discovered and what we do to make life fun and exciting and joy filled in sobriety and not feeling bored, even during this time of 5 months into quarantine and lockdown. 
So this is the perfect time to record this episode. And I wanted to start off with a quote. The quote is something I had on my vision board when I was quitting drinking, and I still have it on now. It was something I looked at every day, and it inspired me to keep going. And it says, "You'll need coffee shops and sunsets and road trips, you'll need airplanes and passports and new songs and old songs. But more than anything else, you will need other people and you will need to be that other person to someone else – a living, breathing, screaming invitation to believe better things" and that is a quote by Jamie Torre koski. 
Now this is really hard to see and imagine when you're still drinking or an early sobriety when you're shaking and recovering from drinking.
But believe me when I tell you that I realized that longer term sobriety was an exciting new adventure. Whether or not you realize it, drinking is the shame cycle. And it held me in a place where I was stuck and where my world got smaller and smaller. Once you stop drinking, your world becomes more open. And you get to find out what life looks like, and feels like without drinking. I often think that the word being in recovery is misused. And the reason is that when I was drinking, I was literally recovering. Every single day of my life, I was recovering from a headache, hangover and watery eyes, and just trying to get through the day. 
Now that I've quit drinking, I am just living, just living, I am just going through life, not recovering. Just waking up and seeing the sunshine or the rain, I'm taking care of my kids, I'm getting coffee, I'm reading books on doing yard work, I'm doing good productive work. Some days are not very exciting, and some days are joy filled. Some days, I'm moving forward on projects that get me really, really excited. But I'm not recovering anymore. I'm living. 
So I wanted to start with the beginning, which is when you are in your first 15 days, 30 days, possibly even 45 days. And I want to ask you, if you're there, are you feeling bored in early sobriety? Because if you are, that's pretty normal, there is an "in between" time, somewhere between no longer in your drinking life. And not yet, which is your full life. The one you'd love without alcohol in it. And here's what you need to remember. The truth is that you might feel bored, what you're going through is normal, it happens to everyone. And that's okay. The truth is that not drinking right now is your entire job. So, if all you're doing right now, if you're not being productive, if you're not going to parties, if you're taking a lot of naps and bass and reading books, and need alone time, you are crushing this early sobriety thing, you need to know that even if you're feeling blocked or flat or bored, what you're doing right now is really important that it won't last forever. And that it is not easy. It may feel like all you're doing is reading a book, watching TV, making tea, going to bed. But that's actually not what you're doing. You are doing hard emotional and physical work every single minute. 
And every day, you are navigating your entire life. Without alcohol, you are getting up and getting dressed without a hangover. You are working and dealing with your boss and your co-workers without thinking about if you have enough wine at home at the end of the day. You're sidestepping offers for office happy hours, or zoom happy hours. And looking away from a friend's post on social media about a date night with the big wine glass at the bar, or pictures of the bottle of wine on their kitchen table or their deck, when they're staying home. 
You're dealing with all the emotions that are coming up, that you would push down so far, for so long. When you are drinking, you're dealing with kids and homework and bedtimes and late night emails and marriage without alcohol. 
Your relationships are strained, either because you're irritable, which is so normal, or because your spouse is adjusting to navigating you without drinking or because they're still drinking. And that's triggering for you. And that's hard. And you're figuring out if you want to engage with people who you should talk to, whether you should go to the barbecue or a football party, what to do if non alcoholic drinks aren't there or if you want to bring your own. 
And if you're going to drive your own car, and what a Sober Retreat might look like at the end of the night. You are doing big, big stuff. Really important work, and who knows why, but after the initial white knuckling wears off, it can be a bit blocked. If you dive into all the sober things after 45 days, after 50 days, you might feel like, you know, that you're over this stuff. You don't want to read and talk about it anymore. And that too is normal. 
You can read a novel that is not about subprime. You can pick up a new project, you can dive into photography, and I'm going to talk about all those ideas later in this episode. 
But we are not used to being bored. And we usually drink at the first hint of being bored. If you have kids, you know that your kids always say, I'm bored, there's nothing to do. And it's usually after they've been watching the iPad for way too long. And you took it away. And you say to them, there's a whole world outside, go to the trampoline. Let's ride your bike. Why don't you read a book? Why don't you play with something? And they're like, no, that's boring. But you know what, and you're so frustrated, because you're like, it's not boring. What you're doing right now is boring. I can't believe that you're just obsessed with this electronic device. And the minute I take it away, you are irritable, and annoyed, and frankly, a pain in the ass. 
And that's what it's like, when we take away our wine, Right? We're like, there's nothing to do if we're not drinking. There's nothing exciting anymore. I'm whiny, I'm irritable. I'm bored. I don't know what to do. You suggest it sounds good, or as good as my wife? And we do, we drink because we're bored. That is how we're used to changing our mood.
If you're listening to this episode and have been trying to take a break from drinking, but keep starting and stopping and starting again, I want to invite you to take a look at my on demand coaching course, The Sobriety Starter Kit. The Sobriety Starter Kit is an online self study, sober coaching course that will help you quit drinking and build a life you love without alcohol without white knuckling it or hating the process. The course includes the exact step-by-step coaching framework I work through with my private coaching clients, but at a much more affordable price than one-on-one coaching. And The Sobriety Starter Kit is ready, waiting and available to support you anytime you need it, when it fits into your schedule.  You don't need to work your life around group meetings or classes at a specific day or time. This course is not a 30 day challenge, or a one day at a time approach. Instead, it's a step-by-step formula for changing your relationship with alcohol. The course will help you turn the decision to stop drinking from your worst case scenario to the best decision of your life. You will sleep better and have more energy, you'll look better and feel better, you'll have more patience and less anxiety. And with my approach you won't feel deprived or isolated in the process. So if you're interested in learning more about all the details, please go to www.sobrietystarterkit.com. You can start at any time and I would love to see you in the course.
And part of the important work is to actually sit with feeling blah for a little while. And to actually be forced to think about things other than drinking that might possibly amuse you, might bring you joy, or occupy your time. You know, after you get through the days when you are so tired. And you just need to not talk to people and feel like you have the flu, you can look around and see those activities and that people are hiding in plain sight. We almost have tunnel vision when we quit drinking. We think that everyone around strengths that every activity involves alcohol, because drinking has been our constant companion. It is what we watch TV with. It's what we watch movies with. It's what we sit outside on the deck with in the evenings. We read books with it, we go on dates with it, we see friends with it, we have weekends away with it. It is literally our companion for everything a lot of times more than even our best friend or spouse or our kids. So yes, you will feel a void when you remove alcohol. Of course, you will. 
And you need to get creative. You need to try new things. You need to figure out the cheese and crackers sitting in your favorite chair and reading a book. Is that fun? Because you had a glass of wine next to you? Or is it just fun and fulfilling and it makes you happy without the wine? And you will never know that if you don't try. And if you don't actually pay attention to the sensations that you have, you know, a class, a swim or a movie might be nice and even nicer without alcohol because with the movie at least you can stay up and remember the end and not fall asleep or pass out or whatever it is. 
Maybe breakfast with a friend would be nice. Will yoga. Now I quit drinking in February and it was rainy Seattle winter. And I remember on Saturdays in March and April. My husband coached baseball and he was busy all the time with his high school baseball team. I had a two-year-old at the time, and I would take my kids and my two-year-old, and wander around my favorite big, beautiful garden store. I'd look at all the gardening books, the plant tools, the strawberry in the blueberry and the tomato plants. They have a lovely cafe. And I'd have coffee and a sandwich. They had a really nice bookshop with books and cards and jewelry and cooking tools. 
And I would think about what else I could do with my afternoons and my evenings that didn't center around wine. And even now, in quarantine, it's open. And I've wandered around there with my daughter. And it gave me what I call an anchor activity for the long days during the pandemic. And the long days in early sobriety. If I go there at 11am or 2pm, and spend an hour, then I've done something, then I've seen something that I'm more amused and happy to settle down at the end of the evening and not feel bored. 
I joined a running club, and I did my first 10 K in 5 years. And I know I never would have done that. If I hadn't stopped drinking. That was something that wasn't on my radar. When I was drinking every night and every activity centered around happy hour. I also got to listen to great music when I was jogging music that I hadn't heard in years, I listened to songs from college and from high school. And it made me feel joy that I hadn't felt in a really long time. And even though my pace was different from other people in my running club, I got to say hi to them, I got to be around them, I got to stretch with them. And that also filled me up with joy and connection with people whose life didn't center around drinking. 
I found that other people who exercise, especially exercising early in the morning, are not the people getting drunk every night. And that's good. These are the kind of people who are hiding in plain sight, who you've never noticed before. But they are smart and interesting, and do activities that aren't centered around alcohol. There is a quiet time between drinking and your life after drinking. And that quiet time is normal. The days feel long and dull. You sleep a lot and you feel a little down your body and your mind and your emotions are adjusting to life without alcohol. But it will lift little by little and new interests and joy will come into the picture. Trust the process. Just stay with it. 
During the loads, you are becoming. You're becoming something more beautiful. And something more interesting than you were when you were in the drinking cycle. You're on the right path. So grab a Lacroix and a good book, sit in the sunshine, paint your nails, go for a walk, watch the
sunset, get up early and watch the sunrise, eat some popcorn, call a friend, go for a bike ride, cuddle a kitten, borrow a puppy, go window shopping. You are doing just fine, better than fine, you are rocking this whole not drinking thing, just keep going. 
And now, I want to talk about life after early sobriety after the law when you start to look around and try to imagine what your life is going to look like without alcohol. This is when it's time to train. This is when it's time to look backwards to the things that gave you joy when you were 12. And when you were 14 and 16 and 18 the time before you started drinking and that was the center of your life. And it's time to look forward to what is hiding underneath what you've been doing. The dreams that you had that you've never gone after. Because you were so busy working and socializing and improving your home and taking care of your kids and commuting and going to sports practices. There is space for that now, I know you don't think there is but there is and there is money for it. If you look at the amount of money you spent drinking alcohol, it's amazing. If you look at the amount of time you spend drinking and you spent hungover or dragging your ass around, there is time there is energy and you are going to be amazed at how much you can achieve and how productive you can be and how much less time and energy and irritation it takes to deal with work, and commuting, and life when you are not drinking or dragging around. 
So, I'm going to give you some ideas, especially ones inspired by the Sober Book Club discussion. I just read about the book, The Sober Lush, but also about the topic, about how to live a decadent, adventurous, soulful life, alcohol free. And not only did Jardine Libaire and Amanda Eyre Ward were the authors contributing great ideas on this. And by the way, I did a podcast interview just with Amanda and Jardine about their book, and you can go back and listen to that if you're interested. But it was also the contributions and the ideas, and the discussions about the challenges of not drinking and finding their joys with the other 15 women on this call women who I love and admire and are smart and courageous and real, and dealing with life without the highs and lows of drinking or smoking or whatever your substance of choices. 
So, I remember when I quit drinking, my Coach said to me, what is it that you love more than wine? What would you get up at 5 in the morning to do that isn't drinking, not that anyone got up at five in the morning to drink? We were too tired from the night before. But honestly, I could not think of anything. I loved a lot of things. I enjoyed a lot of things, but more than wine, an activity that I enjoyed more than the fuzzy buzzy feeling of drinking. Even before that first sip, I couldn't think of anything. And you know what I had to do, I had to try. I had to give myself assignments of what I might enjoy. I had to go experience them and look around. And slowly but surely, things began to pop up. Things that I remembered from ages ago, things that I had never experienced or done. Dreams that I had that I didn't think were ever going to come true because I was so busy with work and kids and life. And by the way drinking and hangovers, and a singular focus on alcohol as being incorporated with everything I did. So there are other things that you can do. And in the beginning, it takes a little bit of work. I would say that your number one assignment, after you get out of early sobriety is to find sources of joy and pleasure. It is to invest in yourself. And not just in essential oils and bubble baths, which by the way I adore and long walks with podcasts, but also in things that are fun. Because those are the things that are going to keep your sobriety going. You need to follow the divine breadcrumbs of things that spark some joy in early sobriety, you need to follow joy and pleasure that exist without substances, creativity and ideas. 
So some of my clients have done things. And right now, a lot of the things that they do are online classes or solo activities or connections that don't involve coffee shops and fancy French restaurants for brunch. And maybe you can't go to the French restaurant for brunch. But you can get takeout and have a picnic in a beautiful park alone or with a group or with your family. Drive your car to the mountains, which are only 45 minutes from Seattle and look at the giant green trees and sit by the river. You can go to the waterfront, or to another area that is pretty by your home and look around and take in the view and bring a chair and bring a book and bring a blanket if you want to. And drink, a lovely non alcoholic drink or have a deep conversation with a friend that you haven't talked to since high school or college and actually ask about their lives and have time to listen in a way that you never did at a giant playdate or at a giant barbecue. You can go to a lake and watch your kids splashing around and actually get in the water and splash around with them. You can float in a tube down a river. You can take online painting classes. 
Some of my clients have done this and they absolutely love it as sober treats. They bought themselves watercolor paints, or beautiful crayons. They've got really nice heavy art paper. They sit on their front porch, and they paint pictures and they learn. I, personally, in early sobriety, took an online style class called "style and style mobility". And it was from Dean Street Society. And it was a whole bunch of videos and prompts and notebooks. About what style you'd like and who you want to be and what your confidence is, and who you admire and not buying new clothes, but going into your closet and combining new things with some style guidelines, and taking pictures of what you're wearing, and posting it to a group and trying one thing on three ways and getting rid of stuff. And that's a great activity in early sobriety. It gives you confidence. It gives you something to work with, and you're not spending money on a ton of new clothes. 
Now, I personally love Pinterest, and I don't know if you guys do, too. But Pinterest for me is a great tool to learn and to dream. I like gardening and had a big 2020 plot of land that was just weeds and nothing else. And I turned it into a raised garden bed with beautiful salt and pepper stones in between them. I posted incredible pictures on my Pinterest board about beautiful vegetable gardens and flower gardens. I went to the garden store and I bought the seeds and the plants. I ordered the cedar raised beds from the gardeners supply company, I planted dahlias and then took pictures of them when they grew and gave myself bouquets of fresh flowers. I planted cherry tomatoes and ate them right off the vine. I planted strawberries so that I could eat them and gather them with my daughter and take pictures. We have raspberries and I've made jam out of them. And I have to tell you, I am not a crafty person. Before sobriety, I killed literally every container gardener plant of anything that I'd ever grown. I literally killed basil and oregano, which by the way, is very hard to do.
But in sobriety, it was a source of joy. I love digging in the dirt. And again, it was something that I'd never done. And I had to learn and I had to look at. I also redecorated my bedroom, and I painted the walls because I wasn't just passing out there anymore and leaving my clothes on the floor. I bought a beautiful photo of an ivory blanket for the top of my bed which was soft and decadent. I bought turquoise bedside lamps. I got an essential oil diffuser, I got really nice sheets and pillows. And again, this does not have to be expensive. You can get second hand stuff and spray painted. You can go to the arts and crafts store and pick out mason jars and put beautiful flowers in them. The point is to create a space that's a lovely retreat, but one that every place your eye brings you a sense of joy and peace and comfort. And surrounding yourself with beautiful things made me really happy not in early sobriety. But oh my god, pets, and taking care of a pet is so joyful and wonderful to be able to cuddle them and to have a physical being that loves you and amuses you and that you have to play with. I got kittens when I was a year sober. They were little Siberian Tabby brothers, when they came to us, they were two and a half pounds. It was something I wanted. It wasn't even something my kids wanted or my husband wanted. But I was like this, and I love them so much. And in early sobriety, and even now just their little chubby little bodies running down the stairs to get breakfast in the morning is wonderful, their brothers and I love coming indoors and saying, hello, gentlemen. I mean, whatever it is, they make me happy. And I know so many people have adopted dogs, or gotten puppies during the quarantine, but also in early sobriety, and just the joy that that brings you is wonderful. 
There are other things too. In the Sober Lush. They talk about picnics, they actually on our book club talked about giving themselves assignments, to write the book to explore what pleasure and joy and decadence looks like in sobriety in addition to all their memories of early sobriety and life without alcohol and traveling to Rome and Mexico without drinking, but they would say okay, this week is picnics. So let's do that. What can I do with a picnic to feel amazing? I have to say in sobriety, I do picnics in the orchard, by my house, but you could do it anywhere with my husband and by myself. We lay out a blanket, I get my favorite cheese and crackers, I put music on my phone. And I just lay there quietly enjoying life, something I used to do in college, going to parks or around campus, but I never do anymore. I certainly never did, unless there was a beer or a glass of wine in my hand. So that is something amazing to try. When I was in very early sobriety, maybe 30 days in, 60 days, and I joined sort of a photo of the day contest.
The contest is just an activity where someone would post some obscure quote, like, under my feet, or green, or my kitchen, or afternoon or evening or love. And people posted pictures and shared everything. I took pictures of the gravel under my feet at the bus stop with my turquoise shoes. I took pictures of a green plant that was just beautiful. I took pictures of my morning coffee in my kitchen, and I shared it and I just put in quotes green, and wrote what it was. And like 20 other women did that too. It was amazing. We had a private Facebook group. And it just gave me something to comment on knowing there were other people out there in the world. And I actually created that in the beginning days of the quarantine, just for a group of women. I just wanted to remember the beauty and the joy. I got my bike tuned up, I hadn't ridden my bike ages in my first two months of sobriety, as a sober treat, just got you know, got the wheels inflated, got it greased up, got it all aligned, and I biked around. And that was lovely. The fresh air is good for you, feeling like you're riding around is good for you. I got a basket, which was super cute. So there is stuff around you that will bring you fun and joy and pleasure. Just observing people makes me smile. Observing kids and pets, I don't even have a job. I used to walk in a dog park. Because seeing the little dogs and the Golden Retrievers and the labs jumping in the river. It just made me happy. And your job, once you stop drinking, is to look for what is bringing you joy. What are those divine breadcrumbs and double down on that? 
Now there were a bunch of other ideas that came up on the call that I wanted to share. People talked about taking a chocolate making class and getting a kit and doing that. I love vision boards. I always have, but they really really helped me in early sobriety. And on your vision board, you can literally put pictures of things that you want to do or things that you're excited to do in your future. Even though we're not traveling right now, I rented a farmhouse two hours away from me that I'm just going to go to just for a change of pace. I'm going to sit on the front porch, and rock. I'm going to make a picnic and go to the waterfront. I'm going to drink coffee and read good books in a house without my kids and without my chores. And I can't wait for that. And I pinned a picture of that farmhouse to my vision board to look at for an entire month. 
A year before I went to Greece. I pinned up pictures and maps of Greece. I pinned up places where I wanted to take photography. I pinned up ideas of things to do. Same with Amsterdam. Same with traveling to Alkmaar. I know we're not traveling now. But you still get to dream. And you get to dream of sober travel. And instead of pinning up the best places for a romantic dinner in Paris, which by the way you can still go to but also look at the walking tours. Look at the photography tours, look at where to bike. Look at the best brunch places and the best coffee shops. There is so much there to do that. It's not centered around alcohol. And again, it's hiding in plain sight. It is there for the taking. You just have never noticed it. It's important to think about what you're consuming on social media. Be deliberative, who you're looking at, and what you're watching. This can be another way to inspire you, for a healthy and exciting life without alcohol, but also to not focus on everything that's going on in your life that you're not partaking in. I mean, literally, stop following the winery that you've been following forever. Start following someone who is talking about something else that you're interested in, look at their boards that post everybody's morning view, I follow the best places in Europe, where they just put pictures of beautiful things up all the time. 
Pay attention to women you admire, ask yourself, do I want what they have? What lights them up? What do they do in their free time? What interests do they have that you admire? Or that you're even jealous of? What sparks your admiration, your joy, start listening to them, start emulating them, you have time and energy. Now, you are no longer stuck. You can do anything you want to do. It may take some time. But you have time. And you only need to take the first step. If you take the first step towards something that inspires you to something that interests you, it will lead you to another step. And just follow that breadcrumb. 
And maybe another one, the beautiful thing about sobriety is that you don't need to know where the path is going to lead. You really don't. When I was in early sobriety, I was very shaky. And I went on a weekend trip, where I would always drink in the past. And I walked past a store window, when we were about to jump on the ferry. And it said, if you are brave enough to say goodbye, life will reward you with a new Hello. And I took a picture of it. And I keep it in front of me to this day. And that doesn't just apply to drinking. But look around for your new Hello, when you are leaving something behind that isn't serving you. Because it's there. It may take a little while. But you need faith and unique curiosity. And you need to stay the course and you do need to try, it won't always fall in your lap. And you actually need this space, you need the blah, you need the quiet time between your drinking life and what is going to fill it up. Because that's how you uncover what your interests are, in the same way that our kids need time between watching YouTube videos on the iPad for four hours, until they look around and pick something else up that actually interests them. And suddenly you look over and they're doing something that you couldn't even imagine that they would do because the thing that they were obsessed with was put down and put away. And it wasn't until then that they picked up a book or that they went outside, that they started digging in the dirt or kicking a soccer ball, that they started playing with their Barbies, or anything else, they actually had to put that thing away, that they were focused on that they didn't want to do anything else. But that is because it gave them a hit and a distraction. And it easily stopped them from being bored. 
But you don't need to do that 24/7, and it takes time and distance from that thing, like your bottle of wine, to allow yourself to look around and be open to other things. And if you can't think of what your interests are, right away, start following someone else's passion. take an interest in other people and what they love. My husband wants to drive cross country with my son, going from minor league baseball games to minor league baseball games. I want to go with them now. In the past, I never would have wanted to give myself assignments. If someone else loves hiking, ask them to take you on a hike. One that isn't too hard. But they can plan it. They can take you out. Ask to join people on a bike ride, ask to go watch something that you would normally not go watch. Have someone else tell you what their passion is and get interested. It doesn't have to be your thing. But it will distract you from boredom. It will open your eyes to what other people do and it'll be good for you. Tarot Readings, I love tarot readings. I think they're super interesting. And that's something to do in sobriety when you're not drinking that might interest you. 
I discovered tapping and other ways of relaxing myself that are really interesting. Another woman on my call said that she had found during quarantine a local farm that did vegetable deliveries and also the freshest eggs she's ever seen. Seen, and buckets and buckets of local flowers that are lush and gorgeous and beautiful and a total treat. And she said that she never would have thought that she could afford this, that it was, you know, she shouldn't, she never would have thought that she could afford this, she should just go with her mask to the local grocery store. But she can afford it because she's not drinking. And she arranges the flowers, and she puts them in front of her house for neighbors to pick up as a little dope dose of joy for other people or leave them on their front stoops. She says that she enjoys arranging them and looking at them and smelling them. And when the vegetables show up, she suddenly has a ton of mushrooms. And she has to figure out what to do with them, or fruits that she had never discovered. And that too is an exercise in creativity. It isn't boring. It's interesting. And that is something that we need. 
Now someone said, and I think it's so true, that the most important thing you can do when you're not drinking, to avoid boredom and for emotional support, is making connections. And I know it's hard as grown women, it is difficult to put yourself out there you feel like everyone already has friends. And everyone has history and everyone's busy. I remember the first time I texted someone in sobriety just to say hi, I'm at my son's baseball game, just wanted to see how you're doing. And that ended up being one of my best friends in sobriety. But I know it's hard. But I'm going to tell you that there are tons of women out there who are also doing this quietly, who are also longing for connection, and who are also looking to fill their lives up with something that doesn't involve drinking. 
And if you think they aren't like you, they are. There are women out there who party just like you who have the same interests that you do, who used to go to the wine club, who used to do the tastings, who used to host the giant parties and dinner parties. And they also are navigating life without alcohol. And they're fun and smart and interesting and adventurous. And they need you. And the only way you're going to find them is by putting yourself out there. Now I did a whole episode with my sober bestie Ingrid, where we talked about how to not be lonely and how to find friends in early sobriety. So if you're interested in this, please go back. I couldn't imagine all the friends that I would meet, who also don't drink who are just the coolest women. And that is something that you don't realize you need. In that quote I read in the beginning again, it says you will need other people as a living, breathing reminder of everything that's good in life. So this episode was about what to do if you're feeling bored in sobriety. What you can do if you feel flat, if you feel mad if you feel blocked. And part of it is to trust the process. If you're in the beginning, yeah, everything you're doing is just navigating life without alcohol. And you will take a lot of bass and go on a lot of walks and drink tea and go to bed early and take naps and need time alone.
And then after that, there's a lot. There's a lot between working so hard, just not to drink before you start to look around at everything that could bring you joy that you could try again that is hiding in plain sight. For me, I joined a 5:30 a.m. workout class three days a week. It sort of hit me that the trio had something to do early in the morning with people who don't drink a lot, which gave me a reason to go to bed early and exercise and fresh air hit my endorphins. 
And frankly, after years of drinking, I was really out of shape. And I wanted to get more healthy while I was not drinking. So it hit everything I needed to do to keep me amused. 
It also made me tired, which got rid of some of my anxiety. It made me feel accomplished early in the morning. And if I did nothing else, I was like, Okay, I did that today. 
So for a woman who loves to multitask and likes to check things off the list. I was like, I'm sitting around not drinking but I worked out four times this week, five times this week. That gave me checks on my checklist that I was doing something other than building up days with this time and money.
One last point I want to put out there. In drinking, we often let things happen to us, we drink so that our life will be more interesting and exciting. I used to drink because I never knew what would happen. I felt like anything could happen when I got rid of my inhibitions. 
And a lot of times, nothing happened. I freaking fell asleep early and don't remember the night. That is not terribly exciting, or things that would happen, that weren't positive. 
I couldn't drive home, I lost my phone, I shared someone else's secret that I shouldn't have shared. Now, sure, sometimes exciting things happen. But again, I was letting things happen to me either because of the alcohol, or because I would just surrender my time and my night, to the alcohol or to other people. 
Now that you're sober, you need to make things happen. But you get to decide what those things are. You get to pay attention to things that interest you. You get to pay attention to things that bring you joy, you get to direct what happens and suggest things. 
So that's both a responsibility and an invitation. And I hope you take it. 
I hope you enjoyed this episode. I hope it sparks some new interest. I hope you trust the process and release some of your fears about what life will be like without alcohol. 
If you haven't read the Sober Lush, go ahead and pick it up. Or someone said even listening to it on audiobook was even better, because the stories are so rich and descriptive, and also short so you can listen to them in snippets. But just giving you ideas of what you can do, and picking out an assignment that you want to try. 
Life without drinking is not smaller. It is not boring. I promise you it's not. 
It is big and beautiful and wonderful. And you now have time and energy to truly achieve your dreams. 
So I hope you go for it and get in touch with me. Tell me what you're doing. inspire me with your stories, or tell me your board so that I can tell you, this will pass you're going to be okay. 
It is worth it.
So thank you for coming on here. I couldn't appreciate it more. 
Thank you for listening to this episode of The Hello Someday Podcast. If you're interested in learning more about me or the work I do or accessing free resources and guides to help you build a life you love without alcohol, please visit hellosomedaycoaching.com. And I would be so grateful if you would take a few minutes to rate and review this podcast so that more women can find it and join the conversation about drinking less and living more. 
ABOUT THE HELLO SOMEDAY PODCAST
The Hello Someday Podcast helps busy and successful women build a life they love without alcohol. Host Casey McGuire Davidson, a certified life coach and creator of The Sober Girl's Guide to Quitting Drinking, brings together her experience of quitting drinking while navigating work and motherhood, along with the voices of experts in personal development, self-care, addiction and recovery and self-improvement. 
Whether you know you want to stop drinking and live an alcohol free life, are sober curious, or are in recovery this podcast is for you.
In each episode Casey will share the tried and true secrets of how to drink less and live more. 
Learn how to let go of alcohol as a coping mechanism, how to shift your mindset about sobriety and change your drinking habits, how to create healthy routines to cope with anxiety, people pleasing and perfectionism, the importance of self-care in early sobriety, and why you don't need to be an alcoholic to live an alcohol free life. 
Be sure to grab the Free Sober Girl's Guide To Quitting Drinking right here.
Are you subscribed to my podcast? If you're not, I want to encourage you to do that today. I don't want you to miss an episode.
I'm adding a bunch of bonus episodes to the mix and if you're not subscribed there's a good chance you'll miss out on those. Click here to subscribe in iTunes!
Now if you're feeling extra loving, I would be really grateful if you left me a review over on iTunes, too. Those reviews help other people find my podcast and they're also fun for me to go in and read. Just click here to review, select "Ratings and Reviews" and "Write a Review" and let me know what your favorite part of the podcast is. Thank you!
OTHER WAYS TO ENJOY THIS POST: