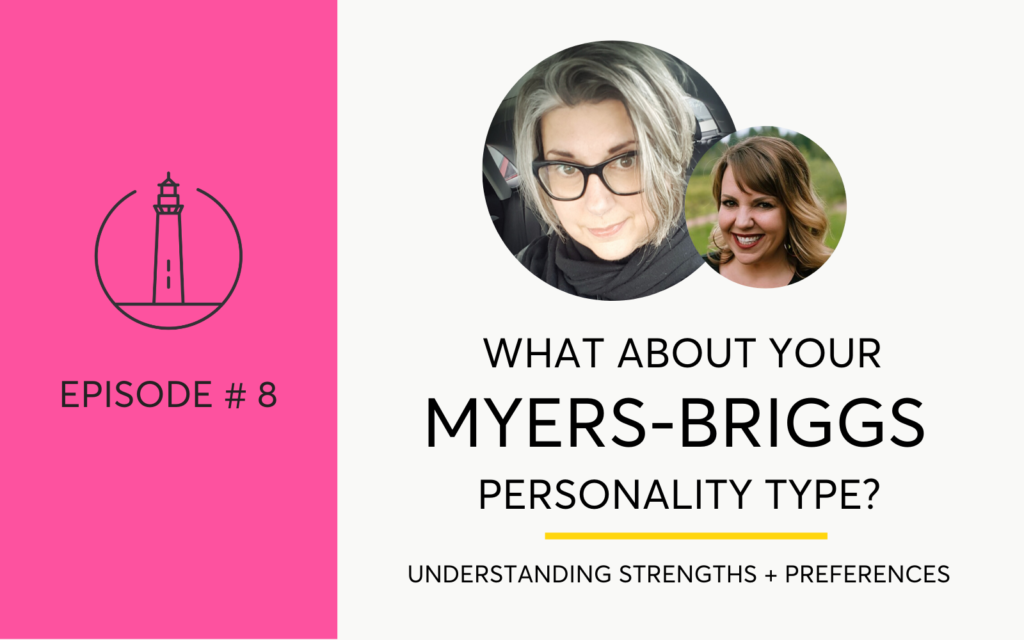 Have you heard of the The Myers-Briggs Type Indicator®
 (MBTI®)? 
Are you an ISFJ or an ENTP? An ESFJ? An ISFP?
I'm an ENFJ
As you're quitting drinking and navigating the world in sobriety, understanding your Myers-Briggs Personality Type can give you insight into your strengths, preferences and why some people, places and situations trigger you to want to numb out and escape – and others don't.
Understanding your personality type can help you become more aware of your relationship with yourself and with others, and will help you navigate sobriety with more ease and less stress.  
In this episode we're diving into all things MBTI with Kate Kimberley! 
Kate is a workplace coach who is certified to administer and interpret the Myers-Briggs Type Indicator assessment.
She is also trained in Dare to Lead by Brené Brown, which helps women step out with greater courage in any area of their lives.
In this episode, you'll learn:
How to give yourself grace and forgive others for not measuring up to what others have told them they should be

How to understand yourself, how to navigate the world, and establish a path for lifelong personal development

Becom

e aware of your individual personality Type preferences, including how you prefer to communicate, make decisions, and respond to conflict

Realize the energy and self-knowledge that understanding your Type can bring to your life and allow you to capitalize on your unique strengths 
SPECIAL OFFER MENTIONED IN THIS PODCAST
MBTI ASSESSMENT, INTERPRETIVE REPORT, AND INTERPRETIVE SESSION WITH KATE KIMBERLEY
If you enjoyed learning a bit about the MBTI assessment and are interested in learning more and find out your Type, Kate is offering a MBTI Introduction to Type package to all Hello Someday Podcast listeners for $99.00 US. 
This package includes:
Online access to complete your official MBTI® personality assessment

A personal MBTI® Interpretive Report based on your assessment results

A 50-minute interpretative session to review your Type, including your Type preferences for:

Communication;

Decision-making; and

Responding to Conflict
To sign up for the package and identify and explore your unique Type preferences, visit www.kwkimberley.com or send Kate an email at [email protected]
RESOURCES AND LINKS MENTIONED IN THIS EPISODE
She Recovers Retreats
Kate Kimberley, MBTI-certified Workplace Coach
Free MBTI Resources
The Free Sober Girl's Guide to Quitting Drinking – 30 Tips For your First 30 Days
The Bubble Hour Podcast Episode with Casey McGuire Davidson
ABOUT THE HELLO SOMEDAY PODCAST
The Hello Someday Podcast helps busy and successful women build a life they love without alcohol.
Host Casey McGuire Davidson, a certified life coach and creator of The Sober Girl's Guide to Quitting Drinking, brings together her experience of quitting drinking while navigating work and motherhood, along with the voices of experts in personal development, self-care, addiction and recovery and self-improvement. 
Whether you know you want to stop drinking and live an alcohol free life, are sober curious, or are in recovery this podcast is for you.
In each episode Casey will share the tried and true secrets of how to drink less and live more. 
Learn how to let go of alcohol as a coping mechanism, how to shift your mindset about sobriety and change your drinking habits, how to create healthy routines to cope with anxiety, people pleasing and perfectionism, the importance of self-care in early sobriety, and why you don't need to be an alcoholic to live an alcohol free life. 
Be sure to grab the FREE SOBER GIRL'S GUIDE TO QUITTING DRINKING right here.
Are you subscribed to my podcast? If you're not, I want to encourage you to do that today. I don't want you to miss an episode.
I'm adding a bunch of bonus episodes to the mix and if you're not subscribed there's a good chance you'll miss out on those. Click here to subscribe in iTunes!
Now if you're feeling extra loving, I would be really grateful if you left me a review over on iTunes, too.
Those reviews help other people find my podcast and they're also fun for me to go in and read. 
Just click here to review, select "Ratings and Reviews" and "Write a Review" and let me know what your favorite part of the podcast is. Thank you! 
OTHER WAYS TO ENJOY THIS POST: