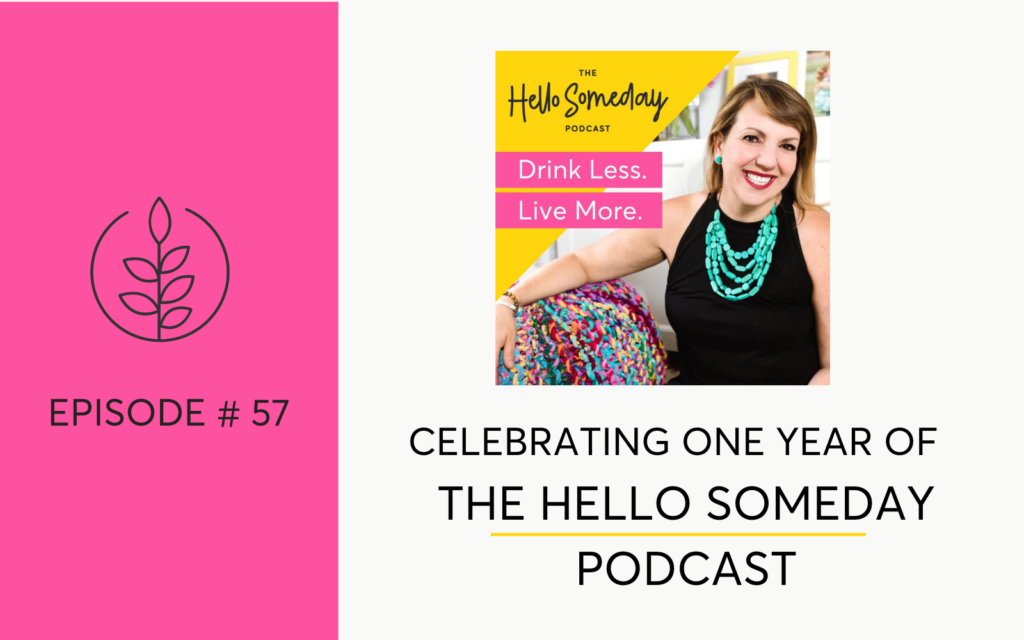 One Year Of The Hello Someday Podcast
Today marks ONE YEAR since I started this podcast! I can't believe it. When I look back on the past year, I've been a little scared every time I release an episode but mostly happy and very grateful.
I'm amazed to see women like you listening and reaching out and telling me that the podcast is helping them.
Launching this podcast has been one of the most exciting and satisfying projects that I've ever done. 
In the past year I released 57 episodes, with 46 incredible guests and we've hit just under 70,000 downloads!
I've also released 13 solo episodes on topics that I think are really important in helping women stop drinking like strategies for your very first week, mistakes a lot of women make when quitting drinking and all the things I've learned in the 5 years since quitting drinking.
But most importantly, I want to say THANK YOU for taking time out of your day to listen to this podcast.  Thank you for reaching out and telling me the parts that helped you, made you laugh or helped empower you or feel less alone.
In this episode,  I'm going to share some of my absolute favorite moments of the podcast over the last year.
The things my guests have shared that really stuck with me, inspired me, gave me new coping tools, and made me think and rethink my own ideas, perceptions and approaches. 
I hope you enjoy listening to some highlights from the podcast over the last year and I hope you take away some fresh insight and inspiration to keep going.
And I also wanted to give something back to you. 
So here are
two gifts

for you as a thank you for being part of the podcast family

As part of the one year podcast anniversary celebration I want to give something back to you –  so I'm doing 2 things this week to help you a bit more on your journey to drink less + live more. 

If you're ready to get the Sobriety Starter Kit course and save $50, head over to www.sobrietystarterkit.com today and get started!

​Click here to register for Camille's Break Your Drinking Habit Challenge.

There are other amazing speakers as part of the challenge as well – Camille Kinzler is hosting and doing visualizations every day to help you on your journey, Mandy Manners and Kate Bailey from the Love Sober Podcast on what we're getting wrong when we talk about self care and Amanda Kuda about why you're not creating the life you want and a whole bunch more. 

So join me! Register here and mark your calendar for May 16th at 3pm ET for the free session!

Here's everything that's included…
The framework, skills, strategies + tools you need

to build a life you love without alcohol –

without white-knuckling it or hating the process

.

50 on-demand video lessons

that are quick, effective, empowering + help you take action right away.

The support you need for each step of the process and for every question that comes up,

available when you want it, need it + on your schedule.

The complete coaching system

I work through with my private 1-on-1 coaching clients,

at a much more affordable price

.
8 sober coaching modules, including
The Mistakes Women Make In Trying To Stop Drinking

The Fundamentals of Building Your Sober Foundation

The Quick Start Guide To Your First 2 Weeks

Mapping out your Reason, Vision, Habits, Triggers, Environment + Support

How to Break Out The Drinking Cycle Using The 4 Laws of Behavior Change

Building Sober Muscles + Momentum 

Navigating Sobriety Challenges – Labels, Other People, Drinking Events, The Mommy Wine Culture, Boredom, PAWS, Avoiding 'Pre-Lapse' and Restarting Quickly If You Drink

To 100 Days and Beyond – Creating A Live You Love
​You deserve to drink less, live more + feel better.
This is THE BEST GIFT you can give yourself on this journey and until May 20th, 2021 you can save $50 on the cost of the course. 
Click Here to sign up for The Sobriety Starter Kit Course. 
Support, resources and tools to help you go alcohol-free  
If you liked this episode, take a screenshot of your favorite episode, post it on your Instagram and tag me @caseymdavidson and tell me your biggest takeaway!
ABOUT THE HELLO SOMEDAY PODCAST
The Hello Someday Podcast helps busy and successful women build a life they love without alcohol. Host Casey McGuire Davidson, a certified life coach and creator of The Free 30 Day Guide to Quitting Drinking – 30 Tips For Your First Month Alcohol-Free, brings together her experience of quitting drinking while navigating work and motherhood, along with the voices of experts in personal development, self-care, addiction and recovery and self-improvement. 
Whether you know you want to stop drinking and live an alcohol free life, are sober curious, or are in recovery this podcast is for you.
In each episode Casey will share the tried and true secrets of how to drink less and live more. 
Learn how to let go of alcohol as a coping mechanism, how to shift your mindset about sobriety and change your drinking habits, how to create healthy routines to cope with anxiety, people pleasing and perfectionism, the importance of self-care in early sobriety, and why you don't need to be an alcoholic to live an alcohol free life. 
Be sure to grab the Free 30 Day Guide To Quitting Drinking right here.
Are you subscribed to my podcast? If you're not, I want to encourage you to do that today. I don't want you to miss an episode.
I'm adding a bunch of bonus episodes to the mix and if you're not subscribed there's a good chance you'll miss out on those. Click here to subscribe in iTunes!
Now if you're feeling extra loving, I would be really grateful if you left me a review over on iTunes, too. Those reviews help other people find my podcast and they're also fun for me to go in and read. Just click here to review, select "Ratings and Reviews" and "Write a Review" and let me know what your favorite part of the podcast is. Thank you!
OTHER WAYS TO ENJOY THIS POST: