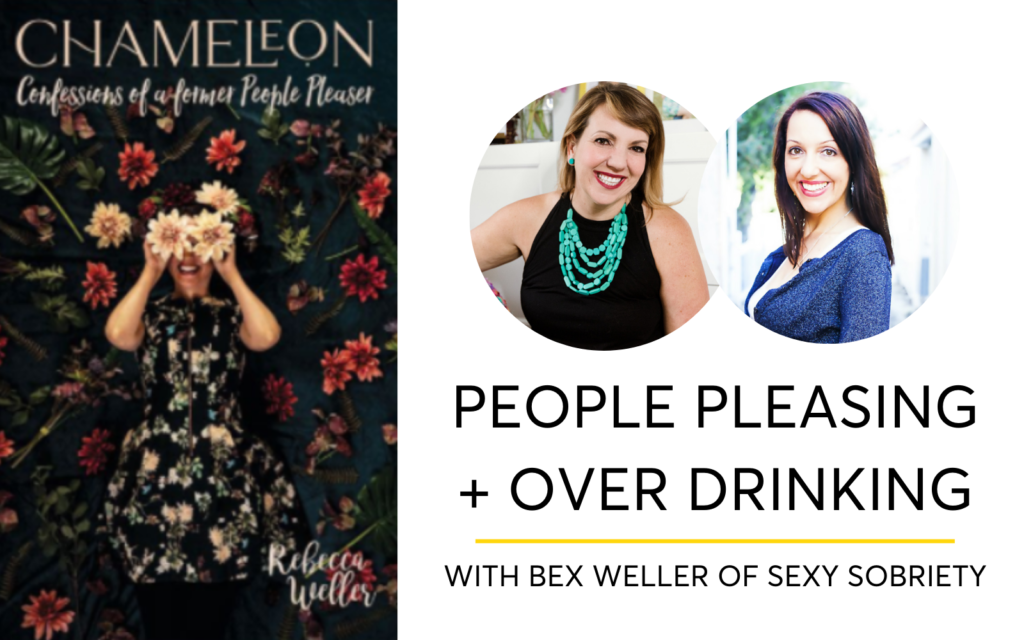 A lot of people pleasers turn to alcohol to fit in, blend in with the crowd or get out of their own heads.
These days I describe myself as a retired people pleaser (and an ex-drinker!) and the two really go hand in hand.
For years I hustled to make sure that everyone around me was happy, that I was liked and well thought of and lived in fear that I would drop a ball or wouldn't measure up to what was expected of me (especially at work) 
And my reward for constantly trying to please everyone around me was… 
✨ An overstuffed calendar
✨ A constant feeling of unease that someone might be mad at me (or worse…disappointed!)
✨ Feeling super anxious at any sign of conflict 
✨ And the desire to check out at night with wine
If people pleasing makes you

worry about what other people think of you, look towards others for approval, or feel like you need to please the people around you to be accepted and loved, it's common to reach for a drink to ease that discomfort.

 
Seeking approval from others can lead to constant underlying anxiety that the approval you're working for can be taken away at any minute.
So let's talk about how to stop being a people pleaser when you're quitting drinking. 
Now you may recognize my guest today, Bex Weller. I had Bex on the podcast earlier to talk about why life after alcohol is awesome. And you can find that episode at www.hellosomedaycoaching.com/48.
Bex is back to talk about her new book Chameleon: Confessions of a Former People Pleaser. Her new book dives into the disease to please and the magic of finding our way back to ourselves. 
We dig into:
✅

The connection between people pleasing, anxiety and over drinking
✅ What drives the need to be liked and avoid conflict 
✅ Why people pleasing can lead to unsatisfying relationships and resentments
✅ How to prioritize your own priorities and needs without feeling selfish
✅ Why it's important to set boundaries instead of people pleasing in early sobriety
Want more support, resources and tools to help you go alcohol-free?
Join The Sobriety Starter Kit.
I've helped thousands of women change their relationship with alcohol and can teach you the step-by-step system you need to successfully take a break from drinking (even if you've tried and failed in the past).
Grab the  Free Sober Girls Guide To Quitting Drinking, 30 Tips For Your First 30 Days
Bex's previous episode, Sexy Sobriety with Bex Weller
The Sober Girl's Guide To Saying No. How to set boundaries when you're quitting drinking.
Core values podcast interview Finding Your Compass For Life w/ Casey Davidson – Confident Sober Women (podcast) 
More about Bex Weller
Bex Weller  is a Health Coach & a Life Coach, an author and a Speaker out of Perth Australia and she's the creator of Sexy Sobriety. Bex helps women from around the world to get their sparkle back and create a life they love. Creator of SexySobriety.com, she leads one-on-one and group coaching programs, hosts live events, and is the author of the best-selling memoir, A Happier Hour, and the long-awaited follow-up, Up All Day. 
Bex writes about love, life, and the strength and potential of the human spirit. Her work has been featured by The Telstra Business Awards, The Australian, Fast Company, Sydney Morning Herald, The Huffington Post, MindBodyGreen, Better Homes & Gardens USA, SBS Food, Good Health Magazine, Marie Claire Australia, and Elle Quebec. Learn more at BexWeller.com. 
Follow Bex on Instagram @BexWeller 
Connect on Facebook at Bex Weller, SS
Want to connect and talk about this podcast?
Take a screenshot of your favorite episode, post it on your Instagram and tag me @caseymdavidson and tell me your biggest takeaway!
Want to read the full transcript of this podcast episode? Scroll down on this page. 
ABOUT THE HELLO SOMEDAY PODCAST
The Hello Someday Podcast helps busy and successful women build a life they love without alcohol. Host Casey McGuire Davidson, a certified life coach and creator of The Sober Girl's Guide to Quitting Drinking, brings together her experience of quitting drinking while navigating work and motherhood, along with the voices of experts in personal development, self-care, addiction and recovery and self-improvement. 
Whether you know you want to stop drinking and live an alcohol free life, are sober curious, or are in recovery this podcast is for you.
In each episode Casey will share the tried and true secrets of how to drink less and live more. 
Learn how to let go of alcohol as a coping mechanism, how to shift your mindset about sobriety and change your drinking habits, how to create healthy routines to cope with anxiety, people pleasing and perfectionism, the importance of self-care in early sobriety, and why you don't need to be an alcoholic to live an alcohol free life. 
Be sure to grab the Free Sober Girl's Guide To Quitting Drinking right here.
Are you subscribed to my podcast? If you're not, I want to encourage you to do that today. I don't want you to miss an episode.
I'm adding a bunch of bonus episodes to the mix and if you're not subscribed there's a good chance you'll miss out on those. Click here to subscribe in iTunes!
Now if you're feeling extra loving, I would be really grateful if you left me a review over on iTunes, too. Those reviews help other people find my podcast and they're also fun for me to go in and read. Just click here to review, select "Ratings and Reviews" and "Write a Review" and let me know what your favorite part of the podcast is. Thank you!
OTHER WAYS TO ENJOY THIS POST: