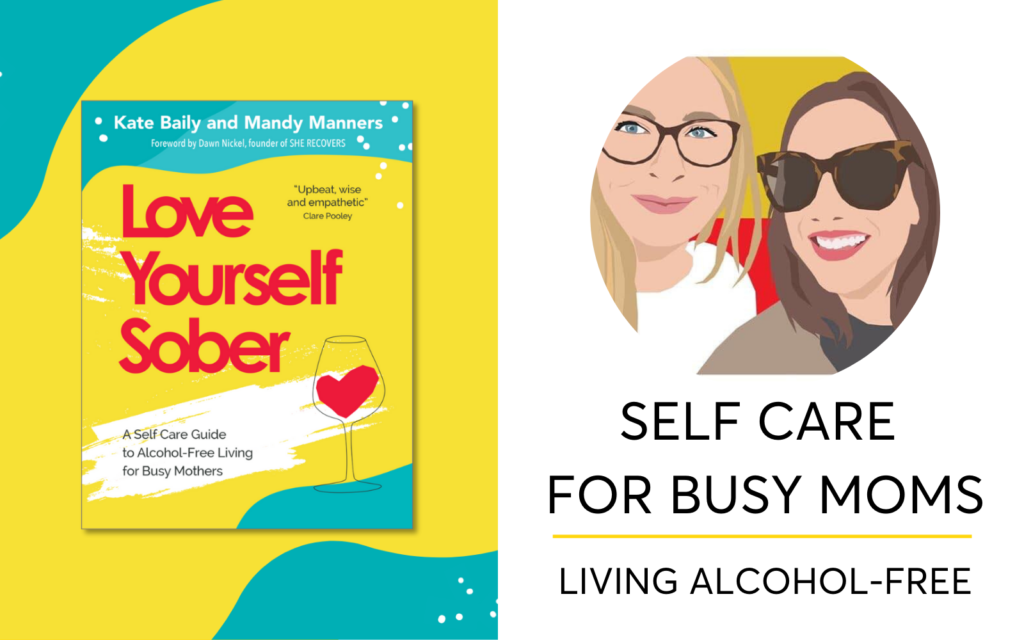 LOVE YOURSELF SOBER
A Self Care Guide For Busy Moms Going Alcohol-Free
Are you a busy mom who has been using alcohol as a coping mechanism?
You're not alone.
My guests today are Kate Baily and Mandy Manners, the authors of the new book, Love Yourself Sober – A Self Care Guide For Busy Moms Going Alcohol-Free, and we're talking about what to do if you're questioning your drinking habits and how to create a live you love without alcohol. 
Kate and Mandy are certified coaches and sober besties who met online. They are writers, community builders and podcast hosts. They work with women who are questioning their drinking and want to create a life they love sober.
In this episode, we dive deep into:
Why moms often use alcohol to cope and create space in motherhood

What to do if you feel sad and disconnected from your life

How to recognize if your relationship with alcohol has become problematic

Why exploring grey area drinking and sober curiosity can be positive and joyous

Practical tools that will help if you realize that alcohol isn't serving you anymore

The importance of self care in your sobriety tool kit and why we love sober treats

Why to ditch the shame if you've stopped drinking and gone back to alcohol again

Mental health, positive psychology, how to 'sense your no' and all the tools to live a sober life you love
More about Kate Baily
Kate stopped drinking in her early 40s after she had her youngest child. Stopping was not easy; there was a lot of fear. How would she cope without my helper? She was having to rethink everything, she was fighting the brainwashing and marketing, facing the fears about relationships and friendships changing, not knowing how to switch off, trying to stay calm as really primal fears raged. She worked hard at keeping busy till wine o'clock was past, she ate chocolate, she watched boxsets compulsively.  But slowly the days clocked up. She immersed herself in quit lit and reading blogs on the site, made online friends and weeks turned into months. A new habit was forming and gradually felt less like pushing a boulder up a hill. 
More about Mandy Manners
Mandy started drinking recreationally when she was 14. She was a curious kid with a nose for adventure and a bit of mischief. In Feb 2014, she stopped and didn't drink for a year, again it was fantastic; she  went through a rebirth of strength, positivity and possibility. She lost weight, quit her job, and decided to move away from the city and start a new life in a smaller town by the sea. She was so positive that after a year she deemed herself fixed and convinced herself that she could drink moderately. From 2015-2017 she drank on and off, she knew she was better without booze, but she wanted to be "normal". In August 2018 she made a commitment to life-long sobriety.
She realized that if she shared her story, it could help, so she engaged with the sober community on Instagram and Facebook and listened to podcasts and started going to events and realised that there is a really wonderful community of sober people.
" I don't regret or feel my sobriety has been forced upon me, I have chosen sobriety for me, my body and my brain. It has been the biggest gift and I am SO happy to be sober."
Resources & Links Mentioned
Learn more about Kate & Mandy and how they can support you in quitting drinking, head over to their website lovesober.com
Listen to their podcast, Love Sober
Purchase their book Love Yourself Sober: A Self Care Guide to Alcohol-Free Living for Busy Mothers
Support, resources and tools to help you go alcohol-free
Drink Less + Live More today with The Sobriety Starter Kit. The private, on-demand coaching course you need to break out of the drinking cycle – without white-knuckling it or hating the process.
Grab your  Free Sober Girls Guide To Quitting Drinking, 30 Tips For Your First 30 Days
Find My Favorite Sober Facebook Groups, The BFB "Booze Free Brigade" and She Recovers Together
Connect with Casey
Find out more about Casey and her coaching programs, head over to her website, www.hellosomedaycoaching.com
Take a screenshot of your favorite episode, post it on your Instagram and tag me @caseymdavidson and tell me your biggest takeaway!
ABOUT THE HELLO SOMEDAY PODCAST
The Hello Someday Podcast helps busy and successful women build a life they love without alcohol. Host Casey McGuire Davidson, a certified life coach and creator of The Sober Girl's Guide to Quitting Drinking, brings together her experience of quitting drinking while navigating work and motherhood, along with the voices of experts in personal development, self-care, addiction and recovery and self-improvement. 
Whether you know you want to stop drinking and live an alcohol free life, are sober curious, or are in recovery this podcast is for you.
In each episode Casey will share the tried and true secrets of how to drink less and live more. 
Learn how to let go of alcohol as a coping mechanism, how to shift your mindset about sobriety and change your drinking habits, how to create healthy routines to cope with anxiety, people pleasing and perfectionism, the importance of self-care in early sobriety, and why you don't need to be an alcoholic to live an alcohol free life. 
Be sure to grab the Free Sober Girl's Guide To Quitting Drinking right here.
Are you subscribed to my podcast? If you're not, I want to encourage you to do that today. I don't want you to miss an episode.
I'm adding a bunch of bonus episodes to the mix and if you're not subscribed there's a good chance you'll miss out on those. Click here to subscribe in iTunes!
Now if you're feeling extra loving, I would be really grateful if you left me a review over on iTunes, too. Those reviews help other people find my podcast and they're also fun for me to go in and read. Just click here to review, select "Ratings and Reviews" and "Write a Review" and let me know what your favorite part of the podcast is. Thank you!
OTHER WAYS TO ENJOY THIS POST: