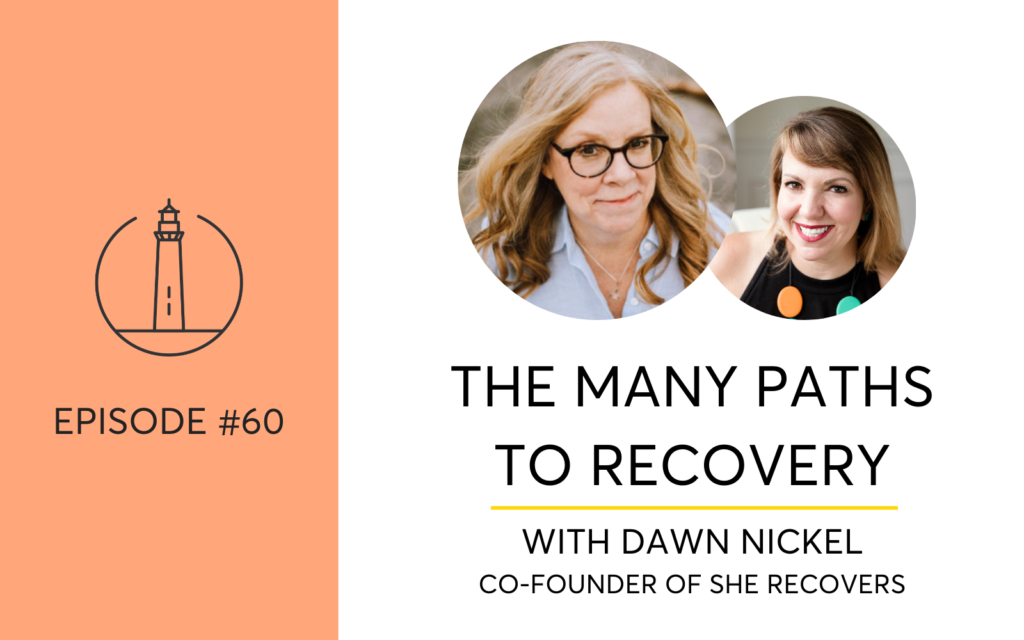 Dawn Nickel of She Recovers on The Many Paths To Recovery
Sometimes if you're lucky someone reaches out to you in the early days when you're first trying to stop drinking and shows you how to take the first steps. 
And for me that person was Dawn Nickel. 
8 years ago, when I first thought that I needed to stop drinking and decided to try life without wine, Dawn reached out to me. 
I was traveling with my son and husband from Seattle to Victoria, British Columbia for a long weekend.
It was my first in 5 years where I wasn't going to drink and I was 20 days sober.
Dawn picked me up for coffee, drove me to a beautiful beach and we talked all about drinking and not drinking, where I was, what I wanted and what I was afraid of.  
She's amazing. And she's also a pretty big deal. 
I was thrilled to interview Dawn and talk about women and the way we recover, from all things and in all ways. 
I hope you love this conversation as much as I did. 
Dr. Dawn Nickel is a respected thought leader in the women's recovery sphere and (along with her daughter Taryn Strong) the founder of SHE RECOVERS Foundation, a not-for-profit grassroots organization that inspires hope, reduces stigma, and empowers women in or seeking recovery for substance use and/or mental health challenges. 
Dawn is a strong advocate for the view that every woman in or seeking recovery must be supported to find the tools and pathways that will work best for her as an individual. 
In this episode, Dawn and I discuss:
The fact that we are all recovering from something. 

The principle that we can stop drinking whenever it's no longer working for us or making our lives better. We don't have to hit bottom to choose a healthier path in any area of our lives. 

Why it's important for everyone to find and follow their individualized path to healing. 

How to focus on your strengths, not your defects in order to support positive change. 

Why self-care is critical to our wellbeing. 
Links & resources mentioned in the episode
To find out more about She Recovers and how they can support you on your recovery journey, head over to

www.sherecovers.org.
Looking for positive affirmations to encourage and motivate you, check out Intentions & Guiding Principles | SHE RECOVERS® Foundation
Want more support, resources and tools to help you go alcohol-free?
You can Drink Less + Live More today with The Sobriety Starter Kit. It's the private, on-demand coaching course you need to break out of the drinking cycle – without white-knuckling it or hating the process.
More About Dr. Dawn Nickel
Dawn is a Certified Professional Recovery Coach, with a PhD and professional experience related to women and health care policy. In her work as a researcher and consultant, Dawn has focused largely on exploring how best to support women who experience substance use disorders, mental health issues and intimate partner violence, the three issues that prompted Dawn to start her own personal recovery journey in 1987.
Since 2011, Dawn and her daughter Taryn Strong (also in recovery) have dedicated their lives to growing SHE RECOVERS and its offerings so that more women (and more women from diverse backgrounds) have the access, resources, support and freedoms necessary to cultivate individualized and holistic pathways in order to find health, sustain long-term recovery, achieve their potential, and help other women to do the same. 
Connect with Casey
Take a screenshot of your favorite episode, post it on your Instagram and tag me @caseymdavidson and tell me your biggest takeaway!
Want to read the full transcript of this podcast episode? Scroll down on this page.
READ THE TRANSCRIPT OF THIS PODCAST INTERVIEW
Dawn Nickel of She Recovers on The Many Paths To Recovery
SUMMARY KEYWORDS
Drinking, recovers, recovery, people, quit drinking, women, life, retreat, day, talk, feel, sober, Taryn, yoga, friends, alcohol, meetings, years, person, love, group, SHE RECOVERS®,
SPEAKERS: Casey McGuire Davidson + Dawn Nickel
00:02
Welcome to the Hello Someday Podcast, the podcast for busy women who are ready to drink less and live more. I'm Casey McGuire Davidson, ex-red wine girl turned life coach helping women create lives they love without alcohol. But it wasn't that long ago that I was anxious, overwhelmed, and drinking a bottle of wine and night to unwind. I thought that wine was the glue, holding my life together, helping me cope with my kids, my stressful job and my busy life. I didn't realize that my love affair with drinking was making me more anxious and less able to manage my responsibilities.
In this podcast, my goal is to teach you the tried and true secrets of creating and living a life you don't want to escape from.
Each week, I'll bring you tools, lessons and conversations to help you drink less and live more. I'll teach you how to navigate our drinking obsessed culture without a bus, how to sit with your emotions, when you're lonely or angry, frustrated or overwhelmed, how to self soothe without a drink, and how to turn the decision to stop drinking from your worst case scenario to the best decision of your life.
I am so glad you're here. Now let's get started.
Hi there. I am really excited about this podcast episode because my guest is Dawn Nickel. She's the co-founder of SHE RECOVERS® and we go way back. We go back about eight years when I was in my first 20 days of trying to stop drinking. And Dawn actually was, and this was my first time. I actually stopped for the last time 5 years ago. But I had found this online group of people who were going booze free and mentioned that within 20 days of stopping, I was going to Victoria BC on the clipper from Seattle with my son who was five at the time maybe, and my husband and I had never ever traveled without drinking. Like, I was kind of freaking out. And Dawn messaged me and was like, I live here. Can we go out for coffee and meet? And you know, it was so crazy. I will do your formal intro in just one second, Dawn. But seriously, made my whole Recovery path, like, easier. I was special. I remember it very well. It was… And I, you know, I had all those thoughts which I'm sure women listening to this will think of like, oh my god, this is weird. I don't know this woman. I'm not sure I'm ready to quit forever. So, like, Yikes, do I really want to talk to another human being about this? And also like, what am I gonna say to my husband? Like, he knows I don't know anyone here like I hadn't talked to him about all the shit in my head. So it was like, how am I going to be like, Hey, I might go out with this coffee for this woman but Don picked me up in her car and drove me like a little tour of Victoria and we went out for coffee at this cute little place and went to sit on a beach and watch the water and just talked and you were so kind and so helpful. And now you're so big and in charge of this huge operation and you're known so well, and I can't believe that I got to meet you way back in the day just because you were kind.
03:32
Well, it was. It was a special day. It was a sunny day like today, and I'd give anything to go and sit on a log with you again today. I'll tell you, oh my god, nice to see you.
Casey McGuire Davidson  03:40
Me too. Me too. So thank you for coming on. We are going to talk about she recoveries and more importantly the guiding principles behind she recovers because for me and I know for a lot of women I initially because it was what was suggested to me in early sobriety went to some 12 step meetings I went for about four months didn't end up being my path. I know it was for you I know it is for a lot of women, but I ended up you know was a member of she recovers for years. I'm one of the early members of the Seattle sharing circles super love that group love those women. I've gone on many Salt Spring Island yoga retreats with Taryn and I went to your big conference in LA I can't wait to go to Mexico and Miami when it opens up. But the principles are just so inclusive, without labels, allowing you to choose different paths. I mean, it is what I needed when I was ready to quit drinking and not ready to go a 12-step direction. Right?
Yeah, I want to talk about all those because I love them. I did just become a she recovers coach. Yes you did, which I'm so excited about to be official. And I'll tell listeners if they I don't know you, I know many of them do a little bit about you. So Dr. Don nickel is a respected thought leader in the women's recovery sphere along with her daughter, Taryn strong, who I love who's actually been on this podcast, right? Talk about yoga and essential oils for recovery. You're the founder of this, she recovers Foundation, which is a not for profit, grassroots organization to inspire hope, reduce stigma, and empower women in are seeking recovery from substance abuse and or mental health challenges. And I know that one thing that you're super passionate about is we're all recovering from something. It's not just necessarily alcohol or drugs.
05:43
Yeah, alcohol. I mean, substances are just, they're our coping mechanism. They're more our solution than our problem in many ways, right? It's kind of what we've used. It's how we're hiding in a particular moment in our lives. We have to get underneath why we drink or do drugs as much as we do in the first place. Or why even if we don't do a lot of drugs or drink a lot, you know, what is it that we're trying to numb out? So yeah, our first intention and guiding principle is we're all recovering from something.
Casey McGuire Davidson  06:09
Yeah. And I know that if you ask women because I've been on the Salt Spring Island retreats, which are incredible and amazing and can't wait to go back. You know, you kind of ask us to fill out like, what are we recovering from? And of course, for me, it was alcohol. I quit drinking that was big, but also anxiety. I know other women, you know, who I met there are recovering from a cancer diagnosis or treatment or from divorce or from death of a loved one or all the other things that just as human beings we go through in life.
06:41
Yeah, disordered eating, love addiction, sex addiction, gambling, codependency, perfectionism, all of the things and you know, I guess for many of us, the truth of the matter is that underlying all of the things is often trauma or some sort of childhood emotional neglect. Trauma doesn't need to be a big, huge kind of violent, traumatic episode in your life. If your parents divorced when you were a child, if somebody in your family was really ill, when you were a child, there's, if you're not familiar with the aces study, the adverse childhood effects, experiences study, you know, that lists kind of risk factors for people like us who and if we score however high we score on the aces test, we'll maybe determine where we end up with regard to behavioral health mental health and substance use issues and other either behaviors or substance dependencies.
So yeah, you know, it's just we are we are also much more alike than we are different. And that's the premise of the she recovers foundation that she recovers movement and the she recovers intentions and guiding principles, right there's we're just we're all alike, and just come along, if you're a person who's interested in personal development, or healing, or just in meeting other like hearted like-minded women, you're welcome. Like, we're very inclusive and welcoming. And we think it's really important that everybody has a space to just be who they are, and talk about the things that may not be easy to talk about in most spaces, we want to open up so that people do feel like they can explore, you know, you know, just as you've seen on retreat, and on our daily meetings, we host to daily meetings, a lot of the women and other non-binary individuals who identify with women's communities come along, and they say, Well, when I got here, I thought I had an alcohol problem or a cannabis problem, or even a heroin problem or a love addiction problem. But the longer I stay around, they say, you know, the more I realized that, really, my main problem is low self-esteem, and that was born out of my childhood. And I've just layered all these behaviors on top of that. So that's definitely what we're most known for is this sense that we're all recovering from something and we don't have to recover in silos. So ,I know in my early recovery, which I started 34 years ago, it I had to go to 112 step programs for addiction, another one for codependency another one to you know, for adult childhood dysfunction. And who has time for 14 different programs, because you have 14 issues, right? I really believe in The soloing. Recovery so that we can just bring our whole selves to one space and work our way out from there. And also, we have a lot to learn from one another. So I can learn an awful lot from somebody who is a love addict, because she'll have had experiences that that mirror mind maybe with a different focus, but or anybody recovering from grief. It's just yeah, we're stronger together. That's another piece of one of our principles, right. 
Casey McGuire Davidson  09:25
And I just really yearn, and I believe that you're not alone. And in these recovery communities in she recovers, I find that it is which was funny for me, because I always had a lot of really close friends. I was way more honest with people in those groups than I ever was with some of my friends who I saw often but we always talked about work or how busy we were the kids or, you know, just surface stuff. Whereas in the groups I was like, I'm really angry. I'm really resentful. I have these fears. I'm physically uncomfortable. You know, like, what It is. So just that honesty and having other people be like me, too. I felt that it was in some of those groups that I was like, you guys, my doctor put me on Lexapro because I'm having all this anxiety and I feel like total garbage and I'm kind of freaking out, is it going to get better? And they were like, you know, they answered me and messaged me and told me like, hold on, I felt that way to this. And that, and I'm not saying that anyone else if they're not feeling good on Blacksburg to hold on, but it gave me a lot of comfort. My husband had no idea. I didn't know if it was normal. But just to hear from like, 15 women, and you know, to be able to get that kind of information. You know, of course, it's anecdotal, but it was God, it was comforting.
10:41
I think that that's what again, recovery is an invitation, right? And how we invite other women or, you know, other individuals to participate in their own recovery is by modeling our own vulnerability. If it's the same for all of us who come into recovery, many of us, I think, declare that for the first time in my life, I started having real conversations about feelings. And you know, it's after a short period of time, you realize, oh, maybe I ended up the way I did, the issues that I do have, because I'd spent 20 3040 5060 years, ignoring my feelings not being given permission to talk about how I feel. So it's very contagious. I think when we hear other women open up and be honest about hard stuff, it takes a while for some of us before we can speak into it, and you know, speak up about our own experiences. And that's okay. There's no kind of timeline on when people start to spill their guts all over the place. But it is through the bravery, and the example of others that we learn how to do it's how we learned how to use our voice by hearing other women use theirs. And it's just so powerful. Casey, I know you know that.
  11:44
Yeah. And I love when you were talking about trauma, and everybody's trauma is different. Like it wasn't until I went to therapy when I was like four months since giving up alcohol that my therapist explained to me, I was like, but nothing happened to me. I had a good life. I my parents loved me, nothing happened. And then she kind of explained to me like the concept of like big t little t trauma like, and you know whether or not that's the right phrase, like, Oh, you know, you go into boarding school at 14 that's trauma, you moving every two years, that's trauma, your parents working all the time. And, you know, having housekeepers around like that, too. I mean, it all shaped reasons why when I drank it felt really good and turned off my mind. And I didn't feel like I had to hustle for love or be worthy or whatever it was, right?
12:33
Exactly, we kind of we do stay away from more recently, we stay away from the idea of big T, little T, just kind of different connotations. But you're right, the concept is the same. I remember getting into recovery and really digging deeply into therapy, because I was sure that I would have to uncover child sexual abuse to explain where I had landed because I had a really, really low bottom. And there had to be something like that. And you know, what I ended up uncovering with something. Not it wasn't that was not my experience. I did have sexual abuse in my teen years, but not as a young child. But a really got to shine a light on child like emotional neglect. Yeah. And how very harmful that is for children, and give myself permission to say, okay, you know, it was bad enough. That was bad enough. Yeah, things that happened in my family, the things that I had inherited through the generations. I mean, it was enough of a package to create what happens to me. And, you know, Taryn and I parent in particular, is really, really riveted by concepts of intergenerational trauma. So we've done a lot of exploration into the Art link or lineage. You know, it just kind of becomes cumulative until somebody in the family like you are like I says, okay, it's gonna stop here. And we're gonna start unpacking this and we're gonna change it for our children and our grandchildren as best we can. We can't dictate and control what's going to happen. But it really is about giving ourselves permission to tell our story. Our stories don't we don't have to compare who's worse and who's not. Everything that we experienced is valid, and how we recover from all of those experiences is valid too.
Casey McGuire Davidson  14:08
If you're listening to this episode and have been trying to take a break from drinking, but keep starting and stopping and starting again, I want to invite you to take a look at my on demand coaching course, The Sobriety Starter Kit. The Sobriety Starter Kit is an online self study, sober coaching course that will help you quit drinking and build a life you love without alcohol without white knuckling it or hating the process. The course includes the exact step-by-step coaching framework I work through with my private coaching clients, but at a much more affordable price than one-on-one coaching. And The Sobriety Starter Kit is ready, waiting and available to support you anytime you need it, when it fits into your schedule.  You don't need to work your life around group meetings or classes at a specific day or time. This course is not a 30 day challenge, or a one day at a time approach. Instead, it's a step-by-step formula for changing your relationship with alcohol. The course will help you turn the decision to stop drinking from your worst case scenario to the best decision of your life. You will sleep better and have more energy, you'll look better and feel better, you'll have more patience and less anxiety. And with my approach you won't feel deprived or isolated in the process. So if you're interested in learning more about all the details, please go to www.sobrietystarterkit.com. You can start at any time and I would love to see you in the course.
Yeah, absolutely. And, you know, I mean, I think you do change that as you move forward, Justin, you know, our parents did different job, hopefully sometimes better than their parents did for them. I know, I'm trying to do better for my kids than then what was modeled for me about even talking about mental health and talking about, you know, drinking and you know, that not everyone needs to drink. And that it is, by the way addictive. And you know, it's not harmless. And that, you know, the people who succumb down that path aren't different than everybody else. I know that that a while ago, I was sort of taking, I take anti-anxiety meds and stuff. And my son was like, what's that mom? And I started to just be like, Oh, it's nothing, whatever vitamins. And then I stopped. He was like, six or seven. I was like, okay, actually, I have anxiety, and I take this medication for it. And it makes me feel a lot better. And he was like, Oh, you know what I mean. But yeah, back in my grandmother's day, that would have been super shameful that you would never discuss.
17:14
Yeah, well, and you wouldn't have had those tools. Right? We didn't have these pharmacological tools back then. Yeah, thankfully we do. Yes. Um, yeah. Definitely a strong proponent for everybody takes their meds.
Casey McGuire Davidson  17:26
Yeah, absolutely. And one of the things I also love about she recovers is the idea that we don't have to hit rock bottom to pursue recovery, any area of our lives. And you believe in early intervention. Will you talk to me a little bit about that, and why that was important to you?
17:43
Yeah. Well, and it is so important. And it's, I think, what I think it is, in large part, what has enabled the recovery movement to become as great and as broad as it is, is this idea that, you know, we've moved away from the ideology that was really perpetuated in large part in 12 step recovery program, I am a member of a 12 step program. I love 12 step recovery, I'm not a lot involved in that program. These days, I always say I've got enough going on when she recovers. But I still consider myself a member of a 12-step recovery group for drug addiction. And you know, the idea was that you had to hit rock bottom the language in those programs is jails, institutions and death. I mean, that's where we go, yes. And so for a lot of us who ended up I mean, I was a person who should have been in jail, but never got busted, I did end up in mental institutions and nearly died by overdose many times. So I had a very low bottom. So that was my thinking. But in the last 10 years, and while we've been building this, she recovers movement, I've really witnessed that it's just not like that for everybody. You know, in some 12 step recovery programs, people say, you know, you you're not ready, I met so many, you're not ready. So like, okay, so I'm not ready. So I need to go back out, and use more, drink more, take more heroin. And then when I come back, you'll have me here and help me because then I'll be ready.
That never made sense to me. And all the time that I was in, in 12 step recovery. And so what I've seen in the last 10 years are women like you and so many of the women who I know through my 12 step or sorry, though she recovers, who are like kind of at first, I was like, Who are these people that I mean, they and I tell this story over and over, but one woman early on at a retreat and said to me shared, you know, I stopped drinking because one night I blacked out, and I realized I had a serious, serious problem. And for her, that was a serious, serious problem. For me. I blacked out the first time I ever drank. And every time after for 10 years, I also blacked out the first time I drank. So but I remember thinking, wow, like there's it's kind of like you can get off the merry go round long before you know that that's anything to be proud of. No, no, no. So just kind of playing with that concept. And then as somebody like I'm a PhD in health care policy and in the health world. I mean, everything is about prevention and early intervention. And so I just started putting together you know, she recovers. And all the work that I do is always an amalgamation of my experience, what I'm observing in the recovery community and my education and experience and professional work. So this concept of early intervention was something that we started talking about early on. And I think that's why, again, we drew a lot of people to our movement was because we were talking that language that you get either people who don't even you don't even have to have any negative consequences to your substance use, or I'll use substance use, because it's, this is the podcast for that. But you don't have to have had really negative outcomes from your drinking. But you if you're asking yourself, like what's it, I would say? What is it adding to your life, and if it's adding nothing, and you can see where there are some instances where it's taking away where you can see or forecast because maybe of people in your family and the lineage and you know, from your own experience, maybe even when you were younger, that your drinking has it, there's a chance that it could go in the wrong direction, or like in the direction towards greater dependency, and you make the decision to stop.
I think that is a brilliant idea. And so this, you know, the whole sober, curious movement, the great drinking, all of these concepts that nobody would have even paid attention to 1520 years ago, because there would have been no air in the room allowed for that is really what I think is so remarkable. It's what's grown the movement, it's what made it more available to more people. And it's saving women's lives, and its healing families. And it's making a difference in communities. It's always to say like, we're in recovery from all the things yeah, and we're at different points along the spectrum, regardless of what it is, some of us are, like, nearly hidden bottom, and others are like just at the beginning. And we so we need to be in recovery from all the things recognize all of the points along the spectrum, and then offer as many opportunities for healing at each of those points, as is humanly possible. So it's just you know, it's she recovers is all about more and more and more, just like my addiction was only better and healthier things.
Casey McGuire Davidson  21:57
Well, I know that when I first went, and this was actually when we first met a years ago, you know, someone who I met, I thought was awesome on one of these groups. She was four months sober, she was going to AIA, she invited me along. And you know, the women there were really, really nice. And I went for four months. And but the whole time there was this, like, cognitive dissonance. Like I didn't like saying, I'm Casey, I'm an alcoholic. I actually didn't necessarily believe that, or I didn't identify with that. I certainly didn't like it. And when I felt like I had to say it, or if I didn't and express doubts, because I did start with a sponsor. She was like you're in denial. And you know, the whole jails institutions death, I was like, but I don't necessarily believe that. And therefore, maybe I am not that bad. And therefore maybe I can keep drinking. Right? And so right. Just the idea that like, you don't have to hit bottom. If you're, you know, for me if I was waking up in the middle of night at 3am and feeling like total garbage and always wanting to open a bottle of wine and not remembering stuff at night. Like that's bad enough to decide that I feel better without it.
23:12
Absolutely, absolutely. I think so. And you know that you're drinking it, whatever stage you're at, it was progressing. I mean, yeah, 12 step recovery has right is it does progress the elevator and so it doesn't stay the same. I think you know, what I like to say about 12 step recovery is that it's literally saved millions and millions of lives. And it's such an important option. But it is just like it, it's in terms of accessibility. It's the most accessible because it's everywhere. It's free, freest. So the cheapest and to be honest, like in terms of in my recovery in in the 12 step recovery for drug addiction, it's the most diverse, like, if you go to the meetings that I would go to, if I went in the United States, you would see a lot of people of color. Yeah. So it's certainly something that is accessible and meaningful for a broader range of people that, you know, it's a ton of friends. And I know we both do, who got sober in 12 step programs, and absolutely love it. And I love the women in it. Yeah, so I love knowing that it's there. But I like how you say it's an option only because so much often in recovery. It's seen as the only option. Like I talked to doctors and therapists, they literally don't know anything else exists.
24:28
Exactly. And I do think that that's what is why it's so important to talk about other modalities because it is as widespread as it is you and I know that it doesn't work for everything, but I love it. The other thing that I love about it is its kind of like just how underneath us, we're all so much more like yes, recovery is a journey of self-awareness. It's a journey back to ourselves. And whether you do that using the 12 steps, or yoga and meditation and essential oils and therapy and all the other things. It's like the philosophy of recovery is the same. It's just packaged differently. It's packaged differently and we get to kind of we encourage people I know we're not there yet, but that we must be supported to find and follow individualized pathways and Patrick's of retiree mean, just about to ask you about. Yeah, let's talk.
25:12
Yeah. Because then that means that you know what I do go to meetings, I usually go to meetings when I'm in Mexico, quite frankly, because I have time to do it there. And we go for talk. We it's an early meeting at 530. And everybody goes for tacos afterwards. So it's not going to go to a meeting, or we have meetings on the beach. And at our retreats in Mexico. We have meetings at 630 in the morning before yoga.
Casey McGuire Davidson  25:32
Okay, so I am signed up for the Feby No, no, it got moved November, the week after Thanksgiving Mexico retreat with like, I mean, some of my best friends. Yeah. From the made-out group and a couple other women I know. Cannot Wait, can you briefly tell us about that retreat, because I just want to get excited.
25:51
Sure. So all she recovers was in 2011, wasn't even she recovers. It was just I was writing a blog called recovering dawn. And then when I went back to work, and I was off work because of workaholism. And when I went back to work, I knew I couldn't blog every day you bright. So you know that writing a blog takes a long, long time. So we switched over to Facebook, we started the she recovers Facebook page, and then within a year decided we wanted to host a retreat, the yoga and recovery retreat, because terrines, a yoga teacher, very talented, as you know. And we booked our first she recovers yoga and recovery retreat in New Mexico in 2012. And it was so wonderful that we decided we wanted to do another one in 2013, we moved to a different venue. So we went to this place. And it's called plastic, NATO. It's about 20 minutes from the Cancun airport. It's our own villa. It's a 10 room Villa with our own private beach. There's a chef, a private chef who comes with the villa and his staff, and then, you know, a cleaning staff and grounds person and the most wonderful people like they're like a second family to me now. And so we started retreating there in 2013. And our retreats are really about healing. I mean, as much as we pitch them as self-care and luxurious and everything else, a lot of deep healing goes on at those retreats because you have 20 women, and a total 20 or 21 women coming together and taking care, you know, like kind of being blessed by the sun and the good food and each other's company and the yoga and so it's a journey inward and it really ends up being this incredible self-development kind of self-awareness exercise. There's always coaches there. So you know you're being led and supported by coaches. And I don't know it's they're just magical until I can't really even describe it until you get there other than to say that the magic really is in the connection. And we sit on this beautiful veranda overlooking the ocean that's attached to the villa. We have breakfast and dinner there and lunch we have out on the patio by the pool. But one of the funniest things that happens is after breakfast, which is right after yoga, so 730 Yoga 830 breakfast and usually it tends to 10 or 1030 every morning on retreat, I have to go out to the veranda and remind people to get out of your chairs and go to the beach. Because women are, they just get sucked into conversation, not second, but like they just get so into conversations. And we've had to some remarkable times they're you know, Gene McCarthy, dear friend of yours and mine from the bubble hour has been on a lot of Mexico retreats and she's one of the worst for keeping captivating and then keeping people at that kitchen table. So if genes on retreat, you know for sure you have to set the alarm to go and tell them to get off their butts and get moving and go for a walk and go swimming and do all the things they need to do but it's just the connection and I think because we're so well nourished, and the yoga and then people get to rest and you know a lot of women in recovery who can afford quite frankly to go on retreats like this are tired women right we are business women or we're moms or we're you know partners or we're attracted to the concept of this retreat because we can see that we're going to do some deep healing and rest is a prerequisite for healing so yeah, it's just magical. And I can't wait for you to expire.
Casey McGuire Davidson  28:53
I can't wait either like I've been to Salt Spring twice. and Mexico has been on my bucket list that she recovers retreat I absolutely loved her ins yoga, it's like amazing. And you know I had to build up to being like, Can I go to like a you know Salt Spring is lovely it's a drive from here just the money the time the somehow telling my family I'm going to Mexico without them you know to feel like I deserve it. But you know, I don't want to make anyone jealous who is not able to go on one of these retreats or is not ready to. But I always encourage the women I work with like you need things to look forward to and you need to believe there are wonderful things out there for you to experience and enjoy that aren't in a bottle and you deserve to take care of yourself. And you know I I'm not shy about this because I think it's so cool. In five years I've saved $35,000 not poisoning my body with wine and I take a decent part of that and reinvest it in stuff that I love doing instead.
29:58
I love that and you raise it Very important point, I mean, the fact of the matter is that, um, some of our offerings are not accessible for women in terms of the cost, or even the ability to travel or leave your family behind all of those things. And that's why as a nonprofit, charity, now we, you know, we formed a charity that when we received IRS confirmation of our tax exempt status just a year ago in April, and that's why we're so busy trying to ensure that there are also a wide range of offerings, right. So we have our free online meetings twice a day, totally free, never gonna join, you don't have membership fees, like, Oh, this is, you know, this is so accessible. We have in person, we're forming chapters, and we have amazing women in communities like Seattle, and you can talk about that in a minute, if you'd like, where people are getting together at no cost, you know, eventually we'll go back to offering our workshops, which are usually sliding scale. And then there will be our conferences and our retreats, which are a higher ticket. But I can tell you is that when I got into recovery, 34 years ago, I was a young mother with two kids leaving a domestic violence situation on welfare, had no money. And there was no way you know, for years that I could have afforded to do any of the things that I'm able to do. Now, I know women in our community who literally save for three years to go on a retreat, and they just prioritize it, and they do save the money that they would normally have spent on substances, which adds up so quickly. Yeah.
So, yeah, and I'm always cautious to like, you know, because I hear women say, I'll never be able to do that. And the fact of the matter is, you will be able to do that. It may take a while, you know, your circumstances may have to shift somewhat, but we'll be doing the free gatherings, online and in person are amazing. I mean, I know so many women who just adore them, and they've made really good friends in them. And they're so accessible. So, I mean, I think that's a huge gift that you're giving us so many women regardless of their and as we set up the chapters, it'll be easier for people to find each other, right. So right now, even with the pandemic, there are groups of women, some very small, like two or three or four who have been meeting outdoors, socially distance wearing masks, going on hikes, that type of thing. Others are a little larger, like 18 people in a barn, that we're not even a barn, it's just a root, barn roof, again, socially distance and responsible. But it comes down to what I said about the retreats that the key to the magic, and healing of recovery is connection. 
Casey McGuire Davidson  32:27
And it doesn't cost it doesn't have to cost money for you to connect with other like hearted and like-minded women. Connection is so huge, because for so many of us, the fear is if I stop partying with my friends, if I stopped going to happier if I stopped doing whatever, I'm going to have no friends, and I will not have fun again. And nobody I know stops drinking or has an issue because I haven't talked about it with them. So I am the only one. And if I do have a problem, it puts me in this other category. And what I found, and you do have to be a little bit brave, but not that brave, like she recovers. And other things make it really easy, I found that a I still have a ton of my friends who drink who I knew before, who I'm still friends with, I don't go on the wine tasting weekends, because that just wouldn't be any fun for me. And that's cool. But I was sort of the one driving all of that anyway, so neither here nor there. But I also have met all these amazing, cool, smart, wonderful women who used to drink and now don't, and they are you know, people that I completely relate to connect with love being with. And that's one of the things that's made this path actually fun and rewarding and nurturing and empowering. You know, like I love getting together with the she recovers women here and hanging out with them and having real conversations and you know, to the point where my husband years ago was like, which group of friends is this? Is this your sober friends? Or is this your you know, Seattle mom, friends are your work friends? Because he's just like, they're all these groups?
33:58
Yeah. And again, it just really does come down to the realness, right? The realness of the conversations, the ability to we always say, you know, when we don't do small talk in recovery, it's just we don't know how to do it almost. It's kind of like somebody we joke sometimes to somebody sits down. Hi, my name is so and so. And I you know, I live in Seattle, and where do you live? And you know, within five minutes, well, I had an abortion and like, whatever it is, or it's just like, we just don't do small talk if we're in each other's company for very long. And again, I remember being early in recovery myself and even though I was in 12 step recovery, listening to people talk about real things. Talk about even talk about things that had happened in their childhood. It was the first time in my life as you know, the type of addicted personality I was the only conversations I had with people I was hanging out hanging out with were how loaded and stoned we'd gotten the night or the week before and it was always just regurgitating all the using nightmares that we were participating in right and then to have these real conversations about feelings. Weird. Couldn't do that for a long time in the beginning, and about how we got to be the way we are childhood, like, oh my gosh, I never talked about my childhood with anybody. Yeah, until I got to recovery. Yeah. And it's just that just that common human understanding that we have all these shared experiences, and why not all exactly that because
Casey McGuire Davidson  35:21
those are all the reasons that we want to check out. And also, it's really powerful, because I think even with our good friends, like you don't want to show anyone the bad things, right, because you're like, Oh, they won't think I have my life together. They don't think that I'm, you know, at work. I know, I was scared to tell any of my coworkers, even though they were friends that like I was really I was scared, I was gonna fuck up this project. And I was terrified, it wouldn't work. And you know, I had tons of anxiety about this presentation, because you want to look like you've got it all together, and being able to share that a Oh my god, the burden off your shoulders, but also to realize that you can share your shit and people still like you. And by the way, they have their own shit. Even though when I look at them, I think they look completely and totally together. Like, that's cool. Yeah, there's
36:12
this beautiful meme that I share. And I don't remember the quote, I can never I should have it because I love to share it. But I have to dig it up every time I want to. But its kind of talks about, you look across the room. And you see this woman and she's you just admire her, and you think oh my gosh, she's got it all together. And I just wish that I was more like her. And you're the you're You are the woman across the room for some at somebody else. Oh my god. And it's, it's just it's really powerful to think that we are that right? We are examples.
Casey McGuire Davidson  36:40
Yeah. Yeah. And we're so in our own head. You know, I actually have something on my vision board, because I need to remind myself of it. Like constantly, it says, if you could see yourself just for a minute, the way everybody else sees you, you would cry cuz you're so fucking beautiful. And I'm just like, Okay, I need to remember that. Yeah, yeah, that's exactly true. Yeah. Well, so talk to me about the principle that is recovery is a journey to wholeness. And you need to take care of yourself, body, mind, emotions, and Spirit because I know terrines Yoga is a big part of this. And I'm not a yoga girl. And when I went there, like, it just amazed me how good it felt. And not just not just physically but like listening to her voice and like the word she said, and the music and everything.
37:33
Yeah, it's quite the package. For sure. You know, originally, I used to talk about this principle as being for sure that one of the strong Terran principles, because she was so much about yoga, but even in Karen's own recovery this past many years, she has embraced this principle in a much broader way, right? Where she really does. She's talking about embodiment. She's talking about healing the body. You know, if you know, Taryn, she has very a lot of she does a lot of things in her recovery that I would never do. You know, she's done plant medicine. So it really is just about getting it that cellular level like that our physical level and how important it is. Payton, of course, has developed the beautiful embodiment practice trauma informed Dance, dance fun, and it just really is about it is a whole kind of it is a full circle journey in recovery. And it is something that when Karen describes that she says that when in early recovery for in her early recovery, all that I had to offer her was therapy, which a lot of therapy, drug testing, all that type of thing, and 12 step recovery, and she was she was okay with being drug tested, if it meant she could see her friends. And she was okay with therapy because it helped all of us, we went as a family. But she did not like 12 step recovery didn't work for her. And it wasn't until a few years later that she found yoga and realize this is my recovery. This is where I can explore who I am and where I want to go. So it's just again, it's an invitation to think, you know, when I got into recovery, oh, gosh, you know, it was like you got 12 step meetings and that's all you did. And you go there, and you drink coffee and you smoke cigarettes, and you're gonna be fine, you're gonna be very healthy if you just do that. And, and, you know, I was healthier, that wasn't the thing. So just that idea that we need to take sleep, like sleep is so important. And you know, it certainly is never about for she recovers, it's never about you need to be fit, or you need to be thin, or you need to be any of those things. You know, I always you're We are so fortunate to have in our life, our friend Ingrid, and who's helped us so much to understand more about body acceptance and, and all of those things, but it is about just treating our body as the vessel that we need it to be because it needs to carry us around. Yeah, so I know, I've had to adjust some things now going into my seventh decade of life now and 61. So minor adjustments here and there but always paying attention to the kind of the whole picture.
Casey McGuire Davidson  39:51
Well, I'm just paying attention to you know, for me, and for a lot of the women I work with, it's like okay, I want a drink and it's like why what are you feeling that you want to get rid of what emotion? Are you not trying to feel, and it can be anything, including being really fucking tired, you know, and feeling anxious feeling anxiety, feeling other things. And so really tuning into, like you said, your body, your mind, your emotions and your spirit and you know, going a level deeper to like, Okay, what am I feeling? And what are the other tools that I can use to make myself feel better? Because you do deserve to be nurtured?
40:29
Yeah. And it's like, you know, mind you, therapy, I think everyone needs therapy, spirit. I mean, everybody, some people don't resonate with the term spirituality. But really, for me all that spirituality, or spirituality can be as simple as knowing my true essence, honoring my true essence, you know, and also, I happen to believe that I have to kind of pay attention to the universe and to nature and to those things. So that's my spirituality more than anything, right? I don't follow any particular spiritual path, other than maybe nature and different things like that.
Casey McGuire Davidson  41:02
Yeah. And so another thing that I love that's in your guiding principles, and there's a reason I became a coach through shaver covers, just because basically, I love all of the things that you guys focus on, is the idea of we focus on our strengths, not our defects. And this is how we changed. I love strengths-based coaching. Because I think we're all so strong and have so much potential, regardless of where we are. But tell me what that principle means to you and how she recovers kind of explores it.
41:34
Yeah, and that one it in a way it does come that comes out in large part of my own experience early on in 12 step recovery, before I really made determined what 12 step recovery meant for me and made it my own, which is perfectly okay to do. But in the beginning, I just was a mean, when I got into recovery, I was a disaster. And I was I felt like I was one big walking defect. So to be in a program where the focus was entirely on what I heard was, I heard when everybody talked about defects. And I felt like that's why I belong, because that's me, I'm the defect. That's not what everybody was saying. But you know, you resonate, you go with where you think you are, what your energy is drawn to. And so it wasn't until I started doing therapy a few years into my recovery. And I worked with a therapist who was but what did you do, right today? What did you do? Well, last week, well, how are you know, what is good about what's happening. And I just really changed my way of thinking. And it had such a profound effect on me that it always stayed with me. So when it came time to, and also having had my own like I did a recovery coach training that took a yearlong and focused on strengths and positive psychology and all the things out there, that kind of art in the out there and easily accessible. It just made really sense. And I think that what that resonates for some women who may come from a 12-step recovery background, or they may still be in 12 step recovery. But it's just a reminder that, you know, we do need to focus on what we do well, and I just want to say to about 12 step recovery, I wrote an article. It's a blog post. And it's also I think, on our podcast called dear women in 12 step recovery. And the premise of that is, I think, the 12-step recovery is amazing, and that we cannot throw it, we cannot get rid of it. We can't, you know, we can't turn our backs on it. We can't promote it as the pathway for everybody because it isn't. And if we're going to be women staying in that program, there are some things that we can do better. And I think one of the things that I talk about is just the idea that we need to remind people that they are not their defects, that the promise of them is far beyond what they might think about themselves when they first get into recovery.
Casey McGuire Davidson  43:36
Yeah, well, and not only that, even just by listening to this by doing this work, regardless of whether you're sober, not sober. Were you on the spectrum like that is brave and courageous and a badass thing to do that 90% of people in this world never take a look at whether it's the self-work, the self-examination, what's working for you trying to change really ingrained beliefs and habits. That's good work. And you should be really proud of yourself for just doing that.
44:06
Absolutely. And I think the other way that we utilize this principle is when you know our views around abstinence, and in again, we're on recovery from something. So it's not all about alcohol or substance use in our community. But those of us are those people who are in substance use recovery. We have a lot of people new in recovery who present in our Facebook group or on our calls. And you know, they're here this so often I was sober, or I didn't smoke pot, or you know, didn't do cocaine for 90 days. And then last night, I fucked up. And it's like, the entire emphasis was on last night and fucking up. Yeah. And it's just kind of like, let's redirect to your strengths. I mean, 90 days, are you freaking kidding me? When was the last time you had 90 days without your substance of choice. So it's just you know, because we're not all about substance use. And even if we were, we're not all about abstinence, although that's my pathway. I know that. That's your pathway, it's a, it works. It's really easy for me to do. Absolutely. We're not to drink from you to moderate. Right. I had my period of moderation and harm reduction for the 10 years before I chose abstinence, it was not pretty. But that doesn't mean that moderation doesn't work for others, because I have seen it that it does. So that you know, that's another it's kind of a, it's a strengths-based approach. Right? Count your wins.
Casey McGuire Davidson  45:23
Yeah. Well, and the other thing that I like, and I know was a big deal for me was, you know, I was one of those people who, you know, match, you made a ton of really good connections online, like friends met some friends in person, and then went back to drinking and went back to, you know, I think they call it the slow shuffle, but backwards, like, I'm just gonna start being quiet or not show up and give myself distance, so that when I drink, you know, whatever, but I drank for 22 months, and I was on the BSB, which I've talked about is this secret sober Facebook group, which is where I met dawn, I'll put the link to how to find it. in the show notes. I was on there the whole time, and not posting, but I felt a ton of fear and shame, including what you would think, by the way, coming back and saying, I'm trying again, and I'm on day two, and I'm on day five. And just, you know, because I've gotten so much love and support when I was sober for a year. And so I mean, that's real. And thank God, I came back and did it and got over it, because I wouldn't be here today, right? I needed people cheering me on, on day five, way more than if I'd gotten four months on my own again, you know, I needed on day six, and the fact that you guys embraced me and didn't shame me and didn't say what the fuck is wrong with you, you know, like, thank God, right? They were just like your back huddle in your, you know, jump in here. Thank you excited to see you.
47:00
Yeah, we didn't tell you what your solution was right, you need to do this. And you need to do that. And you need to know, and I think that that's one of the most beautiful things that I see in our recovery community, and the she recovers together Facebook group. Now, it, I'm not in BFB as much anymore. But I do check in every once in a while, because I love the people there is just this acceptance of where people are at and support. And I always think about, you know, if back in the day, if I had been supported through the periods of time where I was trying to give up my substances, but not able to, who knows what would have happened, right? So it really is about we try to create a non-judgmental space for people to explore. Because it is it's true. It's only through love and acceptance and kindness when we are in pain, that we are able to transform that pain. It's not when we're ashamed if shame does the opposite.
Casey McGuire Davidson  47:53
Yeah, shame doesn't work. And to some extent, I don't think fear works long term. Right? I think that, that what really helps is believing that you're going to be happier and healthier and your life is going to be better. And looking forward to that.
48:06
I would say that fear does work for some people, I mean, some people that that that it does, and because I think there is such a thing as a healthy fear. And again, I would be referring to you know, people who are maybe using drugs intravenously have relapsed and overdose in the past. And so they have a healthy fear, you know, they, they think that they can use a healthy fear, yeah. To keep them motivated to stay away. 
Casey McGuire Davidson  48:33
I do agree with that, because I have a healthy fear of like, I know what's going to happen if I drink again, and I know how hard it is to get another day when that stick and how shitty I feel when I'm in the drinking cycle. I was, what I was thinking about is the idea of, if you're not hitting rock bottom, the idea of fear like hey, if you drink, it's jails, institutions or death being like, yeah, yeah, you know, yeah. But I, I totally agree with you.
49:03
And also fear can't be the only motivator. Right? You know, you have to have more than just a fear of what might happen if things go wrong. You have to have the desire for all the things that can go right. And you have to have supper, all the things you have to have. So yeah, I'm with you. We're on the same page.
Casey McGuire Davidson  49:17
I know I Well, we I mean, I totally love your perspective. So I know, I agree with you. And by the way, in that guide, where I talked about how to access the BFB. My I also talked about she recovers. And so I'll put that in the show notes. But it's got all the information on both and how to join them.
49:36
Yeah, and if you know, these days, if you share this, there's a link that goes to our web page, the together online page, and people can access the meetings right from there now. So it's a lot easier to find our meetings than it was a month ago.
Casey McGuire Davidson  49:49
What the last thing I wanted to talk about and really the thank you is in your guiding principles you talk about when we're ready, we recover out loud so that women who are struggling can find us and join our movement. And I feel like that's something that you and Taryn and, and Jean McCarthy, and so many women out there have done so beautifully. Yeah. Well, and you, hello. Well, I mean, that's right, the reasons I started this podcast, because in the beginning, and I didn't know anyone who used to drink like I did, and decided to stop and said, life is better on the other side, you know?
50:28
Yeah. So I think the key phrase in that intention, a guiding principle is when we are ready. Yeah, when we're ready, we recover out loud, so that women who are struggling can find and join our movement. And the other really important thing to know about that, because that's pretty intimidating for people who have, if they're new in recovery, like, Oh, my God, I have to tell everybody, so not only do you wait until you're ready to tell somebody, but you don't have to tell everybody recovering out loud can mean that some day at work somebody is going to be, you're going to recognize that, oh, my goodness, this person is suffering with what I suffered with, and I know it without a doubt. And you're going to be able to go up to that person and say, you know, I see you struggling. And I'm wondering if you want to talk about, you know, or maybe something happened and you'd like I know that you had a DUI or whatever it is, I do want to talk about it, I happen to have had some experience with that, or somebody in your family is struggling.
And again, you have experience at showing them like you said, Casey on the other side, right that there's another side of this. And so it might mean that you recover out loud to one person one day, somewhere down the road, there's no pressure or expectation, for those of us who have really big mouths and like to use them, and you know, have been in recovery for many decades, or many, many years and are just really like, we don't need everybody out there doing what we're doing. I love that there's a proliferation of podcasts and websites and groups, I think it's wonderful, there's, there's so much need, that there's never going to be enough to address all the need. But the recovering out loud pieces is yours to determine how or if you want to do it. What I will say is that if some of us don't, if we don't start recovering out loud, more, more people will die. Because the only way people get help is when they see that there's a solution. And you know, being told you must go to treatment, or you must recover is now has never been very effective for most people. It's really when we see somebody else, and we think oh, wow, that is an amazing person. I wish I was more like her or him or them. And then we realize that Oh, they are just like me. And they have the same issue as I did. And so how do I get there, right. And I think that that's when we've got that kind of that Promise of Hope that you can heal too. And you only see that when we see other people setting the example. And we need as many people as diverse as possible to recover out loud because we have recovered support for black indigenous, indigenous and women of color group.
And I can tell you that the members of that group, I don't belong to that group for obvious reasons. But I know and love many of the members there. And they need to see women and non-binary individuals like them recovered in order to know that it's possible health care professionals and other groups that we have, they need to see other nurses and doctors and therapists in recovery. So, it's like, it's such a big project that we're all participating in, that if you are a person who is comfortable and ready to recover out loud, I think in the next few months here, our foundation is going to be doing a little bit more work around how we do that, like what you know, kind of giving people some guidance around that. You don't probably if you stopped using cocaine on Tuesday, you don't necessarily want to run into your HR office and say, Hey, I'm in recovery from cocaine, I'd like to give a talk to the next staff meeting. You know, the when we're ready thing, sometimes somebody else needs to determine when you're ready to recover out loud. And I laughed, because that was my experience before I'd even gone into treatment. Like in the few days before I went to treatment in 1987. For the first time, I offered my services to my physician and said, if you ever need anybody to talk about giving up cocaine, I'm here. Two days previous, right? So it's a really important principle for us. I know you've been to our conferences, you know, we've had to one in New York City and one in LA, and we're going to Miami next April. And one of the most beautiful things about our conferences is you walk into a ballroom with five or 600 women who are recovering out loud to each other, right. And it's the energy and you see that what recovery can look like. It's pretty powerful. Because recovery is powerful. Our stories are powerful. Our examples are powerful. And the way that we are going to the only way we're going to smash the stigma of behavioral health issues is to show that we do recover.
Casey McGuire Davidson  54:33
Yes, we do. Yeah. And I mean in the beginning, just to just to reiterate what you said. I mean, all I told anyone, including my husband like my husband didn't know I the sober coach. My husband didn't know I was in the secret Facebook group. I don't even remember what I told him about what how I've met you like who knows a friend of a friend. That was that I was trying to do a health challenge to get in shape like for 100 days with no alcohol like that was literally all I told Anyone, and then you know, then I said, I'm going to keep going till six months. And it wasn't until I think I hit a year that I started saying to people. Yeah, I used to drink a lot, but I quit because I feel better. And that was me recovering out loud, just like, yeah, I no longer drink. You know, it wasn't a long time, probably till I became an official sober coach, that I told more of my story. And even then, I asked my husband, because he's the head of a private middle school. I was like, Is this okay for you? And I don't know, what I would have done if he said, No, you know what I mean? Like, he's pretty cool. But he was like, of course, like, it's your story, anyone who's gonna judge me because my wife quit drinking, like, whatever, I don't want them in my life. And you know, that, again, is the strength-based thing. Like if dad asked to quit drinking, like, Who the fuck would you know, if you think that's bad? Like, that's pretty crazy that a harmful substance? letting that go like anything else is something to be judged. So agree, like you don't you know, and Bernie brown talks about, like, who you let into their arena who deserves your vulnerability and picking that carefully. So yeah, I but I do. You know, the reason I say that is because if you had not reached out to me in the beginning and shared your story, I don't know that I be here eight years later. So truly, I'm getting emotional. But you are very, very special in my life, and in my story, and I'm so grateful for you.
56:30
Oh, don't just start crying all week. I've been crying for a week. Casey, I love what you're doing. You know, one of the things that I'm really passionate about the reason that I got into recovery was because I was a mom, who was deathly addicted, and had been for before my children and then trying to manage my addiction through the early years of their life. And I know without a doubt that having children saved my life, having children is what motivated me. So any mom in recovery these days, it's recovering out loud to show other moms that it's possible. Being a mom is a hard job, and it was a hard job before 2020 it's so much harder now. And I just think that we need we need examples like you we really do we need all the examples, right? We need Yeah, we need a diverse array of people showing us that we can recover. So we're extremely excited about the new groups that we're going to be starting for this, she recovers foundation as well, including an LGBTQ group and mood, an anxiety disorder group and eating disorder group. And I'm just 25 groups, so I'm not going to name them all. But as time goes on, and we're we have the bandwidth to increase what we're doing, we will hopefully be able to be an example to as many people as possible, because we love recovery. We love recovery. We love everybody who joins us in recovery. And we need absolutely everybody's experience.
Casey McGuire Davidson  57:49
Well, thank you so much. It has been wonderful to talk to you. And in the show notes. I will put all the links, so you'll know exactly how to find she recovers the online meetings, the groups, they're wonderful. So thank you for everything you do.
58:03
Thank you, Casey. And I'm glad that I know I can we kept saying someday I would come on the podcast. And I'm glad that we finally made the time to do it that I finally made the time to do it. I appreciate you and all that you're doing, and I can't wait to hug you in person. Oh,
Casey McGuire Davidson  58:16
I can't wait either….
So thank you for coming on here. I couldn't appreciate it more. 
Thank you for listening to this episode of The Hello Someday Podcast. If you're interested in learning more about me or the work I do or accessing free resources and guides to help you build a life you love without alcohol, please visit hellosomedaycoaching.com. And I would be so grateful if you would take a few minutes to rate and review this podcast so that more women can find it and join the conversation about drinking less and living more. 
ABOUT THE HELLO SOMEDAY PODCAST
The Hello Someday Podcast helps busy and successful women build a life they love without alcohol. Host Casey McGuire Davidson, a certified life coach and creator of The Free 30 Day Guide to Quitting Drinking – 30 Tips For Your First Month Alcohol-Free, brings together her experience of quitting drinking while navigating work and motherhood, along with the voices of experts in personal development, self-care, addiction and recovery and self-improvement. 
Whether you know you want to stop drinking and live an alcohol free life, are sober curious, or are in recovery this podcast is for you.
In each episode Casey will share the tried and true secrets of how to drink less and live more. 
Learn how to let go of alcohol as a coping mechanism, how to shift your mindset about sobriety and change your drinking habits, how to create healthy routines to cope with anxiety, people pleasing and perfectionism, the importance of self-care in early sobriety, and why you don't need to be an alcoholic to live an alcohol free life. 
Be sure to grab the Free 30 Day Guide To Quitting Drinking right here.
Are you subscribed to my podcast? If you're not, I want to encourage you to do that today. I don't want you to miss an episode.
I'm adding a bunch of bonus episodes to the mix and if you're not subscribed there's a good chance you'll miss out on those. Click here to subscribe in iTunes!
Now if you're feeling extra loving, I would be really grateful if you left me a review over on iTunes, too. Those reviews help other people find my podcast and they're also fun for me to go in and read. Just click here to review, select "Ratings and Reviews" and "Write a Review" and let me know what your favorite part of the podcast is. Thank you!
OTHER WAYS TO ENJOY THIS POST: