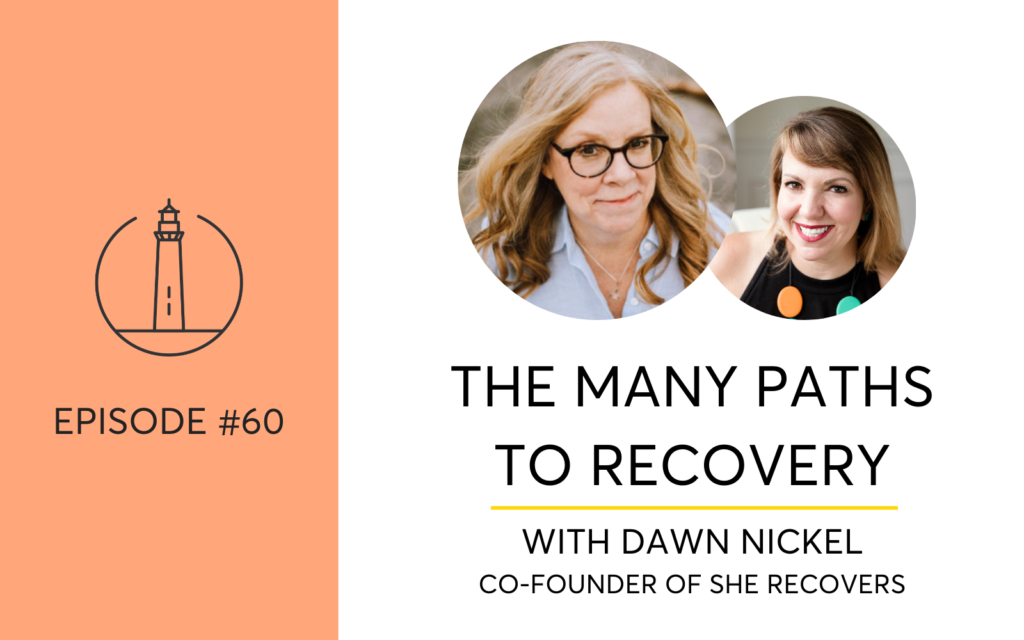 Dawn Nickel of She Recovers on The Many Paths To Recovery
Sometimes if you're lucky someone reaches out to you in the early days when you're first trying to stop drinking and shows you how to take the first steps. 
And for me that person was Dawn Nickel. 
8 years ago, when I first thought that I needed to stop drinking and decided to try life without wine, Dawn reached out to me. 
I was traveling with my son and husband from Seattle to Victoria, British Columbia for a long weekend.
It was my first in 5 years where I wasn't going to drink and I was 20 days sober.
Dawn picked me up for coffee, drove me to a beautiful beach and we talked all about drinking and not drinking, where I was, what I wanted and what I was afraid of.  
She's amazing. And she's also a pretty big deal. 
I was thrilled to interview Dawn and talk about women and the way we recover, from all things and in all ways. 
I hope you love this conversation as much as I did. 
Dr. Dawn Nickel is a respected thought leader in the women's recovery sphere and (along with her daughter Taryn Strong) the founder of SHE RECOVERS Foundation, a not-for-profit grassroots organization that inspires hope, reduces stigma, and empowers women in or seeking recovery for substance use and/or mental health challenges. 
Dawn is a strong advocate for the view that every woman in or seeking recovery must be supported to find the tools and pathways that will work best for her as an individual. 
In this episode, Dawn and I discuss:
The fact that we are all recovering from something. 

The principle that we can stop drinking whenever it's no longer working for us or making our lives better. We don't have to hit bottom to choose a healthier path in any area of our lives. 

Why it's important for everyone to find and follow their individualized path to healing. 

How to focus on your strengths, not your defects in order to support positive change. 

Why self-care is critical to our wellbeing. 
Links & resources mentioned in the episode
To find out more about She Recovers and how they can support you on your recovery journey, head over to

www.sherecovers.org.
Looking for positive affirmations to encourage and motivate you, check out Intentions & Guiding Principles | SHE RECOVERS® Foundation
Guide to how to find She Recovers Secret Facebook Group https://hellosomedaycoaching.com/sober-facebook-groups/
Want more support, resources and tools to help you go alcohol-free?
You can Drink Less + Live More today with The Sobriety Starter Kit. It's the private, on-demand coaching course you need to break out of the drinking cycle – without white-knuckling it or hating the process.
Grab the  Free Sober Girls Guide To Quitting Drinking, 30 Tips For Your First 30 Days
More About Dr. Dawn Nickel
Dawn is a Certified Professional Recovery Coach, with a PhD and professional experience related to women and health care policy. In her work as a researcher and consultant, Dawn has focused largely on exploring how best to support women who experience substance use disorders, mental health issues and intimate partner violence, the three issues that prompted Dawn to start her own personal recovery journey in 1987.
Since 2011, Dawn and her daughter Taryn Strong (also in recovery) have dedicated their lives to growing SHE RECOVERS and its offerings so that more women (and more women from diverse backgrounds) have the access, resources, support and freedoms necessary to cultivate individualized and holistic pathways in order to find health, sustain long-term recovery, achieve their potential, and help other women to do the same. 
Connect with Casey
Take a screenshot of your favorite episode, post it on your Instagram and tag me @caseymdavidson and tell me your biggest takeaway!
ABOUT THE HELLO SOMEDAY PODCAST
The Hello Someday Podcast helps busy and successful women build a life they love without alcohol. Host Casey McGuire Davidson, a certified life coach and creator of The Sober Girl's Guide to Quitting Drinking, brings together her experience of quitting drinking while navigating work and motherhood, along with the voices of experts in personal development, self-care, addiction and recovery and self-improvement. 
Whether you know you want to stop drinking and live an alcohol free life, are sober curious, or are in recovery this podcast is for you.
In each episode Casey will share the tried and true secrets of how to drink less and live more. 
Learn how to let go of alcohol as a coping mechanism, how to shift your mindset about sobriety and change your drinking habits, how to create healthy routines to cope with anxiety, people pleasing and perfectionism, the importance of self-care in early sobriety, and why you don't need to be an alcoholic to live an alcohol free life. 
Be sure to grab the Free Sober Girl's Guide To Quitting Drinking right here.
Are you subscribed to my podcast? If you're not, I want to encourage you to do that today. I don't want you to miss an episode.
I'm adding a bunch of bonus episodes to the mix and if you're not subscribed there's a good chance you'll miss out on those. Click here to subscribe in iTunes!
Now if you're feeling extra loving, I would be really grateful if you left me a review over on iTunes, too. Those reviews help other people find my podcast and they're also fun for me to go in and read. Just click here to review, select "Ratings and Reviews" and "Write a Review" and let me know what your favorite part of the podcast is. Thank you!
OTHER WAYS TO ENJOY THIS POST: