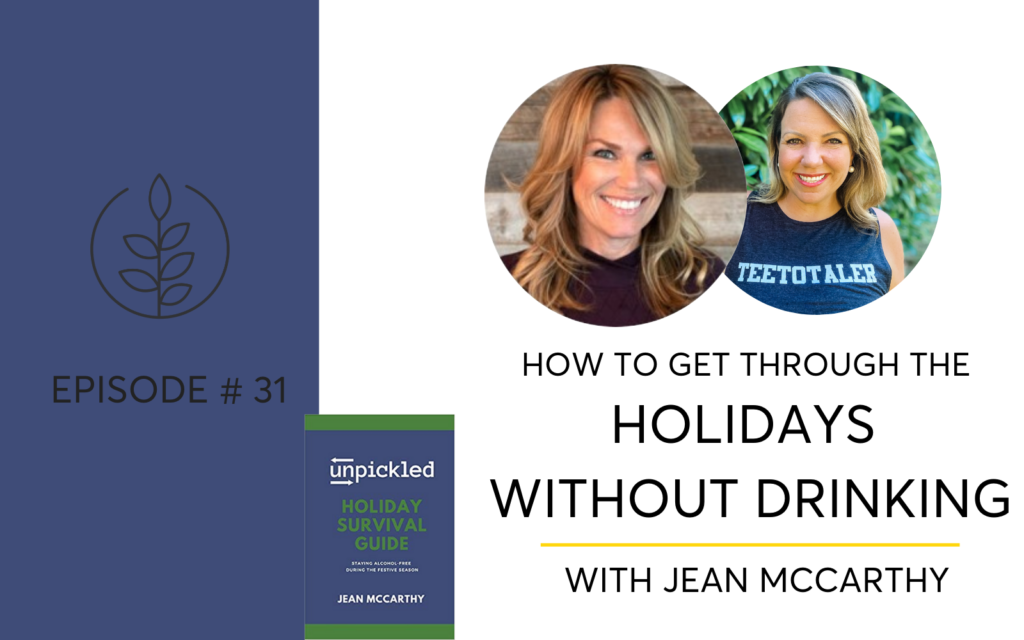 Wondering how to get through the holidays without drinking? 
Jean McCarthy, author of the Unpickled Holiday Survival Guide and host of The Bubble Hour Podcast, is here to help!
The holidays are both a wonderful time of year as well as a time that can trip up women who have stopped drinking, from those in early sobriety to those that might have quit months (or years) earlier. 
A lot of us might get to November and December and think, I've been doing this not drinking thing for a while now. I've got this. 
But the holidays are a unique combination of back-to-back drinking events + occasions, family dynamics, memories of previous years drinking, physically being surrounded by alcohol and powerful emotional and social triggers.  
The holiday season can undermine your recovery if you're not prepared to navigate it in a way that supports your sobriety.
In this episode, Jean and I share all the tips and tricks to having a wonderful holiday season without drinking. 
We talk about:
How to socialize sober +  reduce stress and anxiety around attending holiday gatherings

Specific strategies for

navigating Thanksgiving, Hanukkah, Christmas + New Year's Eve without alcohol

Practical advice on

attending + hosting holiday parties

, traveling +

staying with family

or having family members stay with you
What you can share with family + friends so they can

make not drinking easier for you

during the holidays
Why

annual traditions

and the specific expectations around what events happen during the holiday season, who hosts, what is served, how long people are together, who travels + for how long, can lead to

resentments + challenges for your sobriety

 
Why it's important to

identify your expectations

around the holidays + evaluate how they might impact you physically, mentally and emotionally
How to

say no, modify traditions + set boundaries

without feeling like you're high maintenance
The fun stuff: why to set up a seasonal or

holiday 'bucket list'

with ideas of how to make the most of this special time that's not centered around alcohol
Ideas for

new traditions

that can make the season more joyful, memorable + fulfilling
About Jean McCarthy
Jean McCarthy is the host of the Bubble Hour Podcast, an award winning blogger + recovery advocate. Jean is an author of two books. 
Her book, The Unpickled Holiday Survival Guide – staying alcohol free during the festive season is a wonderful resource about sobriety for people in recovery and for their families. 
Her collection of poetry, The Ember Ever There – Poems on change, grief, growth, recovery and rediscovery was published in early 2020.
I interviewed Jean for this podcast in episode nine about her poetry and her story. 
Jean started her blog, Unpickled in 2011, and has continued to chronicle her alcohol free lifestyle. Since her first day of sobriety, thousands of readers have credited Unpickled as a motivating factor in their decision to quit drinking.
Links and resources mentioned
Connect with Jean Mccarthy
Link to buy Jean's Holiday Survival Guide and The Ember Ever There books: www.jeanmccarthy.ca/books
Instagram @jeanmccarthy_writes
Facebook pages for Unpickled (www.facebook.com/unpickled) and The Bubble Hour (www.facebook.com/thebubblehour) 
Also websites: https://jeanmccarthy.ca/,  https://unpickledblog.com/, https://jeanmccarthy.ca/the-bubble-hour/,  https://www.amazon.com/dp/1999299906 
Connect with Casey McGuire Davidson
Grab your  Free Sober Girls Guide To Quitting Drinking
Get support during the holiday season from women who are on the alcohol-free path with the guide on How to find and join my Favorite Private Sober Facebook groups
Website: www.hellosomedaycoaching.com
Instagram: Casey @ Hello Someday Coaching (@caseymdavidson)
Facebook: https://www.facebook.com/HelloSomeday 
Listen to more podcast episodes to drink less + live more.
ABOUT THE HELLO SOMEDAY PODCAST
The Hello Someday Podcast helps busy and successful women build a life they love without alcohol. Host Casey McGuire Davidson, a certified life coach and creator of The Sober Girl's Guide to Quitting Drinking, brings together her experience of quitting drinking while navigating work and motherhood, along with the voices of experts in personal development, self-care, addiction and recovery and self-improvement. 
Whether you know you want to stop drinking and live an alcohol free life, are sober curious, or are in recovery this podcast is for you.
In each episode Casey will share the tried and true secrets of how to drink less and live more. 
Learn how to let go of alcohol as a coping mechanism, how to shift your mindset about sobriety and change your drinking habits, how to create healthy routines to cope with anxiety, people pleasing and perfectionism, the importance of self-care in early sobriety, and why you don't need to be an alcoholic to live an alcohol free life. 
Be sure to grab the Free Sober Girl's Guide To Quitting Drinking right here.
Are you subscribed to my podcast? If you're not, I want to encourage you to do that today. I don't want you to miss an episode.
I'm adding a bunch of bonus episodes to the mix and if you're not subscribed there's a good chance you'll miss out on those. Click here to subscribe in iTunes!
Now if you're feeling extra loving, I would be really grateful if you left me a review over on iTunes, too. Those reviews help other people find my podcast and they're also fun for me to go in and read. Just click here to review, select "Ratings and Reviews" and "Write a Review" and let me know what your favorite part of the podcast is. Thank you!
OTHER WAYS TO ENJOY THIS POST: