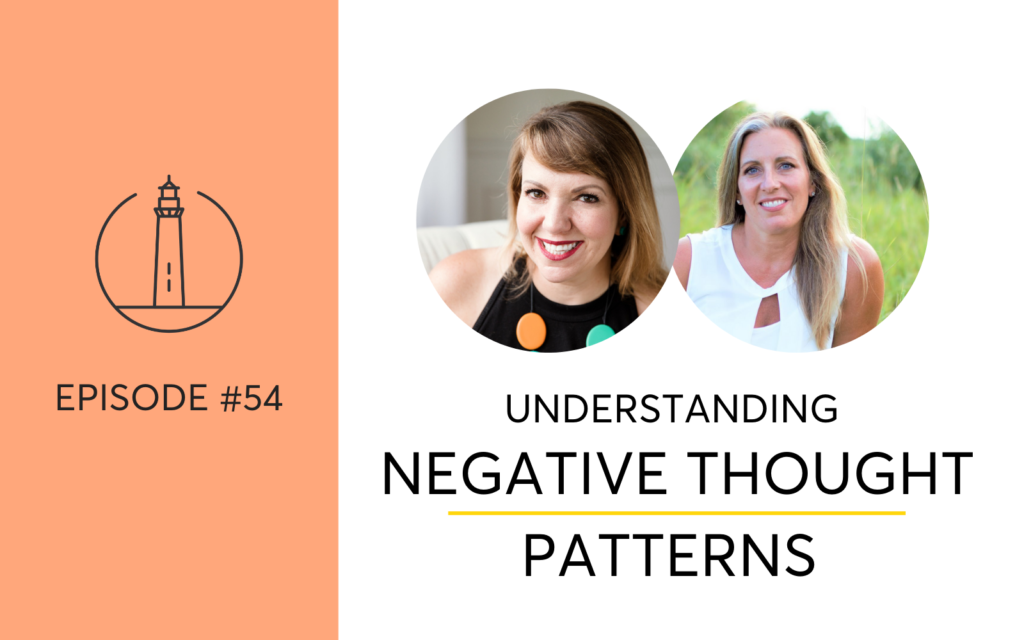 Understanding Negative Thought Patterns
Are you your own worst critic?
It's normal to feel worry, regret, self-doubt and have negative thoughts at times. 
But if you have a tendency to be hard on yourself, the automatic thoughts you have can have a big impact on your emotions and the way you experience and interpret the world around you. 
But getting stuck in negative thought patterns can trigger heightened feelings of anxiety, fear, self pity and insecurity.  
The good news is that you can learn to identify and challenge automatic negative thoughts, which can relieve stress, self-doubt and let you feel significantly more confident and positive. 
Today, my guest Shelby John, is here to talk about understanding our negative thought patterns. 
Shelby is a mom, wife and an entrepreneur. She's been sober since July 2002 and her own recovery journey led her to become a social worker, trained in trauma therapy, coaching techniques and other clinical skills. As a therapist, Shelby helps women heal their past trauma, using EMDR. therapy. Online, she gets to guide them into building the confidence they need to love their lives beyond recovery. 
In this episode, Shelby and I discuss:
How to recognize and replace the negative thoughts that can bring you down and hold you back

3 reasons why negative thoughts happen

Fear of the future

Worrying about the present

Regrets about the past

5 types of negative thinking

All or nothing thinking

Overgeneralization

Catastrophizing

Should Statements

 Personalization

The difference between Fear Based Core Values and Conscious Based Core Values

How to identify your personal core values to help you feel confident and positive about your actions and choices
Want more support, resources and tools to help you go alcohol-free?
You can Drink Less + Live More today with The Sobriety Starter Kit.
It's the private, on-demand coaching course you need to break out of the drinking cycle – without white-knuckling it or hating the process.
Grab the  Free Sober Girls Guide To Quitting Drinking, 30 Tips For Your First 30 Days
Connect with Shelby John
To find out more about how Shelby can guide you on your recovery journey, head over to www.shelbyjohncoaching.com
If you want to learn more about the Sober Freedom Inner Circle Membership Program, checkout www.shelbyjohncoaching.com/innercircle
Looking for community of women to support you on your sobriety journey, join Shelby's Facebook group, Confidence Sober Women
Listen to Shelby's podcast, Confident Sober Women
Connect with Casey
Find out more about working with Casey through private one-on-one coaching or her on-demand sober coaching course to turn the decision to stop drinking from your worst-case scenario to the best decision of your life.
Take a screenshot of your favorite episode, post it on your Instagram and tag me @caseymdavidson and tell me your biggest takeaway!
ABOUT THE HELLO SOMEDAY PODCAST
The Hello Someday Podcast helps busy and successful women build a life they love without alcohol. Host Casey McGuire Davidson, a certified life coach and creator of The Sober Girl's Guide to Quitting Drinking, brings together her experience of quitting drinking while navigating work and motherhood, along with the voices of experts in personal development, self-care, addiction and recovery and self-improvement. 
Whether you know you want to stop drinking and live an alcohol free life, are sober curious, or are in recovery this podcast is for you.
In each episode Casey will share the tried and true secrets of how to drink less and live more. 
Learn how to let go of alcohol as a coping mechanism, how to shift your mindset about sobriety and change your drinking habits, how to create healthy routines to cope with anxiety, people pleasing and perfectionism, the importance of self-care in early sobriety, and why you don't need to be an alcoholic to live an alcohol free life. 
Be sure to grab the Free Sober Girl's Guide To Quitting Drinking right here.
Are you subscribed to my podcast? If you're not, I want to encourage you to do that today. I don't want you to miss an episode.
I'm adding a bunch of bonus episodes to the mix and if you're not subscribed there's a good chance you'll miss out on those. Click here to subscribe in iTunes!
Now if you're feeling extra loving, I would be really grateful if you left me a review over on iTunes, too. Those reviews help other people find my podcast and they're also fun for me to go in and read. Just click here to review, select "Ratings and Reviews" and "Write a Review" and let me know what your favorite part of the podcast is. Thank you!
OTHER WAYS TO ENJOY THIS POST: