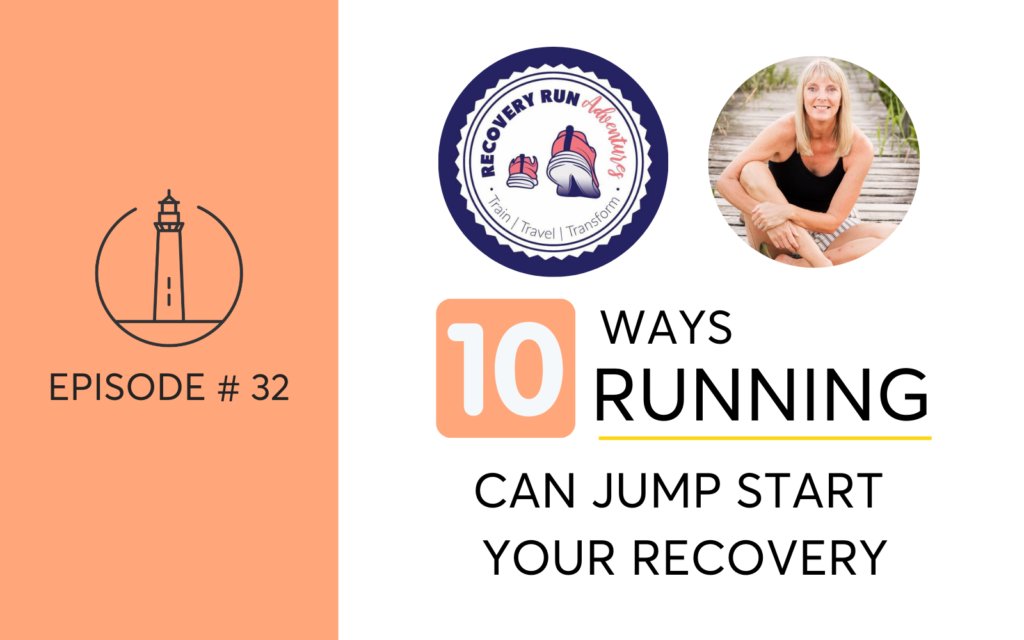 10 WAYS RUNNING CAN JUMPSTART YOUR RECOVERY
Did you know that developing a running practice can jumpstart your recovery when you're quitting drinking?
Running is a layer of support that helps you set goals, boost confidence, and fill your time with a healthy alternative in early sobriety when all you want to do is pour yourself a drink. 
My guest today is Margaret Ward. Margaret is a mother of 4, a multiple marathon finisher, a retired chardonnay drinker, a life and sobriety coach and a former lawyer. 
She's been featured in Trail Runner Magazine and her main passions, beside her kids, is finding adventure through traveling and running around the world. 
Margaret's Recovery Run Adventures offers alcohol-free adventures to destination races in Iceland, Norway and Italy and more. 
In this episode we discuss,
The struggles of motherhood that can drive women to drink as a way to cope with stress, anxiety (+ boredom)

The mental and physical benefits of running that will help you heal and recover from drinking

How running helps you control cravings, especially in the beginning

The ways that releasing energy through running will help you regulate your nervous system, control anger, and physically tire you out, helping you sleep at night.

The ways in which running decreases stress, anxiety and can help you practice mindfulness

How developing a small, consistent running practice can provide structure to your days in early sobriety, relieve boredom, get a quick win and boost your confidence

The way in which running helps you become more in tune with your body

Fun and exciting running adventures around the world in Iceland, Norway and Italy
10 Ways Running Can Jumpstart Your Recovery
Running requires little financial commitment and

you can jump in at any time

. Just grab your running shoes and head out the door.  

Helps control your cravings, especially in early sobriety

. When you run, your brain releases endorphins. Endorphins is a chemical released by your brain that triggers positive emotions. This is also known as the runners high.

Running decreases stress and anxiety

. In early sobriety, your stress and anxiety levels can increase. Running increases your heart rate which in turn changes your brain chemistry. Your brain releases an anti-anxiety neurotransmitter such as GABA.
Moving your body allows you to

practice mindfulness

. When you run, you connect with your breathing and get into a state of flow. Running is a form of moving meditation. 
Allows you to

set goals and see immediate results

. Setting running goals builds confidence and it gives you something to celebrate once that goal is accomplished. Start small and commit.

Provides structure to your day

which is an important tool to have during early sobriety. 

Counteracts Boredom

.
Running is a natural way to release energy. Releasing built up energy helps

regulate your nervous system, control anger, and will physically tire you out which will help you sleep at night

.
When you start running, you

open yourself up to a whole new world

. A community of women who will cheer you on and hold you accountable. Joining a local running group helps you establish connections with other women.
Running provides you

a great reason to stop drinking

. You're getting your body healthy. You are giving yourself a great tool to jumpstart your sobriety.
Links and resources mentioned
Spark: The Revolutionary New Science of Exercise and the Brain by John Ratey
Born to Run by Christopher McDougall
Connect with Margaret Ward
Find out more about Margaret's life and sobriety coaching and her travel + running trips at 
https://recoveryrunadventures.com/coaching/
You can also get Margaret's free guide, 5 Steps to Jumpstart Your Running and Recovery, at 
Read Margaret Ward's feature in Trail Runner Magazine.
Follow Margaret on Facebook at Recovery Run Adventures
Connect with Margaret on Instagram @recoveryrunadventures
Connect with Casey McGuire Davidson
Grab your  Free Sober Girls Guide To Quitting Drinking
Get support during the holiday season from women who are on the alcohol-free path with the guide on How to find and join my Favorite Private Sober Facebook groups
ABOUT THE HELLO SOMEDAY PODCAST
The Hello Someday Podcast helps busy and successful women build a life they love without alcohol. Host Casey McGuire Davidson, a certified life coach and creator of The Sober Girl's Guide to Quitting Drinking, brings together her experience of quitting drinking while navigating work and motherhood, along with the voices of experts in personal development, self-care, addiction and recovery and self-improvement. 
Whether you know you want to stop drinking and live an alcohol free life, are sober curious, or are in recovery this podcast is for you.
In each episode Casey will share the tried and true secrets of how to drink less and live more. 
Learn how to let go of alcohol as a coping mechanism, how to shift your mindset about sobriety and change your drinking habits, how to create healthy routines to cope with anxiety, people pleasing and perfectionism, the importance of self-care in early sobriety, and why you don't need to be an alcoholic to live an alcohol free life. 
Be sure to grab the Free Sober Girl's Guide To Quitting Drinking right here.
Are you subscribed to my podcast? If you're not, I want to encourage you to do that today. I don't want you to miss an episode.
I'm adding a bunch of bonus episodes to the mix and if you're not subscribed there's a good chance you'll miss out on those. Click here to subscribe in iTunes!
Now if you're feeling extra loving, I would be really grateful if you left me a review over on iTunes, too. Those reviews help other people find my podcast and they're also fun for me to go in and read. Just click here to review, select "Ratings and Reviews" and "Write a Review" and let me know what your favorite part of the podcast is. Thank you!
OTHER WAYS TO ENJOY THIS POST: