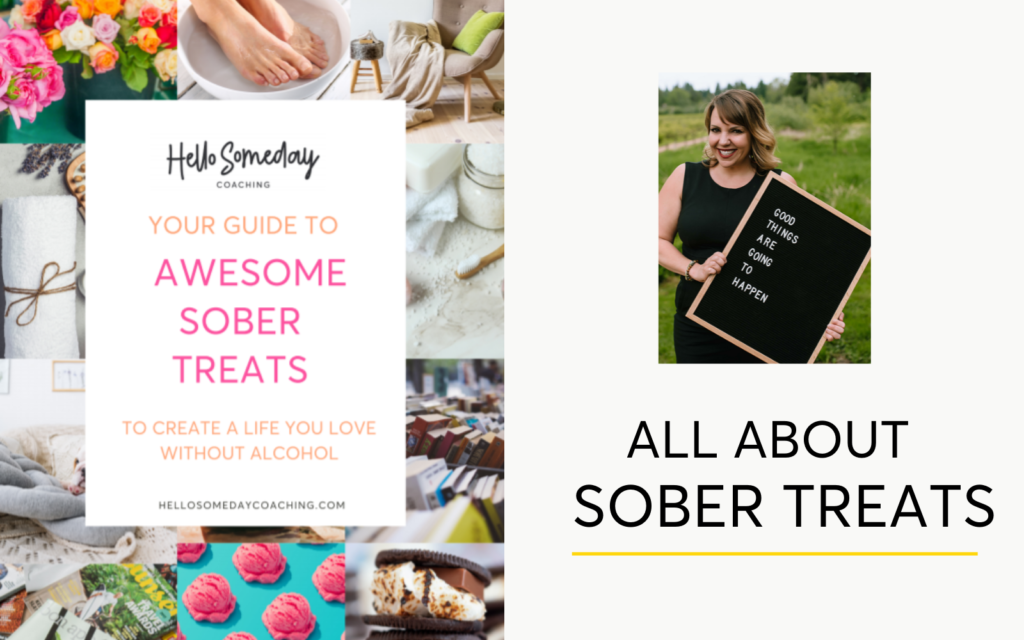 Why You Need Sober Treats When You're Quitting Drinking 
In early sobriety sober treats are important, not an indulgence. 
Don't underestimate their power, because sober treats are essential to helping you both stop drinking and keep going once willpower runs out and motivation fades 
When you're walking away from drinking you need your time without alcohol to feel rewarding and kind – not like a punishment or deprivation. 
And most of all you need sober treats because you've been stuck in a "reward rut" for way too long. 
After decades of 'adulting' often our universe of rewards and pleasure options have shrunk to the equivalent of 'bars and bakeries' (alcohol and sugar).  
Hard day? Wine. 

Promotion at work? Wine. 

Friday night date? Wine. 

Kids being hard? Wine. 

A few hours to yourself? Wine. 

Anxious? Overwhelmed? Lonely? Wine. 
You deserve more.
Sober treats will open your imagination and help you find and enjoy new sources of pleasure and comfort.
Let's talk about how to quit drinking without deprivation or relying on willpower by using sober treats. 
You'll learn how to satisfy and soothe your emotional and physical needs in a way that doesn't leave you with a headache or a hangover. 
I'm also sharing some of my favorite sober treats and how they help me, both in early sobriety and also today. 
Listen in to learn:
The 4 reasons why sober treats are important

Why you're stuck in a 'reward rut' 

How to move from reactively trying to resist drinking triggers (willpower) to proactively preventing them using self care

Why planning sober treats forces you prioritize yourself and establish better boundaries

How sober treats rewire your drinking habit loop (cue, craving, response + reward cycle) and make it easier to build new, healthier habits

Plus ALL the sober treat ideas to inspire you to take better care of yourself + build a life you enjoy – not just one you tolerate
Here's everything inside the course…
8 coaching modules with 50 video lessons + all the supporting materials, including
The Mistakes Women Make In Trying To Stop Drinking

The Fundamentals of Building Your Sober Foundation

The Quick Start Guide To Your First 2 Weeks

Mapping out your Reason, Vision, Habits, Triggers, Environment + Support

How to Break Out The Drinking Cycle Using The 4 Laws of Behavior Change

Building Sober Muscles + Momentum 

Navigating Sobriety Challenges – Labels, Other People, Drinking Events, The Mommy Wine Culture, Boredom, PAWS, Avoiding 'Pre-Lapse' and Restarting Quickly If You Drink

To 100 Days and Beyond – Creating A Life You Love
Click here to get all the details and sign up now. 
More resources mentioned in the episode
Grab my favorite non-alcoholic beverage from Gruvi and The Athletic Brewing Company
Connect with Casey
Interested in private coaching? Reach out for a Free 30-Minute Discovery Call.
Take a screenshot of your favorite episode, post it on your Instagram and tag me @caseymdavidson and tell me your biggest takeaway!
ABOUT THE HELLO SOMEDAY PODCAST
The Hello Someday Podcast helps busy and successful women build a life they love without alcohol. Host Casey McGuire Davidson, a certified life coach and creator of The Sober Girl's Guide to Quitting Drinking, brings together her experience of quitting drinking while navigating work and motherhood, along with the voices of experts in personal development, self-care, addiction and recovery and self-improvement. 
Whether you know you want to stop drinking and live an alcohol free life, are sober curious, or are in recovery this podcast is for you.
In each episode Casey will share the tried and true secrets of how to drink less and live more. 
Learn how to let go of alcohol as a coping mechanism, how to shift your mindset about sobriety and change your drinking habits, how to create healthy routines to cope with anxiety, people pleasing and perfectionism, the importance of self-care in early sobriety, and why you don't need to be an alcoholic to live an alcohol free life. 
Be sure to grab the Free Sober Girl's Guide To Quitting Drinking right here.
Are you subscribed to my podcast? If you're not, I want to encourage you to do that today. I don't want you to miss an episode.
I'm adding a bunch of bonus episodes to the mix and if you're not subscribed there's a good chance you'll miss out on those. Click here to subscribe in iTunes!
Now if you're feeling extra loving, I would be really grateful if you left me a review over on iTunes, too. Those reviews help other people find my podcast and they're also fun for me to go in and read. Just click here to review, select "Ratings and Reviews" and "Write a Review" and let me know what your favorite part of the podcast is. Thank you!
OTHER WAYS TO ENJOY THIS POST: