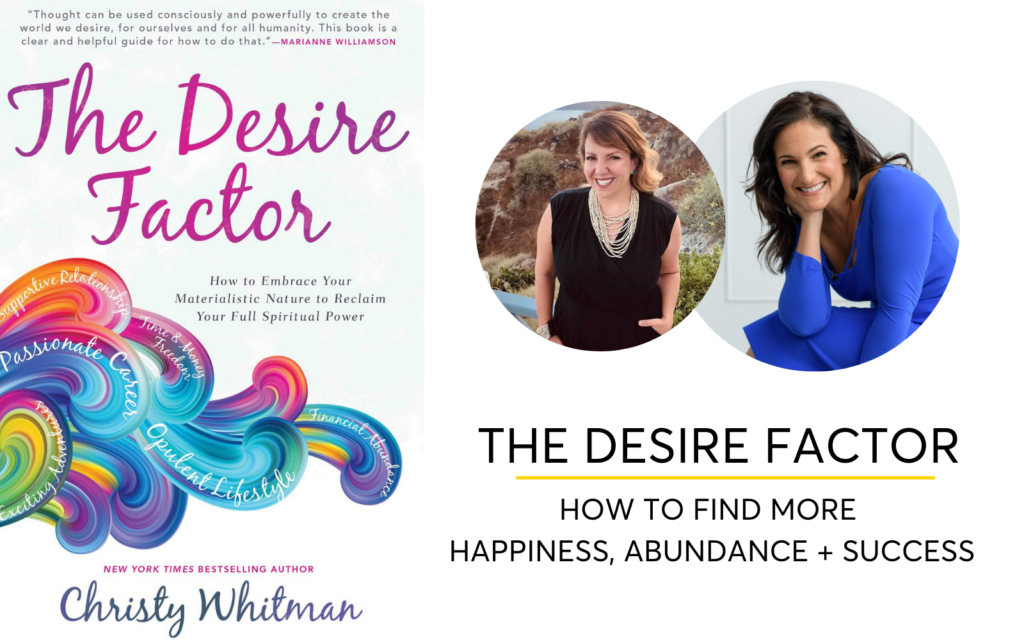 How To Go After What You Really Want – The Desire Factor
What do you desire in life and what's holding you back from having it? 
Are you worried that you're selfish or self-indulgent for wanting more than you have? 

Or that your dreams aren't practical or achievable? 

Do you feel like you're too busy, with too many responsibilities to go after something new (and you'll have time to focus on it 'someday')? 

Or are you scared to want something because you don't want to experience disappointment or failure? 
Today we're going to talk about how to give yourself permission to want more in life and how to manifest your desires. 
My guest is Christy Whitman. Christy is a Transformational Leader, Celebrity Coach and the New York Times bestselling author of The Art of Having It All. She is also the CEO and founder of the Quantum Success Learning Academy & Quantum Success Coaching Academy, a 12-month Law of Attraction coaching certification program. Christy has helped thousands of people worldwide to achieve their goals through her empowerment seminars, speeches, and coaching sessions and products. 
In this episode, we discuss:
How to align your thoughts, beliefs, and actions to move closer to your greatest desires

Why fear of disappointment stops us from reaching for more

What obstacles are standing in the way of getting what you want

Why you need to shed the guilt of wanting something more than you have right now

Why Christy decided to stop drinking 3 years ago
More About Christy Whitman
Christy has appeared on "Today" and The Morning Show and her work has been featured in People Magazine, Seventeen, Woman's Day, Hollywood Life, and Teen Vogue, among others. She has helped thousands of people worldwide to achieve their goals through her empowerment seminars, speeches, and coaching sessions and products. 
Christy's life-changing message reaches over 200,000 people a month and her work has been promoted by and featured with esteemed authors and luminaries such as Marianne Williamson, Dr. Wayne Dyer, & Marci Shimoff.
Connect with Christy Whitman
Learn more about Christy, head over to https://www.christywhitman.com/
Follow Christy on Instagram @christywhitman1
Connect on Facebook Christy Whitman International Inc.
Join the FREE 30-day training system that breaks the chains on the language patterns that are keeping you from success. https://www.watchyourwords.com/
Purchase Christy's new book, THE DESIRE FACTOR: How to Embrace Your Materialistic Nature to Reclaim Your Full Spiritual Power . This book will help guide readers through a deeper, more spiritually connected journey of taking the everyday desires we all share and using them to manifest a more personal, more dynamic sense of fulfillment. 
Want more support, resources and tools to help you go alcohol-free?
You can Drink Less + Live More today with The Sobriety Starter Kit.
It's the private, on-demand coaching course you need to break out of the drinking cycle – without white-knuckling it or hating the process.
Grab the  Free Sober Girls Guide To Quitting Drinking, 30 Tips For Your First 30 Days
Connect with Casey
Set up a 30-Minute call with Casey to learn more about private coaching or The Sobriety Starter Kit Online Course.
Take a screenshot of your favorite episode, post it on your Instagram and tag me @caseymdavidson and tell me your biggest takeaway!
ABOUT THE HELLO SOMEDAY PODCAST
The Hello Someday Podcast helps busy and successful women build a life they love without alcohol. Host Casey McGuire Davidson, a certified life coach and creator of The Sober Girl's Guide to Quitting Drinking, brings together her experience of quitting drinking while navigating work and motherhood, along with the voices of experts in personal development, self-care, addiction and recovery and self-improvement. 
Whether you know you want to stop drinking and live an alcohol free life, are sober curious, or are in recovery this podcast is for you.
In each episode Casey will share the tried and true secrets of how to drink less and live more. 
Learn how to let go of alcohol as a coping mechanism, how to shift your mindset about sobriety and change your drinking habits, how to create healthy routines to cope with anxiety, people pleasing and perfectionism, the importance of self-care in early sobriety, and why you don't need to be an alcoholic to live an alcohol free life. 
Be sure to grab the Free Sober Girl's Guide To Quitting Drinking right here.
Are you subscribed to my podcast? If you're not, I want to encourage you to do that today. I don't want you to miss an episode.
I'm adding a bunch of bonus episodes to the mix and if you're not subscribed there's a good chance you'll miss out on those. Click here to subscribe in iTunes!
Now if you're feeling extra loving, I would be really grateful if you left me a review over on iTunes, too. Those reviews help other people find my podcast and they're also fun for me to go in and read. Just click here to review, select "Ratings and Reviews" and "Write a Review" and let me know what your favorite part of the podcast is. Thank you!
OTHER WAYS TO ENJOY THIS POST: