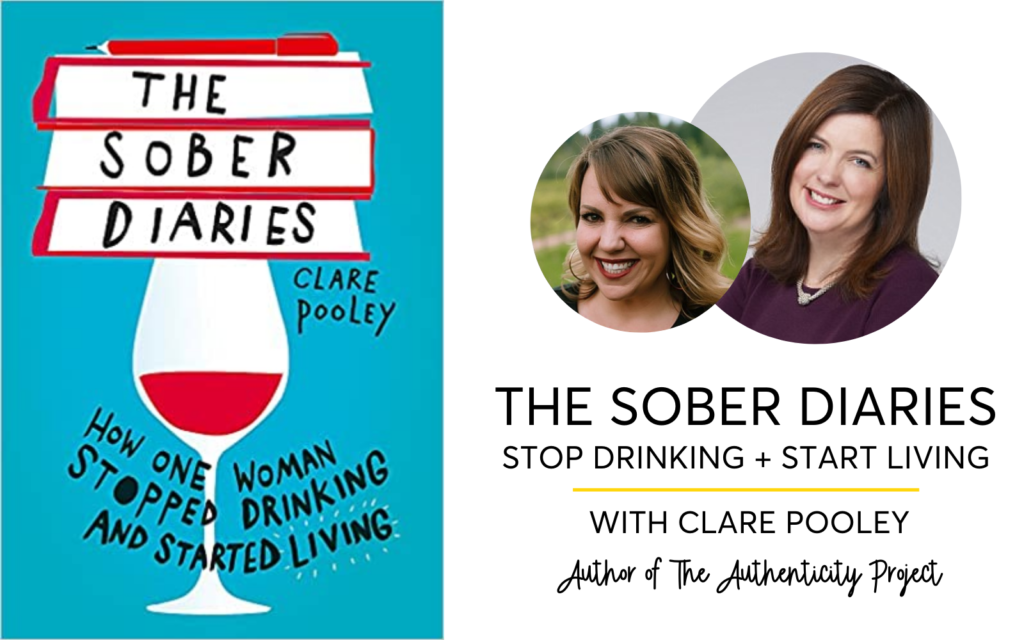 The Sober Diaries – How to stop drinking and start living with Clare Pooley
Is alcohol messing up your life? 
That's the question that Clare Pooley, author of The Sober Diaries, started with when she found herself a middle aged, over educated and over privileged mom of three whose long love affair with high priced good quality wine was going nowhere but downhill. 
Clare wrote The Sober Diaries: How One Mom Stopped Drinking And Started Living, based on her blog, Mummy Was A Secret Drinker, about her first 365 days of living without alcohol.
The Sober Diaries is one of the first books I recommend to all of my clients as they stop drinking.
In The Sober Diaries Clare tells her story of building up sober days while at the same time uncovering how deeply her love of wine was connected to her identity as a successful working woman, a fun adult and her life as a mom of 3 children.
I love the way The Sober Diaries takes you through the days and months of early sobriety in a funny, insightful, relatable and realistic way. 
If you read it during your first few weeks or months, you'll see your own experiences in Clare's as she moves through Day 14 "Sober Mornings", Day 26 "Oh God, It's Friday", Day 91 "The Wine Witch", 100 Days and when it gets easier – all the way through Day 365.
It's a great read (or listen), especially for women with kids, who started drinking in the corporate world or in the mommy wine culture. 
In this episode, Clare and I dive into:
Why Clare doesn't regret the things she did when she was drinking but rather the things she didn't do – the things she could have achieved if she hadn't let all those days slip through her fingers. 

Why the immediate benefits of giving up alcohol (better sleep, clearer skin and eyes, a healthier body) are good, but the biggest benefits come much later

The fact that well educated, middle aged women are becoming the most likely group to drink problematically 

How Clare (and I) stopped drinking without traditional 12 Step Programs like AA and why choosing that path to living alcohol-free is even easier for women today

Why Clare thinks we need to change the "brand imagery" around not drinking and reframe going alcohol-free from something that one might '

have to do'

to something you

want to do

How our social media feeds are doing us a disservice by normalizing excessive drinking

Why the the most difficult part of quitting drinking for Clare was learning to deal with emotions without having wine as a crutch

Why Clare thought that her life without drinking would be dull and boring but discovered that it was way more exciting than when she was drinking

Plus we somehow manage to talk about 

Sex In The City, Bridget Jones's Diary

and

Absolutely Fabulous
About Clare Pooley
Clare is a British blogger, author and novelist. She spent twenty years in the heady world of advertising before becoming a full-time mum. 
Realizing that her 'wine o'clock' habit had spiraled out of control, Clare started writing a blog, Mummy was a Secret Drinker, which has had nearly three million hits. Her memoir, The Sober Diaries was published in 2017 to critical acclaim.
Clare's debut novel – The Authenticity Project, was inspired by her own experience of exposing the rather grubby truth about her own seemingly perfect life, and is being published in twenty-nine territories in 2020. Clare's talks include a TEDx talk – Making Sober, Less Shameful.
Clare lives in Fulham, London with her husband, three children, two border terriers, and an African pygmy hedgehog.
Connect with Clare Pooley
To learn more about Clare, head over to www.clarepooley.com
Follow her on Instagram: @clare_pooley
Connect with her on Facebook: @SoberMummy
Connect with Clare Twitter: @cpooleywriter
Order her books, The Sober Diaries: How One Mom Stopped Drinking And Started Living and The Authenticity Project
Subscribe to her blog:  Mummy Was A Secret Drinker
Listen to her TEDx Talk: Making Sober, Less Shameful
SUPPORT, RESOURCES AND TOOLS TO HELP YOU GO ALCOHOL-FREE
Drink Less + Live More today with The Sobriety Starter Kit. The private, on-demand coaching course you need to break out of the drinking cycle – without white-knuckling it or hating the process. Click here to learn all about the self-study course.
Grab your  Free Sober Girls Guide To Quitting Drinking, 30 Tips For Your First 30 Days
Listen to the podcast on The Best Quit Lit For Women Quitting Drinking to hear more about The Sober Diaries and other books to inspire your alcohol-free journey.
Get the free guide to The Best Quit Lit Books For Women
Website: www.hellosomedaycoaching.com
ABOUT THE HELLO SOMEDAY PODCAST
The Hello Someday Podcast helps busy and successful women build a life they love without alcohol. Host Casey McGuire Davidson, a certified life coach and creator of The Sober Girl's Guide to Quitting Drinking, brings together her experience of quitting drinking while navigating work and motherhood, along with the voices of experts in personal development, self-care, addiction and recovery and self-improvement. 
Whether you know you want to stop drinking and live an alcohol free life, are sober curious, or are in recovery this podcast is for you.
In each episode Casey will share the tried and true secrets of how to drink less and live more. 
Learn how to let go of alcohol as a coping mechanism, how to shift your mindset about sobriety and change your drinking habits, how to create healthy routines to cope with anxiety, people pleasing and perfectionism, the importance of self-care in early sobriety, and why you don't need to be an alcoholic to live an alcohol free life. 
Be sure to grab the Free Sober Girl's Guide To Quitting Drinking right here.
Are you subscribed to my podcast? If you're not, I want to encourage you to do that today. I don't want you to miss an episode.
I'm adding a bunch of bonus episodes to the mix and if you're not subscribed there's a good chance you'll miss out on those. Click here to subscribe in iTunes!
Now if you're feeling extra loving, I would be really grateful if you left me a review over on iTunes, too. Those reviews help other people find my podcast and they're also fun for me to go in and read. Just click here to review, select "Ratings and Reviews" and "Write a Review" and let me know what your favorite part of the podcast is. Thank you!
OTHER WAYS TO ENJOY THIS POST: