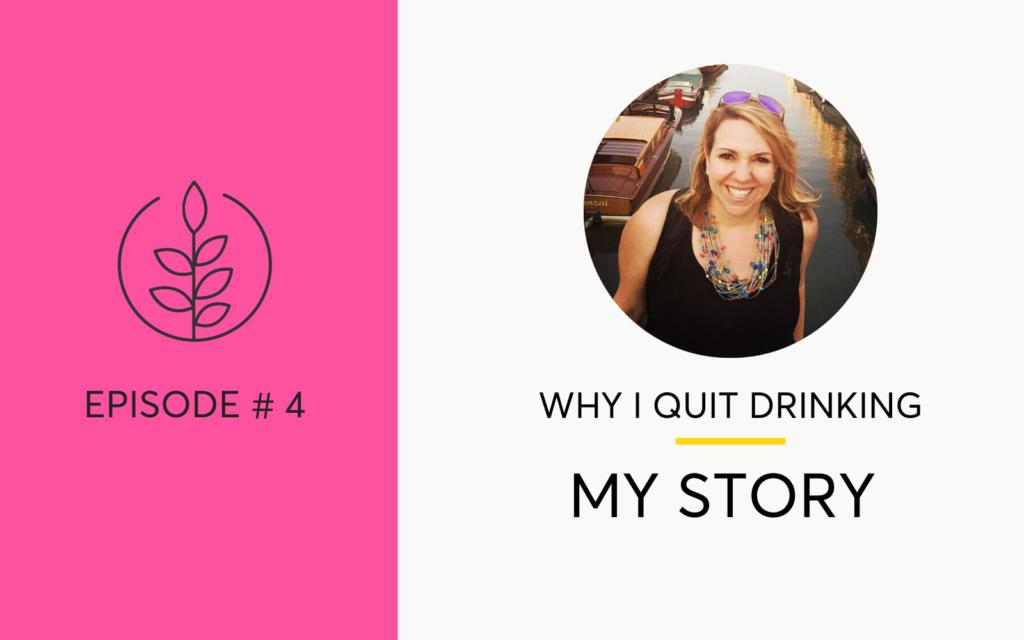 For many years of my life drinking wine was my favorite hobby.
I loved the way drinking made me feel.
I used it to celebrate, commiserate, fuel conversations, treat myself, gloss over awkwardness, numb anger, work through the evenings and alleviate boredom.
I loved opening the bottle of wine before dinner.
I loved going to a wine bar and ordering a glass of red.
I loved getting under a blanket on my couch and turning on a movie with my wine glass on the side table next to me.
I used to think about drinking a lot, and I made a lot of rules for myself about when, how much or how often I would drink.
I cared so much about drinking I decided to moderate it proactively so that I would never have to give it up completely.
In this episode, I want to tell you more about my story and who I am.
Both before I quit drinking, and after.
I saw quitting drinking as my absolute worst case scenario.
But now – having done the work – I consider my decision to walk away from the wine bottle as foundational to helping me achieve everything I want in my life.
It's something I'm really proud of.

It's made me more honest and more real.

It's helped me develop better and healthier coping mechanisms.

It's made me more courageous and less fearful about changing In my life, and it's made me closer with my husband and my kids, my friends and my family.
It turns out that my worst case scenario has actually helped me lead a better life. 
RESOURCES AND LINKS MENTIONED IN THIS EPISODE
The Free Sober Girl's Guide to Quitting Drinking – 30 Tips For your First 30 Days
The Hello Someday Coaching Blog
I thought quitting drinking was my ABSOLUTE worst case scenario.
It turned out to be the best decision of my life. 
ABOUT THE HELLO SOMEDAY PODCAST
The Hello Someday Podcast helps busy and successful women build a life they love without alcohol.
Host Casey McGuire Davidson, a certified life coach and creator of The Sober Girl's Guide to Quitting Drinking, brings together her experience of quitting drinking while navigating work and motherhood, along with the voices of experts in personal development, self-care, addiction and recovery and self-improvement. 
Whether you know you want to stop drinking and live an alcohol free life, are sober curious, or are in recovery this podcast is for you.
In each episode Casey will share the tried and true secrets of how to drink less and live more. 
Learn how to let go of alcohol as a coping mechanism, how to shift your mindset about sobriety and change your drinking habits, how to create healthy routines to cope with anxiety, people pleasing and perfectionism, the importance of self-care in early sobriety, and why you don't need to be an alcoholic to live an alcohol free life. 
Be sure to grab the FREE SOBER GIRL'S GUIDE TO QUITTING DRINKING right here.
Are you subscribed to my podcast? If you're not, I want to encourage you to do that today. I don't want you to miss an episode.
I'm adding a bunch of bonus episodes to the mix and if you're not subscribed there's a good chance you'll miss out on those. Click here to subscribe in iTunes!
Now if you're feeling extra loving, I would be really grateful if you left me a review over on iTunes, too.
Those reviews help other people find my podcast and they're also fun for me to go in and read. 
Just click here to review, select "Ratings and Reviews" and "Write a Review" and let me know what your favorite part of the podcast is. Thank you! 
OTHER WAYS TO ENJOY THIS POST: