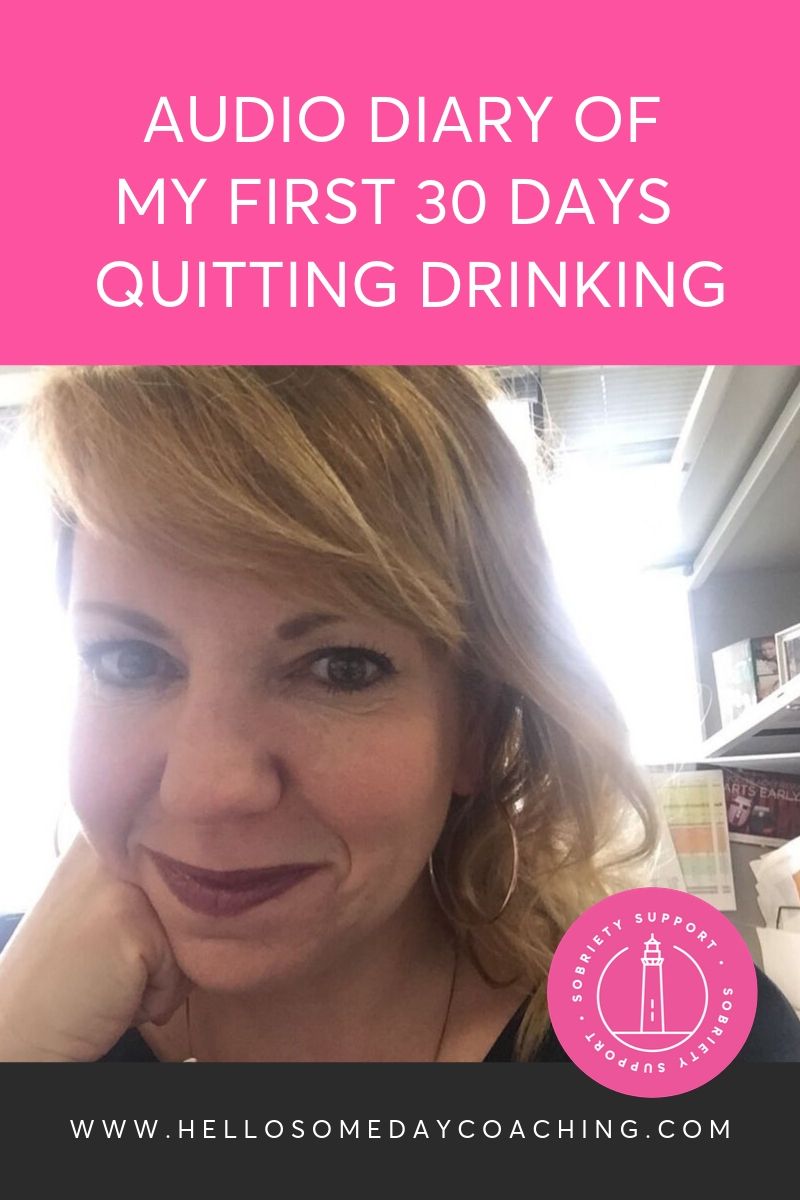 I Recorded this audio For anyone in Their first 30 days of sobriety.
I remember vividly how hard it is to get through those early days, and how each day not drinking is a big accomplishment.
And I want you to know that you're not alone.
I know what if feels like to get through the witching hour on day 3 and day 4. The plans you need to make to not drink on your first and second weekends. How awesome it feels to FINALLY get a good 8 hours of sleep again (for me it was on day 9), and the triggers that might lead you to want to dive into a big bottle of wine even after you've finally gotten some sober momentum.
And now, 3.5 years later, I realize how incredibly important and huge those first 30 days were. If I had given in and decided it was "all too hard" and "not worth it" and that I "deserved a glass of wine" and "could start again tomorrow", I might not be where I am today.
Because starting and getting sober momentum is so important – and the early days are often lonely and confusing – I wanted to share what it was like for me.
I recorded an audio diary of my first 30 days. 
It's the emails I sent my sober coach each day.
Hi, I'm Casey.
I hired a coach in early 2016 to hold my hand through the process of putting down the wine glass and building a life that I love.
My sober coach supported me, made me feel heard and understood, made me feel accountable and proud of the work I was doing, cheered me on, and provided me with the personal, private and individualized feedback and resources I needed. 
Before I first called my coach here are some of the (many) the questions I had about what sober coaching was and how it worked.
How is coaching different than therapy? AA? Talking to a friend?

How is coaching more helpful than participating online and posting in a quit drinking forum?

Why do I need a coach? Shouldn't I be able to do this alone?

Will it feel weird to talk to a coach about my drinking? What if it's just uncomfortable? 
If you want to find out what working with a coach is like, from a client's perspective, I've recorded the exact emails I sent my coach (essentially my personal diary) from my first 30 days of working with her and quitting drinking.
Before I worked with my coach I tried a ton of things that didn't quite work for me to cut back, moderate and quit drinking.
I made rules for myself about drinking. I would only drink 2 drinks a night. I would only drink 2 nights a week. I would only drink beer. I would only drink when out (not at home). I would only drink at home (not when I was out). I was never able to stick to my rules.
I beat up on myself. I asked myself what was wrong with me. I told myself to just try harder and have more discipline.
I went to therapy (but didn't tell my therapist how much I was drinking).
I went to my doctor for anti-anxiety and sleep medications  (but didn't tell my doctor how much I was drinking).
I joined a morning work out group. I joined a running club. I trained for a triathlon (none of which actually worked to help me quit drinking).
I listened to podcasts of women telling their stories of life in recovery and how they quit drinking. 
I found and participated in online secret Facebook groups with other folks quitting drinking.
I eventually went to AA meetings for 4 months (and then went back to drinking because I decided AA 'wasn't for me' and I 'didn't like the format or the philosophy').
And finally, 3 years after I first tried to quit drinking, I found a coach to work with me.
I eventually decided that hiring a coach to help me with this change was a lot like hiring a personal trainer to get in shape or hiring a nutritional consultant to help me improve my diet and food choices. 
Here's where I was stuck: I wanted a result (to quit over-drinking, to stop feeling like shit, to not wake up hung over everyday). I wanted to change habits I had built up over years that were not serving me.
And I had tried to do it alone – many (many) times – and hadn't been successful.
So my choices seemed to be that either I chose to stay stuck or it was time to invest in myself and bring in outside support to help me achieve my goals. 
I feel incredibly grateful that the day I contacted signed up to work with my coach turned out to be my last "Day 1".
You can listen to the audio recording above to hear what my first 30 days were like.
And if you're in early sobriety, trying to quit drinking, or thinking about what your life might be like without alcohol, I created a free guide to support you through your first 30 days. You can click the button below to sign up and it will be sent to your email in-box!
In the guide to quitting drinking you'll find 30 Tips for your first 30 Days, support, resources, and links to podcasts and online resources that you can access at no cost. 
Quitting drinking is hard to do on your own, and it's easier and more joyful with support and connections with other people who get it. 
And I hope as you listen to this audio recording you'll know that you're not alone, and that there is nothing wrong with you.
Once you start this process, I hope you'll begin to think of quitting drinking as the ultimate act of self care.
And if you're interested in one-on-one support, guidance, accountability and resources through private coaching, I'd love to talk to you.
Contact me for a free 30-Minute Discovery Call. No pressure. We can chat to see if coaching is a good fit for you. 
About The Author
I'm Casey McGuire Davidson, a certified life coach who works with successful women who are ready to get out of overwhelm and create lives they love. 
I also work with women who are reevaluating their relationship with alcohol and have decided that drinking isn't working in their lives anymore.
You can find more about my work and private coaching, as well as additional support resources at hellosomedaycoaching.com.