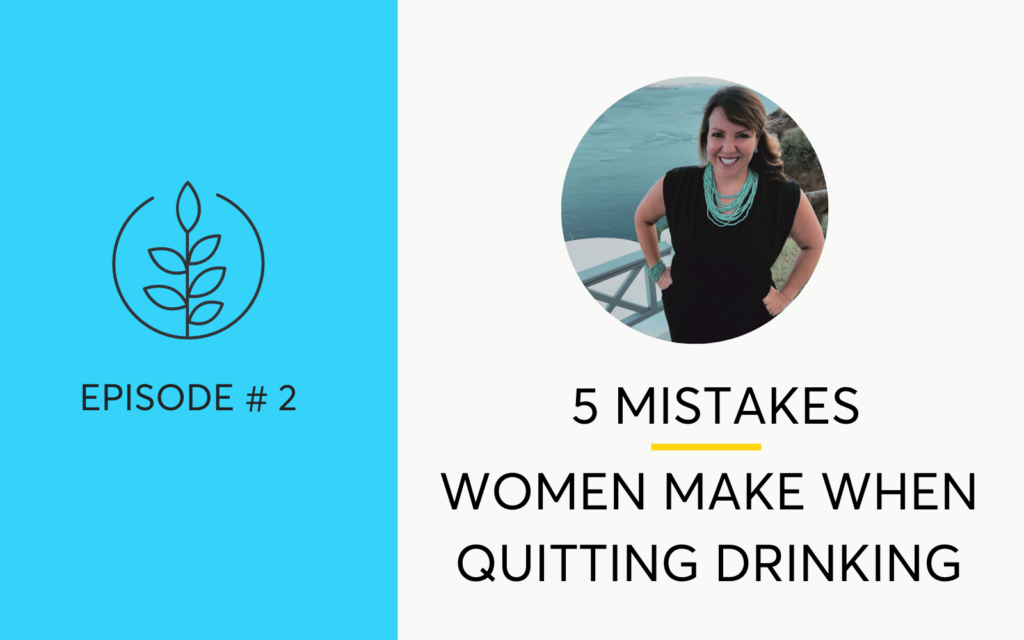 Tell me if any of this describes where you are now…
The thought of going without alcohol feels like a punishment. 

You worry that life without alcohol will be a time of deprivation and isolation.

Quitting drinking isn't something that you actually want to do. It's a last resort to stop feeling sick and tired.

You wonder if you're "bad enough" to have to quit. Maybe you can just try again, try harder, to cut back. 

You're afraid to try to stop drinking – because you've tried so many times and given up after 4 days, 14 days or 3 weeks. You don't want to try and fail (again).
If any of these thoughts sound familiar – this episode is for you. 
There's a way to approach not drinking as a positive, empowering step you're taking for yourself. 
And I'm going to show you how.
In this episode you'll learn:
You don't have to have a serious problem to want to quit drinking

How to quit drinking one day at a time

How and why you need to treat yourself well and prioritize self care

Why you shouldn't combine 'no alcohol' and the newest 'health kick'

There will never be a 'perfect' time to start

And the 5 mistakes most women make when trying to quit drinking (and how to avoid them)
the 5 mistakes most women make when trying to stop drinking
[and how to avoid them]
Mistake #1 – Believing that in order to stop drinking you have to know in your heart that you "have a serious problem with alcohol" or that you "have to stop".
Don't ask yourself "Am I bad enough to have to quit?". Instead ask yourself "Is this good enough to keep going?". 
Mistake #2 – Telling yourself that "This time" you are quitting drinking "FOREVER".
Forever isn't helpful. It will just trip you up before you even get started.
Tell yourself that you're giving yourself the opportunity to see how good you can feel when alcohol isn't your constant companion. 
Mistake #3 – Treating not drinking as a form of self-punishment rather than an opportunity.
Taking a break from alcohol is a wonderful gift you are giving yourself. Don't you want to see HOW GOOD YOU CAN FEEL without headaches and hangovers? 
Mistake #4 – Trying to combine quitting drinking with a bigger "health kick, diet overhaul, Whole 30 thing you are doing to lose weight and get fit".
If you try to eliminate everything at once you won't succeed.
You'll give up because it's all too hard.
Not drinking requires a SINGULAR focus for a while. 
Mistake #5 – Waiting for the perfect time to stop drinking.
There is no perfect time. There will always be a dinner party or a wedding or a Thursday night.
You've been stuck for a long time now. It's time to begin.
RESOURCES AND LINKS MENTIONED IN THIS EPISODE
The Free Sober Girl's Guide to Quitting Drinking – 30 Tips For your First 30 Days
The Hello Someday Coaching Blog
Don't ask yourself if you're "Bad enough" to have to stop drinking.
Ask yourself if how you feel right now is "good enough" to keep going.
ABOUT THE HELLO SOMEDAY PODCAST
The Hello Someday Podcast helps busy and successful women build a life they love without alcohol.
Host Casey McGuire Davidson, a certified life coach and creator of The Sober Girl's Guide to Quitting Drinking, brings together her experience of quitting drinking while navigating work and motherhood, along with the voices of experts in personal development, self-care, addiction and recovery and self-improvement. 
Whether you know you want to stop drinking and live an alcohol free life, are sober curious, or are in recovery this podcast is for you.
In each episode Casey will share the tried and true secrets of how to drink less and live more. 
Learn how to let go of alcohol as a coping mechanism, how to shift your mindset about sobriety and change your drinking habits, how to create healthy routines to cope with anxiety, people pleasing and perfectionism, the importance of self-care in early sobriety, and why you don't need to be an alcoholic to live an alcohol free life. 
Be sure to grab the FREE SOBER GIRL'S GUIDE TO QUITTING DRINKING right here.
Are you subscribed to my podcast? If you're not, I want to encourage you to do that today. I don't want you to miss an episode.
I'm adding a bunch of bonus episodes to the mix and if you're not subscribed there's a good chance you'll miss out on those. Click here to subscribe in iTunes!
Now if you're feeling extra loving, I would be really grateful if you left me a review over on iTunes, too.
Those reviews help other people find my podcast and they're also fun for me to go in and read. 
Just click here to review, select "Ratings and Reviews" and "Write a Review" and let me know what your favorite part of the podcast is. Thank you! 
OTHER WAYS TO ENJOY THIS POST: