When The New York Times asks you to share your favorite Quit Lit Books to help you drink less or stop drinking completely it's both a huge honor and a difficult assignment.
Books about women quitting drinking and what life is like in sobriety were a big part of my recovery and are important resources that I recommend to my clients as a sobriety coach. 
Over the years I've interviewed hundreds of amazing authors, therapists, coaches and addiction experts who have written books about sobriety, how to quit drinking, the science of addiction, alcohol and the media and powerful memoirs of addiction and recovery. 
So it was almost impossible to choose just a few. 
I shared my favorite quit lit books and The New York Times recommended 8 incredible books to help you drink less or quit altogether.
Of the 8 recommended titles I've been lucky enough to interview six of the eight authors on The Hello Someday Podcast For Sober Curious Women.
'We Are the Luckiest: The Surprising Magic of a Sober Life,' by Laura McKowen
Ms. McKowen, a podcaster who founded the community The Luckiest Club, sees sobriety "as being free," Ms. Kearns said.
Straightforward, relatable and full of personal stories, Ms. McKowen writes about "how hard, lonely and scary early sobriety is," said Casey McGuire Davidson, a sobriety coach and host of "The Hello Someday Podcast."
"It's something many women feel but don't talk about," she said.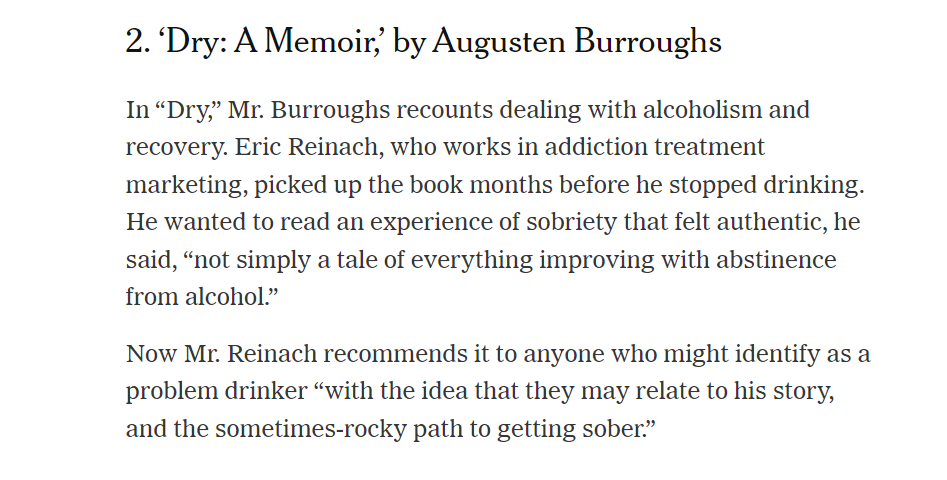 I haven't interviewed Augusten Burroughs but would absolutely love to. I read his memoir Dry in early sobriety and it was beautiful, honest and a page turner. 
The New York Times summarized the book best:
In "Dry," Mr. Burroughs recounts dealing with alcoholism and recovery. Eric Reinach, who works in addiction treatment marketing, picked up the book months before he stopped drinking. He wanted to read an experience of sobriety that felt authentic, he said, "not simply a tale of everything improving with abstinence from alcohol."
Now Mr. Reinach recommends it to anyone who might identify as a problem drinker "with the idea that they may relate to his story, and the sometimes-rocky path to getting sober."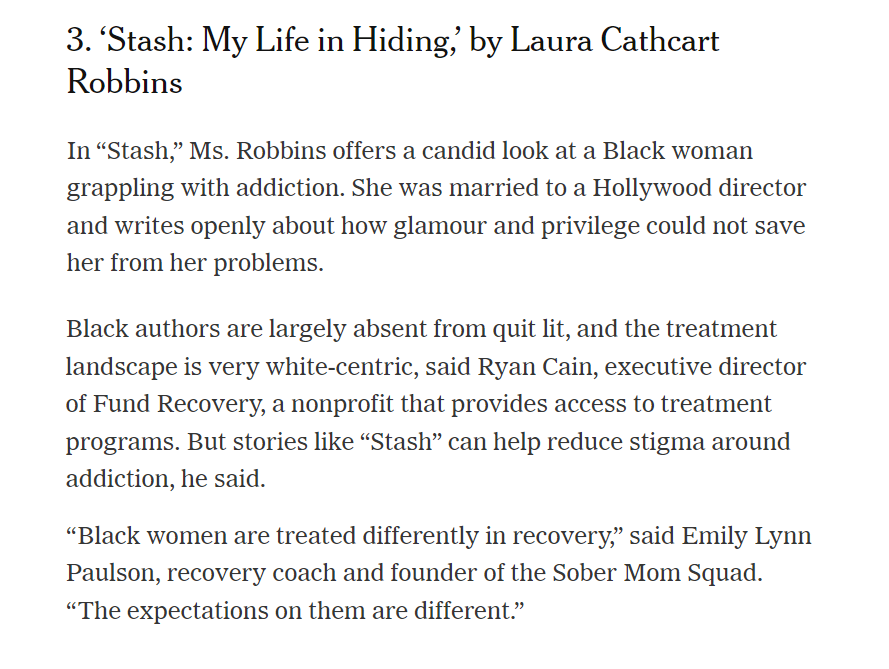 'Stash: My Life in Hiding,' by Laura Cathcart Robbins
In "Stash," Ms. Robbins offers a candid look at a Black woman grappling with addiction. She was married to a Hollywood director and writes openly about how glamour and privilege could not save her from her problems.
Black authors are largely absent from quit lit, and the treatment landscape is very white-centric, said Ryan Cain, executive director of Fund Recovery, a nonprofit that provides access to treatment programs. But stories like "Stash" can help reduce stigma around addiction, he said.
"Black women are treated differently in recovery," said Emily Lynn Paulson, recovery coach and founder of the Sober Mom Squad. "The expectations on them are different."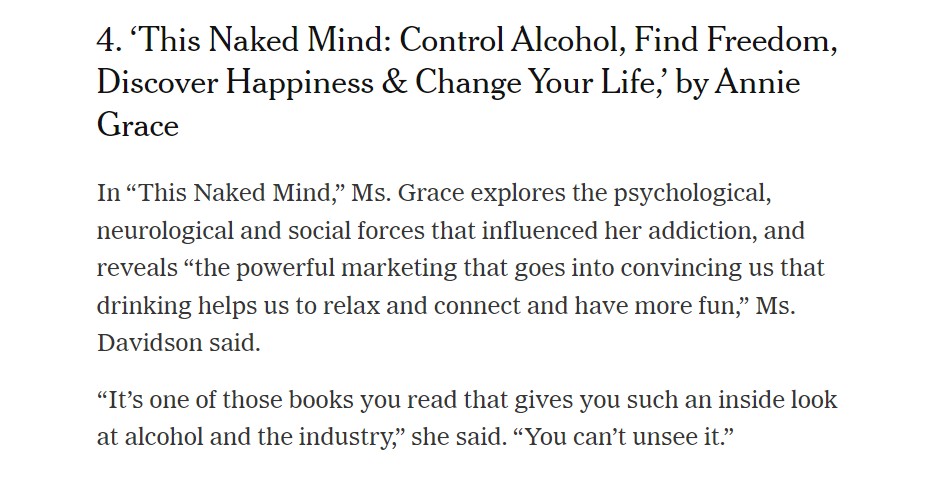 'This Naked Mind: Control Alcohol, Find Freedom, Discover Happiness & Change Your Life,' by Annie Grace
In "This Naked Mind," Ms. Grace explores the psychological, neurological and social forces that influenced her addiction, and reveals "the powerful marketing that goes into convincing us that drinking helps us to relax and connect and have more fun," Ms. Davidson said.
"It's one of those books you read that gives you such an inside look at alcohol and the industry," she said. "You can't unsee it."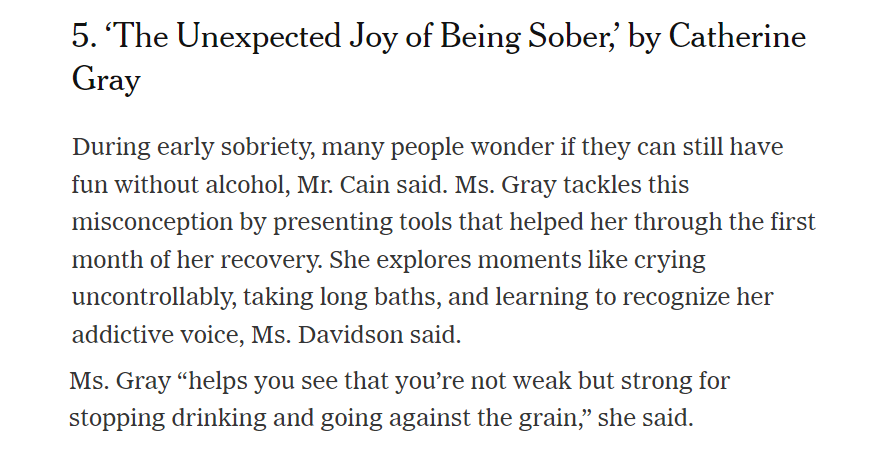 'The Unexpected Joy of Being Sober,' by Catherine Gray
During early sobriety, many people wonder if they can still have fun without alcohol, Mr. Cain said. Ms. Gray tackles this misconception by presenting tools that helped her through the first month of her recovery. She explores moments like crying uncontrollably, taking long baths, and learning to recognize her addictive voice, Ms. Davidson said.
Ms. Gray "helps you see that you're not weak but strong for stopping drinking and going against the grain," she said.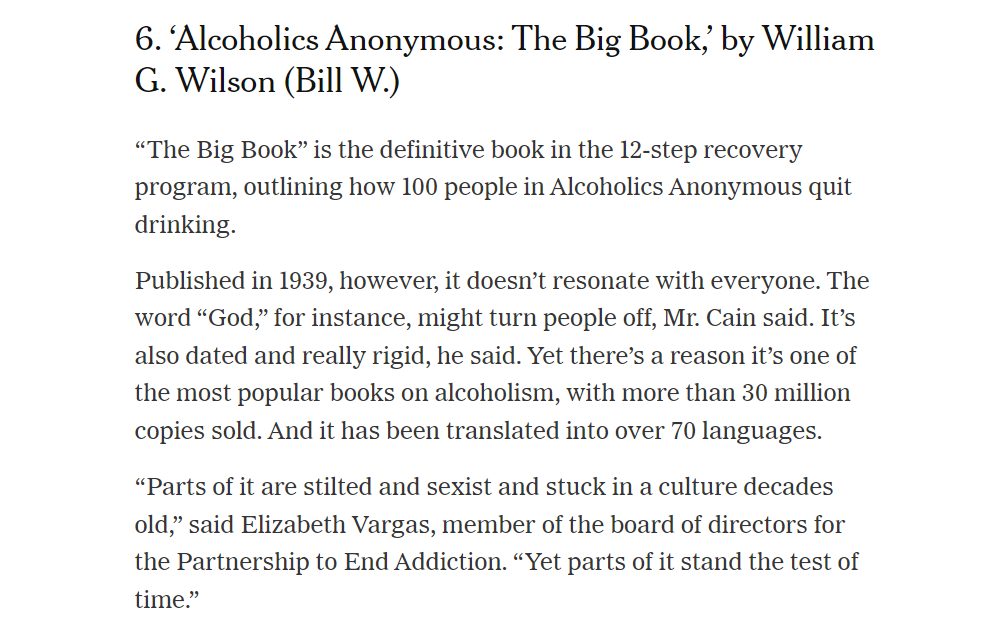 In my first attempt to stop drinking I was invited by a friend to attend an Alcoholic Anonymous meeting with her and ended up going to Big Book Study meetings for about 4 months. 
I have to admit that while everyone I met in AA were nice, helpful and genuinely wanted to help others stop drinking, the Big Book approach itself did not resonate with me. 
I recorded a podcast about Why I don't use the term "alcoholic" to describe myself or anyone else.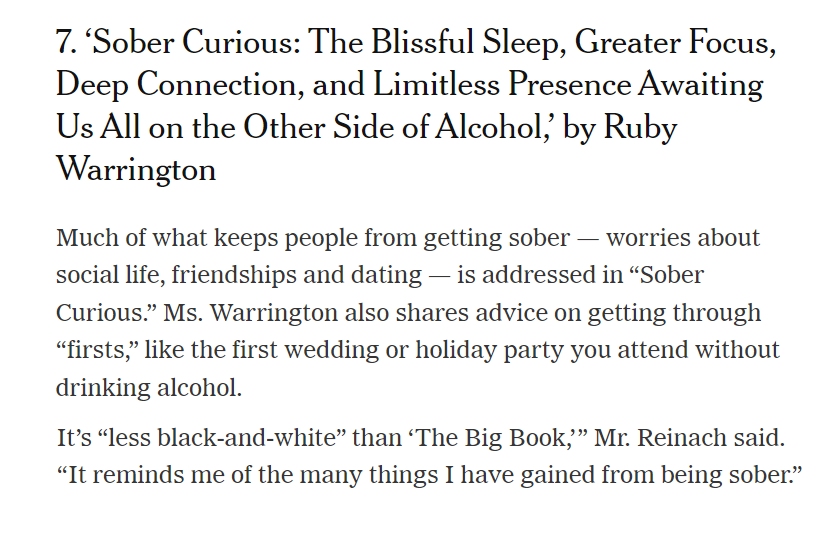 I loved interviewing Ruby Warrington About her books Sober Curious and The Sober Curious Reset.
Ruby's honest and non-judgmental approach to reevaluating our relationship with alcohol has spearheaded a larger movement of people taking a closer look at their drinking. 
In this Hello Someday Podcast episode, Ruby and I talk about:
What it means to be sober curious

Why Ruby thinks alcohol is a second-rate stand in for the joy, inspiration, confidence, connection and overall sense of 

aliveness

 that you could be experiencing in life

The myth of the 'normal' drinker and why anyone who drinks on a regular basis is likely "

kind of, sort of, probably, addicted"

Why a 100 day sober curious reset is transformational and significantly more useful than taking a shorter 30-day break from alcohol

The physical, emotional and mental health benefits of not consuming alcohol

Ruby's sober curious journey and why it's often a 

process that unfolds over months or years, rather than a quick shift
You can listen to the episode with Ruby Warrington about being sober curious here.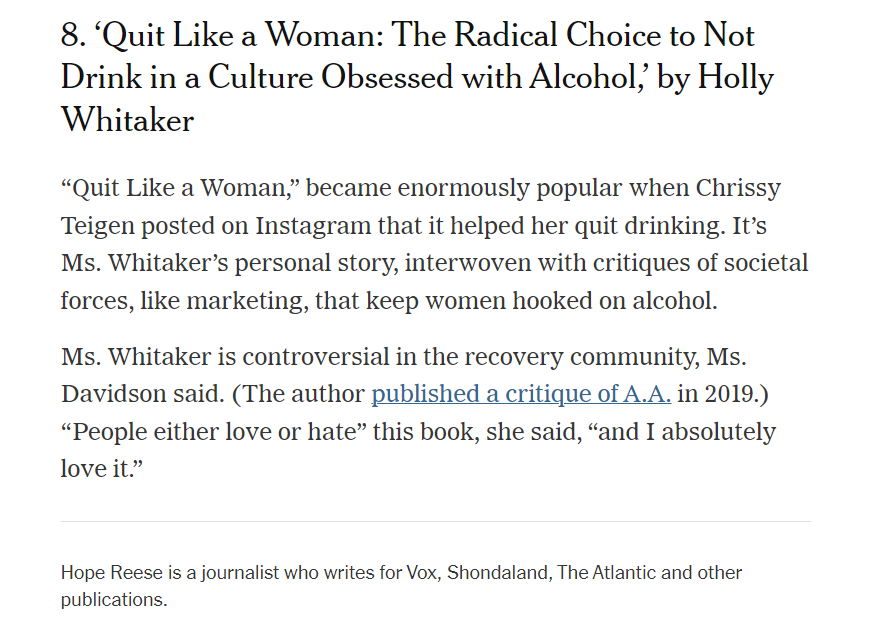 Holly Whitaker, author of The New York Times best selling book Quit Like A Woman, The Radical Choice To Not Drink In A Culture Obsessed with Alcohol, was an integral part of my decision to stop drinking and support in early sobriety and I'm not alone. Her work has helped thousands of women walk away from alcohol. 
In the days before I stopped drinking, and in my first months alcohol-free, I would take long walks on breaks from work to listen to Holly and Laura McKowen's HOME podcast.
Finding the HOME Podcast made me feel understood and so much less alone. Here were two smart and successful women, talking honestly and vulnerably about their drinking, what led them to quit drinking, sobriety, relationships, motherhood and how to navigate our drinking culture alcohol-free. 
When I was 60 days sober, I signed up for Holly Whitaker's Hip Sobriety School, an eight week sober coaching group program with tools, resources and lessons from Holly on "how to quit drinking when you think you can't". 
In our podcast episode Holly and I discuss:
The role alcohol plays in our society and specifically in the lives of women

Why Holly created a sober community with resources for anyone questioning their relationship with drinking and The Hip Sobriety Program I joined in 2016

The ways that alcohol companies target women and why alcohol is starting to have its "cigarette moment"  

Why we need to "practice sobriety" and why those of us over here in "Soberland" need to embrace that the process of quitting drinking is one of trial and error

Why the phrase "never question the decision" (NQTD) is a useful mantra to stay the course when you're tempted to drink

How the rise of sober curiosity and women speaking out about their decision to stop drinking has broadened the discussion around addiction and recovery

Why it's important to know the things you can't fuck with (and Holly and I can't fuck with alcohol anymore)

Chrissy Tiegen's instagram post

 at 4 weeks sober crediting Quit Like A Woman as one of the driving forces behind her decision to be alcohol-free

Holly's advice on how to get started if you are questioning your relationship with alcohol 
You can listen to my conversation with Holly Whitaker about how to Quit Like A Woman here.
Authors have the power to share their stories and present information in ways that really resonate with us, and authors of Quit Lit are no exception.
Here are some of my favorite interviews with addiction, recovery, sobriety and quit lit authors. 
What's the definition of 'Quit Lit'? Quit Lit is a whole genre of books that you might not have ever heard about if you're not a woman who has a complicated relationship with alcohol.
Quit Lit books are books about drinking, quitting drinking, getting sober and life without alcohol.
There are novels and memoirs, essays, fiction, and how to be sober guides. They are deep and soulful, entertaining and honest, eye opening, hysterically funny, raw and hopeful. Quit lit books were a lifeline to me in early sobriety. In this episode, I share not only my favorites but the voices of other women and the books that have inspired them and helped them along the path of re-evaluating their relationship with alcohol. 
Dopamine Nation: Overconsumption, Instant Gratification + The Science of Addiction
Have you ever wondered why you crave alcohol? Author of Dopamine Nation: Finding Balance in the Age of Indulgence, Dr. Anna Lembke helps us understand why we get addicted to not only alcohol and drugs, but also to smartphones, social media, YouTube, video games, food and sex. And she'll walk us through how to break the craving cycle and moderate compulsive overconsumption.
Annie Grace, the author of The Alcohol Experiment and This Naked Mind, has joined me on my 100th episode to shift your perspective on drinking so that you can gain control of alcohol and find freedom.
If you're "sober curious" you likely aren't sure that you want to give up alcohol forever, but you might wonder if your life would be better without alcohol. In this episode with Sober Curious author Ruby Warrington, you'll learn how to reevaluate your relationship with alcohol and examine what sober curious means to you.
The Unexpected Joy of Being Sober
If you've read any Quit Lit, Catherine Gray's book, The Unexpected Joy Of Being Sober, is likely on your bookshelf or Kindle. It's one of the first books about giving up alcohol I recommend to women as they're starting their journey to stop drinking and in this episode, I chat with Catherine about all things drinking, quitting drinking, the joy you can find in life without alcohol.
If you've ever wondered why alcohol make you feel relaxed but then wake you up at 3am, or why you have trouble moderating how much you drink, and if it's true that alcohol is good for you in small doses, then you'll want to tune into this episode. I was joined by William Porter, the author of Alcohol Explained, to help you understand why you drink and how to stop.
Not Drinking Tonight | Create A Sober Life You Love
What do you do when you realize 1) alcohol is making your life worse and 2) moderating is not working? That's where my guest, Amanda E. White, found herself as she started reevaluating her relationship with alcohol. Her book, Not Drinking Tonight, is a guide to understanding why you drink, and how to stop drinking and create a sober life you love. In this episode, we talk about drinking, not drinking, how to figure out whether your relationship with alcohol is working for you and when to take a break.
Sobriety can be an invitation to wake up to our lives, so I invited Laura McCowen, author of We Are the Luckiest – The Surprising Magic of a Sober Life, to join me on the podcast to talk about how to say yes to a bigger life and how to be more intentional about how they're living. 
The Sober Diaries – How to Stop Drinking and Start Living
The Sober Diaries is one of the first books I recommend to all of my clients as they stop drinking and in this episode, I'm joined by author Clare Pooley. In it, we talk about the immediate benefits of giving up alcohol, why middle aged women are becoming the most likely group to drink problematically, better ways to 'brand' going alcohol-free, and so much more. 
Sobriety, Growth & Personal Development
What if drinking isn't the problem, but rather a symptom of the problem? Author of Soberful: Uncover a Sustainable and Fulfilling Life Free of Alcohol Veronica Valli has helped thousands of women stop drinking alcohol and transform their lives and she's here to help you view sobriety as a gateway to personal growth, increased self worth and a return to yourself.
What does it mean to be a "mindful drinker"? Mindful drinking is about becoming more aware of how your body and mind are affected by alcohol, and how you use alcohol to relate to the people around you. Mindful drinkers notice, learn and ultimately take control of their drinking. And in this episode, I dig into mindful drinking with co-founder of Club Soda and author of How to Be a Mindful Drinker, Laura Willoughby.
Alcohol occupies a unique place of privilege, one in which it is almost universally positioned as good, fun, harmless and required for a good time, despite the fact that it negatively impacts the physical and mental health of millions of people.  So I sat down with The Wine O'clock Myth author and recovery advocate Lotta Dann to dig into the myth, and why alcohol occupies such a privileged position in our society.
Wine as the Modern Woman's Steroid
Drink: The Intimate Relationship Between Women and Alcohol author Ann Dowsett Johnston has described the positioning of wine in popular culture as "The modern woman's steroid, enabling her to do everything she needs to do or tries to do".  And there's one problem with that description of alcohol. It's not true and it doesn't work. In this episode, Ann joins me to unpack the complicated and intimate relationship between women and alcohol.
People Pleasing and Over Drinking
A lot of people pleasers turn to alcohol to fit in, blend in with the crowd or get out of their own heads. If people pleasing makes you worry about what other people think of you, look towards others for approval, or feel like you need to please the people around you to be accepted and loved, it's common to reach for a drink to ease that discomfort. So let's talk about how to stop being a people pleaser when you're quitting drinking in this episode with author of Chameleon: Confessions of a Former People Pleaser, Bex Weller.
Tired of Thinking about Drinking
When you reach that point where you're tired of thinking about drinking and ready to explore life without alcohol, you might feel overwhelmed at the thought of going it alone. In this podcast episode, my sober coach and author of Tired Of Thinking About Drinking Belle Robertson joined me to discuss what that process is like and how to make sobriety work for you.
Working, Drinking and Being a "First World Woman"
If you're a woman who's trying to quit drinking it's normal to look around and suddenly realize that booze is all around you. We live in a culture that tells women that drinking is their treat for getting through the day, for working so hard and taking care of our kids, and as a tool for managing negative emotions. And then we blame ourselves for not being able to 'moderate' or 'cut back' or 'drink less' of an addictive substance. In this episode, I have a long conversation with a friend and one of my favorite authors, the author of Nothing Good Can Come From This, Kristi Coulter about life as a modern woman in a drinking world and what happens when you decide to put down your wine glass.  
How to Get Over Yourself + On with Your Life
We all have our own personal brand of nonsense – self sabotage, blame, people pleasing, control issues, or drinking too much. In this episode, sobriety advocate, motivational speaker and author of The Year Of No Nonsense Meredith Atwood teaches you how to get out of your own way, to identify the nonsense in your life, and how to move past the big ones.
In this episode, I interview two incredible authors and really cool sober women, Amanda Eyre Ward and Jardine Libaire about their novel, The Sober Lush: A Hedonist's Guide to Living a Decadent, Adventurous, Soulful Life – Alcohol Free. The book is all about the joy to be found in life after you step away from wine as your constant companion.
Change, Growth, Rediscovery + Recovery
Many women feel like they know Jean McCarthy. They know her as an award-winning blogger, the host of The Bubble Hour Podcast and through her work in recovery advocacy. But in this episode we get to know a more personal and intimate side of Jean through her poetry in her collection, The Ember Ever There: Poems on Change, Grief, Growth, Recovery, and Rediscovery. 
How to Get Through the Holidays Without Drinking
Wondering how to get through the holidays without drinking? The holiday season is a unique combination of back-to-back drinking events + occasions, family dynamics, memories of previous years drinking, physically being surrounded by alcohol and powerful emotional and social triggers. If you're not prepared to navigate it in a way that supports your sobriety, it can undermine your recovery. Luckily, Jean McCarthy, author of the Unpickled Holiday Survival Guide and host of The Bubble Hour Podcast, is here to help!
Self Care for Busy Moms Living Alcohol-Free
If you're a busy mom who's been using alcohol as a coping mechanism, this episode is for you. I'm joined by Kate Baily and Mandy Manners, the authors of Love Yourself Sober, and we're talking about what to do if you're questioning your drinking habits and how to create a live you love without alcohol.
Quitter: Drinking, Relapse + Recovery
 There is no cookie cutter way to quit drinking. Often it takes many tries to find out what level of support you need to navigate life without drinking as a way to cope with life and what framework of recovery works for you. In this episode with Quitter: A Memoir of Drinking, Relapse and Recovery author, Erica C. Barnett, we  talk about the good and the bad in drinking, quitting drinking and life in recovery. Plus Erica shares a ton about the ins and outs of the world of outpatient + inpatient treatment and detox facilities, which I knew very little about before our conversation.
Burnout: The Secret To Unlocking The Stress Cycle
So many women drink as a way to cope with overwhelm, stress or just not having enough time and energy to do things that relax us and bring us joy. The irony is that instead of soothing stress and burnout, alcohol makes it all worse. In this episode, co-author of Burnout, Amelia Nagoski, talks about how burnout presents in women and provides tools, strategies and practices you can use to overcome the stress cycle causing burnout. 
Make Some Noise: How To Speak Your Mind + Own Your Strength
Have you ever received the message that you're "too much"? Too loud, too opinionated, too sensitive, too something… As women we've been socialized since birth to put other people's needs before our own. But repeating these behaviors, over months and years, can lead to resentment, poor boundary-setting, people-pleasing, approval-seeking, lashing out, negative self- talk, and unnecessary apologizing. Author of Make Some Noise, Andrea Owen joins me to talk about common behavior patterns that sabotage our power as women and how to unlearn what we've been taught so that we can create a life that serves our needs and desires. 
Why High-Achieving Women Struggle To Set Boundaries
If you're managing an endless to-do list and many responsibilities you likely have a tendency to over-deliver, over-give, people please and ignore your own needs instead of setting strong boundaries. While you may get positive reinforcement from doing all the things for all the people, having poor boundaries is a recipe for burnout (and over drinking). Terri Cole, licensed Psychotherapist and author of Boundary Boss, joins me to talk about how you can become a boundary boss and honor your own needs and desires.
How To Be Okay When Things Are Not Okay
In the book, Big Feelings, Liz Fosslien and her co-author examine the seven emotions that are especially hard to overcome: self-doubt, comparison, and anger, as well as burnout, perfectionism, despair, and regret. And in this episode, Liz dives into practical and useful ways to cope with some of our most difficult emotions without trying to numb out.
The Advertising of Alcohol To Women
It's no secret that alcohol is heavily marketed to women but it might be a shock to hear that advertising spending is set to hit 6 billion dollars in 2023. To really explore this industry, internationally recognized for her groundbreaking work on the image of women in advertising and author of the award-winning book Can't Buy My Love, Jean Kilbourne is here to break down how alcohol advertising is targeting women, the work the alcohol industry is doing behind the scenes to normalize heavy drinking, resist regulations, shape opinions of who and what is to blame for addiction and increase consumption of their addictive substance with little to no push back from governments or health agencies despite the harm it causes society.
Sobriety Myths: What Are Your Fears About Life Without Alcohol?
If you're like most women you have a lot of fears and limiting beliefs about what life without alcohol might be like. In this episode, certified alcohol-free life coach and author of Euphoric: Ditch Alcohol and Gain a Happier, More Confident You, Karolina Rzadkowolska dives deep into the fears and beliefs that are holding you back from removing alcohol from your life and the truths about how amazing it is to live without alcohol. 
The Truth Behind Those Online Drinking 'Highlights'
How "real" are all those images you see online? The perfect Instagram families? The fancy business trips? The carefree Mom's Night Out? Emily Lynn Paulson, author of Highlight Real: Finding Honesty & Recovery Beyond the Filtered Life, joins me in this episode to dig into the truth behind the "Online Drinking Highlights" you see as you scroll through your social media feed.
Looking for a guest to talk about Women + alcohol, drinking, quitting drinking, motherhood + wellness?
I love having honest conversations that help women reevaluate their relationship with alcohol.
As the host of The Hello Someday Podcast, a podcast for busy women ready to drink less + live more (ranked in the top 1% globally), and as a guest on other shows, I've had hundreds of conversations on subjects related to women + alcohol, drinking + quitting drinking, stress, anxiety + healthy coping mechanisms, habit change, motherhood + wellness.
I'm a Certified Professional Life and Sobriety Coach, author of 30 Tips For Your First 30 Days – A Guide For Busy Women Quitting Drinking, and creator of the on-demand sober coaching course, The Sobriety Starter Kit.
Here's my story…
It started with a glass of wine, and then it became the bottle.